Launched just this February, the Steam Deck is one of the year's most anticipated gaming products. Ever since the Steam Machine was taken off the market, people had been wondering what Valve would release next. This is a handheld game system that's designed to support every game in Steam's catalogue. By all accounts, it should continue to do so for many years. In part, this is possible because of the 1280×800 display resolution. That's slightly better than 720p, but it's nowhere near the resolution of a full-sized monitor. As a result, the GPU doesn't have to work as hard as the one on even a modest PC gaming tower.
One of the main challenges with the Steam Deck was coming up with a control scheme. Valve had to create a handheld set of controls that can mimic anything a mouse and keyboard can do. With a system of triggers, paddles, buttons, thumbsticks, and a touchscreen, they've succeeded. Even when you're on the road, you can play any game in your Steam library. Even so, Valve has made sure to allow for external controls like a mouse and keyboard. If you love your Steam Deck, but you still want to use traditional controls, there's nothing stopping you.
We're about to review three of the best keyboards and mice for the Steam Deck. To find out which is best, we'll need to look at a number of features. We'll have to look at the physical design, the ergonomics, and the connectivity. For keyboards, we'll have to talk about keycaps and switch options, as well as any backlighting features. For mice, we'll need to discuss button customization, sensitivity, and other gaming-related functions. After we've thoroughly evaluated all six of our options, we'll be able to see how they compare. Let's get started!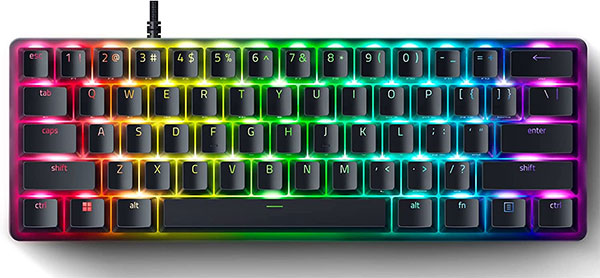 Razer Huntsman Mini 60% Gaming Keyboard
In the world of PC gaming, few brands carry as much weight as Razer. They manufacture all kinds of top of the line gaming equipment. So when we decided to look at gaming keyboards and mice, they were a logical choice.
The Razer Huntsman Mini 60% Gaming Keyboard is a tiny tenkeyless keyboard with a durable aluminum frame. It's the perfect size for travel, so you can take it with you wherever you use your Steam Deck. The keycaps are molded from PBT plastic, which has some advantages over standard ABS. For one thing, it won't collect nearly as much oil from your fingertips. For another thing, the keys won't wear down over time and develop smooth spots. The keys are also doubleshot, which allows the RGB backlighting to shine through the characters.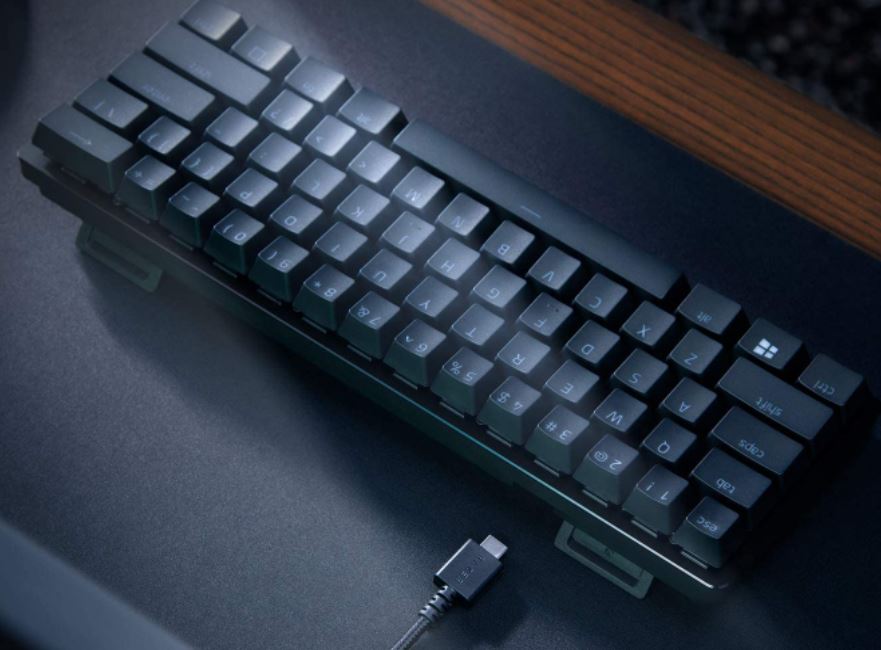 The switches are available in three varieties: linear, clicky, and analog. Linear keys are designed for the smoothest travel, and produce minimal noise. Clicky keys are exactly what they sound like; they click, and provide more tactile feedback. The analog switches fall somewhere in-between. All three versions are optical, which means they feel like mechanical keys, but actuate faster.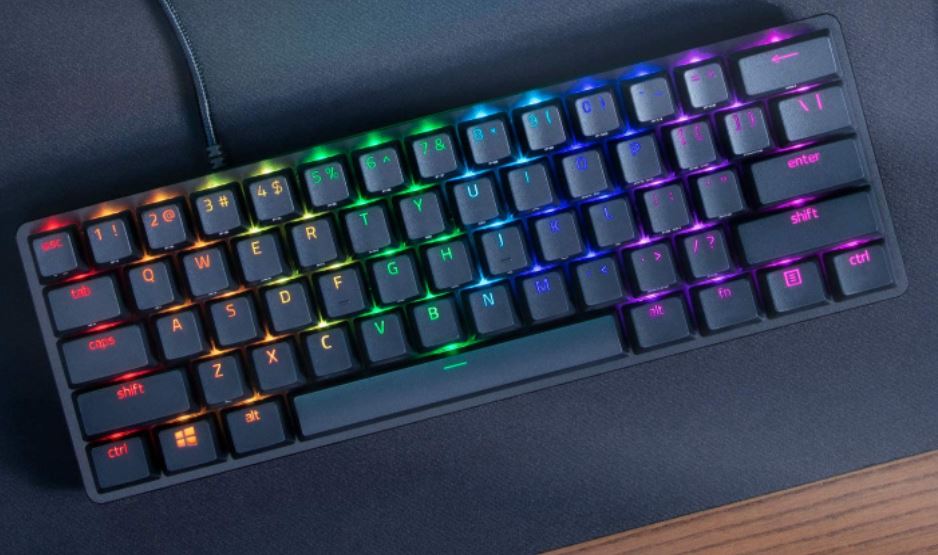 The RGB lighting is attractive, and you can cycle through some basic presets using shortcut keys. Each letter has its own individual backlight, so fading and gradients look very smooth. The keyboard connects to your Steam Deck via a removable USB Type-C cable. Since the cable is removable, you won't have to replace the entire keyboard if it gets damaged.

If you're using the Huntsman Mini on a PC or Mac, you'll have even more control. To begin with, you can use Razer's free Hypershift software to remap every one of the keys. You can create your own macros, and save presets for different games. You can also use Razer Chroma software to sync the backlighting with your games, videos, and music.
Pros
Extremely well-designed with high-quality construction.
Available in many colors and switch types.
Can be equipped with Razer Linear Optical switches; world's fastest.
Doubleshot keys so backlighting appears through each key character.
Made with PBT keycaps that are much more durable.
Cons
Razer's software can be problematic.
Lighting effects not as bright as some may like.
Settings save to the cloud rather than locally.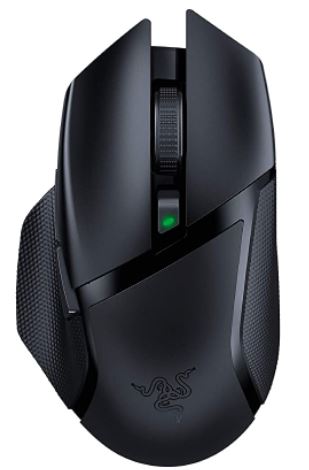 Razer Basilisk X Hyperspeed Wireless Gaming Mouse
The Razer Basilisk X Hyperspeed Wireless Gaming Mouse has a matte black housing and a smooth form factor. The sides are textured with a rubberized material, which provides a secure grip even with sweaty hands. The buttons are concave, like most of Razer's mice, so you get a firmer click. With a convex button, your finger can slip off to the side, and mess up your timing. All of this makes the mouse very easy to handle.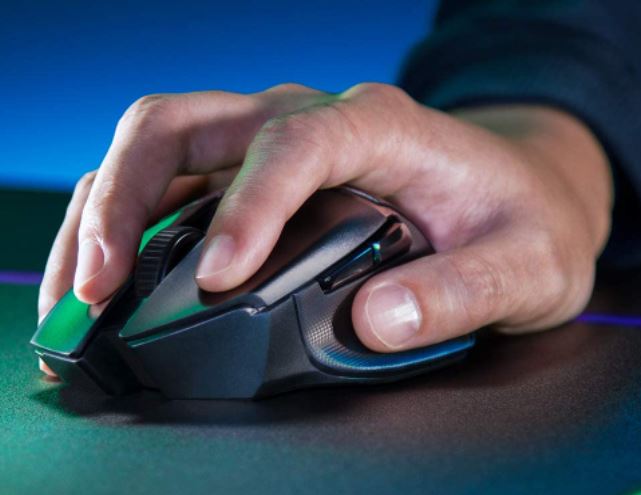 Shape aside, we really liked the feel of these buttons. The switches are mechanical, and provide plenty of tactile feedback and an audible click. You won't have to question whether or not you successfully activated the mouse button. Each switch is rated to last for 50 million clicks. Meanwhile, the mouse as a whole is backed by a 2-year manufacturer's warranty.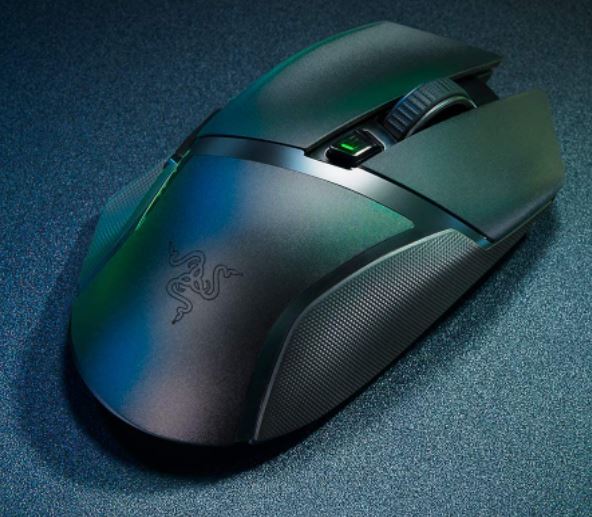 The Basilisk X can be connected in two different ways. First, you can use the Bluetooth connection. Second, you can use the wireless connection, which has much less latency. However, the wireless connection requires you to use a tiny USB dongle. Because connecting USB devices to the Steam Deck requires a USB to USB Type-C hub, this can be more complicated. Since you're introducing another device – the hub – it's tough to say how much latency you'd actually save.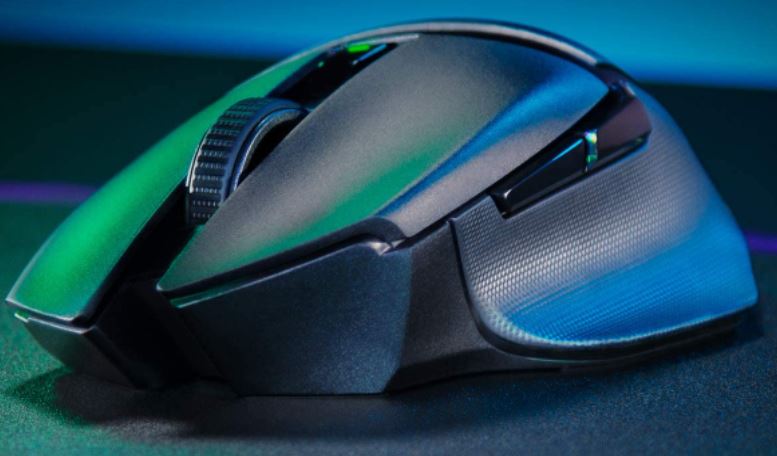 Bluetooth does have one advantage over wireless: battery life. Using Bluetooth mode, you can get up to 450 hours of playtime on a single charge. That's more than two weeks of continuous gaming. Even so, the wireless mode will still last for up to 285 hours. As long as you plug your mouse in every now and then, you should never have any battery issues.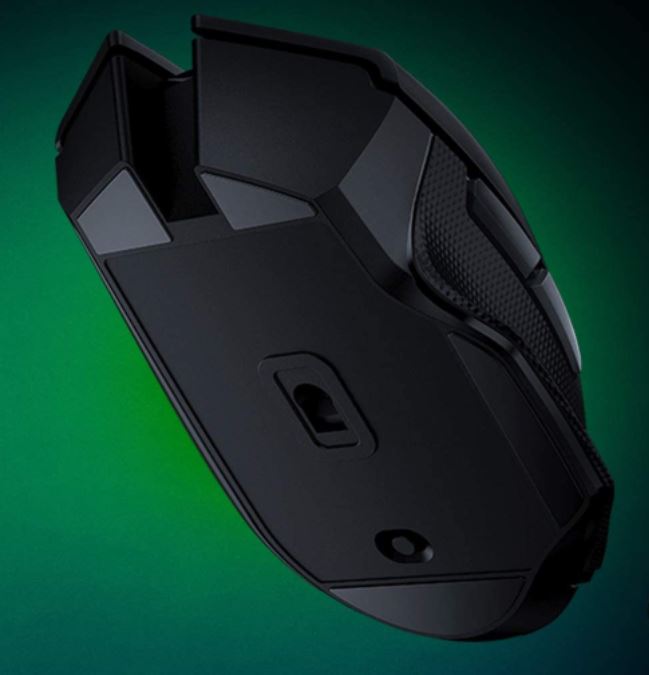 PC gamers will have even more advantages. Using Razer Synapse software, you can reconfigure all six buttons at will. This allows you to map complex keyboard macros to a single mouse button. Not only that, but you can adjust the sensitivity between 800 and 16,000 DPI. This allows you to optimize your mouse for any game or playstyle.
Pros
Very ergonomic feel with grippy rubberized material.
Said to be 25% faster than other mice.
Equipped with mechanical switches for tactility.
Connects via Bluetooth wireless or 2.4 GHz wireless with USB dongle.
Bluetooth connection hardly uses any battery life.
Cons
Razer's software is known to be buggy.
Poor battery life with wireless USB dongle.
Slight delay when "waking up" the mouse.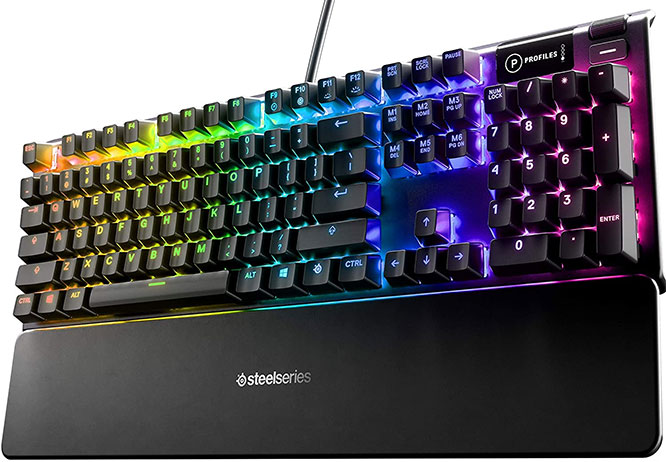 SteelSeries Apex 5 Mechanical Gaming Keyboard
SteelSeries is another respected manufacturer of all things gaming related. Considering how well most of their equipment performs, we decided to look at some of their offerings.
The SteelSeries Apex 5 Mechanical Gaming Keyboard is big and beefy. This is a full-sized keyboard with a black, aircraft-grade aluminum frame. It has a USB cable running out of the back, which can connect to your Steam Deck via a hub. The cable seems well-protected, with a rubber insulation that's fairly substantial.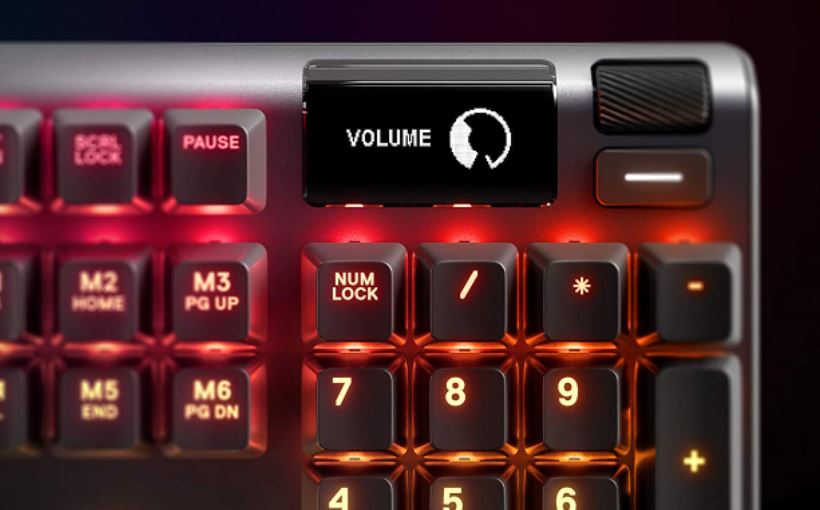 The keys are made of ABS plastic, so they will eventually get smooth over time. Even so, they're doubleshot injected, with attractive, individualized RGB lighting. As with the Razer keyboard, you can select many presets using the on-board controls. The main attraction is the high-quality mechanical switches. These come in blue, brown, red, hybrid blue, and a special "whisper quiet" version. No matter how much click and tactile feedback you want, you'll be able to get it. The switches are also hot-swappable, so you can make your own customizations.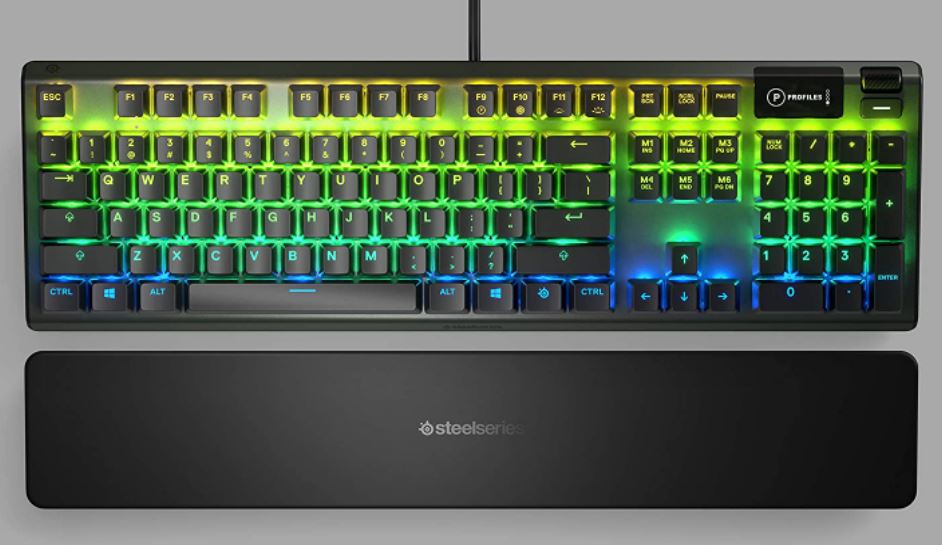 Directly above the number pad, there's a small OLED display. This can be programmed to display your game stats, Discord messages, and many other things. It's also dynamic. For example, when you adjust the volume, your volume percentage will automatically appear on the display. There's a metal volume roller directly next to the display, along with a dedicated media button.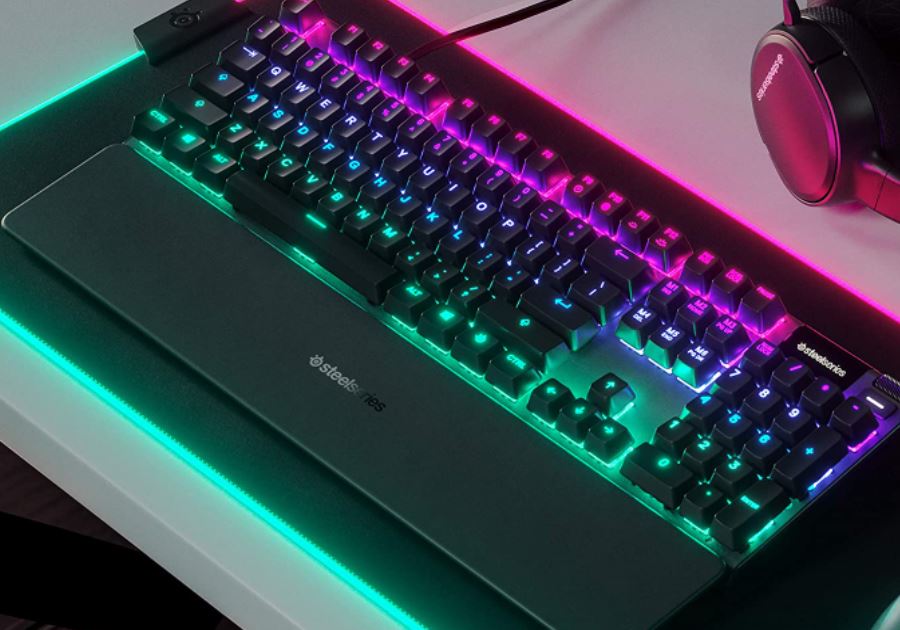 Along with the keyboard itself, you get a high-quality aluminum wrist rest. This is a magnetized panel that can be placed at the front of your keyboard to provide better support. It takes up a lot of extra space, but you don't have to use it if you don't want to. Besides which, the magnetized design makes it easy to disassemble for travel.
Pros
Equipped with a built-in OLED smart display.
Comprised of aircraft-grade aluminum frame.
Available in a wide assortment of switch styles.
Doubleshot keys so backlighting appears through each key character.
Comes with a magnetic aluminum wrist rest.
Cons
Keys are made from ABS plastic which may become "smooth" over time.
Software is a bit confusing to use.
Not as bright of LEDs as some may like.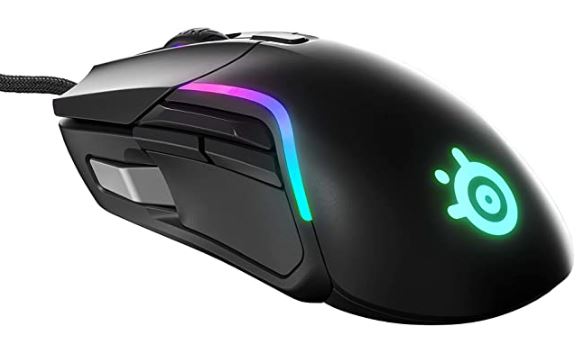 SteelSeries Rival 5 Gaming Mouse
The SteelSeries Rival 5 Gaming Mouse comes in two variants. The first is a matte black plastic, and the second is a special, Destiny 2-themed white version.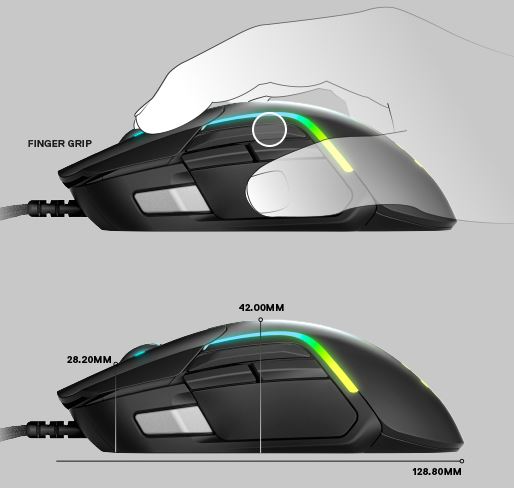 Both sport rainbow RGB stripes on the sides, with a backlit Steel Series logo under your palm. The design is comfortable and ergonomic, with concave keys and good tactile response. On the side, there are a whopping five action buttons to use with your thumb. This is a USB mouse, with a mesh cable attached directly to the front center. The cable is reasonably durable, and the mesh design helps to prevent tangles.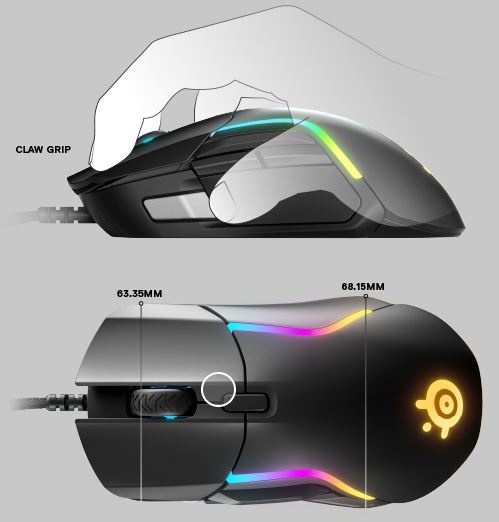 If you're playing on a PC, you can program the action buttons with macros and other functions. You can also use the SteelSeries Engine software to adjust the mouse's RGB lighting. The DPI, meanwhile, can be adjusted as low as 100 DPI, or as high as 18,000. That's more range than you'll ever need, but it's a great bonus for PC gamers.
Pros
Excellent build-quality and construction.
Incredible DPI range.
Exceptionally long-lasting battery life.
Connects via Bluetooth wireless or 2.4 GHz wireless with USB dongle.
Integrated compartment for the USB dongle.
Cons
Side buttons are a bit tiny.
Scroll wheel feels a bit mushy when clicked.
Battery life could be improved.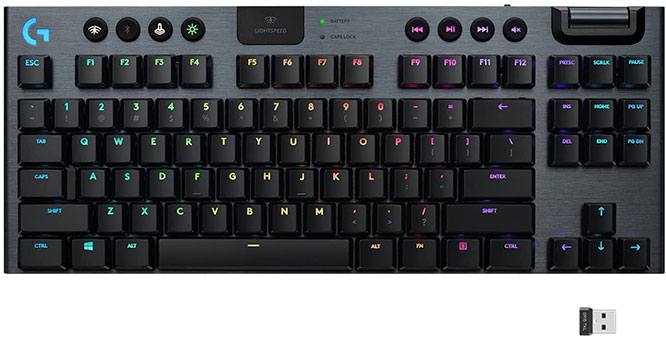 Logitech G915 TKL Wireless Keyboard
Logitech needs no introduction. They produce a wide variety of gaming equipment, like headsets and speakers. They're also known for good quality office equipment, so they're well-qualified to make keyboards and mice.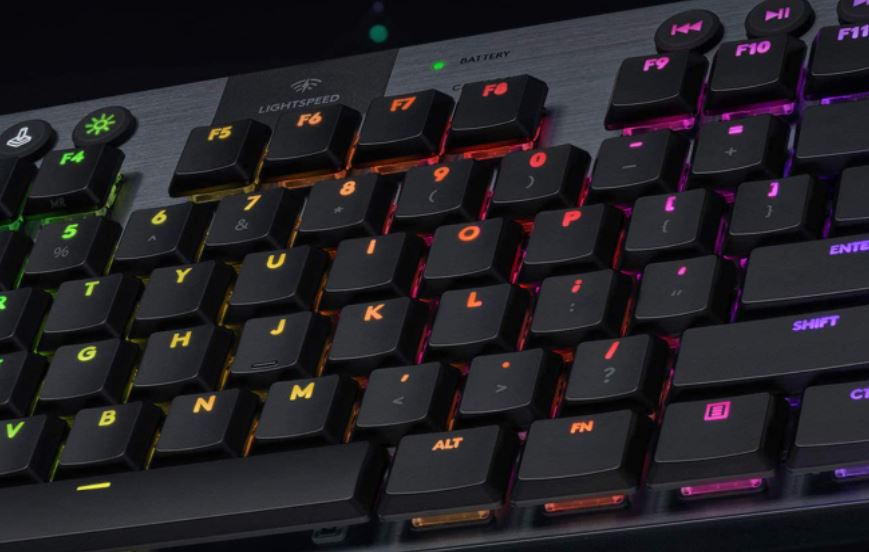 The Logitech G915 TKL Wireless Keyboard is a tenkeyless board, with a 90-key layout. This means that the only keys your missing are the ones on the number pad. As a result, you still retain all your potential shortcut keys. There are also rubber gaming and media controls, in a row above the function keys. At the top right, you'll find a metal roller, which can be used for volume adjustments. The housing itself is constructed from a dark brushed aluminum, giving it an almost tactical appearance.

The keys are made from ABS plastic, which is a bit disappointing. That said, the mechanical switches are very responsive, and come in three different varieties. Not only that, but the keys are doubleshot, with individual RGB backlights. You can customize these using on-board controls, but as with our other options, there's a PC program. Logitech G HUB is free to install, and you can customize your lighting to your heart's content. That said, the native Lightsync can synchronize your light with any source, including a Steam Deck.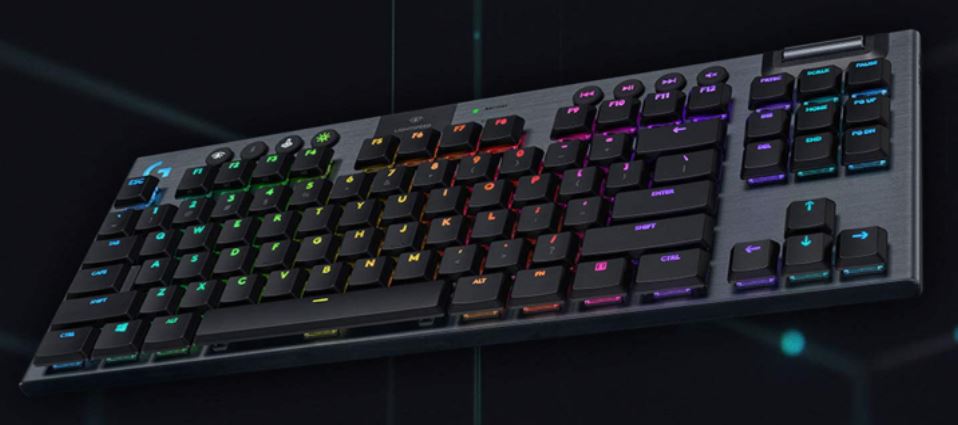 The G915 connects via a 2.4GHz wireless dongle. This provides exceptionally low latency, as little as 1ms depending on your hub. The battery supports 40 hours of playtime. Moreover, there will be a visual and audible warning when it drops to 15 percent. Charging only takes around three hours, using the USB Type-C cable.
Pros
Well-built, aluminum frame with a modern look.
Connects via Bluetooth or 2.4GHz USB wireless (with included dongle).
Lightspeed wireless connection is problem-free and works well.
Equipped with volume and media controls.
Extremely sleek, low-profile design.
GHUB software works well and is easy to use.
Cons
Relatively expensive.
Keys made from ABS plastic rather than PBT.
Uses Micro-USB.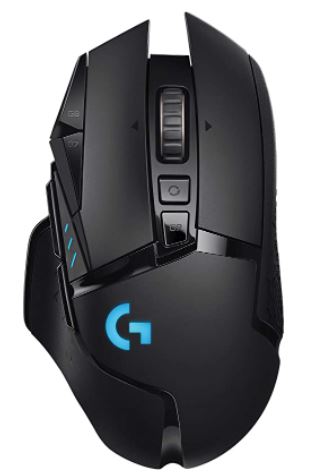 Logitech G502 Lightspeed Wireless Gaming Mouse
The Logitech G502 Lightspeed Wireless Gaming Mouse has a black plastic housing. The concave sides provide an ergonomic grip, although the main buttons are slightly convex. On the plus side, there are an impressive nine buttons, all of which can be programmed if you're a PC player. The DPI is also adjustable, over a wide, 100 to 25,600 DPI range.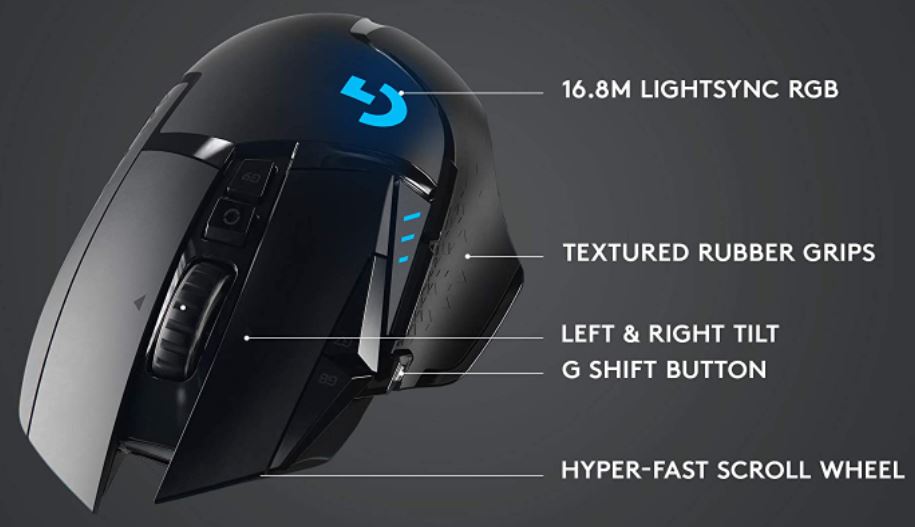 The main reason this mouse will appeal to Steam Deck players is the adjustable balance. There are six magnetic weights, which fit into a hexagonal recess on the base. By adding weights, removing them, and moving them around, you can fully customize the balance.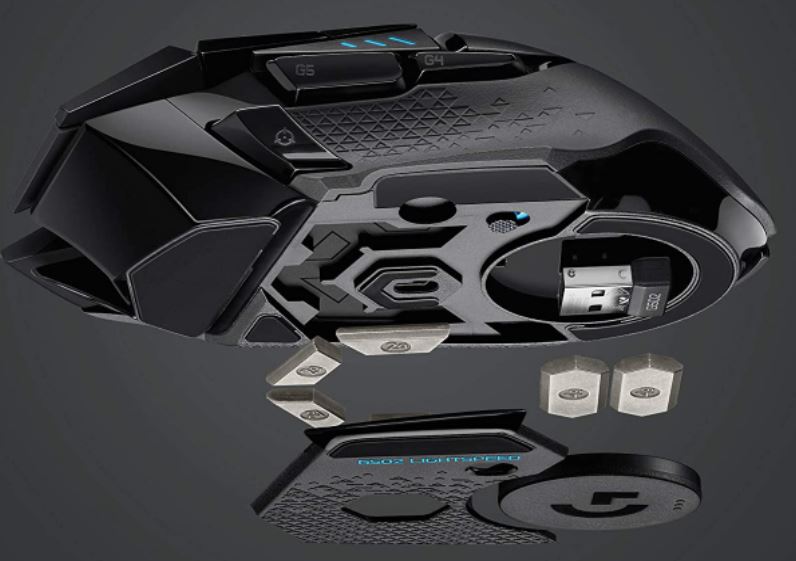 Like the Logitech keyboard, the G502 connects via a low-latency wireless connection. The battery can last for up to 60 hours, more than enough for any gamer. Alternatively, you can order the optional Powerplay wireless charging base, and your battery will never die.
Pros
Adjustable weight that's fully customizable.
Very ergonomic shape that's extremely comfortable.
Incredibly high DPI adjustments available.
Integrated compartment for the USB dongle.
Cons
Relatively expensive.
Only available in right-hand; left-handed version unavailable.
DPI adjustment button can easily be mistakenly pressed.
Uses Micro-USB.
Final Verdict
So, which of these keyboard and mouse combos is the best? Let's go over what we've learned. And remember, it's not like the mice and keyboards are necessarily linked. If you like the Razer keyboard and the Logitech mouse, there's no rule against mixing and matching!
The Razer Huntsman Mini 60% Gaming Keyboard is a great choice if you want a truly portable keyboard. The small size makes it easy to transport, and the removable cable eliminates a potential point of failure. And with optical switches, you ensure the fastest possible key actuation.
The Razer Basilisk X Hyperspeed Wireless Gaming Mouse is a six-button mouse with a straightforward design. It's easy to grip, with textured sides, concave buttons, and excellent tactile feedback. And with the option for Bluetooth or low-latency wireless connectivity, you'll be hooked up in no time at all.
The SteelSeries Apex 5 Mechanical Gaming Keyboard is a great choice if you want a full-sized keyboard. It takes up a lot of real estate, but the angled design of the frame makes it reasonably lightweight for transport. The same could be said for the magnetic wrist rest, which is a great added value. We also liked the LED display and the added media controls.
The SteelSeries Rival 5 Gaming Mouse is a well-engineered USB mouse with an ergonomic design. The five extra buttons are great for PC players, although Steam Deck players will see limited benefits. That said, everyone will appreciate the beautiful RGB lighting.
The Logitech G915 TKL Wireless Keyboard is a well-engineered keyboard for gaming and other media. The layout preserves all your potential hotkeys, while the media controls add a lot of extra value. And with ultra-low latency wireless connectivity, it's a solid choice for any gamer.
The Logitech G502 Lightspeed Wireless Gaming Mouse is ideal for anyone who's picky about their mouse balance. With its magnetic weighting system, it can be customized to meet your personal preferences.