Like most types of cable, HDMI has a limited range. Unlike most varieties commonly in use, it's fairly short. The theoretical range of an ordinary HDMI cable is 50 feet, but that's only theoretical. For one thing, the range for a 4K, 60Hz signal is much shorter. Not only that, but HDMI cables are finicky. They're highly sensitive to interference, so their range is easily impacted by other nearby cabling. If you're a neat freak and don't run a lot of cables, this might not be a big deal. But if you're anything like us, you've got a lot of cables behind your TV. This can shorten the maximum range of your cable, causing signal issues.
Signal issues, in this case, depend on the severity of the disruption. With mild interference, you'll get visual artifacts and random noise, much like a poor analog antenna connection. Audio may also lag behind the video as the cable's effective bandwidth narrows. The video may drop out, whether intermittently or for several seconds at a time. In the worst case scenario, your display won't even be able to detect your source device. This can get frustrating, particularly if you know that you're oh-so-close to making your entertainment setup work. If you're setting up a sports bar or other commercial venue, a non-functional screen can even cost you money.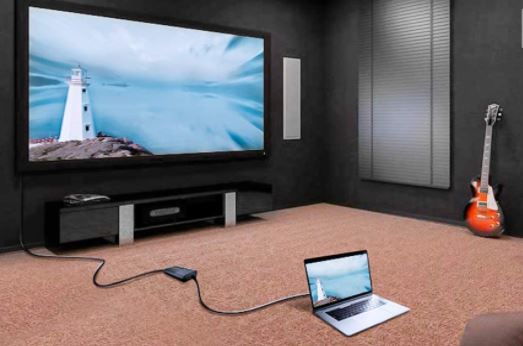 One solution to this problem is to use an HDMI signal booster, sometimes called an "amplifier" or "repeater." The concept behind a signal booster is simple: it amplifies the existing signal, like a transformer on an electrical line. This can help you reach places you hadn't been able to run a cable before. We should point out that 4K signal boosters will only work with an HDMI 2.0 cable. If you have older HDMI 1.0 cables, you'll need to upgrade them in order to get 4K video.
We're about to look at three of the best 4K HDMI signal boosters on the market. First, we'll review the StarTech.com HDMI Signal Booster. This is a reliable choice from a reliable brand, and will work well for most people. Next, we'll examine the Flashmen HDMI Booster. It has the longest range and highest power, albeit with support for fewer features. Finally, we'll look at the J-Tech Digital HDMI Repeater. This one has the shortest range, but there's no external power required. It also supports ARC for sound systems, and CEC for device controls.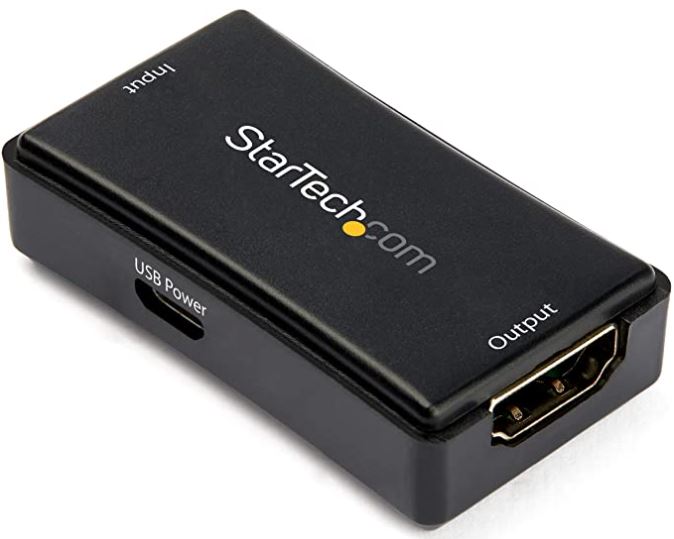 StarTech.com HDMI Signal Booster
StarTech.com is an established brand that produces a wide variety of electrical parts. In addition to a number of PC components, we've also reviewed their Ethernet extender kit. This kit was very effective, so we were excited to see how well their HDMI signal booster compares.

This signal booster is made from rock-solid aluminum, and is more than tough enough to take a beating. It's all black, with a white, orange, and grey StarTech logo printed on the top. It's also compact, measuring 2.05 inches in length, 1.12 inches in width, and 0.54 inches in thickness. Because of this small size, you don't need to worry about placement. It can even be used inline in just about any configuration. Keep in mind, though, that it requires a USB power supply. Wherever you're putting the repeater, it will need to be near an outlet or other USB power source.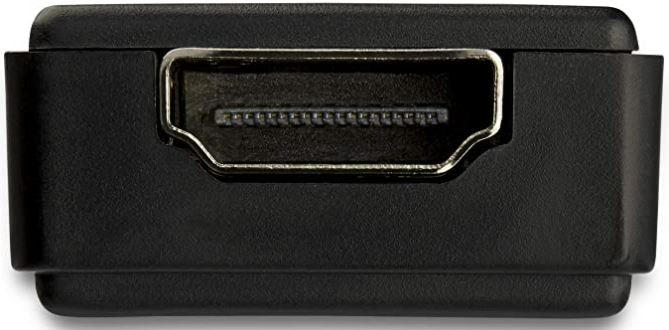 The StarTech signal booster has a simple configuration. There's an HDMI input port on one of the short ends, and an output port on the other. These are clearly marked by printed labels, so you won't forget which is which. On one of the long sides, you'll find the Micro USB power input port. There's a USB to Micro USB cable included in the package, so you won't need to supply your own. That said, there's no AC adapter. If you're trying to connect to a regular outlet, you'll need your own adapter. You do, however, receive a robust three-year warranty, along with lifetime technical support.
Range and Power
When evaluating any signal amplifier, your results will vary based on the range. Yes, that's obvious. But it's important to understand that there's not just an imaginary line where the signal disappears. Instead, it slowly deteriorates over distance. In other words, your range will depend on the type of display you're using. This is the case for all signal boosters, including the StarTech.com model.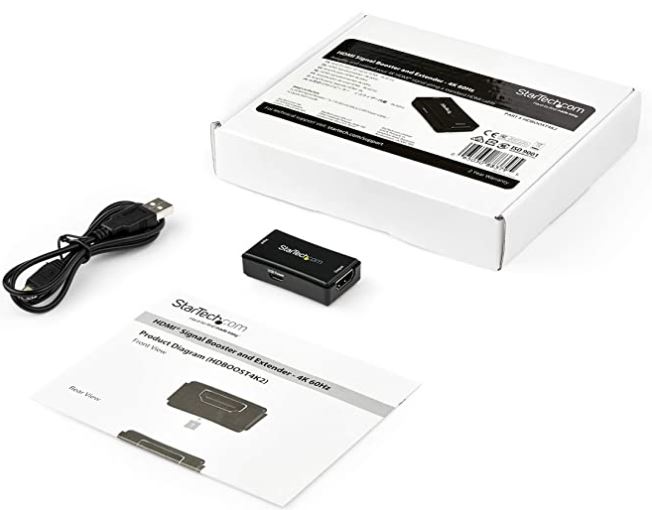 So, how far can you expect the signal to reach? At maximum, the StarTech amplifier can provide 4K video at 60Hz. To get this quality, you'll need to be within about 22.5 feet in either direction. In other words, the maximum range for a 4K 60 FPS signal is 45 feet. That's not bad, and it should be effective for most circumstances. That said, you can reach a good bit further if you don't need a 60Hz signal. The range for a 4K, 30Hz signal is up to 100 feet in total, or 50 feet in each direction. That's fantastic, and it's enough for use in even fairly large facilities.
When it comes to extra features, the StarTech signal booster is a bit of a mixed bag. On the one hand, you don't get access to CEC controls or ARC audio. This means you might run into issues with some soundbars, or with some gaming setups or home assistants. On the other hand, this amplifier does support 7.1-channel surround sound. And because it accepts external power, the signal is fairly resilient against moderate interference.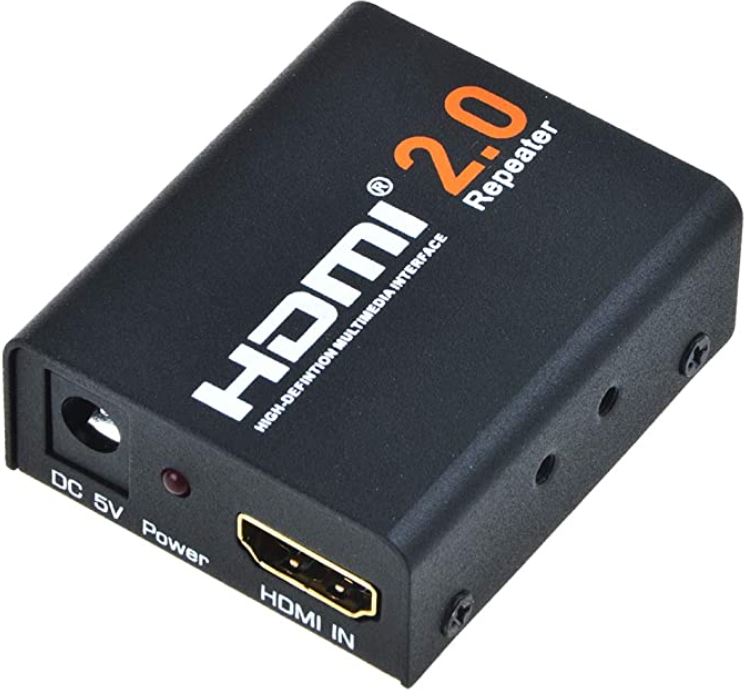 Flashmen HDMI Booster
The Flashmen HDMI Booster is another tough, durable signal repeater that can take a beating. Like the StarTech.com repeater, it's constructed from black aluminum, with a logo stamped on the top. The first difference you'll notice is the size. At 2.16 inches long and 1.77 wide, it has a larger profile. And at 0.98 inches, it's nearly twice as thick.
The main reason for the larger profile is that the Flashmen repeater is powered by a larger DC input. Instead of USB, it accepts a 5-volt barrel-style adapter. A power supply is included in the package, so you've got everything you need to plug in. The advantage is that you won't need to buy a separate adapter to plug into an AC outlet. On the downside, you'll only be able to use an AC outlet. You won't be able to get power from the USB port on a game console or computer. The adapter plugs into one end of the housing, alongside a red LED light. This will illuminate whenever the power is connected, so you know the booster is working.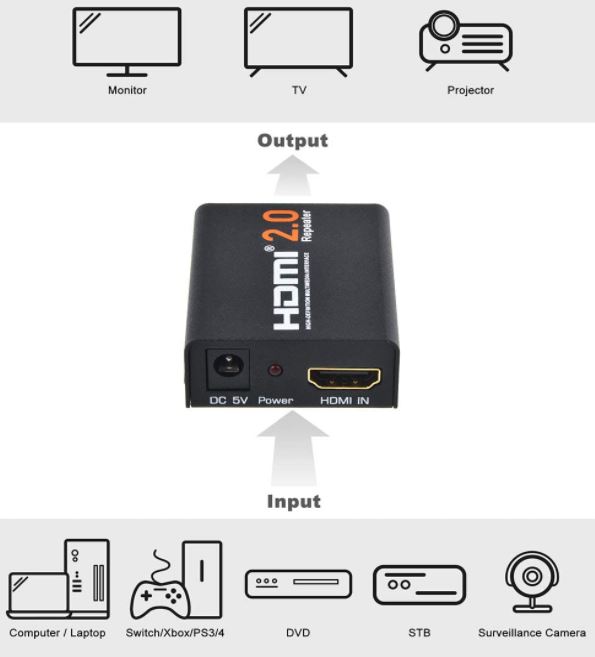 The Flashmen booster has an HDMI in port on the same side as the power supply. It's right next to the light, and is conveniently labeled in white text. The HDMI out port is on the opposite end, and is also conveniently labeled. Next to that port, you'll see the sequence "2160P" printed in large white text. This is a reference to the booster's maximum resolution of 4K, or 2160p.
Range and Power
As with the StarTech amplifier and all others, the range of the signal will depend on the video quality. For 4K video at 60Hz, you'll be able to reach an impressive 15 meters in both directions. That's just under 50 feet, or a total run of up to 100 feet. That's the longest range of any of these adapters at maximum quality.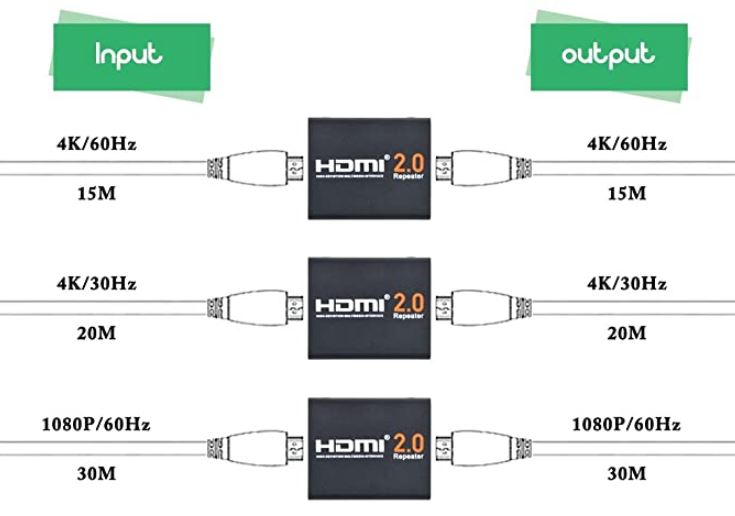 The advantage in range remains strong as the video quality gets lower. At 4K and 30Hz, you can reach 20 meters in both directions, or 66 feet. That's a total range of over 130 feet. And at 1080p and 60Hz, you can reach 30 meters in both directions, or a total range of about 200 feet. That's four times the range of a standalone HDMI cable. Not only that, but the Flashmen booster is powered, so interference is less of a concern. We're not saying you can run it right through a power main, but you shouldn't have trouble under normal conditions.
One thing the Flashmen booster doesn't support is 7.1-channel surround sound. That's a bit unfortunate, but it's a side effect of the longer range. Whether or not this is worth the trade-off depends entirely on your circumstances.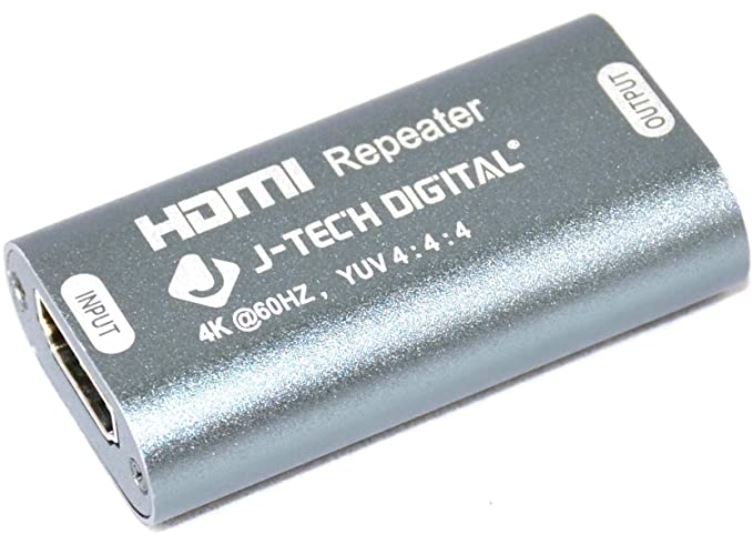 J-Tech Digital HDMI Repeater
J-Tech is another manufacturer whose gear we've looked at in the past. Not long ago, we reviewed their wireless HDMI transmitter receiver, and we were reasonably impressed. So it only made sense to look at their physical repeater, and see how it compared to the competition.
The first thing you'll notice about the J-Tech repeater is that it's tiny. It measures only 2 inches long, 1.1 inches wide, and half an inch thick. It's also silver instead of black, and has an oval profile rather than rectangular. This gives it a unique appearance, closer to a large thumb drive than a small smartphone. There's a J-Tech logo stamped on the top, along with the words "HDMI Repeater" and the supported resolution.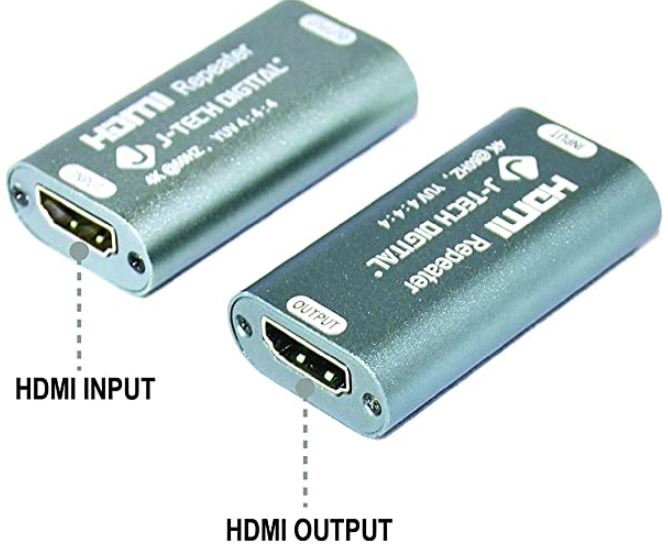 The HDMI in and out ports are located on opposite ends, with identifying stamps on the top. Unlike the other two signal boosters, there's no power input on the J-Tech. That's a big part of how they're able to make it so small. As a result, it's ideal for in-line use, where you can't access a power outlet directly. You're protected by a 12-month manufacturer's warranty, which covers defects in materials and workmanship.

Range and Power
The lack of a power supply simplifies the J-Tech repeater's design and streamlines the installation. Unfortunately, it limits what you can actually do with this little device. The advertised range is 4K and 60 FPS at 25 feet per side, for a total of 50 feet. However, without power, you're not going to get that kind of performance. There's inevitably going to be some interference, which will shorten your range. Even so, you can expect a solid 15 to 20 feet per side, which is enough for most home setups. At lower video resolutions, you'll be able to reach considerably further.
The upside of the J-Tech repeater is that it supports a variety of functions that the others don't. Yes, it supports 7.1-channel surround sound. But it also supports CEC, HDR, and ARC. CEC, or Consumer Electronics Control, is a system for simplifying controls. For example, you can program your soundbar to automatically turn on whenever your TV turns on. HDR, or High Dynamic Range, refers to the variance in brightness and saturation of colors. Support for HDR lets you get the most out of high-quality, top-of-the-line TVs. ARC, or HDMI ARC vs. eARC – What's the Difference?, allows for audio to be sent in both directions. This is useful for reducing the number of cables in many audio configurations.
Final Verdict
So, which of these 4K signal boosters is the best? A lot depends on what you're trying to do. For most people, the StarTech.com HDMI Signal Booster is probably going to be ideal. It provides reasonable range at 60 FPS, and it also holds up reasonably well at lower framerates. It also supports 7.1-channel surround sound, so you can use it with powerful sound systems. And it's externally-powered, so it doesn't suffer as much from interference as some repeaters.
The Flashmen HDMI Booster is the most powerful in terms of sheer range. With a range of nearly 100 feet at 4K and 60 FPS, it can go where other adapters can't. The 1080p range is also impressive, at nearly 200 feet. The downside is that you won't get support for a lot of other features. All of the bandwidth is being dedicated to pushing your signal as far as possible.
The J-Tech Digital HDMI Repeater is the mirror image of the Flashmen. On the one hand, it has relatively short range. On the other hand, it supports a variety of features like CEC, HDR, and ARC. For more complex home installations, this is an excellent signal booster.
Meet Derek, "TechGuru," a 34-year-old technology enthusiast with a deep passion for tech innovations. With extensive experience, he specializes in gaming hardware and software, and has expertise in gadgets, custom PCs, and audio.
Besides writing about tech and reviewing new products, Derek enjoys traveling, hiking, and photography. Committed to keeping up with the latest industry trends, he aims to guide readers in making informed tech decisions.