A normal Ethernet hard-wire connection has a distance limitation that's roughly one hundred meters. This isn't quite as long as most people often need it to be, this is why a lot of thought and development has gone into creating solutions for extending the abilities of Ethernet. StarTech, a manufacturer of hard-to-find connectivity parts have come up with one of the most brilliant products in connectivity, the VDSL2 Ethernet Extender Kit.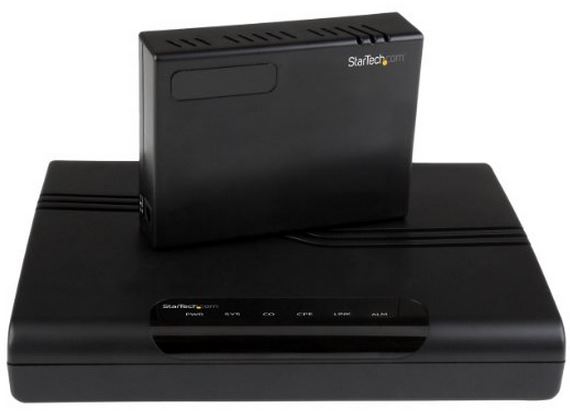 Startech's VDSL2 Ethernet Extender Kit was recently released and already we're hearing great and not so great feedback from users. However, let us begin with the good things.
For starters, it allows your home or office network using hardwired Ethernet connections to span to distances up to 1000 meters or 3330 ft at 40 Mbps. This provides up to ten times the distance so you can easily communicate with other devices or peripherals that need a reliable hard-wire connection.
No Additional Equipment Needed
This extender has a built in 4-Port Ethernet switch that can be used to replace additional network equipment. You can also deliver network access to the existing phone line infrastructure. Instantly, this can save you a lot of upgrade costs by using the infrastructure that may already be in place.
This small device is great for networking different buildings at one location. It's also ideal to use in old buildings or structures that are unable to have access an advanced connection or may be using a plain old telephone service.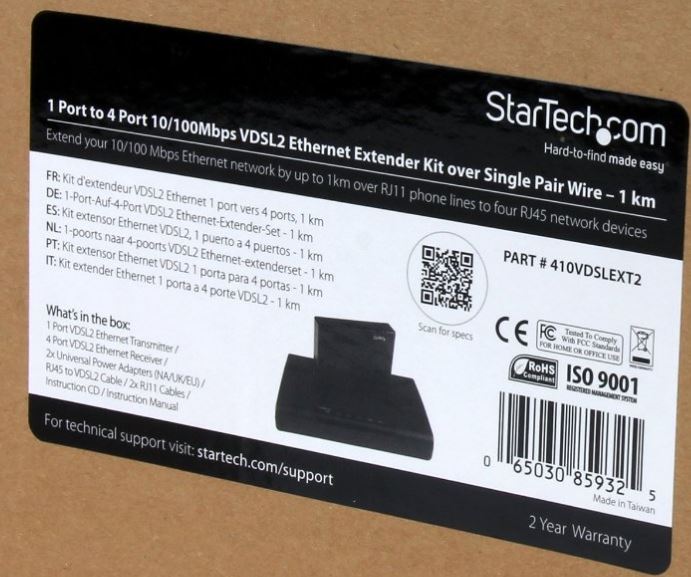 All In One Solution
Everything you need for your extension solution is in the kit. It's simple, effective, and easy to use. All of the accessories needed are included in the box, besides the cabling you may need for your specific infrastructure. Additionally, there's a DIP switch and web-based customization for easy configuration.
Technical Specifications
Hardware: Transmitter: Metanoia MT3201, MT2201GL-B1
Receiver: Metanoia MT2301GL-A1, MT3301GN-A3
Number of Ports: 4
Maximum Distance: 1km
Maximum Data Transfer Rate: 200 Mbps
Color: Black
Enclosure: Plastic
FFC Compliant
Because this equipment uses radio frequency, if not installed properly, it can cause harmful interference to radio and/or television reception in the surrounding area. Because of this, it's been rigorously tested and proven to be compliant to the strict FFC rules.

If, after installation, you find that it interferes with any radio or television reception, you're are asked to try any of the following to correct the situation:
Relocate or reorient the receiving antenna.
Transfer the equipment to a different circuit where the receiver was previously connected.
Try to increase the separation of the receiver and equipment.
If none of the above works, contact your StarTech or ask assistance from an experienced technician.
Final Thoughts
If you need to expand your network, the StarTech VDSL2 Ethernet Extender Kit is an excellent investment that provides both performance, reliability, and functionality. With a price that ranges from $230-350, it's not exactly cheap, but still a small price to pay for the features it offers. The extension of Ethernet requires a gadget like this to boost a signal to wherever you need it most.
The only potential downside is that the instructional/user manual that's included in the box doesn't really offer a lot of helpful information on the product itself. More information can be found on Amazon, or through the manufacturers website – so it's definitely available.

Additionally, StarTech includes a fantastic 2 year warranty and lifetime technical support if you ever have any issues or mishaps using it in the future. Overall, it does what it says it does, and it seems to work just fine. If you need to give your Ethernet connection a boost, look no further.
About StarTech
The company was founded in 1985 in Ontario, Canada. They've been an active manufacturer in the United States and global peripheral and technology accessory industry ever since, providing some of the finest products available in this space. The company focuses on producing products like connectors, splitters, extenders, adapters, and switches. Their products are often uncommon and are designed to help users connecting legacy technology with new technology.