The Sony BDPS5500 3D Streaming Blu-Ray Player is made for some serious entertainment. The TRILUMINOS technology gives you incredible resolution, improving the visual quality of your favorite 3D Blu-Ray movies. Add to that an array of over 300+ streaming entertainment services, including popular choices like Netflix, YouTube, and Hulu Plus, and you've got a serious competitor for your home entertainment budget.

With a price in the sub $100 range, this Blu-Ray player is affordable on most budgets. It comes equipped with a playback feature that lets you upscale your playback of DVDs from 2D to 3D, using a full HD 1080p Blu-ray format. This means you don't have to run out and buy new DVDs of your favorite movies just to get the fantastic quality.
The BDPS5500 3D Streaming Blue-Ray player comes with Sony's TRILUMINOS technology. This features gives an increased sense of depth to the video you're watching. The TRILUMINOS technology gives a more natural shade to all colors, and includes Sony's widest color spectrum ever offered.
With over 300+ streaming applications available, including Amazon Instant Video and more, you can also mirror you mobile devices that are running over your Android platform mobile devices.
Many are pleased to find out that you can view your mobile device screen on your TV thanks to Miracast technology. You can also choose the option to stream and enjoy PlayStation 3 games with no game console required. With easy access to a catalog of hundreds of PS3 games available for streaming, you can even play them all using a dual shock 4 controller.
This product is made by Sony, so you know the quality is going to be top-notch. There's a new Wi-Fi module that provides it with excellent stability and an updated speed interface for improved performance when streaming videos or web content. You can set your device to automatically detect and connect to your home Wi-Fi network, safely and securely streaming your videos at your leisure.

Included is a new, customizable easy access function that puts your apps and other functions within easy reach. You can not only control other mobile devices, you can also browse through your libraries for just the right bit of video you're looking for.
You'll even have access to TV SideView with a very quick start/load time so you can watch your movie selections faster than ever. There's a front-located USB port that enables you to enjoy your own music library, personal photos, and videos.
No system would be complete without Dolby sound. The Sony BDPS5500 offers up Dolby True HD and dts-Master audio. You get clear, crisp sound whether you're playing your favorite tunes or kicked back, watching your favorite videos. If you want to browse the internet on your TV, the built in web browser is there to help you do that. And, to top it off, the entire unit is Energy Star 3.0 compliant so you won't be spending an arm and a leg to use it all day long.
It's visually a small unit and looks sleek and compact with its flip down front panel. With the outer shell made from aluminum, it looks solid and strong. Sony has incorporated stronger and faster wireless connection – the Wi-Fi module will interface with MIMO to provide improved stability without any lag or delay. This gives you a better performance speed for a flawless streaming experience.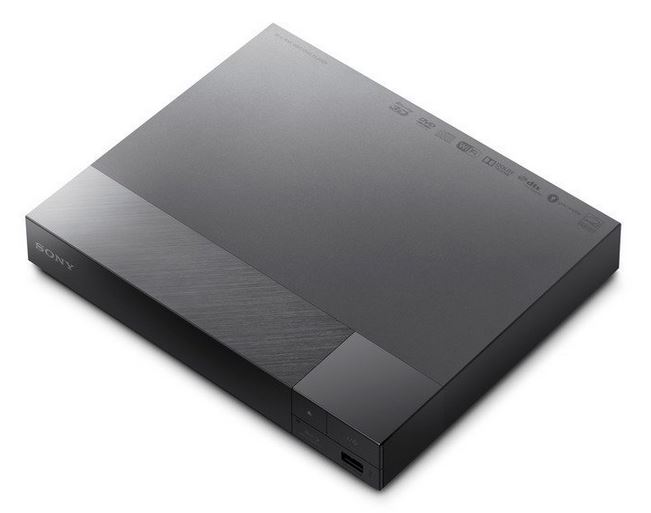 The touch screen navigation through your apps is user-friendly and simple. We're all used to flicking and touching our way through our mobile devices, having this feature on the Sony BDPS5500 means there's no time wasted trying to learn how to navigate and comprehend a new system. Additionally, it's customizable interface makes for simple and effortless to control.
Pros
300+ streaming apps.
Android compatible.
Miracast technology.
Enjoy PlayStation 3 games without needing a console.
Full 1080p HD Blu-ray.
2D to 3D conversion.
TRILUMINOS display.
Wi-Fi module for speed and stability.
TV Sideview.
USB port.
Dolby TrueHD.
Energy Star 3.0 compliant.
Cons
Many of the apps, such as Netflix, require memberships.
Must have television that supports HDMI.
Upscaling requires an HDMI cable and HDTV with HDMI input.
PlayStation Now requires broadband internet connection.
HDMI cable not included.
Final Recommendation
This Sony BDPS5500 3D Streaming Blu-Ray Disc Player with TRILUMINOS Technology is a solid purchase for its price range. The compact styling makes it easy to integrate into any home system and the flip down front panel provides an attractive look that's stylish and sleek – the aluminum outer covering makes it look and feel sturdy.
The new user interface is an upgrade from last year's model. It allows you to place more emphasis on using apps, which speeds up the process of finding what you're looking for and getting it going in a timely manner. The user interface could be a bit faster, and seems to slow down a bit if you are using dedicated media boxes with the unit.

You get the 1080p HD output for all of your media content, not just the Blu-ray. This is a pleasant feature to have, indeed. The lack of an included HDMI cable is annoying, but really not a deal breaker. The HDMI connection simplifies the setup when designating the TV as the receiver. Watching movies through an app supported platform like Netflix or Amazon Prime gives you a great improvement on the quality of the picture.
This is a result of the Sony BDPS5500's ability to upscale viewing content from regular HD. Add in the TRILUMINOUS color boosting and the picture resolution is incredible.
All in all, this is a solid purchase for the money. You should not be disappointed.