The Garmin Vivoactive is an ultra-thin, GPS-equipped smart watch that allows you to track your activities, view stats, and closely monitor the overall progress of your fitness goals. Featuring a number of built-in apps and allowing you to see your stats even when you're away from a smartphone, the Garmin Vivocative is a great gadget for cycling, jogging, swimming, and just about every other sport or outdoor activity.
A carefully designed display that can easily be read even in the brightest sunlight, with a color touchscreen and attractive design makes it a useful and powerful tool for those who strive to preserve a healthy lifestyle.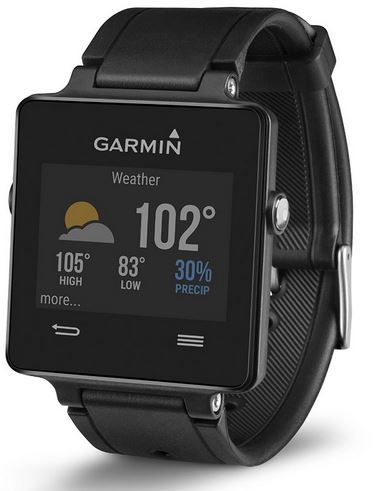 The Garmin Vivoactive is designed specifically for fitness fans. It's thin, it's lightweight and can be a great activity monitor for runners, cyclists, and even swimmers. Since it's fully submersible up to 50 meters deep, it offers precise tracking even underwater.
Garmin took every bit of attention into detail while working on the Vivoactive's display. It's sun-readable (which is not exactly new, but still a nice perk) and has an impressive resolution that's always a treat to look at. The 1.38-inch display is small, but still offers a wealth of functionality that keeps the design slim.
The Vivoactive has excellent compatibility with a wide range of mobile devices. It can easily pair with iPhones, Androids, and Window Phones. Yet, Garmin has excluded Blackberry – but let's be honest, the most popular devices have been covered. Still, there is one thing. It'll require iPhone 4S or later, and will only work with Android devices if they're Bluetooth Smart capable. That slightly narrows down the options, but not drastically.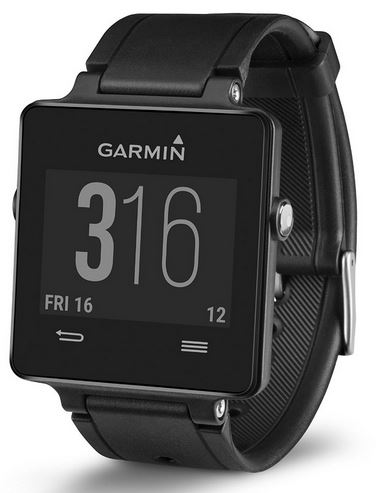 There are several built-in apps that allow you to monitor your fitness activity over an extended period of time. Default apps include Run, Bike, Swim, Golf, and Walk. The functionality is pretty much in the names. Also, it has a built-in app for pairing to your smartphone. This way, you'll be able to see updated info on your present and past stats from both devices – the smartphone and the smart watch.
In addition, the Garmin Vivoactive gives you a chance to directly install third-party apps. This is a great feature, indeed. However, the storage capacity is not too impressive – just 8 gigabytes. Still, given that it's not a smartphone, it's not that bad. According to Garmin, 8 gigabytes of storage capacity should be enough to install approximately 16 third-party apps. That is – for now – until the apps get heavier. Installing and removing optional apps is easy so you can always add or remove at your own will.
When paired with a smartphone, it can display caller ID, show your text messages, and social media notifications. This isn't bad either, though once again – not exactly new. Plus, smartphone pairing is available within a 30 feet maximum, so if you plan on running a long distance, don't hope that anyone will reach you.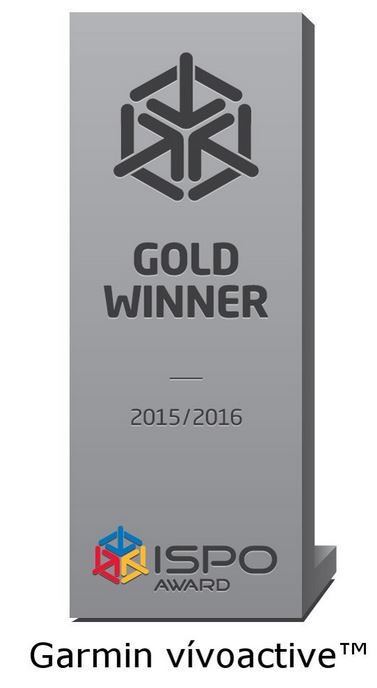 Regarding the size, Garmin did a great job on making it thin and light. The slim 0.3-inch and lightweight, 1.4-ounce, design is an excellent achievement. Yet, to be quite honest, the display size could have been smaller. Even though it's light and slim, it can still look rather bulky – especially on a girl's wrist.
Box Contents
Garmin Vivoactive
Charging Cable
User Manual
Pros
Waterproof up to 50 meters.
Sun-readable display.
High display resolution.
Pairs with iOS, Android and Windows Phone mobile devices.
Ultra slim.
Lightweight.
Compatible with third-party apps.
Caller ID, text messages, and social media notifications.
Great for fitness and golf.
Has a long battery life.
Can be paired with a heart monitor.
Optionally sold with a heart rate monitor.
Cons
With GPS, the battery runs out quickly.
Limited color selection (black and white).
Design could be more attractive.
Quite pricey.
Storage could be increased.
Requires iOS7 or later and Bluetooth Smart capable Android devices.
Syncs within 30 feet from your smartphone.
Final Words
To say the least – the Garmin Vivoactive is a great gadget for fitness minded individuals. On the whole, Garmin did an amazing job on their smart watch – so, even if it doesn't have any truly revolutionary features, it's still worth checking out and would make a great investment for anyone looking to keep track of their health and fitness goals. A high quality display, compatibility with a wide range of smartphones and tablets, as well as a possibility to install third-party apps directly to it makes it a user-friendly and fun gadget.