Over the past few decades, we've gone from just a handful of electronics to a metric ton of it. This is evident in home design. If you walk around a newer home, there are power outlets everywhere. Every few feet along the baseboard, under kitchen counters, and anywhere smart devices go. This is good news if you're buying a brand new home. Unfortunately, older homes generally don't have as many power outlets. Instead, you'll find yourself using all kinds of tricks to maximize the number of outlets available. One common method is to use a power strip.
Of course, you could just use a simple power strip. But if you're buying a new device anyway, why not get one that offers some extra bonus benefits. For one thing, a timer can be useful for many purposes. Primarily, they're useful for fooling would-be burglars into thinking that you're home. But they can also be used for something as simple as turning the hall light on before you get home from work. Meanwhile, a surge protector can keep your electronics safe from damage due to excess current. If you can combine all these features into a single package, you're looking at an excellent value.
Today, we're going to look at three different power strip timers. First up is the BN-LINK 8 Outlet Surge Protector With Mechanical Timer. As the name implies, this power strip features a simple, mechanical timer. It also sports a powerful built-in surge protector. The next option we'll be looking at is the GE 7-Day Programmable Power Strip With Digital Timer. The timer on this unit allows you to save multiple presets, but there's no built-in surge protector. Finally, we'll be reviewing the DEWENWILS Power Strip With Timer. This is a bit more basic timer, but it has a longer, six-foot cord. Let's take a closer look at each of them!
How Surge Protectors Work
One major concern is electronics is a power surge. In simple terms, a power surge happens when an electrical current is too high for the wire that's carrying it. In the US, this means the standard 120 volts that's delivered by a wall outlet. If the voltage rises above that number, you have a power surge. Why is this a problem? Doesn't that just mean more power?
The problem is that more voltage produces more heat. If the voltage is too high, the wire will get too hot and can get damaged. In the case of larger electronics, the damage is usually minimal. A simple LED lamp, for example, can weather hundreds of power surges without major damage. On the other hand, smaller, complex circuits are easily damaged by power surges. This includes the microscopic circuits inside your computer. A single power surge can cause permanent damage to CPUs, USB ports, and more. Even if there's no immediate damage, repeated stress can shorten your components' lifespan.
A surge protector avoids this issue by diverting the excess current somewhere else. Most home surge protectors use a component called a metal oxide varistor (MOV) to do this. An MOV is a simple component that pulls a lot of weight. It consists of a metal oxide rod, connected to the power and grounding lines by a pair of semiconductors. These are variable resistance semiconductors, which means their resistance depends on the voltage. In fact, they work in reverse. The higher the voltage, the lower the resistance. When the voltage is below a certain level, the semiconductors will not allow any current to pass through. However, when the voltage rises above that level, they will allow more and more voltage to flow through.
Essentially, an MOV serves as a bypass valve for excess current. When applied to a power outlet, an MOV will allow 120 volts of power to pass through the normal circuit. After that, excess voltage will be diverted directly to the ground. The more voltage is delivered, the more will be diverted. At the point of delivery, your device will receive a consistent 120 volts of power. Keep in mind that a surge protector is designed to protect you against excess voltage, not a shortage. If there's a brownout or blackout, your device can still shut down. To avoid that, you'll need an uninterruptible power supply with a battery backup.
BN-LINK 8 Outlet Surge Protector With Mechanical Timer
The BN-LINK 8 Outlet Surge Protector With Mechanical Timer is the most straightforward unit on our list. It consists of an eight-outlet power strip, along with an analog timer. This timer is both a strong point and a weak point. On the upside, operation is straightforward. There are 48 pins included in the packaging, and the pins can be inserted at 15-minute increments. Simply set the dial to the current time, and insert pins where you want your devices to turn on and off. This translates to up to 24 on and off cycles per day. On the downside, you're limited to a 24-hour day. If you want to set a weekly schedule, you're out of luck.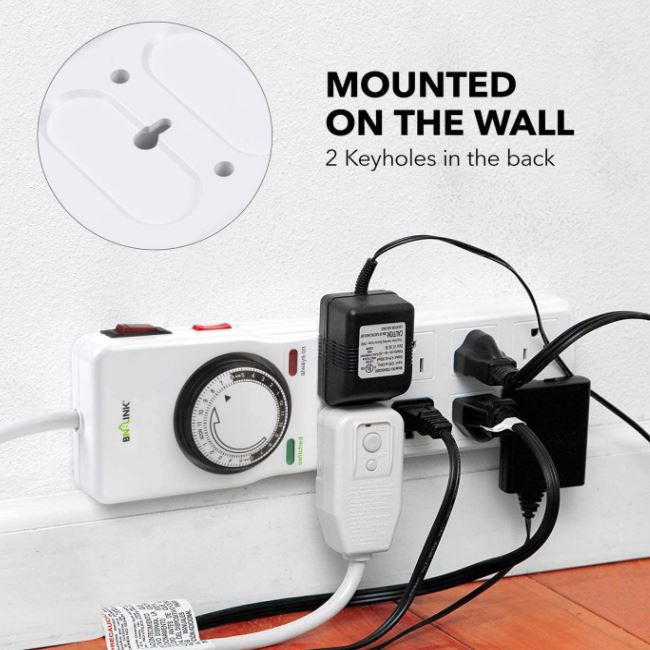 The timer itself is well engineered. This is just what we'd expect from the company that makes one of the best WiFi outdoor smart plugs available. The 8 Outlet Surge Protector is matte white in color, and constructed from durable ABS plastic. It measures 14.5 inches long, 8.2 inches wide, and a beefy 2.8 inches thick. The power cord extends from one side, measuring three feet in length. This should be enough for most applications, but it's still relatively short. It also requires a 3-prong outlet. This is always the case for surge protectors, which require a ground connection to function properly. That said, placement is easy. A set of notches on the back allow you to wall mount your plug without any issues.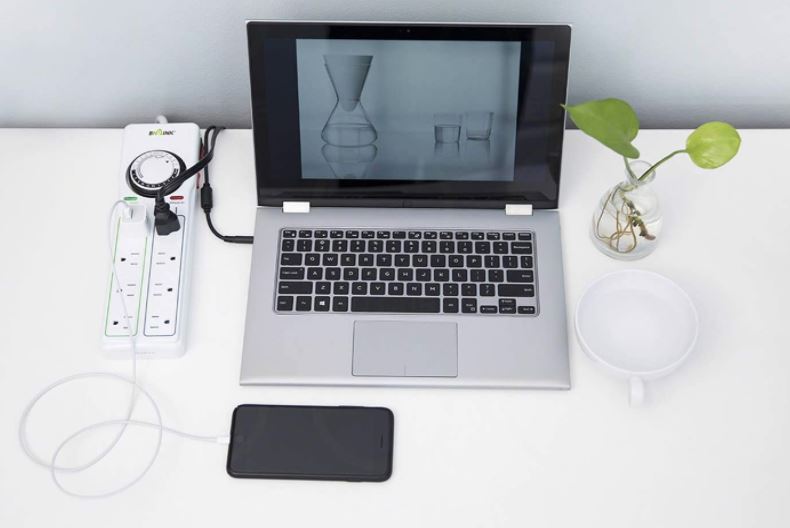 On the top surface of the power strip, you'll see two parallel rows of four outlets each. The row on the right is always on, while the row on the left is controlled by the timer. If you don't want to keep track of this, you don't have to. Each side is clearly marked, complete with LED indicators to let you know the outlets are active. Alternatively, you can ditch the timer function and use all eight outlets all the time. To do this, look at the side of the unit, next to the main power switch. There, you'll find a small red override switch. Turn this switch on, and your timed outlets will also be permanent. Just check the LED indicator to make sure they're active.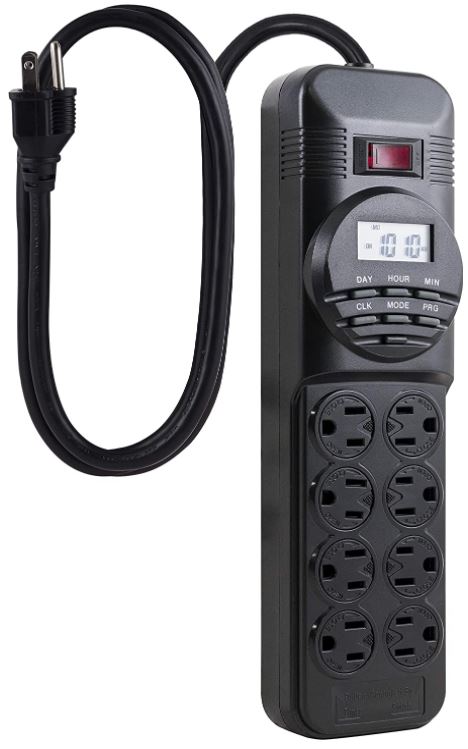 GE 7-Day Programmable Power Strip With Digital Timer
The GE 7-Day Programmable Power Strip With Digital Timer is a different beast altogether. Let's start with the bad news upfront. There's no built-in surge protection. This means it's not suitable for sensitive electronics unless you have another method of surge protection in the circuit. Even so, the GE power strip still has a lot to offer if all you need is a timer with multiple outlets.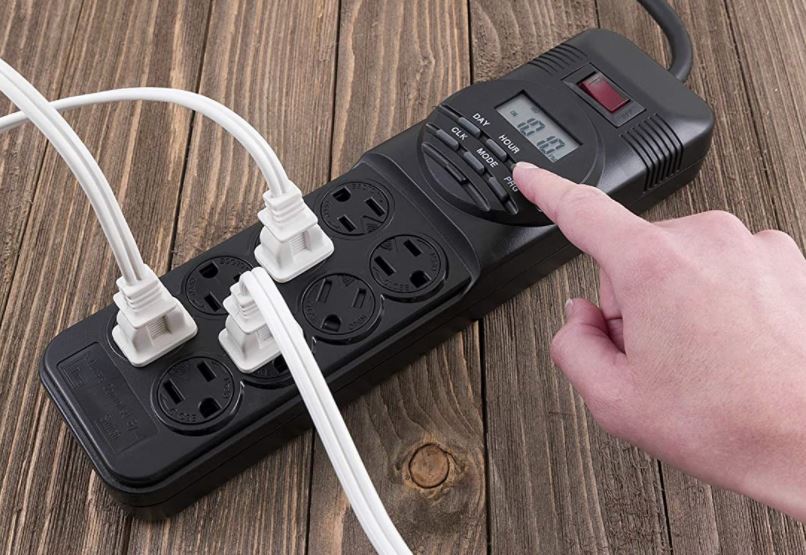 To begin with, you get an eight-outlet design similar to the BN-LINK power strip. This means that you can potentially connect up to eight different devices. Also like the BN-LINK, these outlets are grouped on two sides. On the left, the outlets are on the timer. On the right, they're always on. This is indicated by an embossed marking at the bottom of the unit, but it can be easy to miss. The outlet covers have a twist lock design, with safety covers that keep out dirt and debris. This can be helpful if your power strip is liable to collect dust bunnies. The unit itself is black, with a matte ABS finish that's easy to clean when you need to. It measures 11 inches long, 5 inches wide, and only an inch thick. It also has a three-foot cord that allows for easy placement.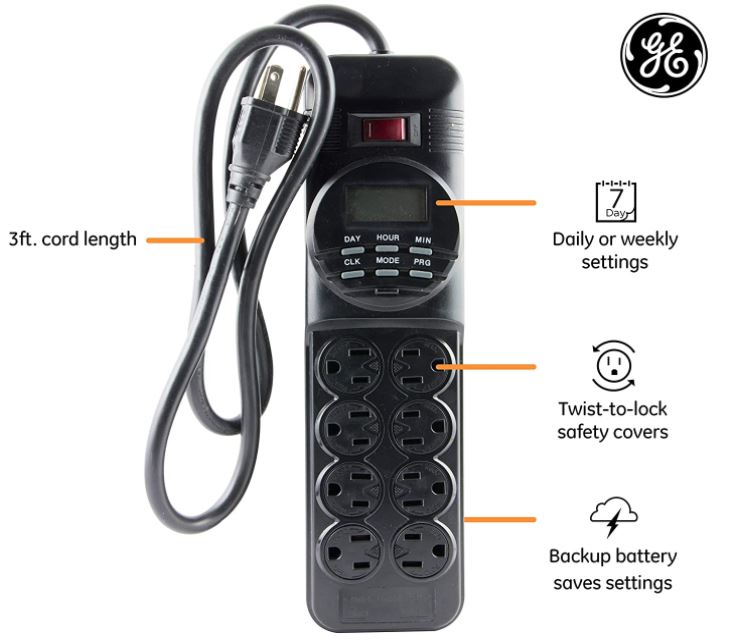 The main advantage of the GE power strip is the timer function itself. It sports a digital LCD display, along with a six-button control that allows for easy, intuitive operation. Once the time is set, you can create a seven-day schedule for your lights and other devices. By accounting for the weekend, the GE power strip is more versatile than the competition. However, it actually goes one step further. You can create up to eight preset schedules. You can create as many on/off points as you want on each schedule, and switch between them at any time. Not only that, but the timer uses an LR44 battery to remain active when the power goes out. This won't keep your devices running, but it will deliver juice as needed when the power comes back.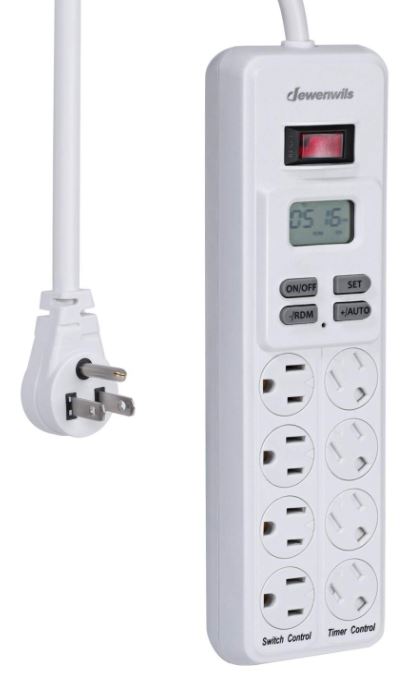 DEWENWILS Power Strip With Timer
The DEWENWILS Power Strip With Timer is, at first glance, very similar to the GE unit we just looked at. Most strikingly, it sports a digital timer, with an LCD display. However, the timer is a bit less complicated – and has fewer features – than the GE power strip. Instead of eight programmable weeks, you only get a single seven-day cycle to play with. Admittedly, this should be more than enough for the vast number of people. Moreover, you can also choose a sunrise/sunset mode to automatically cycle the power based on the light level. Finally, a built-in battery pack ensures that your timer will keep on ticking, even during a power outage.
The DEWENWILS power strip is also similar to the GE strip in another regard: there is no surge protection. The same warning applies here. Be careful about connecting PCs, game consoles, or other delicate devices through this power strip. If you're going to do that, it's a good idea to look for other methods of surge protection.
As with the last two options we looked at, there are four outlets on each side of the DEWENWILS power strip. The ones on the left are always on, while the ones on the right are controlled by the timer. Each side is clearly labeled, so it's easy to keep track of which is which. If need be, you can always use the timer to set the four timer outlets to "always on". This will give you eight permanent outlets. Not only that, but the outlets also have rotating covers that keep out contamination if you're not using them all.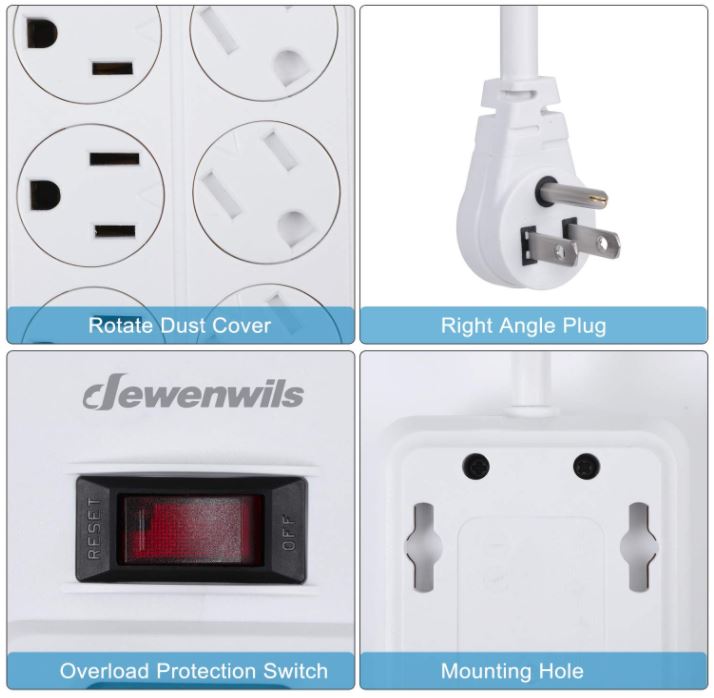 The DEWENWILS power strip itself is constructed from a matte white ABS plastic that's reasonably durable. It sports a six-foot cord which is long enough for easy placement just about anywhere. Not only that, but a set of rear mounting holes make positioning a breeze.
Final Verdict
As you can see, all three of these power strips has its own benefits and drawbacks. Let's recap what we've learned. First, we reviewed the BN-LINK 8 Outlet Surge Protector With Mechanical Timer. This is the complete package, with both a surge protector and a timer. It also has convenient LED lighting to indicate which outlets are timed and which are not. The only downside is the analog timer. It has a wholesome, old-school appeal. Unfortunately, it's also a simple 24-hour timer, so it won't sync with a 7-day schedule.
Next, we looked at the GE 7-Day Programmable Power Strip With Digital Timer. If you're looking for a full featured outlet timer, look no further. This power strip allows for eight separate weekly schedules, each of which is accurate to the minute. If you need more than that, we can't begin to imagine why. Unfortunately, there's no built-in surge protector. If your electronics are sensitive, you'll still need protection.
Last, we looked at the DEWENWILS Power Strip With Timer. This power strip is similar to the GE strip in that it has a digital timer and no surge protector. It also has "only" a simple 7-day schedule. There are no presets to program if you want multiple options. On the other hand, the 6-foot cable is a great benefit if your outlet is not conveniently located. This translates to more versatility than the last two options.