What would you do when the power goes out? In some situations, this is nothing more than a minor inconvenience. In others, it can be a life or death situation. Uninterruptible power supplies, or UPS's, are devices that combine backup battery power with an AC power strip to ensure that your most important electronic devices can still be used in the event of a power failure. They can vary quite a bit in functionality, so let's take a look and go over the three best uninterrupted power supplies you can buy today.
APC Back-UPS (BEM600M1)
Where UPS's are concerned, APC is the number one brand. They've been making these devices for many years, but generally for the business market. Businesses need their products to be durable, well made, and incredibly reliable. When APC started their consumer division, they made sure that these qualities remained.
Note: At no extra cost to you, we may earn a commission for purchases using our links. Learn more.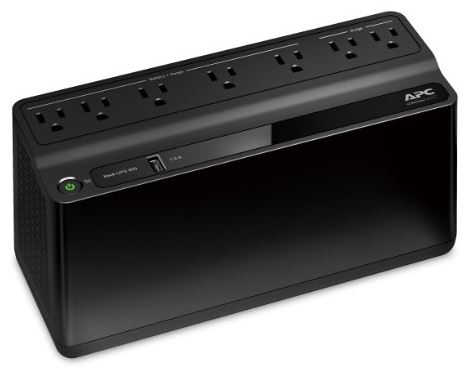 Design
While it may appear to be larger than the standard power strips you're used to, the APC Back-UPS (BEM600M1) is pretty compact compared to most. It might look like an elongated power strip, but don't doubt for a second that there is some serious hardware underneath it's black plastic exterior. Along the top, you've got your 7 120V AC power outlets and a shiny black strip. Aside from the logo, this strip contains an indicator light that tells you the devices status (Running Off AC, Charging, Discharging) and a USB port. Despite its utilitarian look, it was designed to blend in with your other home appliances. But the best part about the case of this UPS is its durability. It's made to be placed on the floor, so it can sustain being accidentally kicked or bumped without sustaining any damage.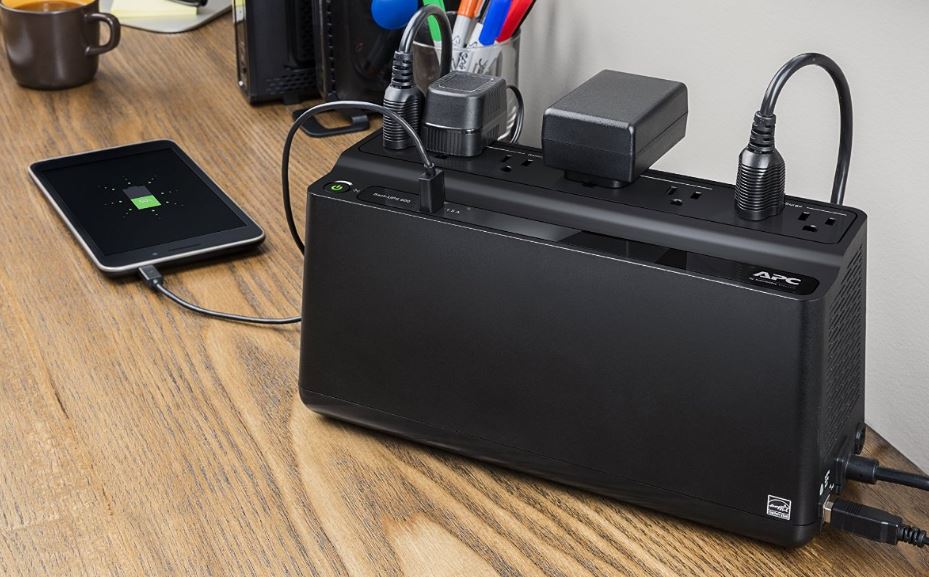 Functionality
Because this UPS is so compact, the battery capacity is lower than others. It's not designed to have heavy loads on it for an extended period of time. It's designed specifically for use with networking equipment. The idea is that you plug your modem and router into it, and if the power goes out you'll still be able to get online from a battery operated device. They rate the batteries at two to six hours of life. In our experience, we found that we got about five hours of life running a simple all in one cable modem with wireless networking, and four hours running a high end modem and router combo. If you're modem and router are two separate devices, you'll cut your battery life in half.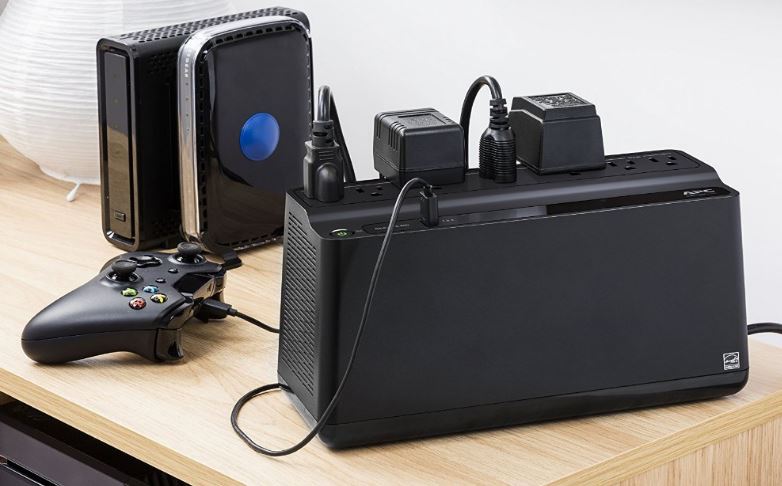 Connectivity
There are a number of ports on this UPS that are designed to keep all of your essential devices running in the event of a power outage. Of the seven 120V outlets, five of them are supplied with battery power in the event of an outage. You've also got a 1.5A USB charger, which is handy for giving your phone some juice when you need it.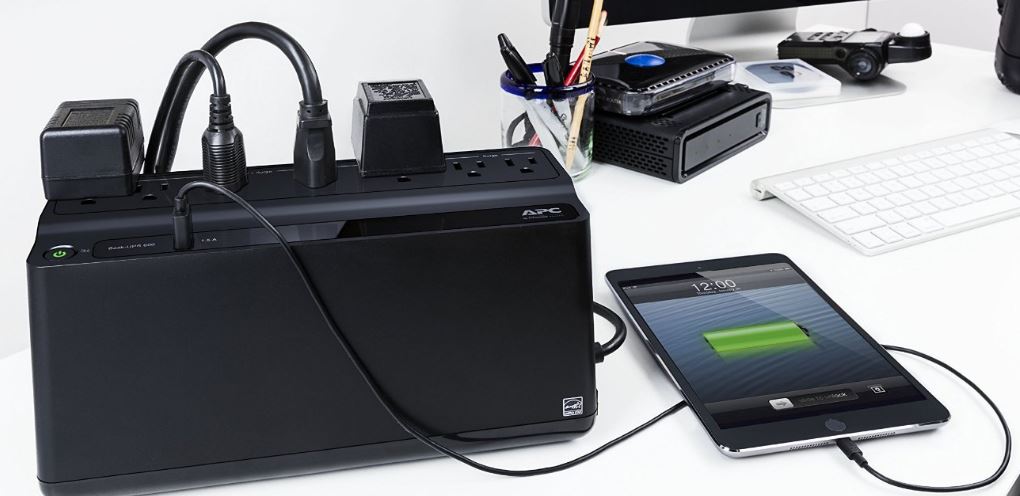 Value
If something causes your power to go out, the number one most important thing is to make sure that you can stay in touch with friends and family. Most uninterruptible power supplies are overkill for this purpose, making the APC BE600M1 an incredible value for short term power outages.
CyberPower Intelligent LCD Series
You probably haven't heard of CyberPower before, it's probably because you don't own a UPS! This company specializes in surge protectors and uninterruptible power supplies, and with this they've attempted to position themselves as the top manufacturer for the consumer market space.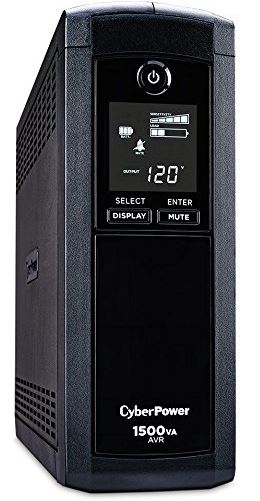 Design
Employing a tower form-factor, the CyberPower Intelligent LCD Series certainly looks different from most on the market. It's textured plastic casing is incredibly durable, but the shiny black face helps it stand out as the premium product that it wants to be. A brightly lit LCD display sits on the face of the device, letting you know it's current status with just a quick glance. You've also got controls to turn the display on or off, mute the alarm, (more on this later) and turn the UPS on or off. Its design makes it ideal for desktop applications, as when it's placed on the floor you won't be able to see the display. Fortunately, it's only 3.9" wide, so it's unlikely to take up much of your valuable desk space.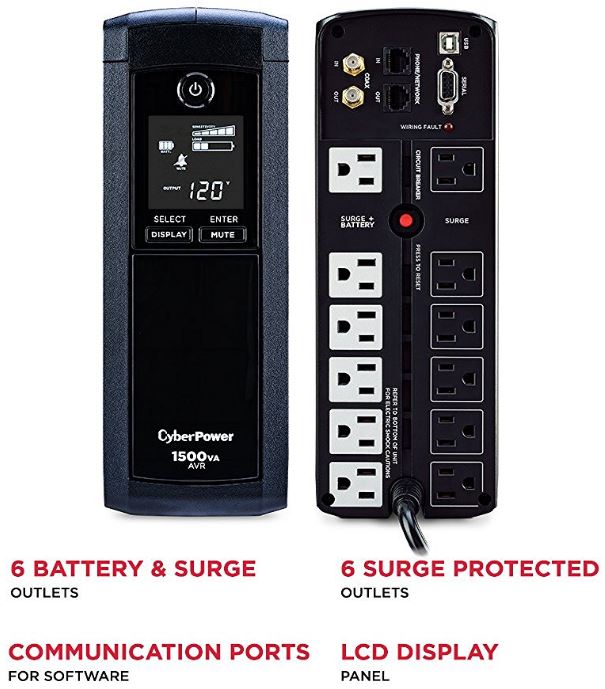 Functionality
CyberPower wanted to create more than just a surge protector, they wanted to make a two in one device. Combining a high quality surge protector with a long life UPS means that this unit really can be the single source of protection for your essential equipment. It's got a 900W inverter inside of it, allowing you to supply a plethora of devices with battery power. When we tested this UPS with just a simple wireless modem, we were able to get just over 15 hours of battery life. When we added a desktop computer and monitor, the output dropped to about 4 hours total. The types of devices you use have a major impact on how long your power lasts, but this UPS is powerful enough that you can run all of your essential electronics.
Wondering what the alarm button on the front of the panel is for? The internal alarm serves two purposes. First, it will alert you whenever the power changes from AC to battery. This is just a couple quick chimes, nothing too annoying. This alarm gives you the opportunity to diagnose the power failure. If it's a full power outage, there is very little you can do. But many times the power outage is simply a matter of a blown fuse. The alarm will also chime when the battery is within 10 minutes of dying, giving you the opportunity to properly shut down all of your important equipment.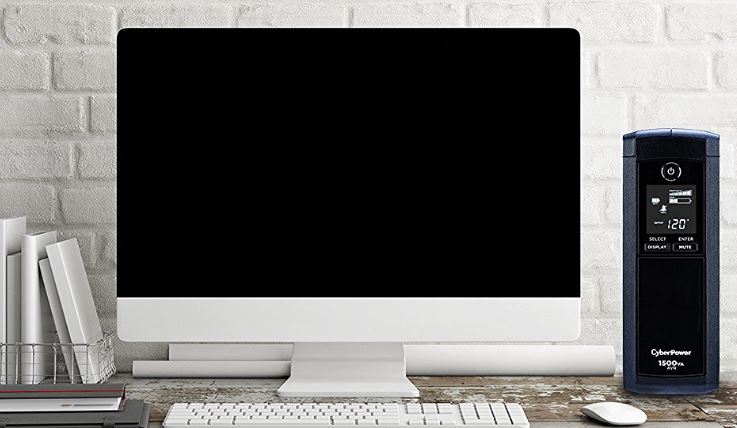 Another great feature is through the USB-B port on the back. You can install a free program on your computer and plug it into the UPS. This will automatically shut your computer down if the power is out and the battery supply is running low, so you won't lose any work.
Connectivity
There are a total of 12 x 120V power outlets along the back, so you're certainly going to be able to plug in every device you like. The outlets are clearly labeled, and divided through the middle. All the outlets on the left and provided with both battery power and surge protection, while the right side is surge protection only. It's important that UPS manufacturers provide power outlets that are not connected to the battery power, because there is limited capacity. You'll probably have every device in a given location connected to the UPS due to convenience. But if you're using all of your battery power on unnecessary devices, your battery life will be cut short.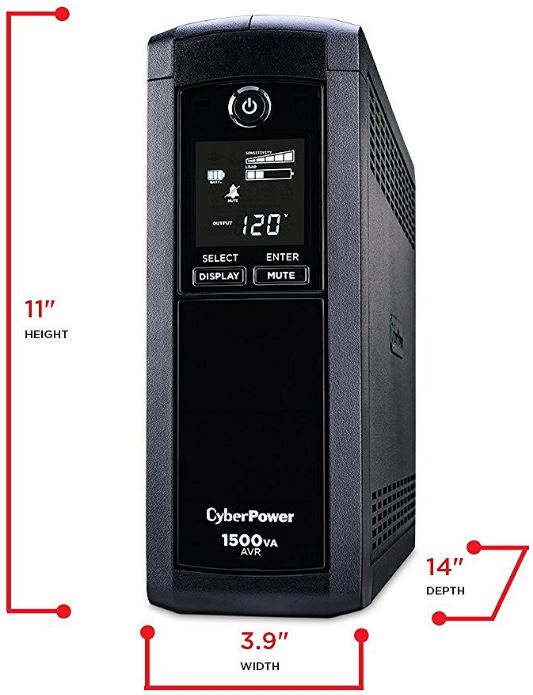 You'll also notice two telephone ports, as well as two coaxial ports. This is surge protection for your internet connection. Whether you have ADSL or cable internet, it's a good idea to run your connections through here before it hits your modem, in case of an electrical strike on the lines.
Value
CyberPower gives you pretty solid value with their Intelligent LCD Series UPS. It's one of the cheapest models that has a big enough battery to run larger electronics, and the surge protection is an excellent feature. Generally, power surges and outages go hand in hand together. So keeping your valuable electronics protected on both fronts is essential.
APC UPS Battery Back Up (BR1500G)
We've already looked at one of APC's entry level products, but it's only fair that we take a look at their higher end offerings.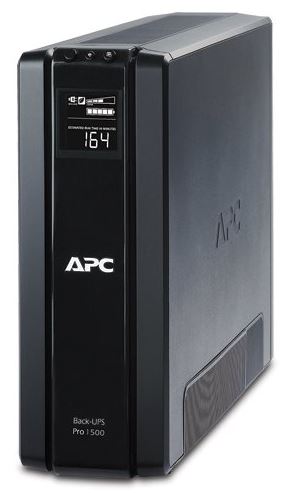 Design
One of the better looking UPS's on the market, APC also opted for the tower design. But unlike CyberPower's model, the APC UPS Battery Back Up (BR1500G) can operate on its side if necessary, thanks to the cooling vent located on the top of the unit. It's got a well illuminated display that gives you easy access to some key information about the operation of the UPS. You'll know the current battery charge level, output voltage, and rate of battery drain. Although this UPS still has the ruggedized plastic exterior, APC made sure to give it an executive feel that would fit right at home in any professional or high-end environment.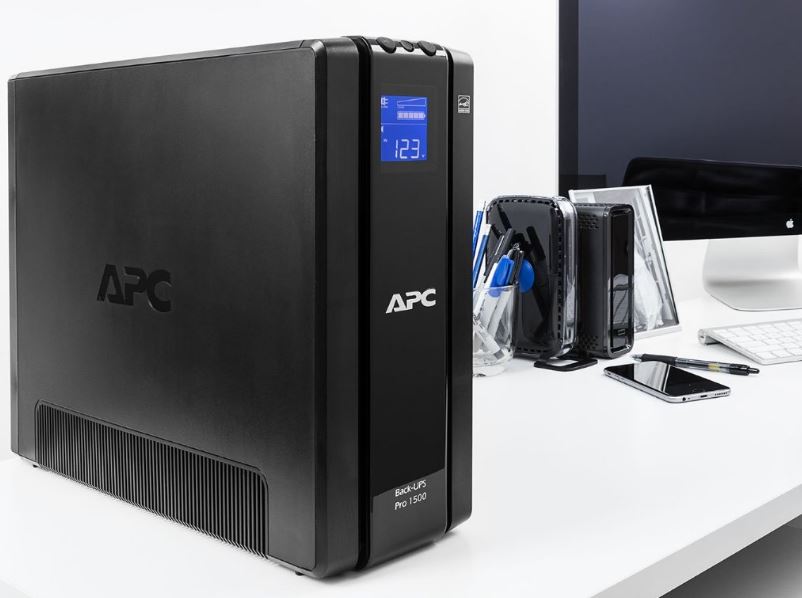 Functionality
Of all the UPS's we've reviewed today, this one is by far the largest. It's got a huge battery that was able to power our modem for a little under 24 hours. But this isn't designed for such a simple application, it's designed so that you can plug in whatever you need and have power on the go. In our testing we found that it could run both a desktop computer and a modem for around 6 hours, but of course this will change depending on how powerful your hardware is.
This UPS also offers surge protection, something we recommend in any high end UPS system. But what you won't often find is a company that backs up their hardware. APC claims that they have one of the best surge protectors on the market, and they'll offer you up to $150,000 in warranty rebates if the surge protector allows any of your valuable belongings to come into harm.

But another great feature is the master power output control. This allows the battery output controlled by one specific device. So, for example, let's say that you have your computer plugged in, along with all of its various peripherals. You only want to turn the computer on from time to time, and you want to save your battery when it's not in use. When the PC is plugged into the master port, the rest of the outlets will only be powered when the PC is on. This doesn't have to be just for the battery power either, you can also plug your monitor and accessories into the "surge only" outlets, and they'll automatically be turned off when the computer is not in use. This isn't just a great feature for emergencies, but also for the environment.
The UPS has a ton of other fantastic features. Using the included PowerChute software, you'll be able to configure any feature from your PC. You can choose how the UPS behaves in the event of an outage. Which devices are priority? Which should be shut down first when the battery runs low? If a computer does need to shut down, how can it be done safely so no data loss occurs? The software allows you to answer all these questions, and make the most of your limited battery time.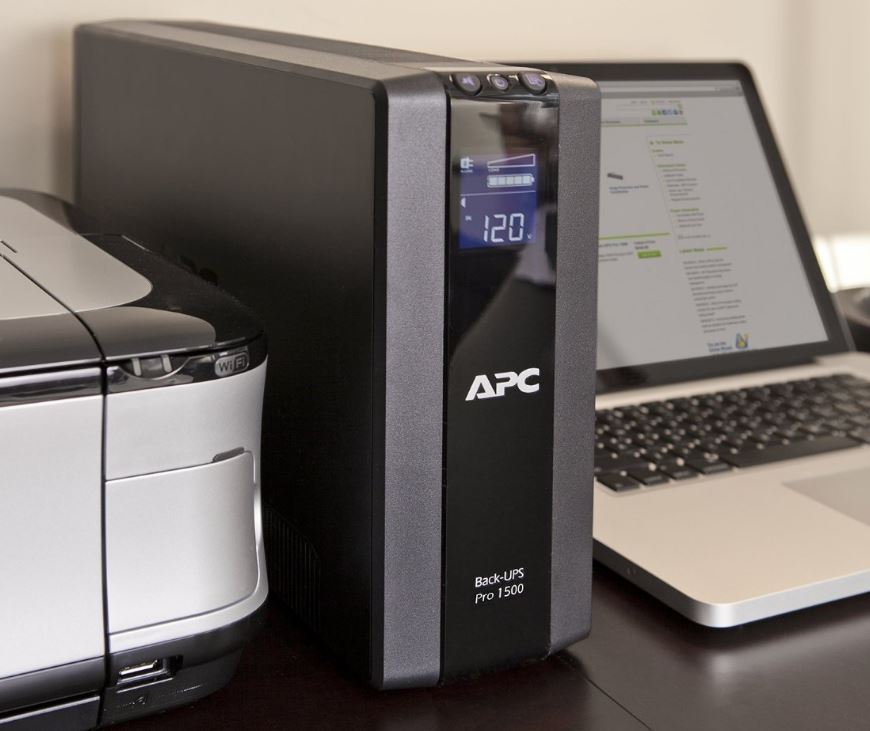 Connectivity
There are a total of 10 120V AC outlets. You've got 5 protected from surges and power loss, and 5 more that are only protected by the surge protector. The surge protector allows you to protect a coaxial connection, and an Ethernet connection in addition to the AC sockets. If the long battery life isn't enough for you, there is even an expansion port that allows you to connect an external battery bank.
Value
The BR1500G isn't the cheapest UPS on the market. But for a small increase in price, you don't have to worry about making any sacrifices. No other consumer UPS has as many features or capacity as this one. The fact that you can add additional battery banks and control how the UPS behaves when the power goes out mean that you can greatly optimize your power draw, hopefully further extending your usage period.
So, Which Uninterrupted Power Supply Should I Get?
Really, the answer to this question depends on what you can't live without. Once you know what you need, you'll need to decide how long you need it for.
If you just want to have a few hours of internet access, you can save a pile of money by purchasing the APC Back-UPS (BEM600M1). Simply plug in your modem and router, and you'll have at least a couple hours of internet access after the power goes out.
But if you want to run anything more than your router and perhaps a phone charger, you'll need a bigger battery. The CyberPower Intelligent LCD Series is the next best option, giving you the ability to power even a full size desktop computer for hours.
But if you absolutely need the best of the best, then the APC UPS Battery Back Up (BR1500G) is a good choice. This UPS is used in mission critical situations, where consumers need access to power for a long time. If you live in an area where all day power outages are likely, you'll find that this UPS is worth the price.
Please consider sharing:
Note: At no extra cost to you, we may earn a commission for purchases using our links. Learn more.