Your fan is one of the most important parts of your computer. While PC fans are small and inexpensive, they're essential for keeping your system cool. Neglect them – or fail to install enough fans – and you could damage your computer. Your fans are wired into your motherboard or fan controller, which controls the speed by adjusting the voltage.
In most cases, this works very well. The fans run at a moderate speed most of the time, and speed up when the system is under a load. However, newer PWM fan controllers can slow your fans down even further when the system is idle. This is an excellent power saving feature. So what do you do if you want to use PWM technology or add additional fans to your build? You use a splitter cable.
We're about to review four of the best PWM fan splitter cables we were able to get our hands on. There are several features to look for on each one. If you want the basics, here's what you need to know:
Of course, there's a lot more to consider about all four of these options. Let's put them under the microscope, and see how they stack up.
Cable Matters 3 Way 4-Pin PWM Fan Splitter Cable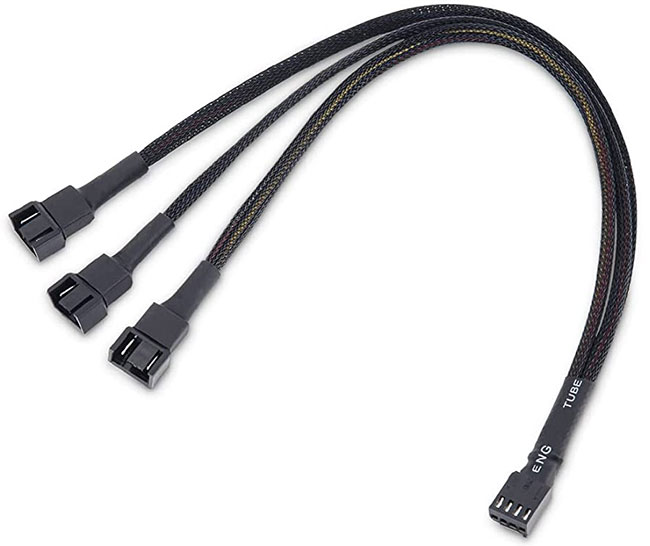 Key features:
3-way splitter.
Maximum 36 watts.
Comes in a two-pack.
The Cable Matters PWM Fan Splitter Cable is a simple three-way splitter. There's a 4-pin connection at the base, with three 12-inch wires protruding from it. Each is tipped with a 3-pin connector, which can plug into a 3-pin or 4-pin fan. Keep in mind that the speed pin only works on the main connector. In other words, all three fans will run at the same speed, be that fast or slow.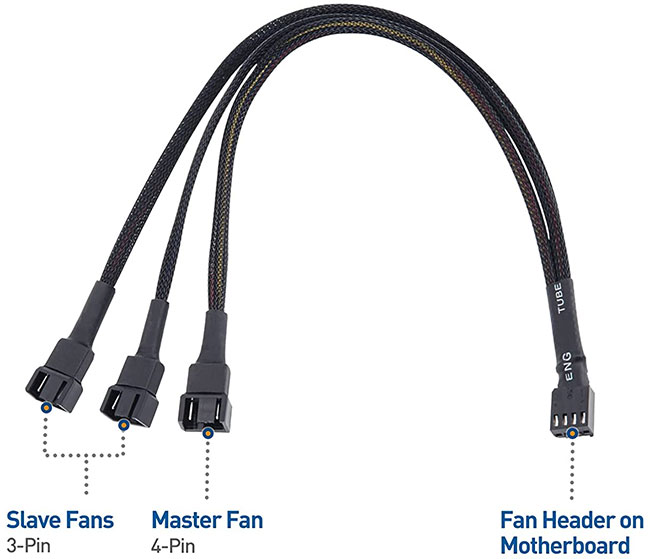 The Cable Matters splitter can support a maximum of 36 watts, or 12 watts per fan. That might not sound like much, but computer fans don't draw that much power. If a fan draws two watts, that's an unusually high power demand.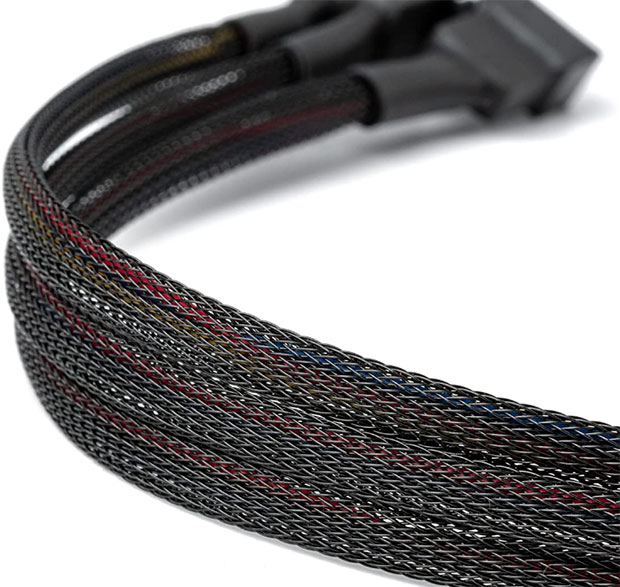 The wires themselves are covered with a set of nylon mesh sleeves. These sleeves do a good job of protecting the inner wires, while still allowing plenty of flexibility.
This cable comes in a 2-pack. This allows you to outfit a single case with up to six fans. More reasonably, it gives you a spare cable for building a second PC.
Cable Matters is one of the best-known brands in computers and electronics. Not long ago, we reviewed their HDMI Extender, which converts a video signal to Ethernet and back again. We were impressed with its performance, as we usually are with Cable Matters products. So it only made sense to look at their fan cable.
Winncon PWM Fan Splitter Cable 1 to 2 Converter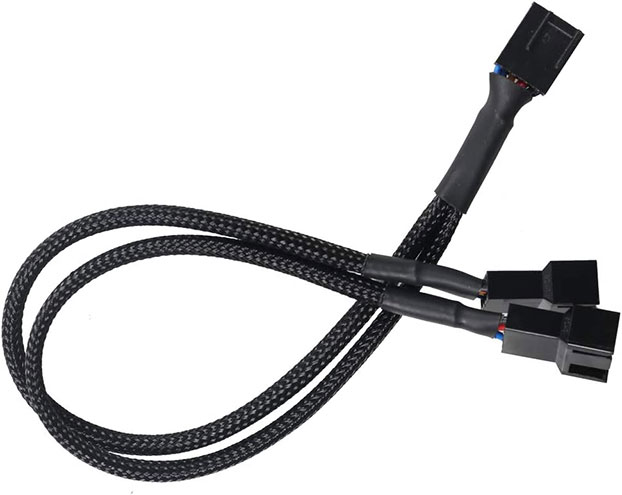 Key features:
2-way splitter.
Maximum 12 watts.
Comes individually or in a two-pack.
The Winncon PWM Fan Splitter Cable 1 to 2 Converter has a similar design to the last one. There's a 4-pin connector at the base, with 3-pin cables protruding from it. However, it only has two cables instead of one, and they're a little bit shorter at just 10.6 inches each.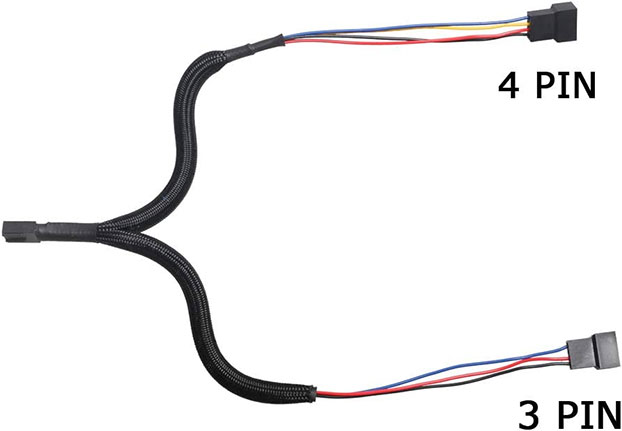 That said, the mesh braiding is a little bit tougher, with a tighter weave with no visible gaps. It's also reinforced near the tips, with rubber banding to keep anything from fraying.
This splitter can provide 12 watts of total power. Again, this might sound like a fairly weak current. But in practice, you'd be hard pressed to find a pair of fans that would even come close to overpowering it. It's available individually or in a 2-pack, so you can use it for two or four fans respectively.
RISHTEN Fan Splitter Hub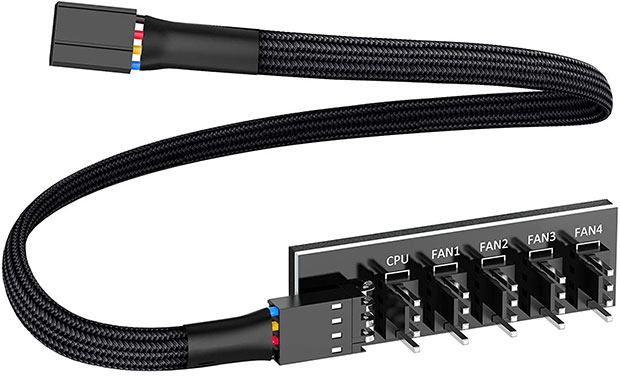 Key features:
5-way splitter.
Supports one CPU fan and four PWM fans.
Terminal board installs inside of PC case.
The RISHTEN Fan Splitter Hub is totally different from the last two. It has a 4-pin connector, with a 15.7-inchcable that connects to a flat rectangular terminal board. The cable has a durable nylon sleeve with a tight weave, and it's reinforced at both ends with a durable rubber band. This makes it reasonably tough, especially for the relatively sheltered environment inside a PC case.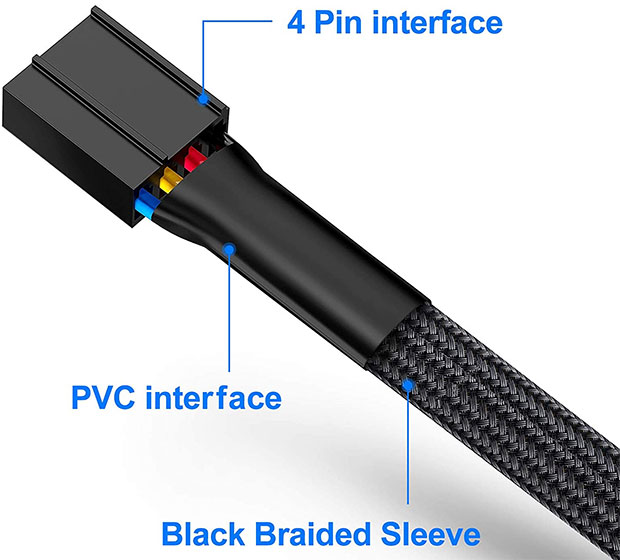 The terminal board has a row of five 4-pin connectors on it for connecting additional fans. The first of these is a CPU fan connection, while the other four are PWM terminals. As a result fan, you can easily wire in your CPU fan along with the others.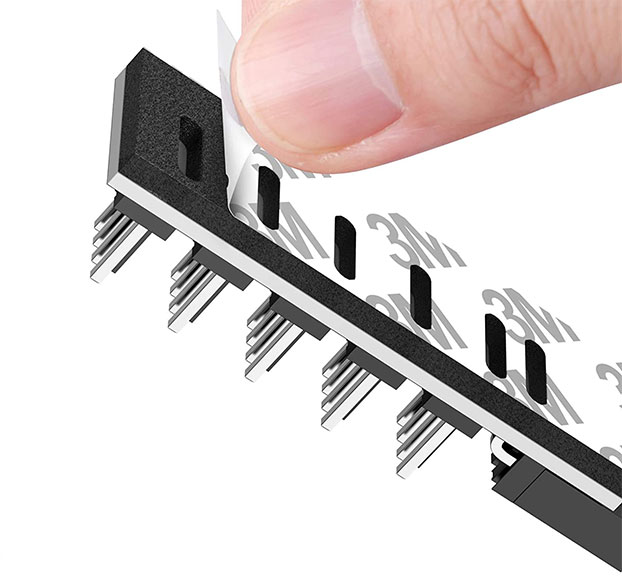 On the back of the board is a 3M adhesive backing. Just peel away the backing paper and stick it anywhere in the case that it's convenient to attach. This splitter is capable of providing 36 watts, more than enough for any reasonable purposes.
Arctic 4-Pin PWM Fan Splitter Cable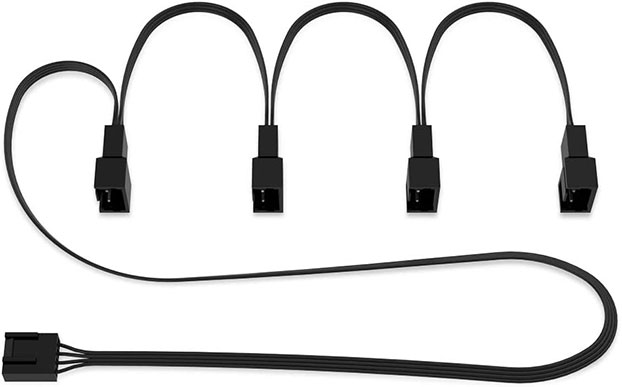 Key features:
4-way splitter.
Maximum 36 watts.
The Arctic 4-Pin PWM Fan Splitter Cable has a smooth black rubber insulation, and is built as a single cable. Instead of several cables connecting to one plug, the plug connects to a long, 27.5-inch cable.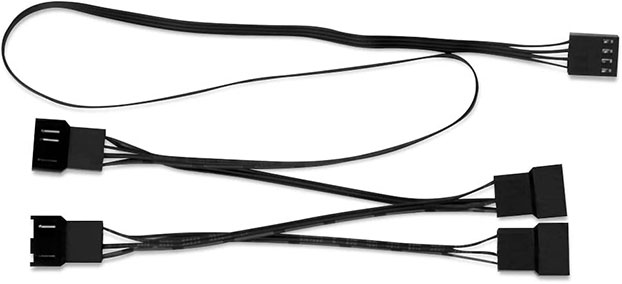 The first 15.75 inches of this cable are bare. After that, there's a series of four 4-pin connectors, each of them spaced 3.94 inches apart. We would have liked to see a little more length between the connectors. But other than that, we were very happy with the performance and design.
Arctic is a well-known manufacturer of internal computer parts and accessories. Not long ago, we reviewed their thermal paste, which is metal-free and non-conductive. We were pleased with its performance, so it made sense to check out their fan splitter cable.
PWM Fans vs. 3-Pin Fans
Before we finish, let's take a minute to discuss what a PWM fan is, compared to a traditional 3-pin fan. A traditional 3-pin fan is controlled by the motherboard or fan controller by adjusting the voltage. They can draw between 5 and 12 volts, depending on the system's needs. A 5-volt current will cause the fan to run slower. The more current is supplied, the faster the fan will spin and the more cooling it will provide.
PWM, which is short for "Pulse Width Modulation," and it works completely differently. Instead of receiving a variable voltage, the fan receives a 12-volt current at all times. However, the current isn't delivered consistently. The computer sends out short pulses of power every few milliseconds. The closer the pulses are together, the faster the fan spins. The further apart they are, the slower the fan moves.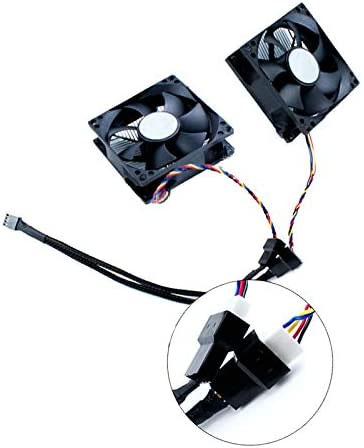 You might think that PWM fans are designed to improve PC performance, but that's not the case. In fact, a 3-pin fan is every bit as good at cooling your PC as a PWM fan. Instead, PWM fans are designed to improve power efficiency when your system is idling. In this situation, your PC doesn't need nearly as much cooling as it normally does.
But a 3-pin fan has to draw a minimum of 5 volts at all times. If the current drops below that, the fan motor will die. So on an idling PC, you'll be wasting power. A PWM fan, by comparison, can run at extremely slow speeds. Not only will this save power, but it reduces wear and tear on your fan.
A PWM fan requires a PWM fan controller in order to work correctly. It won't work when connected to an old-school 3-pin controller. Even when connected to a PWM fan controller, it will run at maximum power when not configured correctly.
You'll have to go into your BIOS or use a third-party app to manually set the desired system temperature. A 3-pin fan will always run at top speed when connected to a PWM controller. While it will technically work, you'll need to upgrade your fans if you want the benefits of PWM.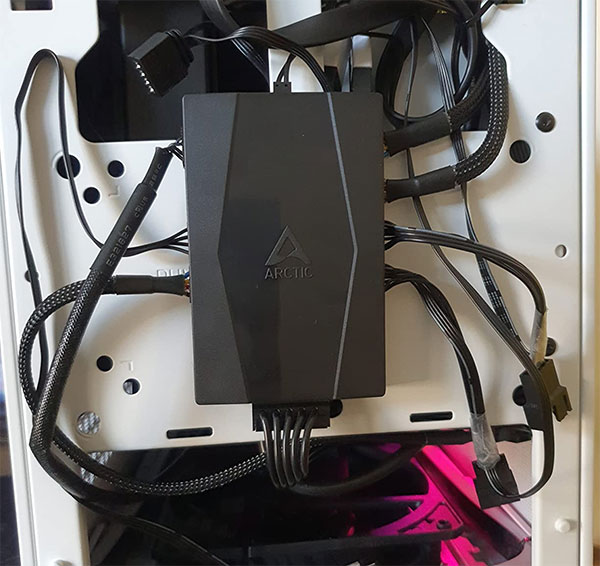 Final Verdict
As you can see, all four of these cables could be the best choice, depending on your build. But which one is the optimal choice for yours? Let's go over what we learned about each one.
We started out by reviewing the Cable Matters PWM Fan Splitter Cable. This cable's simple triple-headed design allows you to connect three fans within 12 inches of your PWM port. It supplies 36 watts, which is more than you'll ever need. And since it comes in a two-pack, you can connect even more fans or build a second PC.
After that, we checked out the Winncon PWM Fan Splitter Cable 1 to 2 Converter. As its name implies, this is for connecting a pair of fans rather than three. The cords are 10.6 inches long, which should be good enough for most purposes. They're also very well reinforced, with thick braiding and fat banding at the ends. And with the option for a single splitter or a two-pack, you can add two or four fans.
Third on our list was the RISHTEN Fan Splitter Hub. This hub is unique in a couple of ways. To begin with, you can connect up to five fans, which is more than any of the others. For another thing, one of these connections is for your CPU fan, which can simplify your wiring. Finally, it's a flat hub that can adhere to the inside of your case. In a transparent case, this looks sharper than a basic splitter.
Finally, we looked at the Arctic 4-Pin PWM Fan Splitter Cable. This is a single 27.6-inch cable with four 4-pin connectors positioned along its length. The connectors are located along the back portion of the cable rather than being spaced out more. This somewhat limits it usefulness and versatility. However, in the right build, this could be the perfect splitter for your news.