One of the biggest enemies to your PC or gaming console's performance is heat. Internally, things like the CPU or GPU do most of the heavy lifting. This can cause massive amounts of heat being generated.
Many of us don't notice this because things like heatsinks and coolers are working behind the scenes to pull heat away from our components. Ultimately, this keep things at an ideal temperature.
Without proper heat dissipation, your CPU could overheat and take other components with it. It's why properly cooling your PC is one of the most important things that need to take place.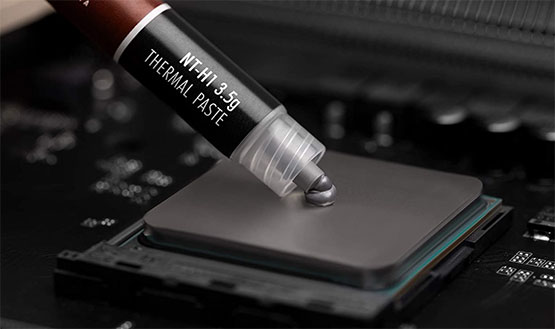 Providing consistent cooling is essential if you want to prolong the life of your PC and maximize its performance.
However, it's not as simple as resting a cooler or fan on top of your processor or GPU. Even though the surface of a CPU and a heatsink look smooth, on a microscopic level, they're actually somewhat rough.
The direct, constant connection between these components can cause catastrophic consequences.
Having separation between your CPU or GPU and the cooling unit isn't ideal either. Air is not a great conductor of heat and it won't be able to transfer it efficiently. That's where thermal paste comes into the picture.
What is Thermal Paste?
Thermal paste is a gel-like, viscous material that should be placed between the chip and heatsink.
Thermal paste works as a conductor, moving heat away from your CPU or GPU efficiently. It also fills in any gaps or pores that could allow heat to escape though the rest of your system. They're made with variety of materials such as metal, porcelain and even diamond.
Thermal paste can either be conductive or non-conductive and can vary in thermal conductivity (how quickly and efficiently it can move heat away).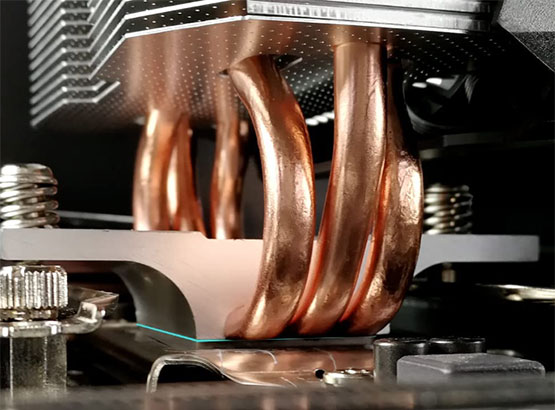 Since it's a relatively inexpensive material, some people will simply go with the most expensive option and be done with it. Some will visit Amazon and look at online reviews. The problem is that the most expensive option may not be the best one.
There are a lot of options out there and figuring out what is real apart from the marketing hype can be a frustrating and time-consuming process. However, it doesn't make choosing the right thermal paste any less important.
To help you on this journey, we've compiled a list of the best thermal pastes currently on the market. You'll find options at every price point and with specific features.
How We Chose the Best Thermal Pastes
As a team of avid PC builders, we've directed our vast experience to select the best thermal paste based on the following criteria:
Quality of Materials: It's important that the materials used within the paste are of the highest quality and purity. The last thing you want is your non-conductive paste to have something that is in fact conductive.
Accuracy of Marketing and Product Descriptions: We aren't fans of marketing hype. We vetted each claim made by these products to verify that they are accurate.
Third-party Benchmarks: We feature several products in this roundup that have gone through extensive third party testing to verify their performance. We've excluded a lot of promising products simply because they did not have any data to back up their claims.
Best High-End: Prolimatech Pk-2 Nano Aluminum Thermal Compound

Key Features:
High Thermal Conductivity.
Non-Corrosive.
Long-Term Stability.
Electrically Non-Conductive.
No burn-in Time Required.
Low Thermal Resistance.
The Prolimatech Pk-2 Nano Aluminium thermal compound is one of the best general purpose thermal pastes based on thousands of real-world reviews and our own personal testing. Let's look at some factors that make it our top pick for the best high end thermal paste.
Because it is non-conductive, this paste is ideal for use with aluminum or any aluminum alloys and can be put on circuits, between the IHS, nickel, copper and anything that requires superior cooling.

PK-2 ranks consistently towards the top of third party benchmark tests and edges out other heavy hitters at higher price points. Even though the cost is higher than some other options, a single 5 gram tube can last for years and dozens of PC builds.
One thing to keep in mind is that this paste is a little more dry and takes more effort to spread compared to brands. It's not a problem as long as you are expecting it and may actually be preferred in some situations. Just apply strong mounting pressure for proper adhesion.
What We Liked:
Ranks among the highest in nearly every benchmark.
Generous amount that can last for years.
Does not dry out.
Reapplication is not needed even after several years.
What We Didn't Like:
Requires high mounting pressure which can be hard for some people.
Best Runner-Up: Thermal Grizzly Kryonaut Thermal Grease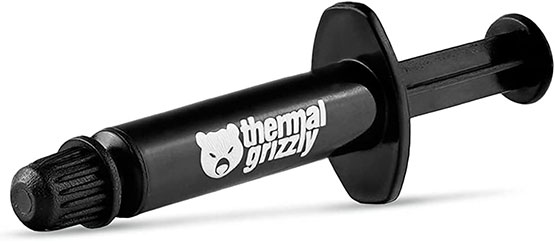 Key Features:
Thermal Conductivity: 12.5 wm/k.
Easy Cleanup with Included Cleaning Pads.
Quick Application Ready.
Designed to meet the demands of the Overclocking community, the Thermal Grizzly Kryonaut Thermal Grease is a high performance option with a range of uses. One of the key features of this paste is its ease of application and no mess philosophy.
You'll likely have one of the neatest builds you've ever had when using this paste. It comes with convenience tools like cleaning pads and a spatula for accurate application and optimal contact between the processor and the heat sync.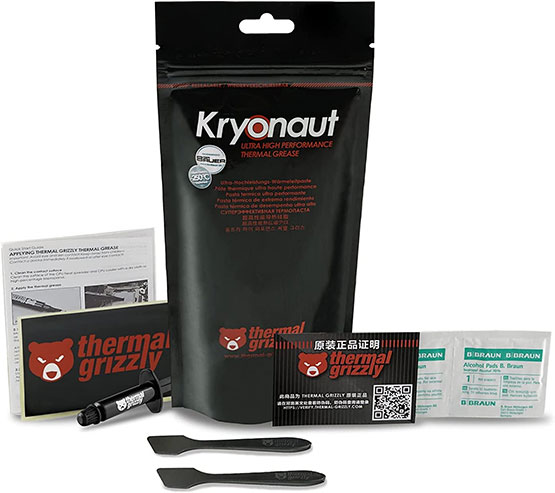 At 12.5wm/k, Thermal Grizzly boasts very high thermal conductivity that rivals the top products on the market. This is partially due to how little you need in order to get the job done – 1 gram is often enough for most applications.
We want to note that even though it does a phenomenal job at keeping things cool, we could not replicate what some online reviewers claimed temperature drops of up to 23 degrees Celsius. While temperature drops were significant, they did not come anywhere close to those numbers.
If your current PC build is prone to overheating or if your workstation is several years old, this may be an ideal choice to help bring a little more CPU temperature stability. It's on the more expensive side but we feel its benefits justify the extra expense.
What We Liked:
Provides noticeable temperature drops.
Small amounts are required.
Comes with spatula and cleaning pads for easy and effective application.
High thermal conductivity.
What We Didn't Like:
Shipping was slower than expected.
Best Alternative: ARCTIC MX-6 Thermal Paste

Key Features:
Comes in multiple variants.
Metal-free.
Non-conductive.
Used for CPUs, GPUs and power semiconductor components.
The ARCTIC MX-6 is a highly effective and versatile thermal paste. Metal-free and non-conductive, it's safe to use on things like CPUs, GPUs and in the presence of reactive materials like aluminum.
The viscosity and consistency let you get maximum benefit out of only a small layer of the paste being applied. Thinner applications mean faster transference which results in higher, more consistent drops in temperature.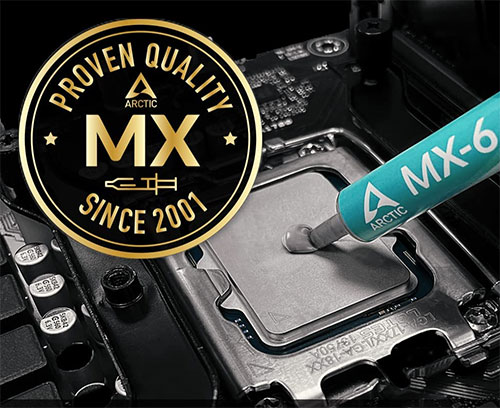 In some of our in-house tests, the MX-6 paste actually outperformed the more expensive Thermal Grizzly by up to 6 degrees Celsius. This paste was extremely easy to apply and resulted with little need for cleanup. It's an ideal choice if you are continually swapping out coolers.
Overall, the ARCTIC MX-6 ranks among the highest reviewed pastes currently on the market and is our choice for best alternative.
What We Liked:
Only a thin layer is needed.
Non-conductive.
Outperforms more expensive pastes.
Good price.
Fast shipping.
What We Didn't Like:
Customer support can be hard to reach.
Best 2nd Alternative: Cooler Master MasterGel Pro V2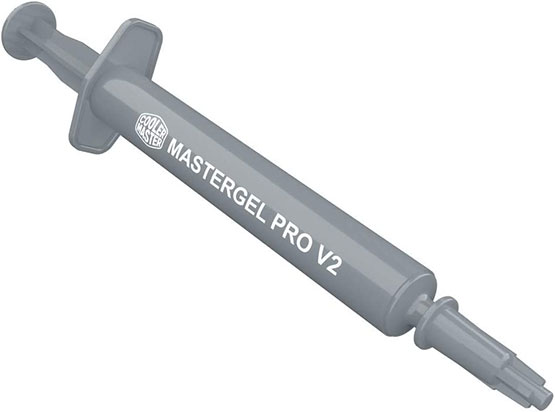 Key Features:
Thermal Conductivity of W/m.k=9.
1.5 ml Tube.
Non-conductive.
The Cooler Master MasterGel Pro V2 is the updated version of this brand's flagship thermal paste. Like its predecessor, V2 delivers consistent temperature drops and helps to balance out overall performance while improving ease of application and reducing the need for cleanup.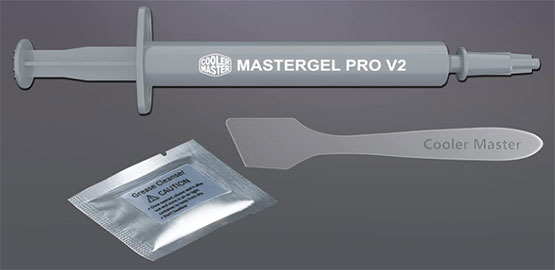 It's a great option for PC users and gamers that want to swap out their pre-installed paste for something with higher performance. Its impressive thermal conductivity has created a noticeable improvement for many users shortly after applying it.
We appreciate that there isn't a lot of paste required for it to be effective and since it's slow drying means you can store it for several years for future builds without worrying it will go bad on you. This thermal paste from Cooler Master is a strong contender.
What We Liked:
Extremely high thermal conductivity.
Upgraded compound improves heat transfer from chipset to cooler base.
Long lasting.
What We Didn't Like:
Best Budget: Noctua NT-H1 Thermal Paste

Key Features:
Easy application.
Non-electrically conductive.
Non-corroding.
Stores for up to three years.
We went in search of the best thermal paste with the best price point that didn't sacrifice on quality. With thermal pastes, a lot of the price is determined by the cost of the materials that they put into it. There's one paste that includes diamond shavings which makes it extremely expensive.
Noctua can keep costs down with their NT-H1 Thermal Paste by using a formulation that while highly effective, does not require the inclusion of expensive materials. The result is a high performing thermal paste with a high thermal conductivity at a cheap price.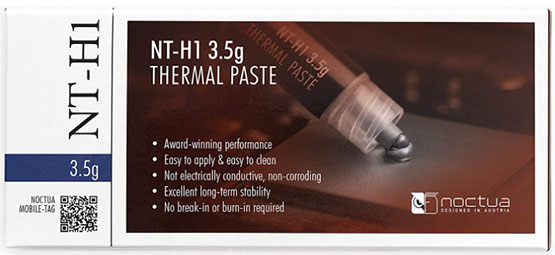 It comes with a generous amount of paste that can be stored for up to three years, allowing you to use it on several builds or additional applications in the future. The feedback from users has been highly positive with some claiming it outperforms Arctic-5 Silver. Most users have installed it for several months with no issues or reduction of cooling performance.
What We Liked:
High thermal conductivity.
Great price.
Non-electrically conductive.
Can be used with all types of heat sinks.
What We Didn't Like:
Not as "high-end" as other options.
How to Choose the Best Thermal Paste for Your PC Build
As you can see from this roundup, there are hosts of different options to choose from. All relatively inexpensive with top performers in every price category, it can make the process of choosing the best one for you incredibly difficult. Here are a few things to keep in mind to help.
Ease of Application: Unless you are an experienced PC builder or know your way around a motherboard, you are going to want to choose a thermal paste that is no-fuss in its application. For example the Thermal Grizzly comes with cleaning pads and spatula that might come in handy.
Temperature Performance: While you may be tempted to go with a paste that offers the highest thermal conductivity and as a result high temperature drops. However, if you live in colder temperatures or own more consumer-grade components, having an overpowered thermal paste might not only be overkill but could be counterproductive. On the other hand, if you have a powerful workstation that's constantly lagging and running temperatures up, you may want to opt for one of the higher end options to do some heavy lifting.
Shelf life: No matter which option you choose, you will get plenty of paste that could in theory last you for several PC builds or dozens of cooler swaps. If you intend to use it in the future, be sure to get a thermal paste that is able to keep for long periods of time. For example, paste from Cooler Master can last for up to three years.
We hope that this roundup helps make your decision-making process easier. Thermal paste can be one of the most important parts of your build and can ensure top performance for your devices.
Meet Derek, "TechGuru," a 34-year-old technology enthusiast with a deep passion for tech innovations. With extensive experience, he specializes in gaming hardware and software, and has expertise in gadgets, custom PCs, and audio.
Besides writing about tech and reviewing new products, Derek enjoys traveling, hiking, and photography. Committed to keeping up with the latest industry trends, he aims to guide readers in making informed tech decisions.