If you're a tow truck driver or plow driver, you know how important it is to be visible. Particularly in foul weather, you want people to know exactly where you are. For example, if you're plowing, you're probably moving slower than traffic. This presents the very real risk that someone could rear-end you.
Similarly, tow truck drivers often find themselves collecting vehicles on shoulders and other hazardous areas. If you're not careful, you could end up getting hit. The same is true for people working in private security, maintenance, and other similar jobs. For all these scenarios, a quality rooftop light bar can make all the difference.
A lot of vehicles come with light bars already installed. But many others need to be modified afterwards. Let's say you're outfitting a new pickup truck for apartment complex maintenance. As part of that, you may want to have a light bar installed. This is great for fleets, or for work vehicles where you're using the light bar at all times.
However, it's not practical for multi-purpose vehicles. For instance, a lot of people in the snow belt have a side gig plowing snow. What if you want lights on your roof for plowing, but not for all the other times you're driving? In that case, a magnetically-mounted light bar makes more sense.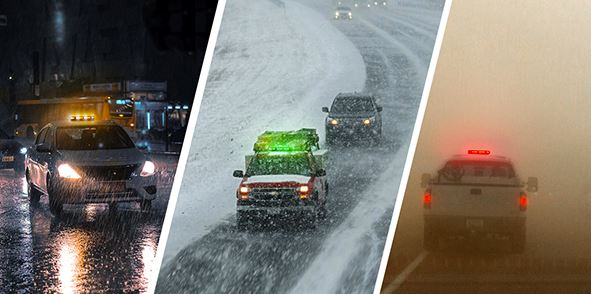 Best Magnetic Rooftop LED Strobe Lights
Today, we're going to review three of the best magnetic LED rooftop strobe emergency light bars. Because they're magnetically-mounted, they're temporary and easy to install. But how well does each one perform, and which is the best? To find out, we'll have to look at all of their various features.
We'll talk about how they're connected, and how they're controlled. We'll talk about the light colors, the size, and the different operating patterns. Additionally, we'll also need to discuss weather-resistance and durability. After considering all of those features, we'll be able to make a fair comparison. Let's see how these emergency light bars stack up!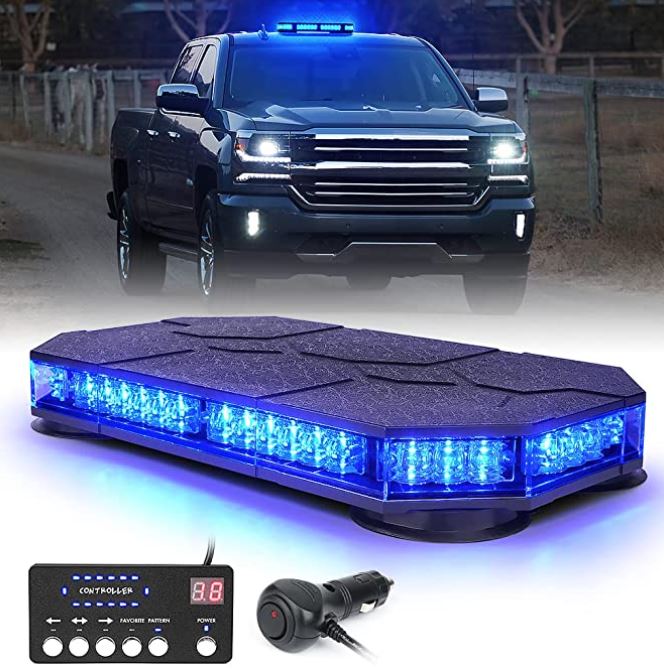 Xprite LED Rooftop Strobe Beacon Lights Bar
The Xprite LED Rooftop Strobe Beacon Lights Bar has a black plastic housing, with lights around the outside. The top panel is textured, which helps prevent icing. It's fairly beefy, with a width of 15.43 inches, a depth of 9.06 inches, and a height of 3.39 inches.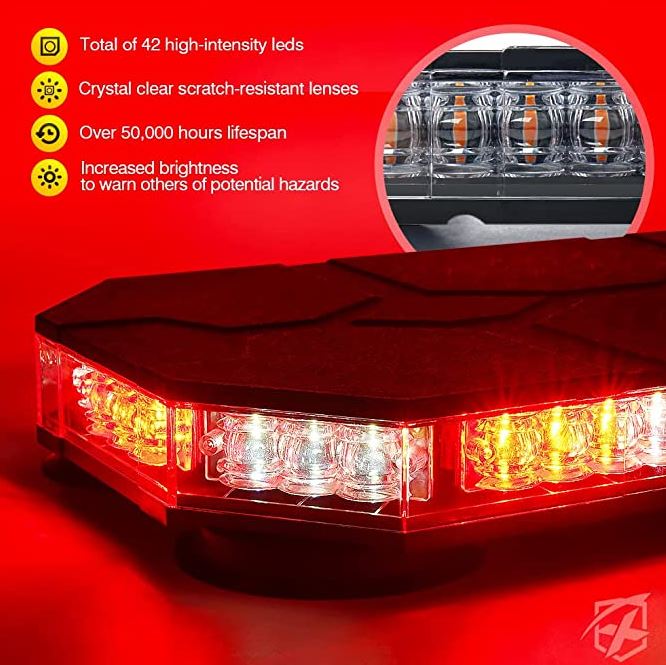 Even so, it weighs only 4.2 pounds, so it's not too heavy to carry around. The lights themselves are all around the outside of the perimeter, and are available in 6 variants. There are solid green and solid blue if you prefer a single color. There are also two-tone lights in red/blue, green/white, red/white, and amber/white.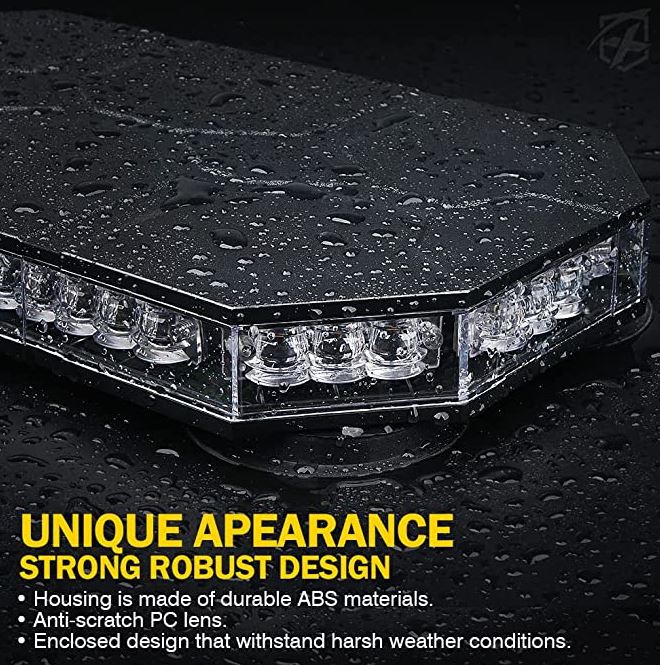 This light bar has four magnetic mounts, one at each corner. Each one has rubber padding around it, which serves two purposes. First, the rubber protects the paint on your roof, so you won't get a bunch of scratches. Second, it functions as a suction cup. This enhances the light bar's grip, and makes it less likely to fall off. Keep in mind that this kind of mount is inherently less secure than a permanent, bolted-on mount. Xprite strongly advises against using their light bar at speeds over 45 miles per hour.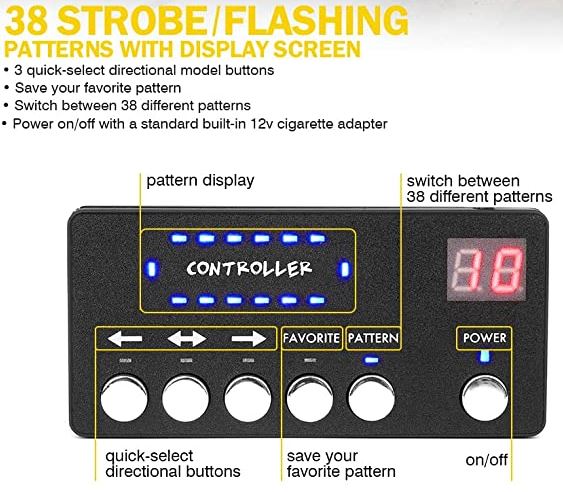 Once you've mounted the bar, it's time to plug it in. There's a long cord running out of the bottom, which connects to a cigarette outlet plug. On the top, there's a power switch, with a built-in red indicator light.
The plug actually has a built-in, replaceable fuse. If there's a power surge or other malfunction, the fuse will blow, rather than damaging the lights. The 42 LEDs are rated for 50,000 hours of life, so they're well worth protecting. They're also weather-resistant, although there's no official IP rating. But with a 2-year warranty, you can rest assured they're safe from water.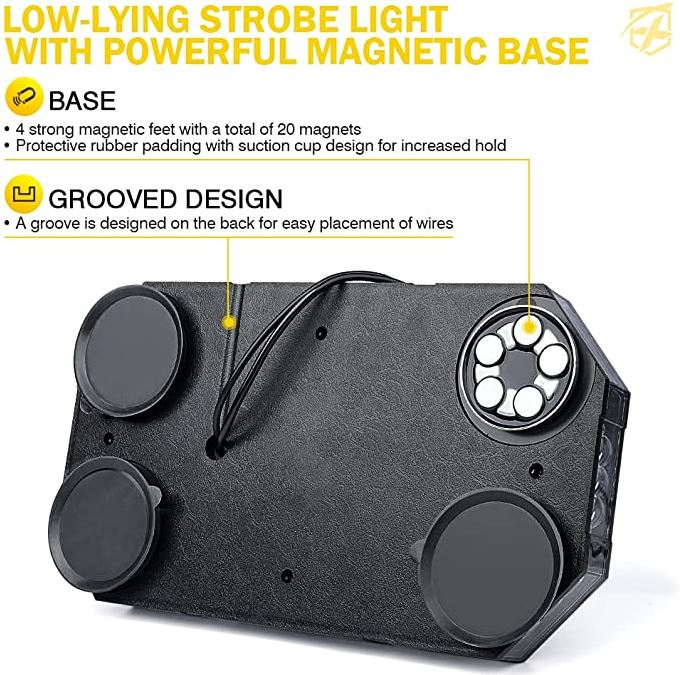 A second cord connects to a control unit, which can be mounted on your dash. The controller has a black plastic housing, with a power button at the bottom right. Three buttons to the left let you change the light pattern.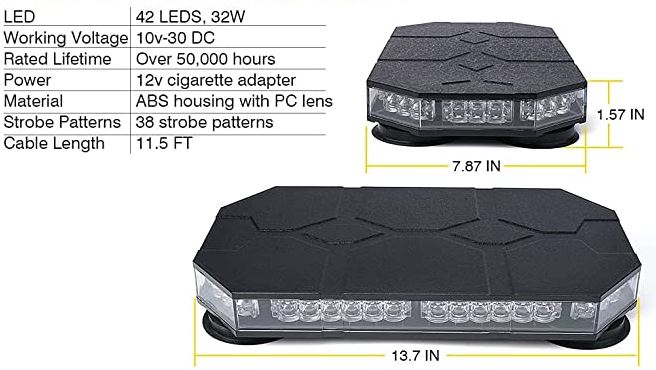 You can set the lights to scroll left, right, or front to back. Or, with the Pattern button, you can activate one of many numbered patterns. The pattern number is displayed on a small screen at the top right. If you have a particular pattern you like, you can store it by using the Favorite button. This lets you immediately switch to your favorite pattern whenever you like.
Of course, emergency roof lights are only one way to keep yourself safe. If you often spend time on the side of the road, you want to have truly absurd levels of visibility. In that case, check out our list of the best LED road flares. They alert oncoming drivers to your presence, and unlike regular flares, they're reusable.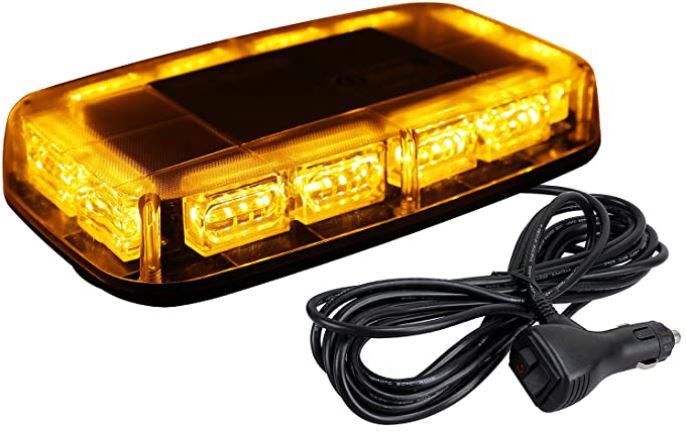 ASPL 48 LED Roof Top Strobe Lights
The ASPL 48 LED Roof Top Strobe Lights have a somewhat smaller form factor. The bar measures 12 inches wide, 6.6 inches deep, and 2.7 inches thick. And at only 2.94 pounds, it's exceptionally lightweight. The top and sides of the housing are all clear plastic, which leads to a clean, uniform look.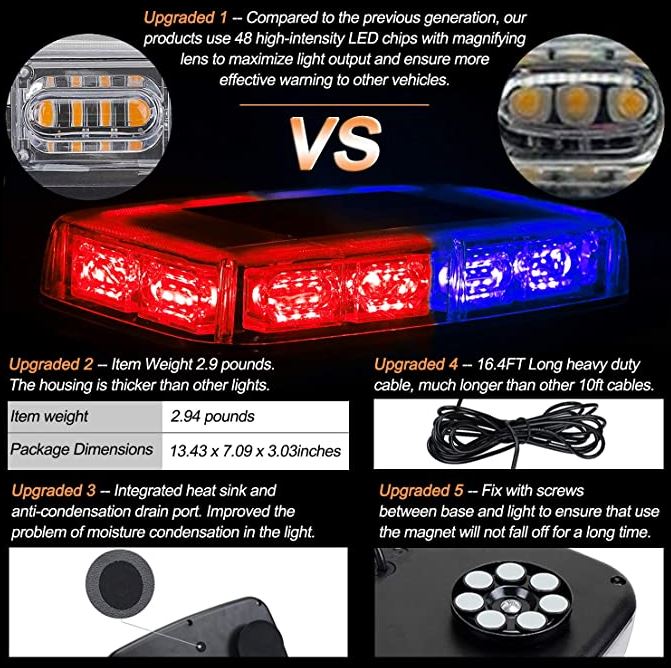 However, the 48 LED lights are all located around the outside perimeter. As with the Xprite bar, you have several color options to choose from. In addition to the plain amber and white versions, there are 7 two-tone options. These include amber/green, amber/red, amber/white, blue/white, green/white, red/blue, and red/white. No matter what colors you favor, you'll have an option.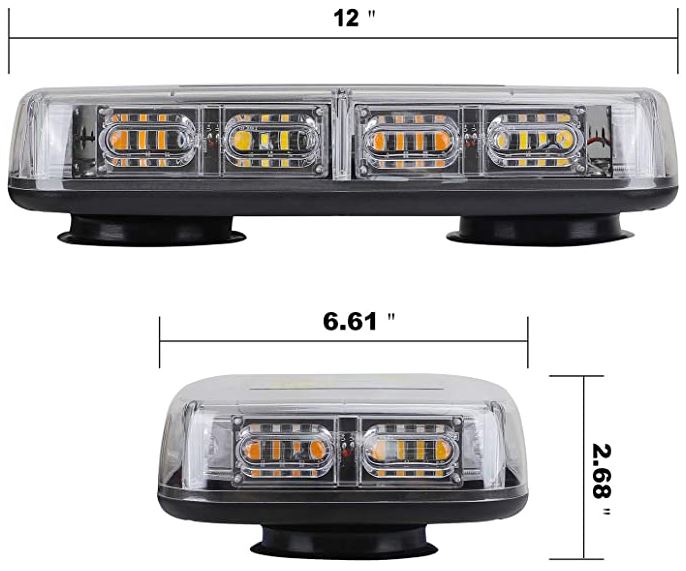 This light bar only has two magnet pads, but each has seven individual magnets within it. As with the last light bar, there's also a rubber cover that doubles as a suction cup. ASPL doesn't provide any kind of speed rating for this light bar. It seems to work just fine at moderate speeds and even rural highways. But we wouldn't advise using it while driving at interstate speeds.
The lights are powered by a 16.4-foot cable, with a cigarette outlet plug on the end. It's compatible with both 12V and 24V power, so it can be used even on larger vehicles. On the back of the plug, there's a pair of two switches.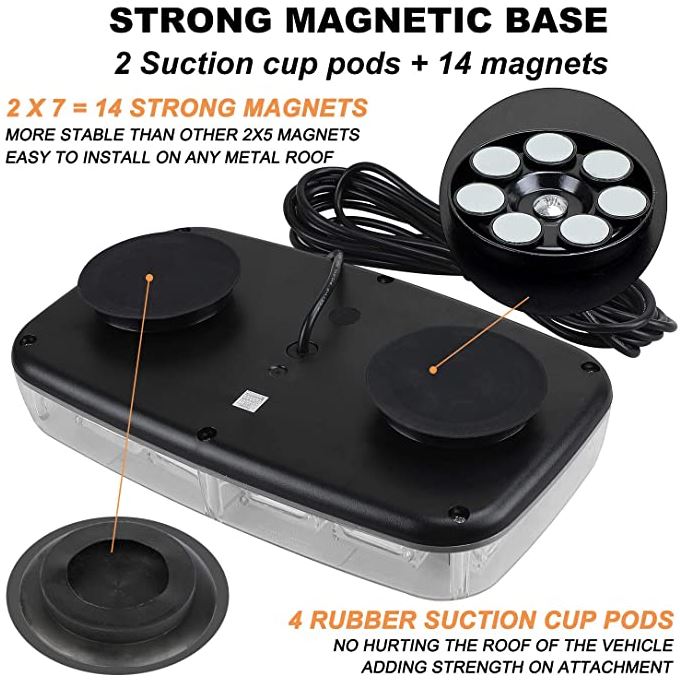 One is the power switch, and has a built-in LED light. The other can be toggled back and forth to choose different operating patterns. There are 16 patterns, which is far more than the switch's two positions. Just keep flipping it back and forth to continue cycling. Conveniently, the lights will remember their last setting. So if you always use the same pattern, you won't have to constantly reset it.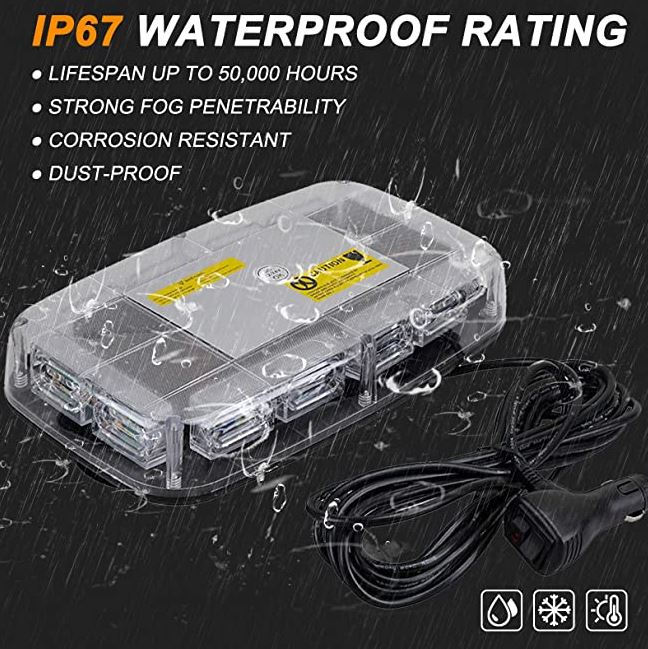 The ASPL light bar is IP67-rated for weather-resistance. The 6 means that they're entirely dust-proof. Even in a desert sandstorm, you won't have to worry about any kind of dust infiltration. The 7, meanwhile, means that the lights are submersion-proof. They can be immersed in up to a meter of water for up to 30 minutes. The LED diodes themselves are rated for 50,000 hours of operation. Better yet, the entire kit is protected by a robust 2-year manufacturer's warranty.
If you're driving in the cold, you'll find that your battery performance suffers. This can often mean waking up to a dead battery. And that's the last thing you need when you're headed out to work. To make sure your truck starts when you need it, consider the Tacklife T8 Jump Starter. It's a handheld device that can jump almost any battery.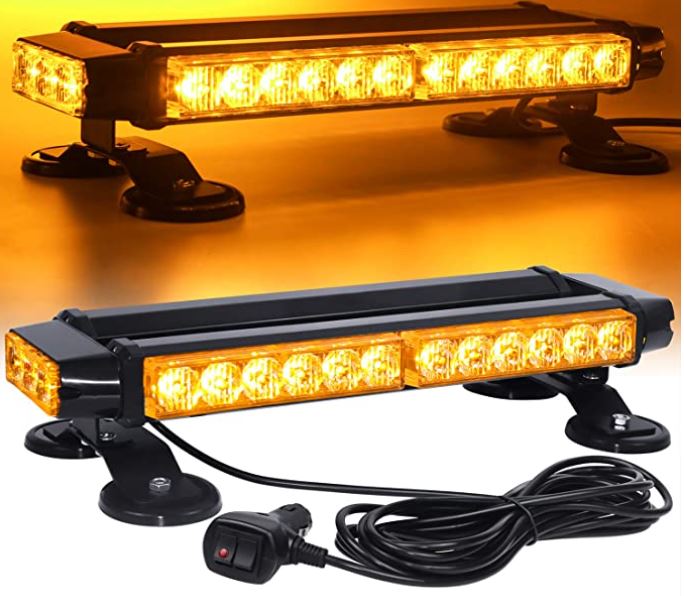 LINKITOM LED Strobe Flashing Light Bar
The LINKITOM LED Strobe Flashing Light Bar looks more like a traditional light bar. Instead of one solid bar, it's a frame that's empty on the inside, with lights mounted around the outside. The total dimensions are 14.5 inches wide, 6.5 inches deep, and 3 inches thick.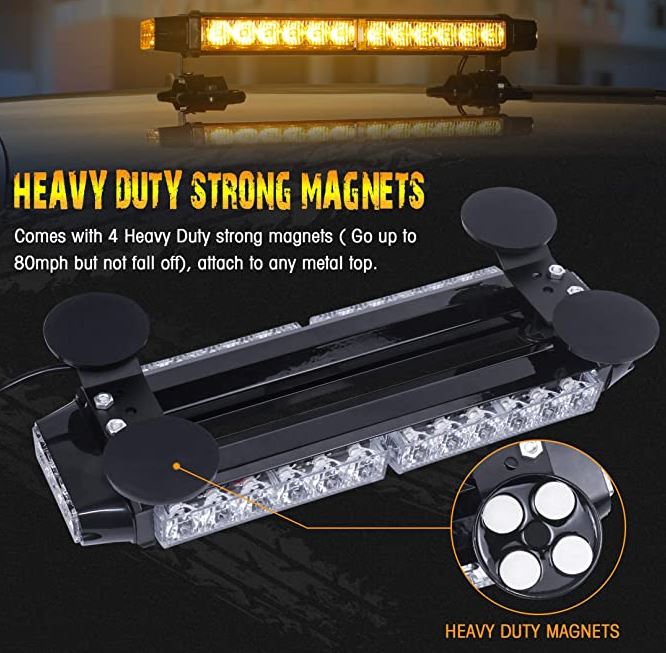 It weighs 3.78 pounds, so you can handle it with ease. Unlike the other light bars, though, you only have one choice of color: orange. There are a total of 30 large bulbs: six on the front, six on the back, and three on each side.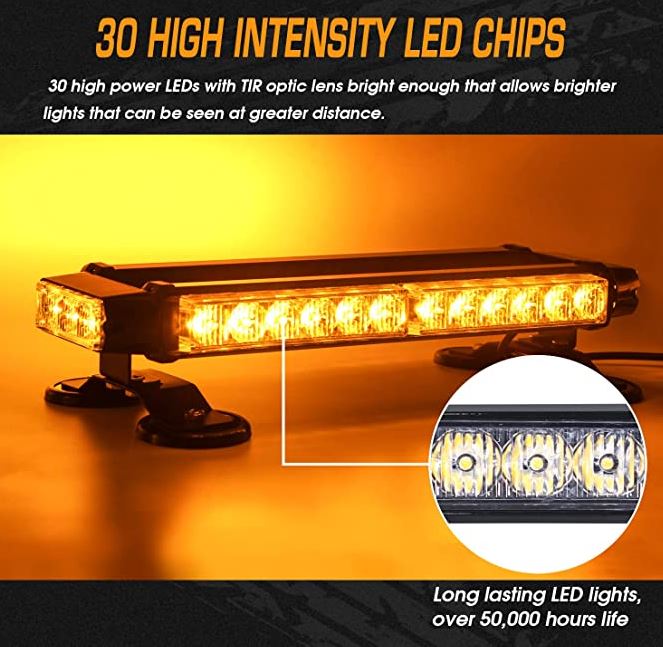 On the bottom of the frame, across the four corners, there's a set of four powerful rubber-coated magnets. These don't have any kind of suction cup function. However, the magnets are incredibly powerful. They'll stay attached to your roof, even if you're driving at 80 miles per hour. So while they're not specifically designed for permanent installation, they'll work just fine if left on. If you don't want to have to remove your light every time you go on the highway, you don't have to.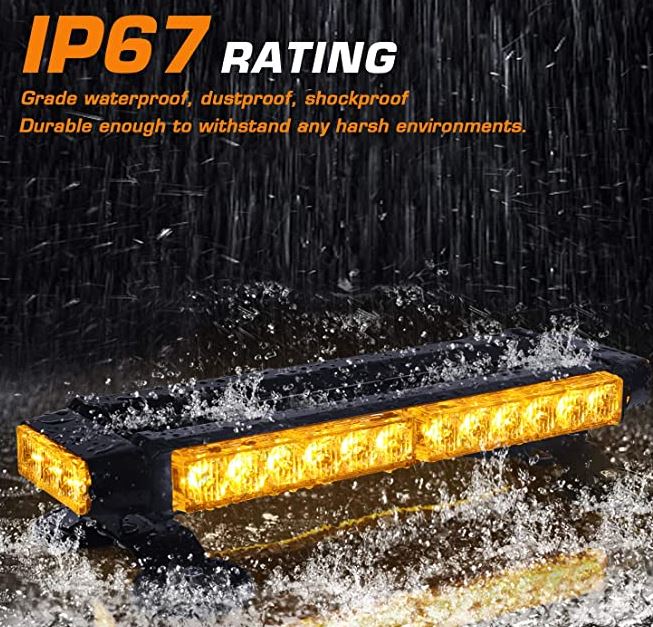 The power cable is 16 feet long, and is similar to the one on the ASPL bar. You have one switch to control the power, and a second to cycle through various patterns. There are seven patterns in total, which isn't as much as the others, but should still be plenty. The weather-resistance rating of IP67 provides plenty of protection against the elements. Meanwhile, a 50,000-hour bulb life rating ensures you'll have all the longevity you need.
LED Strobe Light Bars – Features to Look For
Before we wrap up, let's talk about why you'd choose one set of lights as opposed to another. Some features, like the shape of the light, are normally irrelevant. Others, like the mounting strength, are very important. Here are some things you'll want to think about before you buy.
Size of the bar and number of lights
A larger LED bar takes up more space, true. But it also spreads light out to a wider area. Larger bars will also tend to have more bulbs, which put out larger amounts of light. The same goes for bars with multiple rows of LED diodes. The more lights, the easier you'll be to see.
LED color and patterns
This is a secondary concern, but it can be important. For example, most people associate orange and amber lights with construction or roadside assistance. People associate red lights with emergency services and security. Green and blue lights, on the other hand, are great for maintenance vehicles. Any color light will work for any purpose, but color-coding can still be helpful. Along the same lines, you might want different flashing or strobing patterns.
Weather-resistance
It goes without saying that your LED light bar is going to be exposed to the elements. This can mean rain, snow, or even a lot of dust, depending on where you're driving. Make sure to choose a light bar that can stand up to the conditions you're likely to experience.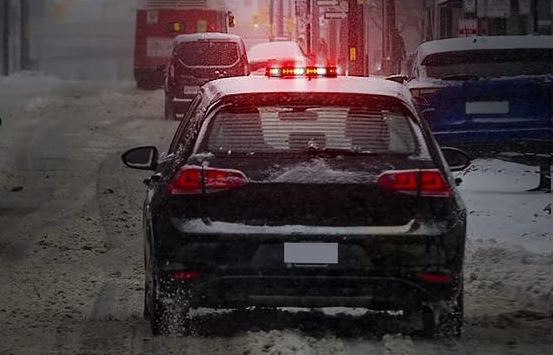 Which LED Rooftop Strobe Light Bar is Best?
So, which one of these magnetic LED rooftop strobe emergency light bars are the ideal choice? A lot depends on what you need.
The Xprite LED Rooftop Strobe Beacon Lights Bar is the biggest of the bunch. While it can't be used at highway speeds, it will certainly get people's attention at slower speeds. We also liked the control panel, which makes it very easy to operate. And with a built-in replaceable fuse, you don't have to worry about power surges.
The ASPL 48 LED Roof Top Strobe Lights are the smallest set. They also have a sleek profile, with an all-transparent housing. The speed performance is moderate, and you can get away with driving the speed limit on most roads. And thanks to the dual-voltage power supply, you can use it in a vehicle with 24-volt power.
The LINKITOM LED Strobe Flashing Light Bar is the ideal choice for highway driving. With exceptionally powerful magnets, it will stay mounted at speeds up to 80 miles per hour. To be fair, it only comes in orange, but the lights are very bright and make you very easy to see.