There's nothing better than having the freedom to design and produce your own stickers. Until recently, it was unheard of for everyday people to have access to a sticker maker machine in the convenience of their own homes.
You'd have to pay a print shop to produce them or resort to printing them on a home printer and cutting them by hand. The results were expensive or sub-par.
Thankfully, sticker maker machines have hit the mainstream and provide a high quality and affordable way to produce the stickers of your dreams. Sticker-craft is not just for art enthusiasts and school-aged children either.
They can be a great addition to things like planners, notebooks, tools and equipment. Parents can use it as a superior option to the traditional label maker to make home and office organization more enjoyable and engaging.
How Sticker Maker Machines Work
Sticker maker machines come in all shapes and sizes. They're built to carry out some or all three primary functions – import designs, print them and then cut them.
Some sticker maker machines have a manually operated cutting feature (reduces the cost). Models with sophisticated electronic cutter functionality are a great option if you want flexibility and more intricate control over your sticker designs.
There are a wide range of sticker widths, colors and finishes to choose from which make investing in the right sticker maker machine essential.
However, choosing the right model for you can get overwhelming. To help, our team has leveraged its experience to compile a list of the top 6 sticker maker machines currently on the market.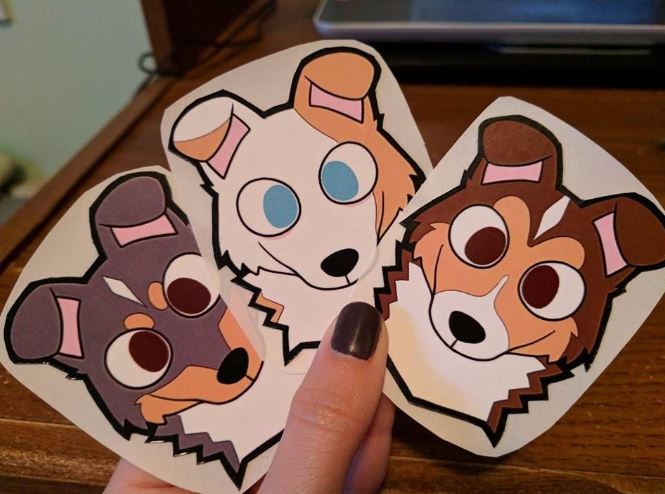 We've made our decision based on a wide criteria, including:
Quality Materials: We aren't fans of cheap plastic parts and hardware. When it comes to making stickers, poor craftmanship can have a major impact on the quality of the end product. The ones on this list have showed quality craftmanship and produced great results in real-world situations.
Features: It's important to have a sticker maker machine that doesn't limit your vision. We've included several on this list that have the widest feature set of most sticker makers on the market.
Ease of Use: We've included machines that fit a variety of different uses. Regardless of their feature set, we made sure users could access them with minor frustration or fiddling around.
Flexibility: Sticker maker machines should be able to evolve with your vision as much as possible. In terms of software, we looked for products that gave users the ability to make minor on-the-fly adjustments without having to go back into the design software and start from ground zero. Our team also looked for products that allow you to adjust settings to optimize the output for your specific situation.
Price/Value: The products featured on this list have been examined to make sure that the price you are paying is for the capabilities and not advertising hype. Although they're more affordable these days, sticker makers are still an investment that need to be worth the price.
Durability and Warranty: We've chosen products that have the best chance of lasting for a longer period than other models on the market. In this space, having a solid warranty in case anything goes wrong is important.
You might still have questions about choosing the right sticker maker machine for your specific needs. We've provided a list of things to think about to help make your decision a little easier. Without further ado, let's get into the top 6 sticker maker machines currently on the market.
Best Overall: Cricut Maker 3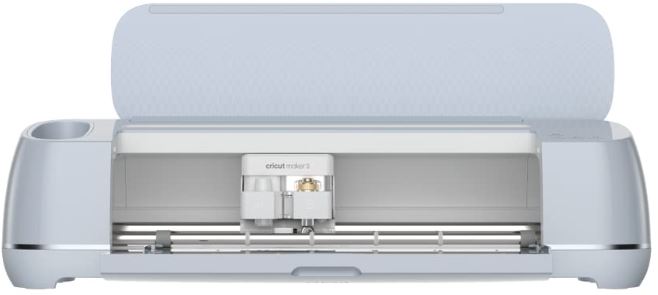 Key Features:
Pro-level cutting features.
Cuts 300+ materials.
App based crafting tool.
Bluetooth connectivity.
Built-in top and bottom storage.
The Cricut Maker 3 is our choice as the best overall sticker maker machine. It's a powerhouse that can process a high volume of intricate designs in short order thanks to its smart cutting features.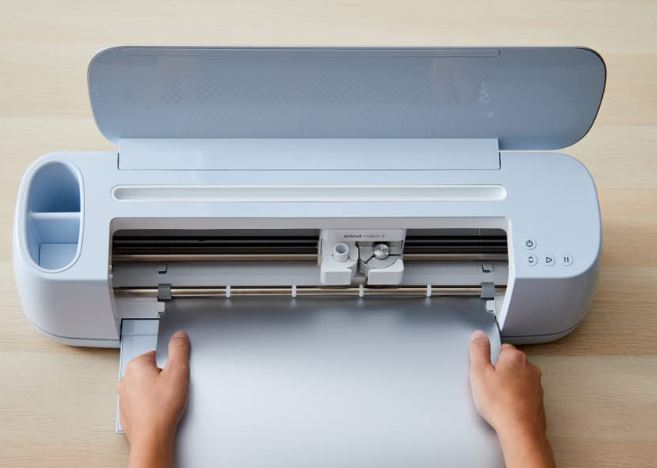 Cricut has been developing this technology for a long time, and it translates strongly into the user experience. A multitude of reviews state how intuitive and proactive the machine is at making complex projects easier.
Specifically, the Design Space app, which you can download onto an iPhone, Android or laptop computer, helps you create personalized sticker designs within just a few clicks. From there, Bluetooth connectivity allows you to send your print job without the need to plug anything in.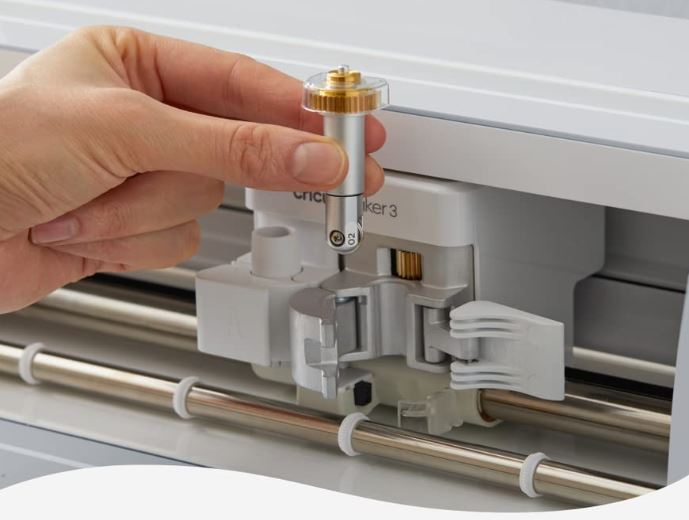 Versatility is the name of the game with this unit. With the ability to work with 300+ materials, the Maker 3 can handle complex components like smart vinyl, smart iron-on and thick paper sticker cardstock. Overall, the Maker 3 is a simple choice for the best overall sticker maker machine.
What We Liked:
Advanced precision cutting features.
Fast production times.
Design Space app is easy to use.
Bluetooth connectivity.
Works with nearly any material.
What We Didn't Like:
Expensive.
Initial setup can take time.
Best Runner-Up: Cricut Explore Air 2

Key Features:
4 Color Options.
Simple, Automated Cutting Feature.
Cuts 100+ Materials.
Bluetooth Connectivity.
Expandable Using Accessories.
The Cricut Explore Air 2 has become the option of choice for both new and pro users. It offers a more pared down experience to the Maker 3, but it is still a powerhouse that makes creating styles for t-shirts, home decor and other projects a breeze.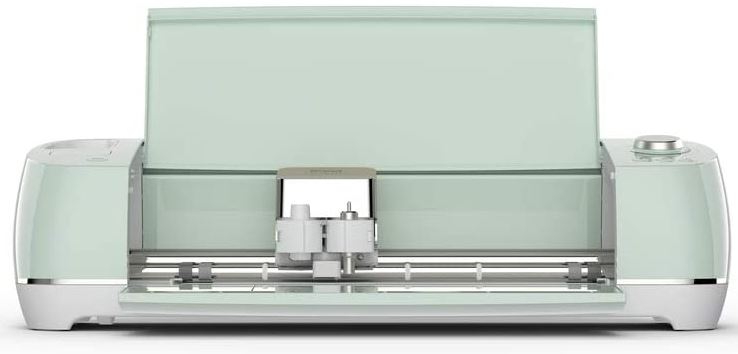 The Explore Air 2 works with 100+ materials including vinyl, card stock and HTV iron-on's and more. Besides its main capabilities is the ability to cut expert designs with little effort. Running it through the paces, it cut a host of designs with clean, precise lines.
You can use the provided design app on any mobile smartphone or computer to create your designs. If you don't want to start from scratch, the program comes packed with templates and images you can use as a starting off point.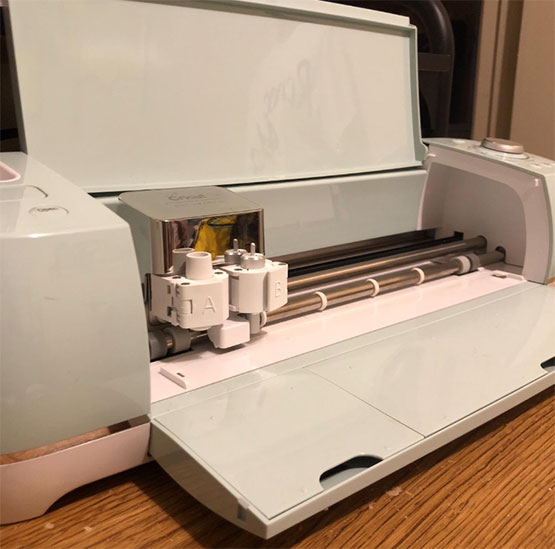 This model includes a scoring tool that allows you to do some intricate folds and finishing touches. At a lower price point, this model by Cricut accomplishes more than enough for most users in a cost effective package.
What We Liked:
Precision cutting.
Easy to use design app.
Works with 100+ materials.
Wireless operation.
What We Didn't Like:
Fewer material options than the Maker 3.
Slower than more expensive models.
Best Value: Cricut Explore 3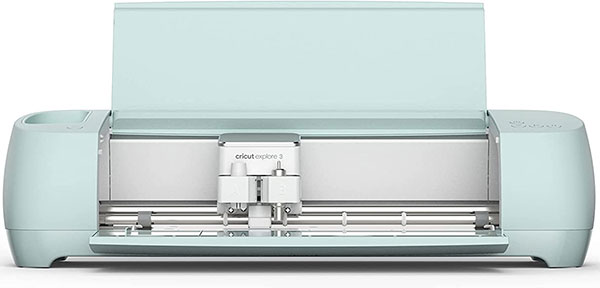 Key Features:
Cuts 100+ Materials.
Comes with Design Space App.
Bluetooth Connectivity.
Expandable with additional tools.
The Cricut Explore 3 is an ideal mix of functionality and value rolled into one sticker cutting machine.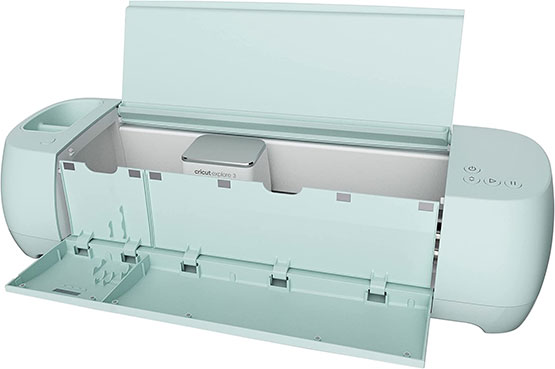 It has many of the powerful features more expensive models possess, but streamlines the entire experience by pairing down some of the functionality. Its latest model can print at twice the speed of the previous version, which is a help when you have a lot of sticker making to do.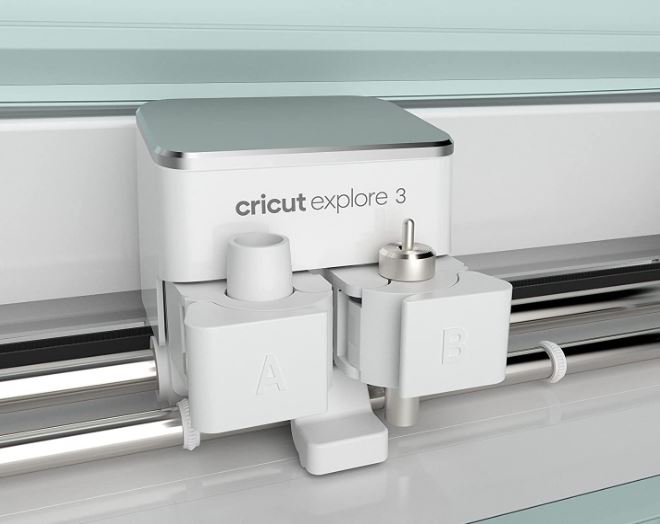 It's compatible with a wide range of smart materials and can even print cuts up to twelve feet long. The beauty of the cutting tool is that it doesn't require a matt underneath to get the job done. Storage on the top and bottom of this unit keep things neat and organized.
What We Liked:
2x faster than previous model.
Works with smart materials.
Wireless operation.
Easy-to-use design software.
Can print cuts up to twelve feet long.
What We Didn't Like:
Limited materials you can work with compared to other versions.
Expensive.
Best All-in-One: Brother ScanNCut DX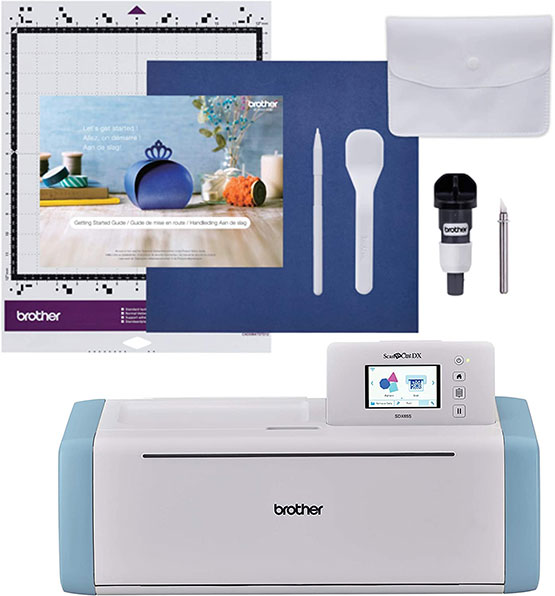 Key Features:
Built-In Scanner.
Comes with 251 Programed Designs.
Auto Adjustable Electric Cutting Blades.
3.5" Touchscreen.
Cuts up to 3mm Thickness.
Wireless Connectivity.
If you're looking for a sticker maker that can do it all, you don't have to search further than the Brother ScanNCut DX. What makes it a powerful all-in-one is that it has all the standard features of other units but offers the ability to expand it using an arsenal of different accessories. The result is a machine that can work on nearly any material and cut as desired no matter how intricate.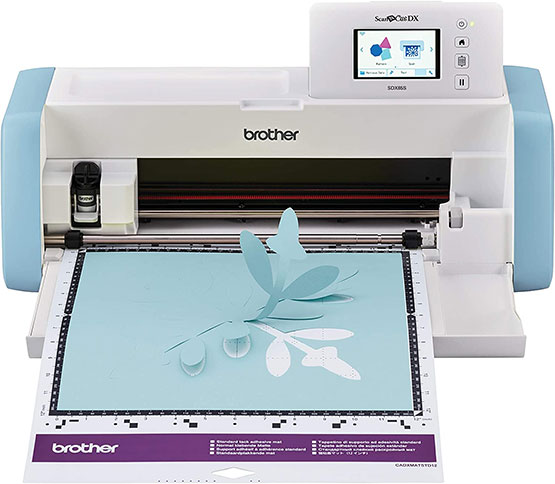 It is also the only sticker maker that comes with a scanner. The ScanNCut DX can take your scans, let you tweak them using the design app and start production within just a few taps. Its paper thickness autodetection feature eliminates the need to manually adjust the thickness.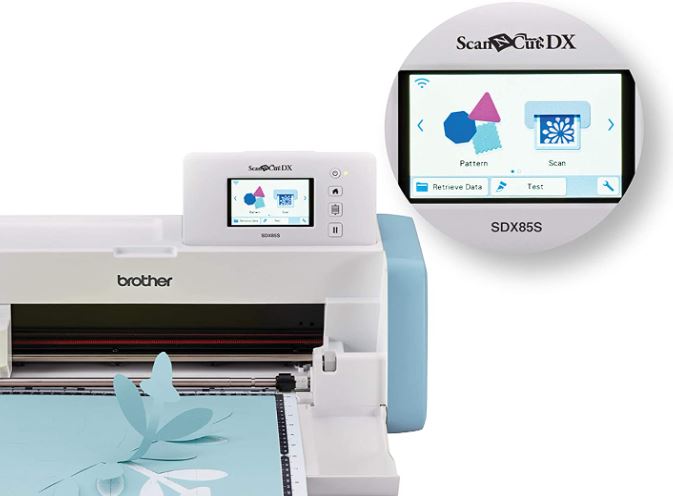 From design to cutting, the ScanNCut DX can eliminate the need for other equipment, which can save space and money all at the same time.
What We Liked:
Built-in scanner can turn scans into designs within minutes.
Wireless operation.
Detects paper thickness automatically.
Includes a comprehensive library of design templates.
What We Didn't Like:
Expensive.
Big learning curve.
Best User-Friendly: Xyron Create-A-Sticker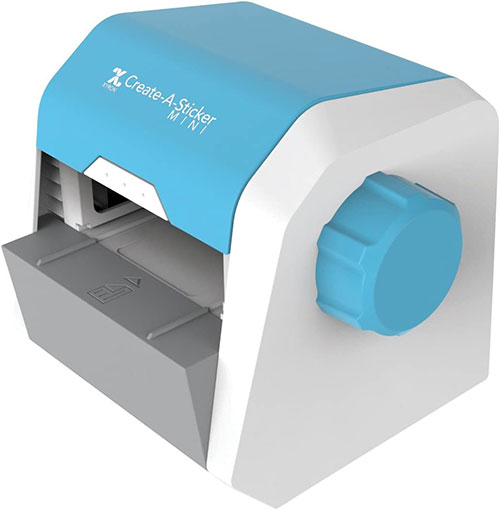 Key Features:
Applies Up to 2.5" of Adhesive in Width.
Manual Powered, No Electricity.
Includes 10ft of Permanent Adhesive.
No Heat Application.
While electric, automated sticker maker machines are powerful, they aren't user-friendly. It can be a steep learning curve trying to figure out all the features. It's why we've chosen the Xyron Create-A-Sticker machine as the most user-friendly. This product is a great way to understand the concepts of this art medium in a way that goes with your pace.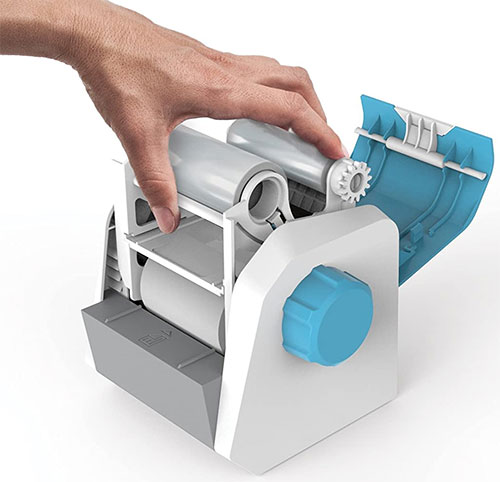 All you do is simply insert your design or die cut into the maker, cranking the knob on the side until the object comes out the other side. Once you tear and peel it, you will find your item now has a sticky adhesive applied, ready for sticking. It's as simple as that.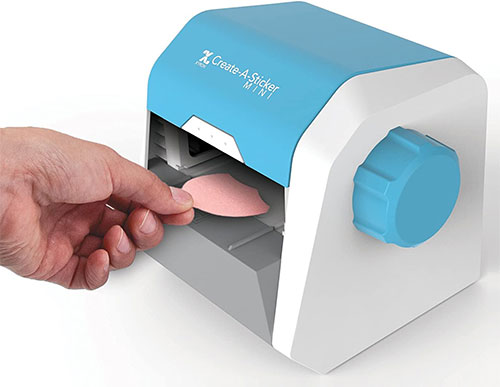 Having a fully manual sticker maker like the Xyron may have limitations, but it makes the process more accessible to the rest of the family and not just adults.
What We Liked:
Add adhesive to anything up to 1/16" thick.
Can fit 20ft of adhesive cartridges.
Side crank is easy to turn.
Child friendly.
Budget friendly.
What We Didn't Like:
Designing and printing will need to be done separately beforehand.
Shipping can take some time.
Best for Kids: Crayola Silly Scents Sticker Maker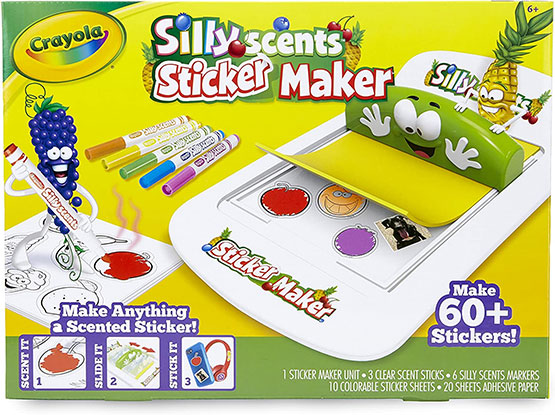 Key Features:
Contains 39 Sticker Sheets.
Scented.
For Ages 6-9.
The Crayola Silly Scents sticker maker is the clear winner for kid-friendly sticker making machines. This product helps children explore their love for sticker making using something very safe that can also be done without direct supervision. It's not a slouch either. Despite its kid-friendly appearance, this sticker maker can turn nearly anything into a custom sticker.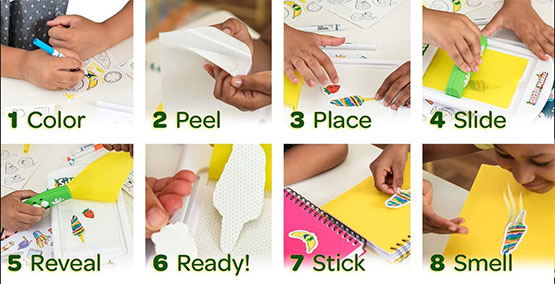 While it's not traditional and comes with significant limitations, it can serve as a great introduction for young people to develop the skills needed to use more powerful sticker making machines in the future.
What We Liked:
Great for families with children.
Comes with plenty of adhesive sheets.
Teaches children the concepts of sticker making.
Includes fun scented adhesive.
What We Didn't Like:
May be difficult to find refills.
Final Thoughts
There's no shortage of sticker maker options out there. In order to make the best choice, it's best to take stock of what your goals are for owning a sticker maker. Determine what kinds of projects and materials you'll be doing the most of and put them in order of importance. Paired with your budget you'll be able to get a clear idea of which unit on this roundup will work best.
The Cricut Maker 3 would be a great overall option if you need a sticker maker that has a robust feature set and can accommodate a large amount of materials. Users looking for similar features to the Maker 3 but at a lower price point should consider the Circuit Explore 3.
If you have a bigger budget and want a machine that can do it all, the Brother ScanNCut has an ocean of features that make nearly anything possible. The onboard scanner is a game changer as well.
Both budget-friendly and kid-friendly, the Xyron Create-a-Sticker and the Craylola Silly Scents sticker maker can turn almost anything into a sticker with a few easy steps. Whether it's for fun or to tackle your next home organization project, we invite you to give any of these sticker makers a test drive.
Meet Derek, "TechGuru," a 34-year-old technology enthusiast with a deep passion for tech innovations. With extensive experience, he specializes in gaming hardware and software, and has expertise in gadgets, custom PCs, and audio.
Besides writing about tech and reviewing new products, Derek enjoys traveling, hiking, and photography. Committed to keeping up with the latest industry trends, he aims to guide readers in making informed tech decisions.