It can be stressful whenever you experience car trouble. Especially when it strands you on the side of a busy road. In situations like these, it's important to alert oncoming drivers of your presence. That's where road flares come into the picture. Flares alert approaching vehicles of your situation, giving them the chance to move over. They can also be vital so that emergency and roadside vehicles can locate your position.
Depending on your specific situation, repairs or waiting for help can take several hours. The problem is that traditional roadside flares will only last for an hour or less. You'll need to have a steady supply of flares on hand and be prepared to set new ones out as they expire. LED emergency road flares fix this problem by providing a battery-powered solution. These can last for hours and withstand very harsh conditions.
Since LED road flares are reusable, they end up being a cost-effective option that'll be ready whenever you need them. Recently, they've been gaining popularity as a better option that a standard road flare. However, the market is now flooded with options.
To help, our team of experts have sifted through dozens of models and have compiled the best options currently available. Some important factors to consider when choosing the right LED road flares include:
Reliability: Roadside emergencies require rock solid dependability and performance. It's important to select quality LED road flares that turn on every time you need them.
Ease of Use: Instances where you need a flare are typically high-stress situations. It's important that the flares you choose are easy to turn on and operate without fuss.
Brightness: Flares that can be visible from far distances can increase safety. It gives as much notice as possible to drivers and emergency vehicles. We selected flares that could stay bright for the longest periods of time.
Modes: The benefit of an LED flare is the multiple lighting modes to choose from. Ranging from a three light sequence to an S.O.S, we went with units that had various lighting modes to choose from.
Convenience Features: Features such as magnetic backing to an onboard flashlight can increase versatility and use. LED versions tend cost more up front so features like these are a significant benefit.
Durability: The open road is an unpredictable, potentially hazardous environment. Using a flare that can stand up to these conditions is critical. Being able to withstand regular abuse through the course of time is also a plus.
Price/Value: These devices are an investment. We've opted for units that provided tremendous value in relation to their price.
Best All-Around: Garage Monkey LED Road Flares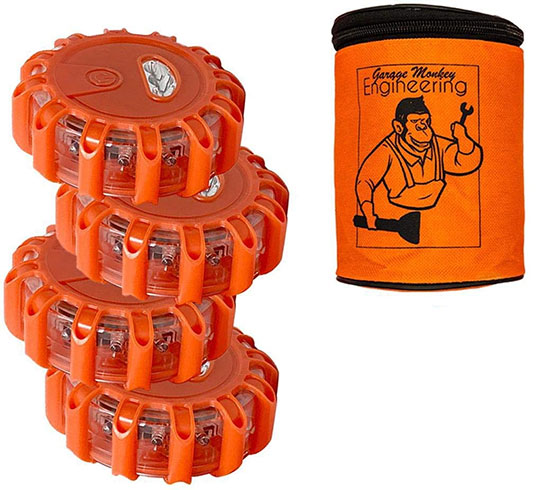 Key Features:
4 units included.
Crush and water resistant.
9 flashing modes.
Carrying bag included.
Up to 36 hours of runtime.
Magnetic base.
Press and hold off feature.
The Garage Monkey LED road flares have a lot of features but what makes them the best overall option is their durability. Other units we tested had similar abilities but their construction and materials didn't hold up to testing. When we put them through the paces, they were some of the best performers in water and crush testing. Other users have done similar tests and have given positive feedback about their durability.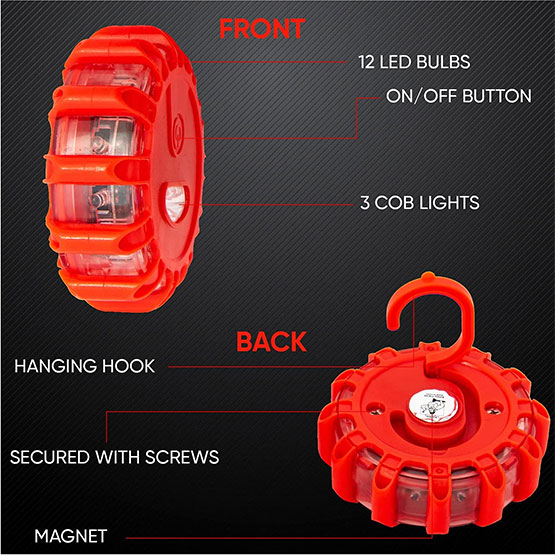 They advertise that you can see these flares from a mile away. We found that to only be the case on a flat road with high visibility. That said, the brightness of the LED is extremely high and is visible from far distances even in snowy, foggy conditions. In addition, they come with nine lighting modes that can accommodate different situations. Several users mention the three flash mode is good for foggy stormy conditions.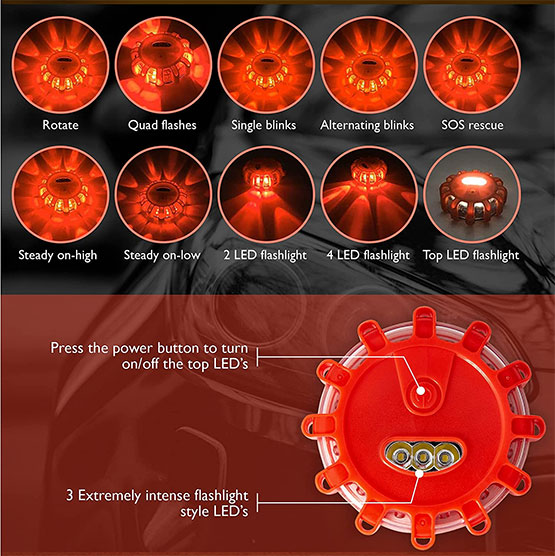 Garage Monkey road flares run on three AAA batteries but they aren't included. This makes it easier to find fresh batteries when needed, rather than relying on a rechargeable design. Many of the flares we tested ran for an average of 8 to 12 hours depending on the mode. However, these flares last for up to 30 hours in ideal situations. Real-world tests showed that the brightness remained the same for the first twelve hours and then gradually got dimmer over the rest of the time remaining.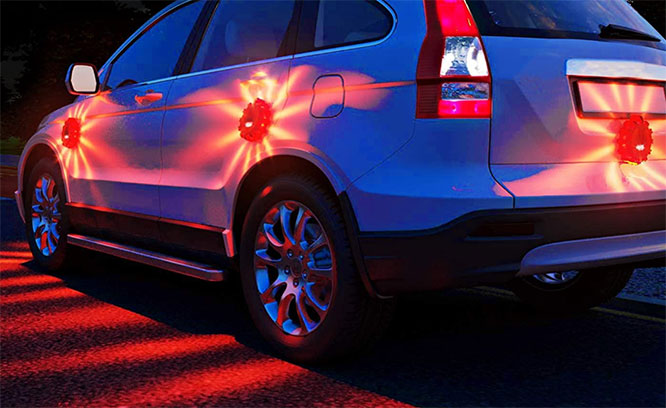 The magnetic base lets you stick it to metal objects like the side of your car. Meanwhile, the onboard flashlight is bright enough to use to look under the hood. The entire exterior is covered in a rubbery coating with thick, heavy duty plastic used throughout. Needless to say, we're fans of the build quality. Overall, the Garage Monkey flares provide the best set of features at a great price.
What We Liked:
Long battery life.
Durable and stands up to dropping, crushing and water.
Multiple units included.
Uses easily replaceable AAA batteries.
Flashlight is bright enough for most uses.
Bright LED lights.
What We Didn't Like:
Does not include batteries.
Best Runner-Up: MARCALA V2.0 Roadside Safety Discs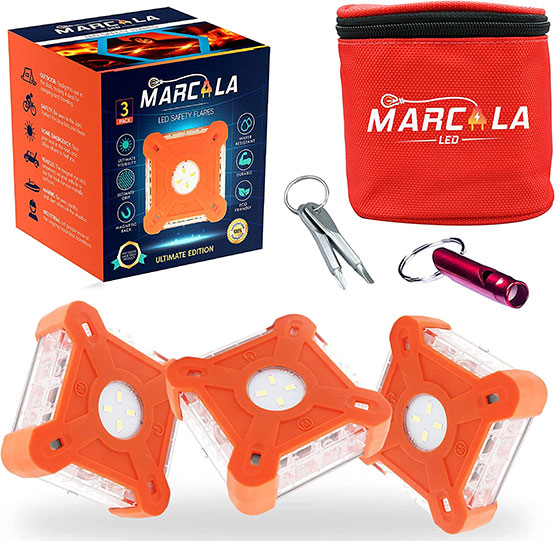 Key Features:
DOT compliant.
Square design.
Batteries included and pre-installed.
Extra batteries included.
IP67 water resistant.
Carrying case included.
The MARCALA V2.0 Roadside Safety Discs come from a family-run business that's been refining their approach to LED road flares for several years. This latest iteration takes on a square form factor that allows more light to shine from behind its protective housing. They're extremely bright with twenty LEDs on each one. In decent conditions, they can be visible up to 2 miles away at night.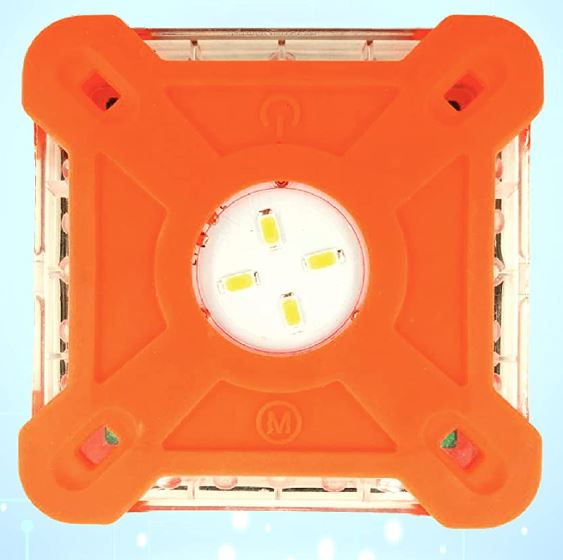 Users report that while it only hits 2 miles in optimal conditions, they're still easily visible for over a mile in most fog, snow and rain. This makes them ideal for those who want a road flare that has a higher visible range than other options.
A major benefit is that MARCALA has done the extra work to get these DOT compliant. Ultimately, they're cleared for use in nearly every state. Not only that, but they're highly water resistant and crush proof at up to 1,000 pounds.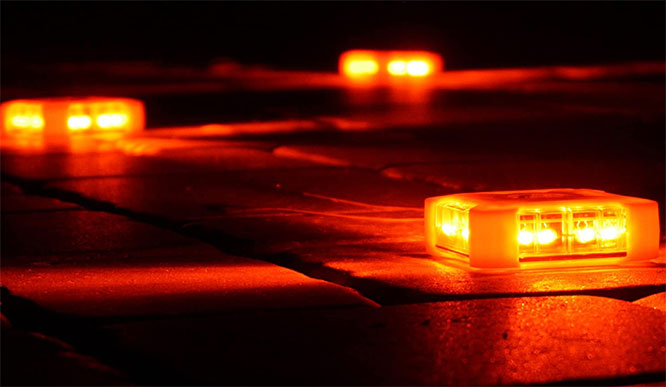 Their approach to these flares was to create a roadside kit that has everything you need during a vehicle emergency. The carry case includes three units, extra batteries, an emergency whistle and a set of screwdrivers. The soft case is better than most cases other units use. The pouch is easy to toss into the trunk of a car and fits nearly anywhere.
These flares have nine modes that are controlled by two buttons with a shutoff feature that doesn't require cycling through each mode. A powerful magnet lets you attach them to the side of your car. You could even drive with them attached at up to 45 miles per hour without having them fall off.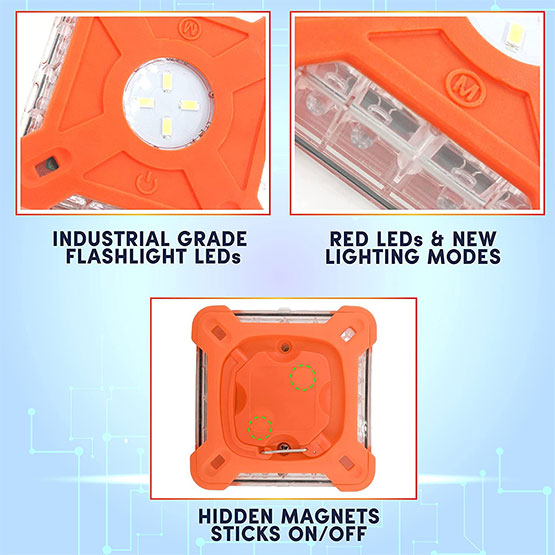 Overall, the MARCALA road flares provide rock solid performance and high visibility in a majority of scenarios. They're built well, extremely bright and highly effective.
What We Liked:
Very high visibility.
Water resistant and floats.
Magnet is one of the strongest we've tested.
On-board flashlight is very bright.
What We Didn't Like:
Customer support takes some time to respond.
More expensive than other options.
Best Alternative: Coquimbo LED Road Flare
Key Features:
Doubles as a road signal/flare, traffic baton and arrow display.
One unit included.
Rechargeable battery.
Magnetic base attaches from the bottom, side and back.
Three light modes.
The Coquimbo LED Road Flare is our pick if you're looking for something that can fill multiple roadside and traffic-oriented uses. Instead of a circle or square unit, it's designed like a light-baton which is great if you need to help direct traffic around a car accident until emergency services arrive. Additionally, two other pieces swivel out to form an arrow. And you can even utilize the magnetic base to attach it to the side of your car, a sign or a guardrail.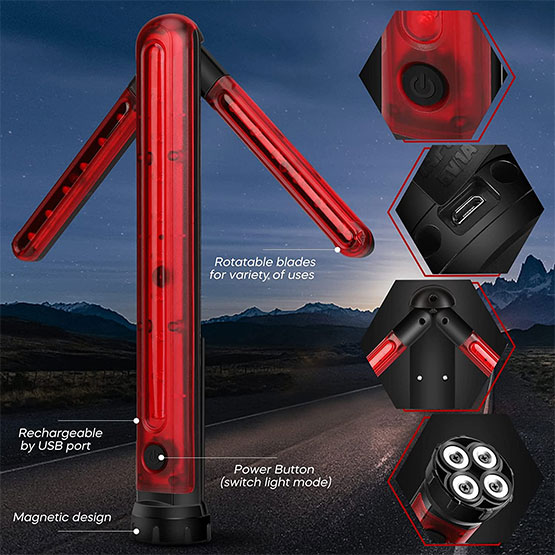 The LEDs are very bright and can be set to three modes; constant state, S.O.S and strobe. There isn't an onboard flashlight feature like other options, but it isn't that big of deal. However, it does come with rechargeable batteries pre-installed which helps keep you operational with easy recharging via USB. The overall battery life is solid with most users reporting it lasting longer than six hours.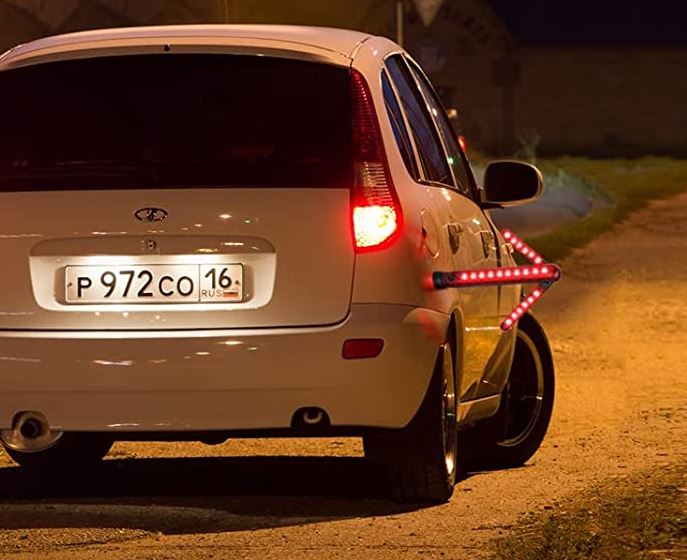 This flare does a fantastic job as a traffic baton. It's narrow enough to handle easily, while the surface offers a good grip, even with gloves on. When you expand the wings to form an arrow, it can precariously be placed to stand straight up on the road or it can be attached to a metal surface using the magnetic base. After testing it in different scenarios, the magnet is not quite as strong as the MARCALA. However, it still seems to do an adequate job of staying attached in most scenarios.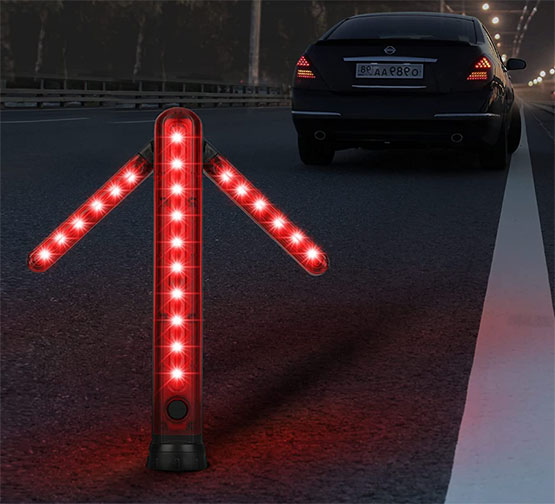 In terms of brightness and visibility, this flare performs very well. However, it's not designed like a traditional LED road flare and simply won't reach the visibility range of some others. Overall, the Coquimbo road flare is a lightweight device that has multiple uses that most drivers will find super-handy.
What We Liked:
Low-profile and collapsible.
Multi-use, 3-in-1 design.
Long battery life.
Charges via USB.
What We Didn't Like:
Magnet could be stronger.
Only comes with one unit; quite expensive for multiple.
Not quite as bright as others.
Best 2nd Alternative: Twinkle Star Emergency Roadside Flares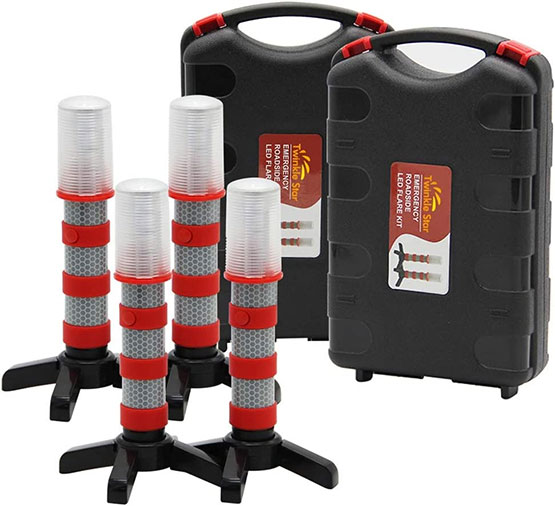 Key Features:
Comes with 4 units.
Housed in a protective carrying case.
3 flash modes.
Powered by AAA batteries.
Twinkle Star Emergency Roadside Flares are a great alternative to the traditional hockey puck design of other models. In fact, these may be a more ideal solution in several situations. Each of these flares come in a tube design with the LEDs occupying the top portion. The bottom has a magnetic base that can attach to the included magnetic stand or on a metal surface like the side of a car.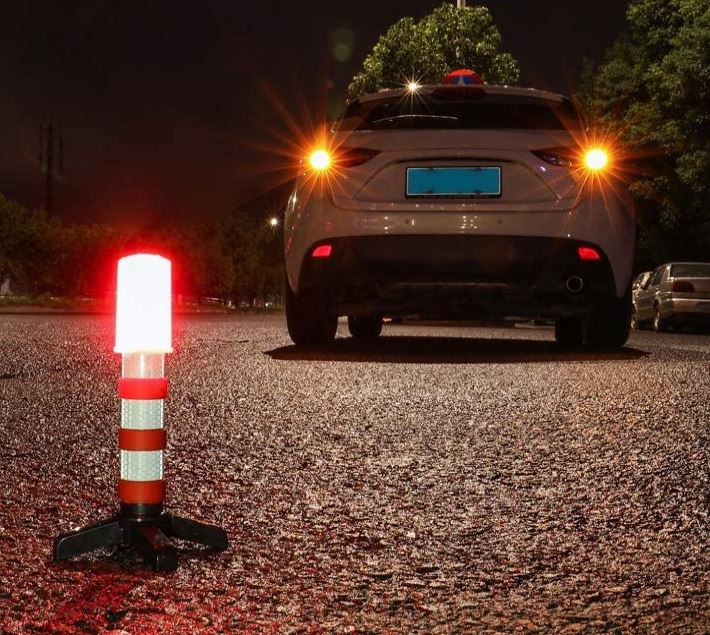 In terms of battery life, they lasted just as long as the Garage Monkey flares and use AAA batteries as well. While the brightness is very similar to others featured in this article, many users found them to be extremely bright.
In fact, in a head-to-head comparison by one user, these units were more visible by half a mile. Largely, this is because of the form factor. The lights sit 8 inches off the ground. The elevated position makes a big difference visually since it also causes the light to cover more surface area beneath it. Each flare has three light modes and a single button that cycles through all of them.
These LED flares are going to be an ideal fit for people who live in wintery, snowy conditions. Being elevated off the ground, you won't have to worry as much about them being covered by snow while they sit in or near the road. Some users complain that they may tend to tip over in high winds. However, since the base is broad and very stable, we found them to handle most windy conditions very well.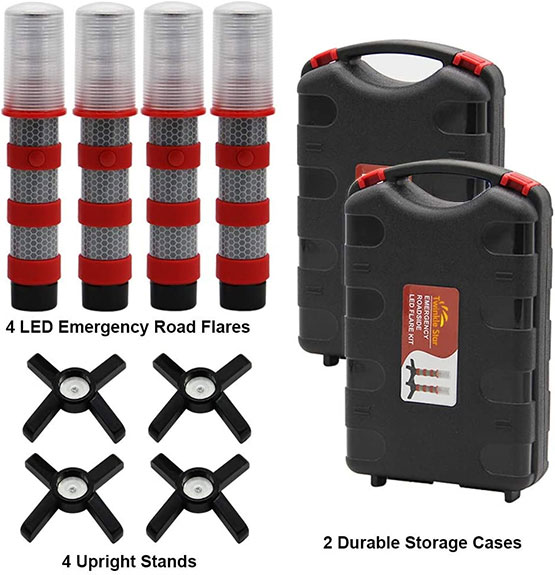 The Twinkle Star flares are a great alternative for those who want a unit with higher clearance than others. The traditional tripod-like design does wonders for high-range visibility.
What We Liked:
Elevated design improves visibility.
Long battery life.
Magnetic base is firm enough to attach to vehicles.
Protective cases are sturdy.
What We Didn't Like:
May tend to tip over in high winds.
Bulkier than other designs.