Road flares are a safety essential, but disposable flares have pretty clear drawbacks. Rechargeable road flares can be used as equally effective emergency lights, or even superior lighting thanks to the addition of attention-grabbing flashing patterns. They're useful for novelty lights, workshop safety, industrial equipment identifiers, and even for party lights.
All in all, they're a perfect replacement for incendiary flares, and have applications to virtually all of the same safety circumstances. Compared to incendiary flares, you face no toxic emissions and dangerous environmental byproducts, and you don't end up littering disposable products.
Note: At no extra cost to you, we may earn a commission for purchases using our links. Learn more.
Truly bright flares may be visible from a mile away, making them great for search and rescue situations. You can place them around a dangerous area on the side of the road, and effectively triple the quality of your hazard lights. And when you're not having a bad day, LED road flares are still a good way to light your way home from talking a walk in the country.
And it's not hard to find LED flares built to comply with Department of Transportation Standards, or the various safety codes outlined by government offices. LED flares are used by firefighters, first responders, police, and dozens of similar professions doing emergency work. Even individual motorists can benefit from having safety flares. In conditions where it might seem silly to break out a disposable flare, the reusability of LED road flares make them highly pragmatic, cost effective, and protective.
Choosing LED Road Flares
Fortunately, selecting LED road isn't that complicated. You'll just have to keep some practical considerations in mind. For example, how many flares will you end up needing? Two or three is typically enough for roadside or emergency applications, but depending on your intended use, you may need a larger or smaller kit.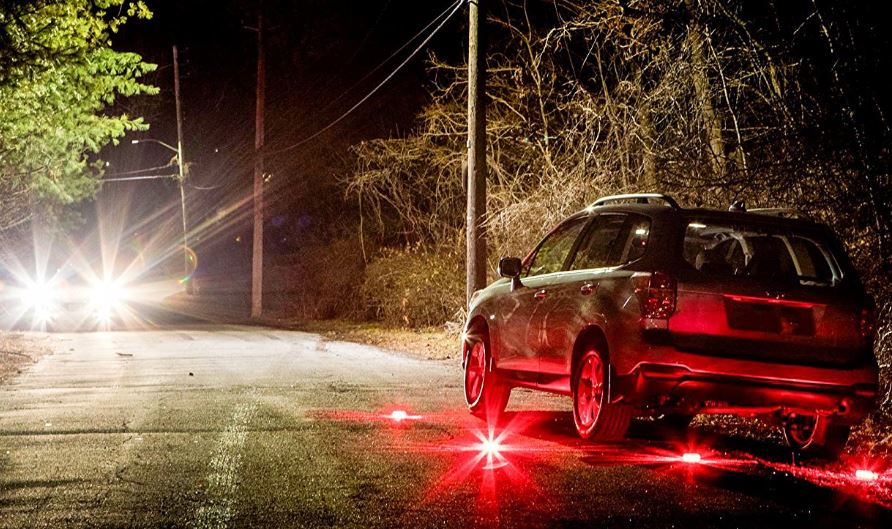 Brightness and Safety
Brightness is a concern that can vary by region and intended use. You may care more about brightness if you live in a place where it's ordinary to encounter dense fog, haze, storms, and similar low-visibility conditions. Which brings us to our second biggest concern, can the road flare stand up against exposure to the elements?
For a roadside emergency kit, you're going to want flares with great waterproofing. And for flares positioned in stationary cold outdoor places, or used in exceptionally cold below freezing conditions, you'll want to pay attention to protection provided to the batteries. When poor battery shielding is used, extreme temperatures are going to have substantial impacts on battery performance. The result isn't just batteries that don't last very long. When poor shielding is provided, the weather can actually have a substantial impact on the brightness output of the flare!
Battery Life
What kind of batteries are used? Is replacing the battery a tedious process that requires special tools, or can you quickly pop in replacements with ease? Moreover, you'll want to think about the battery life for each flare. The fact you're not burning through disposable flares means you'll end up with immense cost savings no matter what you choose, but you don't want to end up changing batteries more than necessary. Brighter LEDs will burn through battery power at greater rates, so be sure to include that in your considerations as you compare two LED road flares.
Bonus Points
And then there are the intricate details. Are the flares easy to store and carry? Most road flare sets will include some kind of storage bag, but some leave you to work out storage problems for yourself. Sometimes the best way to get someone's attention isn't one light, sometimes it's some type of strobe pattern. You can find many road flares will provide added features like light patterns, which may or may not be useful depending on your application.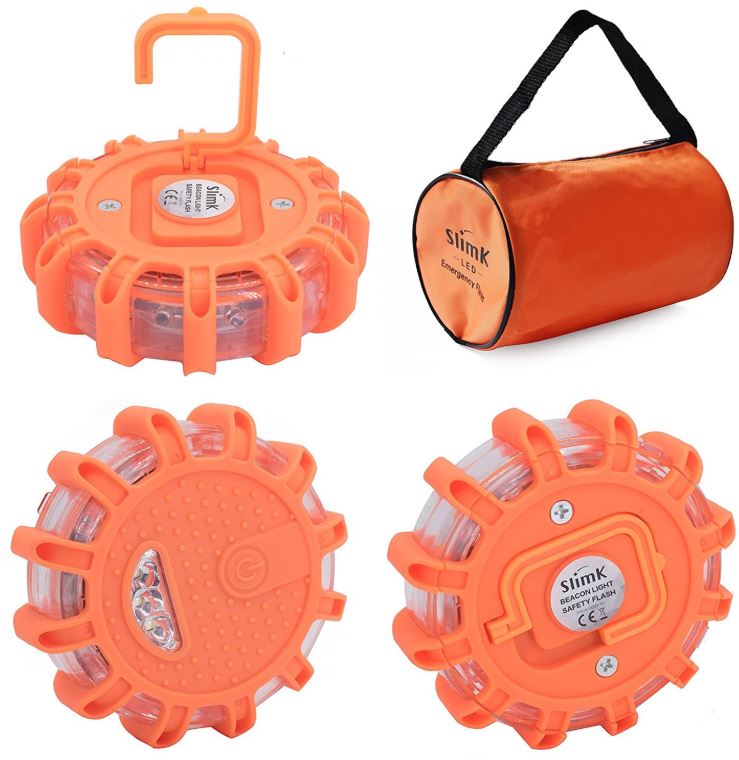 SlimK LED Road Flares
From a glance, the SlimK LED Road Flare kit looks like a basic collection. It includes 3 LED flares, which is enough to provide strong visibility around any roadside accident. And thanks to the disc-based design using a magnetic base, you won't encounter problems with things like windy conditions.
Place two by the roadside and one directly on the metallic chassis of your vehicle, and you'll have drastically improved your protection compared to hazards alone. The metallic base makes these flares are ideal for boats, cars, and really mode of transportation where you might attach a flare straight to the body of the vehicle. And the -40°F to 212°F operating range is generally reflective of the impressive and sturdy build of these flares.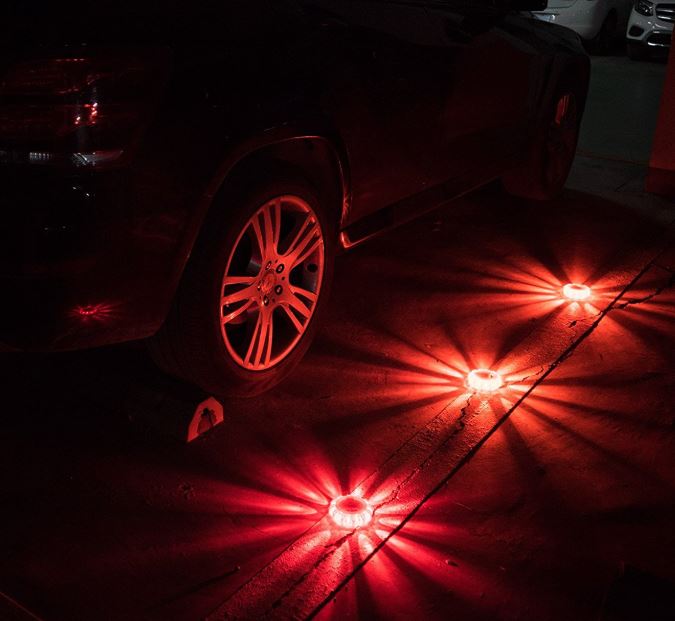 Build & Design
SlimK uses a circular design with a roughly a 4-inch diameter. Each road flare weighs about six ounces individually, or one pound as a set. The build of each flare consists of ABS plastic, which is exceptionally strong against corrosive chemicals and physical impact. It's also relatively harmless and doesn't contain any known carcinogens. The result is a crushproof, shatterproof, and rainproof LED light. And the lightweight build makes these flares equally good for bikes and larger vehicles.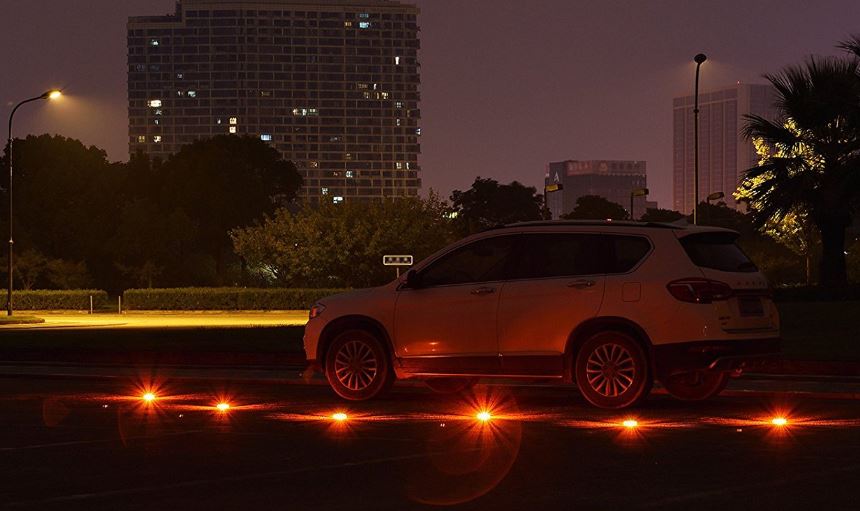 The flares can be set to 9 flashing modes, the SOS rescue mode, and 3 flashlight modes. It's powered by 3 AAA alkaline batteries, which are included with the kit. Those batteries allow up to 36 hours of continuous operation, though that does depend on the LED modes you're using. With more frequent use of the light, you're going eat through the battery quicker. For example, the rotate mode will burn through the battery in about 8 hours, while you can get about 10 hours from the basic flashlight.
Other Considerations
SlimK Road Flares are easy to keep together thanks to the inclusion of a storage bag. The bag uses the same highly-visible bright orange design as the flares themselves, making it easy to quickly spot inside a dark trunk. Their sturdy ABS build is what allows SlimK to claim these flairs have a 10-year shelf life. This flare shoots light in a full 360-degree radius, making it useful for essentially any of the most common purposes for an LED flare.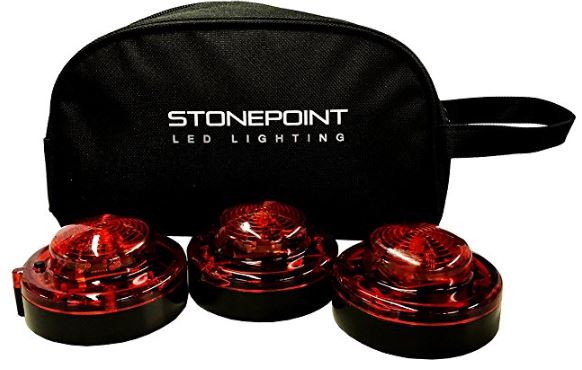 StonePoint Emergency Roadside LED Beacon
StonePoint flares look like something you'd see on the wall of an industrial site. Somewhat similarly to the SlimK LED flare design, StonePoint's flares look like a combination between a snow globe and a hockey puck. The resulting disc is just over 5" in diameter, while the bulbous dome sitting on top is nearly as tall. And like with SlimK, these flares come in a set of three and include a handy storage bag.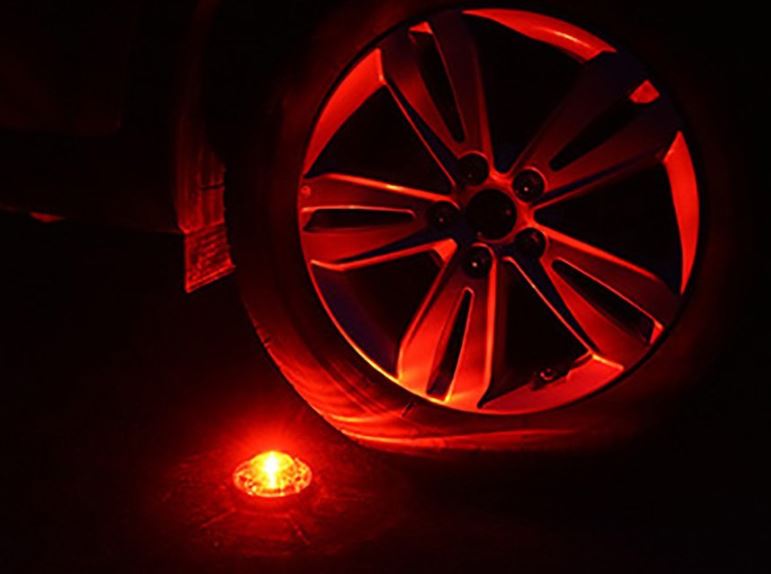 Build & Design
StonePoint's LED Beacons are perfectly adequate for emergency kits or roadside assistance, but the StonePoint aesthetic makes them just as suitable for setting up around workshops and garages. The bright build of this device and its bulbs are excellent grabbing attention. These super-bright LEDs provide the 360-degree visibility you're looking for from a roadside LED flare, with extra brightness that can be seen from as far as two miles away. That makes these flares ideal for poor visibility, heavy snow, or fog.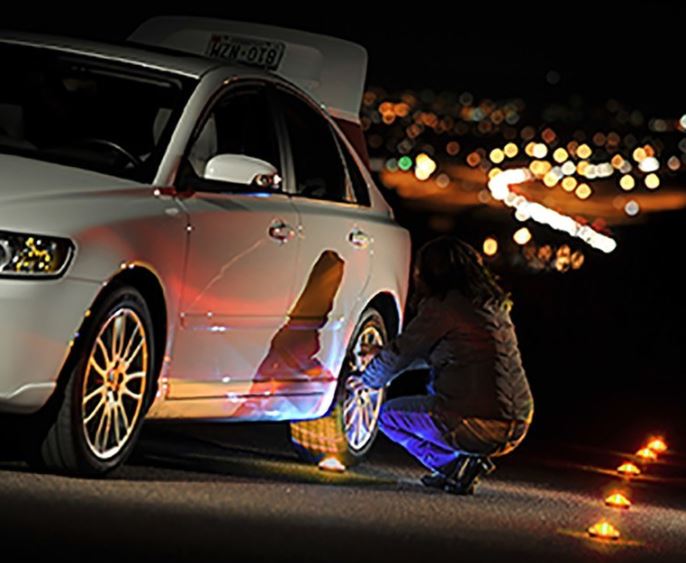 Each beacon weighs about five ounces, and use a similarly designed magnetic base to SlimK flares. They're also crush resistant, water resistant, and supposedly sturdy enough to be protected from a 6,000-pound vehicle. Each flare is capable of 20-hours of run time while operating in steady mode, or 60-hours with the flash mode.
Other Considerations
StonePoint's beacons are composed of 0.5 watt LEDs built for 50,000 hours of operation. The generally high quality of those LEDs is reflected in the high visibility of each beacon. Since there are only two modes of operation, it's easy to master using these flares. On the other hand, you don't have as many specific options for flashing modes or brightness settings. Your only choice is toggling between flash and steady, which will be enough for nearly everyone using an LED road flare. Each beacon is powered by three AAA batteries, which are not included.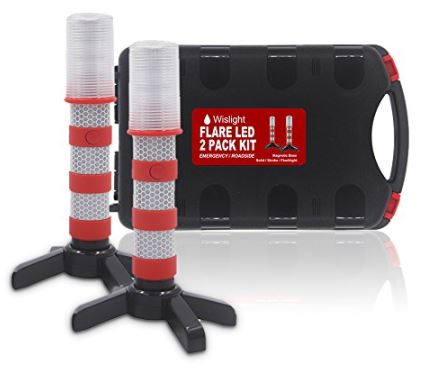 Wislight Red LED Emergency Roadside Flares
Unlike the flat circular design of the other flares on this list, Wislight's flares have an upright design. When placed upright, they resemble a small lighthouse. Ideal for camping and hiking, Wislight flares offer many of the same essential features you want from any roadside flare, with their own small twist on the formula.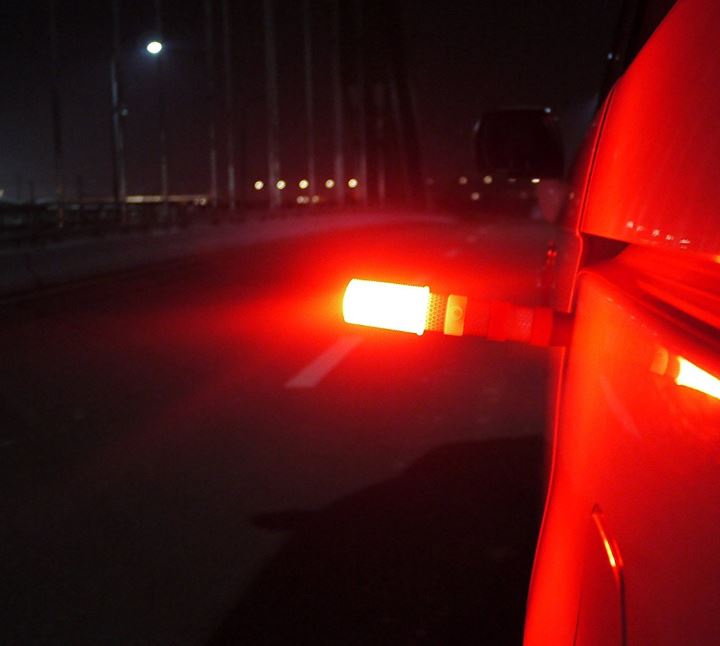 Build & Design
Each Wislight kit includes 2 LED flares encased in a strong weatherproofing plastic. As the name suggests, these LEDs produce piercing red light that's built to grab attention, especially at night. The stands of each flare make use of dual action magnetic units, firmly holding their respective flares in place. In spite of their sturdy build and magnetic base, each flare weighs only about 3 ounces. They stand 7-inches tall, and about 1-inch in diameter.
The modestly-bright design of these LEDs provides 3,000 feet of visibility at night, or 1,000 feet at day. To be certain, using Wislight Red LED emergency roadside flares offers much better protection than hazard lights alone. Unfortunately, there aren't too many lighting modes for you to explore. The LEDs can be toggled between three safety-oriented settings. In the interests of saving power, you might want to use the strobe mode, which offers about 38 hours of battery life.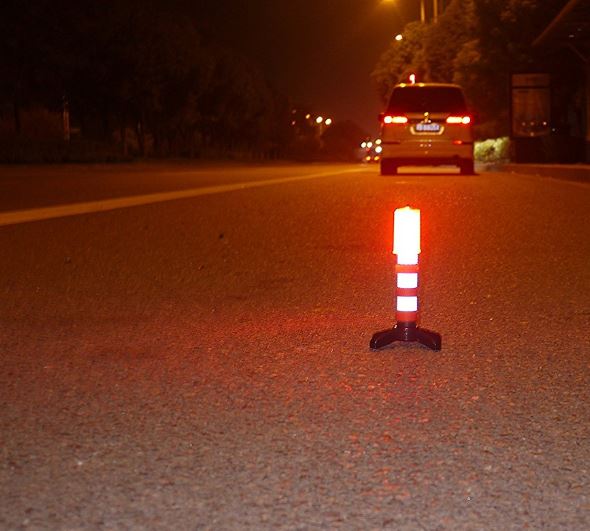 Other Considerations
Wislight roadside flares are built with exceptionally strong weatherproofing. That makes them ideal for wet conditions. And each flare is powered by 3 AAA batteries, which are included. However, the batteries don't have exceptional shielding from cold conditions. If you're using flares in below-freezing conditions, you could encounter problems without taking additional steps to protect the batteries.
The only other noteworthy quality about these flares is the usefulness of the carrying case. Having to keep only two flares together, a case is somewhat less necessary than with larger kits. But it's worth mentioning how the included carrying case is small enough to tuck under your seat, which is something you may struggle to do with a bigger bag of flares.
Choosing Between 3 Strong LED Road Flares
SlimK flares are a well-rounded choice that also works excellently in below-freezing conditions. If you don't have specific needs surrounding your choice and you're just looking for a generally good product, then you'll have no regrets selecting SlimK. They're sturdy as you'll ever need to be. The battery life isn't ideal for continuous use, but if you intend to use these as emergency lights you won't encounter that problem. For a variety of flashing modes, or using flares in extremely cold conditions, you'll want SlimK's flares.
StonePoint flares are a great choice for sticking around workshops, garages, and industrial sites where you need to catch someone's attention. For roadside emergency kits, they're extra bright, making them the choice for people who are in snowy or foggy conditions. The build also holds up exceptionally well in the cold. But compared to SlimK, the general lack of operation modes might be a deterrent for you. They're a good choice for anyone who has fixed outdoor positions in mind for their flares.
Wislight's LED road flares aren't as wildly bright as the other flares on this list, and they're not ideal for sub-freezing conditions. That may make them less qualified to be inside of a survival backpack, but more suitable for more everyday use. If you plan on throwing your flares into the trunk of your car, then these flares can deliver an excellent battery life. Moreover, some people are going to look at the upright design of Wislight's flares and instantly fall in love. Any variety of circumstances, a vertical build can help improve the visibility of your flare, and affect where you'll be able to place them.
Please consider sharing:
Note: At no extra cost to you, we may earn a commission for purchases using our links. Learn more.