Tresound 1
Pros
Durable, high-quality build.
Rich, 360-degree studio-quality sound.
Bass is very pronounced.
Straightforward control scheme.
Beautiful real wood and metal design.
Cons
Exterior can attract fingerprints.
Requires a clunky AC adapter for power.
Somewhat expensive.
When most people think of Bluetooth speakers, they don't think of top-tier audio quality. We think of these speakers as quick, on-the-go solutions for our audio needs. They're great for your backyard barbecue or your next camping trip. But would you really want to use one as your primary home audio system?
The fact is, it's only in the past few years that Bluetooth has become as capable as wired technology. You could build the most impressive hardware on the planet, with drivers that cost $1 million to manufacture. It wouldn't matter, because the signal itself would degrade the audio quality. Thankfully, today's Bluetooth speakers are able to keep up with their wired counterparts. This has opened the door to a whole new generation of home audio equipment.
We're about to review the Tresound 1 HiFi Bluetooth Speaker. This isn't just a clear, studio-quality speaker; it's a beautiful accessory for your home. But it's also expensive. So is it worth the investment, or should you save your money on a more affordable speaker? To find out, we'll have to look at all of its features, benefits, and drawbacks. After we've done that, we'll know enough to deliver a fair verdict. Let's begin!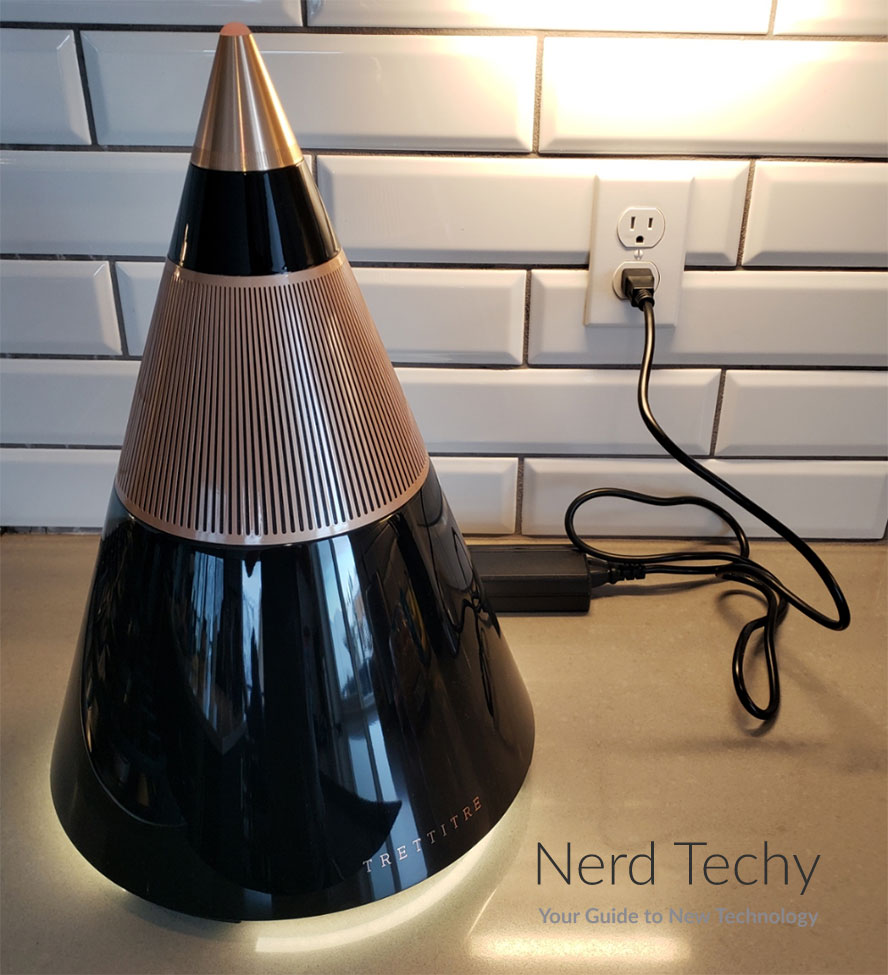 Overall Design
The first thing you'll notice about the Tresound 1 HiFi Bluetooth Speaker is its design. Instead of being rectangular or cylindrical, it's cone-shaped. The build quality is also a cut above the competition. The housing is first constructed with a bunch of trapezoidal pieces of wood. They're laminated together, then the outside is sanded smooth to form a perfect circle. The outside is then finished with the same lacquering process that's used on a set of piano keys. The result is a smooth, high-gloss surface that's easy to clean and exceptionally resilient. Although it does tend to attract fingerprints if your hands are dirty.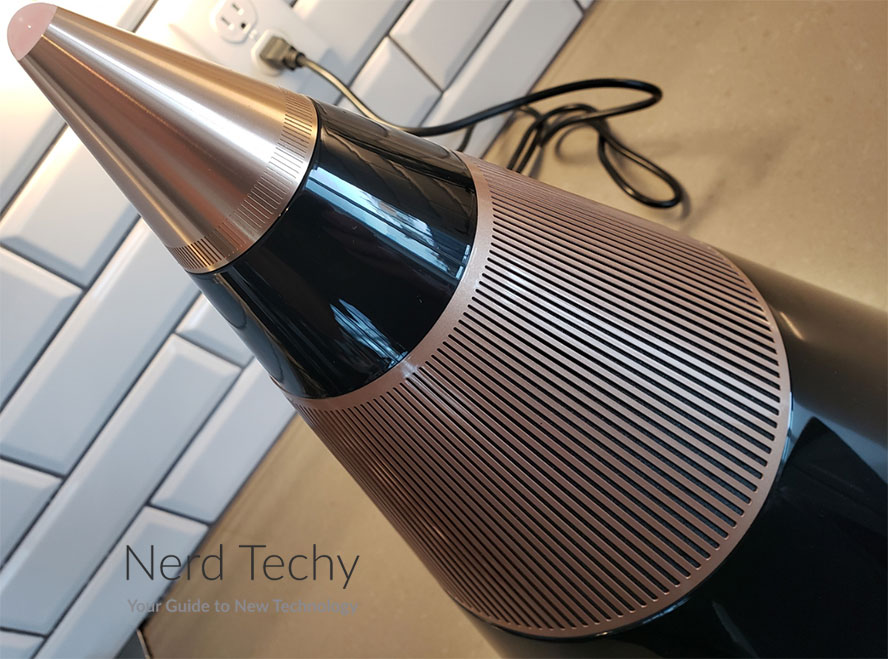 This speaker is available in three colors: black, white, and a deep olive green. About two thirds of the way up is the speaker grille, which extends almost to the top of the unit. The grille has a series of vertical louvers, which taper to a point that parallels the cone-shaped design. Above the grille is a narrow band of wood, with a metal top cap. The word "Trettitre" is printed near the bottom of the housing. The louvers, top cap, and imprint are all the same color. They're copper on the black and green variants, and silver on the white version of the speaker.
The speaker measures 11.8 inches in diameter, which gives it a medium footprint. It's a bit big for your desk, but it's small enough to fit on many shelves. The height is also in the medium range, at 16.9 inches. At a little over 16 pounds, it's a bit heavier than it looks at first glance. But it's still not too heavy to move around if you want to take it somewhere.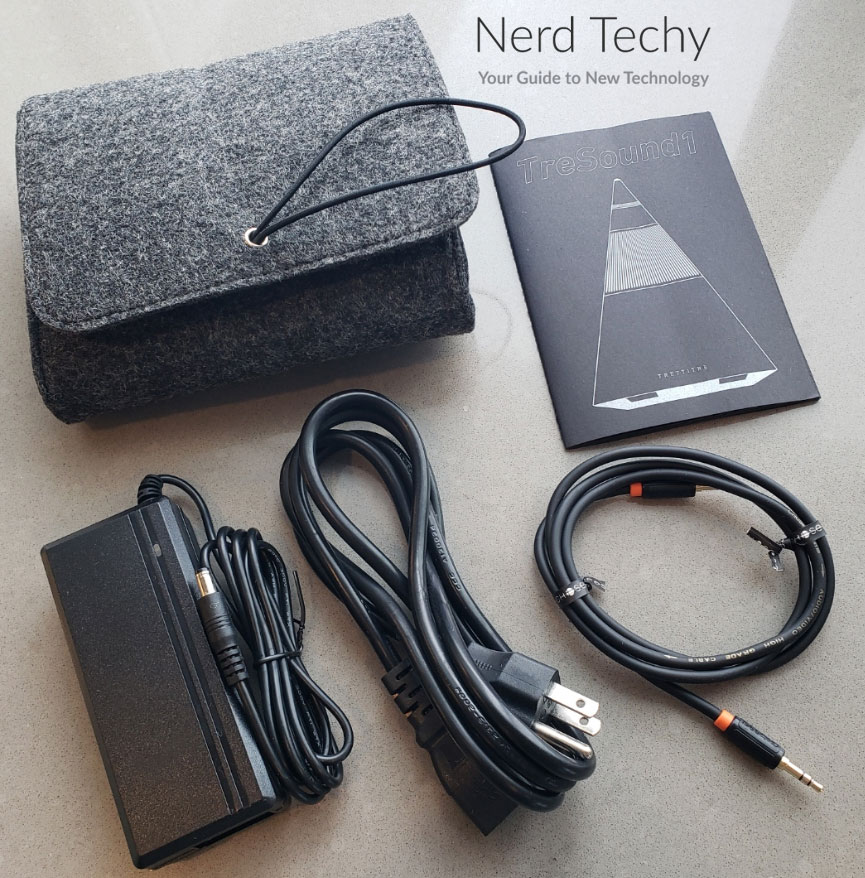 Controls
One thing we really liked about the Tresound 1 was the simplicity of the controls. A lot of Bluetooth speakers have big clunky buttons or even built-in displays. Here, everything is integrated into the design, which gives the whole speaker a beautiful minimalist appeal.
The Bluetooth reset button is discreetly tucked away in a recess near the base. You can get to it when you need it, but otherwise it's not staring you in the face. Meanwhile, the top cap doubles as a volume and power control. It looks purely decorative, but twist it a bit and it will click, and the speaker will turn on. The volume will start out low, but you can turn it up by twisting it further. Turn it the other way until it clicks to turn it off. That's all there is to it.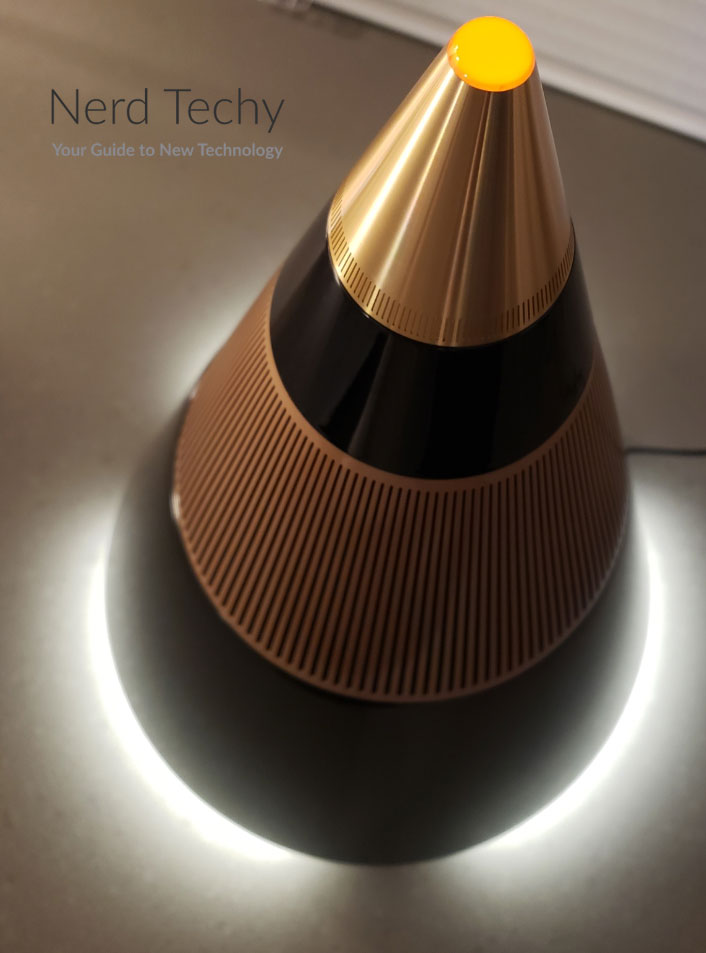 There are also some visual indicators to let you know the speaker's status. Around the base is an LED light ring which illuminates whenever the power is turned on. This can come in handy when the volume is very low or your Bluetooth has disconnected. You won't accidentally leave the speaker on and waste power. Meanwhile, the very tip of the top cap will light up when the Bluetooth is connected.
These lights aren't just functional; they're also attractive. They produce a soft, pleasing glow that appears purely decorative in nature. If you just glanced at it, it would look like a decorative accent light. In fact, it can even function as a night light if you use the speaker while you're sleeping.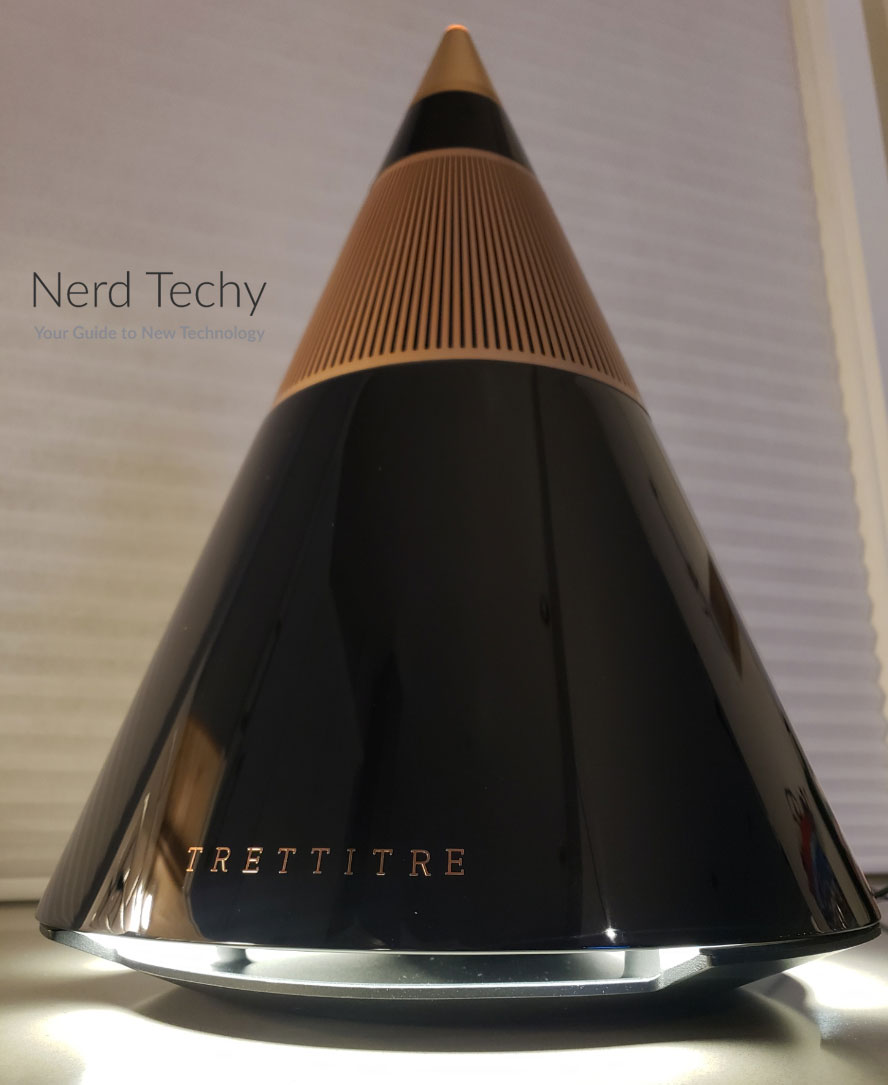 Connectivity
The Tresound 1 uses the Bluetooth 5.1 protocol. This is an upgraded version of Bluetooth 5.0, and has a host of benefits compared to older Bluetooth 4.2 systems. To begin with, you get significantly more bandwidth. Unlike Bluetooth 4.2, Bluetooth 5.1 supports HD audio, which is a massive improvement over 128Kps MP3 audio. You won't notice this when you're streaming on Spotify at a standard bitrate. But if you're an audiophile with a turntable or Blu-Ray player, you'll notice the difference.
Beyond that, Bluetooth 5.1 provides reduced latency. If you're using the speaker for movies or video games, the audio will be in perfect sync. It's not going to lag noticeably behind the video. Finally, the signal is more stable than with previous Bluetooth versions. You won't experience random stuttering and dropped connections.
If you prefer a wired speaker, you can connect it to the 3.5mm Aux port. That port is located in the same little nook as the Bluetooth reset button, on the back of the speaker. The kit includes a short 3.5mm patch cable to get you started.
You don't even need any other devices to use the Tresound speaker. It has a little Micro SD slot where you can insert a card with MP3 files. You'll also find a USB port, which you can use for a thumb drive or external hard drive.
One thing that should be known is that the Tresound 1 is not truly wire-free. There's no internal battery so it must be plugged in using the included AC adapter. It's a bit clunky, but this is a home-oriented speaker – you shouldn't be too far from an outlet.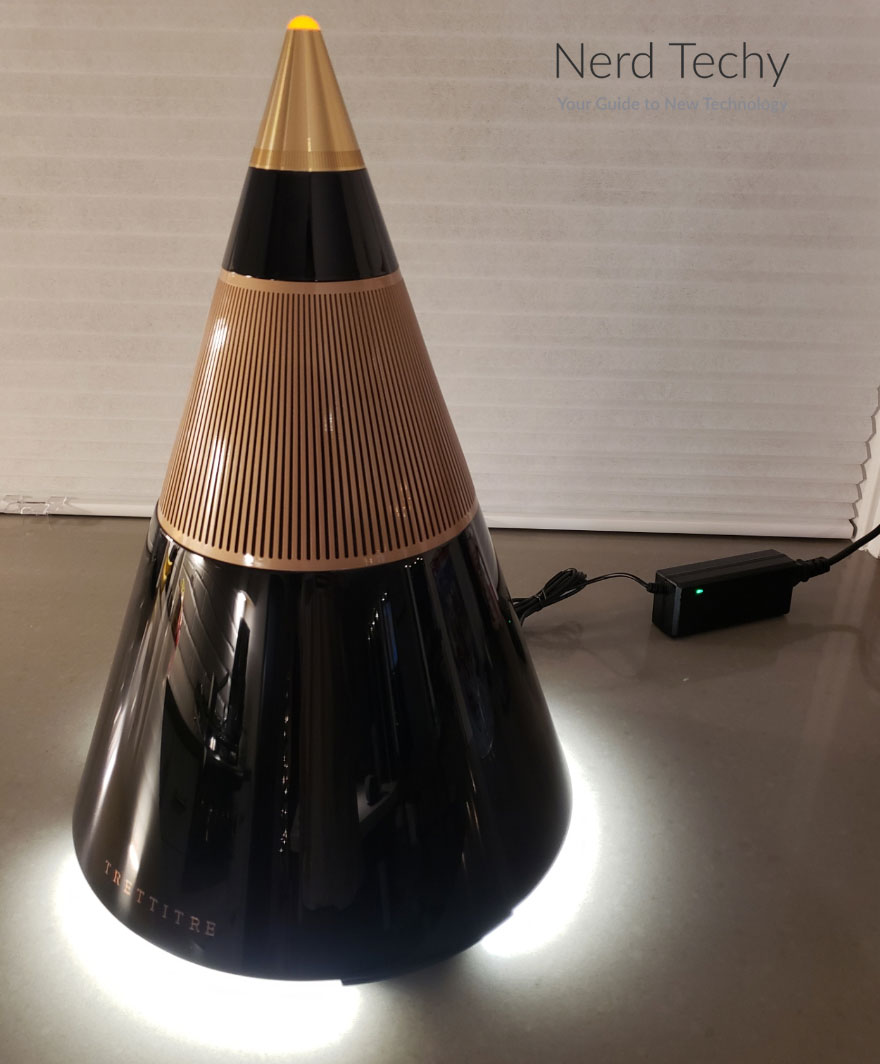 Audio Quality
Along with its aesthetic, the main appeal of the Tresound 1 is its outstanding audio quality. It sound amazing with a bass-heavy tune with exceptionally clear vocals, mids and highs. It really shines at louder volumes, when cranked up above 50%.
Inside of the housing, there are not one, but five separate speakers. At the top, near the tip, is a pair of tiny 1.25-inch silk film neodymium tweeters. Beneath that, near the bottom of the speaker grille, is a pair of larger 2.25-inch neodymium full-range speakers. At the base is a wide, 5.25-inch subwoofer.
To begin with, this provides 360-degree sound. You can put it in the center of a room, and it will be equally easy to hear in any direction. But it also allows for better quality than speakers without separate tweeters and subwoofers. The result is superior frequency response across the entire sound spectrum. The bass is tight and punchy, the highs are crisp and shimmery, and the middle frequencies are very clear. This provides a sense of space, and keeps different parts of the music from crowding each-other out. There's no bass boost function – if you want to turn it up, you'll need an audio source with an EQ.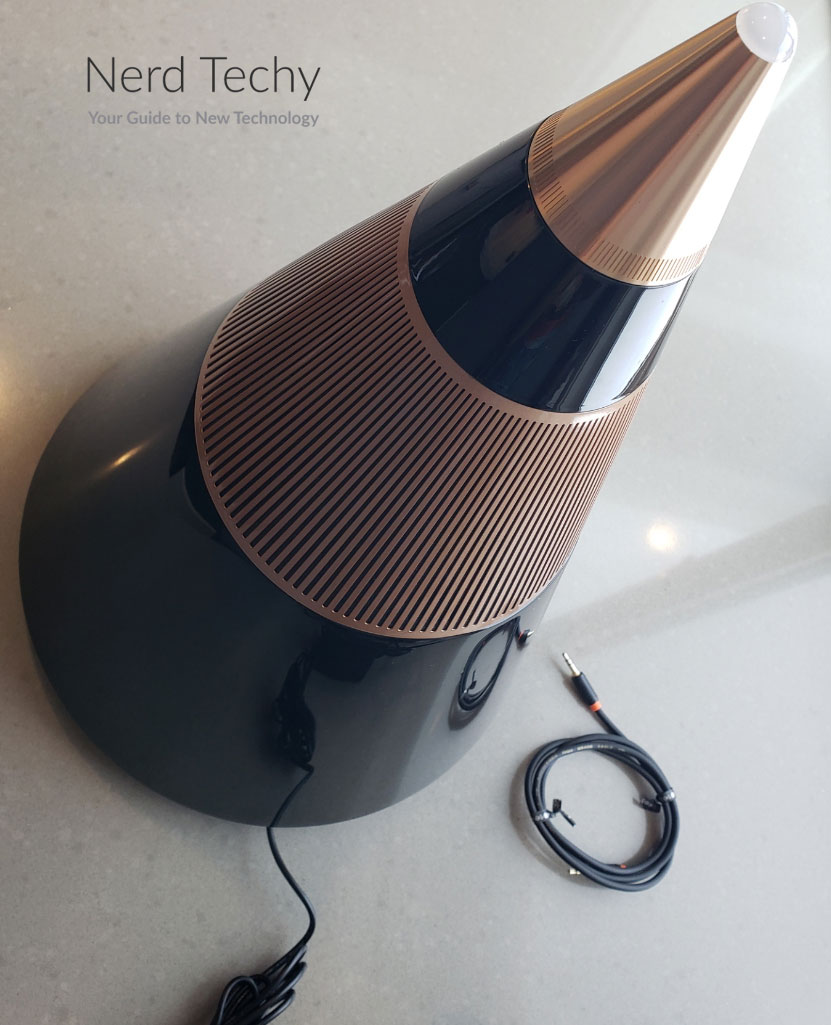 The audio is further enhanced by the wood housing. Plastic is inexpensive and easy to manufacture, and metal is durable. But when you're building a speaker, nothing beats the acoustic qualities of a dense hardwood. It might be heavy and expensive, but you can hear the difference every time you listen.
The built-in dual 30-watt amplifiers provide more than enough volume with a total of 60 watts of power. That's more than enough for listening around the house. You can crank it up while you're watching a movie, and drown out the outside world. It's also loud enough for outdoor use, but be careful. It would be a shame if it got rained on.
Nobody buys a speaker like this for phone calls. But if a call comes in while you're using it, you won't have any issues. You'll continue to get good audio, and the other person will hear you just fine.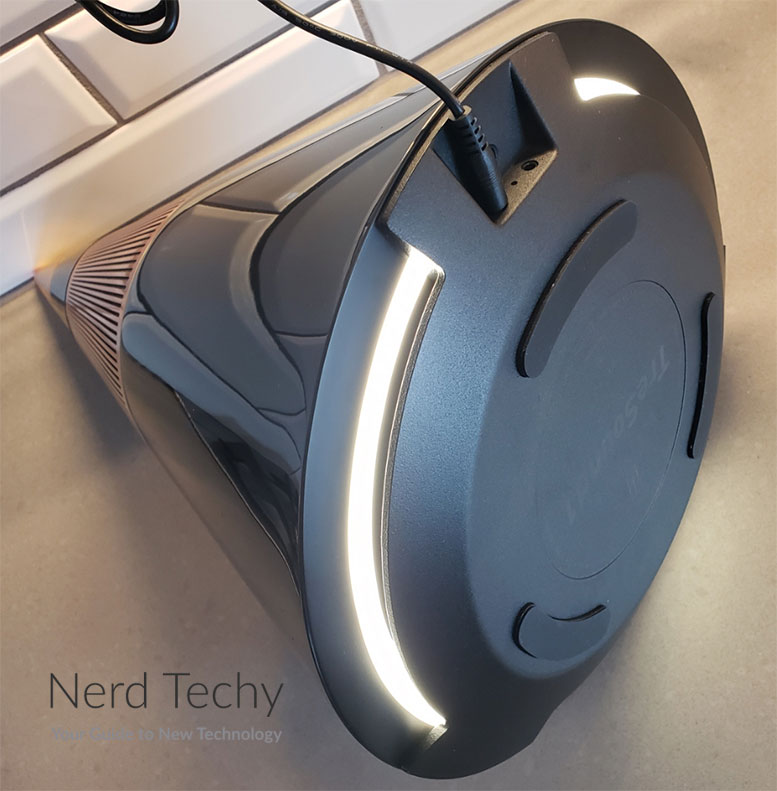 Final Verdict
The Tresound 1 isn't just any Bluetooth speaker. It's a high-quality piece of equipment, in terms of both form and function. To begin with, it's beautifully constructed. The handcrafted wood design and high-gloss lacquer turn it into a work of art. Even when it's not turned on, it's sure to be a conversation piece.
The simple controls mean there's nearly zero learning curve. Meanwhile, the Bluetooth 5.1 connection provides both clarity and low latency. You can use it for listening to your favorite music in HD audio. Then when you're done, you can switch over to playing a video game. Although it requires an outlet, it also means you don't have to mess around with re-charging an internal battery.
In addition to all that, you're looking at top-tier audio quality. For one thing, the five separate speakers are able to provide some of the most balanced audio we've heard. For another thing, the wood housing does a great job of amplifying the sound. If you're willing to pay more money for the best possible speaker, you're looking at it.
Meet Derek, "TechGuru," a 34-year-old technology enthusiast with a deep passion for tech innovations. With extensive experience, he specializes in gaming hardware and software, and has expertise in gadgets, custom PCs, and audio.
Besides writing about tech and reviewing new products, Derek enjoys traveling, hiking, and photography. Committed to keeping up with the latest industry trends, he aims to guide readers in making informed tech decisions.