If you live in a noisy environment, it can be tough to get a good night's sleep. Maybe you live on a busy road. Maybe you work the night shift, or you have roommates. Or maybe your cat likes to go crazy at three in the morning. These and other scenarios can produce noise that jolts you awake at all hours.
A white noise machine is the ideal solution to that problem. By producing noise across a variety of frequencies, you can essentially drown out intrusive sounds. Many white noise machines also come with other features. For example, they can play soothing sounds like trickling water that go well beyond white noise. Some even have built-in lights.
Today, we're going to review four of the best sound machines we could get our hands on. If you don't have time to read all the details, here's a quick summary:
Needless to say, that just scratches the surface of what these machines have to offer. To give them a fair shake, we'll have to take a closer look at each one, and see how they stack up. After that, we'll be able to deliver a fair judgement. Let's begin!
Hotmoon Omini Portable Sound Machine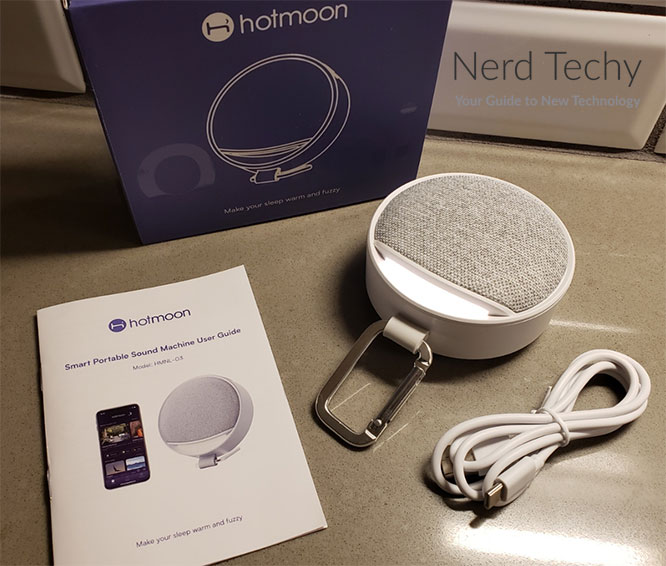 Key features:
More than 150 sounds.
App controls.
Built-in night light.
Doubles as a Bluetooth speaker.
The Hotmoon Omni Portable Sound Machine is a circular speaker that measures 5.51 inches in diameter and 1.97 inches thick. The housing itself is a matte white plastic, with a white speaker mesh on the front. At the front edge, the speaker is cut away to make space for a small night light.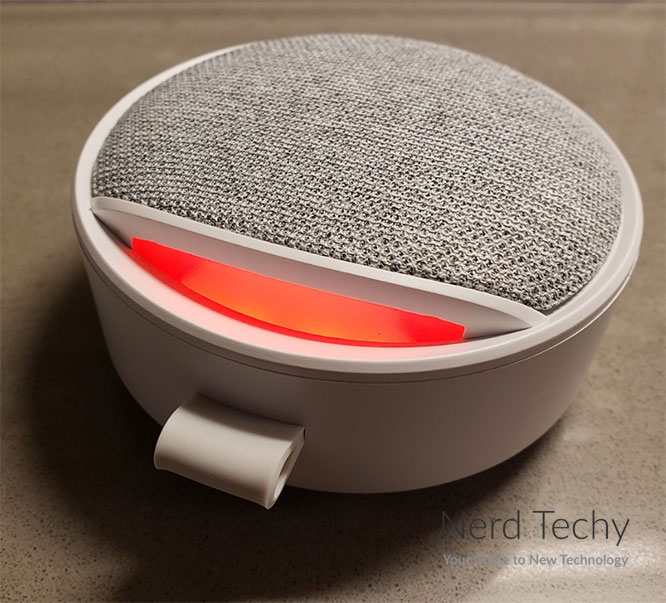 At the front bottom of the housing is a little leather loop. This loop can connect to one of two attachments that are included in the package. There's a rectangular metal carabineer, along with a round plastic ring. Either one can be used to hang the speaker from another object. Or you can fold the plastic ring back underneath the housing to prop the speaker at an angle.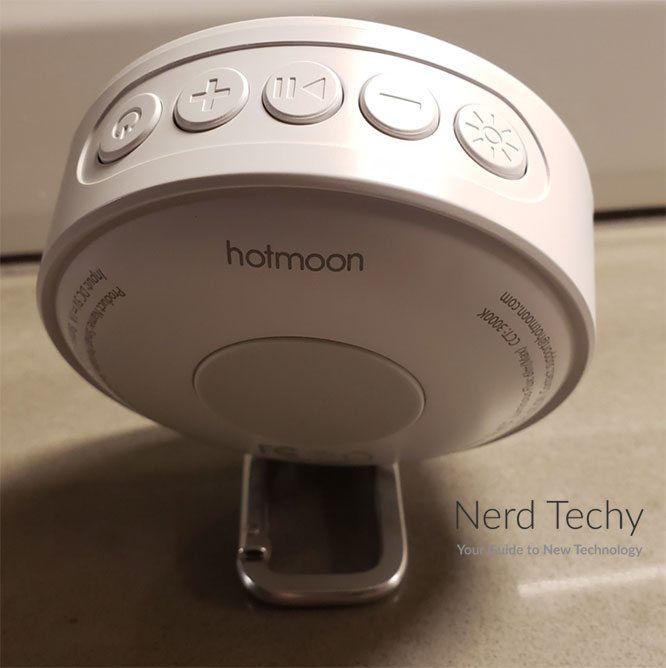 When propped up, the control buttons are located along the top edge. The first is a light control, which turns the night light on and off. The next is a button to turn down the brightness and volume. The middle button turns the sound on and off, and the next turns the volume and brightness up. The last can be pressed one, two, or three times to set a 30, 60, or 90-minute timer.
Using the included USB Type-C cable, you can run the Hotmoon speaker indefinitely. Alternatively, you can use the built-in 600mAh battery. That's only enough charge to run for around two hours, depending on your volume. But if you're using it for sleep, you should presumably have an outlet nearby.
Hotmoon backs the Omini with a 12-month manufacturer's warranty. They also offer a 30-day return window in case you decide you don't like it.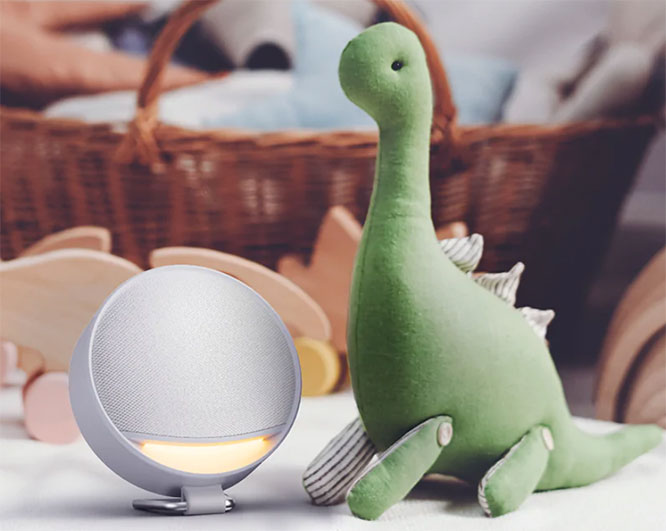 Functions and Extras
The Omini comes with 22 built-in sounds that you can play right out of the box. But not all of these are designed for sleep. For example, twittering birds are ideal for morning wake-up while OM sounds are for meditation. If you want to unlock this speaker's full potential, you'll need to download the smartphone app. It's free, and takes just a few minutes to set up.
Within the app, you'll be able to choose from a smorgasbord of 150 sounds, including white noises. You can mix up to three sounds together simultaneously if you want to. For example, you could combine a babbling brook, wind, and rustling leaves to create a forest atmosphere. You can adjust the volume of each sound individually to create the perfect balance, along with adjusting the light brightness.
In another menu, you can customize the light between 16 million colors. And you can automate the noise machine to run on a set schedule. It can turn on automatically when you go to bed and turn off in the morning.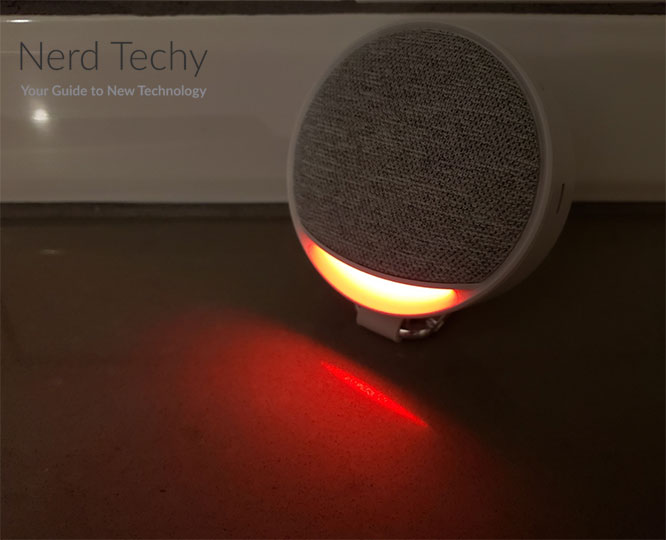 The speaker itself is very high quality, with a volume ranging from 35dB to 90dB. It's even good enough to double as a Bluetooth speaker so you can listen to your favorite songs.
What we liked:
22 built-in sounds and 150 app sounds.
Timer and schedule modes.
Portable design.
Customizable built-in night light.
What we didn't like:
Yogasleep Dohm Classic (The Original White Noise Machine)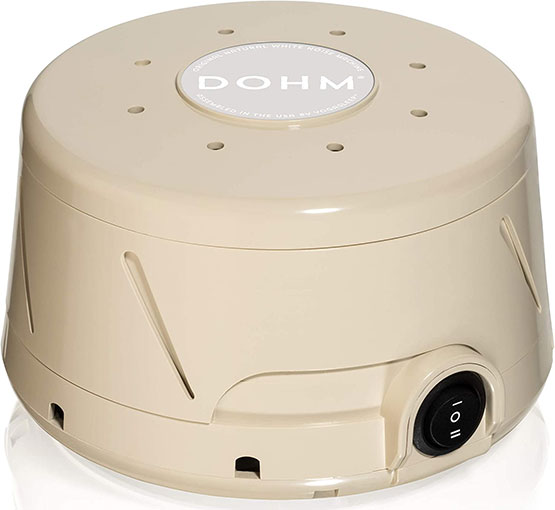 Key features:
Built-in mechanical fan.
Two volume levels.
Stepless sound adjustment.
The Yogasleep Dohm Classic is exactly what it claims to be. It's the original white noise machine, first released back in 1962. It's a tapered plastic cylinder, and is available in black or tan. The diameter at the base is 5.75 inches, with a height of 3.75 inches. And at only 1.6 pounds, it's lightweight enough to move around easily.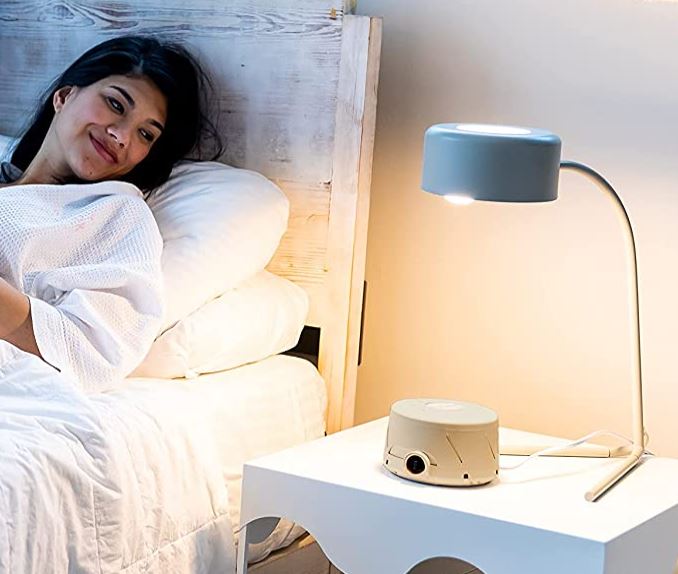 Inside of the housing is a motorized steel fan. As it spins, it creates a natural white noise. The sides of the housing are vented, allowing air to enter and then exit through round holes in the top. It's not the most attractive design, but it's classic because it works.
The Yogasleep noise machine has a 7-foot power cord that leads to a 120-volt AC plug. It connects to an ordinary power outlet, and runs continuously when it's powered on. The power switch on the front has three positions. It's off in the center, flips up for low-powered mode, and flips down for high-powered mode. The high setting is fairly loud, and should only be necessary if you're in a very noisy environment. In most cases, low will be just fine. From there, you can rotate the housing to widen or narrow the slits and alter the sound.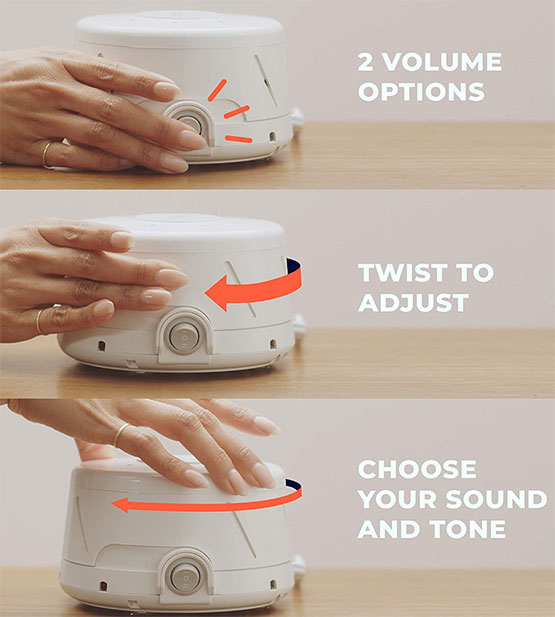 The Dohm Classic is protected by a 12-month warranty against any defects in parts or labor. In addition, Yogasleep provides a 101-night satisfaction guarantee. Within that window, you can return it for any reason.
What we liked:
Time-tested design.
Straightforward operation.
Reliable mechanical fan.
Long power cord.
What we didn't like:
Only produces white noise.
Ugly aesthetic.
LectroFan High Fidelity White Noise Machine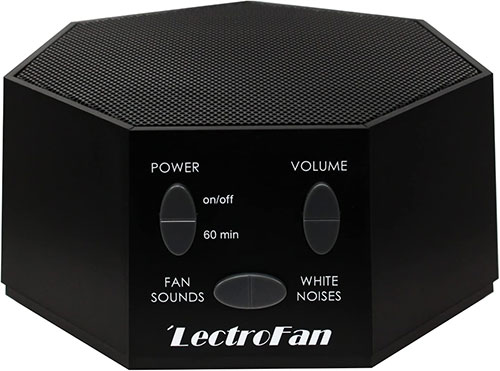 Key features:
10 fan noises and 10 white noise settings.
30-90dB volume range.
1,000-day satisfaction guarantee.
The LectroFan High Fidelity White Noise Machine has a quirky, seven-sided design. It's available in black or white, with a smooth matte finish that wipes clean easily. At 4.4 inches across, it's very compact, and it's only 2.2 inches thick.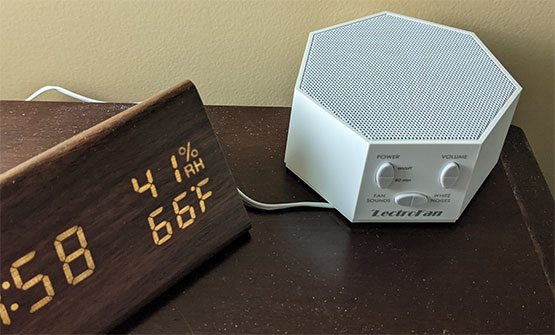 The controls are located on the front face, and consist of three grey rubber buttons. The buttons are oval in shape, and each is split down the center. The button on the left turns the power on and off when you press the top half. Press the bottom half, and it will initiate a 60-minute sleep timer. You can press the timer button multiple times to add more hours. Pressing the left half of the bottom button cycles through different fan sounds. Press the right half, and it will switch over to the ten white noise options. The right button adjusts the volume up and down.
The fan sounds are almost lifelike, and the noise options include white, pink, and brown noise. The volume is adjustable from 30dB to 90dB, but it rarely gets that loud. Whether or not this is a problem depends on how much noise you need. The package includes both an AC adapter and a USB cord.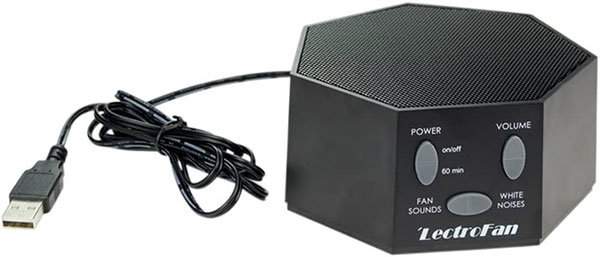 LectroFan designs their products in the USA, and provides a 1,000-day satisfaction guarantee. That's an absurdly long period for such a general guarantee, and it's a good indicator of the machine's quality.
What we liked:
AC or USB power.
Straightforward controls.
Hourly timer function.
1,000-day satisfaction guarantee.
What we didn't like:
Limited selection of sound options.
Not very loud.
Color Noise Sound Machine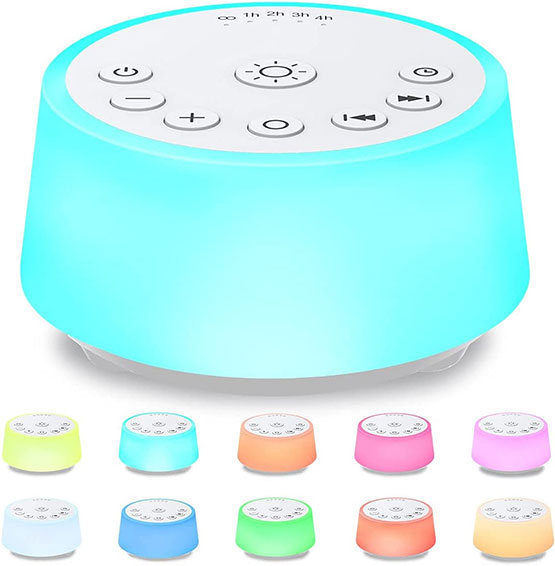 Key features:
25 sounds.
32 volume levels.
10 adjustable LED colors.
The Color Noise Sound Machine is aptly-named. In addition to functioning as a noisemaker, it's also a colorful LED light. The tapered circular housing is semi-transparent, and the LED is able to shine through the sides. The diameter is 4.25 inches at the base, with a height of 2.19 inches. And at 0.41-pound in weight, it's light enough to carry in your luggage anywhere.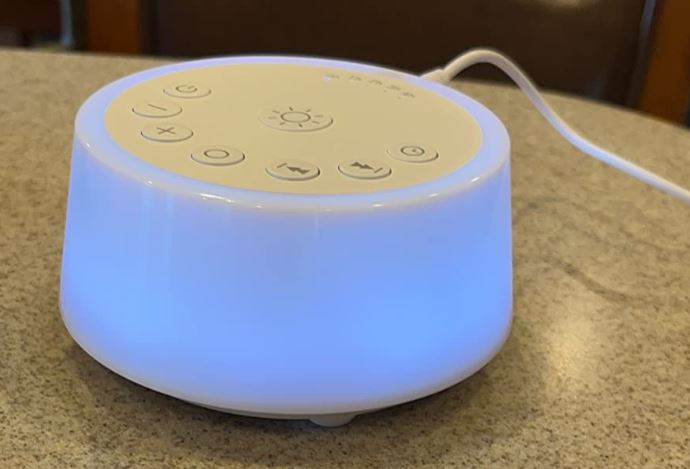 The top and bottom of the housing can be black, white, or a faux wood grain depending on which you order. There's a set of rubber feet on the bottom, which keep the unit stable and prevent it from scratching your surfaces.
On top of the housing is an array of plastic buttons. The bulk of the buttons are arrayed in an arc along the front of the surface. The power button is located to the left, followed by the volume up and down buttons. The button in the center changes the color of the LED, and is followed by back and forward buttons. These allow you to quickly switch through different sounds.
The last button is used to set the timer. An array of LED pips at the back of the surface indicate, one, two, three, or four hours. Or you can leave the noisemaker in continuous mode. There's also a large button in the center that turns the LED on and off.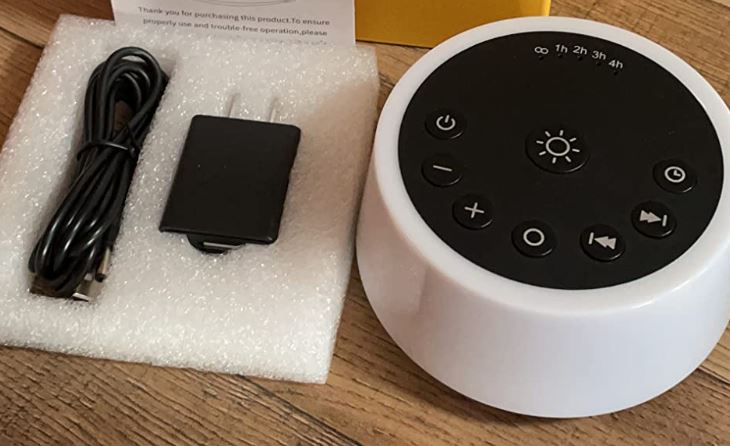 The speaker reproduces a total of 25 different sounds. This includes four types of ambient noise and four different fan sounds. There are even three types of rain and three types of ocean waves. In addition, you can switch the LED between 10 different colors. The dimmer ranges from night light levels of brightness to enough illumination for a small desk. That said, the speaker quality is only so-so, and the maximum volume is somewhat limited.
The Color Noise Sound Machine is USB-powered, but there's no internal battery. Just plug it into any USB power supply, and you'll be ready to go. You can even plug it into your laptop when you're on the road. And with a 12-month manufacturer's warranty, you're protected from any premature failures.
What we liked:
Wide variety of sounds.
Attractive, color-changing light.
Easy to operate.
Compact and lightweight enough for travel.
What we didn't like:
Low speaker quality.
Not very loud.
Final Verdict
All four of these white noise sound machines provide an excellent value. But which one is the right choice for you? Let's recap what we've learned today.
We started out by looking at the Hotmoon Omini Portable Sound Machine. This is the most versatile of the bunch, with powerful app controls. With more than 150 sounds and 16 million colors for the night light, you get a truly customized experience. The scheduler function really makes it stand out, as does the portable design.
The Yogasleep Dohm Classic was second on our list. It's entirely mechanical, so it produces a gentle whooshing sound that's tough to recreate digitally. And while it's not exactly the most attractive machine on the market, it's straightforward and simple to operate. If you want an uncomplicated machine with no bells and whistles, this is the one for you.
After that, we evaluated the LectroFan High Fidelity White Noise Machine. This is a no-nonsense noisemaker with 10 virtual fan noises and 10 types of ambient noise. The controls are easy to use. And while the volume isn't as loud as some of the others, the noises themselves are all soothing.
The last machine reviewed was the Color Noise Sound Machine. While the speaker quality isn't the best, the selection of background noises is very good. We liked the LED light and the dimming and color-changing functions. And at such a small size, it's perfect for getting a good night's sleep while you're traveling.
Meet Derek, "TechGuru," a 34-year-old technology enthusiast with a deep passion for tech innovations. With extensive experience, he specializes in gaming hardware and software, and has expertise in gadgets, custom PCs, and audio.
Besides writing about tech and reviewing new products, Derek enjoys traveling, hiking, and photography. Committed to keeping up with the latest industry trends, he aims to guide readers in making informed tech decisions.