Tacklife T8
Jump start performance
8.0/10
Performance & connectivity
9.6/10
Pros
Starts most cars, trucks, and SUVs.
Up to 12 months' of standby time.
Built-in 18,000mAh power bank with quick charge port.
Built-in flashlight with red warning light.
Cons
Not as powerful as some larger jump starters.
There are few feelings as worrisome as trying to start your car, only to find that the battery is dead. Of course, any responsible driver is prepared with a set of jumper cables. But unless you're at home, with another vehicle nearby, you're still facing a fundamental problem. You need a good Samaritan to stop and give you a jump. Depending on where you're at, this might not be a big deal. In a busy parking lot, you could get a jump within minutes. But if you're on the side of a country road, you could be waiting for quite a while.
One good solution is to carry a dedicated jump starter. People have been using these for years, in the form of portable power stations. But these power stations are typically bulky, and can take up a lot of space in their own right. It's all well and good to be prepared, but carrying one of those beasts isn't practical for most people. Thankfully, power storage technology has evolved considerably. With modern batteries and capacitors, you can carry a jump starter in one hand, and fit it in your glove box.
Today, we're going to be reviewing the Tacklife T8 Jump Starter. Tacklife is a respected electronics manufacturer, producing everything from power solutions to laser measures. They're known for precision, power, and reliability, all of which are good features in a jump starter. But a reputation alone is no guarantee of quality. To know for sure whether a jump starter is worth using, we need to actually see it in action. We also wanted to take a look at the T8's other features, such as its ability to function as a power bank. Once we've got the full measure of this device, we'll be able to render our verdict. Let's get started!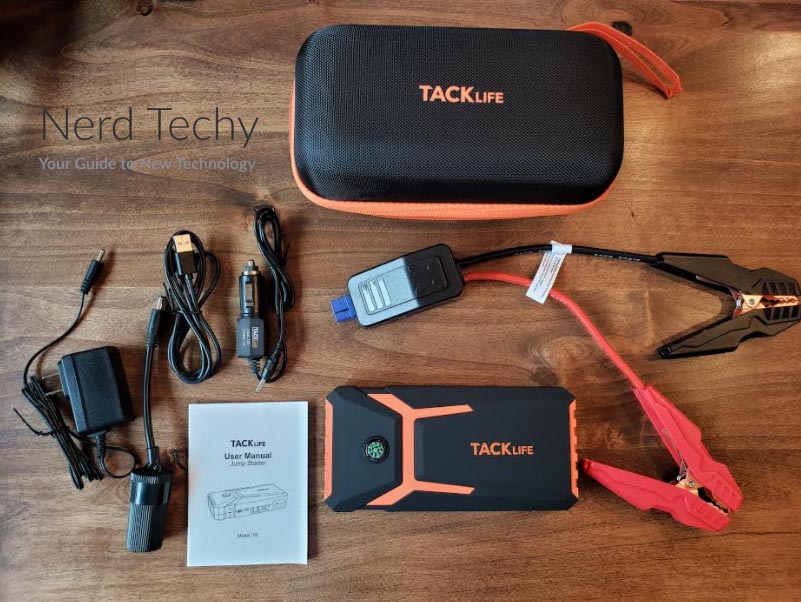 Design & Construction
The first and most striking feature of the Tacklife T8 is just how compact it is. It's less than ten inches long, about four inches wide, and just under an inch thick. This makes it small enough to carry in one hand, albeit not entirely "pocket-sized." But it's not meant to be pocket-sized; it's meant to be glove box sized, and in that regard it does very well. It can also be stored in most center consoles, so it's easy to keep on hand for just about any driver. This is a far cry from the big, bulky power stations of old.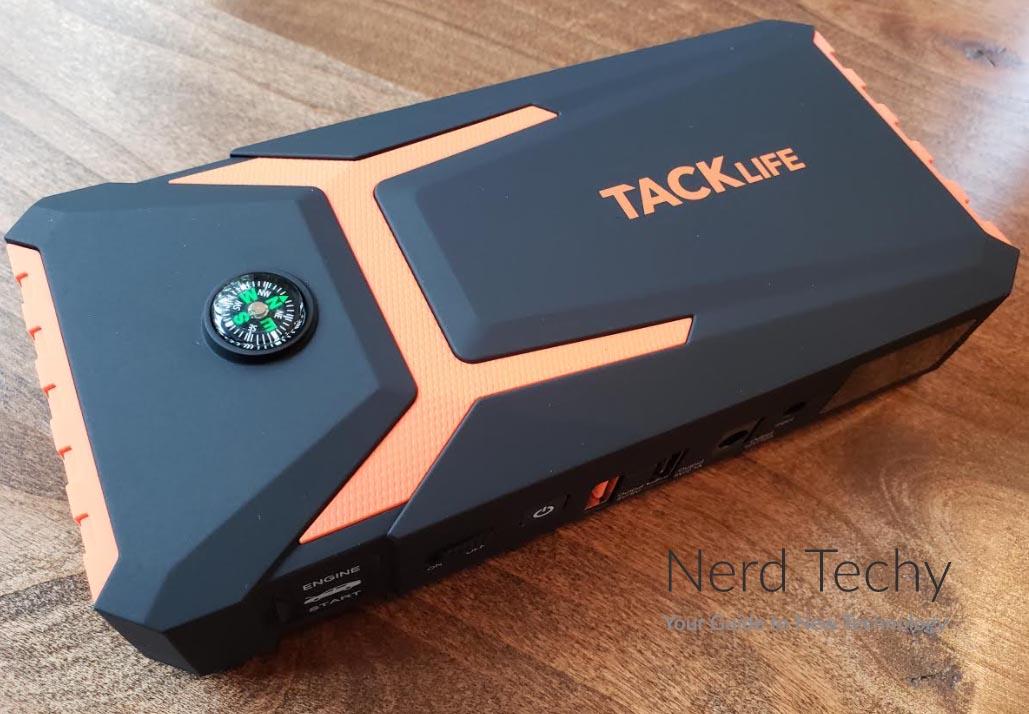 The housing is mostly charcoal grey, with an angular profile that's designed for shock-resistance. Orange highlights provide plenty of visibility, so it's easy to find in the dark. Most of the ports are located along the long edge of the unit, including the DC power input. There, you'll also notice a pair of USB ports. One of these is higher voltage, indicated by a bright orange inner tab. This tab makes it impossible to insert a plug the wrong way, a much appreciated feature. The on/off switch, power button, and charging button round out the controls.
In addition, there's an LCD display on the side of the housing. This primarily shows the current power status. However, it will also show you how much power is currently being drawn from the T8. It will also show you how much power, if any, the T8 is currently drawing from a charging source.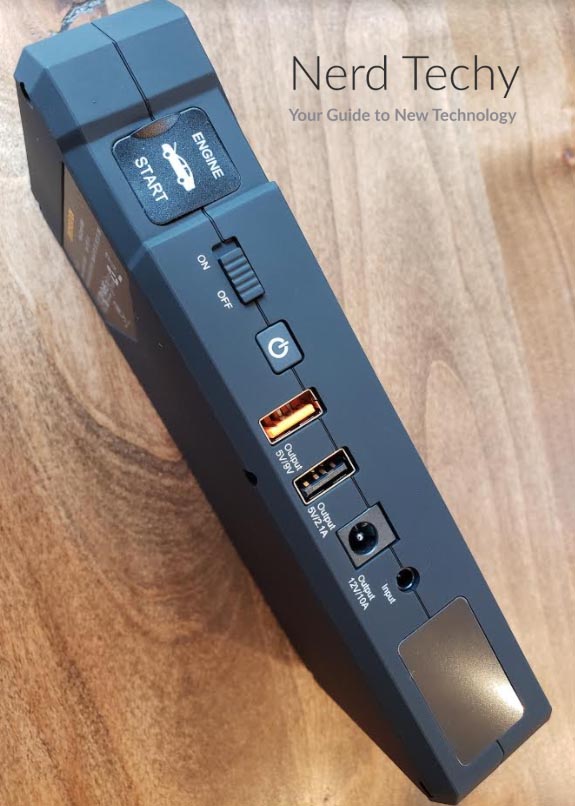 The jumper cables themselves are a separate attachment. At one end, there's a large polymer plug that inserts into a proprietary plug on the short end of the T8. Extending from this, there are a pair of pigtails attached to the clamps. These are black and red respectively, as per convention. The total distance between the two clamps is a maximum of 21 inches. This doesn't sound like much, but keep in mind that these aren't traditional jumpers. You don't have to reach another car, or even across the engine compartment. For most people's purposes, 21 inches is going to be far more than you require.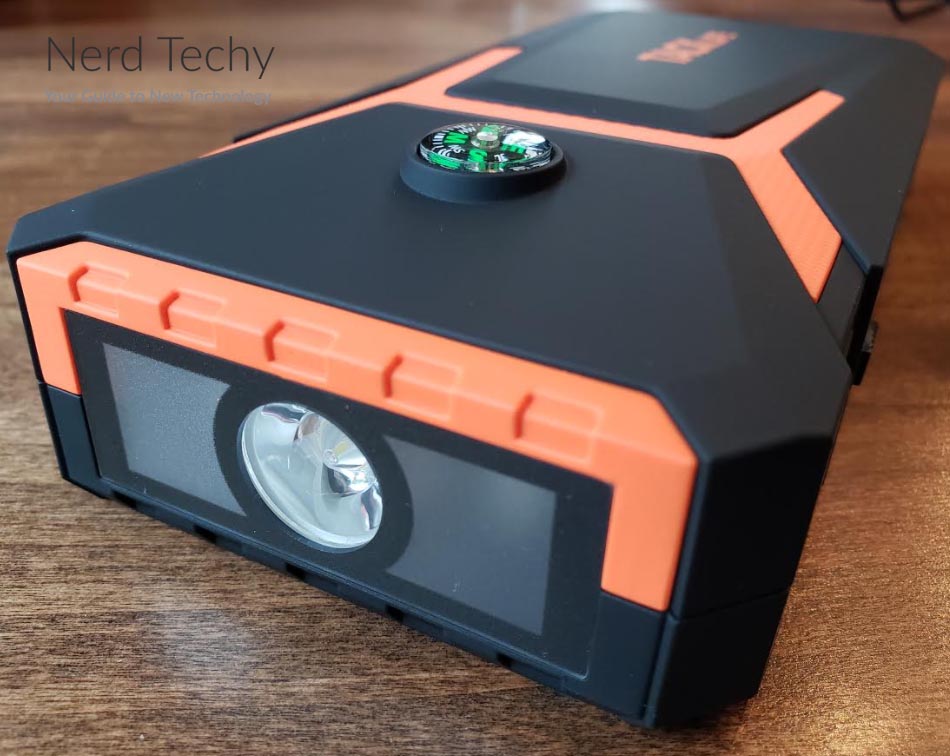 Along with the T8 and the jumper attachment, you also get a handful of extras to make things easier. For one thing, you get both a wall charger and a car charger. The car charger makes more sense, since you can just top off the battery as needed when you're driving. That said, the wall charger gives you another option if both your car and the T8 are dead. There's an EVA plastic carrying case, which isn't strictly necessary. The T8 and its parts are quite durable enough on your own. Even so, it's good to have options. A USB to Micro USB charging cable rounds out the package.
Everything is covered by a two-year manufacturer's warranty. This is longer than most small electronics, and much appreciated. In the event that something goes wrong, you know that you're fully protected.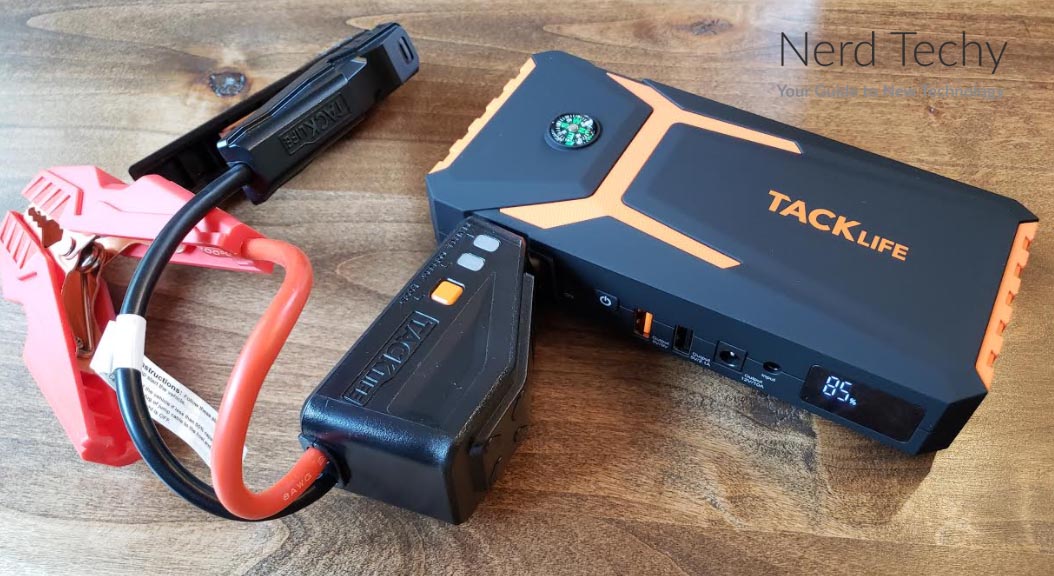 Jump Starter Performance
The measure of any jump starter is how many amps of peak current it can deliver. This is the absolute maximum power it's able to deliver when under a full load. Simply put, if the peak current is enough to run your starter, your motor will start. If it's not, then nothing will happen. The T8 can deliver up to 800 amps of peak current at 12 volts. That's an incredible 9,600 watts. In practical terms, this is enough energy to start a 7.0-liter gas engine, or a 5.5-liter diesel engine. This includes all cars, as well as almost all trucks and SUVs. The only time you're liable to run into serious trouble is with a very large vehicle, such as an RV. But if you own an RV, you're probably already used to buying more expensive, specialized equipment.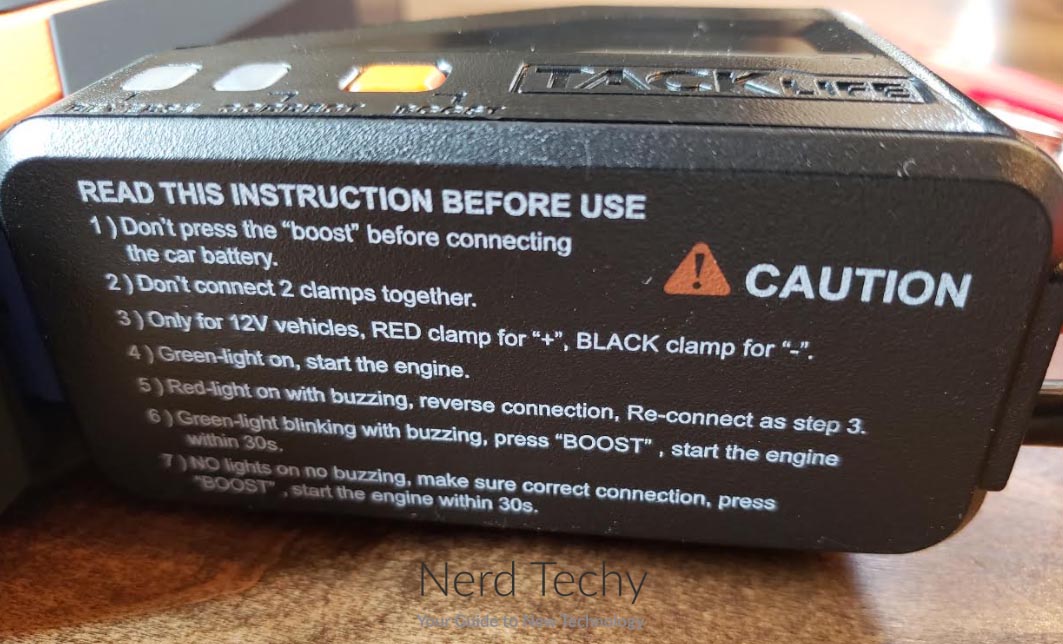 Moreover, the T8 can deliver this much power as many as 30 times if it starts with a full battery. In theory, it should never run out. Once your car has been started successfully, plug the T8 into your 12-volt DC outlet and charge it back up. Alternatively, you can charge the T8 battery at home. Either method will take about 4 ½ hours, assuming you start with a dead battery.
In addition to functioning as a jump starter, the Tacklife T8 also doubles as a power bank. The internal battery has a capacity of 18,000mAh, which is actually quite large. You can charge a modern smartphone five to six times, and you can even use the QC 3.0 port for rapid charging. If that's not enough, there's also a small adapter for plugging in 12V DC accessories. With this adapter, you can connect automotive vacuums, compressors, and other portable devices. Just keep in mind that using the T8 as a power bank will reduce the remaining battery. When you're done using it for power, you should always charge it back up at the first opportunity.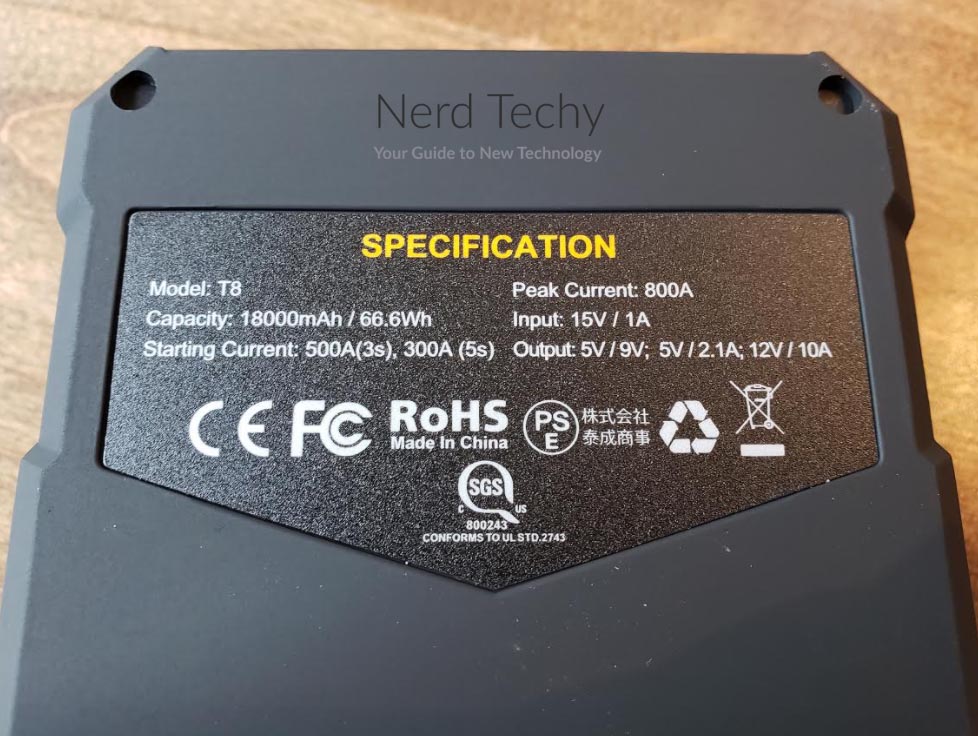 One thing the T8 Jump Starter doesn't offer is PD power delivery. This makes it unsuitable for powering very high-powered devices, like some of the latest laptops. If that's what you need, consider the Tacklife KP200. It has PD power delivery. However, the ports are on the short edge, which can be a more awkward configuration.
Bonus Features
The Tacklife T8 isn't just a jump starter and a power bank. It's also an emergency light for helping you get out of a jam. Press a button, and the LED on the front edge lights up, casting a wide, bright beam. Press the button again, and the light goes into strobe mode, signalling your friends for help. A third press puts it in SOS mode, for getting help in a real emergency. A fourth push activates the red signal bulb.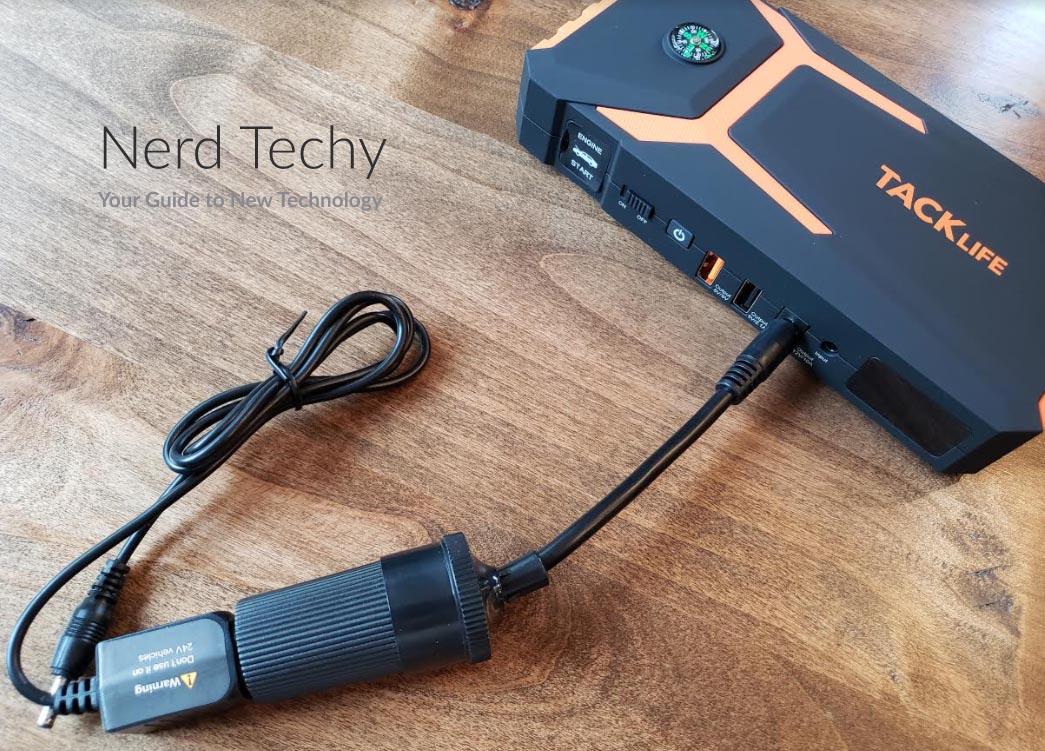 This isn't so much useful for lighting, as for serving as a warning when your car has broken down. A final press of the button will turn the light off. A fully-charged battery provides enough juice for 72 hours of flashlight use. Again, though, be aware that this will lessen the remaining power for other applications.
Another useful feature is the built-in compass on top of the housing. Admittedly, this is not going to be a make or break feature for most people. That's just as well, since it's fairly cheap, as we'd expect for a tiny addition. It's also questionable whether it's of any real use, since the jump starter is full of metal components. Still, if you're in a jam, it never hurts to have another tool in your kit.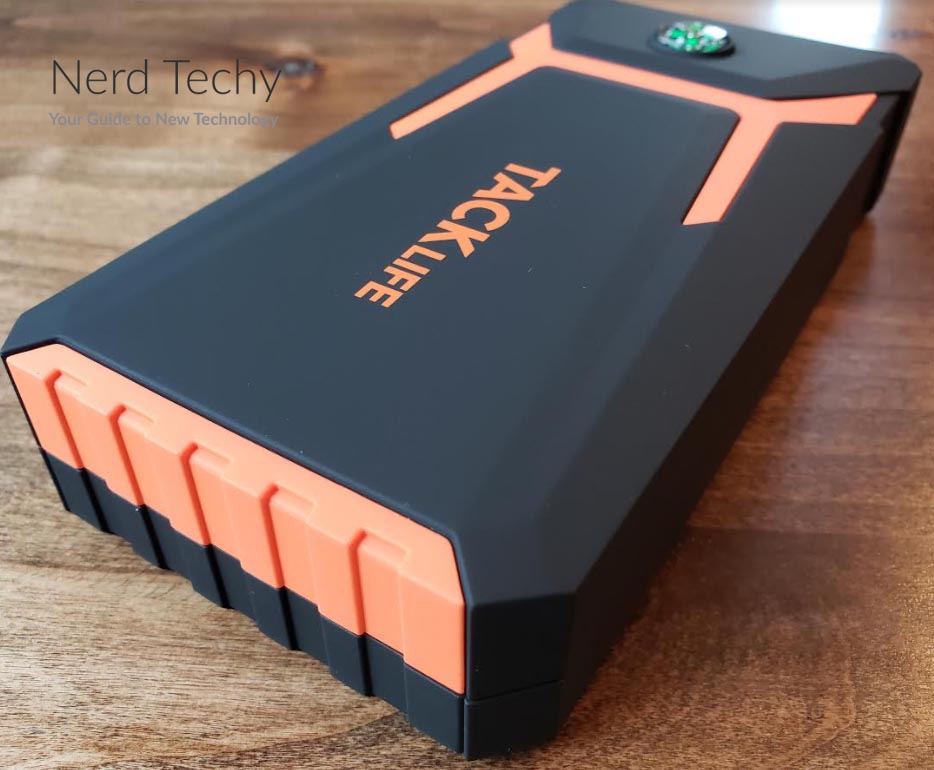 Far more pertinent to the average person is the T8's power function. You'll notice that there's both an on/off button and a switch. The on/off button turns the flashlight on and off, along with the LCD display. This can be helpful when you're in the middle of using the T8, and you want to quickly deactivate the screen.
However, the electronics will still be drawing a bit of phantom power. Over the course of a few weeks, the battery will run dry. To avoid this, turn off the switch when putting the T8 away. This shuts off all power, and ensures the longest possible battery life. With the switch off, the T8 will last for up to a full year in your glove box before needing a recharge.
If you need to start even larger vehicles, the Autowit SuperCap 2 Portable Jump Starter is an excellent choice. It's a very powerful starter with a built-in super capacitor. However, it doesn't have any other extra feature like a flashlight or power bank.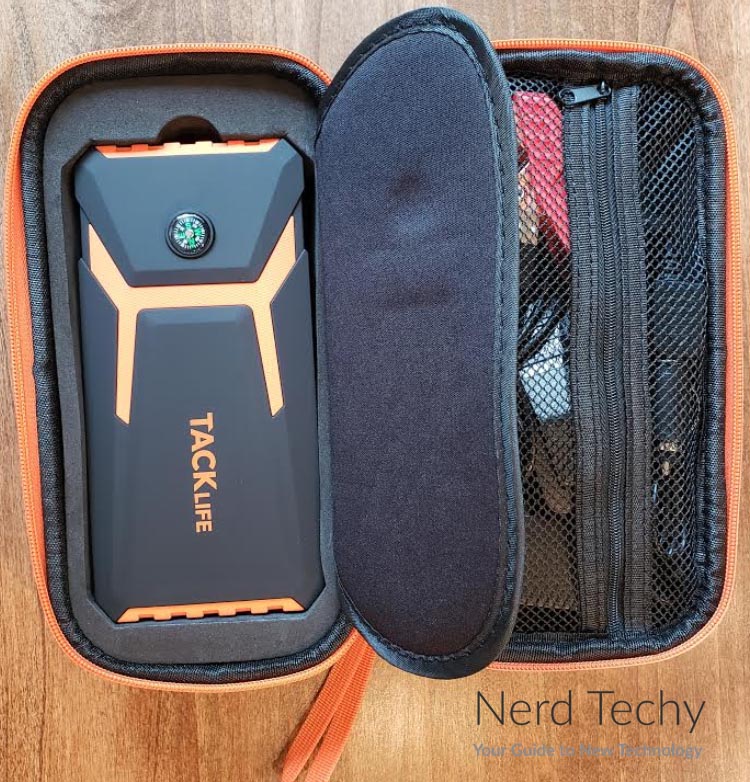 Final Verdict
The Tacklife T8 Jump Starter is one of the most full-featured jump starters on the market. It has a powerful battery, a compact design, and an 800 amp maximum peak current. Not only that, but it functions as a power bank and a flashlight, both useful tools to have in an emergency. The only thing it can't do is start very large vehicles like RVs, which is only a minor drawback.