Finding a good set of wireless earbuds can be a challenge. This isn't because of some mysterious shortage. Ironically, it's because there's an oversupply of them on today's market, and not all are well-designed. If you simply scroll through product listings, you look at a bunch of earbuds that seem more or less identical. To the average person, it's nigh-impossible to distinguish a well-engineered pair from a shoddy one.
This is actually a fairly recent development, brought about by the development of True Wireless Stereo (TWS). Before TWS, wireless audio quality was tinny, and you could only listen in mono. There just wasn't enough bandwidth or compression to get a clean signal. But TWS technology enabled manufacturers, for the first time, to transmit a reliable stereo signal without wires. Apple was the first major company to get on board, when they released the original AirPods. Combined with the wireless-only design of the iPhone 7, this created a boom in wireless earbud sales. Now, you can't walk through a Walmart checkout line without passing a row of discount buds. How are you supposed to find a pair that's worth wearing?
One way to start is to look for a manufacturer you already trust. Mpow is one of the most respected brands in audio, producing everything from gaming headsets to earbuds. Today, we'll be reviewing their Mpow M13 Wireless Earbuds. These are compact, matte buds that come in a vertical case. They're built for powerful bass and workout-friendly performance. But how well do they live up to that promise? To find out, we'll need to put them to the test. We'll start by going over their physical construction, then move on to audio quality. Along the way, we'll talk about the performance of the batteries and the wireless connection. Let's begin!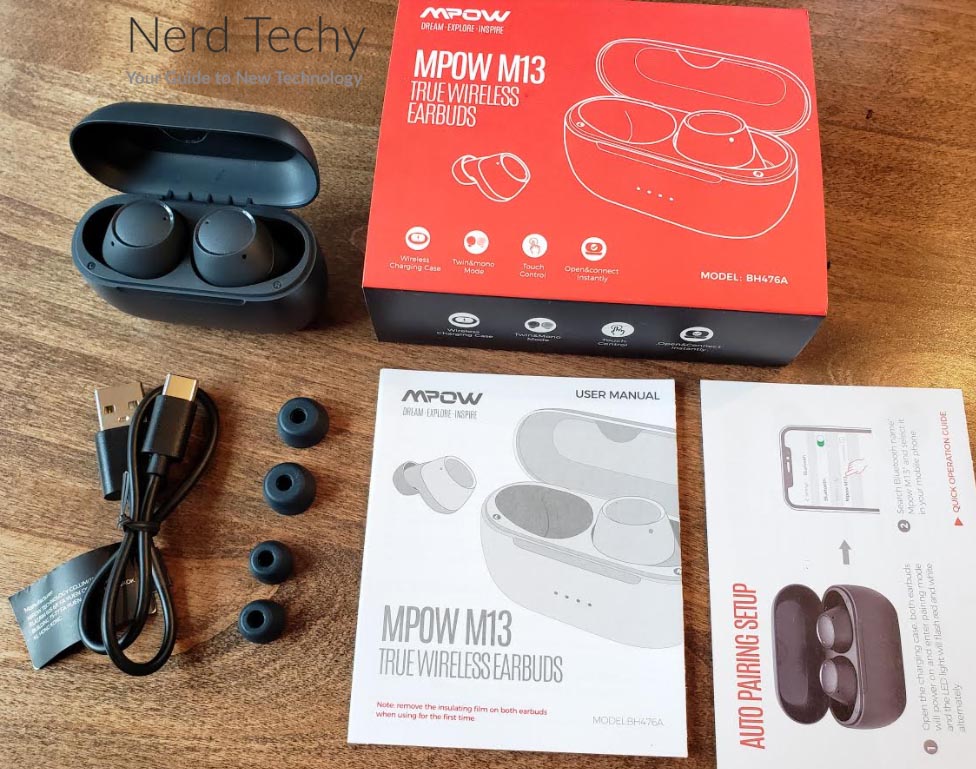 Overall Design
The Mpow M13 Wireless Earbuds have a compact design that's meant to nestle comfortably inside your ears. When inserted, they shouldn't protrude, and should be flush with the outside of your ears. In this configuration, the buds will provide a comfortable fit, as well as a bit of isolation from outside noise. That said, this largely depends on the fit. If the ear tips are too loose, the buds won't seal and they'll fall out easily. Conversely, if the tips are too tight, the fit will be uncomfortable and the buds may pop out. To help you find a good fit, Mpow includes three sets of silicone tips in the package. Finding the right tips at the outset can make a big difference to your long-term experience.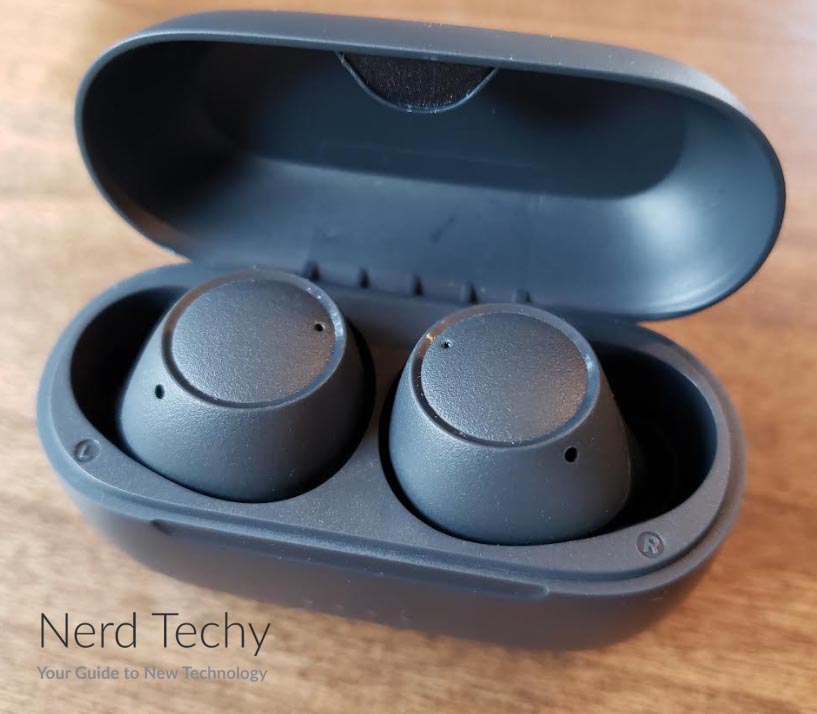 The tips on the M13 buds provide good passive noise isolation compared to many on the market. But if you want active noise cancellation, you'll need ANC earbuds like the Mpow X6. These earbuds do a better job of blocking out background noise. However, the ANC chipset drains their batteries faster than non-ANC buds.
The earbud shells are matte black in color, and don't attract a ton of attention. They also don't attract fingerprints, and they're easy to keep clean. The sides are curved and ergonomic, but the backs of the buds are flat. These flat surfaces function as soft touch controls for operating a number of earbud functions. You can adjust the volume, skip tracks, answer or end calls, and access your voice assistant. Via your voice assistant, you can do anything you could do by using the same assistant directly through your phone. Basically, this feature extends your voice control capabilities, and makes them truly hands-free.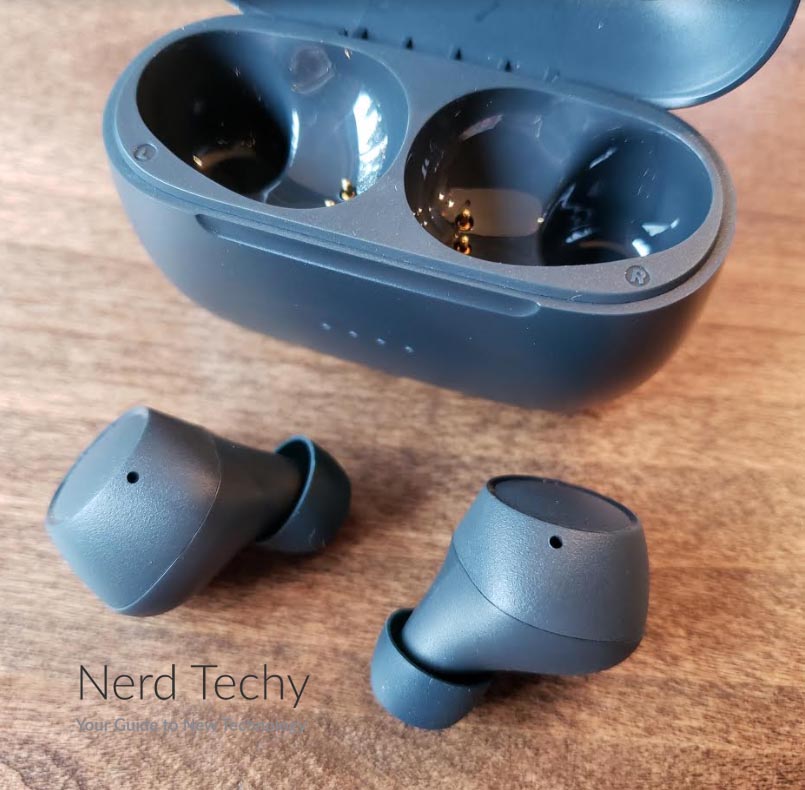 These earbuds are IPX8-rated for water-resistance. This is the highest IP standard, and it indicates that the earbuds can withstand full submersion. Exactly how much submersion is difficult to say. But they can be held more than a meter underwater for more than 30 minutes. For any realistic everyday use, you're going to be more than fine. You can even wear the Mpow M13 buds in the shower and not worry about them getting damaged. Rain, sweat, and other minor sources of moisture are even less of a concern. As a bonus, the buds' water resistance also makes them easy to clean with soap and water.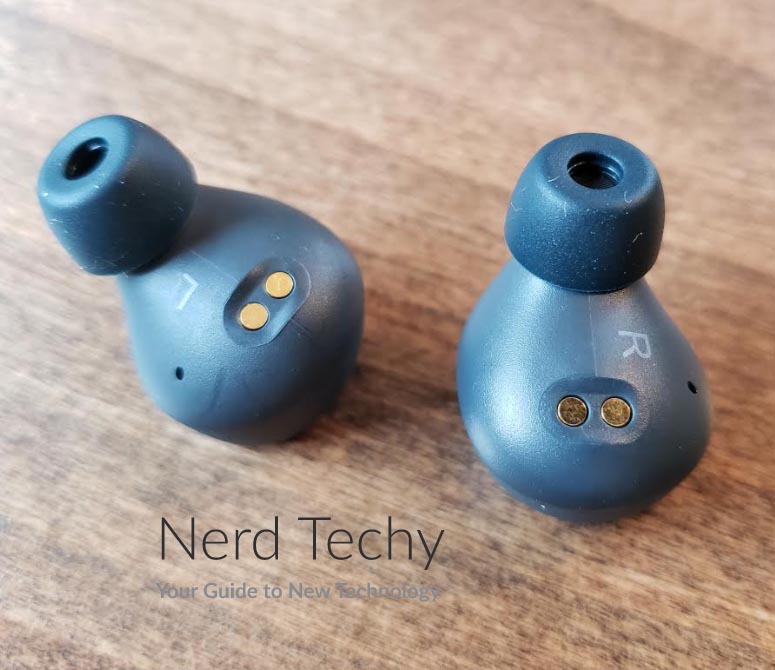 The earbuds include a carrying case that doubles as a charger. This case has a matte black plastic finish, similar to the buds themselves. As a result, it's also easy to keep clean, and doesn't gather fingerprints. The case has a vertical design rather than horizontal, and the buds simply drop in from the top. The profile is mostly oval, with a flattened bottom so it can sit level. Inside, each earbud has its own molded well, which ensures they sit on the charging contacts as intended. This means that when the buds are in the case, they're guaranteed to be charging, not sitting idle.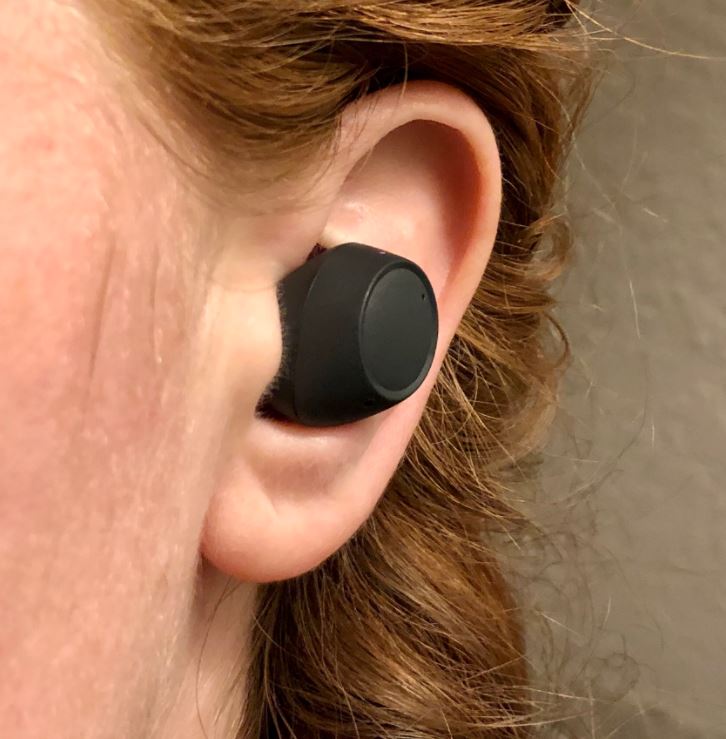 The lid of the case has a clamshell-style design, and it's spring-loaded. As a result, it will stay closed in your pocket, and won't pop open by mistake. Opening it is still reasonably easy, thanks in part to the groove under the lid. Stick in your thumbnail or fingernail, and you can pop it open without any fuss. Directly beneath this groove, you'll notice a row of four LED lights. These indicate the level of the battery, so you always know how much charge is remaining. A USB Type-C charging port is located in the back, and a Type-C charging cable is included in the package.
Battery & Connectivity
Each of the M13 earbuds carries enough charge for seven hours of operation. However, this is a manufacturer rating, and there's a bit of a fudge factor built in. Earbud battery ratings are based on testing at medium volume. If you're listening with the volume cranked up, you'll be drawing more power and draining the batteries faster. Still, you can expect five to six hours of life at high volumes, which isn't bad at all.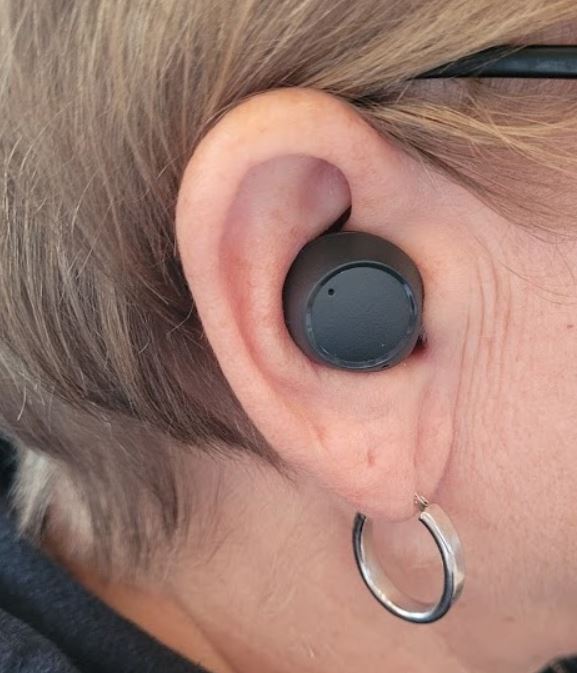 In addition to that, the case has enough battery life to provide an additional three charges to each earbud. This extends your theoretical maximum total to 28 hours, or more like 20 to 24 hours in practice. This isn't terrible, but it's not terribly impressive, either. Normally, we'd like to see a total of at least 30 hours. But for many people, 28 hours will be more than you ever need. The case fully charges in only 90 minutes, so it's not as if you have to plug in that often for that long. The earbuds themselves will also charge in about 90 minutes, so topping them off overnight is simple.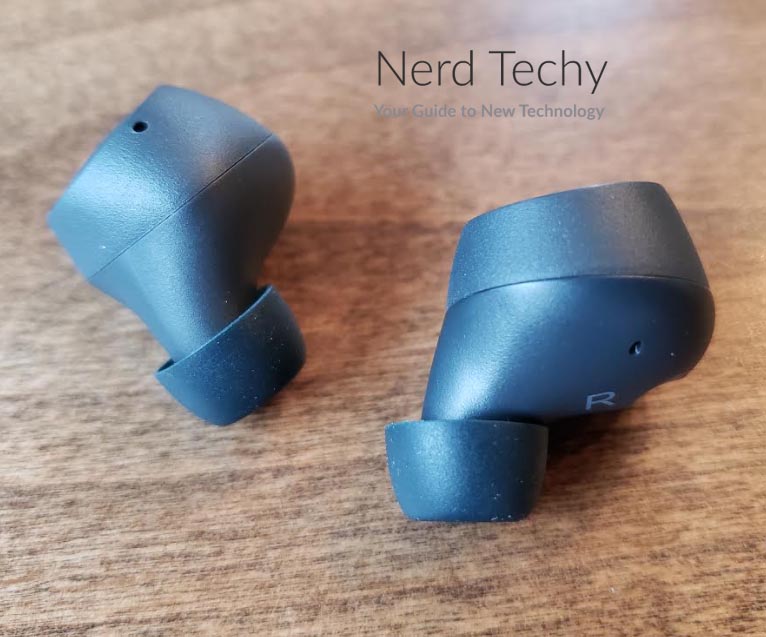 If you do need more total battery life, consider the Mpow X3 wireless earbuds. These buds provide seven to 10 hours of playback per charge, or up to an impressive 40-hour total. That said, they don't offer the same powerful bass performance as you'll get from the M13.
The earbuds connect to your phone with the Bluetooth 5.0 protocol. This is the current wireless standard, used by most mobile phones and other devices. It's more stable than older Bluetooth standards, which means lower odds of a dropped call. It allows for higher bitrates, which means you can listen to higher-quality audio without loss of detail. Finally, Bluetooth 5.0 has less latency than earlier versions. Audio and video remain in sync while you're watching movies or playing games.
The M13 earbuds can be paired either in stereo or mono mode. Stereo mode is what you normally expect when you put on a pair of earbuds. The audio comes through both ears, with each channel on the appropriate side. If you're listening to music or watching a movie, this is what you'll want. That said, there are times you want to maintain situational awareness by listening in one ear. Maybe you're waiting for an airline announcement, or doing chores around the house. In this case, you can pair a single earbud in mono mode. This way, you can listen to audiobooks and podcasts, or make phone calls, without occupying both ears. As an added bonus, you'll only be draining one earbud battery instead of two.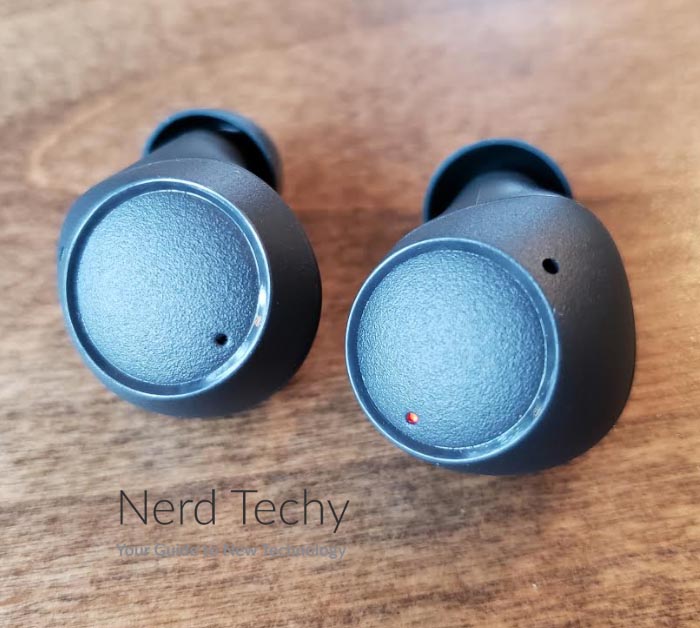 Audio Quality
The overall audio quality of the Mpow M13 earbuds is quite good for the price. They're advertised as having "punchy" bass, and we can confirm that it is indeed punchy. It's also well-shaped, with no distortion and rumble to interfere with the other frequencies. This is far more than we expect from a pair of affordable wireless buds.
That said, it's undeniable that the other frequencies suffer. It's not that there's interference. It's just that there isn't much power in the middle or on the high end. The soundstage is reasonably wide for the price. Nothing seems crowded. There's just not enough power in the high frequencies to be heard adequately.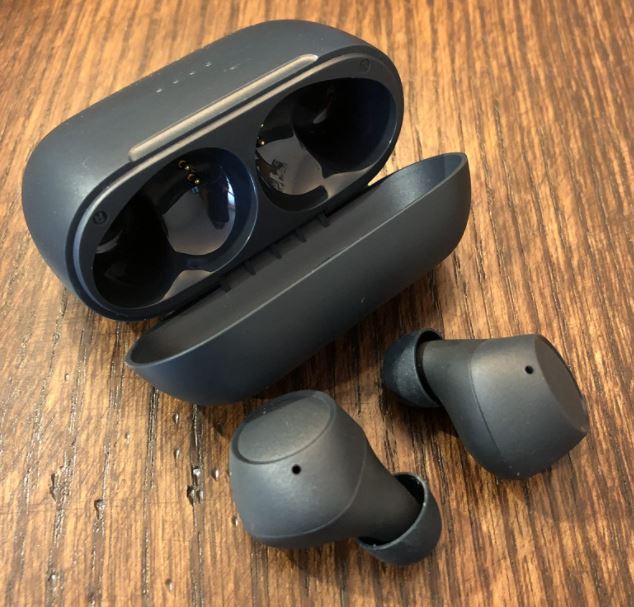 If you want a more well-rounded audio profile, the Mpow MX3 is a better choice. It has more balance between the various frequencies, and you can hear more detail in general. That said, the bare plastic tips provide poor noise isolation compared to silicone tips.
As for call quality, the M13 buds perform reasonably well. Are you going to be blown away? No. But the person on the other end of your call will be able to hear you just fine. There's no voice isolation, though. If you're in a noisy environment, you may experience some interference.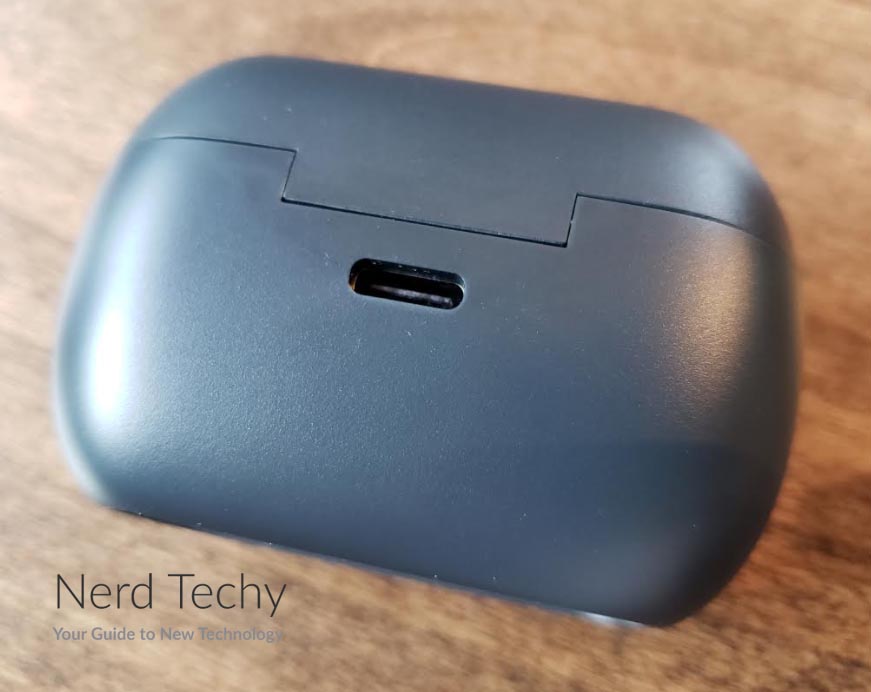 Final Verdict
The Mpow M13 Wireless Earbuds are a reasonably good value. For one thing, the physical design is well thought-out. The earbuds and charging case are solidly engineered, and they fit well inside the case. In addition, the IPX8 water-resistance rating is quite impressive. That's not something you see very often at this price.
Battery life on the earbuds themselves is quite good. We would have liked to see a bit more juice in the charging case, but nothing's perfect. The audio quality is honestly not what we had hoped. But if you want powerful bass without a ton of rumble, you'll certainly find it here.
Meet Derek, "TechGuru," a 34-year-old technology enthusiast with a deep passion for tech innovations. With extensive experience, he specializes in gaming hardware and software, and has expertise in gadgets, custom PCs, and audio.
Besides writing about tech and reviewing new products, Derek enjoys traveling, hiking, and photography. Committed to keeping up with the latest industry trends, he aims to guide readers in making informed tech decisions.