These days, it can be tough to find a good pair of wireless earbuds. This is despite the fact that a quick internet search will reveal literally thousands of options. In fact, it's largely because of this selection that choosing can be such a challenge. With so many choices, it's tough to sort out the wheat from the chaff. How did we end up in this bizarre situation?
The answer is that True Wireless Stereo (TWS) technology is still just a few years old. Prior to TWS, wireless earbuds were the punchline to a bad joke. They didn't play music in stereo, and they supported only very low bitrates. This had nothing to do with shoddy manufacturing, and everything to do with the limits of earlier wireless technology. Even marquee brands like Apple and Sony had to work within these restrictions. But then, TWS was developed, and Apple built it into the design of their AirPods. The AirPods were a smashing success, and the rest is history. To this day, other manufacturers are cranking out TWS buds, hoping to become the next AirPods.
One way to find good buds is to focus on brands that already know their stuff. Mpow is a respected manufacturer, producing everything from gaming headsets to Bluetooth speakers. For this reason, we had high hopes for their Mpow MX3 Bluetooth Wireless Earbuds. But having high hopes is not the same as experiencing real-world results. To truly judge the MX3, we'll need to take a closer look. We're about to take a deep dive, starting with the design and ending with the audio quality. Along the way, we'll touch on the control scheme, battery life, and quality of connection.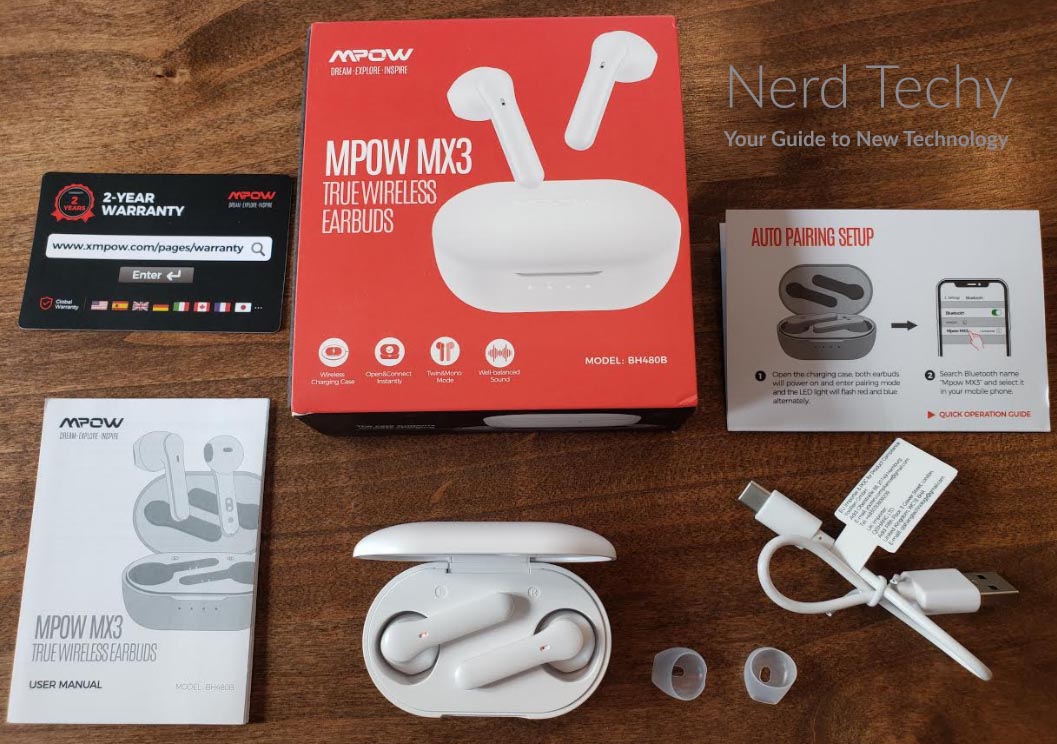 Overall Design
The Mpow MX3 Bluetooth Wireless Earbuds are built to look as much as possible like the iconic Apple AirPods. This includes a vertical design, with battery studs that hang down from the main body of the unit. This ensures that they're bottom-heavy, so they stay securely in your ears. Unless you're hanging upside down like a bat, they're not going anywhere.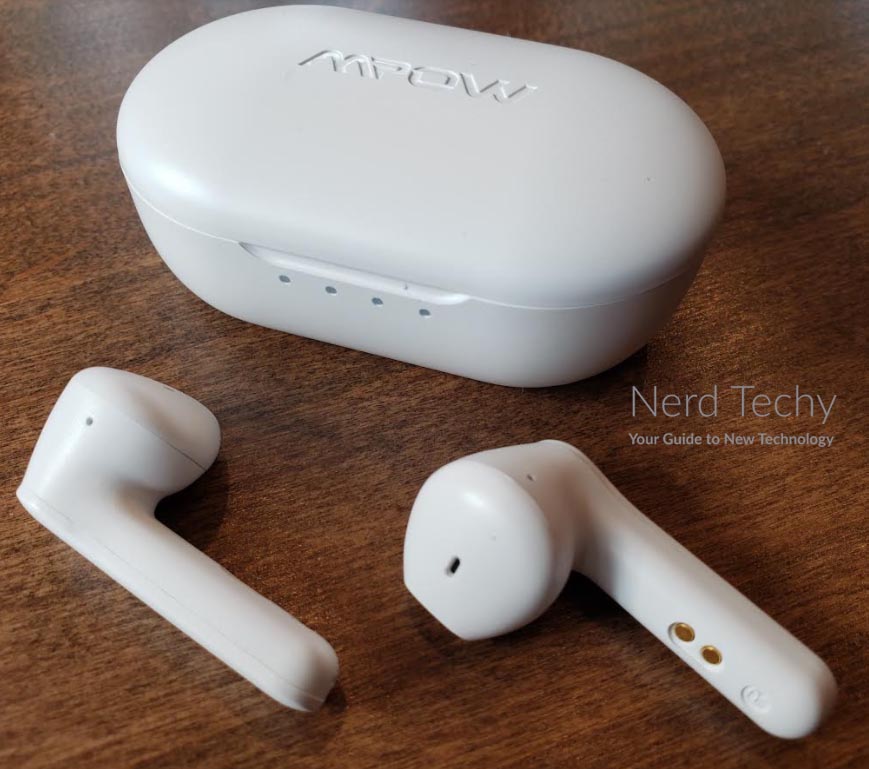 This is fortunate, since they share the AirPods' tipless design. There are no silicone tips to press into your ear canals. This is both a blessing and a curse. On the one hand, it allows people with sensitive ears to wear the MX3 buds without discomfort. On the other hand, it provides inferior noise isolation and a less secure fit. To compensate for these weaknesses, Mpow includes an innovative silicone "ear cap." This cap isn't a true ear tip. It doesn't insert into your ear canal. However, it provides a more secure fit in your outer ear because it has a squishy, grippy surface. Not only that, but it provides at least a modicum of noise isolation.
These silicone caps are a great upgrade from your average AirPod-style bud. But if you want an even more secure fit, consider the Mpow Flame Lite. These earbuds have a secure ear hook design, so they'll stay in place under almost any scenario. Unfortunately, their audio quality is not as good as the MX3.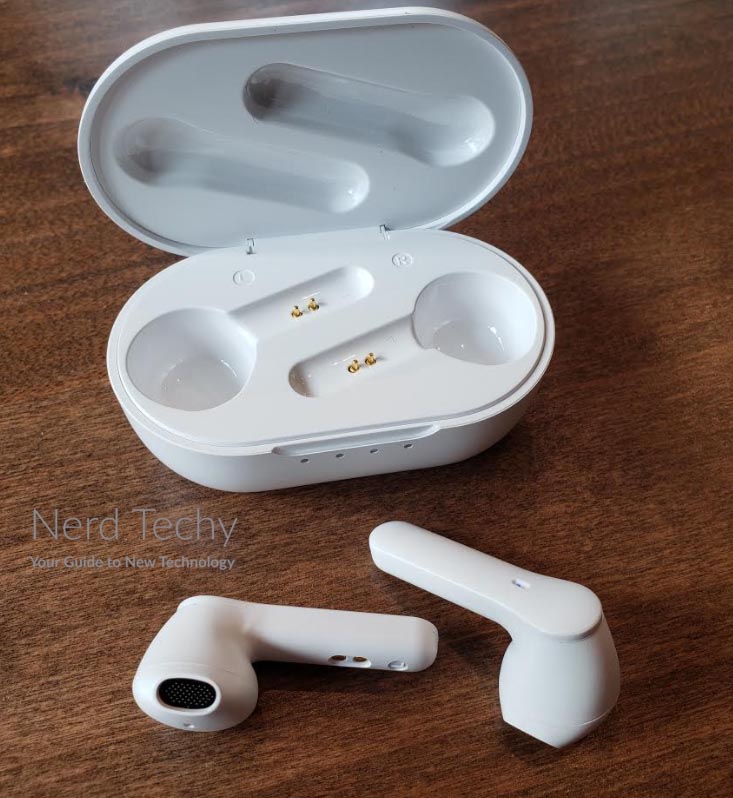 The earbud shells are constructed from plain white plastic. This gives them a sleek, modern appearance, and the finish won't be a magnet for fingerprints. The backs of the MX3 earbuds function as soft touch controls for operating your phone. You can control the music by adjusting the volume or skipping and reversing tracks. You can also answer or end phone calls, and even activate your voice assistant. Bring up Siri or Google Assistant with a single touch, and you can do just about anything else hands-free. Just be careful. As with any soft touch controls, these are easy to actuate by accident when adjusting your hair.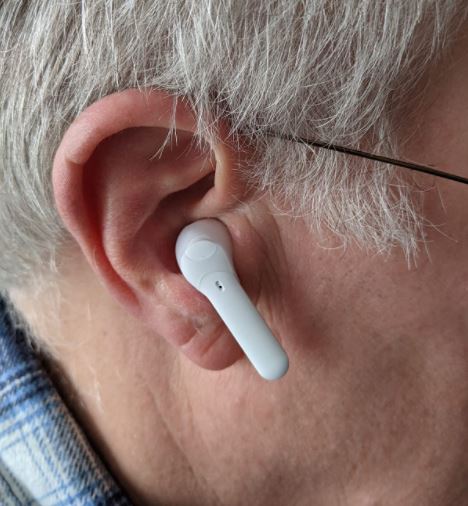 These earbuds are IPX7-rated for water-resistance. This is the second-highest water-resistance rating available, and the highest that doesn't require a custom testing regime. It means that the MX3 buds are capable of withstanding submersion of at least one meter for at least 30 minutes. In other words, if you take them in the shower or drop them in a puddle, they won't quit on you.
The charging case is compact, and is oval in shape. In a departure from Apple's design, Mpow's earbuds drop in horizontally, rather than vertically. This is purely an aesthetic choice, since nothing is actually different as far as function goes. The earbud wells are molded, so they'll always seat properly. Insert the buds, and they'll start charging. Remove them, and they'll automatically pair with the last phone they were paired with. In-between, they're easy to transport. The case's soft edges won't dig into your leg if you carry it in your pocket. And the spring-loaded lid stays securely closed unless you physically pry it open.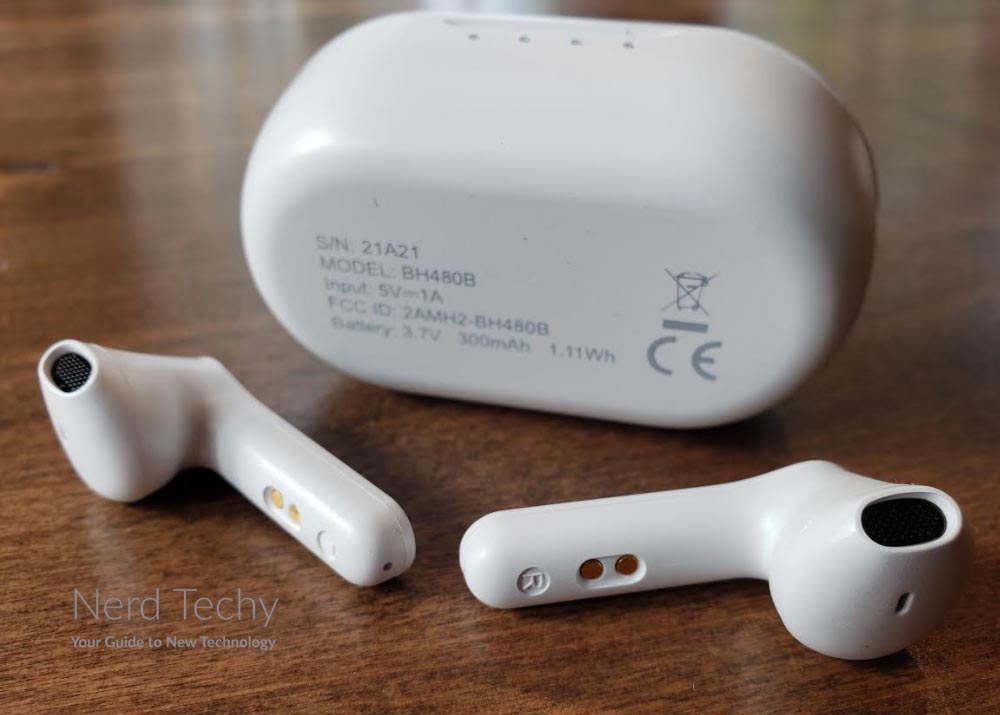 Under the front of the lid, you'll notice a row of four LEDs. These light up only when the case is open or plugged in, and indicate the current battery charge level. This ensures that you don't get caught by surprise by a dead battery. When you do need to charge, it's easy to do. There's a USB Type-C jack in the back of the case, concealed by a small rubber plug. A charging cable is included in the kit, so you start out with everything you need.
Battery and Connectivity
The MX3's internal batteries are rated for five hours each, which is on the short end for modern earbuds. Considering the fact that manufacturer tests are carried out at medium volume, you may actually get less. At full volume, four hours would be a more reasonable expectation. That said, this is still plenty of time to get most people through the day. Furthermore, you don't have to plug in once those four hours are up. The charging case holds enough energy to recharge the earbuds a full four times. This means you get anywhere from 20 to 25 total hours without ever needing to plug in.
When your case does get low, it can be charged in two ways. First, it can be plugged in to any USB charger. In this case, it will fully charge in about two hours. If you're in a hurry, a 15-minute quick charge will get you enough juice for two hours of playback. Alternatively, the MX3 can be charged via a wireless Qi charger. Exactly how long this will take will depend on your charger, as well as a number of other variables. Inevitably, it will be slower than wired charging. On the other hand, it's also easier, and you can still top up your battery overnight with time to spare.
The earbuds connect via the Bluetooth 5.0 wireless protocol. This is the current industry standards, and is compatible with any modern smartphone. It's also backwards-compatible with older Bluetooth devices like iPods and earlier-generation iPhones. Bluetooth 5.0 offers some major improvements over its predecessors. To begin with, it allows for even more bandwidth, which means you can enjoy your music in even higher quality. It also allows for lower latency, which means there's no distinguishable gap between audio and video. This won't matter for music, but it makes a big difference when you're gaming or watching videos. Finally, Bluetooth 5.0 signals are more stable, so you won't have as many lost connections.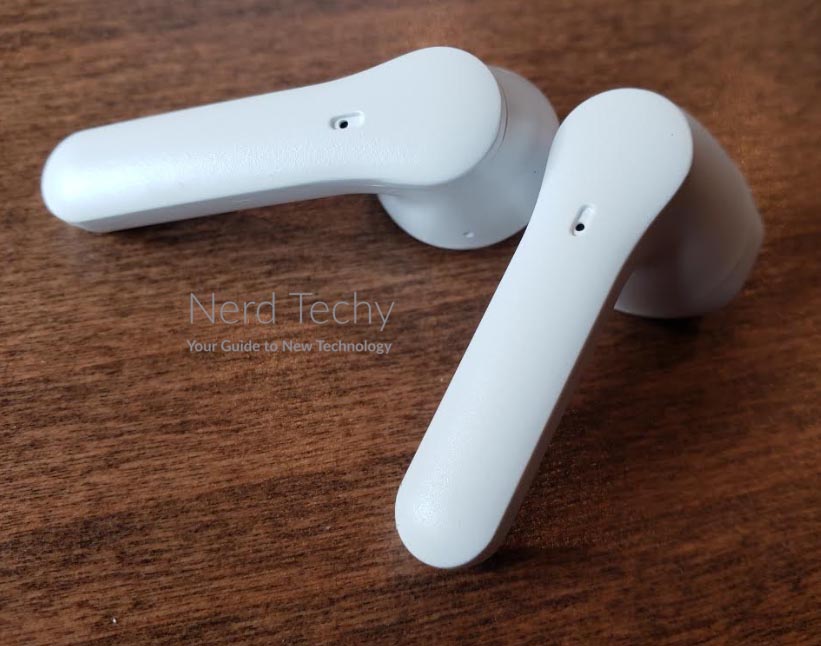 In addition, the MX3 earbuds can connect to your phone in mono or stereo mode. Stereo mode will be your default mode for music, since you can experience the full richness of the audio. That said, there are a few reasons you might want to use a single earbud. First, you might be listening to spoken word content, and want to maintain situational awareness. With only a single earbud, you can still hear what's going on around you. The same goes for hands-free calling when you're driving; one earbud is much safer than two. Finally, you may simply want to extend your battery life. By using first one earbud, and then the other, your buds can potentially last for twice as long.
Audio Quality
The Mpow MX3 earbuds contain 10mm PU drivers, which are slightly larger than your average earbud drivers. This means you get better bass performance, rather than a muddy mess. Furthermore, the flexible driver material means you also get excellent mids and highs. They're crisp and clear, with plenty of shimmer on the high end. There's also a wide soundstage, which means there's plenty of separation between the instruments. They won't sound crowded together like they will on some cheap headphones. We're not saying these are studio-quality buds, but they perform better than most at this price point.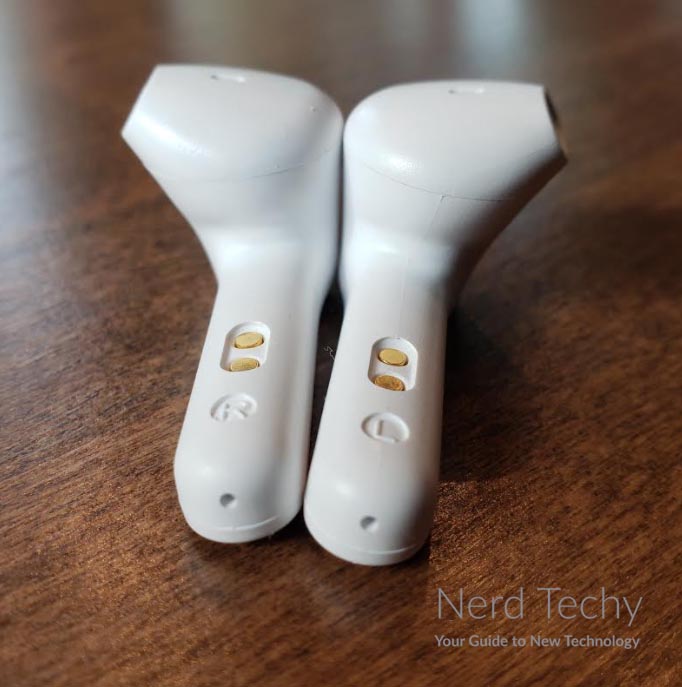 If you need superior audio performance, look no further than the upgraded Mpow X3 wireless earbuds. They have active noise cancellation (ANC), which blocks out almost all background noise when you're listening. That said, the drivers are a bit weaker, and don't provide the same well-rounded bass tones. In other words, they might be better for travel, but they're not ideal for audiophiles.
When it comes to call quality, the MX3 earbuds are a bit of a mixed bag. On the one hand, the actual voice transmission itself is quite clear. Your voice won't sound garbled, and there's not a lot of static. On the other hand, there's no noise isolation. This means that crowd noise, wind, and traffic can all interfere with your voice.
Final Verdict
The Mpow MX3 Bluetooth Wireless Earbuds are an excellent performer, particularly considering the low price. The audio quality isn't perfect, but it's far better than we expected. The fit is comfortable, albeit not as secure or as effective at noise isolation as a proper silicone tip. On the other hand, it's also comfortable for folks with sensitive ears. Mono mode is much appreciated, although it would have been better with noise isolation. Even so, you're looking at a solid pair of affordable earbuds.
Meet Derek, "TechGuru," a 34-year-old technology enthusiast with a deep passion for tech innovations. With extensive experience, he specializes in gaming hardware and software, and has expertise in gadgets, custom PCs, and audio.
Besides writing about tech and reviewing new products, Derek enjoys traveling, hiking, and photography. Committed to keeping up with the latest industry trends, he aims to guide readers in making informed tech decisions.