The PlayStation 5 is Sony's latest and greatest game console. With a 10.3-teraflop GPU and 8-core processor, it helps you get the most out of your 4K TV. Like every new console, it's experienced its share of supply shortages. If you want one right now, you'll need to spend a lot of time refreshing seller sites until you get lucky. Or you can pay double the retail price to get one from a scalper. But if you're lucky enough to have already gotten your hands on one, you might want to transport it. Considering how hard they are to get a hold of, you've probably got a few friends who want to see your PS5.
But if you're going to transport your console, you want to keep your new baby as protected as possible. This means not just the console, but the controllers as well. We're already familiar with the PS5's DualSense controller. We actually reviewed some charging stations not too long ago. Now, we're going to review some protective display cases for these same new controllers.
A good controller case needs to be just the right shape and size. Too small, and your controller won't fit. Too large, and the controller will bump around inside it. You want one that lovingly cradles your controller in soft padding, with a properly molded fit. You also want a rigid outer shell that can withstand a little bit of shock.
We're going to look at three controller cases that more or less fit the bill. We'll begin by reviewing the MoKo Case. This is an Oxford cloth-covered case that fits both PS5 and Xbox Series X controllers. Next, we'll examine the ZtotopCase. This case sports a spiffy handle and a zippered inner mesh pocket. Last, we'll check out the Baval Hard Carrying Case. This case has thicker padding on the inside, at the expense of any extra storage. Which one is the best? Let's take a closer look, and find out!
Origins of the DualSense Controller
The PlayStation 5's controller has come a long way since the original PlayStation. When the first PlayStation was released in 1994, there were no thumbsticks on the controller. To the modern eye, this is bizarre, but remember what the competition was using at the time. Both the Super Nintendo and the Sega Saturn used a set of buttons with a single D-pad. The design worked well for the games of the time, and wasn't even an issue for 3D games. Sony had envisioned the R2 and L2 buttons as third axis controls, and many ealy games used them that way.
But late in 1995, Nintendo released the N64, which had a thumbstick in addition to the D-pad. In 1997, GoldenEye was released, and first-person shooters haven't been the same since. Previous attempts at console shooters had failed miserably. Nobody had been able to work out a good control scheme, and the best shooters were all on PC. The N64's controls allowed you to effortlessly navigate a three-dimensional world, a feat no other console could match. In November, 1997, Sony responded by releasing their now-iconic DualShock controller, with its D-pad and two thumbsticks. The basic layout has remained the standard not only for subsequent PlayStation controllers, but for Xbox controllers as well.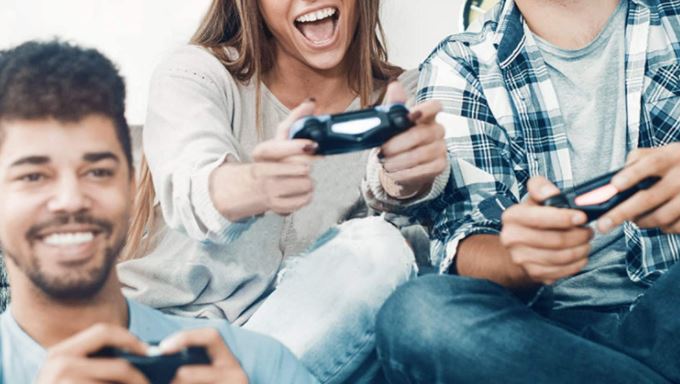 In fact, Sony had actually dropped a two-thumbstick controller several months earlier. The Sony Dual Analog controller, released in April, 1997 as an optional add-on, had been a commercial flop. People had complained about the short handles, slippery thumbsticks, and tiny triggers. Sony took all of this criticism in stride, and the DualShock was improved in all respects. It came with rubberized thumbsticks, longer handles, and wider triggers. All of this made it into a colossal success.
The DualShock controller comes from its other most important feature: its dual motors. With motors in both the right and left hand grips, it can provide far better haptic feedback than the N64. Moreover, it didn't require as much fiddling around with your accessories. The N64's Rumble Pak required batteries. If you were playing a lot of games that used the rumble function, you could run through a lot of AAAs. Meanwhile, the DualShock's integrated motors have become yet another standard feature on modern consoles.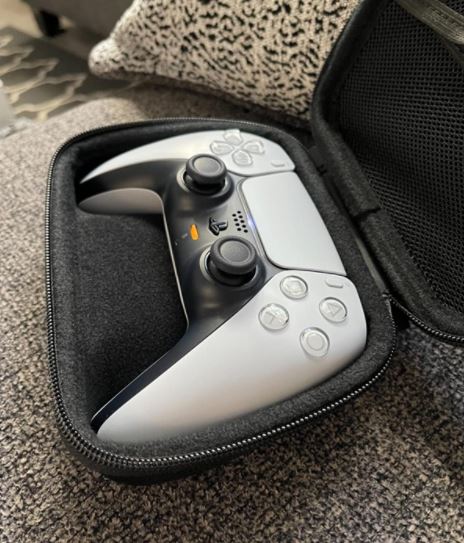 The DualShock soon became the standard on all PlayStations manufactured after November, 1997. It's also become the best-selling aftermarket controller of all time. Many people with the earlier controller flocked to upgrade to the new, much-improved option. This is actually why both the DualShock and DualShock 2 controllers come with an analog button. It locks out the thumbsticks, preventing accidental glitches with games that came out before the DualShock.
Minor improvements came in the year 2000, with the release of the PlayStation 2 and accompanything DualShock 2. The default color was changed from grey to black, and the connection type was modified. Sony responded to customer feedback and stiffened the thumbsticks, so they were less prone to drifting. They also made the buttons pressure-sensitive, for more functionality in newer games. This particular version of the PlayStation controller was so popular that there remains a healthy market for wireless replacements.
The PlayStation 3 and PlayStation 4 came with the DualShock 3 and 4 controllers. These integrated motion sensitivity and a touchpad respectively. However, they kept the same overall shape and feel. When Sony released the PlayStation 5, it came with a different controller altogether. The DualSense is built with a beefier frame, moving it closer in size to an Xbox controller. Ironically, Xbox Series X has gone slimmer in this generation, so both new controllers are now nearly the same size. The DualSense also has a more modern, two-tone design than the plain black DualShock series. Still, the controls, the motors, and even the DualShock 4's touchpad remain firmly in place.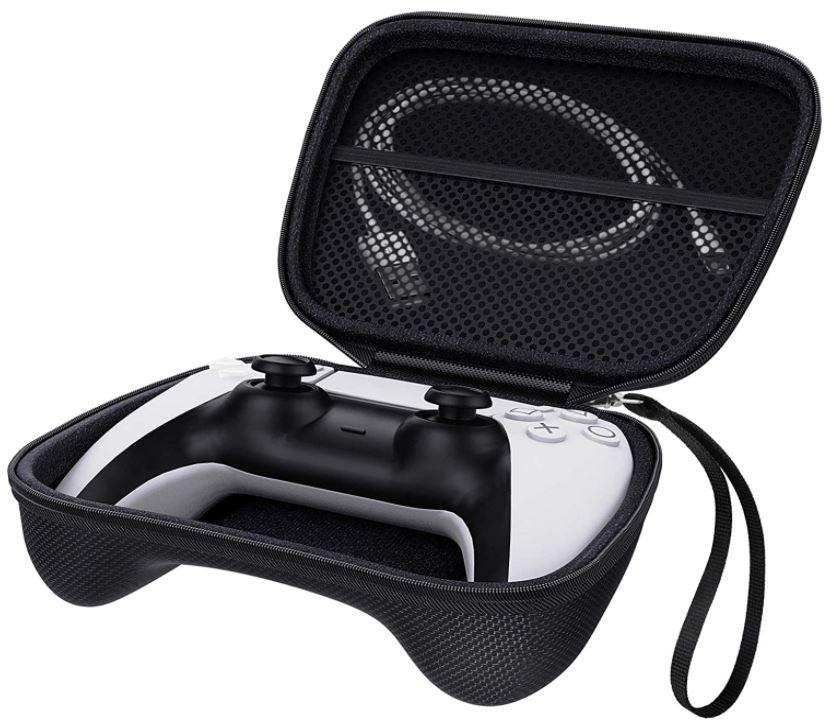 MoKo Case
The MoKo Case is a trapezoidal carrying case with a contoured bottom to support a DualSense controller. It's available in two colors: plain black, or black with a sharp white accent stripe along the zipper. The outer part of the shell has a two-layered design. Like most affordable hard cases, the strength and rigidity comes from a solid EVA plastic. This material is both cheap and sturdy, and can withstand any "normal" abuse. You can't run it over with a Mack truck, but it's safe from every drops and even from airline baggage handlers. This EVA shell is covered with an Oxford fabric outer layer. The Oxford fabric is very difficult to tear, and makes the case look more attractive than a plain plastic one.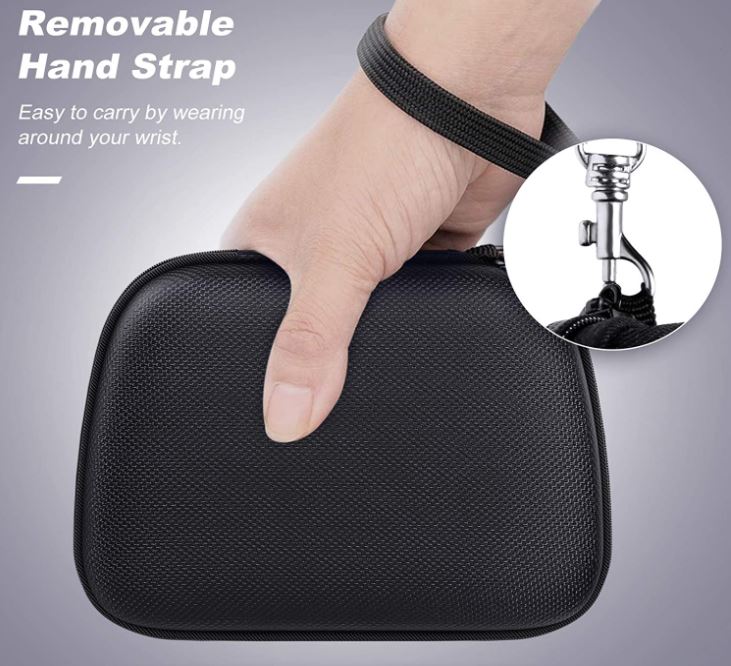 The inside of the MoKo Case is lined with soft felt. It's not the thickest padding, but it's thick enough to prevent scratching or severe bumping. It's also more durable than most foam padding, and won't let out smelly gasses while it's "breaking in." The bottom of the case is molded, with extra padding around the zipper at the sides. The top of the lid is flat, and does not have any extra contours. There is, however, some built-in storage. A slim mesh sleeve makes it easy to retain charging cords or a flash drive. There's even an elastic band for larger objects, but the positioning makes it more or less pointless.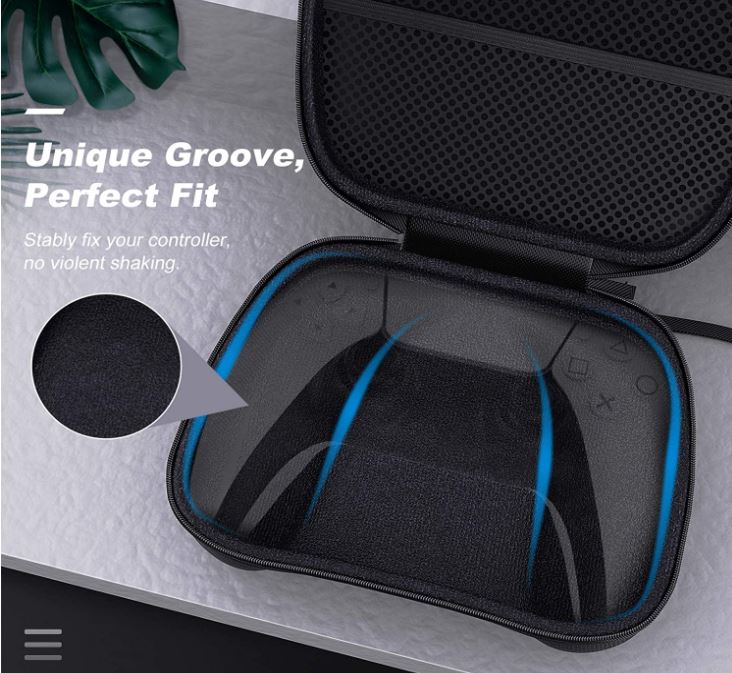 This case comes with a couple of added features that are worth noting. The first is an attachment: there's a simple wrist strap that connects via a metal clip. The second is a design decision: due to its relatively bare design, the MoKo case isn't just for PS5 controllers. It's also capable of carrying the Xbox Series X controller. Keep in mind the obvious implications. With a slightly loose fit, the DualSense controller will inevitably bump around a little inside.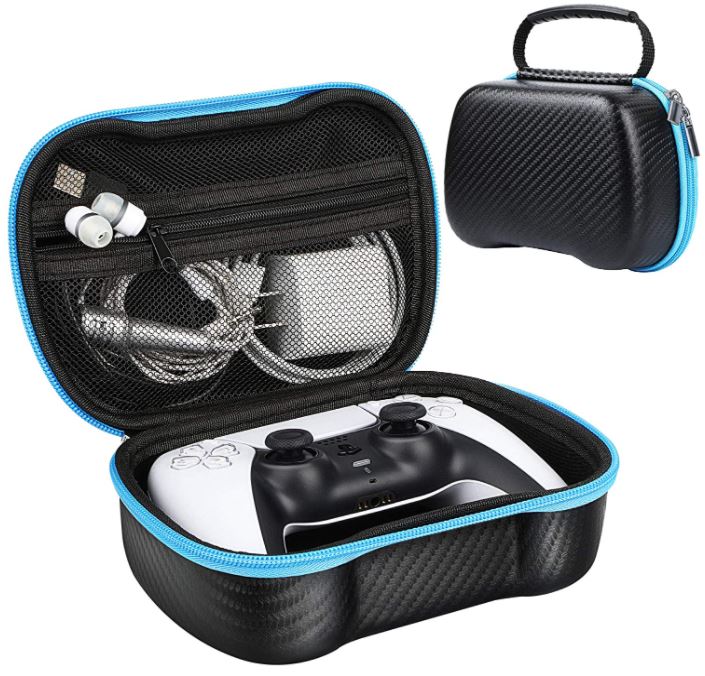 ZtotopCase for PS5 DualSense Controller
The ZtotopCase has a different appearance altogether. While the MoKo Case is dressed up with Oxford fabric, this case wears its ruggedness on its sleeve. The EVA shell is clearly visible, with a basketweave finish that lets you know it means business. We're not saying it's a tactical case, but it's pretty tough as these things go. It's also advertised as "waterproof," but this requires some explanation. The EVA material is, by its very nature, waterproof. If you spill on it, the water will just roll off. That said, the zipper is most certainly not impervious to moisture. If the case is fully submerged, your controller will get wet. That said, this shouldn't be a concern unless you plan on throwing your case in a lake.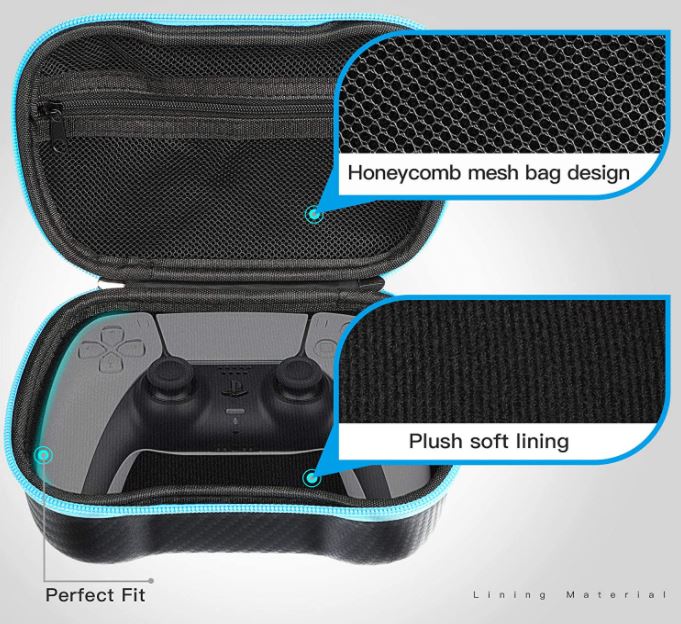 The black color is offset by an attractive, baby blue zipper. When you open the case, you'll find a soft, rich plush lining. This lining is a bit softer than the MoKo Case, with a little bit more give. That said, it's also a bit less durable than felt. The inside is contoured to fit the DualSense controller, at least on the bottom. As with the MoKo Case, the top is not molded. However, the ZtotopCase has an even roomier mesh pocket. This pocket is secured with a zipper to keep your cables from dropping out by mistake.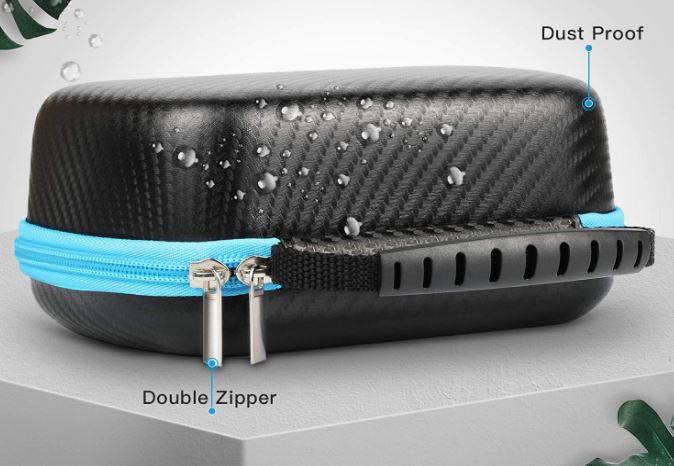 This case also has a sturdy nylon handle on the back, attached to the lid hinge. This handle is a bit more substantial than the others on our list. It has a heavy weave, and a rubberized grip that feels comfortable in your hand.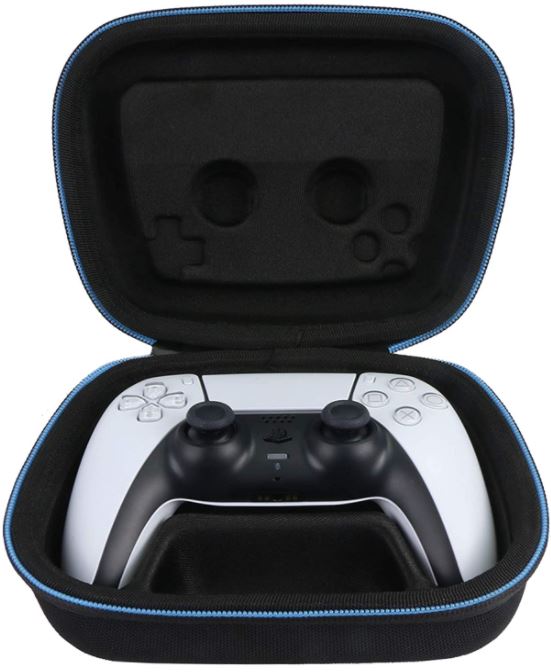 Baval Hard Carrying Case
The Baval Hard Carrying Case is a bit of a departure from our first two options. At first glance, it looks very similar to the MuKo Case. The hard, inner part of the shell is made from EVA plastic, with a nylon weave outer layer. This layer looks very similar to Oxford fabric, and performs a similar function. It's scratch-resistant, and it looks attractive. Like a Model T Ford, this case is available in any color you want, as long as it's black. It's also splash-proof. Not submersion-proof, mind you, but resistant to minor splashes and spills.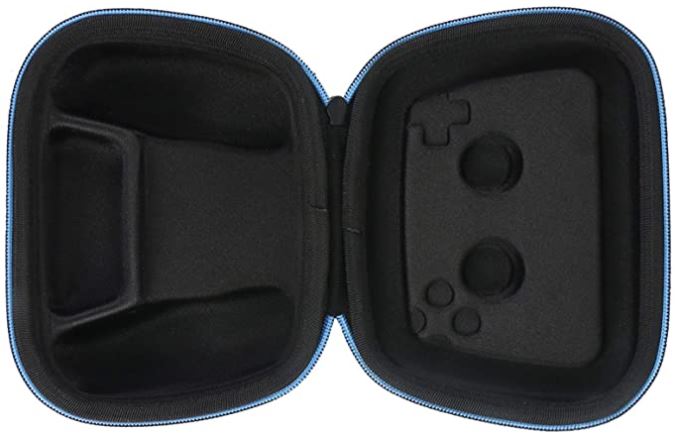 The inside of the case is where you'll notice the biggest difference with the Baval case. It's designed for protection only, not for extra storage. There's no mesh sleeve, nor any other kind of space, either. You'll have to carry your cord separately. This is because the inside of the case is heavily-padded, and the padding is molded to fit the DualSense controller. This isn't just a shape that generally fits the controller's form factor. It's very well-molded, right down to little cutouts for the buttons and the D-pad. This means you'll get excellent shock-absorption from even fairly high drops.
The Baval case also includes a wrist strap for easy carrying. It's not much, just a small looped tether. It will wrap around your wrist and allow you to carry something else. Still, it's a nice added touch.
Final Verdict
Which one of these protective DualSense controller cases is the best is mostly a matter of preference. The MoKo Case, for instance, doesn't have the tightest fit of the bunch. But it has an attractive, durable Oxford fabric shell, as well as compatibility with Xbox controllers. If you're looking for a good-looking, multi-purpose case, it's a good choice.
The ZtotopCase was our next selection. This case has a more utilitarian design, with a bare EVA shell, although the zipper adds a splash of color. The plush padding is nice and soft, and provides plenty of cushion. We also liked the extra storage, with plenty of space in the zippered mesh pocket. A wide handle rounds out the package.
Last, we reviewed the Baval Hard Carrying Case. This case is the most heavily-padded of the bunch, with thick contoured padding that's shaped precisely to the DualSense controller. This amount of padding does come with a downside; there's no internal storage. But as a pure controller case, this is as tough as they get. It's also easy to look at, with an attractive nylon outer shell.