EBL Voyager 500
Pros
Can power 10 devices simultaneously.
Portable design that's easy to transport.
Large battery capacity for the size.
Feels solid (high quality)
Fireproof storage bag available as an upgrade.
Cons
AC re-charge times could have been better.
Wireless charger is a bit underwhelming.
Questionable flashlight location.
If you're old enough to remember the days before smartphones, losing power was no big deal. You lit a few candles, curled up with a book, and went on with your life. And if you had to make a phone call, your trusty landline still worked just fine in an outage.
But nowadays, we rely on our smartphones for just about everything. When your power goes out, the clock starts ticking. You've only got so much battery life, so how are you going to use it? A good power station can resolve this issue by providing an emergency reserve of electricity.
Of course, a portable power station is good for way more than just charging your smartphone. Ideally, it's going to be versatile enough to charge a wide variety of devices. You should be able to top off your laptop, recharge your drone, and juice up your camera from the same source. It's also helpful if you can run more powerful devices like an electric kettle.
That way, your power station can fulfill all your needs while you're camping or RVing. Even if you're just sitting around the house, it's nice to be able to make a hot beverage during a power outage. In all these situations, a portable power station can be very handy.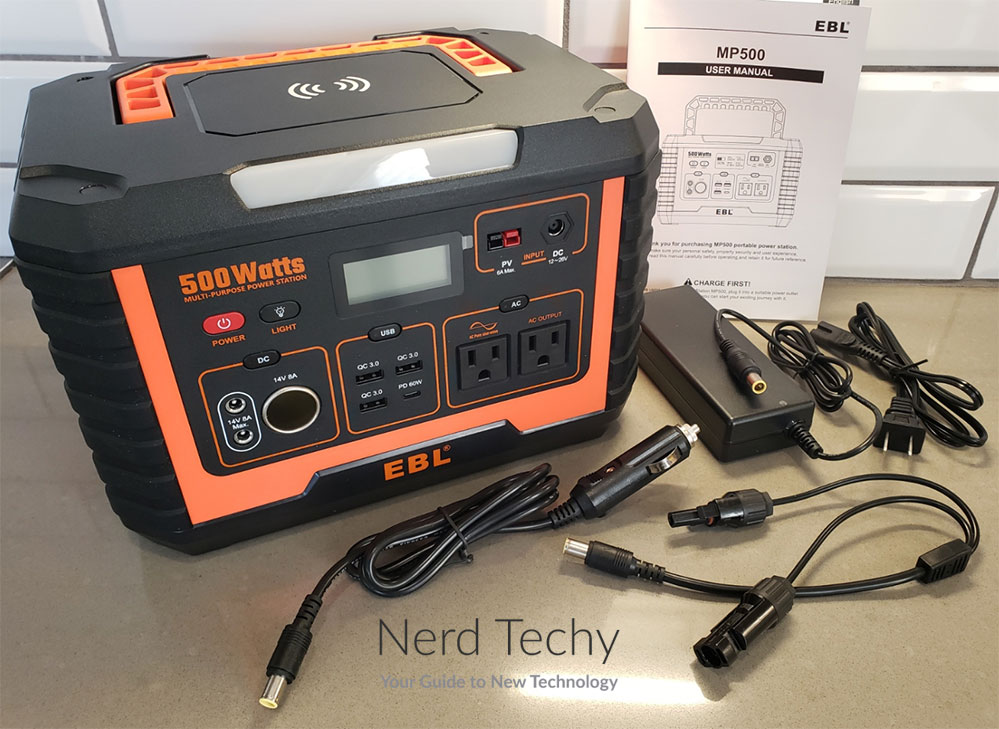 Today, we'll be reviewing the EBL Voyager 500. This is a compact power station that's designed to be easy to carry and move around. Despite its small size, it can power up to 10 devices simultaneously and provide up to 500 watts of total power. It's also designed to pair with an EBL solar panel, which allows you to use it totally off-grid.
But what else does it bring to the table, and are there any problems with the design? To find out, we'll have to take a closer look at its features, benefits and drawbacks. Once we have a complete picture, we'll be ready to make our judgement. Let's get started!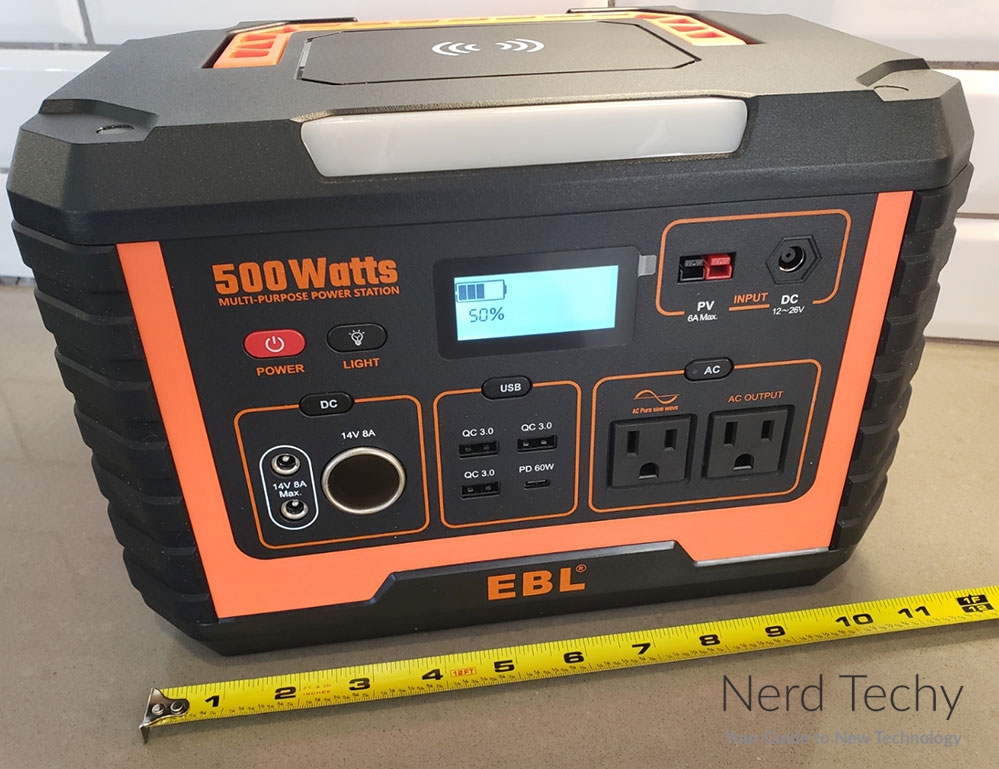 Design and Durability
The EBL Voyager 500 Portable Power Station is constructed primarily from a matte black plastic. It's chunky and durable, with knurled and rounded corners and edges for extra impact resistance. The side, front, and back panels are made from a lighter-weight orange plastic, with venting in the sides.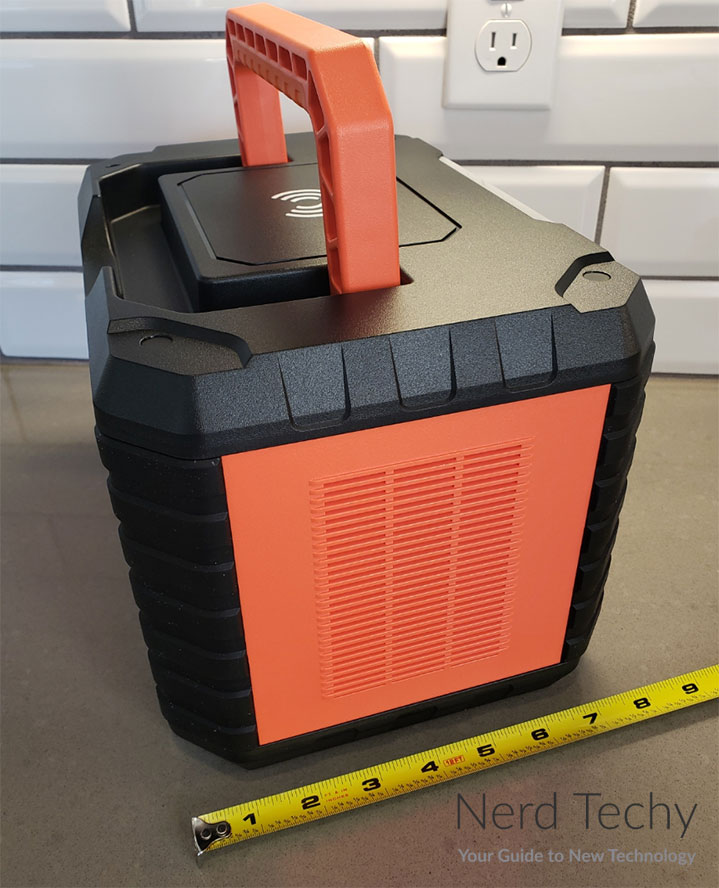 This venting is designed to allow air to flow freely through the housing. When the system is under a high load, a set of fans kick in to further improve air flow. As a result, the circuitry never gets so hot as to sustain damage. The fans are nice and quiet, and won't get obnoxious even when you're trying to sleep.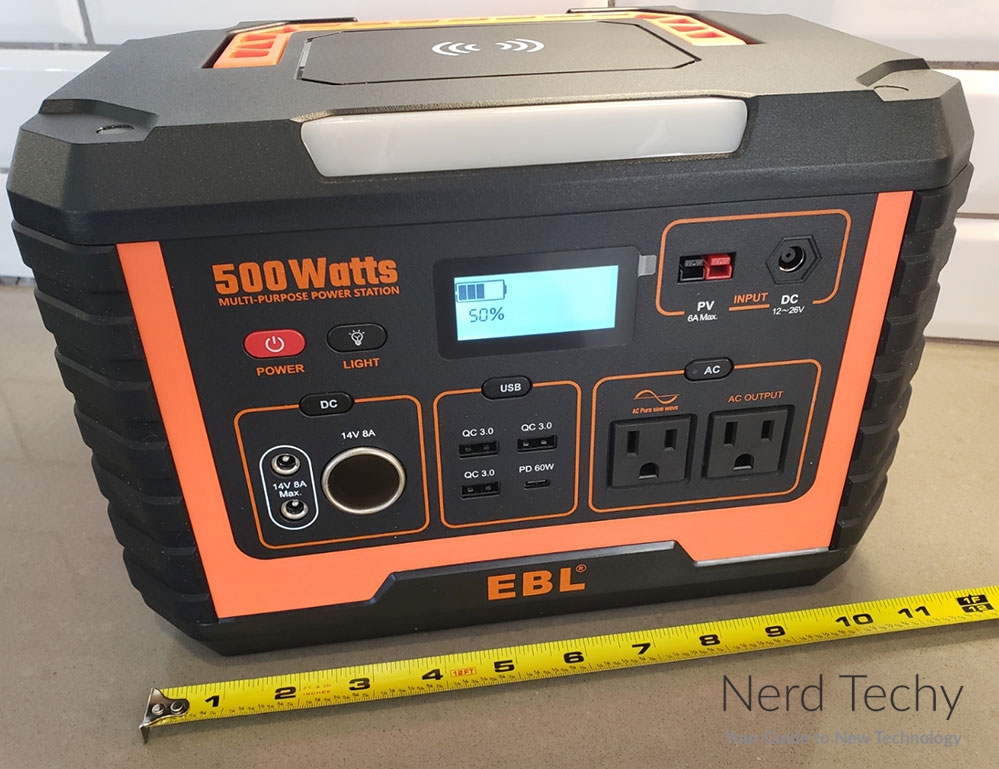 This power station is designed primarily to be easy to transport. It measures just 11.95 inches wide, 7.95 inches long, and 7.64 inches tall, so it's fairly compact. It tips the scales at just 13.2 pounds, or less than the weight of three standard clay bricks. If that's not enough, there's a folding handle built into the top. It's orange in color to match the paneling, with a knurled grip that's easy to hold onto.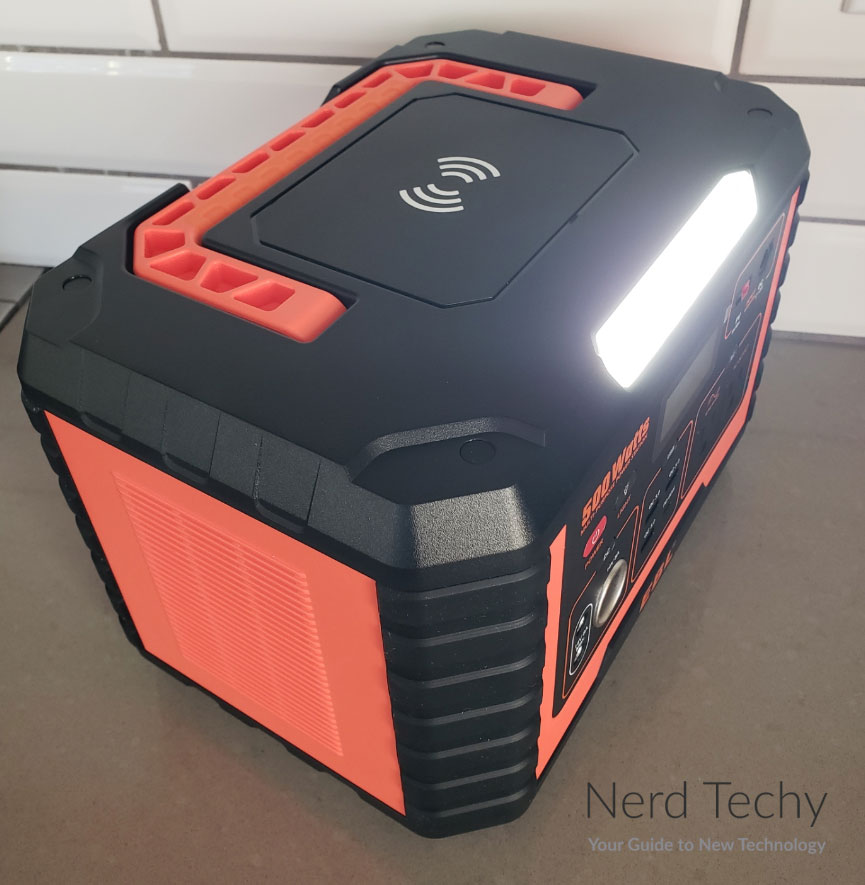 Across the top of the front of the unit is a built-in flashlight. It's very bright, and it can come in handy if you need to search or illuminate a large area. It's also good for lighting up a campsite before you've got your fire going. That said, the location put us off a little. If you're trying to read the on-board display and the light is on, it will be shining right in your face. We would have preferred a side- or back-mounted light.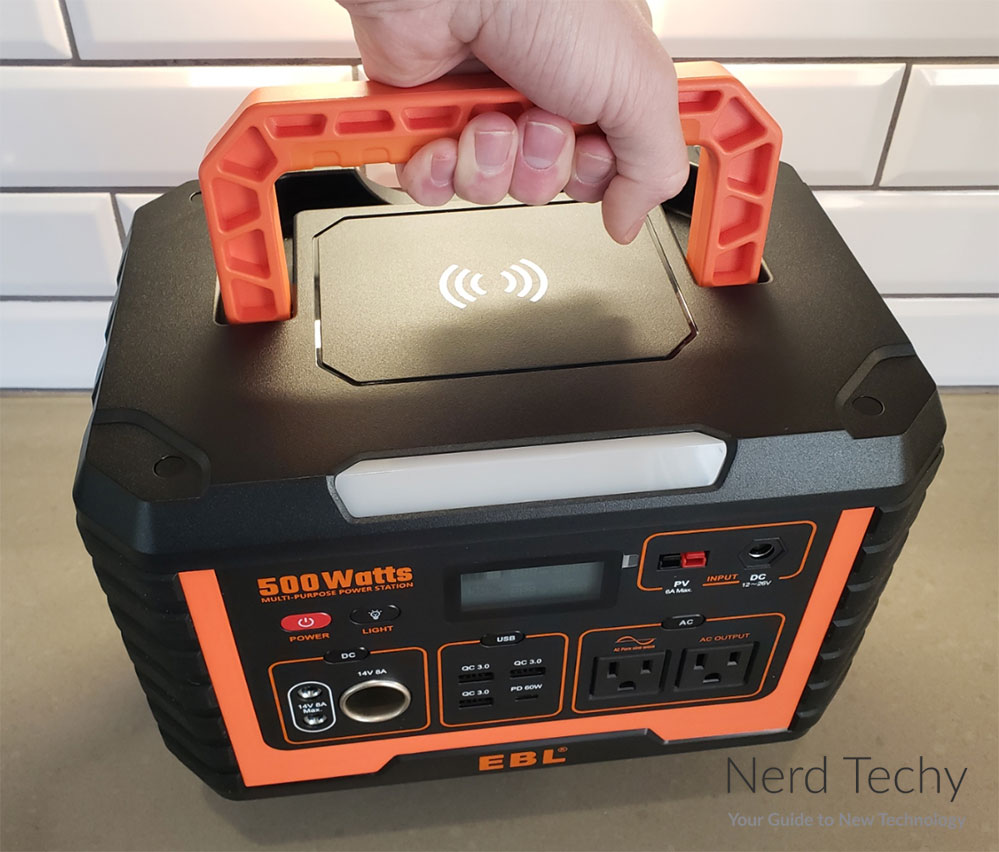 EBL backs their power bank with a 12-month manufacturer's warranty. This isn't incredibly long, but it's long enough to find out if you have a defective unit. If the power station fails due to a failure in materials or labor, you'll receive a refund or a free replacement.
Ports and Display
The EBL Voyager 500's interesting physical features are all located on the front of the housing. At the top center, just below the flashlight bar, is a monochrome LCD display. The left side of the display shows a simple visual battery meter, along with your remaining charge percentage. To the right, you'll see your current input wattage from any charging source. You'll also see separate output wattages for your AC, DC, and USB power sources.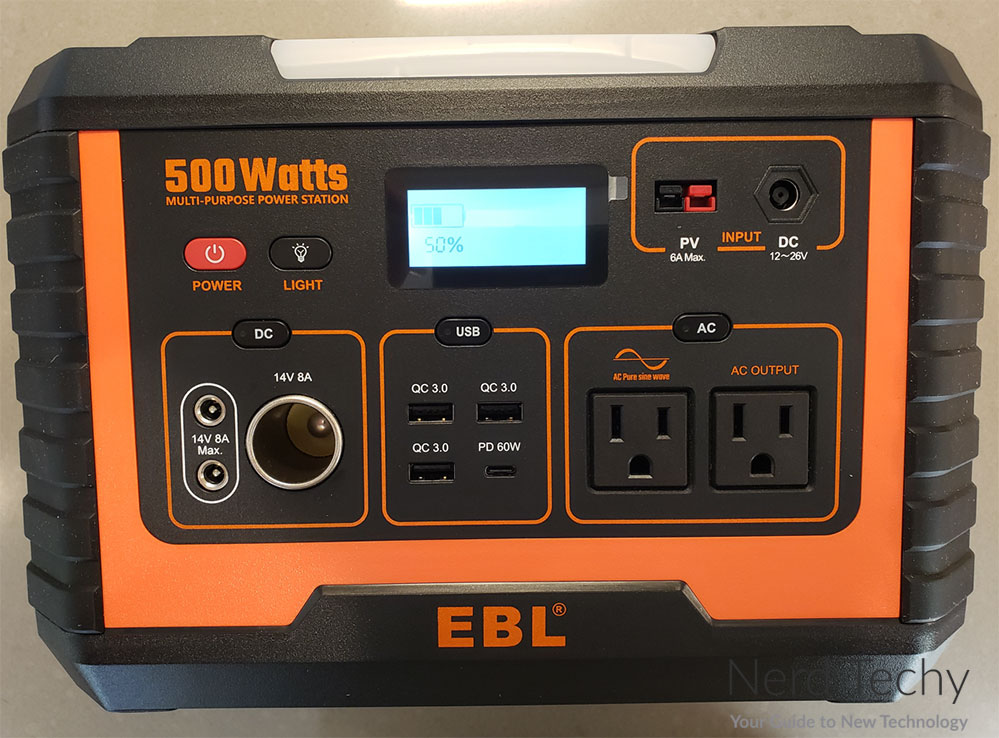 To the left of the display is a pair of physical plastic buttons. The red button to the left powers the entire unit on and off. The black button closer to the center activates or deactivates the flashlight. To the right of the display, you'll find your charging inputs. There's a standard PV input for solar panels, as well as a DC input for your AC and DC charging adapters.
At the bottom left of the front panel, you'll find your DC power ports. There's a pair of round ports that are designed for barrel-style power adapters. You can use these for drones, cameras, and other similar devices. There's also a larger automotive-style DC power port for plugging in devices that are meant for use in your car.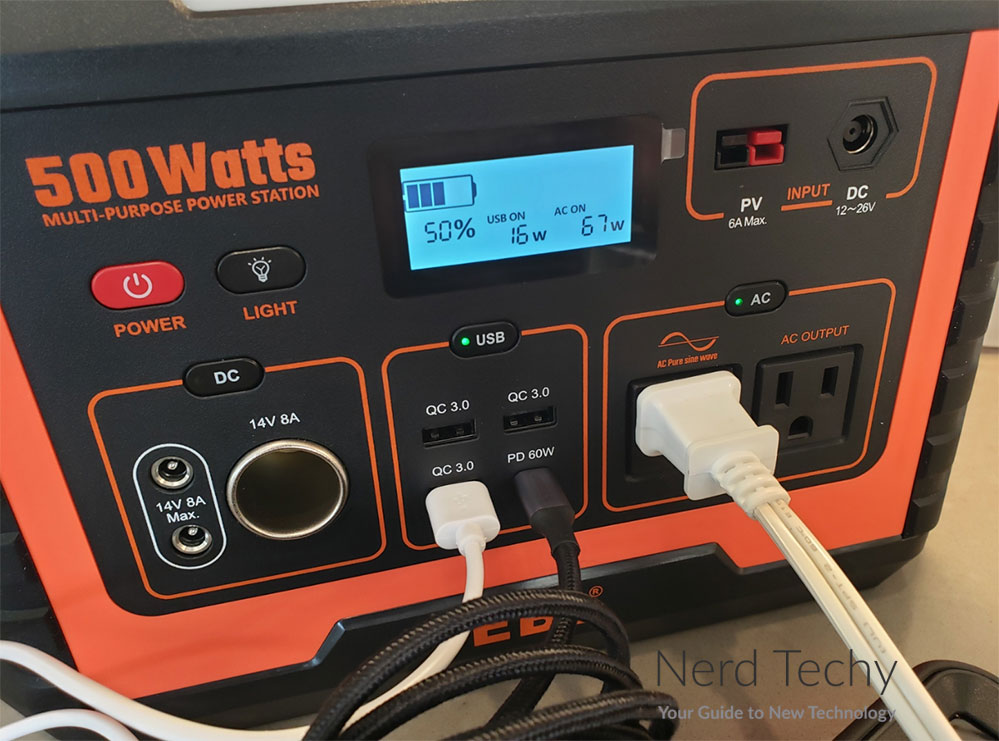 Above the DC ports is a control button, which turns them on and off. You'll find similar buttons over your USB and AC power port groups. Turning off a group helps to conserve power, since they won't be drawing a trickle charge while they're idle.
To the right of the DC power ports is the USB port group. There are three USB Type-A ports, with standard black inner tabs that won't help with orientation. The bottom right port is a USB Type-C port, which is reversible as well as providing a higher wattage. Further to the right is a pair of three-prong AC power outlets, located side by side.
In addition to all that, the top of the power station functions as a Qi wireless charging pad. It's very convenient, but it could have stood to be better thought-out. As it stands, the pad isn't indented. If you jiggle or bump the power station, you're likely to knock your phone out. That said, it's still a convenient feature if you're reasonably careful.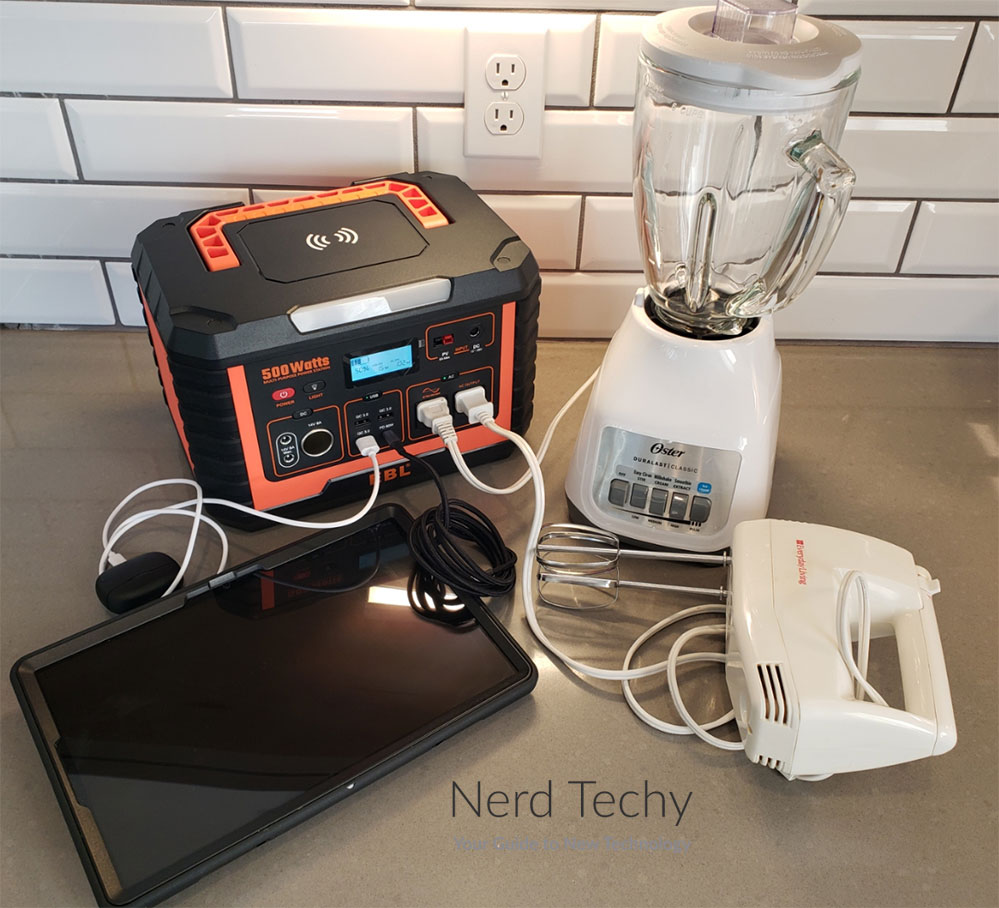 Battery Capacity and Recharging
The EBL Voyager 500 has a battery capacity of 519.4 Watt-hours (Wh), or 140,400mAh. That's on the small to medium side for a power station, but it's pretty impressive considering the overall size. If you want more charge, you're going to need a bigger, heavier battery, which will impact portability.
Even so, you're looking at a significant amount of battery life for everyday devices. You can recharge an iPhone 14 a minimum of 40 times. You can recharge your MacBook Pro 16" 14 or more times. If you're just trying to charge a few electronics for a few days, you're looking at plenty of battery life.
In terms of running more powerful devices, the battery life will be a bit more limiting. For example, you can run a 250-watt electric kettle – but only for two hours. If you're looking to run a bunch of appliances, you're going to need a beefier power station.
In that case, EBL already has a great option: the EBL Voyager 1000. As its name implies, the Voyager 1000 has twice the capacity of the Voyager 500. Other than that, it's nearly identical, including the front panel and charging ports. However, the double-sized battery capacity makes it almost twice as heavy.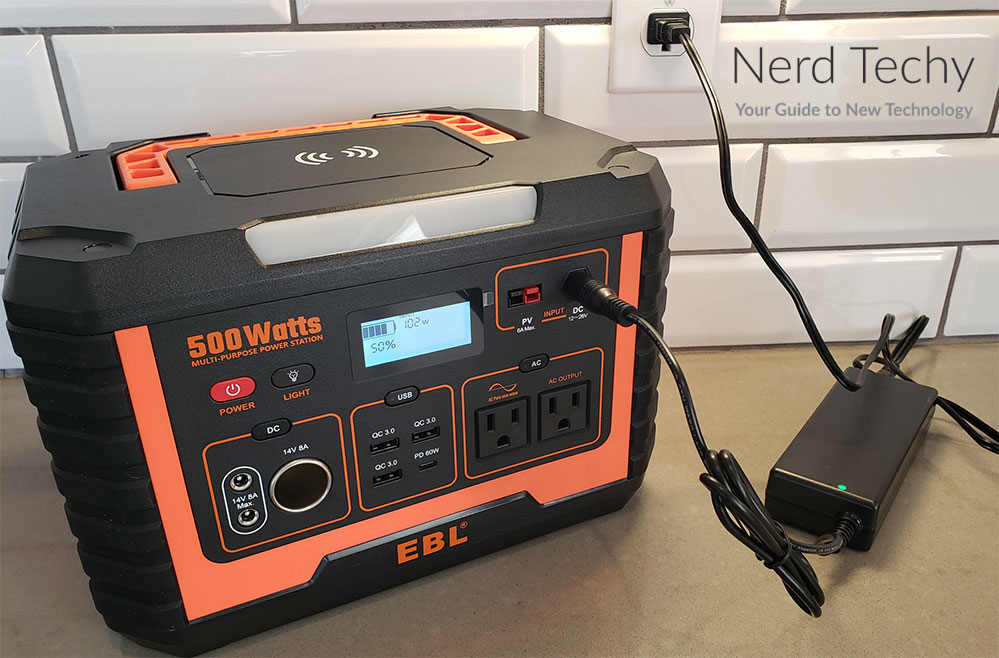 The Voyager 500 can charge in three different ways. The easiest way is just to plug it into your home's wall outlet. Using this method, it will fully charge in around six hours. This is somewhat slow compared to other power stations we've tested in the past, but still acceptable. Unfortunately, it only draws around 105 watts when charging from the AC adapter. If it were able to pull 500-1000W, the AC re-charge times would be more inline with top of the line units.
If you want to charge on the go, you can plug into your car's 12V DC outlet. This will take a bit longer, at about nine hours to get a full charge. For off-grid use, you can connect it to solar panel(s) and charge it via the power of the sun. Charge times via solar vary drastically since there are so many factors at-hand. Things like geo-location, panel angle, season, etc. all play a part in this. There's even a special, 100W EBL-branded solar panel you can order separately, which we'll talk about in a minute.
The kit includes all the cables you need for any kind of charging. There's an MC4-7909 connector for plugging into most commercially-available solar panels. There's also a set of AC and 12V DC adapters for your home and car. No matter how you charge, you'll have everything you need to get started.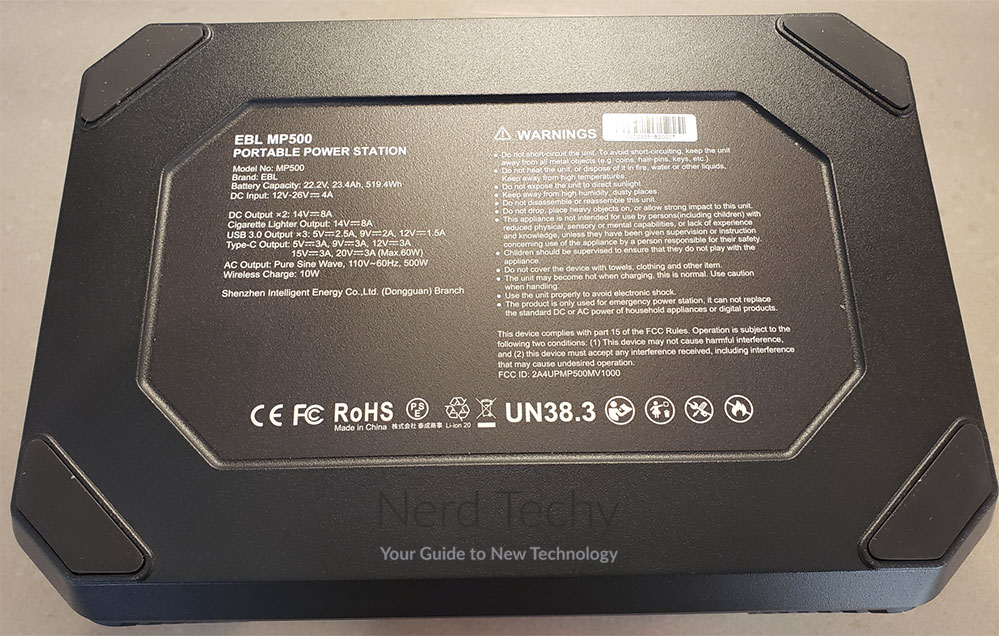 Charging Capabilities
As you might have guessed, the Voyager 500 can deliver up to 500 watts of power. Keep in mind that this is the maximum for the entire power station. If you're drawing 500 watts from a single AC outlet, you won't have any juice left over for other outlets. Depending on what you're doing, this should rarely be a problem. To put things in perspective, most smartphones charge at a maximum rate of 18 watts.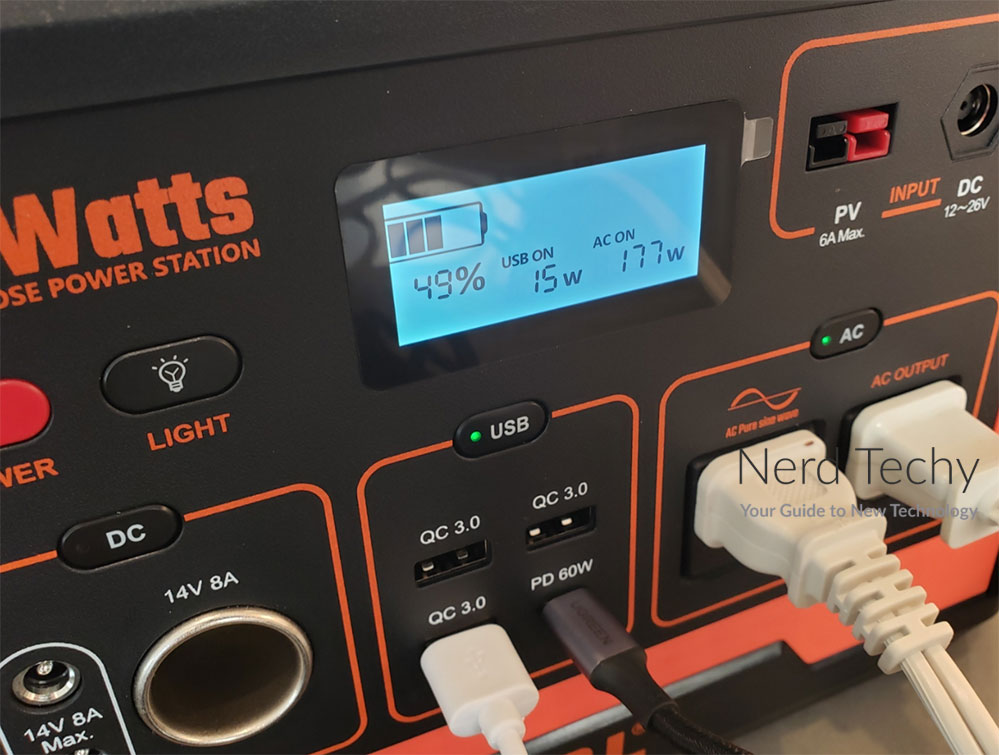 The AC outlets can deliver up to the full 500 watts of power. By comparison, a 15-amp, 120-volt home outlet can deliver up to 1,800 watts. This means you'll be able to charge any rechargeable device and power some small appliances. And by small, we mean small, like the 250-watt kettle we mentioned earlier. Even a tiny microwave will draw around 600 watts and exceed the power capacity.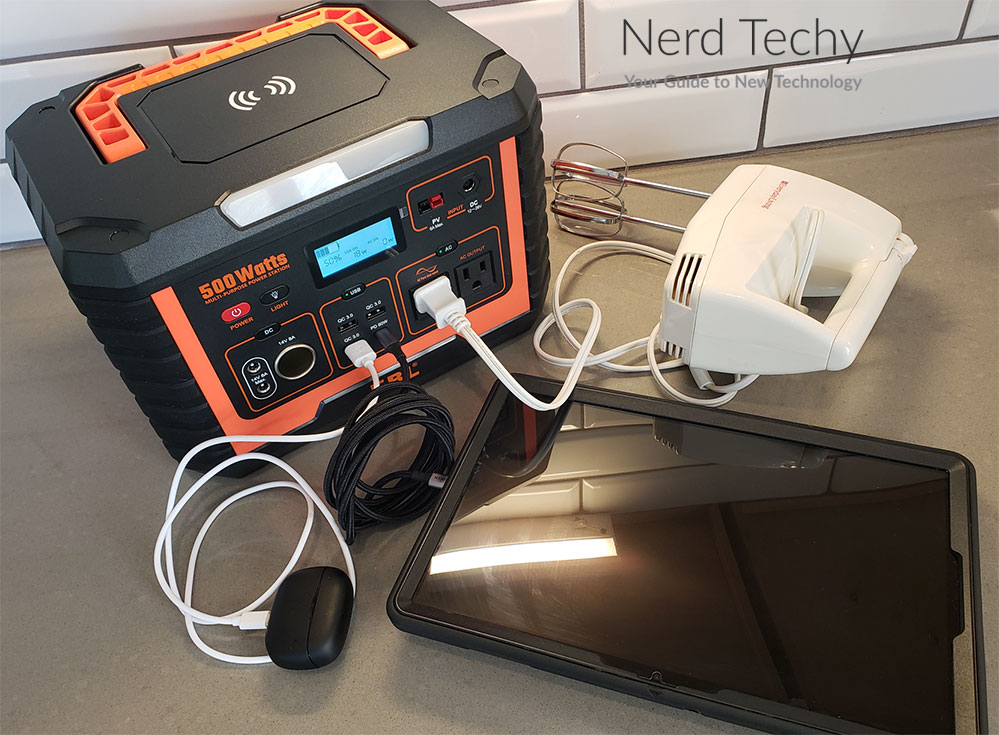 The USB Type-A ports deliver up to 18 watts apiece. That's half again as much power as a standard 12-watt USB port, and it's great for modern smartphones. If you're using an iPhone, for example, you'll be able to reach the Lightning cable's maximum charging speed. The USB Type-C port, meanwhile, uses PD technology to provide 60 watts of power. That's enough to charge most tablets and laptops while they're being used.
The Qi charging pad provides 10 watts of wireless charging power. We were a bit disappointed with it once again, since modern Qi technology supports 15-watt charging. That said, this is a relatively minor complaint when you can just plug into one of the USB ports.
If you want a little bit more power, check out the BougeRV Flash300. It can provide up to 600 watts, while still powering 10 devices. It's also significantly smaller and lighter, albeit with only around half the battery capacity.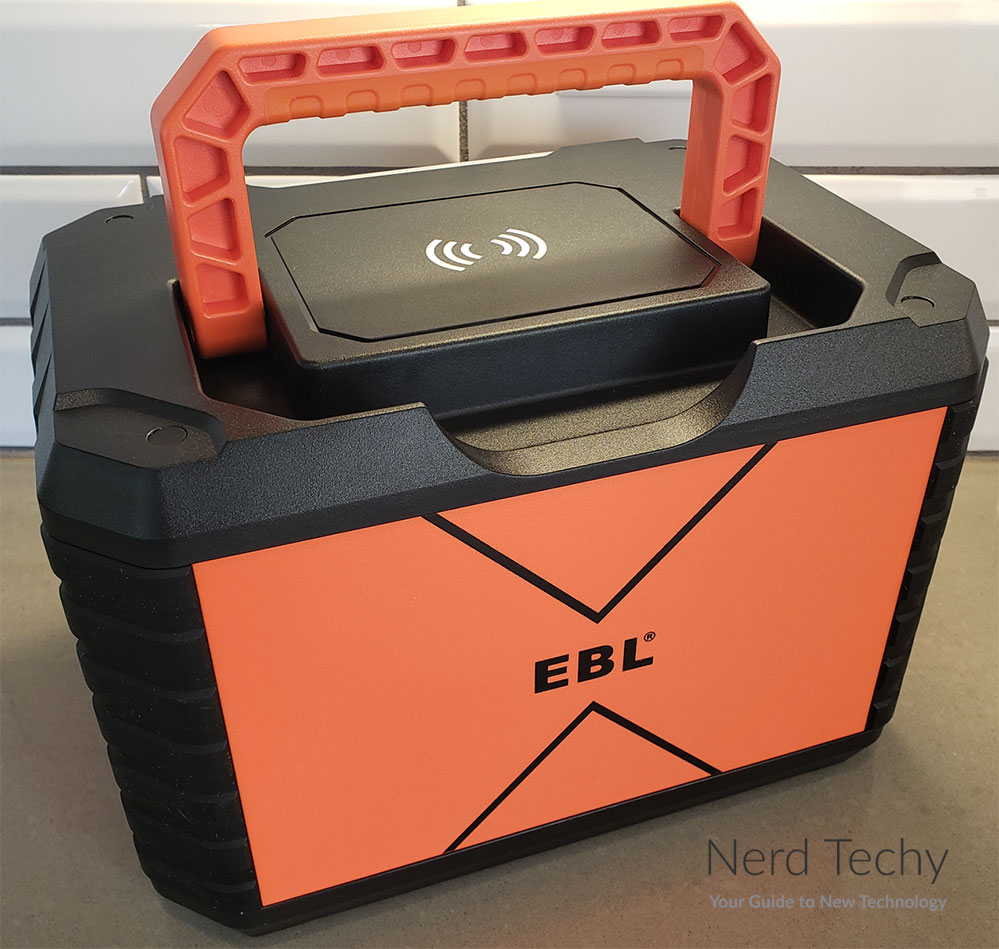 Safety and Extras
As an extra layer of protection, some users may opt to purchase EBL's fireproof storage bag. It fits the Voyager 500 perfectly and provides a comprehensive solution to storing and carrying around the power station. With padding throughout, it offers protection from minor scuffs, scratches and drops. However, the real benefit is in the fireproof material that it's comprised of.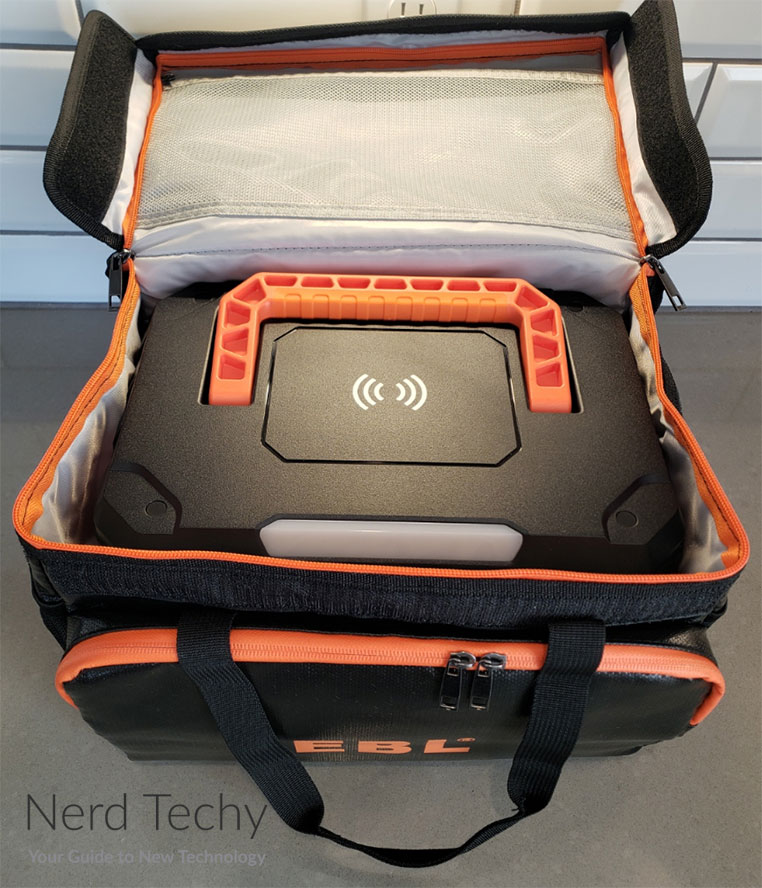 While it'll likely never occur, any battery has the potential to catch fire with the right circumstances. By encasing the entire unit within fireproof material, it adds an extra layer of peace of mind for those who want to take every precaution possible. In addition to main storage for the power station itself, there's plenty of pockets and zippered enclosures to keep accessories consolidated for on-the-go use.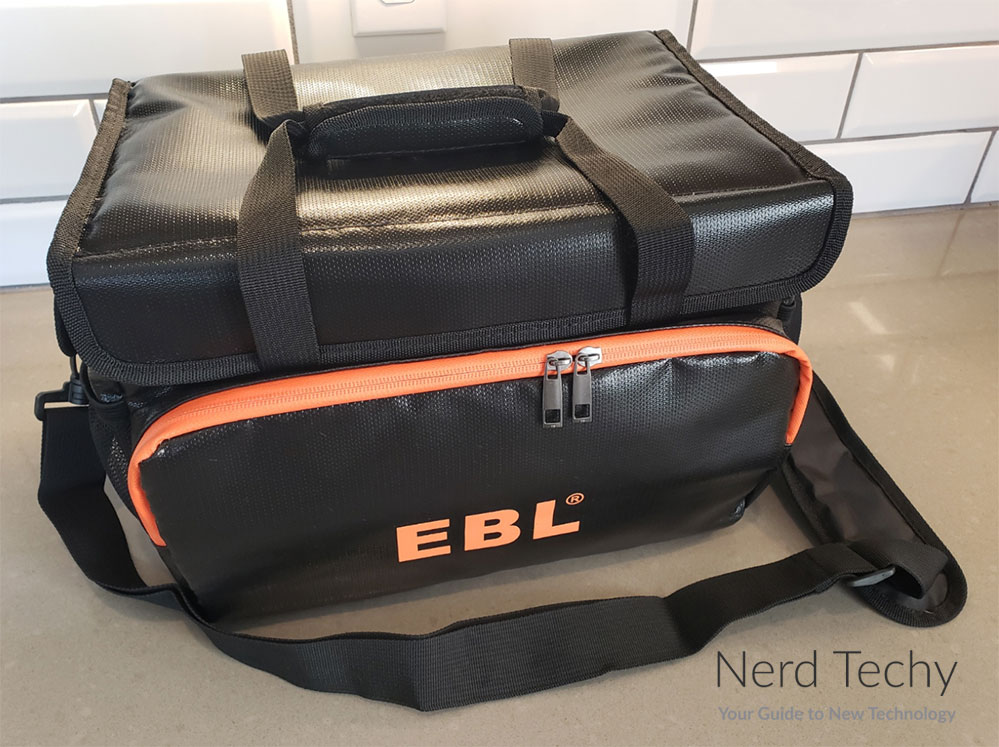 The fireproof storage bag is made very well. With thick fabric and rubber-like materials throughout, it's a heavy duty solution to keeping the power station in as good of shape as it was the day you bought it.
The Voyager 500's AC power outlets provide pure sine wave power. This is different from many AC inverters, which create a "modified" wave that looks jagged on a chart. This jagged power supply can damage sensitive electronics like CPAP machines. Pure sine wave power, on the other hand, is safe for these delicate devices.
But what if you're looking for a power station specifically for your RV? In that case, consider the ALLPOWERS S2000. It's big and chunky, but it's also more powerful, with more power outputs to choose from. Most importantly, it has a specialized 30-amp output for your RV.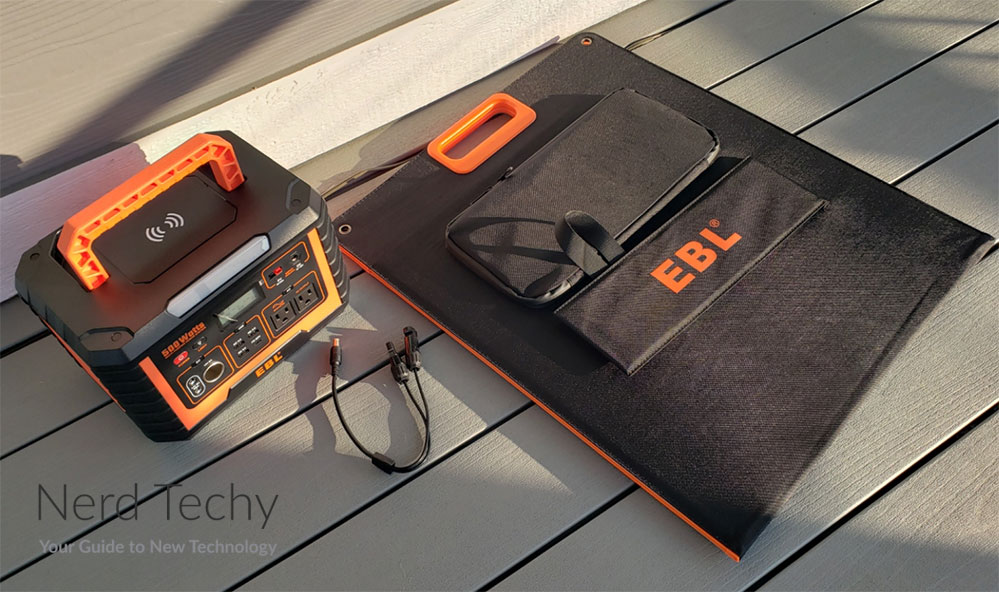 Pair With the EBL Solar Apollo Portable Solar Panel
If you want to use the EBL Voyager 500 off-grid, why not use the solar panel that's built for it? The EBL Solar Apollo 100W Portable Solar Panel measures 27.95 x 23.62 inches, and is just 3.15 inches thick. There's also a 200W version that's twice the width but provides even more re-charging capabilities.
The measurements include a pair of kickstands on the back that support it at a 45-degree angle. It also folds in half for easy transport, with a strong magnetic closure and built-in molded handle. The surface is laminated to provide weather-resistance, and it includes a patch cable and adapters. Overall, it seems to be made quite well, with high-quality components throughout.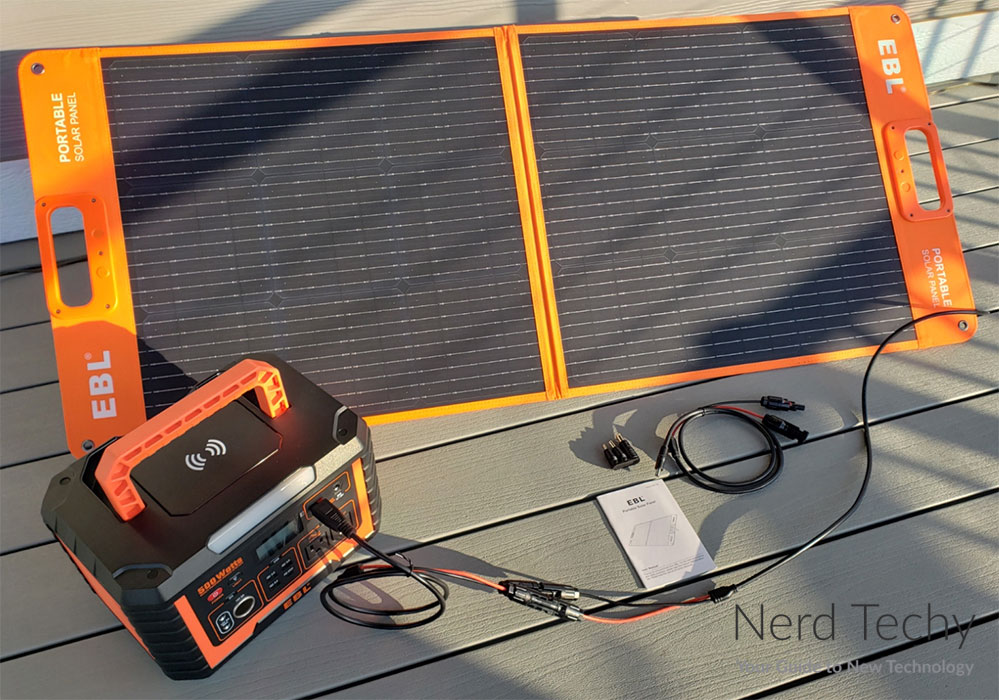 The back-side of the panel includes a zippered pouch with a few barrel-style adapters and an extra MC4 cable as well. Having everything stored in this small pouch is a nice touch that helps keep all of the accessories consolidated when you're on the move.
The standard solar panel is rated for a maximum output of 100 watts. Under ideal conditions, that's enough to charge your power station in about six to seven hours of direct, ideal sunlight. Then again, weather, shade, and other factors can negatively impact your efficiency.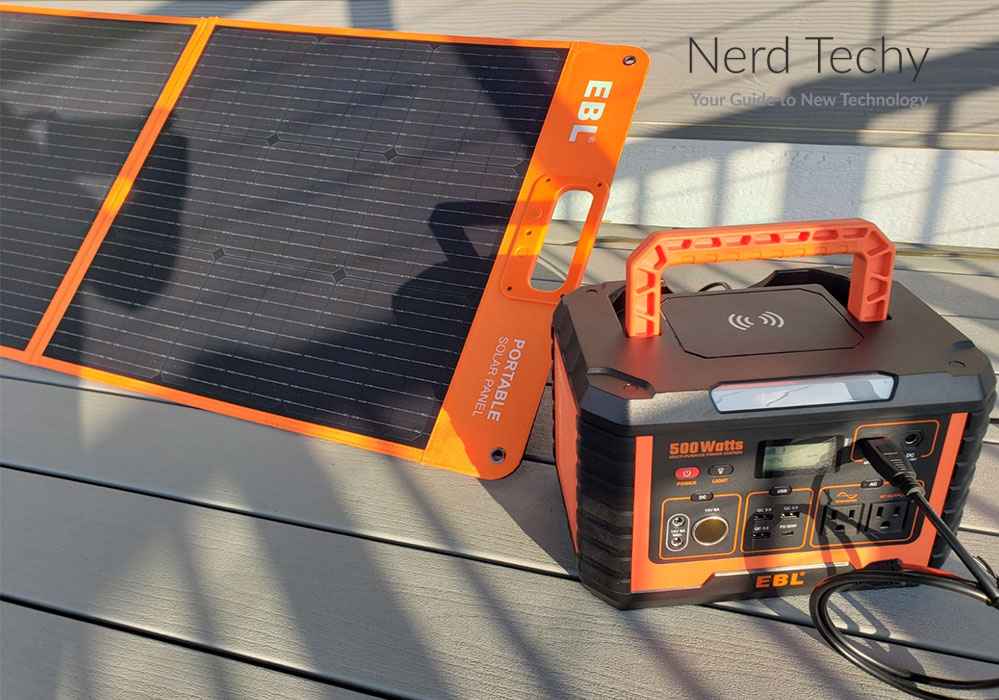 For example, in partial sun or at an angle that's not perpendicular to the sun's rays, you can expect efficiency to drop drastically. Still, however, the panel offers a clean, easy-solution to adding "juice" back into the power station without the need for grid-power or a noisy generator. And if you're concerned about re-charge times, go with the 200W version for best results.
Final Verdict
The EBL Voyager 500 is a well-designed little device. It's lightweight and easy to carry, and it doesn't take up a ton of space. At 500 watts of maximum power and 519mAh capacity, it's not the most powerful on the market. But considering the size, it performs very well. We also liked the fast USB Type-C charging and 18-watt USB Type-A ports.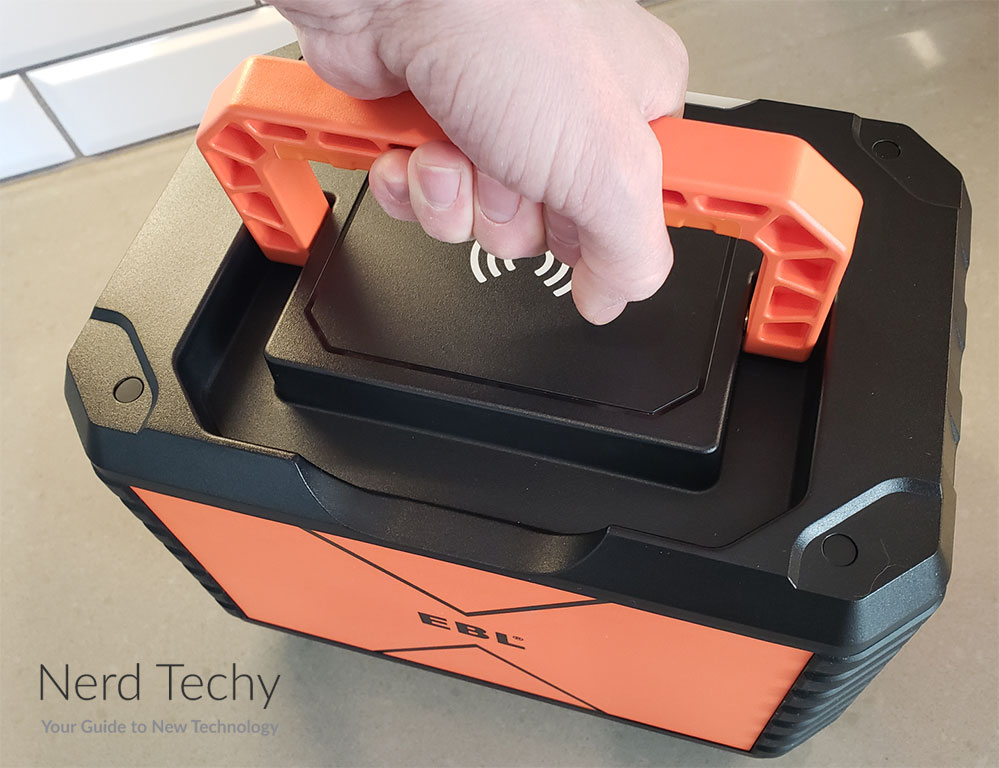 The wireless charging pad could stand to be improved. That said, charging the power station itself is effortless via AC, DC, or solar power. And with the Apollo solar panel, you can bring it with you wherever life takes you. Although AC re-charge times are slightly unimpressive, it's still sufficient in most cases.
As an option, there's a 100W or 200W solar panel and fireproof storage bag that can be purchased separately. They're nice add-ons but cost a bit extra. However, they do add a simple solution for both off-grid camping and traveling.
Using the Voyager 500 is easy and straightforward. It's designed well, built with seemingly solid components and has plenty of capacity for most real-world scenarios. All in all, you're looking at a fantastic power station considering all it has to offer.
Right now, there are discounts available for the EBL Voyager 500 ($100 off), Apollo Solar Panel ($50 off) and Fireproof Bag ($5 off) when you purchase each from Amazon.