EBL Voyager 1000
Pros
Large battery capacity.
Can charge 10 devices simultaneously.
Up to 1,000 watts of power output.
Relatively portable and easy to charge.
Cons
Light is located on the front of the housing.
Doesn't have much surge capacity.
Weighs 23 lbs.
Nowadays, we rely on our electrical devices more than ever before. If you go back a few decades, going off-grid for a little while wasn't a big deal. Yes, you might worry if your home power went out and your fridge started to get warm. But during camping, hiking, hunting, and other off-grid activities, you were expected to be out of touch. People were accustomed to leaving a message on your answering machine, and waiting for your return. There were no laptops to take your work everywhere. There were no digital cameras, drones, and other gadgets to keep charged. As a result, nobody panicked when they traveled too far from a power outlet.
But times have changed. Today, people expect to be able to reach you anytime, anywhere. Depending on your job, your boss might even get mad if you're not reachable. We also use our phones to take pictures, access entertainment, and use GPS and other apps. Even if you're not worried about staying in touch, there are good reasons to keep your phone charged. Meanwhile, other electronics have proliferated. We have small electric coolers and electric griddles for camping. We have drones, laptops, projectors, and other devices. If you want to keep these thing charged while you're on the go, a portable power bank is the best solution.
Today, we'll be reviewing the EBL Voyager 1000 Portable Power Station. This is a mid-sized power station that's designed for a balance of power and portability. It can charge up to 10 devices at once, and it delivers up to 1,000 watts of power. But these are just the most basic features we need to look at.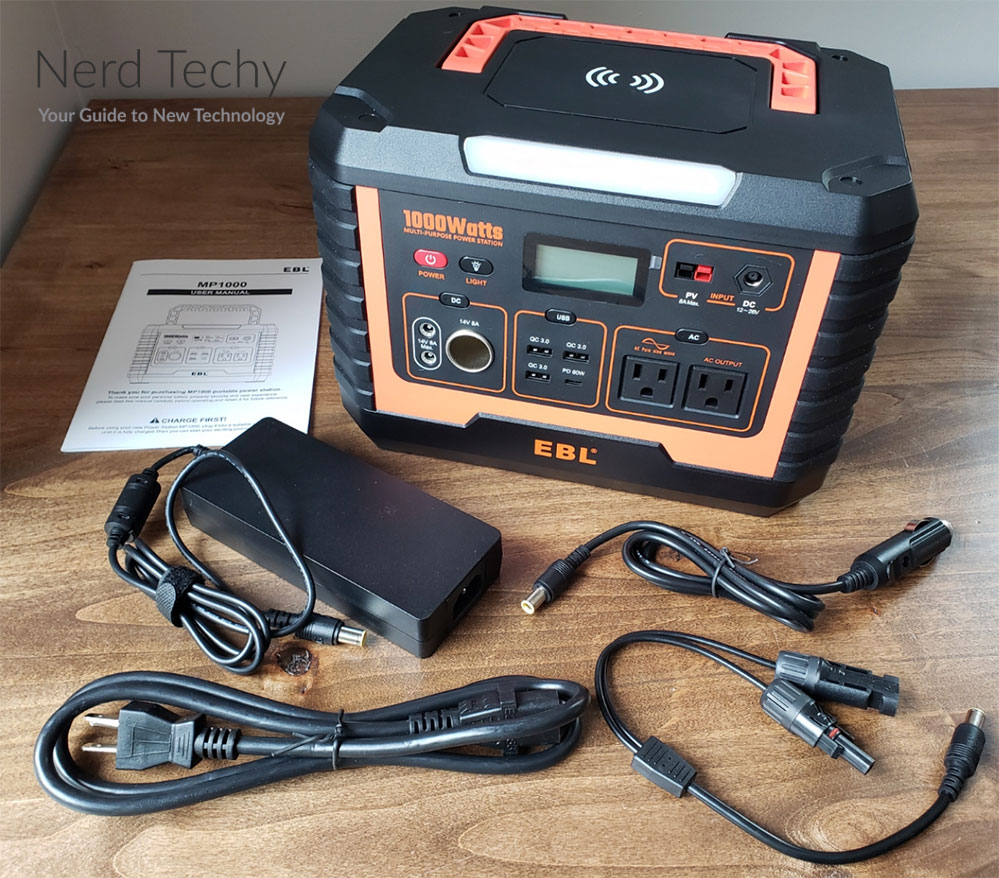 To truly understand this power station, we're going to have to look a lot deeper. We'll begin with the physical design – how it's constructed, controlled, and carried. We'll move on to the internal battery, and talk about how you charge it. In addition, we'll also discuss the types of devices you can charge, as well as any relevant safety features. After that, we'll have enough information to deliver a fair verdict. Let's get started!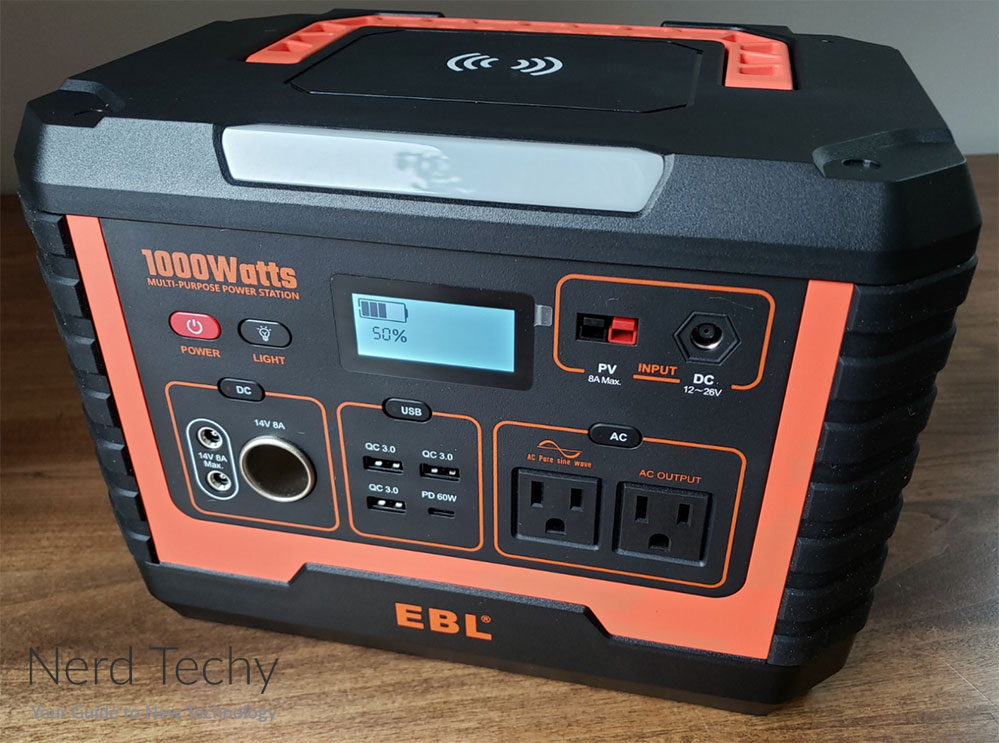 Overall Design
The EBL Voyager 1000 Portable Power Station has a mostly black housing, with orange front, back, and side panels. It has a blocky profile, with an easy-to-clean matte finish that won't attract fingerprints. The total size is 15.67 inches wide, 10.31 inches tall, and 10.79 inches thick. At 19.8 pounds, it's not the lightest on the market, but it's also not incredibly heavy. There's also an orange collapsible handle on the top, which makes it easy to carry.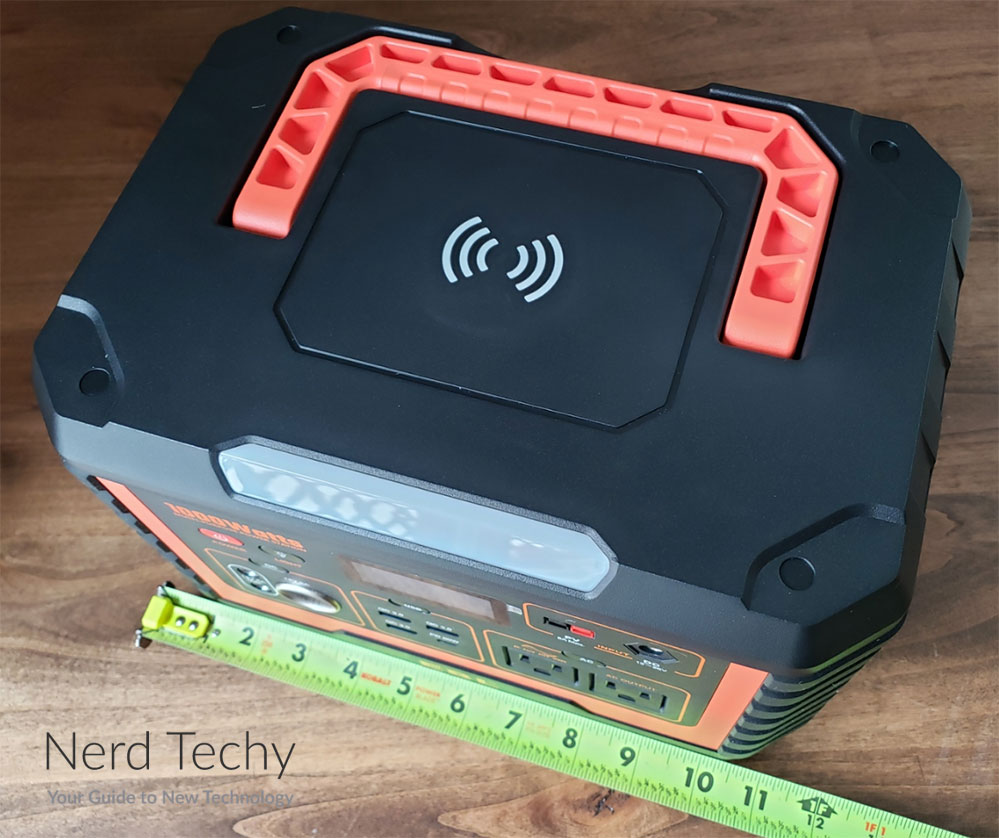 All in all, this power station provides a good balance of size and functionality. But sometimes, you need something that's even easier to transport. If that's what you need, the Issomi Power Station might be a better choice. It's half the size and weight, and as an added bonus, it doubles as a car jump starter. Then again, it doesn't provide as much power, and it has fewer charging ports.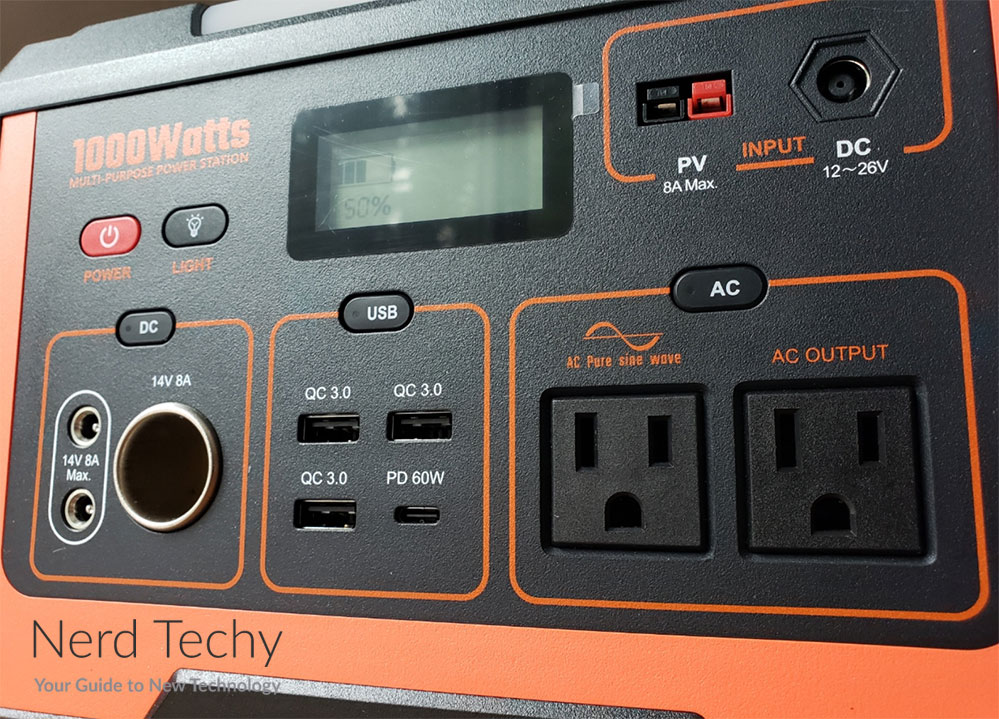 The sides of the Voyager's housing are occupied almost entirely by a set of horizontal vents. These vents are designed to maximize air flow, and keep the inner electronics cool. When the system is under a heavy load, it will produce more heat. At a certain point, a fan will kick in to assist with cooling. This fan is audible, and produces a soft hum. That said, it's not obnoxiously loud, and it's suitable for use during quiet activities.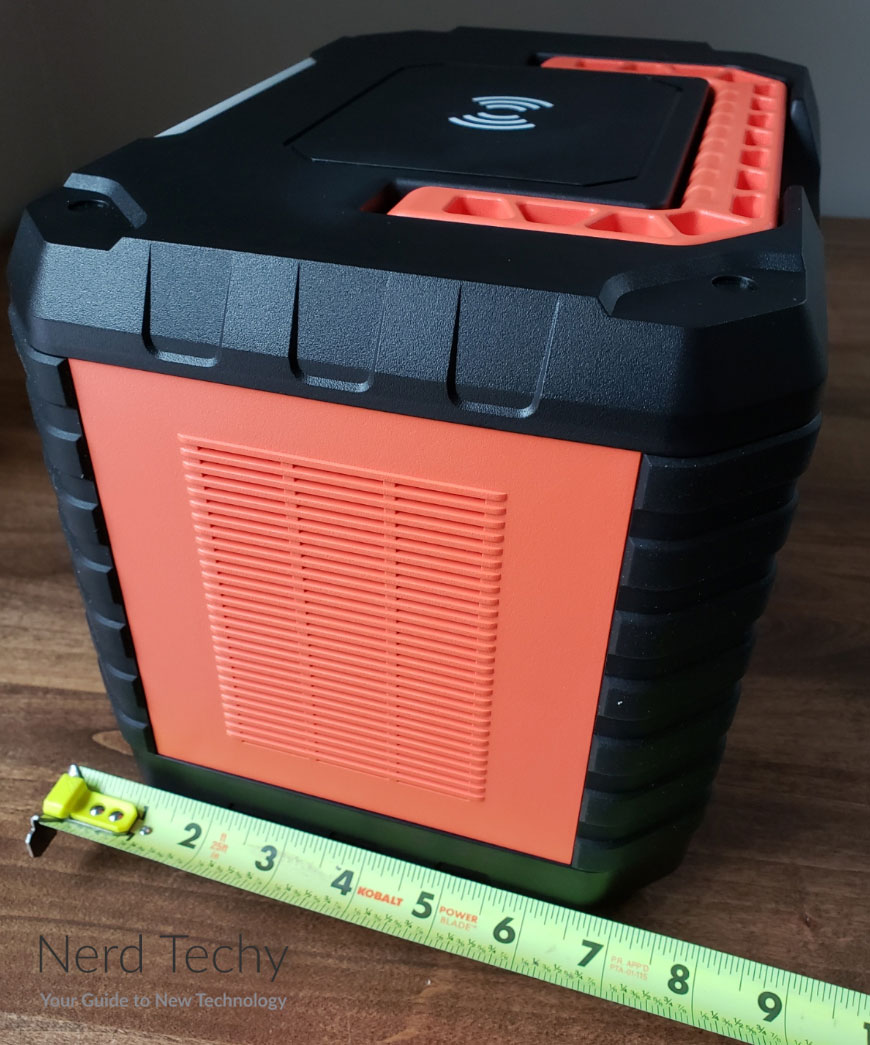 The front panel is where you'll find all of the other useful features. Here, at the top center, there's a plain LCD display. This shows a variety of useful information about the power bank. It has a visual battery meter, along with a percentage readout of your remaining charge. You'll see how much wattage is incoming, when the power station is being charged. You'll also see how much power is being drawn. That information is broken down between USB, DC, and AC power. That way, you know exactly where your energy is flowing. To the right of the display, there are a pair of ports for charging the Voyager itself. You'll find a barrel-style input for the AC and DC adapters, as well as an MC4 solar input.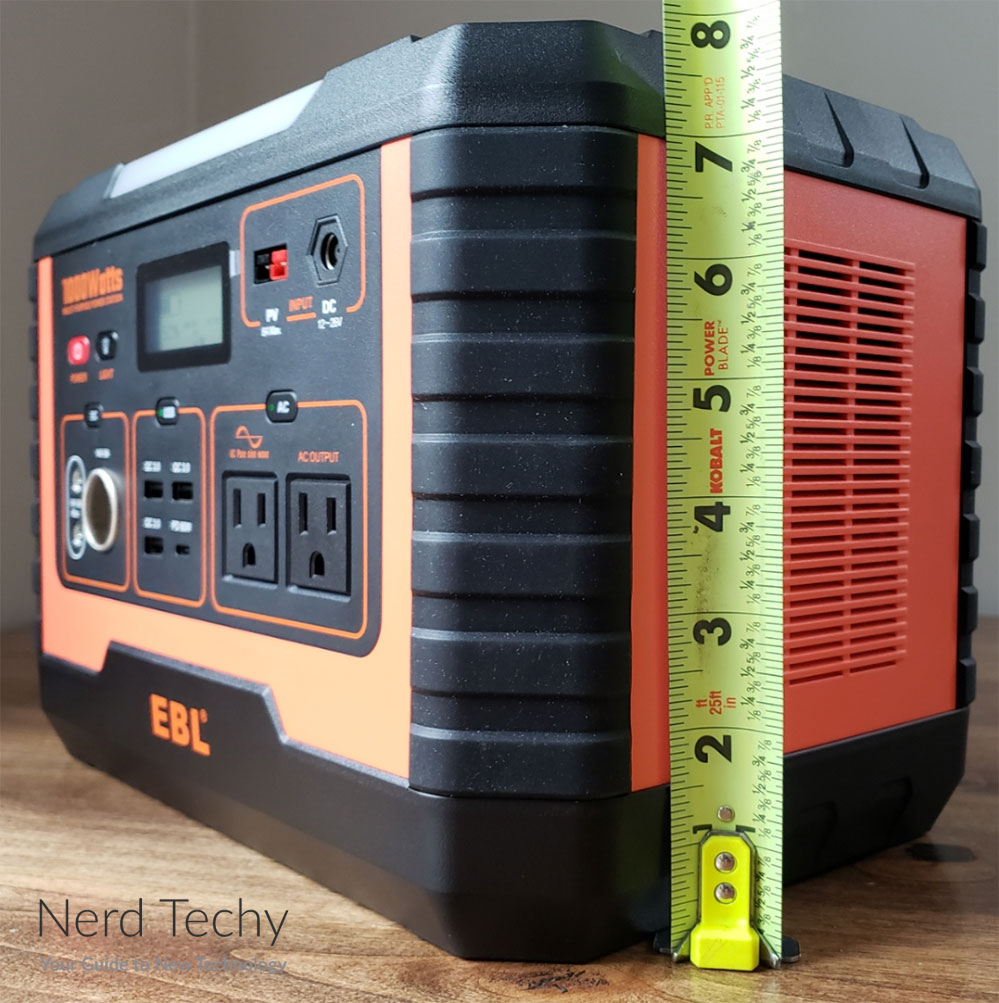 Along the bottom portion of the panel, you'll see all your power ports. At the right, there are a pair of two three-prong AC outlets. In the center, there's an array of four USB ports. Three of these are standard USB Type-A ports, but the fourth is a USB Type-C. At left, there are the DC power ports. There are two barrel-style ports for drones and other devices, and a standard automotive-style port.
The DC ports, USB ports, and AC ports each have a control button above them. This allows you to turn, DC, AC, and USB power on and off separately. By leaving off groups of ports that aren't in use, you prevent them from passively draining power. Along the same lines, there's a red power button at the top left. This is used to turn the entire power bank on and off, and for much the same reason. By leaving it off, you're not draining power while it's in storage.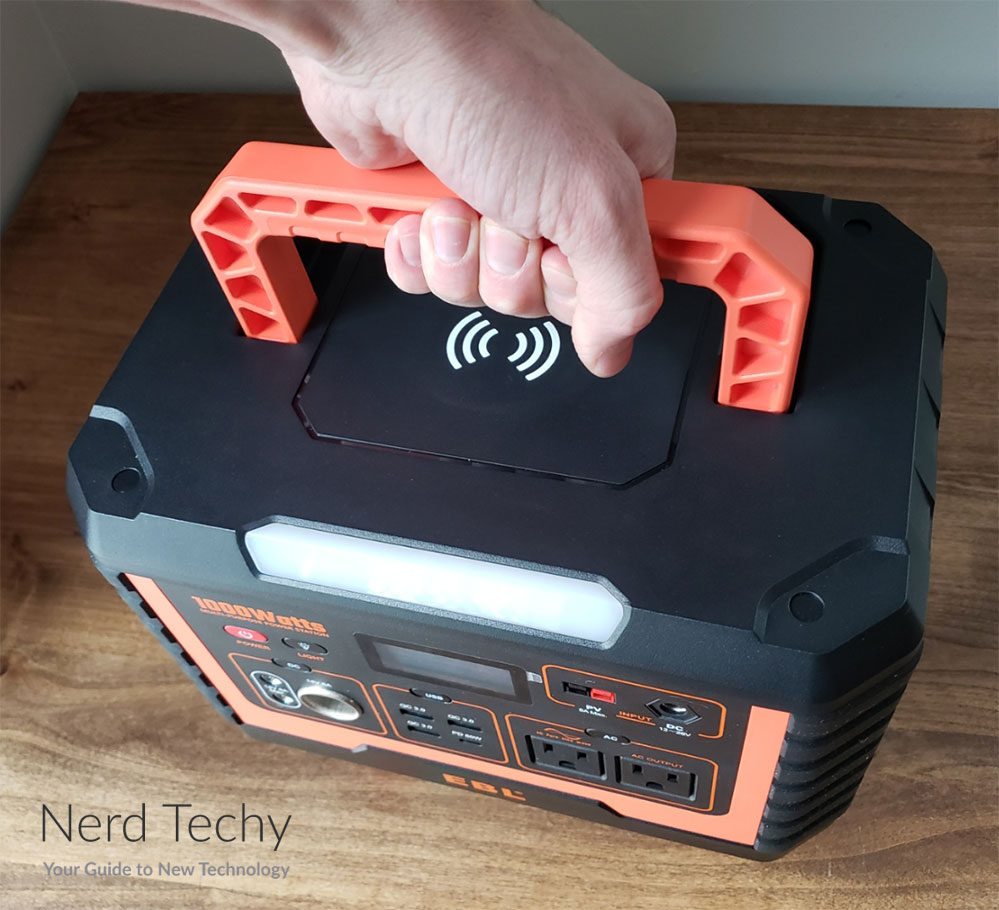 Next to the power button, there's a little black button with a lightbulb on it. This is used to activate the light bar, which sits just above the LCD display. The light bar emits a soft white light that's bright enough for reading and other activities. It can also be set to SOS mode in the case of an emergency. Our only quibble with the light is that in a dark space, it makes it impossible to read the LCD display. It would have been wiser to put the light on the side or back of the housing.
The Tacklife P50 is a good example of this. It has similar ports, with a smaller and lighter build, and the light is built into the back. On the other hand, it also has a lower capacity and maximum wattage.
The kit includes everything you need to get started. There's an AC charging cable for your home, as well as a car charger for using on the go. There's also an MC4 solar cable, which connects to most solar panels. All of this is covered by a 12-month manufacturer's warranty.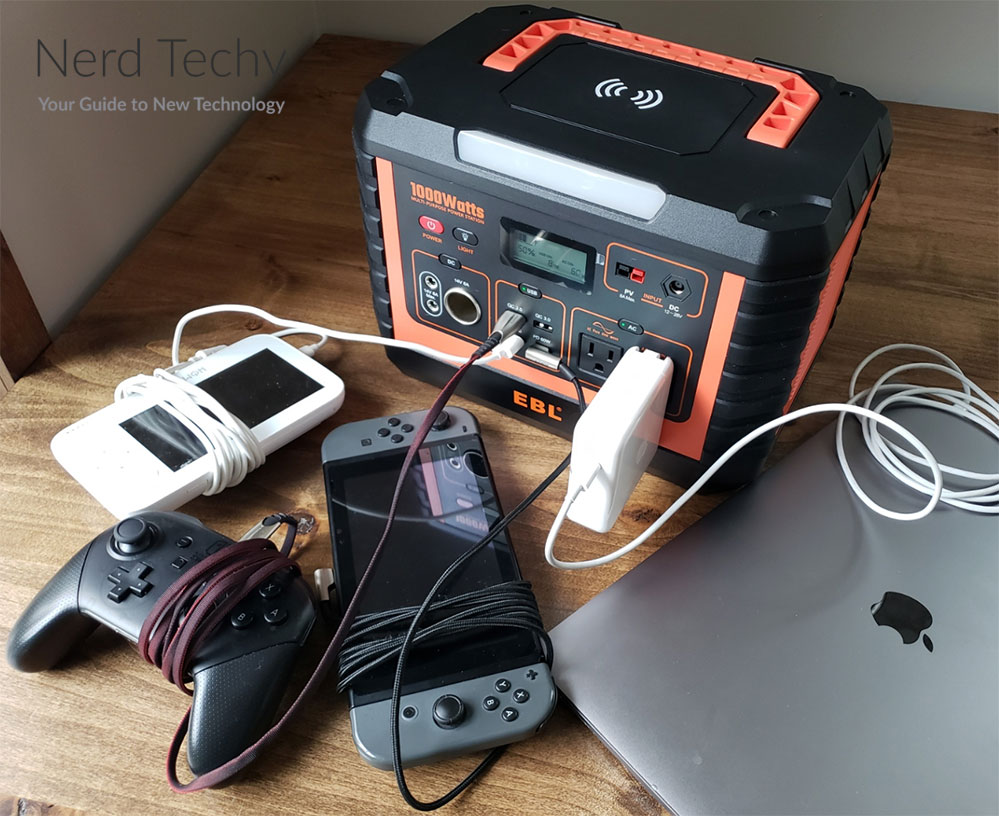 The EBL Voyager 1000 is now available on Amazon with a $350 discount.
Battery Performance and Capacity
The EBL Voyager 1000 has a battery capacity of 999Wh, which is equivalent to 270,000mAh. This makes it one of the more robust power stations on the market, especially considering the size. With 270,000mAh, you can get around 100 charges on an average smartphone. A typical laptop can receive up to 20 full charges, and a Nintendo Switch will charge 50 times. A small, 90-watt mini fridge could run for more than 10 hours before draining the battery. And even largest 60-watt CPAP machines will run for over 15 hours. That's more than you'll ever need for a night's sleep.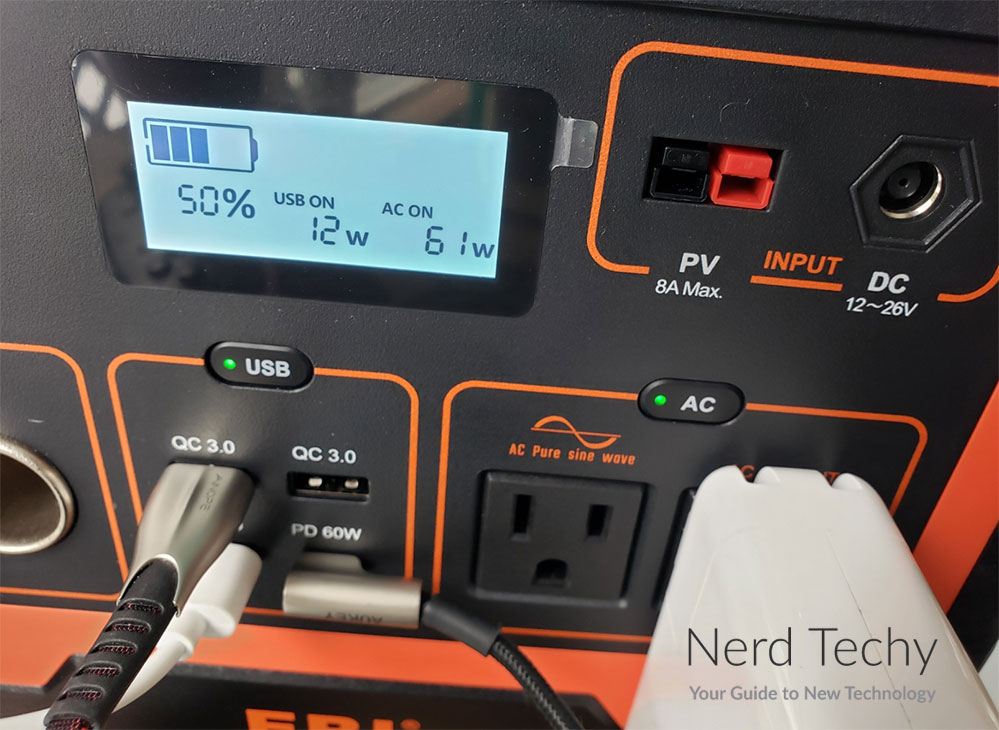 But as the saying goes, "there's always a bigger fish." If you need a ton of charging power, check out the EcoFlow Delta MAX. It has double the charging capacity, along with a whopping six AC ports. It's designed to be used as an uninterruptable power supply, so it's great for computers. On the other hand, it's significantly bulkier and heavier, due to the larger battery.
Charging the Voyager takes longer or shorter depending on your charging method. The fastest way is simply to plug into your wall outlet with the AC charger. This will fully charge a drained battery in 7 to 8 hours. When you're on the road, the car charger will top up the battery in around 10 to 12 hours. That's nowhere near as fast, but it does give you more options. If you want to go completely off grid, you can also use one or two 120-volt solar panels. This negates the need for a power outlet or generator, but the charging speed is highly variable. At maximum efficiency, you could theoretically charge the battery in only 7 hours. But a lot depends on the weather, your solar panels, and other variables.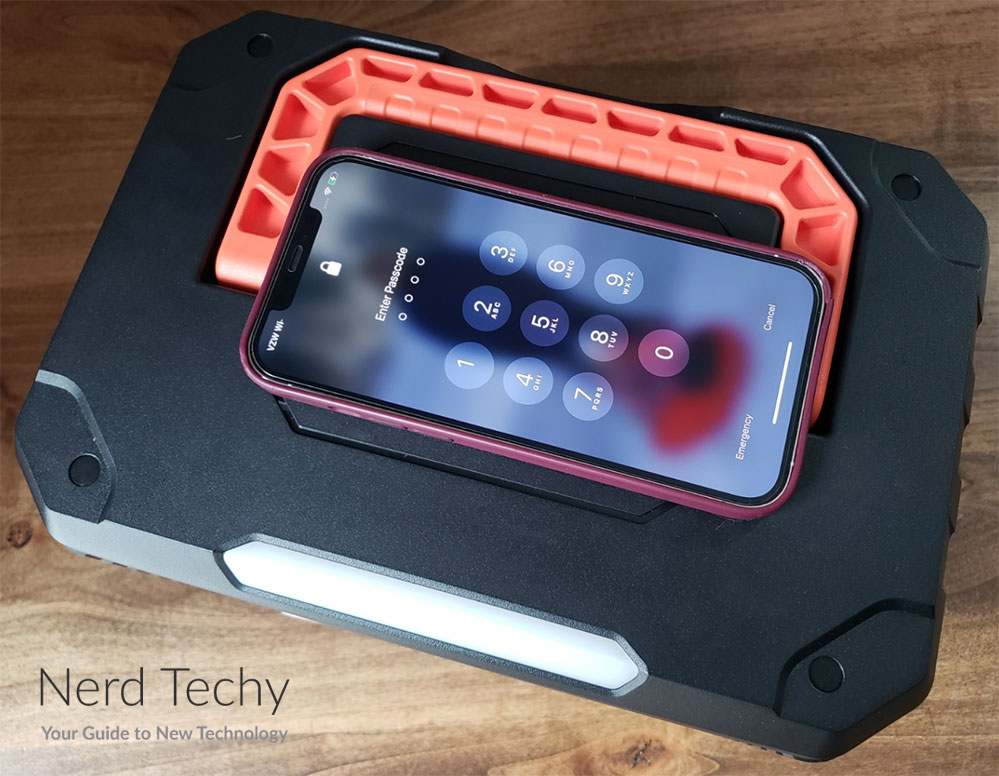 Charging and Safety
The EBL Voyager delivers up to 1,000 watts of total power. To put this in perspective, a standard wall outlet delivers a little over 1,500 watts. So you can't run heavy-duty appliances that require a ton of juice. But for most everyday electronics, you're going to be just fine. You can run a camp griddle or cooler without any concerns. That said, you have to be careful with larger refrigerators, air conditioners, and other compressor-driven machines. These compressors draw a surge of power when they start, and the Voyager only delivers 1,100 watts of surge power.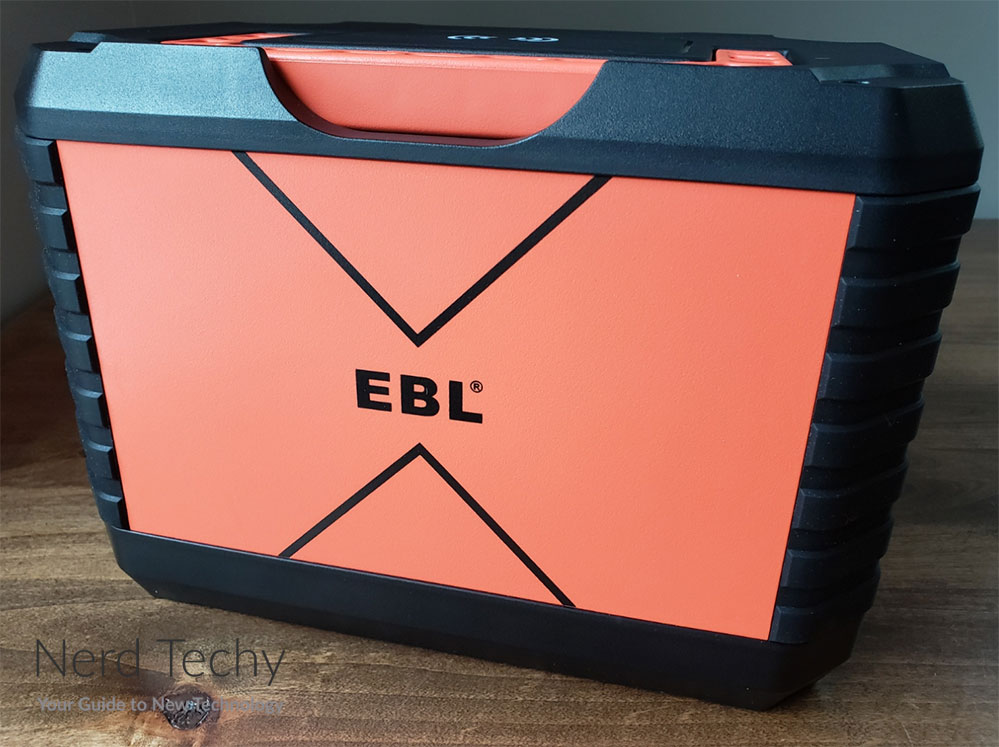 Each AC outlet is theoretically capable of delivering a full 1,000 watts. But keep in mind that this is shared between all outlets and ports. The more you have plugged in, the less AC power you'll be able to access.
The USB Type A ports deliver QC 3.0 power, at a rate of 18 watts. The USB Type-C PD port is even more powerful, delivering up to 60 watts. This is great for charging laptops as quickly as possible. The DC ports are also robust, delivering a full 14 watts. There's also a Qi wireless pad on top of the housing, which delivers up to 11 watts.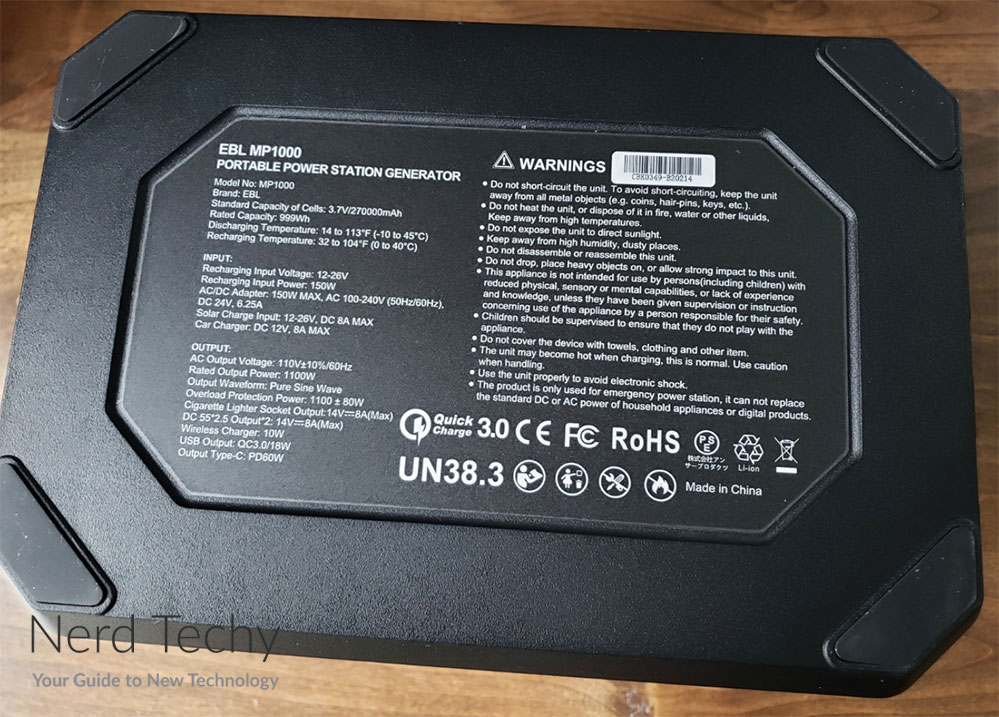 The AC power delivery uses pure sine wave technology. Rather than the jagged waveform you get from most inverters, the waveform is smooth. This allows you to run CPAPs and other sensitive devices, which can be damaged by other power stations.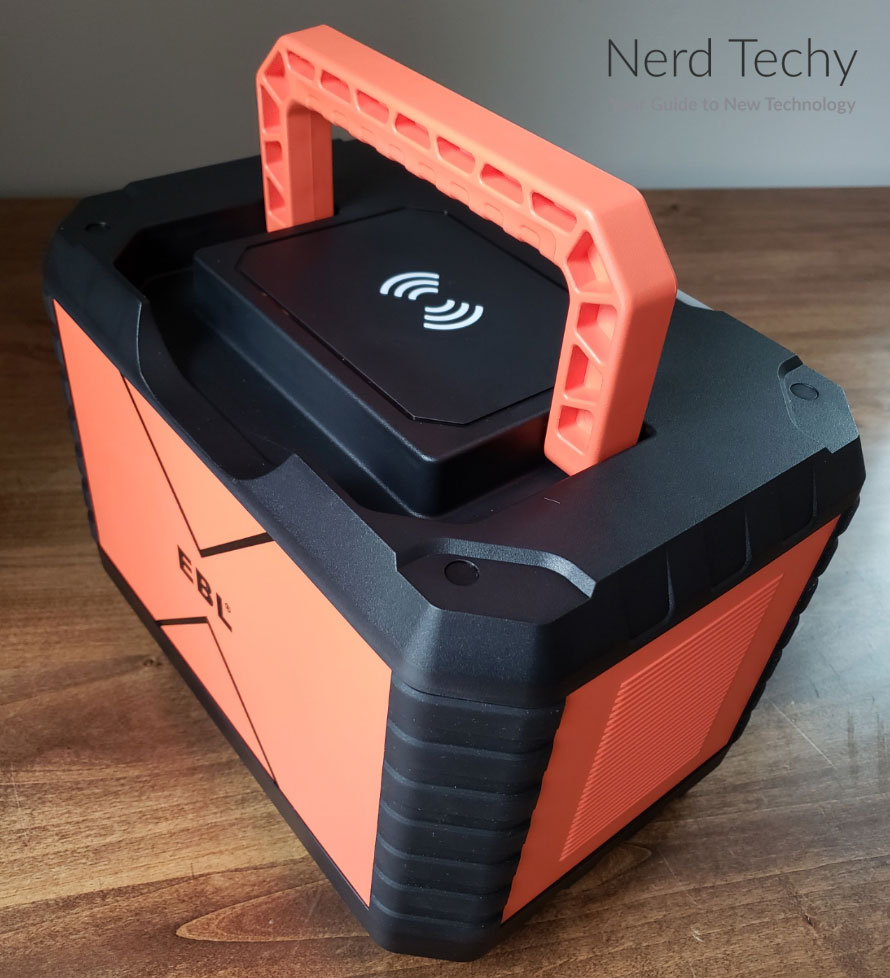 Final Verdict
The EBL Voyager 1000 Portable Power Station is one of the better-designed power stations out there. It provides tons of charging capacity, while maintaining a reasonably portable size. It provides enough power for coolers, projectors, and other medium-wattage devices. And with a wide variety of power ports, it can charge just about any device.