EcoFlow DELTA Max
Pros
Very large battery capacity.
Can run even high-wattage electronics.
Can be used as an uninterruptable power supply
Optional solar panels for long-term off-grid use.
Dual charging feature is incredibly fast.
Cons
Heavy and a bit bulky.
Quite expensive.
These days, our electrical devices are becoming more and more embedded into our lives. It used to be that nobody worried when the power went out for an hour or two. But now, we rely on our electronics for all kinds of things. If you don't have your phone, for example, you'll have trouble banking, or even getting directions. So it's always good to have some source of backup power. You may also need power on the road, whether you're camping or relaxing at the beach. A good portable power station can keep your speakers playing, or even power a small cooler. Depending on your needs, a larger power station can even operate larger appliances or power tools.
Of course, different power stations have different benefits to bring to the table. For example, some have larger batteries while others have smaller batteries. This applies to size as well as capacity. A higher-capacity power station will tend to be bigger and heavier than one with less capacity. Different power banks have different types and combinations of charging ports. Some emphasize USB power, while others are more optimized for AC power or DC drones and cameras. Some come with built-in LED spotlights and other bells and whistles. Take your time, and make sure you're finding a power station with all the features you need.
We're about to review the EcoFlow DELTA Max. This is a high-capacity power station that's designed to run the most demanding electronics. It's big and bulky, but it's powerful enough to run power tools, space heaters, and full-sized refrigerators. It has a whopping six AC power outlets, and can even be used as an uninterruptable power supply. But what else does it have to offer? To answer that question, we'll have to take a deep dive into all the DELTA Max' features. We'll talk about the physical construction and engineering. We'll look at the controls and the power ports, and what you can charge. In addition, we'll crunch the battery life numbers, and discuss how to charge the power station. Before we wrap up, we'll also talk about the optional solar charging panel. Let's get started!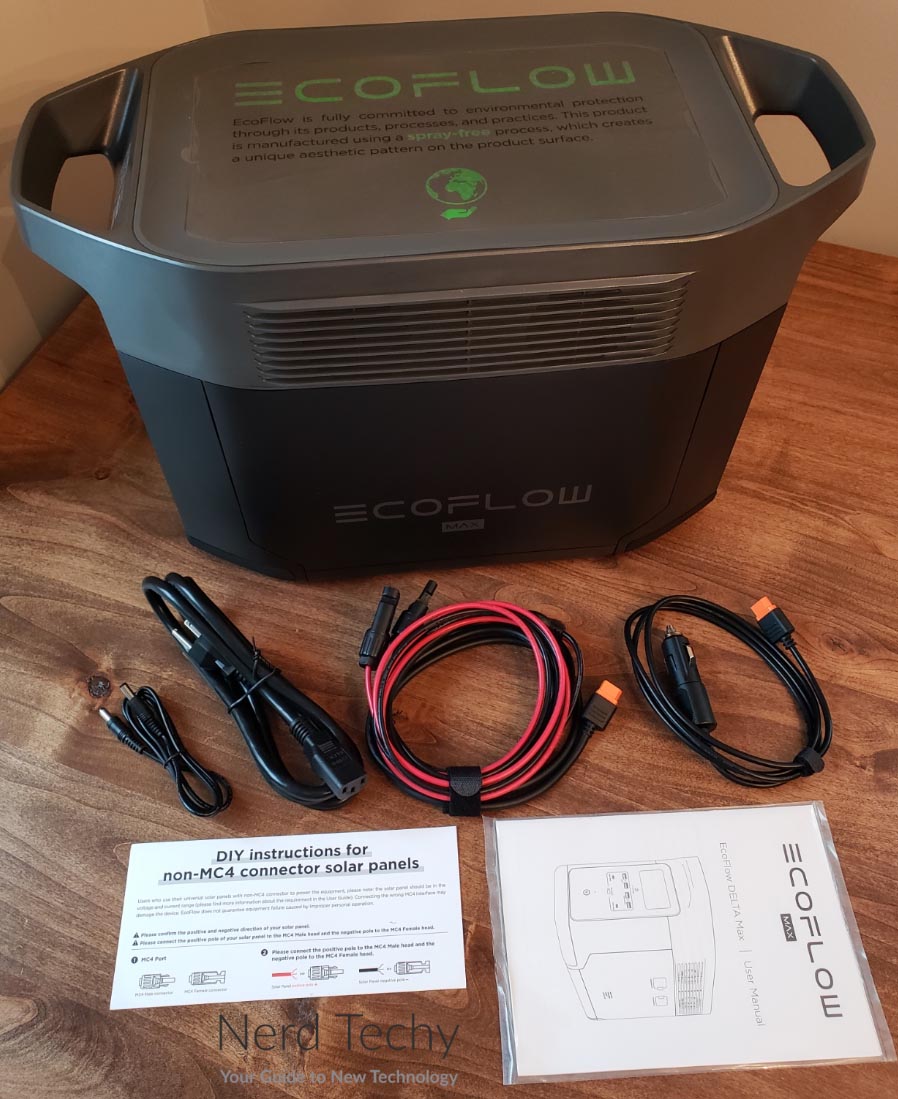 Overall Design
The EcoFlow DELTA Max is one of the beefier portable power stations we've seen. It measures 19.6 inches wide, 12 inches tall, and 9.5 inches thick. And at 48 pounds, it's far from being a lightweight. This makes it a poor choice if you have to carry your power station any significant distance by hand. Then again, as we already discussed, large size goes hand in hand with high capacity. And there are a pair of large handles at the tops of the sides, which make it a bit easier to carry.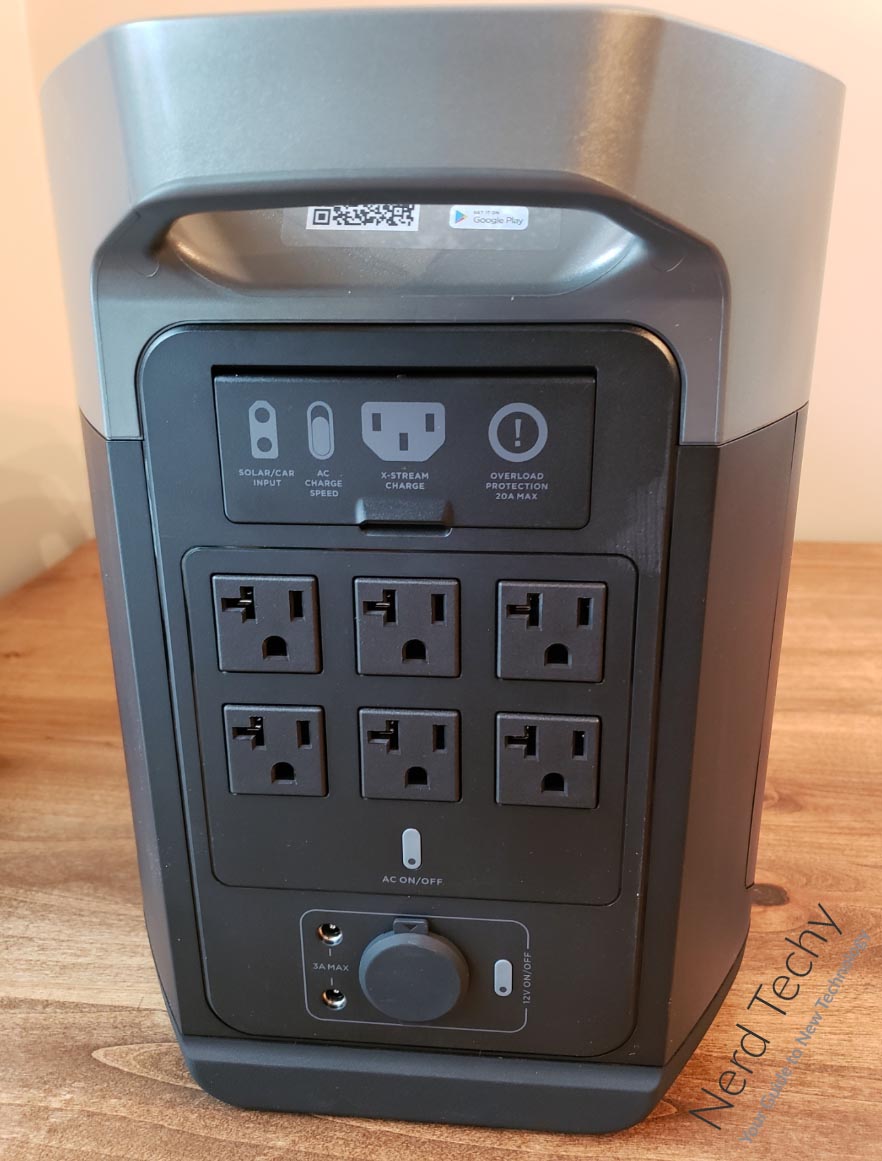 The housing is molded from a rugged polymer, and has a two-tone design. The lower three quarters are a plain matte black, while the top quarter is a medium shade of grey. There are two round vents near the top of the front, with matching vents in the back. The dual fans are located inside the back of the housing, and suck air through from the front. This keeps the internal components cool when the power station is under a heavy load. There's some branding on both the front and the back, but nothing too ostentatious. There are also a pair of covered power ports on the back, which we'll discuss more in the next section.
On the top of the right side panel, you'll find a bright LCD display. This has a visual battery meter ring in the center, along with the percentage of battery remaining. To the left, you'll see the amount of power you're currently drawing from the battery. To the right, there's a readout of any incoming wattage, as well as the estimated time remaining. Keep in mind that this is based on the current incoming and outgoing power. If you plug in a new device or unplug one, your time remaining is going to be different.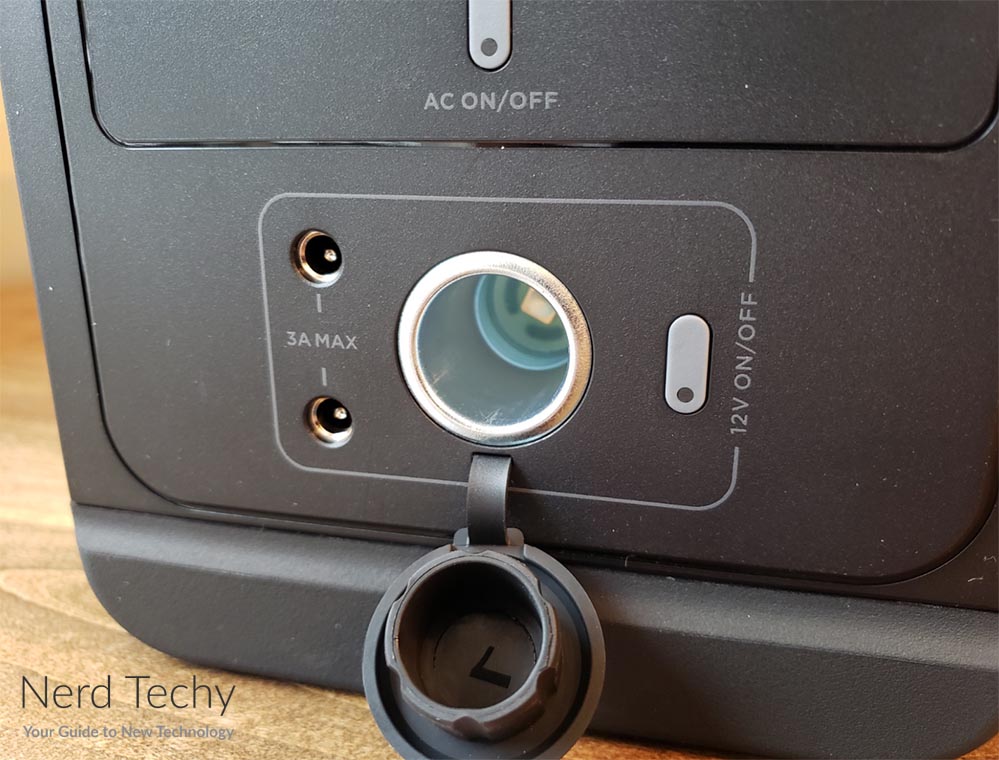 Beneath this display, you'll see all of the power station's USB ports. There's a top row of four USB Type-A ports, two with black tabs, and two with blue tabs. The blue tabs indicate which ports are the QC charging ports, while the black ports are standard USB. The bottom row consists of a pair of USB Type-C ports. At the bottom of the panel, there's a round orange button that turns the entire power station on and off.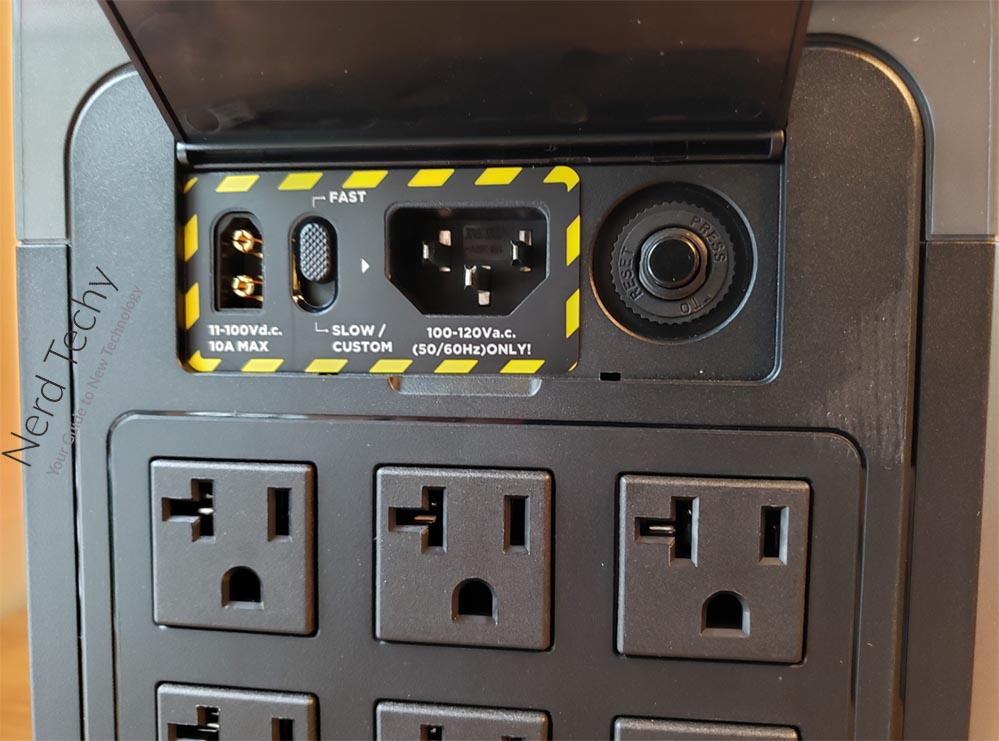 On the left side of the housing, you'll see a wide black door at the top. This covers the ports for charging the DELTA Max' internal battery. All the necessary cables are included in the package, so you'll have everything you need to get started.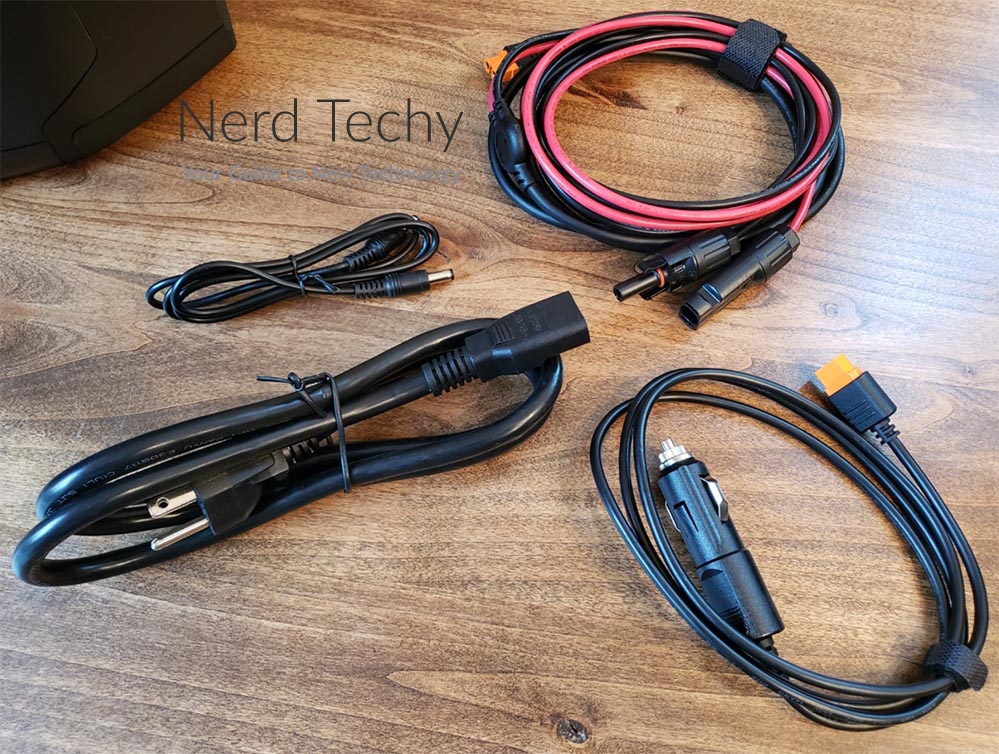 Underneath the power station charging inputs, there's a grid of six three-prong AC outlets. Beneath the AC outlets, you'll see the various DC charging ports. There's a large, round, automotive-style DC power port, with a pair of small, barrel-style DC ports to its left. The AC ports, DC ports, and USB ports all have their own separate control switches. This lets you shut off groups of ports that aren't in use, to prevent "vampire" power loss.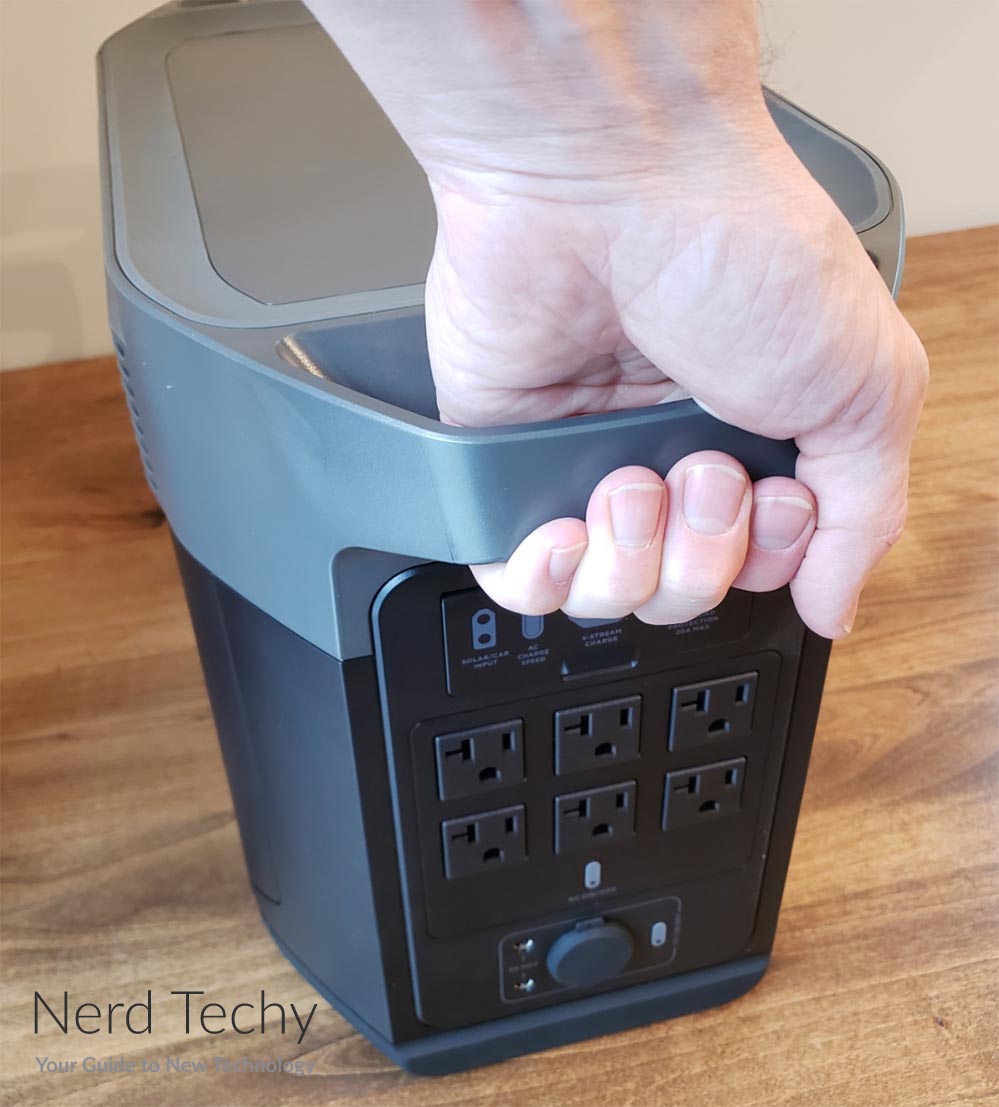 Battery Performance and Capacity
The EcoFlow DELTA Max has an impressive capacity of 2,000Wh. That's a very high capacity, larger than almost any other power station on the market. It's worth noting that there's also a slightly smaller, slightly lighter 1,600Wh variant available. Both variants can be stacked and daisy chained. Remember those covered black power ports on the back of the housing? You can use those to connect patch cables from one to the other, to increase the capacity. You can daisy chain up to three power stations together in this fashion. For the 2,000Wh variant, that would give you 6,000Wh of total battery capacity!
So far, so good. But what does 2,000Wh actually mean in practice? For a smartphone, you're looking at between 150 and 200 charges, depending on the size. For a laptop, you're looking at a bare minimum of 30 charges, and potentially as many as 50. Again, it would depend on the particular laptop model and its battery capacity. You can charge a drone between 45 and 50 times, again depending on the model.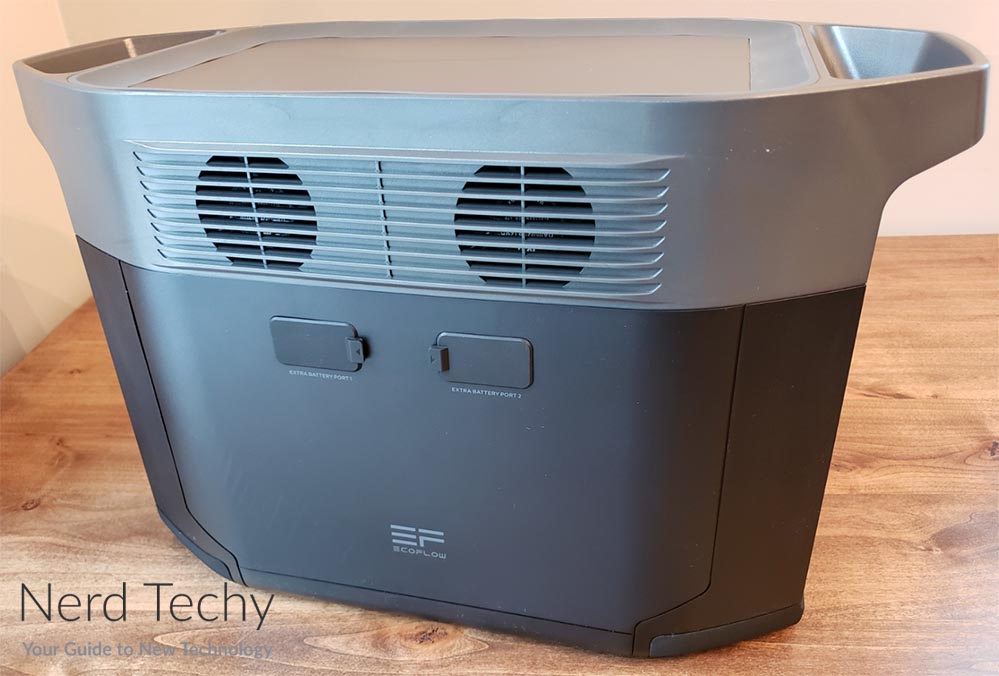 But this power station can power a lot more than just small electronics. It's also capable of supplying energy to even beefier devices. For example, what if the power goes out for a long time, and you need to run your fridge? The DELTA Max can power a full sized fridge for 12 to 15 hours. If it's winter time and your heat is out, you can run a 1,500-watt space heater for an hour and 20 minutes. So you can get a lot more use than you will from a smaller, more traditional power station.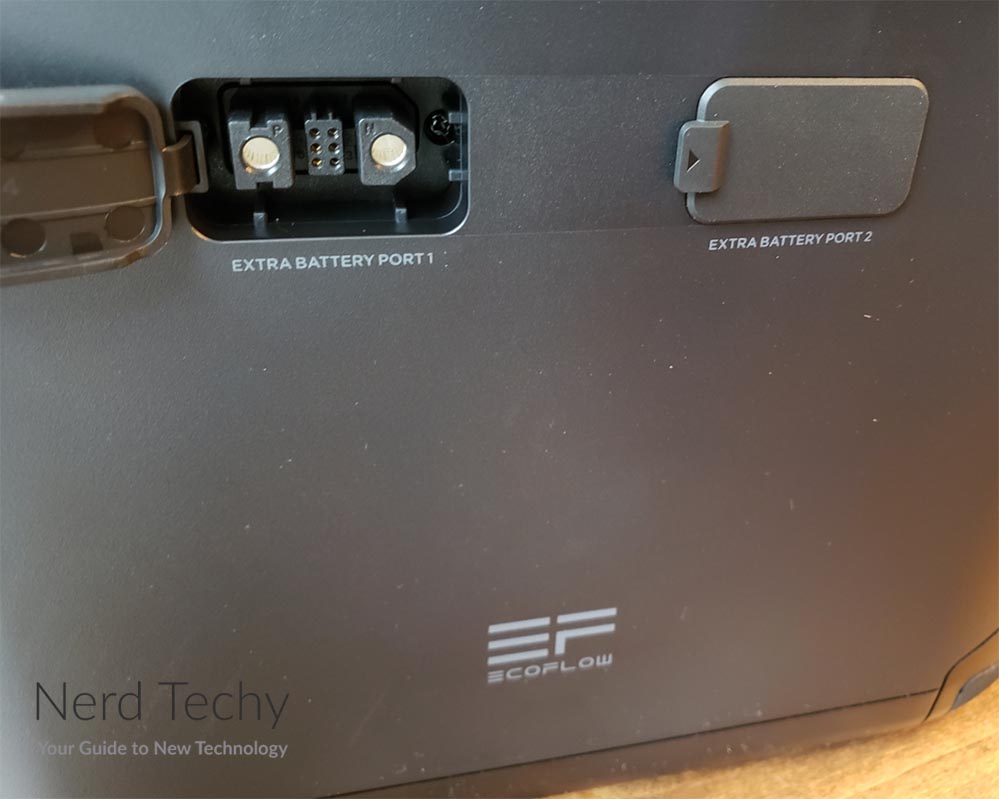 Of course, you're going to need to have a way to charge the power station itself. Using the AC wall charger, you'll go from 0 to 80% in a little over an hour. After about 90 minutes, the battery will be completely charged. If you're using the automotive car charger, it will take significantly longer, because of the reduced voltage. Alternatively, you can use solar panels for off-grid charging. You can use any solar panel that works with an MC4 adapter. That said, EcoFlow recommends using their own EcoFlow solar panels, which we'll cover in a second. You can also combine solar and AC charging to give your wall charging a bit of a boost.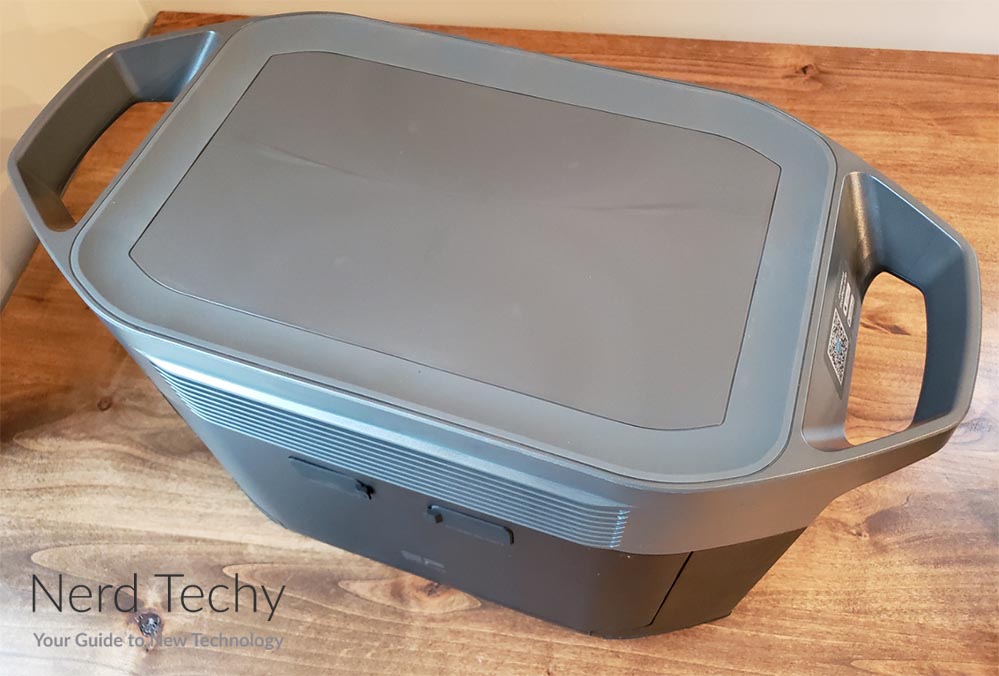 Charging and Safety
We've talked about the DELTA Max' battery capacity. But how much juice is it going to deliver at any given moment? Let's go over all the various charging ports. To begin with, the two black, ordinary USB Type-A ports deliver a standard 12 watts. The blue QC ports provide 18 watts apiece. This is the maximum charging speed for the iPhone. The two USB Type-C ports deliver PD power, up to 100 watts each. This is the maximum speed for PD power, so you can run or charge literally any USB Type-C device. The DC automotive port provides standard automotive power.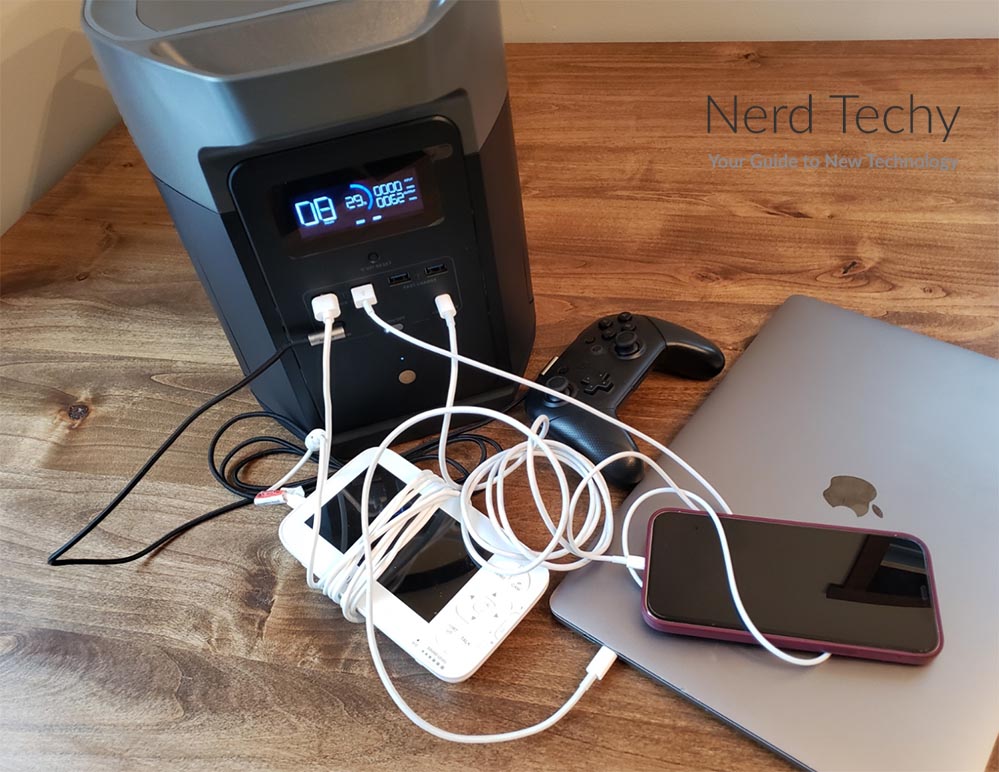 The AC power outlets share a total power capacity of 2,400 watts. A single outlet could deliver as much power as a standard household wall outlet. You won't be able to get that much power from all the outlets at once. But you can reliably run a single large appliance while you charge your other devices. The total maximum wattage, including the DC power ports and the USB ports, is 3,400 watts. That said, the DELTA Max supports surge power of up to 5,000 watts. This is essential for machines like refrigerators and A/C units, which run on compressors. There's a spike in wattage as the compressor kicks in, but wattage returns to normal almost instantly.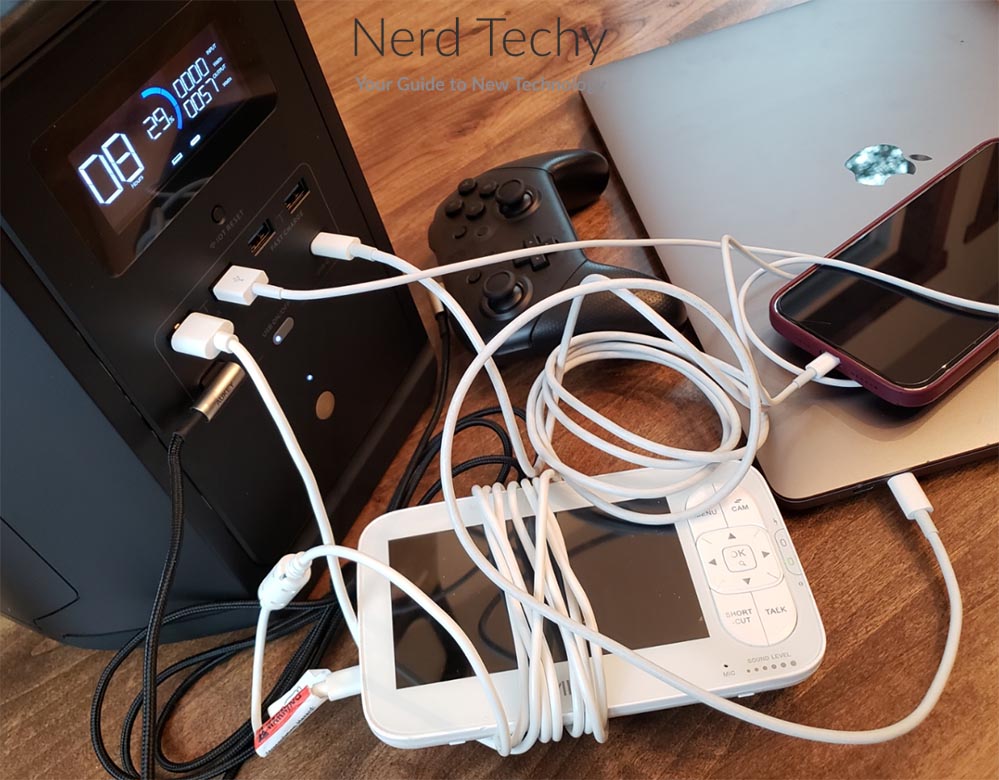 This power station provides pure sine wave AC power. This means that the power has the same, smooth wave form as it does coming out of your wall outlet. As a result, the DELTA Max is suitable for sensitive electronics, such as a CPAP machine. To go along with pure sine wave power delivery, you can also take advantage of the pass-through power feature. This allows you to use your power station as an uninterruptable power supply. First, you plug your device into the power station, and plug the power station into the wall. Turn on the power station, and it will remain active, but the power will come from your wall outlet. If the wall power is interrupted, the power station will switch to battery power in under 30 milliseconds.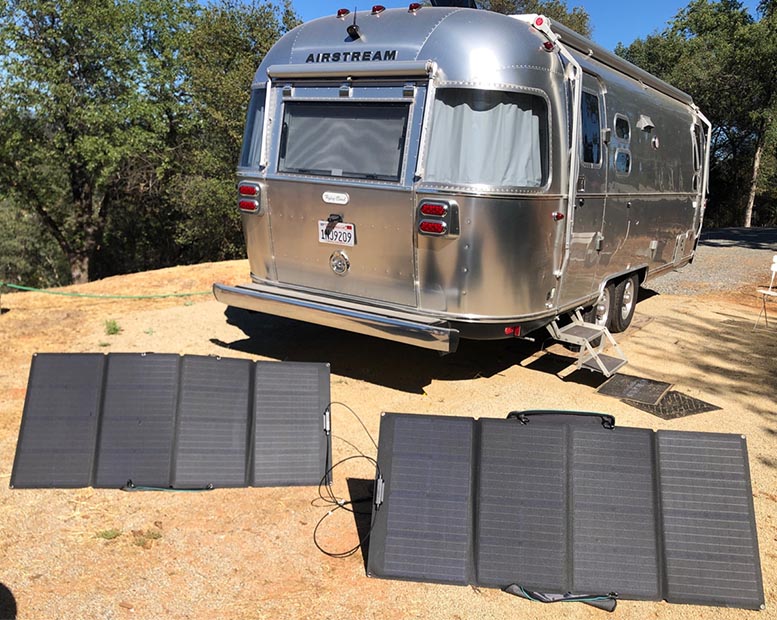 EcoFlow 160W Solar Panel
As we mentioned earlier, EcoFlow recommends using their own solar panels for charging the DELTA Max. As far as both design and quality, they're among the best. This is a lightweight, portable solar panel, which tips the scales at 15.4 pounds. When it's collapsed for storage, it has a width of 26.8 inches, a 16.5-inch height, and a thickness of only one inch. The kit includes a carrying case, with a comfortable nylon handle. When the solar panel is deployed, the case doubles as a stand. That way, you can point the panel at whatever angle you like.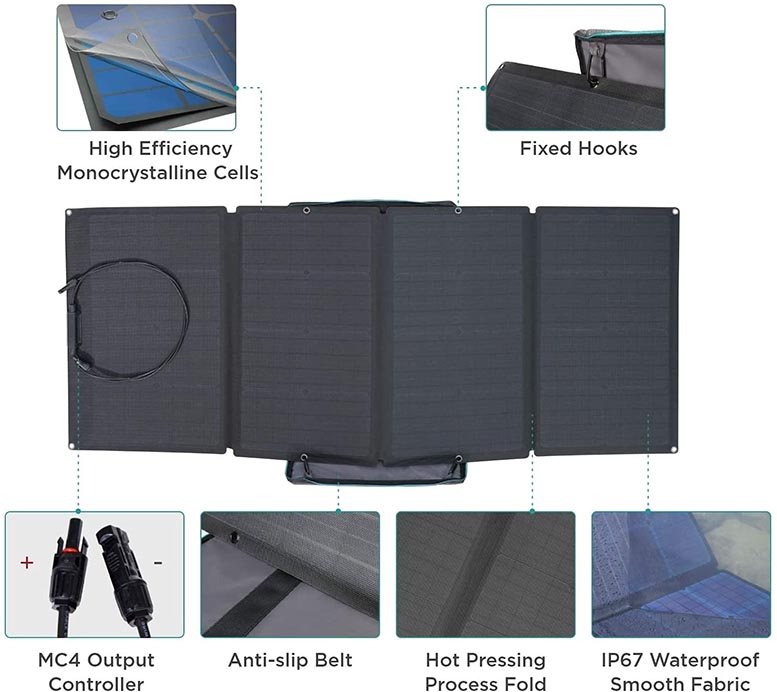 The panels are built into a tough synthetic backing material. The cells themselves have a transparent ETFE coating. This material blocks infrared light, which significantly expends the cells' useful lives. The entire assembly has a weather-resistance rating of IP67. The "6" indicates the maximum level of dust resistance. You could use it on the surface of Mars and not have any dust problems. The "7" indicates that it's actually submersion-proof. This panel could be submerged at 1 meter for as long as 30 minutes without getting damaged.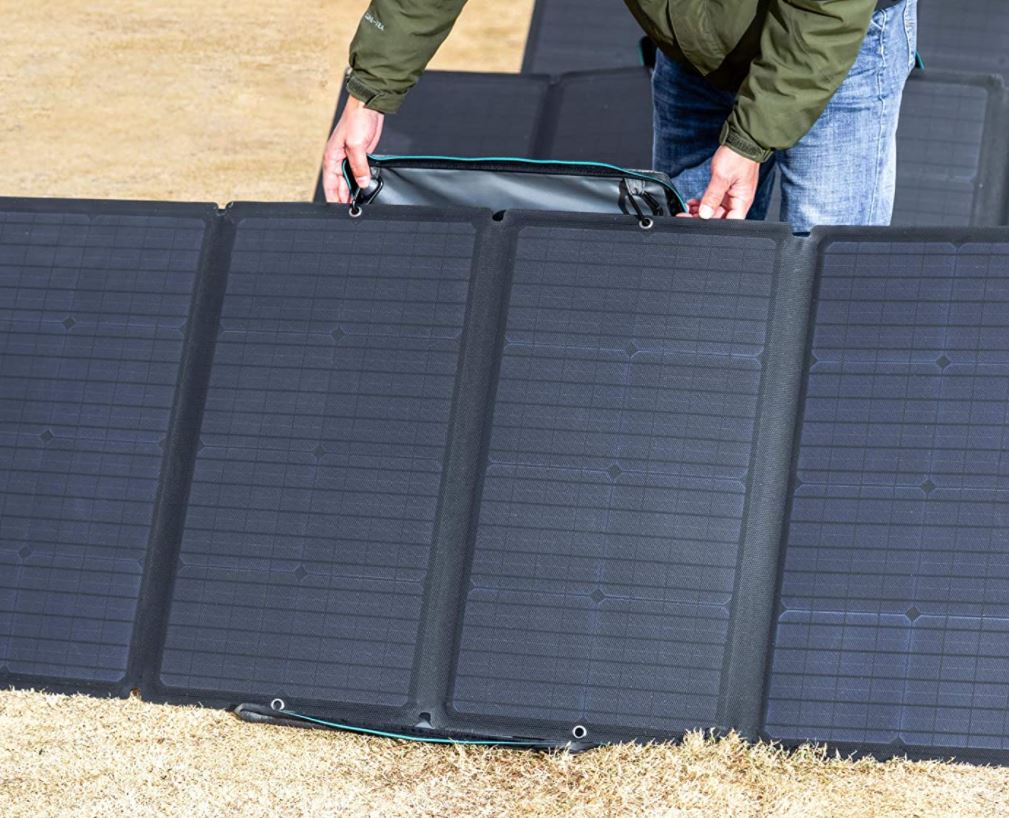 The EcoFlow solar panel is engineered to work pretty much anywhere in the world. The 21 to 22 percent conversion efficiency makes it one of the most efficient panels in the world. Even in cloudy, cold conditions, you'll at least get a moderate amount of wattage. And under ideal conditions, you'll get 160 watts. In addition to this, there's actually an algorithm that can adjust the panel's performance. It will subtly change settings based on light level and temperature, maximizing your performance. And because it's specifically engineered for EcoFlow power banks, you don't have to worry about compatibility.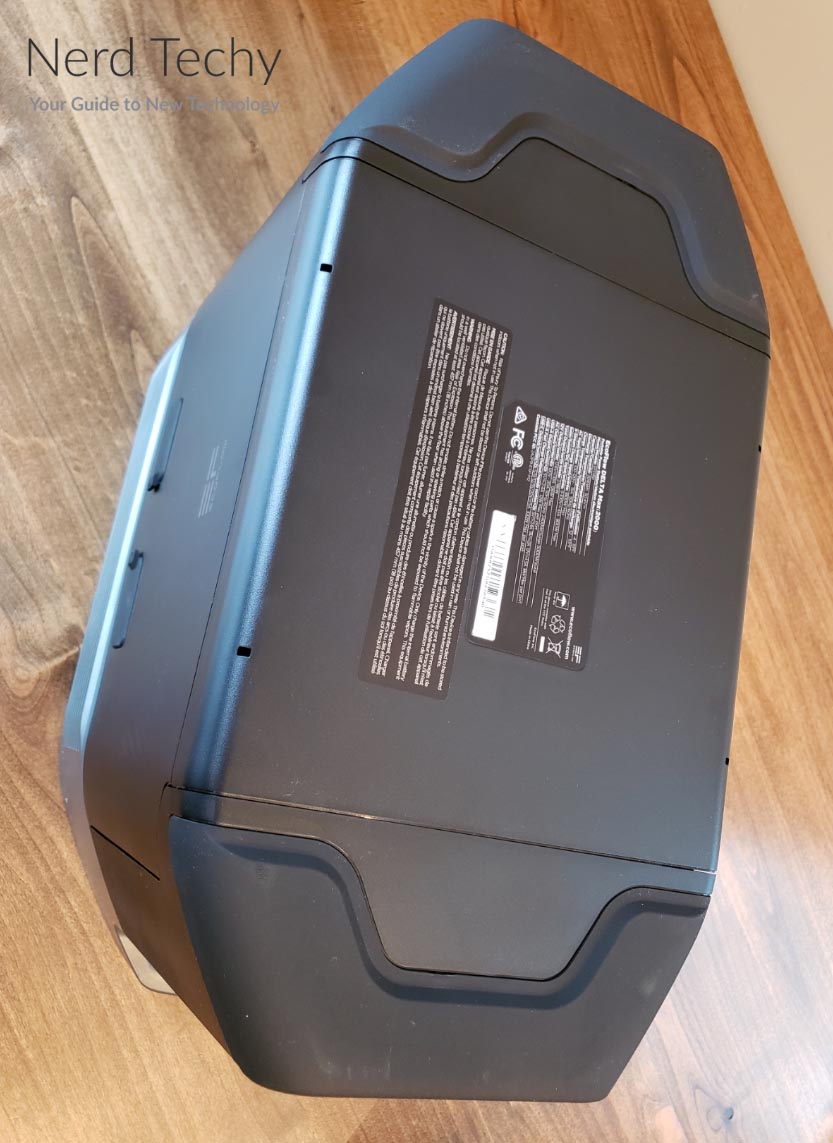 Final Verdict
The EcoFlow DELTA Max is a high-performance power station that provides a ton of power. With up to 3,400 watts of total power delivery, it's one of the most robust on the market. And with six total AC outlets, you can charge a ton of devices. We also loved the 100-watt PD power, as well as the backup power feature. It's heavy, but smaller than average for its capacity. With a wealth of enticing features, the only thing holding back most people is the price. It's quite expensive, but for good reason!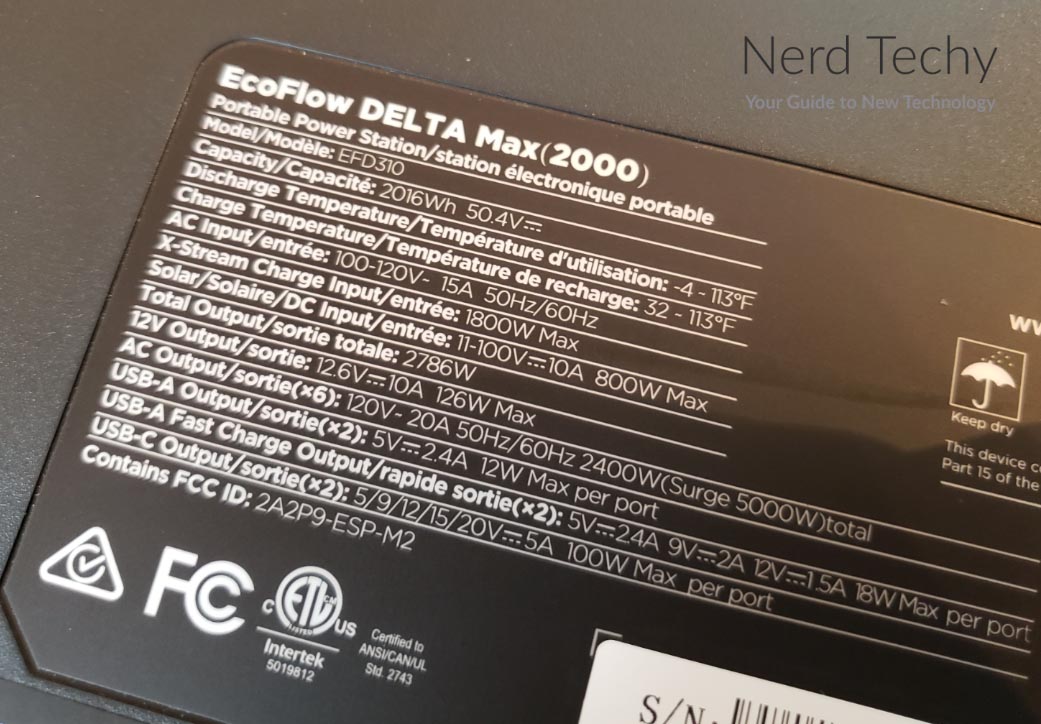 If the DELTA Max is simply too large for your situation, you may consider the EcoFlow River Mini. It's much smaller and lighter, however, it offers plenty of versatility for charging small devices.
Meet Derek, "TechGuru," a 34-year-old technology enthusiast with a deep passion for tech innovations. With extensive experience, he specializes in gaming hardware and software, and has expertise in gadgets, custom PCs, and audio.
Besides writing about tech and reviewing new products, Derek enjoys traveling, hiking, and photography. Committed to keeping up with the latest industry trends, he aims to guide readers in making informed tech decisions.