INNOCN 15K1F
Gaming Performance
9.0/10
Pros
Incredible color clarity and brightness.
1ms latency is perfect for gaming.
Compatible with almost any video source.
Very lightweight and portable.
Protective case included.
Cons
Requires a lightning adapter to connect to iPhone.
A bit expensive.
Somewhat fragile if you aren't careful.
Whether you're a gamer or a content creator, a good monitor is an essential part of a well-built rig. But what is it that makes one monitor better than another? This is where things start to get a little more fuzzy. Depending on your tasks, you might be looking for different features. For example, if you're a graphic artist, you want the widest color gamut. You also want a bright, vibrant display with a high contrast ratio. If you're a gamer, on the other hand, you're looking for a high framerate and crisp resolution. So depending on what you need, the same monitor could be a very good or a very poor choice.
At the same time, more and more of us are working on laptops. This complicates matters, because you can have a great system with a less-than-ideal monitor. In that case, it can make sense to use an external monitor to enhance the experience. Unfortunately, this can defeat the purpose of using a laptop. Instead of being mobile, you're once again tethered to your desk. So what do you do if you want to take your external monitor on the road? The answer is absurdly simple. You find yourself a portable external monitor. These come in many different types, so you can find the one that's right for your needs.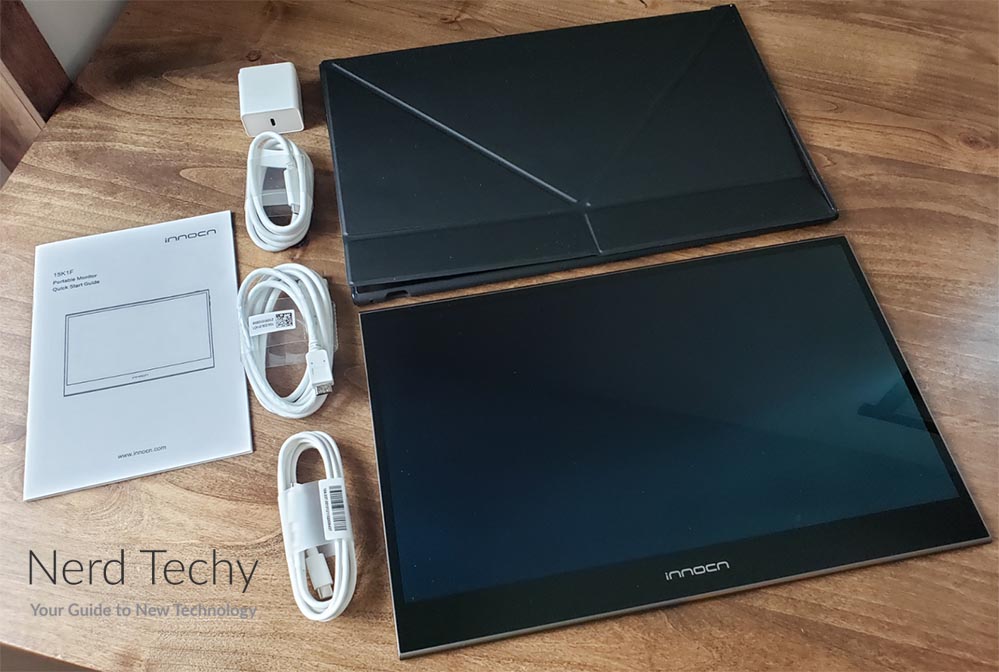 Today, we'll be taking a look at the INNOCN 15K1F OLED Portable Monitor. This is a slim, lightweight monitor that you can take with you just about anywhere. It offers exceptionally low latency, a high framerate, and an exceptionally high contrast ratio. If that's not enough, it also has one of the widest color gamuts on the market. But there are many more features we'll have to look at before we can make a fair judgement. We'll have to talk about how the 15K1F is put together, and how it's powered. We'll go over how it connects to your video sources, and what it's compatible with. And we'll tell you everything you need to know about the display quality. Let's get started!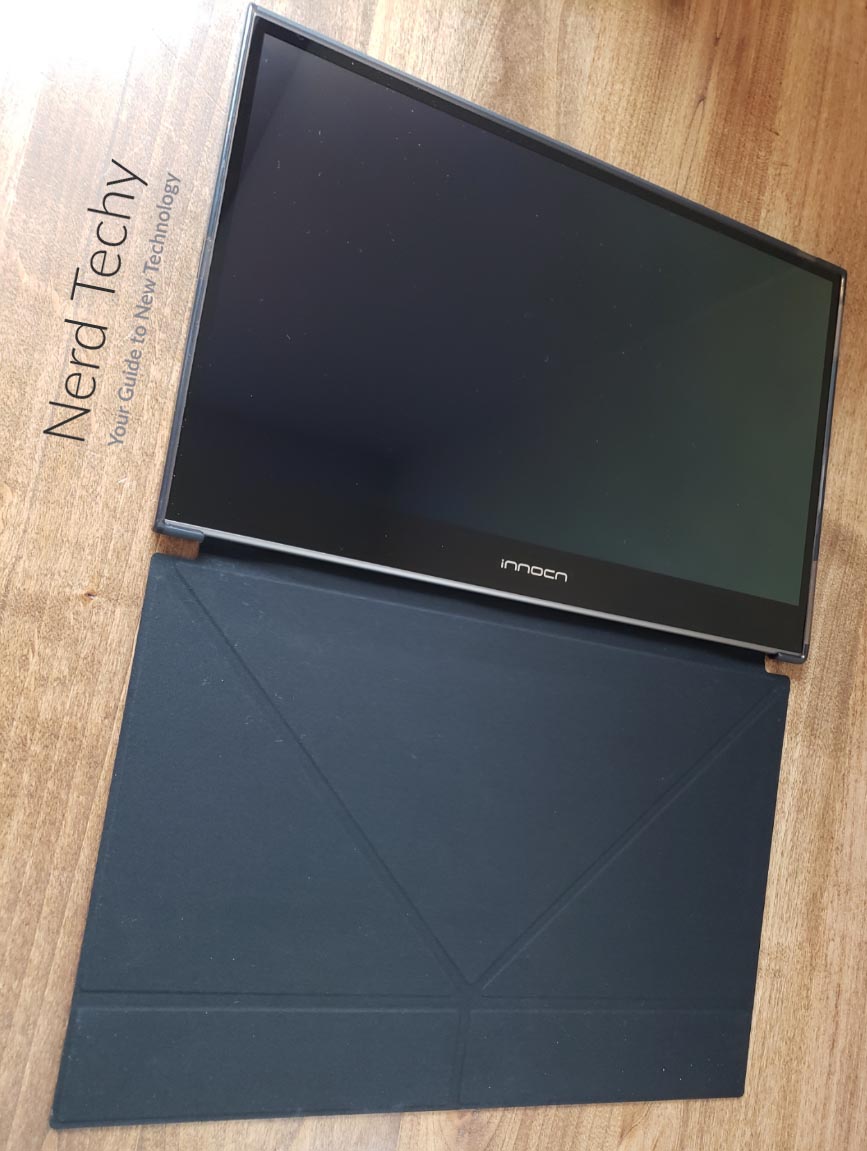 Design & Construction
The INNOCN 15K1F OLED Portable Monitor is one of the slimmest on the market. At only 0.27-inch thick, it can slip into even a narrow briefcase pocket. And at only 1.6 pounds, you'll barely notice you're carrying more than just your laptop. The housing is a silver-grey plastic, with a smooth, easy-to-clean matte finish. The screen itself has a diagonal measurement of 15.6 inches, which is comparable to a medium-large laptop screen. That said, the overall profile is a bit larger, since there's a black border around the screen. This improves visibility, much like the bezel on a full-sized monitor. Then again, the bottom border is excessively wide, with white INNOCN branding.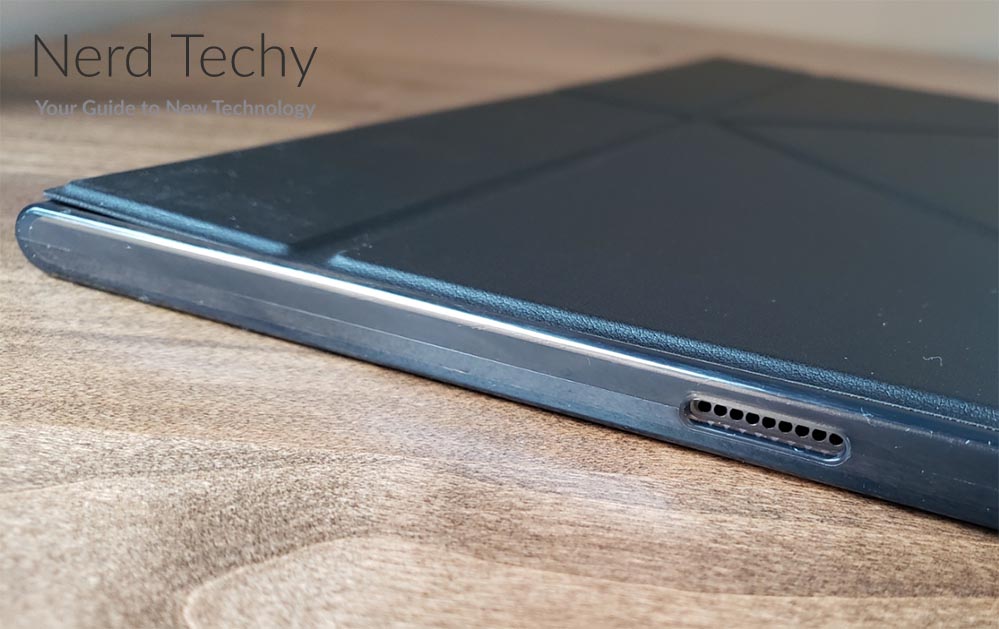 On either side of the housing, you'll notice a little perforation halfway up. These are where the internal speakers are located. You actually get stereo sound, which we were surprised to find on a portable monitor. The volume is adjustable, with a pair of buttons on the left side. You can get reasonably good volume, which impressed us. But the audio quality is hollow and tinny. That's not really surprising. But if you're looking for the richest possible audio, you're going to want to use a headset or earbuds.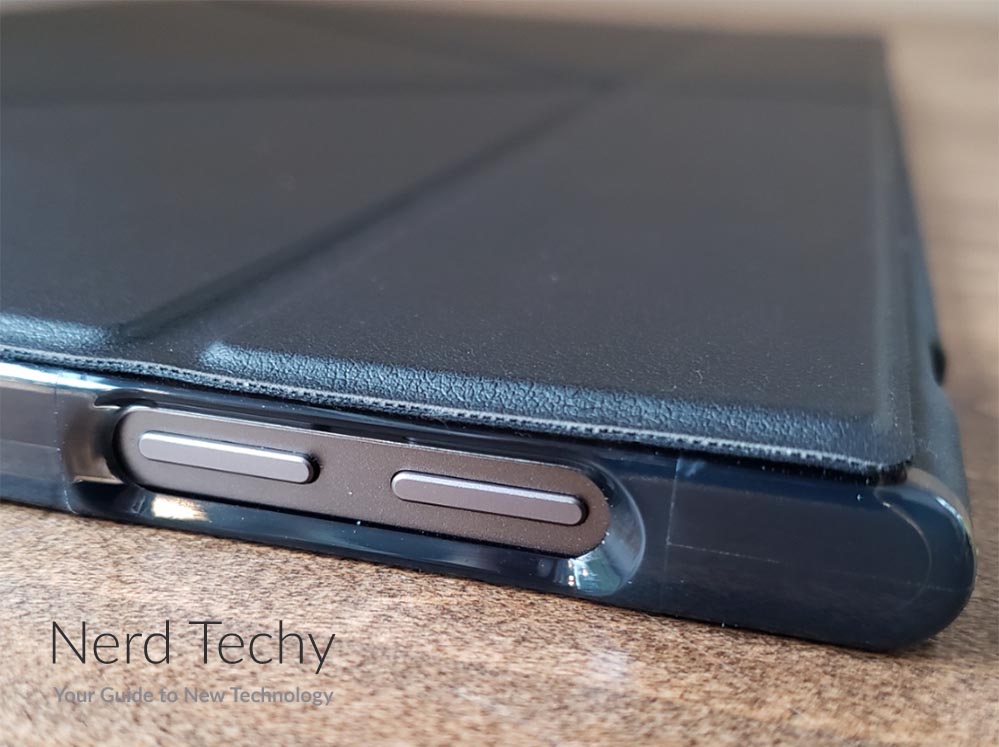 In addition to the volume buttons, the left side of the housing also plays host to three ports. The top port is a Mini HDMI out, and the next is a USB Type-C video out. The second USB Type-C port is a power port, which is needed in certain configurations. Thankfully, the kit includes everything you need to get started. There are two USB Type-C cables: one for data, and one for power. There's also a wall power adapter, as well as a Mini HDMI cable for connecting to compatible devices. On the top of the housing, you'll find the power button, which should be self-explanatory.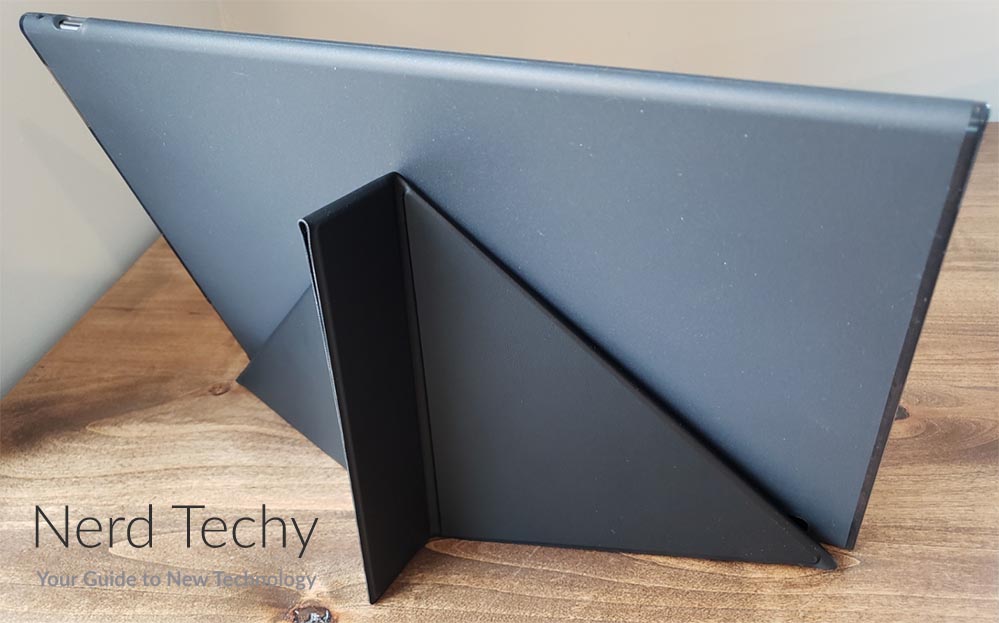 In addition to the bare monitor, you get a protective case. The case is very thin, and folds over the monitor like a book cover. This keeps you safe from scratches, bangs, and the other rigors of carrying your display. The back side of the cover has a crease, where it's designed to fold over. This lets you stand the case up in an irregular triangle shape, and use it as a stand. You don't have to find somewhere convenient to prop your monitor up. You also don't need to find an external stand.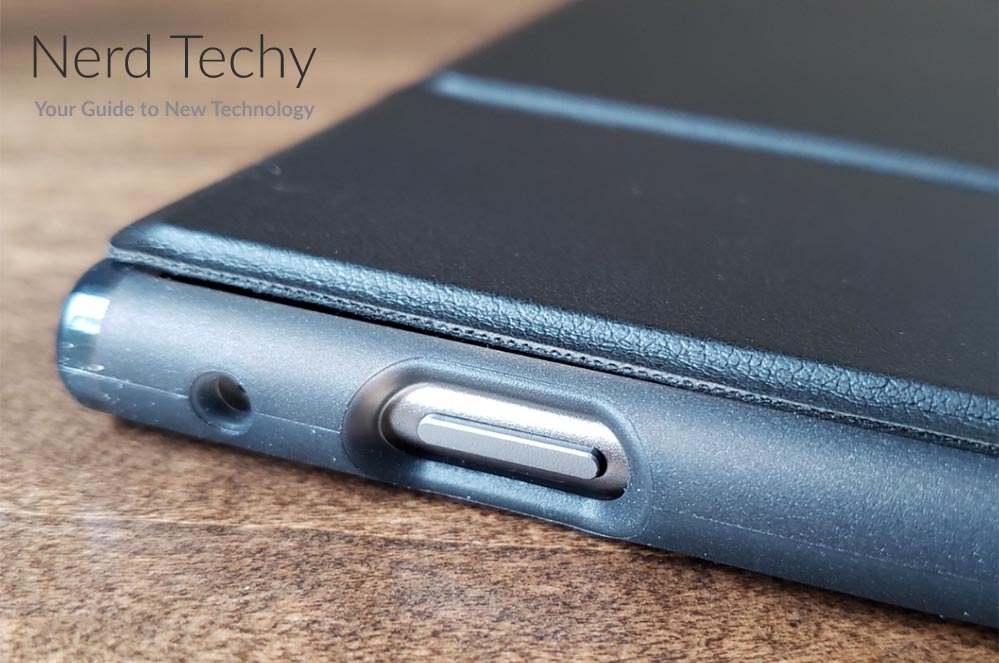 Both the case and the screen are protected by a 12-month manufacturer's warranty. In the event of any defects, you'll get a refund or replacement. If that's not enough, they also offer a 30-day, no-questions-asked return window. You can send it back for any reason, even if it just didn't meet your expectations.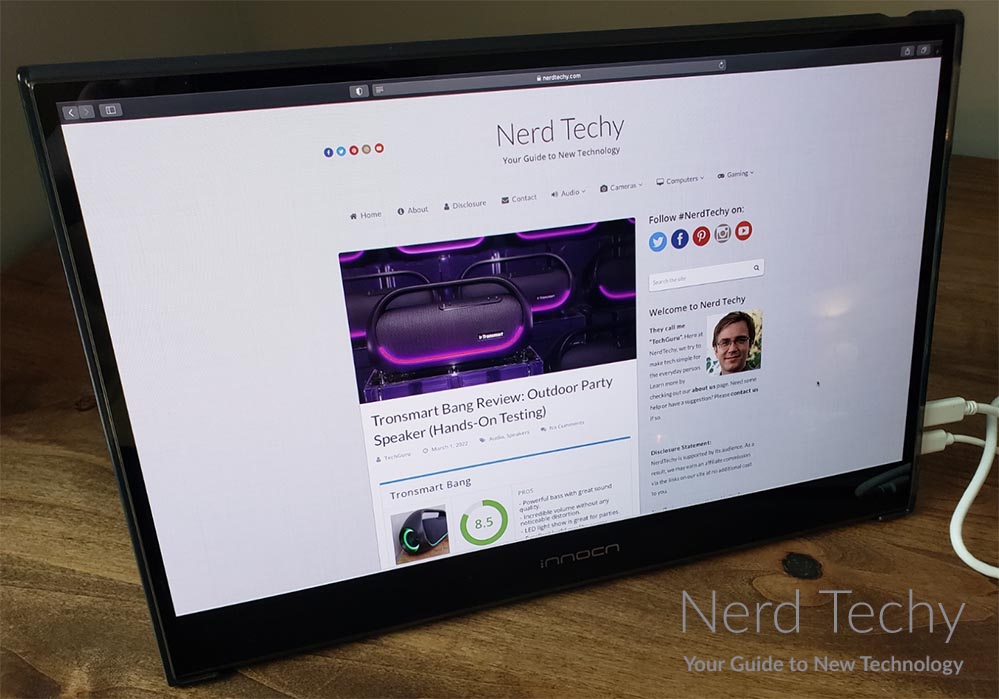 One screen is great. Two is better. But if you want even more real estate, three monitors is ideal. If you're looking to expand your screen instead of replace it, consider a portable triple monitor. They're not as effective for gaming and content creation. But they're great for programmers, and anyone else who needs multiple displays.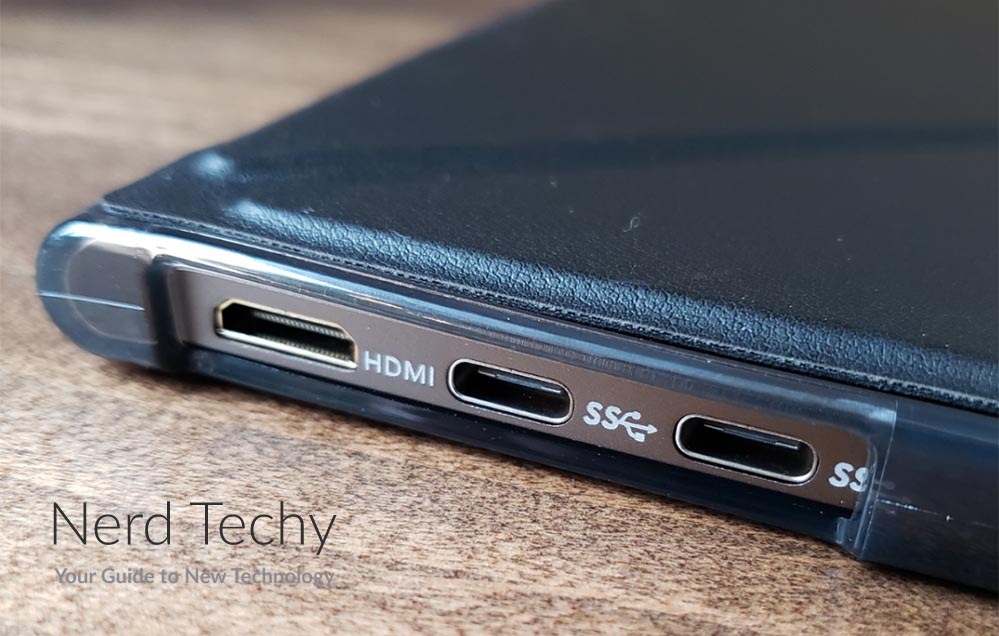 Connectivity & Compatibility
There are two ways of connecting the 15K1F to a video source. The first, and most direct way is to use USB Type-C. With this method, you may only have to use one cable. As long as your laptop's USB Type-C port supports simultaneous data and power transmission, you're all set. The other option is to use the HDMI to Mini HDMI cable. This allows you to get video from devices that don't support USB Type-C. However, when you're using the HDMI cable, you won't be receiving power. You'll have to plug the USB Type-C power port into a power source. You'll also need to do this if your Type-C port doesn't support simultaneous data and power transmission.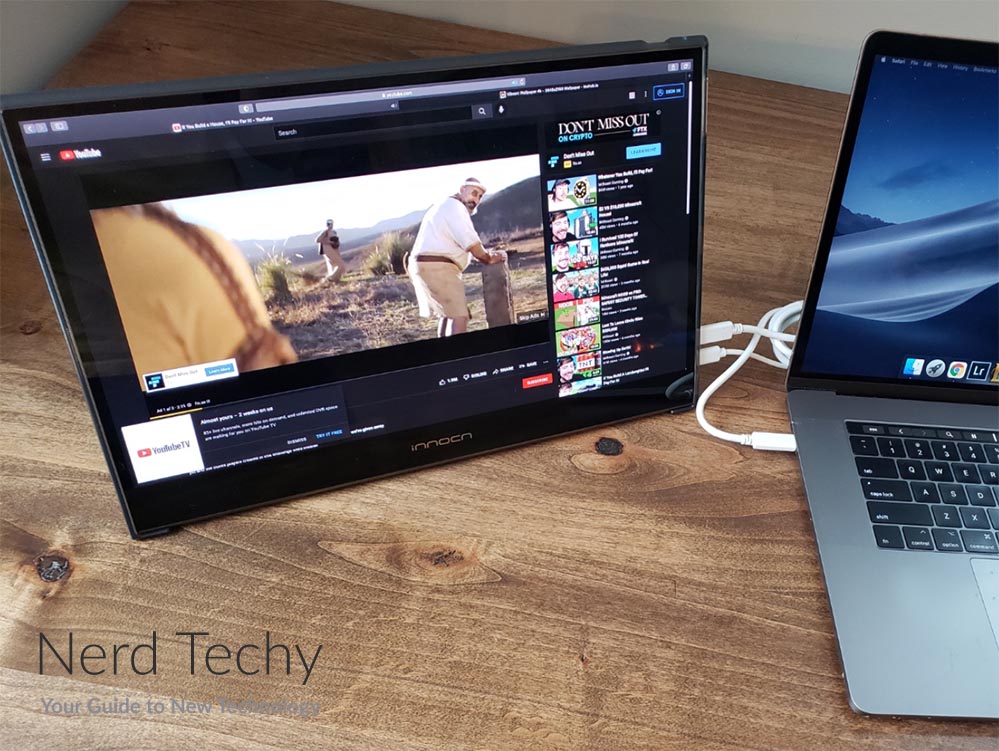 Because you can get video from HDMI or USB, you can use this monitor with a wide variety of devices. It's compatible with any laptop with an HDMI or USB Type-C video output. You can also use it with game consoles like the PlayStation 5, Xbox Series X/S, or Nintendo Switch. It supports outputs from many digital cameras. And as long as your smartphone has a USB Type-C output, you can even stream from your phone. This has some inherent limitations. Currently, only certain Android phones use USB Type-C. If you have an iPhone, you'll need a Lightning to USB Type-C adapter in order for it to work. And if your Android phone only has a Micro USB port, you won't be able to connect it at all.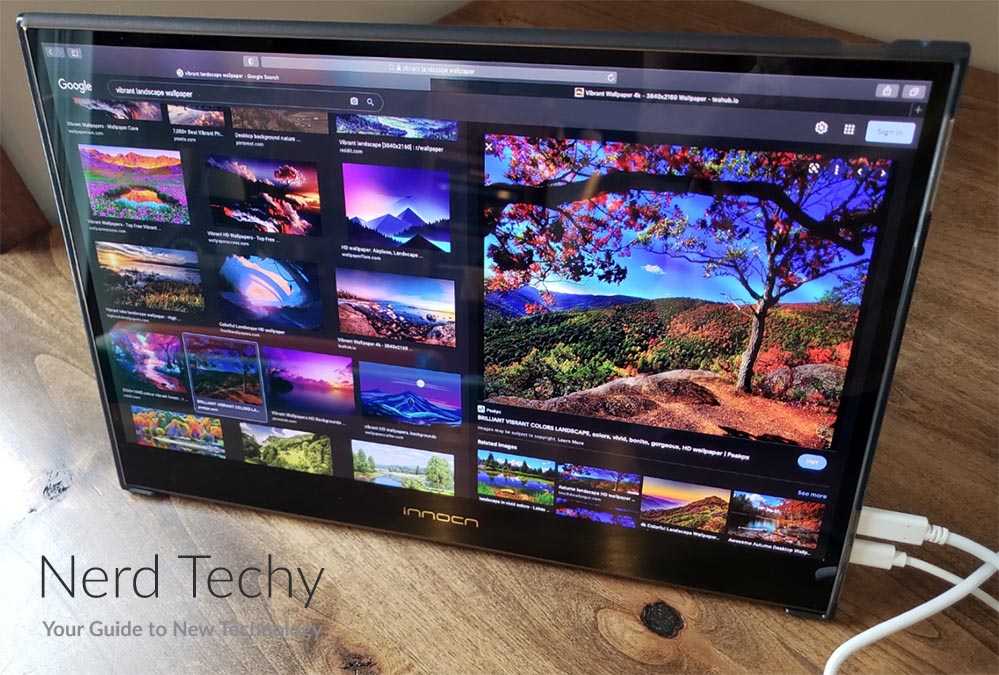 One thing we appreciated about this monitor is the universal compatibility. It's a simple, plug-and-play display that works with any compatible video output. You don't need to update any firmware, install any drivers, or do any other leg work. Just connect the monitor and start putting it to use.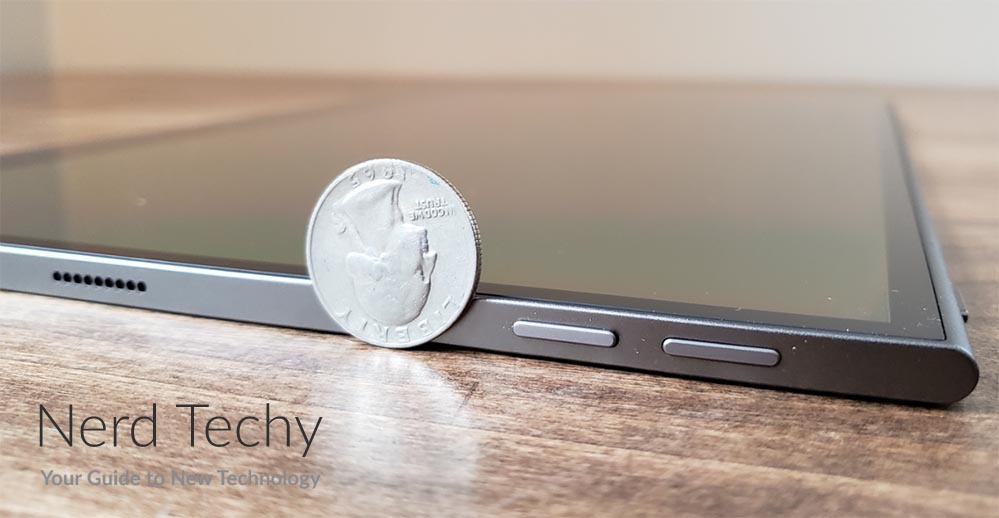 On the downside, the 15K1F requires a power source for operation. What if you need a portable monitor with its own internal battery? In that case, check out the INNOCN PF15-PRO. This battery-powered monitor has a similar physical build, as well as a touchscreen display. That said, it doesn't offer the same top-tier video quality.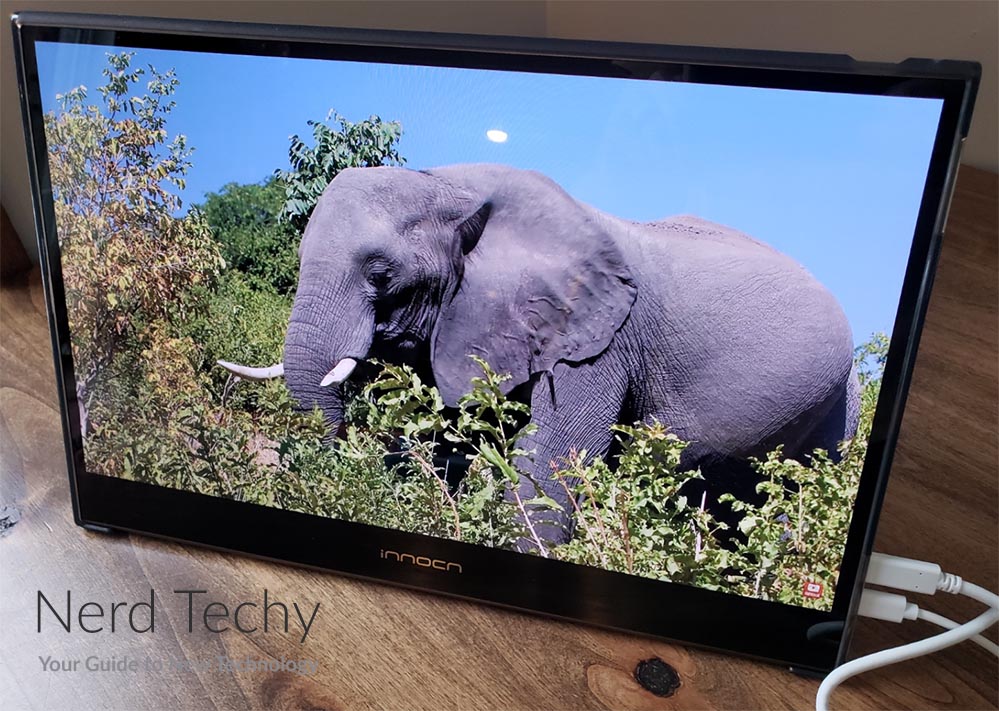 Resolution, Refresh Rate, and Color Quality
The INNOCN 15K1F has a full HD 1080p resolution. In a world of 2K and 4K displays, this might sound disappointing, but it really shouldn't be. At this size, you won't really see the difference between 1080p and 2K. It's not until you start getting into 27-inch and larger monitors that a higher resolution is actually noticeable. This makes sense, if you think about it. On a smaller screen, the pixels are correspondingly smaller. 2K pixels on this size screen would not be individually visible.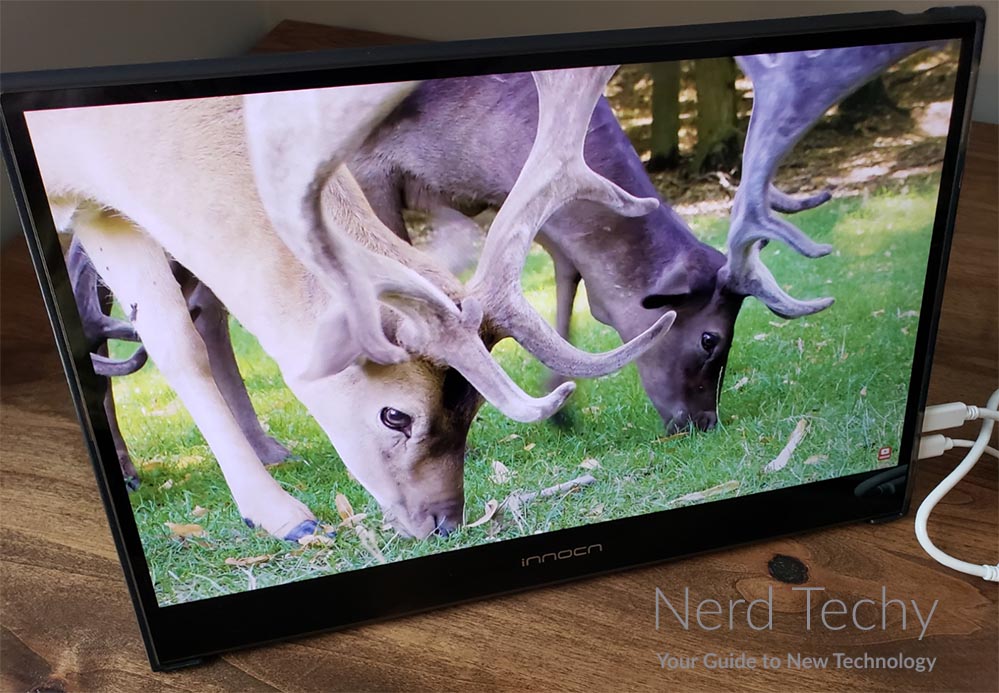 The refresh rate of 60Hz is very good. Some gamers these days insist on 120Hz, but 60Hz still provides near-zero motion blur and smooth playback. Better yet, the latency is only 1ms. Latency is the gap between when your device sends a signal and when the monitor displays the video. Low latency is absolutely essential for gaming, so you can respond to what's happening on-screen. Many monitors run as high as 40- or 50- milliseconds. That's no problem if you're just working on a spreadsheet. But for gamers, it's a non-starter.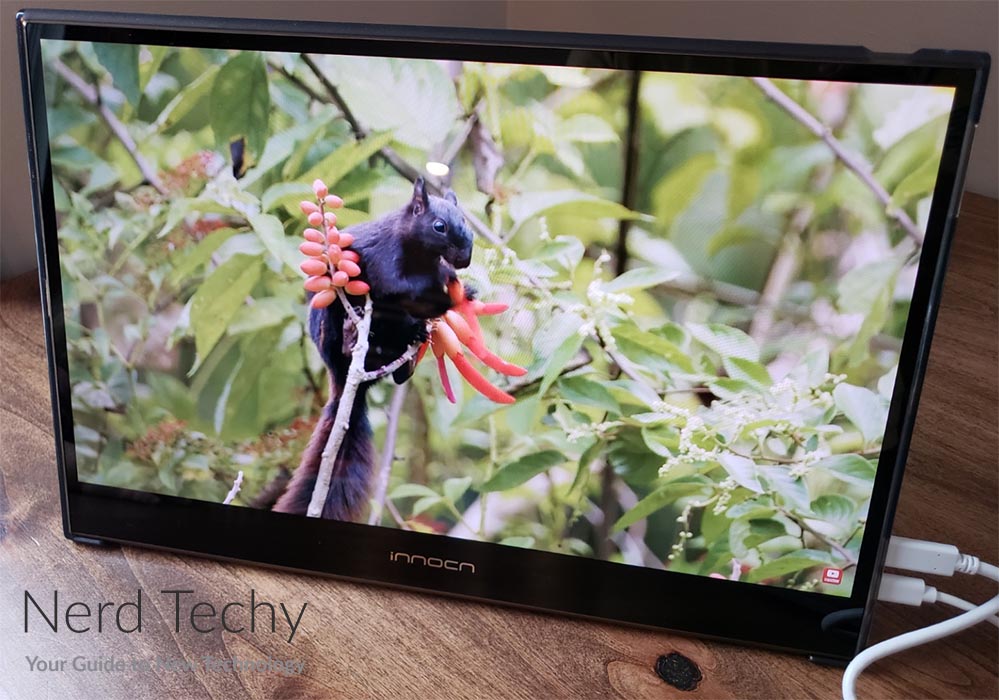 In addition to freakishly-low latency, you also get a very wide color gamut. Color gamut is a measure of the colors that a monitor can produce. The wider the gamut, the more accurate the colors are going to be. With a narrow gamut, on the other hand, your colors won't always show up accurately. The 15K1F has a color gamut of 100% of DCI-P3. This is the film-industry standard, and it's nearly identical to 100% of Adobe RGB. Colors are bright and vivid, and appear true to the original source. Whether you're a graphic designer or a video editor, you're looking at an excellent monitor.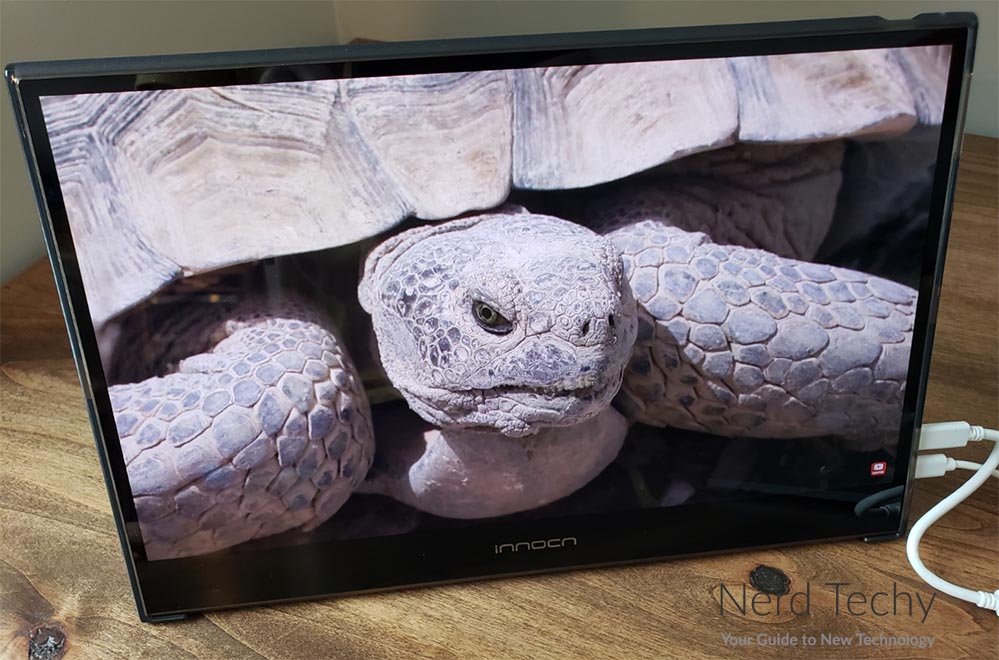 You're also looking at a very bright monitor, with a rating of 400 nits. Just as importantly, you get a very high contrast ratio of 100,000:1. This is the maximum difference between the brightest and darkest parts of the screen. If you have a low contrast ratio, dark scenes will be incomprehensible. All the shades of black will blend together.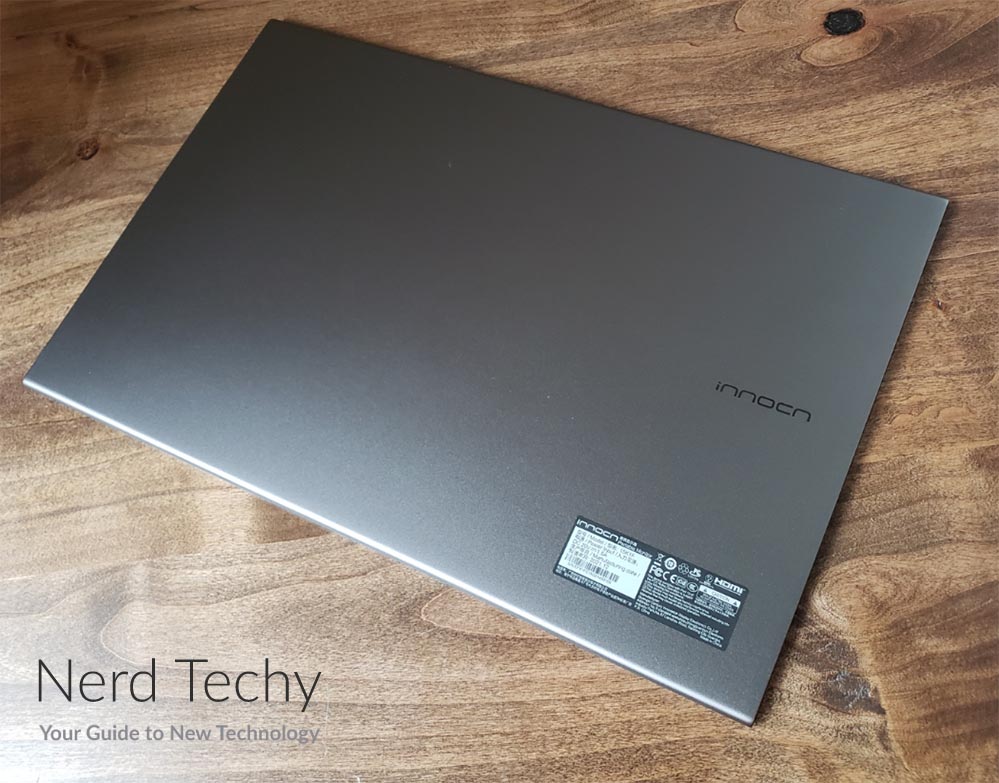 Of course, this kind of quality comes at a price. If you want something a little more affordable, take a look at the KYY Portable Monitor. It has a similar size and design, and it's just as easy to transport. It's also significantly more affordable, but the video isn't nearly as good.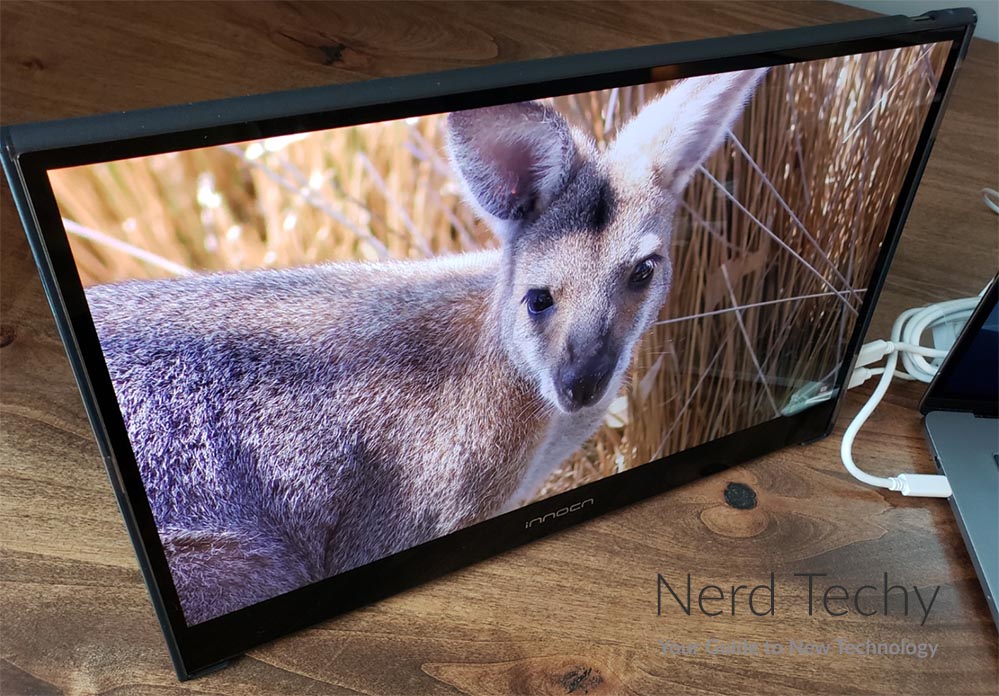 Final Verdict
The INNOCN 15K1F OLED Portable Monitor is an excellent choice for many applications. If you're a content creator, you get an extra-wide color gamut and high contrast ration. As a gamer, you get exceptionally low latency, and a reasonably high framerate. Combine that with a compact, portable design, and you're looking at a real winner. Sure, it may be a bit on the expensive side. However, you're getting a great product with some really impressive features.