INNOCN PF15-PRO
Pros
Wide color gamut and high contrast ratio.
Battery-powered design.
Compatible with almost any device.
10-point touchscreen display.
Cons
Touchscreen function only works with Type-C connection.
Type-C full-function cable is too short.
If you're a gamer who wants to play on the road, you need to have access to a monitor. But bringing a long a big, bulky home monitor isn't going to be practical. In most situations, you'll be better off with something portable. The same goes for content creators. You may often find that it's helpful to set up a second monitor for your laptop. Maybe you need more real estate, or maybe you prefer to work on a touchscreen.
Regardless, you need a monitor that's as portable as your laptop. Otherwise, you won't be able to take your entire workstation with you when you're traveling.
A portable, collapsible monitor is the solution to all of these problems. But as you might imagine, a portable monitor comes with more concerns than a full-sized one. For one thing, the screen technology needs to be more advanced. It needs to run cooler, since there's little opportunity for venting. It also needs to be a little bit more durable. A home monitor more or less just sits there. It's not subjected to the bumps, dings, and other impacts you might experience during travel. These and other factors mean you need to keep your eyes open when you're choosing your monitor. Otherwise, you might end up regretting your decision.
We're about to review the INNOCN PF15-PRO Portable Monitor. This is a 15-inch monitor designed for gamers and content creators alike. It boasts a fully-functional touchscreen, built-in speakers, and wide compatibility. But to find out how well it really performs, we're going to need to look at more than just the basics. In order to determine whether this monitor is truly worth your while, we need to talk about image quality. We've got to dig into the screen technology, and find out what it's truly capable of. Once we've gotten a more thorough examination, we'll be able to give a fair judgement. Let's see how well this portable monitor stacks up in the real world!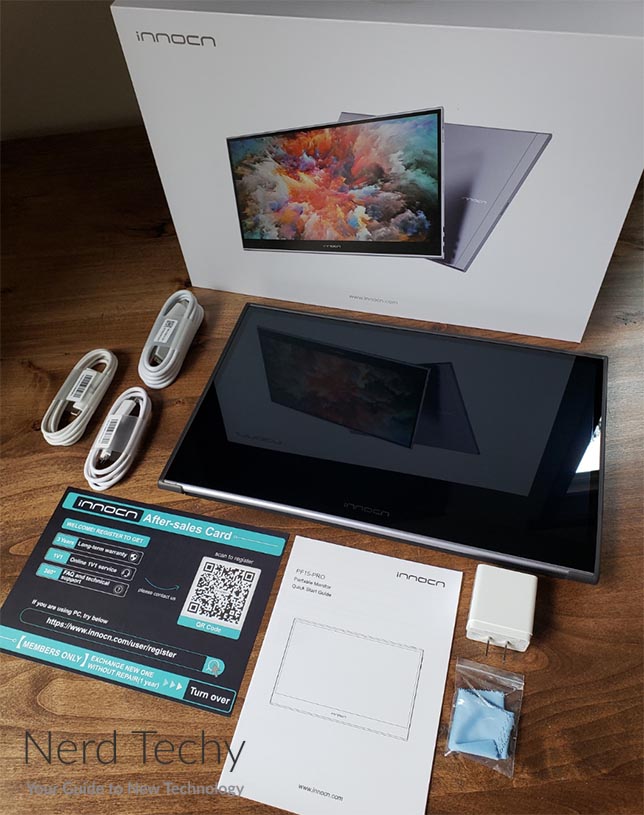 Design & Construction
The INNOCN PF15-PRO Portable Monitor is on the beefier side for a portable display. It measures 14.25 inches wide, 9.29 inches high, and 0.33 inches thick. And at 2.4 pounds, it's also a bit hefty for the size. In all, it has a similar profile to a MacBook Pro 16", with a narrow bezel around the screen. The case material is a rugged steel-grey polymer, and the bezel is curved to provide some screen protection. The back is totally flat, with no features other than the requisite sticker you find on the back of any monitor. In the sides, there are patterned holes which cover the built-in speakers.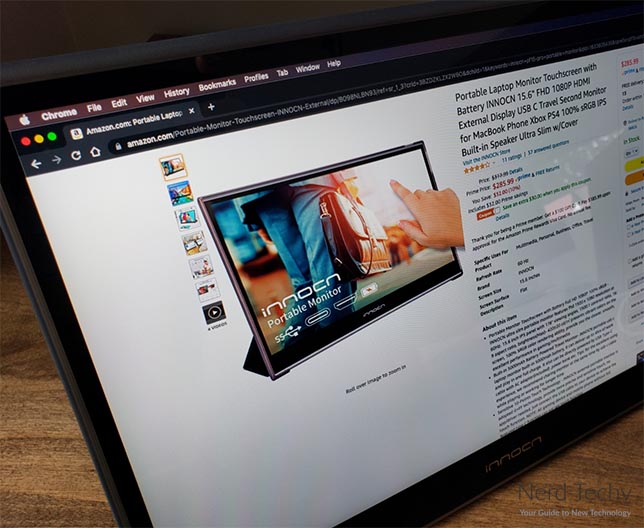 The controls are located near one of the corners, and consist of a few small buttons. You can use these to bring up the monitor menu, and adjust the brightness and other settings. In the same general area, you'll find the various input ports. There's a mini HDMI port and a USB Type-C port, both for receiving video. There's a second USB Type-C port, which is used to power the monitor. Finally, there's a 3.5mm aux port, for connecting headphones or earbuds.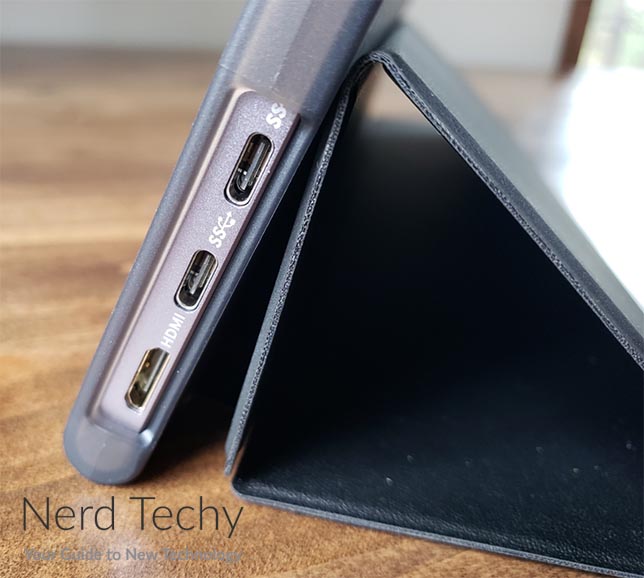 Inside the narrow bezel is a 15.6-inch touch display. We'll go into the image quality in a later section. However, the physical construction is excellent. The screen is engineered and laminated so there's almost zero parallax. In other words, where you see your finger touch is where you're actually touching. This is combined with standard 10-point technology. You can swipe, zoom, move objects, and otherwise have complete control over your system.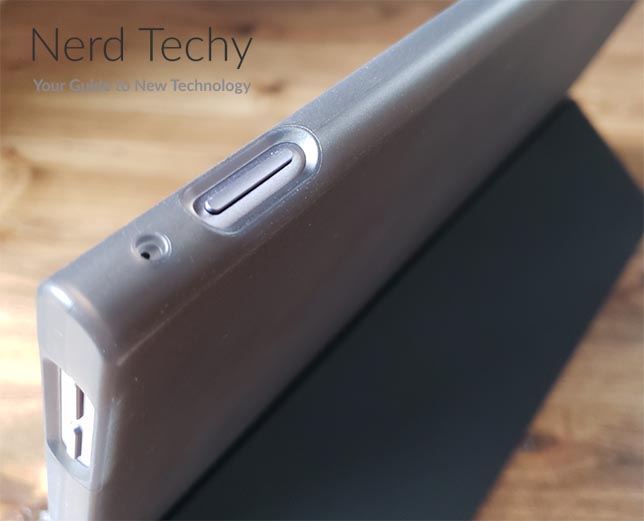 The INNOCN monitor itself is built into a folding case. When you're travelling, this case folds over the screen like the cover of a book, and provides protection. When it's time to use the monitor, you can unfold the screen halfway to act as a stand. The neat thing about this design is that it works equally well in portrait mode. All you have to do is flip it on its side. As a result, you don't need to bring any type of stand. Everything is already put together and ready to go.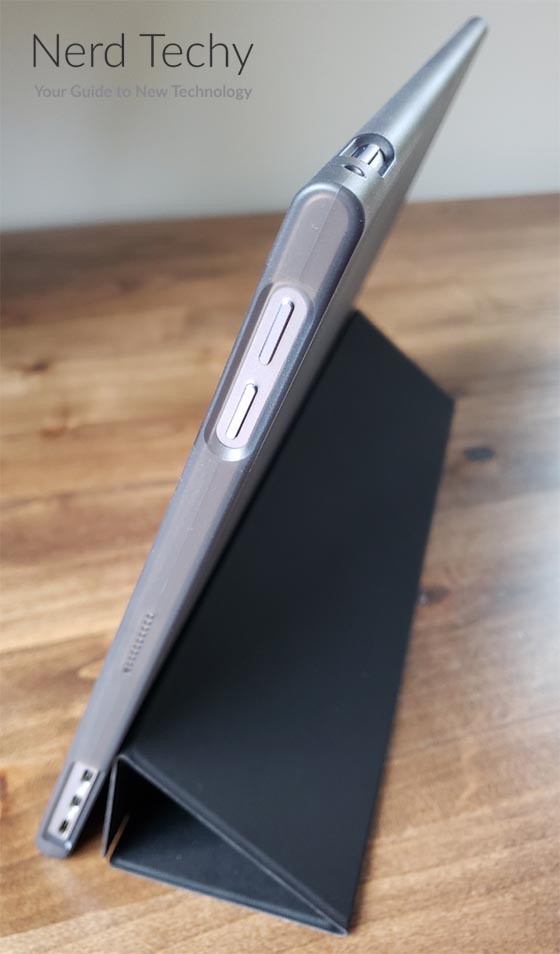 If you like the design, but prefer a smaller monitor, the KYY Laptop Monitor is a solid choice. It has a similar build to the INNOCN, but it's slimmer and more lightweight. It's also more affordable. On the downside, the display isn't as vibrant, so it's not suitable for content creation.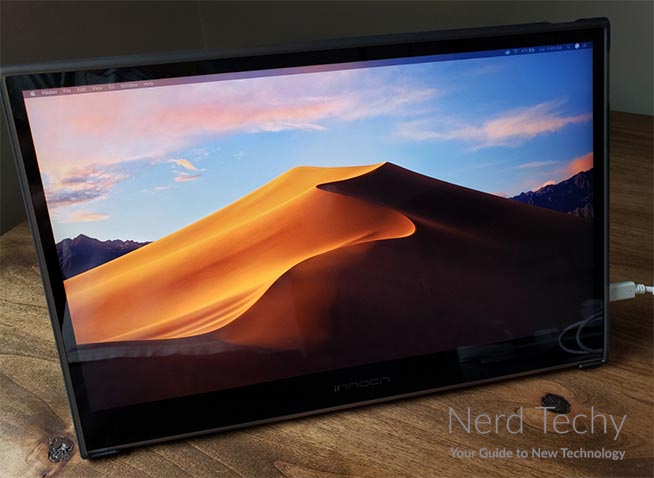 Along with the monitor itself, the PF15-PRO kit includes all the cables you need to get started. There's 6-foot USB Type-C power cable, as well as an AC adapter for plugging into normal outlets. There's a 5-foot HDMI to mini-HDMI cable, for connecting to your devices. If you need the touchscreen function, you'll need to use the 3.3-foot USB Type-C full-function cable. Admittedly, this is a bit short, so you might have to buy your own Type-C cable. There's also a microfiber cloth, for keeping the screen clean.
All of this is protected by a three-year warranty. That's one of the longer warranties in the business, and it's well worth your investment. You'll be well protected from any defects or premature failure.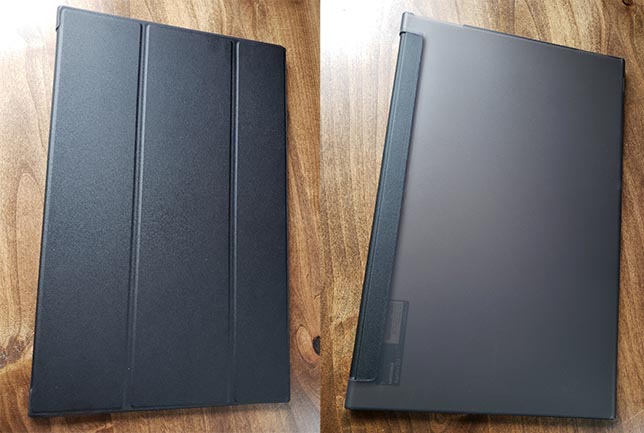 Use code "innocn20" for 20% off when you purchase the PF15-PRO on Amazon
Connectivity & Compatibility
One feature that makes the PF15-PRO stand out is its use of an internal battery. Most portable monitors, on the other hand, rely on DC or USB Type-C power. This makes them slimmer and lighter, since they don't have to carry a battery. However, it means you can only use the monitor when you're near a power outlet. The PF15-PRO's built-in 5,000mAh battery will last for around four hours – three hours if you're using the speakers.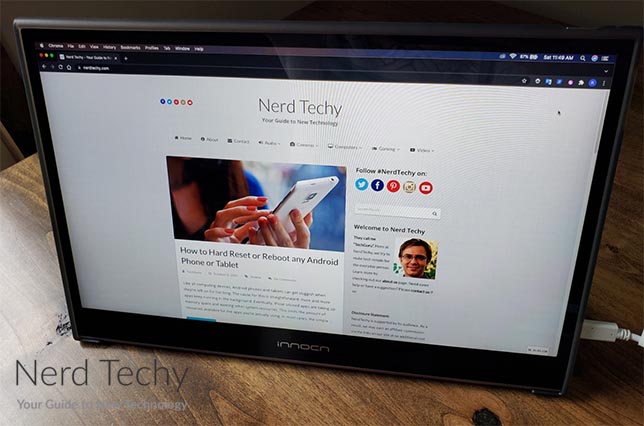 That gives you the freedom to work or play wherever you want to. Alternatively, the display can also run directly on USB Type-C power, so you have plenty of options.
If battery power isn't important to you, take a look at the Lepow Z1 Gamut instead. It has similar features to the INNOCN monitor in many respects, including color vibrancy. But because it has no battery, it's lighter, thinner, and easier to transport.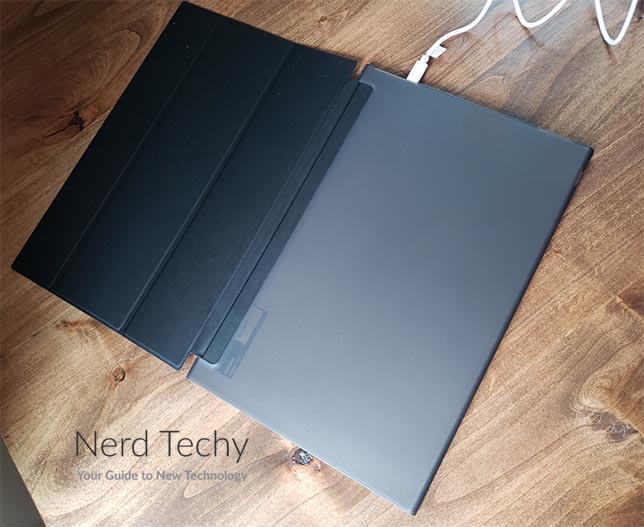 As far as compatibility goes, the PF15-PRO will work with pretty much any device. Using the Mini HDMI cable, you can connect to laptops, desktops, and game consoles. Using the USB Type-C cable, you can connect to many other devices, like digital cameras and many smartphones. That said, there are a few scenarios where you might need your own cable. For one thing, if you're using an iPhone, you'll need a lightning to USB Type-C or Mini HDMI adapter. Otherwise, you won't be able to plug in. Another scenario is if your device only has a Mini HDMI output. In that case, you'll either need a Mini HDMI to HDMI adapter, or a Mini HDMI to Mini HDMI cable.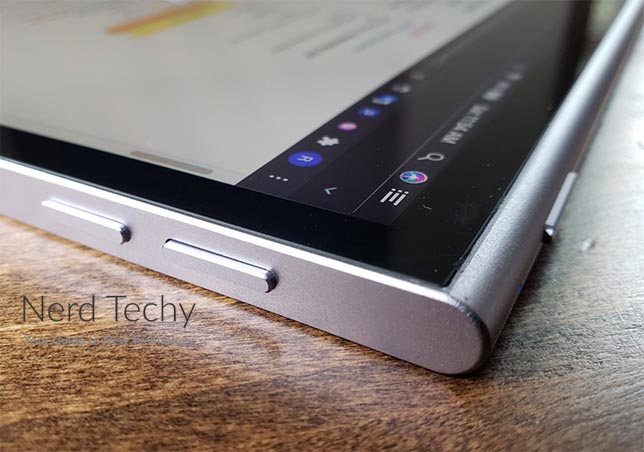 One thing to be aware of is that the touchscreen function only works if you're using a USB Type-C connection. Not only that, but you need to have a compatible, full-function cable, and your device needs to support it. As a result, you can't use the touchscreen if your laptop doesn't have a USB Type-C connection. Along the same lines, iPhone users won't be able to use the touchscreen either. This is unfortunate, since the high-quality touch display is a big part of this monitor's appeal.
The 3.5mm aux connection works very well for headphones and earbuds. In fact, you're probably going to want to use it. The built-in speakers are alright, but they're not the best quality. They're just too small to make any type of big sound. Then again, if you're not super picky, they're fine for watching movies or playing games.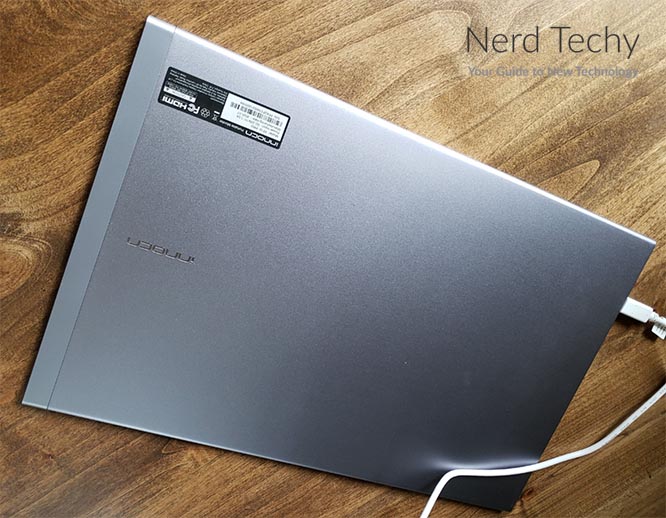 Use code "innocn20" for 20% off when you purchase the PF15-PRO on Amazon
Resolution, Refresh Rate, and Color Quality
When it comes to the display, the PF15-PRO looks beautiful. It has a resolution of 1080p, which is full HD. It's not as high a resolution as 2K or 4K, but there's little need for that on such a small screen. Unless your face is mere inches away, 1080p is going to look more than fine. Not only that, but this is an IPS display, which allows you to view it from any angle. This makes it ideal for use as a second display, since you might not be looking at it head-on. In addition, the screen has a refresh rate of 60Hz. That's more or less the industry standard, and it's sufficient to eliminate motion blur in most cases.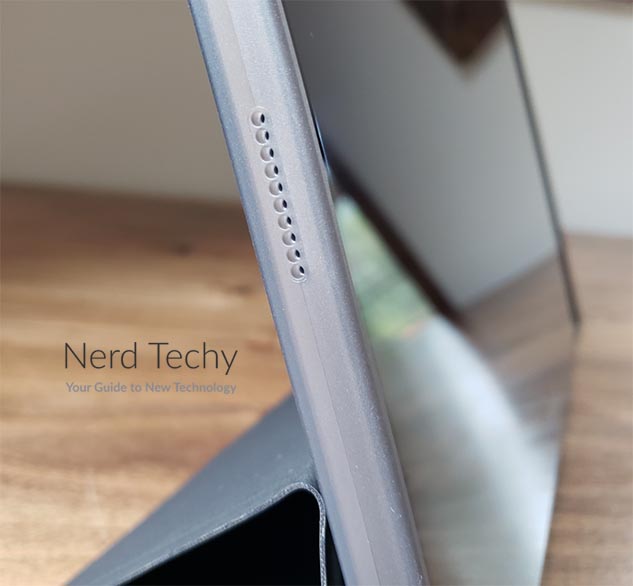 That said, some gamers are very particular about their displays. If you require a top-quality portable gaming monitor, check out our list. These monitors have resolutions of up to 4K, with refresh rates as high as 144Hz. On the downside, none of them are battery-powered, so they're only useful near a power outlet.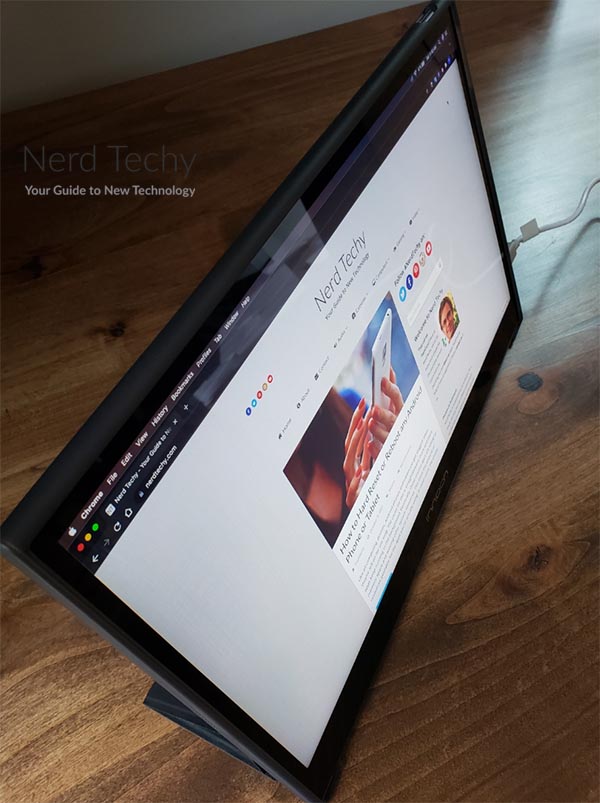 The PF15-PRO is perfect for content creators. It has a color gamut of 100% of the sRGB color space. In other words, it can produce any color you'll use for most photos and animations. Not only that, but the sRGB space is far superior to Adobe for creating physical prints. What you see on your screen will exactly match the colors that print out. In addition, this display boasts a contrast ratio of 1,500:1. That's right in the sweet spot for producing a variety of dark tones. For darker games and movies, you'll have a much easier time telling what's going on.
Final Verdict
As you can see, the INNOCN PF15-PRO Portable Monitor (20% off code: innocn20) has a lot to bring to the table. To begin with, it has a rock-solid design. It's tough and durable, and it's easy to use and set up. And the addition of a built-in battery gives it more versatility than most portable monitors. It can connect to almost any device. Finally, this display just looks gorgeous. It's bright and vibrant, and it has a wide color gamut. It has a high contrast ratio, and an IPS panel with a wide viewing angle. There's a lot to like here.
Meet Derek, "TechGuru," a 34-year-old technology enthusiast with a deep passion for tech innovations. With extensive experience, he specializes in gaming hardware and software, and has expertise in gadgets, custom PCs, and audio.
Besides writing about tech and reviewing new products, Derek enjoys traveling, hiking, and photography. Committed to keeping up with the latest industry trends, he aims to guide readers in making informed tech decisions.