Pastigio WiFi Frame
Pros
Bright, vibrant display.
Can be used in portrait or landscape orientation, with an optional stand.
Easy to use for elderly people.
Built-in calendar, alarm clock, weather, and other extras.
Cons
Resolution is barely better than 720p.
No cloud storage option.
For as long as people have been taking pictures, they've been hanging them up. Some of the earliest portraits we have come from ancient Egyptian wall paintings of their pharaohs. Of course, pictures have gotten more sophisticated over time. The Romans commissioned sculptures and elaborate mosaics. In the Renaissance, painting techniques had evolved to the point that images were lifelike. But it wasn't until the invention of photography that everyday people could take pictures of each-other. Nowadays, those pictures are everywhere. From selfies to wedding photographs to vacation snapshots, our social media feeds are full of images.
But there's something about a physical picture that's different from a mere social media image. For one thing, you can hang a picture on your wall, or set it on your nightstand. It can be used to accent your home, not just share with your friends on Facebook. And with a digital picture frame, you're not limited to displaying a single image. You can choose from thousands of photos, or set your favorite pictures in a slideshow. We've reviewed several digital picture frames in the past, and there's a surprising variety of options. So it makes sense to do your homework and know what you're getting before you spend any money.
We're about to review the Pastigio WiFi Digital Wooden (10.1") HD Picture Frame. This frame is made of actual wood, instead of plastic, so it has an organic appeal. The display is bright and vibrant, and colors remain true even at a wide angle. And there are multiple extra features, such as a built-in alarm clock and weather app. But those are just a few of the things you should be looking for when you choose a digital picture frame. To really understand this frame, we need to talk about setup, storage, and the user interface. We'll also need to look at how well it installs, and how the app works. After we've looked at all those factors, we'll have a clearer picture of what we're dealing with.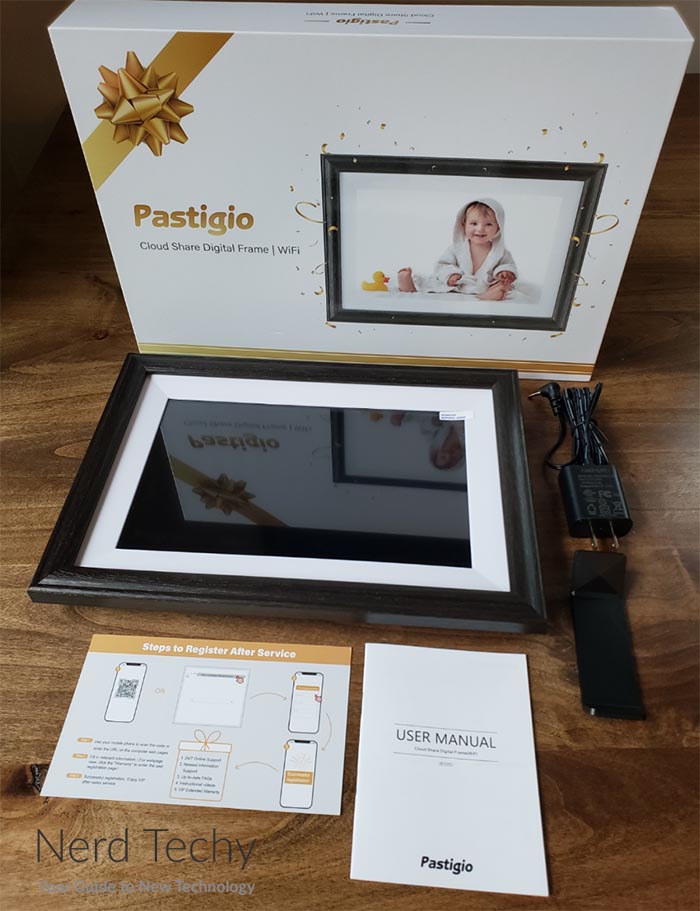 Design & Construction
The first thing we noticed about the Pastigio Digital Frame is that it's real wood. This gives the frame a more natural, old-timey feel that's still suitable for a modern décor scheme. The wood itself is stained black, but it's highly-textured. This leaves a number of tiny grooves where the stain doesn't reach, which makes the wood grain pop. The overall size of the frame is 11.53 inches wide, 8.35 inches high, and 1.1 inches thick. The wooden material itself is about an inch wide around the edges. As a result, there's plenty of real estate available for the built-in display.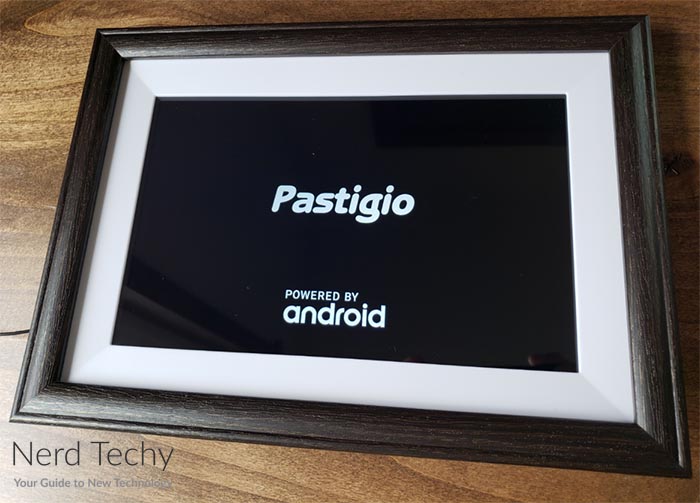 The display itself has a diagonal measurement of 10.1 inches. This is about the size of a standard physical portrait, so it will match your other pictures. It's also a touchscreen display, so you can easily control all the functions. Alternatively, you can access most of the frame's features from the smartphone app. But we'll discuss that more in a little bit.
One of the Pastigio frame's best features is that it's highly versatile. There's a built-in gyroscope that can sense which way it's oriented. It will then adjust the display mode to portrait or landscape, depending on what is appropriate. Not only that, but you can hang this frame on your wall. There are both vertical and horizontal screw slots on the back, so hanging it will take only minutes. You won't have to waste a lot of time getting the nail centered. In addition, the kit includes a removable plastic kickstand. This can fit into two different grooves on the back of the housing, for portrait or landscape mode. We very much liked this feature, since most digital frames are either hung or tabletop mounted, but not both.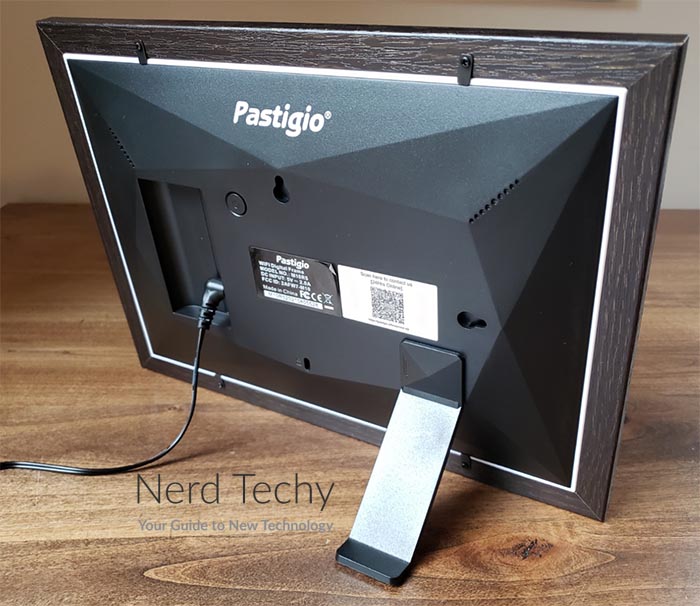 The black plastic rear housing also hosts the rest of the notable physical features. There's an indent in the back with a USB port and SD card slot, for transferring or storing photos. There's a tiny reset button, the kind you need a paperclip to press, in case of emergency. Finally, there's a DC power port for the AC power adapter. A power cord is included in the package, and the frame will always need to be plugged in. Before you set it up, make sure you're close enough to a power outlet for it to receive power.
Pastigio backs this frame with a 12-month manufacturer's warranty. That's not exactly a lifetime guarantee. However, it's more than enough to protect you from any defects in materials or manufacturing.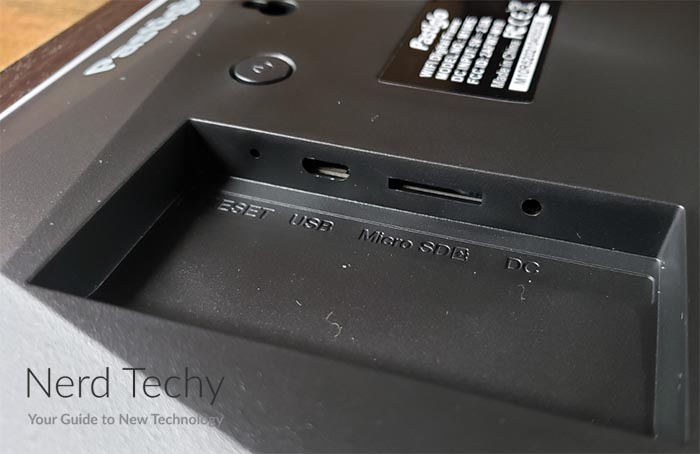 Connectivity & Storage
There are several ways of interfacing with the Pastigio WiFi frame. However, as you may have guessed from the name, the primary method is via WiFi. Not only that, but you'll need a WiFi connection in order to perform the initial setup. You'll also need to install the OurPhoto app on your iPhone or Android. Registration is free, but you'll need an email address to complete the process. Make sure to use a valid address, since you'll need your verification code to connect to your picture frame. Once the app is set up, you're ready to start uploading files.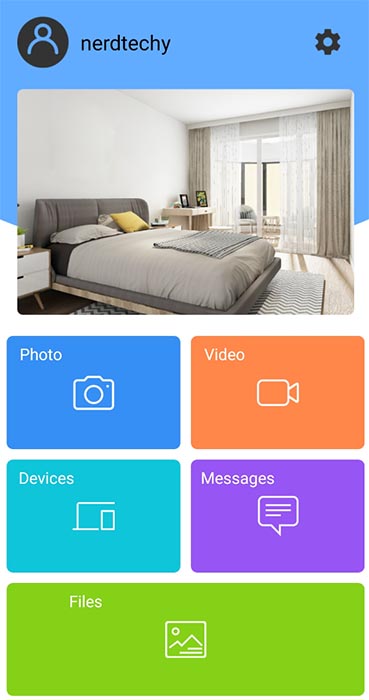 There are several ways to upload your pictures. The first is to use the app, and select from your phone's pictures. However, your frame will also have its own email address. Send a photo to that address, and it will automatically appear on the frame. However, both of those options require the frame to have an active WiFi connection. What if you're giving it to an elderly relative who doesn't have home internet? In that case, you can transfer pictures from an SD card, using the frame's on-board menu. You can do the same thing with a USB thumb drive, or even an external hard drive.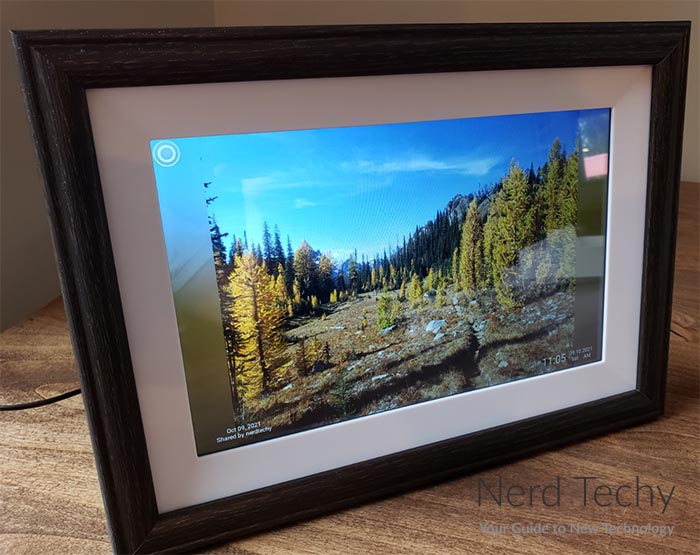 In total, the Pastigio frame has 16GB of on-board storage. That's a lot of space, and it's enough for around 15,000 photos. Pastigio claims 40,000, but they assume a very small image size of only 300KB. Regardless, we're talking about more photos than most people will ever take in their lifetime. If for some reason you need more storage, you can leave an SD card or thumb drive permanently installed. As long as it remains plugged in, the frame will be able to access any photos and display them. With this method, you can easily add 64GB or even 128GB of extra storage space.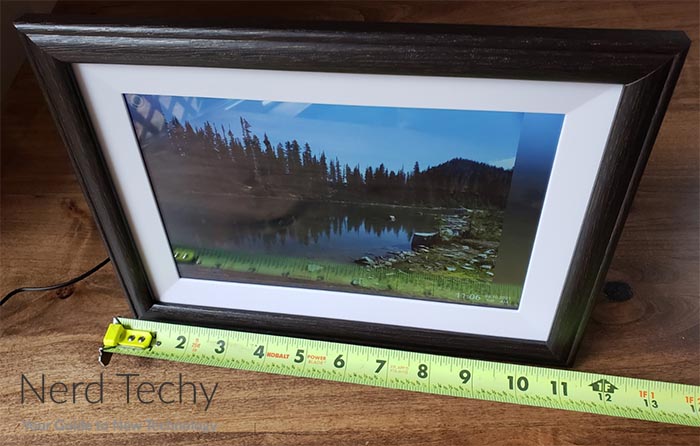 As an added bonus, you can transfer files from the picture frame using the same methods. Let's say you lost your phone, you didn't keep backups, and you lost a bunch of photos. You can put an SD card in the frame and copy the pictures to the SD card. Then, you can put the SD card in your new phone, and retrieve all your pictures. In this way, the Pastigio frame acts as an emergency backup.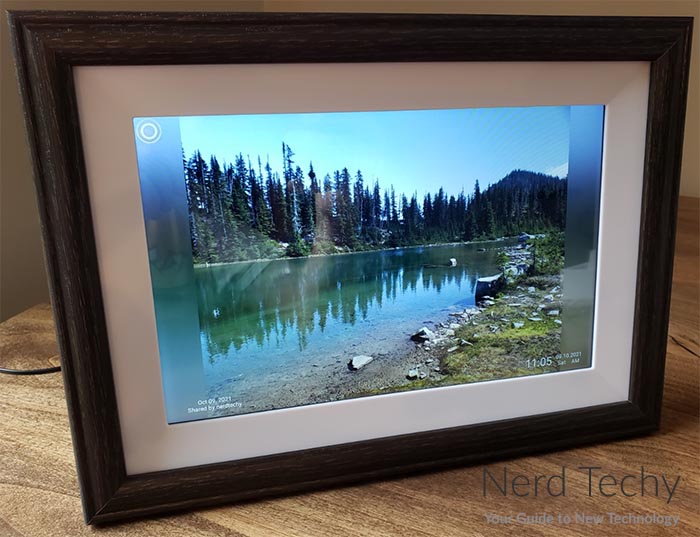 The one option it doesn't offer is cloud storage. On the one hand, without cloud storage, it doesn't always have to be online. On the other hand, many people prefer cloud storage for convenience and ease of use. If that's what you need, consider the Aura Carver. It provides cloud storage as well as a higher image resolution. That said, it also has a simple plastic outer frame. It also only works on a tabletop, and only in landscape orientation.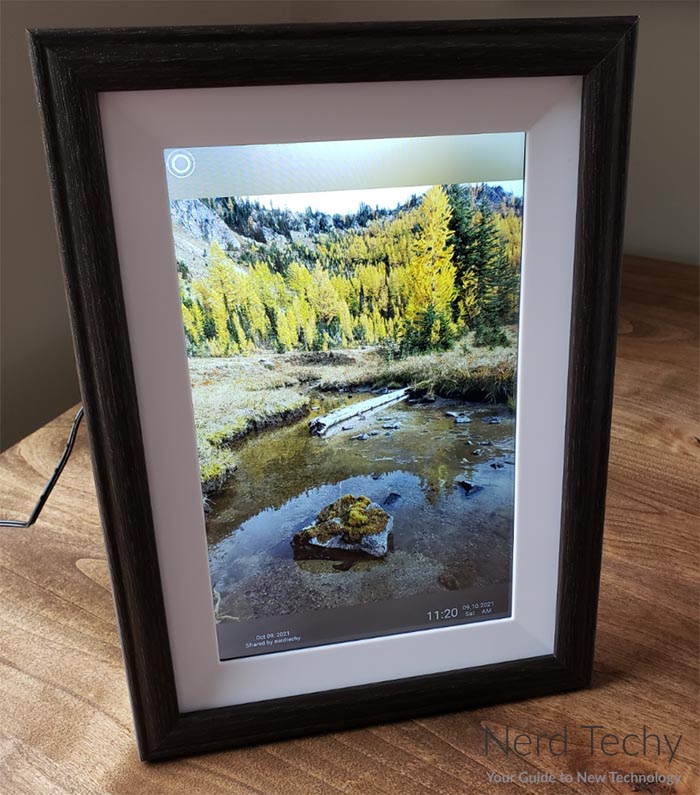 Image Quality & Extras
The Pastigio WiFi picture frame has a screen resolution of 1,280 x 800 pixels. That's slightly more than 720p, so it's technically an HD display. That said, it's not as high a resolution as we'd like to see on a modern frame. At this size, it would have been nice to see a resolution of at least 1080p. On the upside, the images are nice and bright, and the colors are vibrant. Not only that, but this is an IPS display, so it has a wide, 178-degree viewing angle. Unlike a lot of screens, you can look at it from the side, and you'll still see all the colors correctly. This gives it a more natural feel, similar to a physical photograph.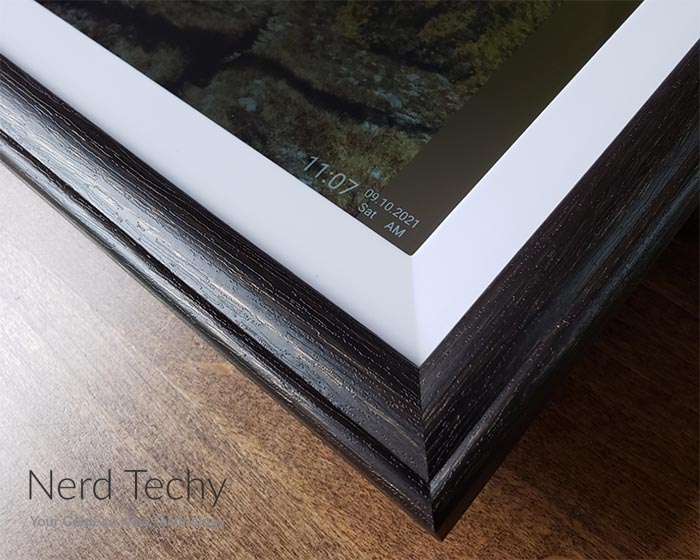 If you want a frame with a higher resolution, there are plenty of options. The Aura Frames "Smith" is a good example. It boasts a beautiful 2K display, as well as a fancy metal frame that's sure to draw notice. On the other hand, the privacy settings are tough to understand, and the frame cannot be wall-mounted.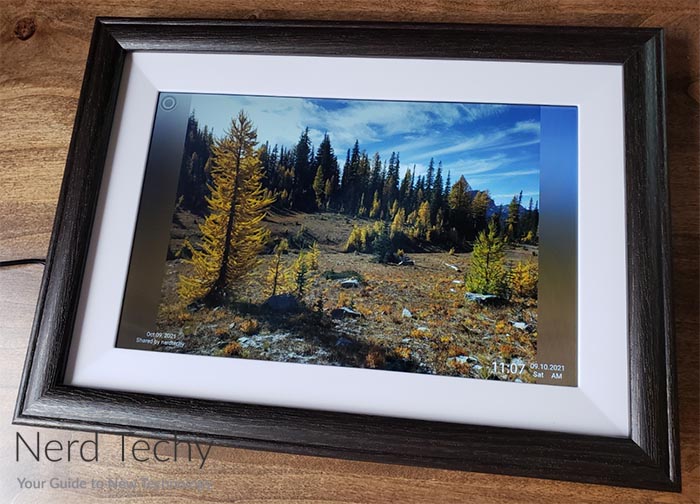 By default, the Pastigio frame will display all of your images in a slideshow. One will fade into the next, so you'll see all your photos at one time or another. Not only that, but you can choose individual photos, or even play videos and music. You can do this either via a slick, on-screen menu, or by using the OurPhoto app. You can even use these tools to select or deselect particular images for your slideshow. So if you want to select a handful of favorites to display, you can.
In addition to all that, this frame can perform a number of alternative functions. It can be set to display a digital clock, with large, high-visibility numbers. You can set an alarm, so it can function as a bedside alarm clock. There's a calendar mode, so you can plan your day. Finally, there's a built-in weather app with your local forecast. Keep in mind that the weather app requires you to have an internet connection.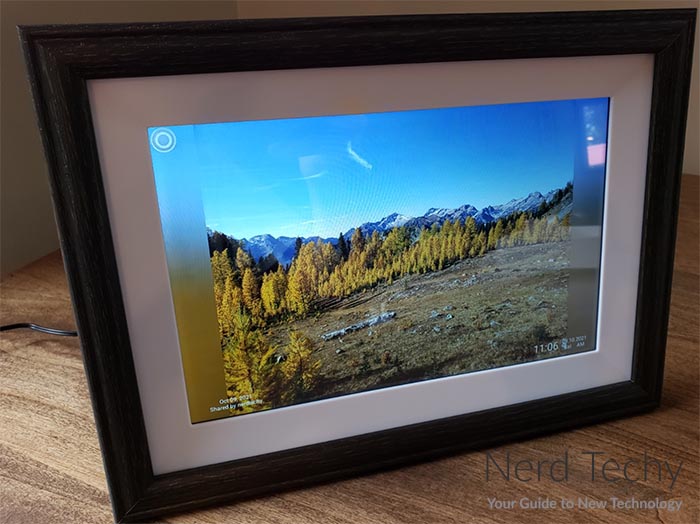 Final Verdict
The Pastigio HD WiFi Picture Frame is one of the best on the market. Our complaints were relatively minor. On the other hand, the display is beautiful and colorful, and the wooden frame is easy on the eyes. The multiple extra functions also add a lot of value; this is far more than just a picture frame.