Quick Analysis
Pros
Beautiful image quality.
Sturdy design.
Free unlimited lifetime cloud storage.
Supports multiple users for the same frame.
Can also set a timer or use auto-off feature.
Cons
For tabletop use only.
For landscape orientation only.
Unusual aspect ratio.
Ever since the first cave paintings, human beings have had a desire to decorate our homes with pictures. These pictures tell a story. In the cave paintings, we see people hunting animals like mammoths and gazelles. Were the paintings meant to commemorate a particularly successful hunt? Were they illustrations for teaching purposes? Chances are, we'll never know for sure.
What we do know is that this tradition continues to our day. We take pictures to commemorate vacations, weddings, graduations, and other special events. The only problem is choosing which ones to look at. There simply isn't enough space on your walls to display every conceivable picture. This means you have to pick and choose, and inevitably some precious moments will be left out.
A digital picture frame is the next evolution in this process. Because it's digital, it can cycle through a large number of photos. This frees you from the responsibility of deciding which pictures are most important. There's plenty of room for all! Of course, not all digital picture frames are equally well-designed. Some are high-quality pieces of décor, while others are just cheap knick-knacks.
Today, we're going to review the Aura Carver Smart Digital Picture Frame. This is a 10.1-inch frame that's designed for tabletop use. With unlimited cloud storage and a high-quality display, it brings a lot to the table. But how does it compare to other digital picture frames in its class? We're about to take a close look. Once we've finished, we'll be ready to render a final verdict. Let's get started!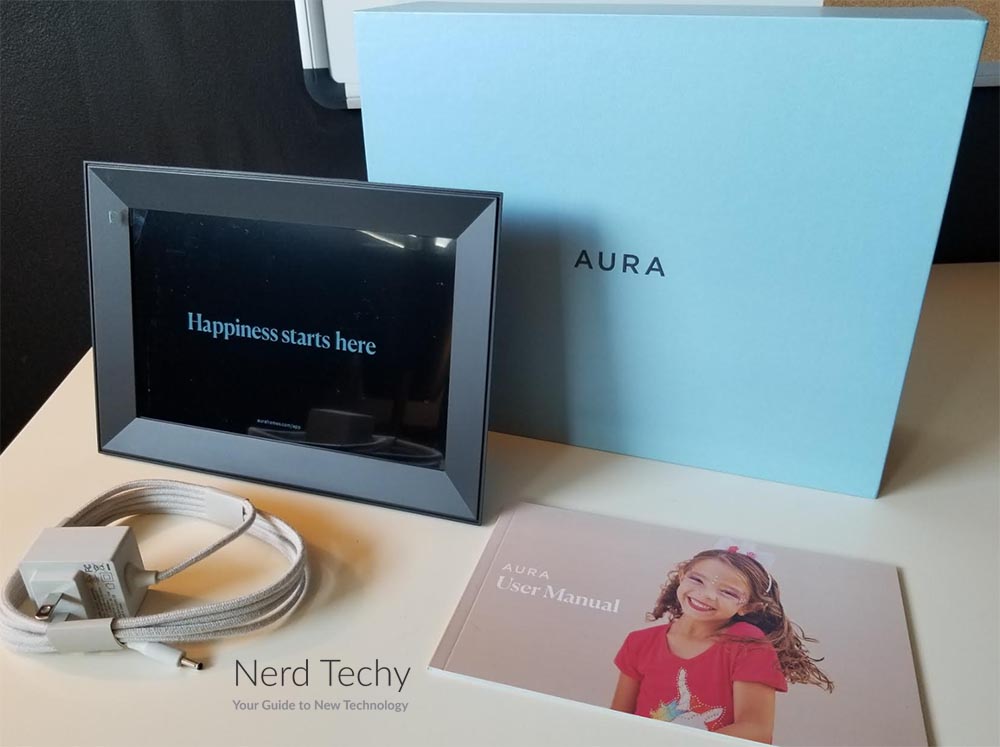 Design & Construction
As we mentioned, the Aura Carver boasts a 10.1-inch display. As is standard for any display, this refers to the diagonal measurement. The overall dimensions of the frame itself are 10.63 inches wide, 7.45 inches high, and 2.6 inches thick. It's housed in ABS plastic, and has a relatively understated appearance. The matte finish won't attract fingerprints, and it's easy to keep clean. It also has a soft, lightly-textured finish, so it doesn't have the cheap, shiny look of some plastics. In fact, if you're not looking that closely, it could be mistaken for painted wood.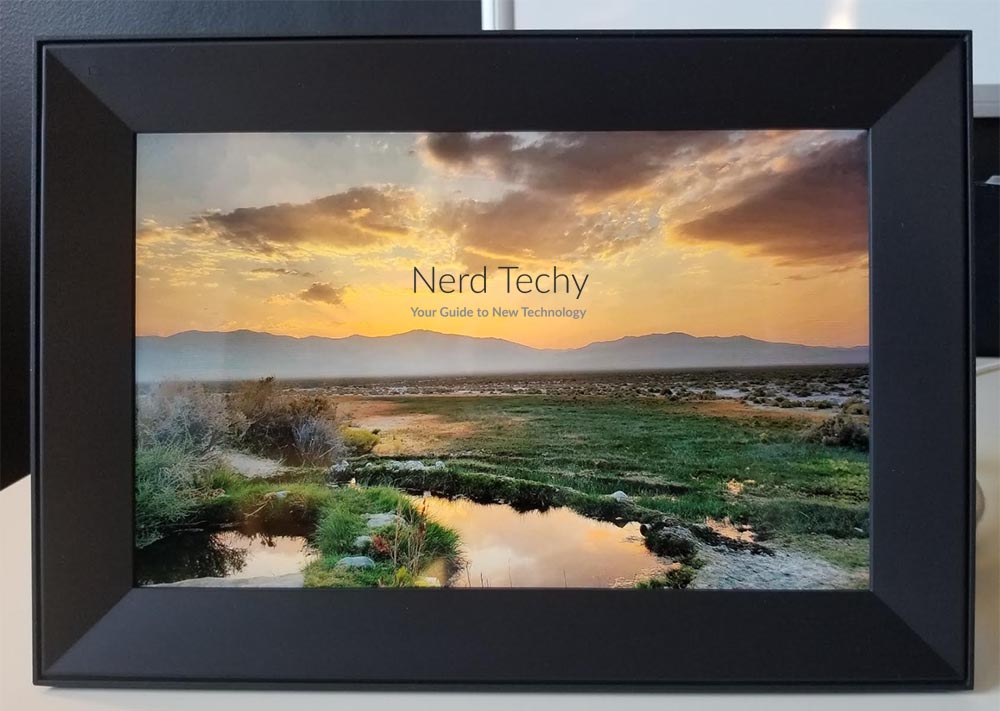 At 4.09 pounds, the Aura Carver is a bit on the heavy side. It's also built for tabletop use only. The frame itself protrudes in the back, forming a built-in, wedge-shaped stand. The benefit of this design is that it's a lot sturdier than a simple kickstands. Kickstands can snap off by mistake. To seriously damage the Carver's "stand,", you'd have to smash the case with a hammer. On the other hand, this wedge makes it impossible to hang the Carver on your wall. There's no screw cutout, and even if there was, the frame would still stick out at a weird angle.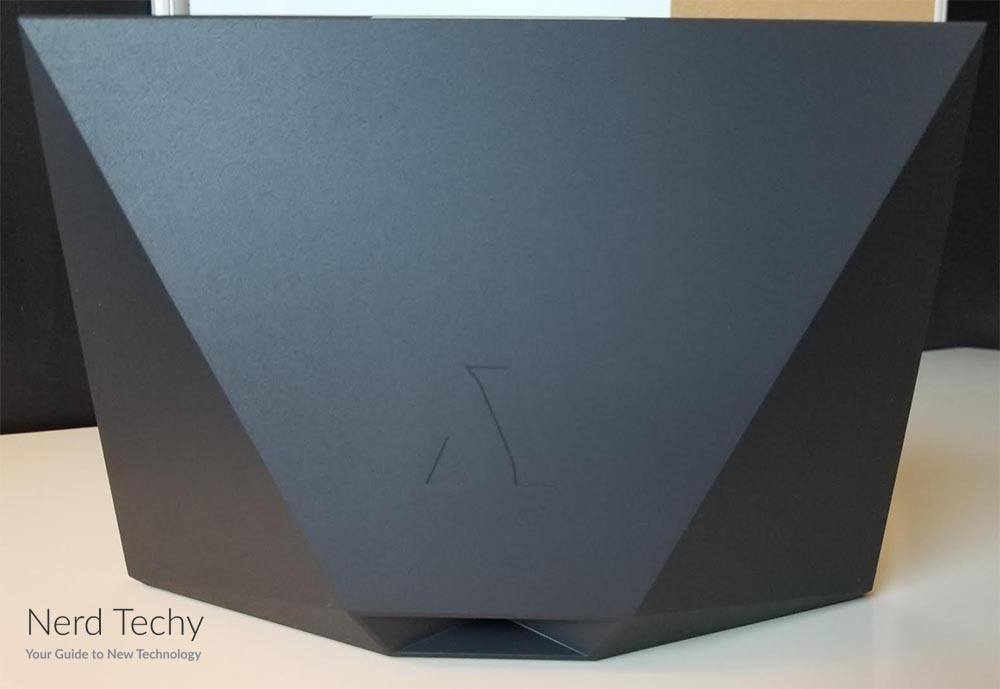 What's more irritating about this design is that the Carver cannot be displayed in a portrait orientation. It will only sit in a landscape orientation. As a result, if most of your pictures are portraits, you'll be seeing a lot of black bars. If you want a more versatile frame, check out our review of the Aura Frames Sawyer. It's slimmer than the Carver, and has a more traditional kickstand. This means it can be oriented however you like, and can also be hung on your wall.
There are three different color options for the Carver Smart Digital Picture Frame. The two most basic options are charcoal and white chalk. White chalk is essentially an ivory. In both of these variants, the matte part of the frame ends at the front of the outer lip. From there, it has a gloss finish and slopes inwards, much like an ordinary picture frame. The third variant is a play on the other two. It has a matte charcoal finish that continues halfway around the front of the frame. From there, it abruptly turns to gloss white. This simulates the matting that's typically found in professionally-framed pictures.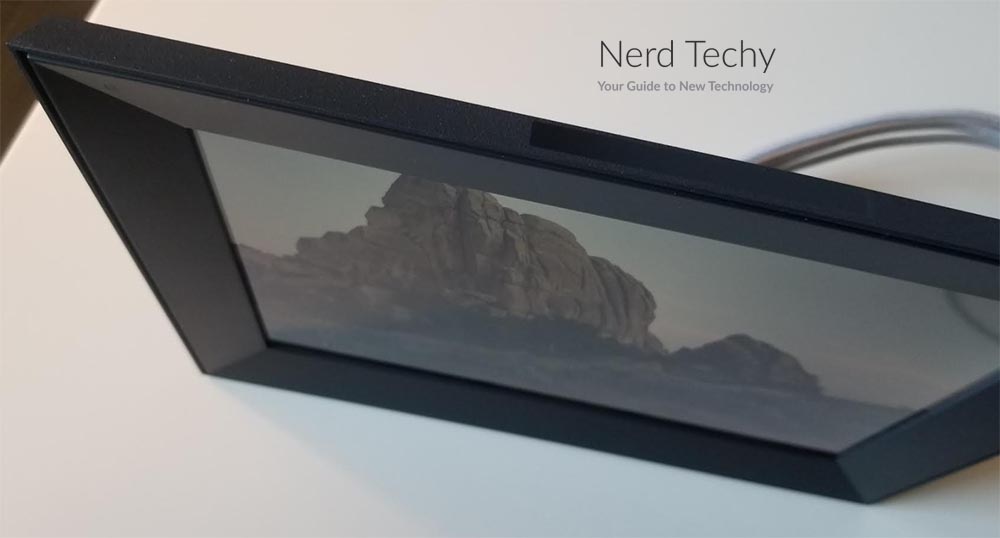 Connectivity & Storage
The Aura Carver Smart Digital Picture Frame is designed to be used more or less continuously. For this reason, a battery-operated design wouldn't be convenient. You'd have to constantly recharge the frame every few days! Instead, the Carver comes with a power cable that needs to be plugged in. This means you'll need to position it within about six feet of a power outlet. Once it's set up, though, you won't have to worry about charging batteries all the time.
Once the frame is powered on, you can connect it to your home's WiFi network. From there, you're going to want to install the Aura App. This App is free for iOS and Android. It works on any iOS device running iOS 11 or later, or any Android device running Android 5.0 or later. That means you can use the Aura app on just about every smartphone or tablet in the world.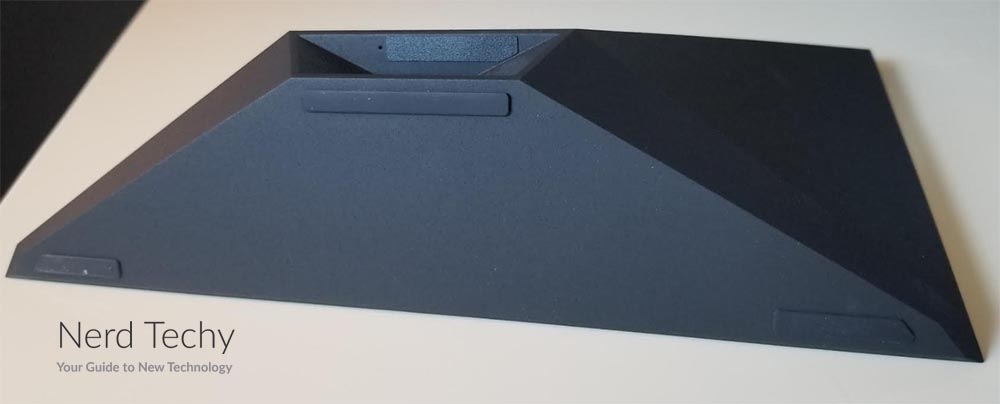 Once the app has been installed on your phone, you can create a free account and pair your phone with your camera. From then on, you can instantly share your photos through the app. As soon as they've uploaded, they'll instantly be visible on the picture frame. Aura provides unlimited cloud storage for life. Not only is this cloud storage free, but Aura guarantees that it will always remain free, forever. There are no subscription fees or hidden charges.
After your frame has been set up, you can add other friends and family members to your frame. This will allow them to instantly drop photos into storage the same way you can. In other words, the entire family can use the Carver frame at the same time. This can be done even if some family members are across the country. Similarly, users can be authorized to access multiple frames. So if three households share three frames, everyone's photos will share to every frame.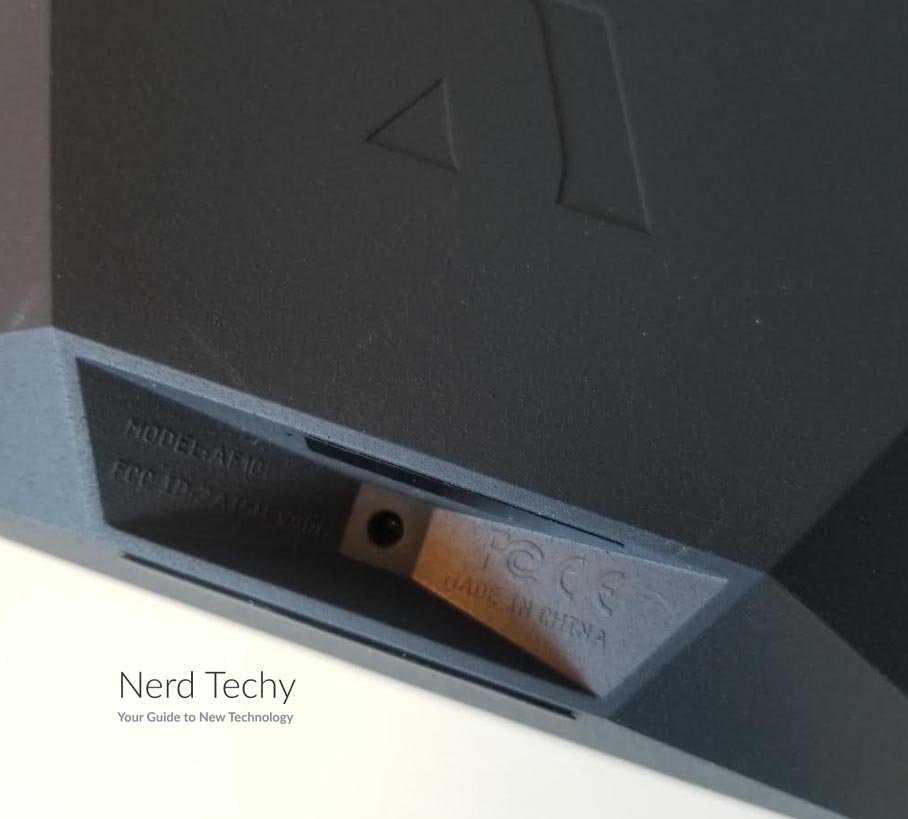 In addition to all that, the Carver frame works with Alexa. You can change settings, adjust the timer, "like" photos, and more, without lifting a finger. This is particularly convenient for disabled individuals who are unable to use a phone or physical control.
About the only downside of cloud storage is that it isn't really yours. If, God forbid, Aura were to go out of business in five or ten years, your photos would be lost. To be clear, we're not predicting this, and we have no reason to believe it might happen. That said, physical, on-board storage will keep working whether or not its manufacturer is still in business. If you prefer physical storage, consider the AEEZO Smart Picture Frame. It supports up to 16GB of local storage on an SD card. On the downside, it doesn't have any cloud storage option whatsoever.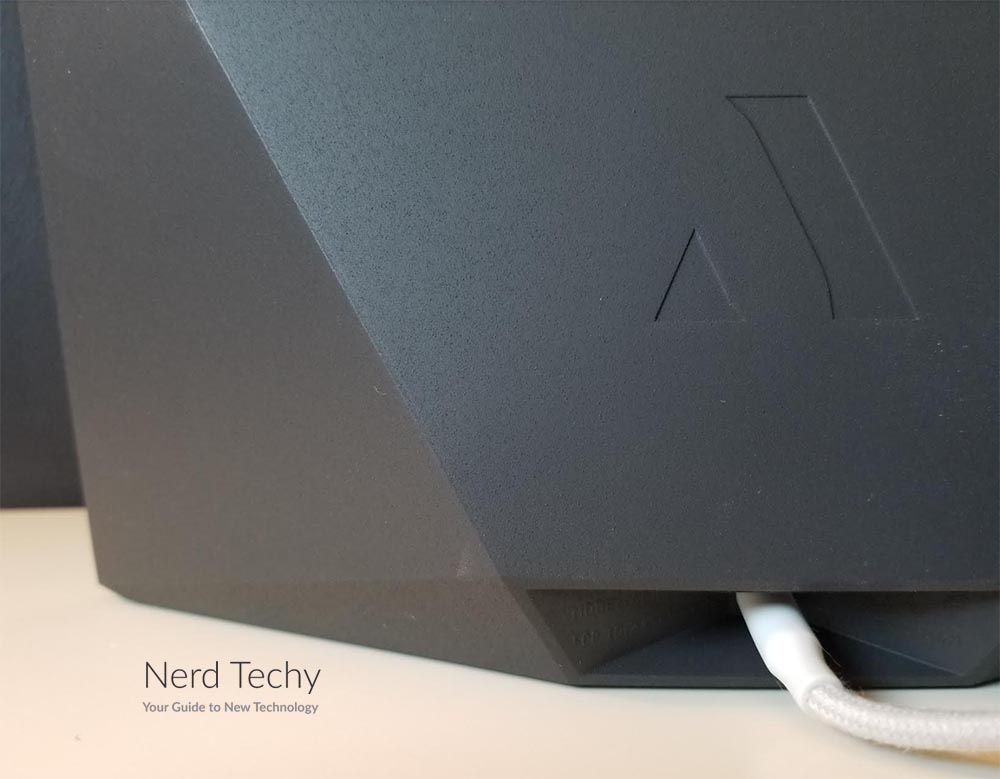 Image Quality
The Aura Carver has a gorgeous display with excellent color clarity. This is more important for a digital picture frame than an ordinary monitor. After all, for office applications, do you really care if colors are perfect? A picture frame, on the other hand, is part of your home's décor. Its job is to look good! Similarly, the display will always have the correct brightness for your room. When you set the brightness, the Carver won't just dumbly stay at that level. Instead, it will adjust according to light conditions. If you turn off the lights, it will get dimmer so as not to blind you. If it gets really bright, it will get brighter so as not to get washed out. This intelligent feature really impressed us.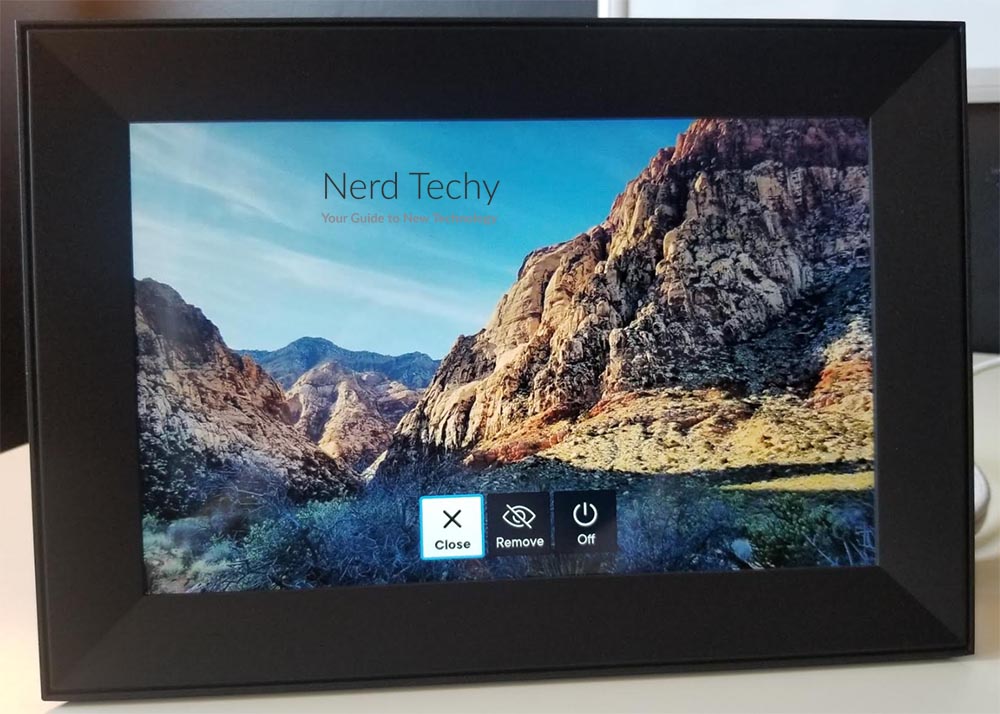 The resolution, on the other hand, is a mixed bag. For some reason, Aura chose to use the rarely-used WUXGA resolution. This works out to 1920 x 1200 pixels, rather than ordinary full HD resolution of 1920 x 1080 pixels. In and of itself, the extra rows will add a little more crispness to better-than-HD photos. On the other hand, the WUXGA aspect ratio is 16:10, rather than a standard 16:9. If you're taking photos on most modern smartphones, they're going to be 16:9. When you upload them to the Carver, even most landscape photos will have tiny black bars on the top and bottom. In other words, a 16:9 photo won't benefit from the added pixels, even if it's better than HD quality.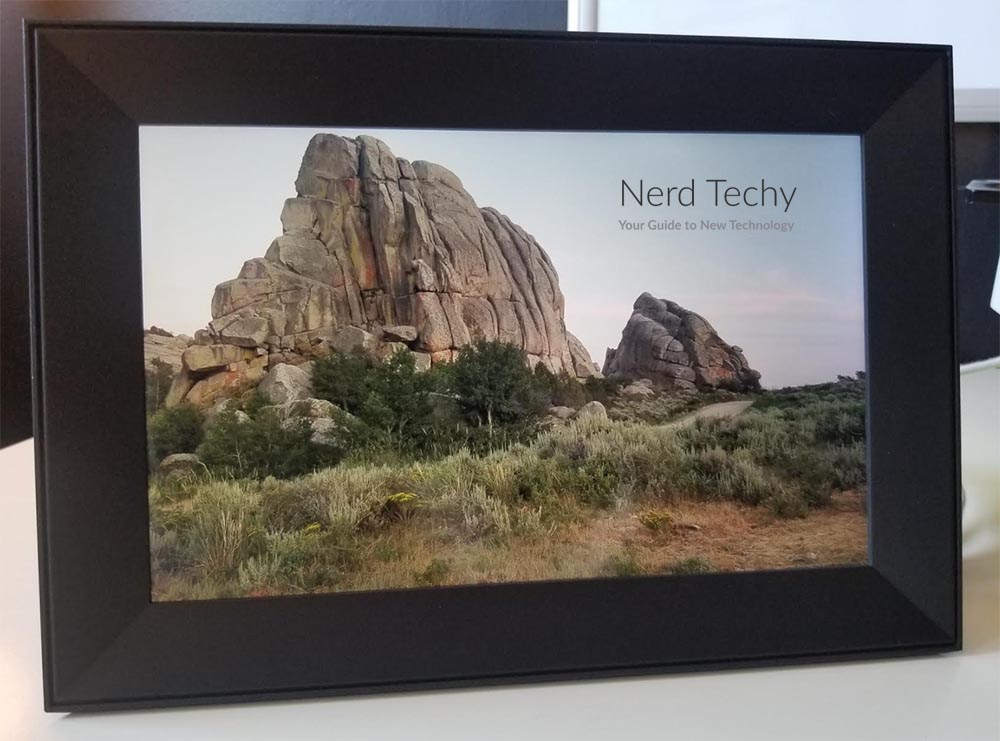 On the top of the frame, there's a soft touch control bar that allows you to perform a few basic functions. You can swipe left or right to cycle through photos. Double-tapping on the bar will "like" the currently-displayed photo, causing it to be displayed more frequently.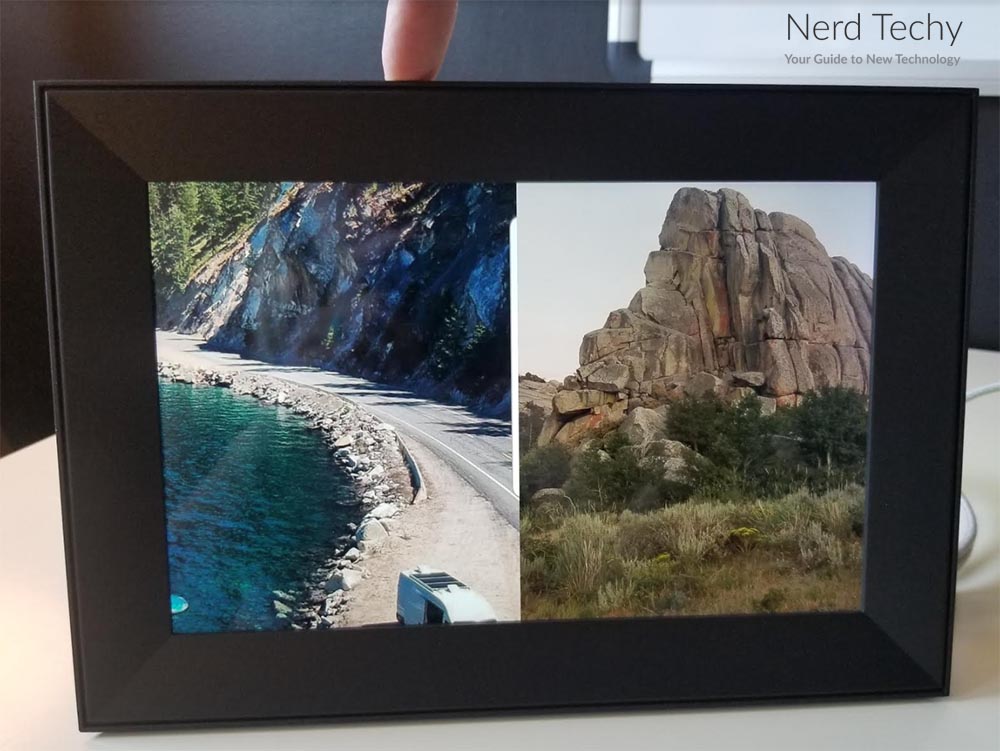 If you want to save power or keep your house dark at night, you can set a sleep timer in the Aura app. This will cause the Carver frame to turn on and off at specified times. Another popular option is the "Auto" mode. In this mode, the frame will automatically shut off when it gets dark. It will only display pictures when it senses daylight or the lights are on in the room.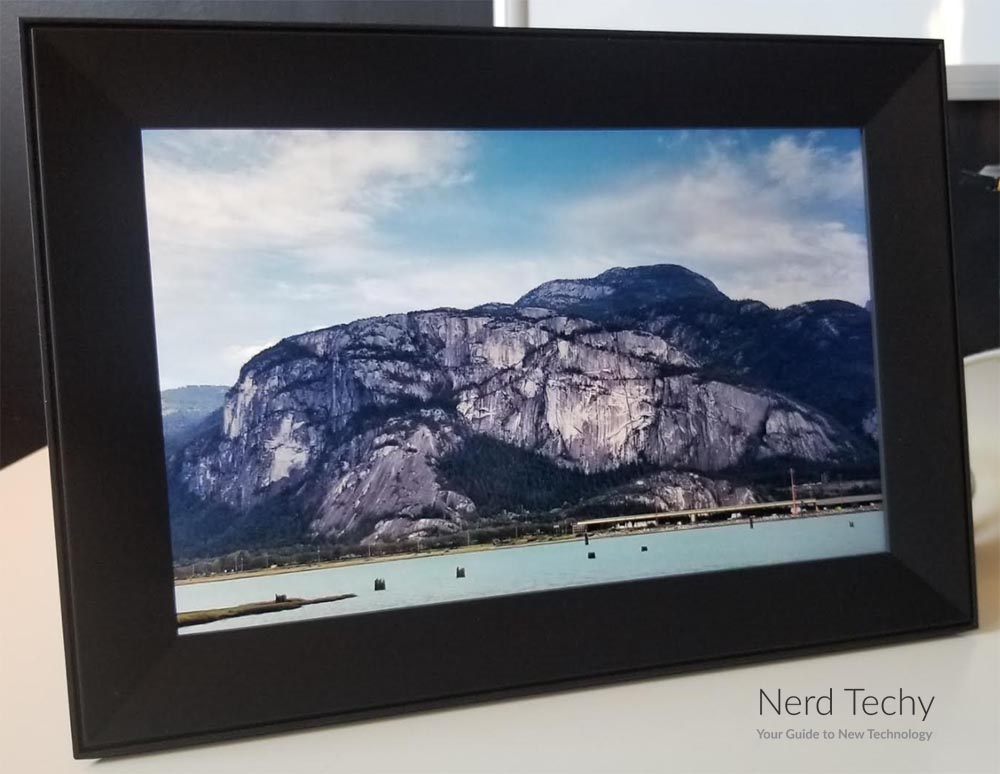 Final Verdict
The Aura Carver Smart Digital Picture Frame is a bit of a mixed bag. Let's start with the negative up front. The design limits your placement options. You can't hang it on a wall or even set it in portrait mode. It will only work on a tabletop or other flat surface, and it will only work in landscape mode. In other words, if you want a hanging frame or portrait-style frame, you're out of luck. The aspect ratio is also wonky, although that's a minor annoyance.
On the other hand, we liked pretty much everything else about the Carver. The screen is clear and bright, and displays beautiful, crisp images. The app is easy to install, and using it to control your frame is very simple. We liked the ability to share pictures between multiple users and multiple frames as well. A sturdy design with a clean aesthetic ties up an excellent package.