In the modern world, we rely more on digital information than ever before. Print newspapers are shuttering worldwide, being replaced by online news sources. Gone are the days of huge office pools, replaced by a few workers with PCs. This has led to massive increases in worker productivity. It's also changed our everyday lives. For instance, when was the last time you actually looked for anything in a phone book? It's so much faster and easier to run a Google search on your phone.
Digitalization has undeniably made our lives more convenient. You can access information anytime and anywhere you want. Need to know what the capitol of Lithuania is? Just Google it! But there are still essential reasons for using print. For example, accounting and legal documents are usually in hard copy. This is understandable. Some institutions, like courts, are slow to change, and are unwilling to fully digitize just yet. This can cause headaches when you need to "back up" the information or archive it. You need to use a scanner, and you need one that works at a reasonable pace.
Today, we're going to review the Ambir ImageScan Pro 835ix. Despite its name, it's not primarily designed for images. It's a high-speed scanner that's designed to handle large quantities of documents. We'll take a close look at all of its features, from the design to the scanner performance. We'll also talk about image quality, and discuss the companion software. After that, we'll know everything we need to know to render a well-informed final verdict. Let's take a closer look!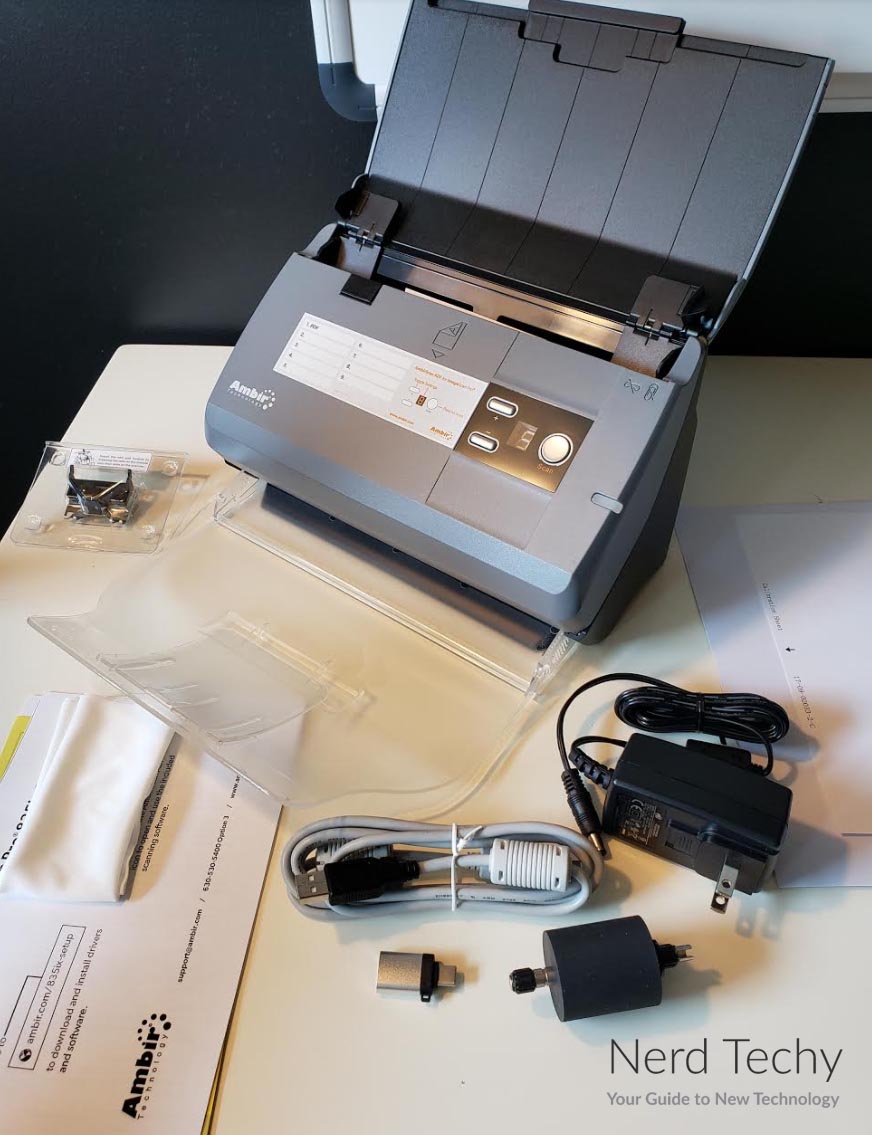 Design & Construction
The Ambir ImageScan Pro 835ix looks at first glance like a printer. In many regards, it has the same type of build. There's a top feeder tray, which can hold up to 50 pages simultaneously. This feeder extends upwards from a sloped housing, which feeds out into a wide, clear plastic tray. If you take a closer look, you'll realize that the housing is much smaller than most printers. That's because the ImageScan Pro 835ix doesn't need to hold any of the components that a printer does. There are no big bulky ink cartridges, and there's no printer head.
As a result, the 835ix is fairly compact, at only 10.36 inches wide, 5.19 inches high, and 5.83 inches deep. At only 4.2 pounds, it's also portable, although it's a bit bulky for carrying around every day. If you need a scanner you can carry anywhere, check out our review of the Ambir TravelScan Pro 300. It's a wand-style scanner that can fit in a briefcase or laptop bag. That said, it's better for occasional use, and not well-suited for scanning huge stacks of documents.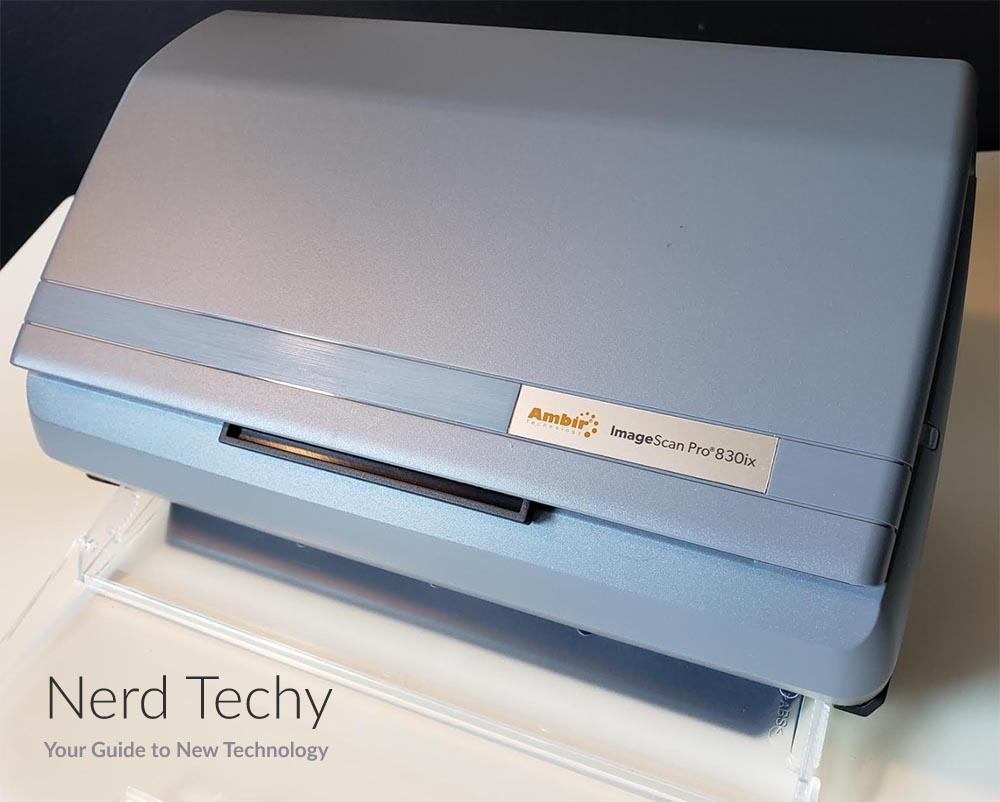 The ImageScan Pro 835ix, on the other hand, is built to last nearly forever. The internal pad is rated for 20,000 scans, and the roller is rated for 100,000. When these parts do eventually wear out, replacements are available from Ambir. In other words, you're looking at a scanner that will last just about forever. And if it fails early, you're covered by Ambir's 2-year manufacturer's warranty.
The housing is constructed from a slate grey plastic that gives the 835ix a professional appearance. The feeder tray and base are black for contrast, and the output tray is made of clear plastic. It's also very wide, as wide as the entire unit, and it's cupped, with borders on the edges. This way, if you're scanning small documents like business cards or recipe cards, they won't get lost. The control panel is located on the front, and looks very high tech. A panel of wide buttons to the left lets you switch between various preset settings. There's are also mechanical buttons to the right, along with a small LED counter.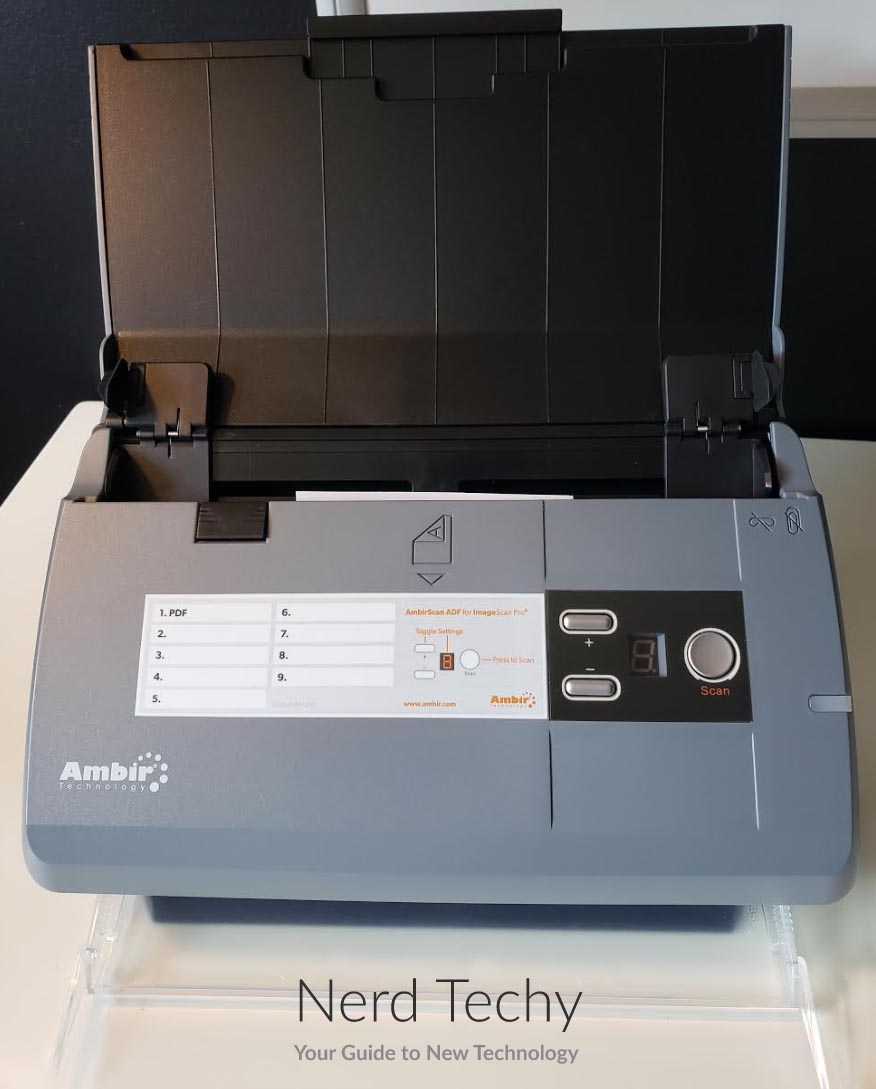 The ImageScan Pro 835ix connects to your computer via USB, and comes with a 6-foot cable. This is a USB 2.0 cable, so it will work with even older machines. However, it doesn't supply enough power for the scanner to work. You'll need to plug into a wall outlet, and there's an AC power adapter included in the box.
How it Works
The Ambir ImageScan Pro 835ix can scan just about any kind of document. The maximum width is 8.5 inches, which is the standard for office and legal paper. The maximum length is 200 inches, which is larger than any ordinary standard. Still, if pages end up overlapping a little as they're fed, you're unlikely to see any errors. The minimum size is a tiny 0.52 x 0.52 inches. We're not sure why you'd want to scan something that's smaller than a postage stamp. But the point is that you're equipped for just about any eventuality.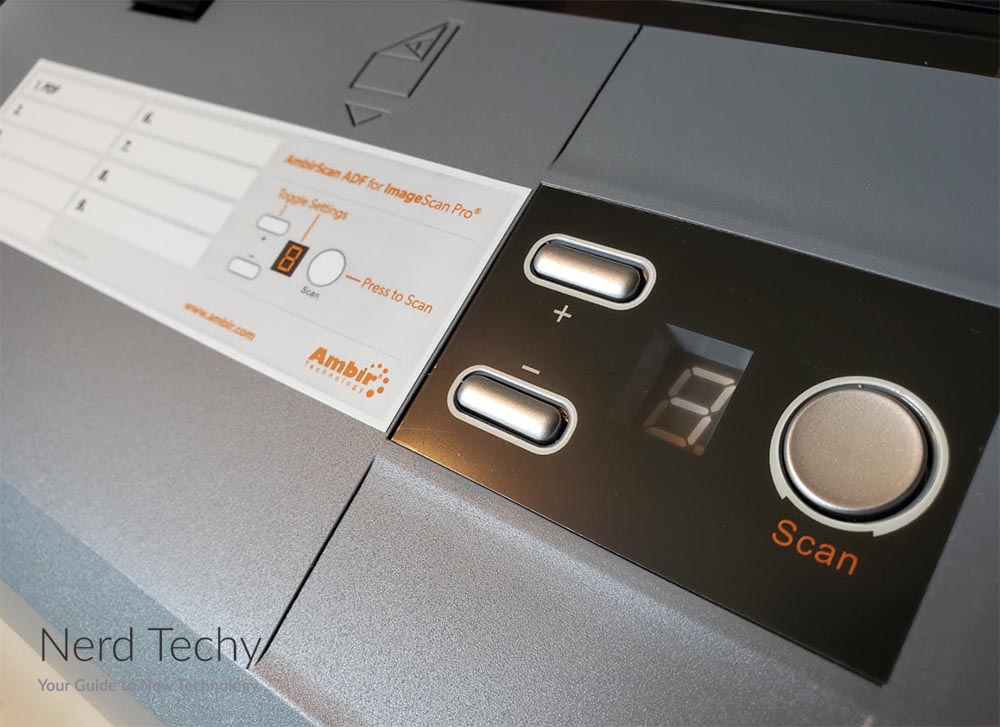 If all you need to do is scan business cards, there are smaller and more affordable options. Take a look at the Ambir DP667 Card Scanner. This is a compact scanner that's designed specifically for scanning business cards. The obvious downside is that it's ill-suited for scanning anything else.
The ImageScan Pro 835ix is made to operate at high speeds. The maximum speed is 30 pages per minute, assuming 200 DPI settings. This is far from the maximum quality, but it's more than good enough for most text documents. For scanning in color, speeds max out at 25 pages per minute, which still isn't bad at all.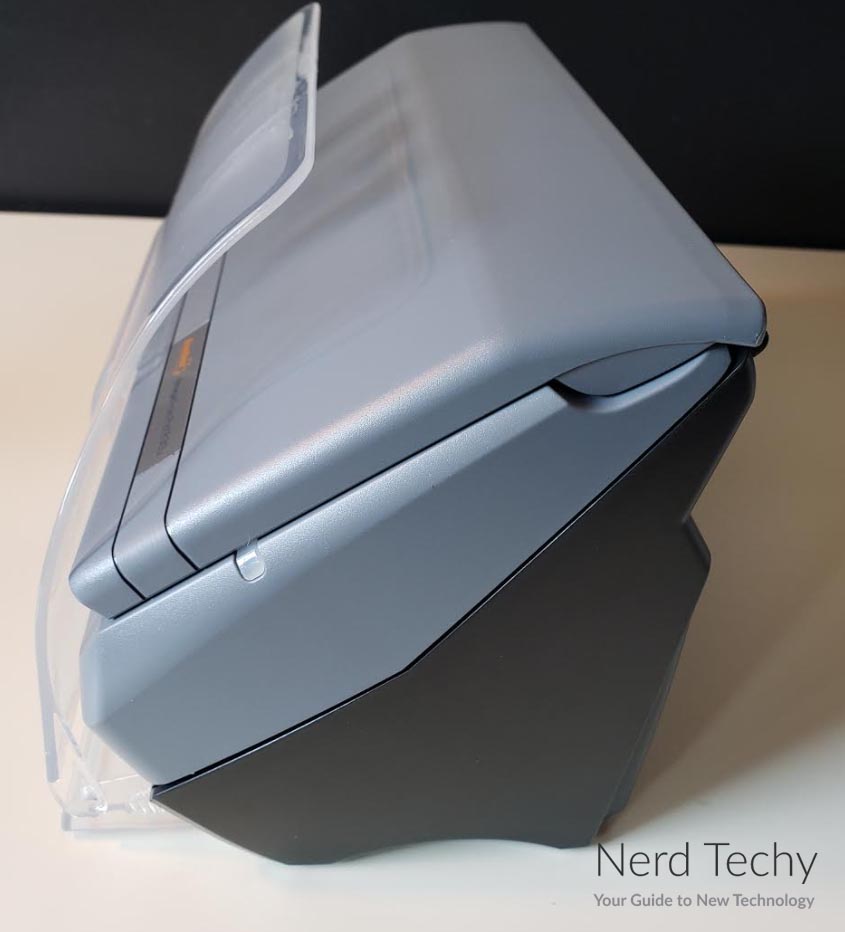 As we mentioned, the ImageScan Pro 835ix connects to your computer via USB 2.0. However, it's only compatible with Mac machines. It's possible that there may be some third-party drivers out there for Windows, but we wouldn't risk it. That said, it's compatible with all recent versions of Mac OS, including the latest Mac OS 10.15 Catalina.
Along with the scanner itself, you get a copy of the AmbirScan ADF software. This software is designed specifically for Mac, and is both intuitive and easy to use. Within the software, you can create up to eight preset scanner settings. These options can include DPI, color/black & white, and other common image settings.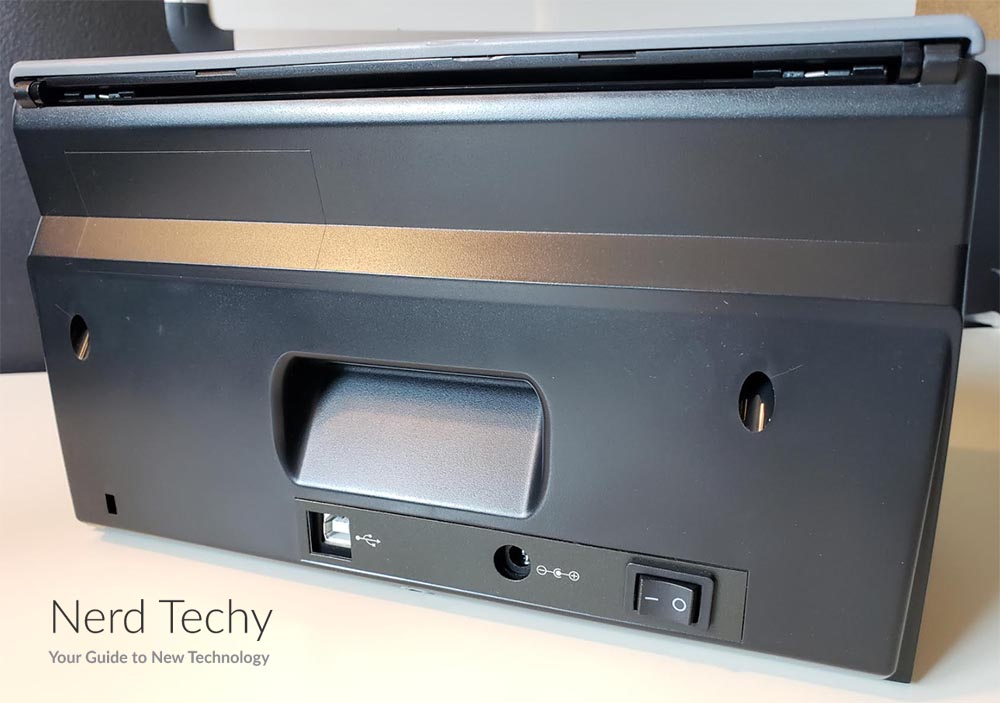 Once a preset has been created, you'll be able to select it at any time from the app or from the scanner itself. An interesting bonus feature is the ability to export scanner settings to other machines. This is probably not needed for most people. However, if you're doing some serious bulk work, it could be useful.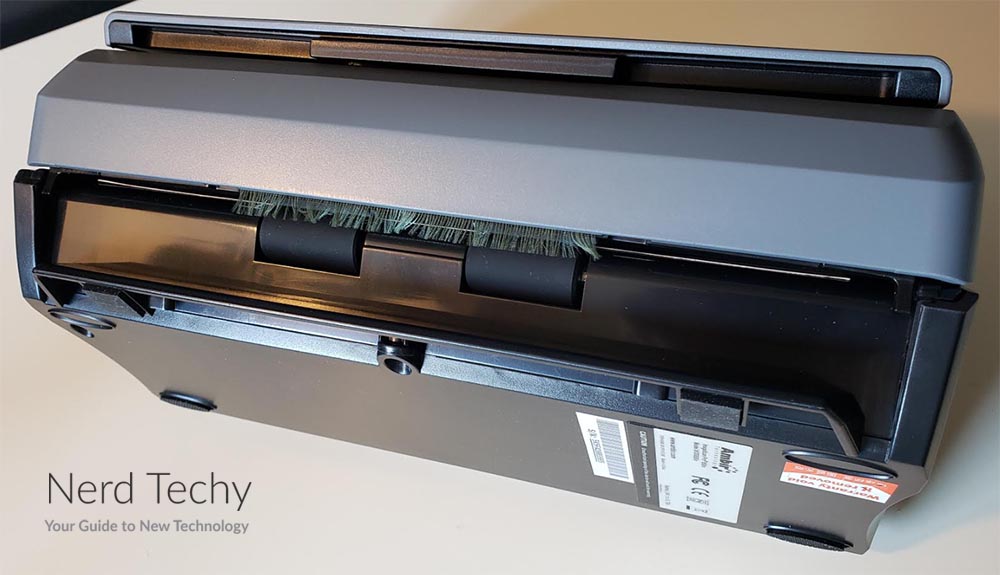 The scanner utilizes an ICA driver, which is designed to work seamlessly with Apple Image Capture. So if you'd rather use the software you're already used to, you can. Just create your settings in the AmbirScan ADF software, and use Apple Image Capture for everyday use. That said, if you do choose to go this route, you'll miss out on some of the 835ix' best features. We'll talk about those next.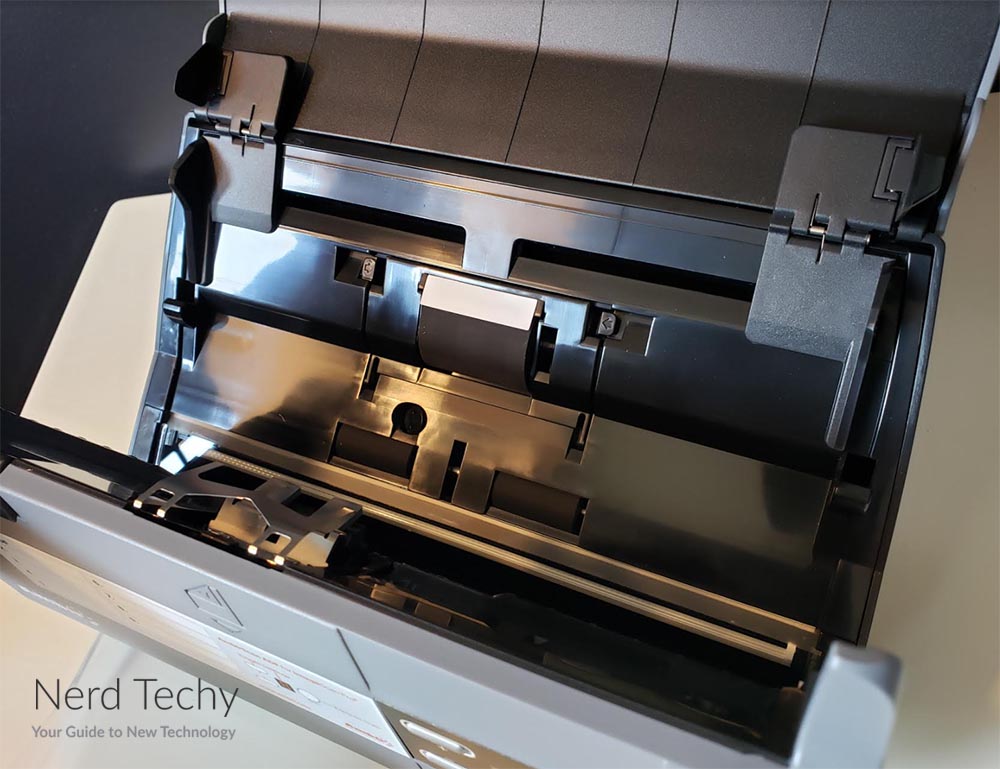 Image Quality
The ImageScan Pro 835ix has a maximum optical resolution of 600 DPI. This is fairly fine, and is suitable for scanning images. If you were looking for a dedicated image scanner, you'd definitely want more. That said, for a scanner that's made primarily for text, 600 DPI is quite good. There are also three different color options: black & white, greyscale, and color. These should all be self-explanatory.
Keep in mind that the higher the quality, the longer a scan will take. If you're scanning in color at 600 DPI, the scan speed will drop to about 10 pages per minute. That's a third of the ImageScan Pro 835ix' maximum speed. Needless to say, this is not ideal for scanning large numbers of documents. If you do have a few images to scan, it's smarter to set them aside separately. That way, you can scan all your text quickly, and only use the slower setting where it's needed. Another thing that can affect scanning speed is the type of material being scanned. Thick cardstock will feed slower than lightweight office paper.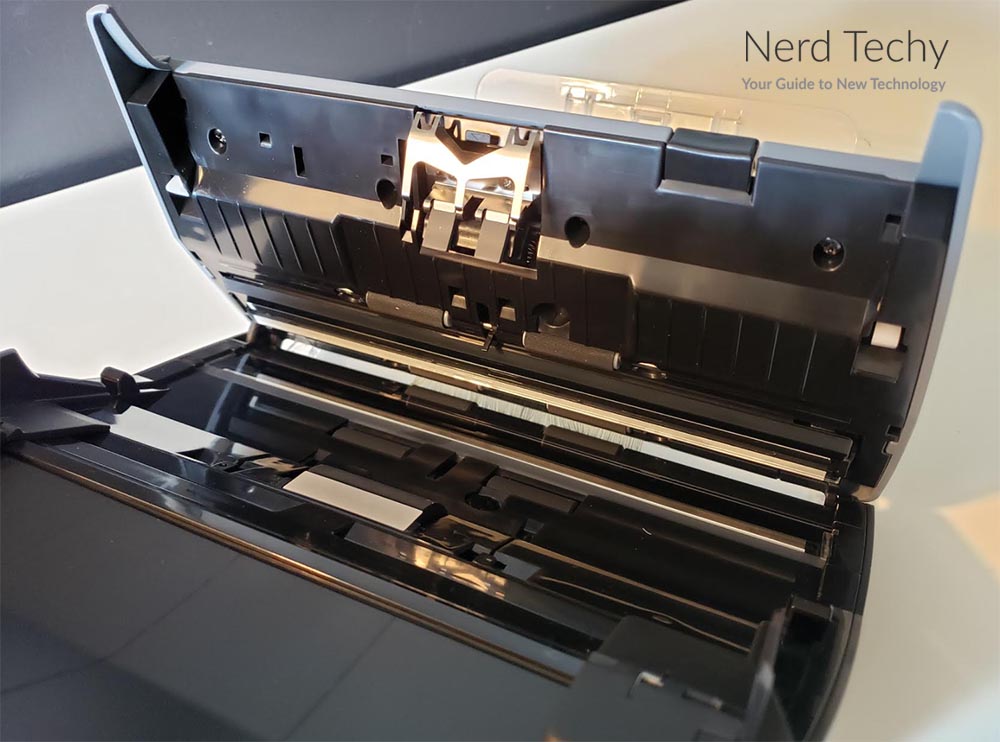 With all of that being said, the ImageScan Pro 835ix is primarily designed as a text scanner. With that in mind, you can use the AmbirScan ADF software to save your documents in searchable PDF format. Using advanced text recognition technology, it creates documents that are easily searched. This is significantly more functional than a typical image scan, which can't be searched or indexed.
Final Verdict
As you can see, the Ambir ImageScan Pro 835ix is an exceptionally fast and powerful scanner. With a maximum speed of 30 pages per minute, you can power through even the largest of jobs in no time at all. Moreover, the 50-page feeder tray is big enough to accommodate longer documents. You don't have to babysit the ImageScan Pro 835ix when it's in use. Just drop 50 pages into the tray and walk away. The large output tray is a nice extra touch, since you don't have to worry about losing smaller documents.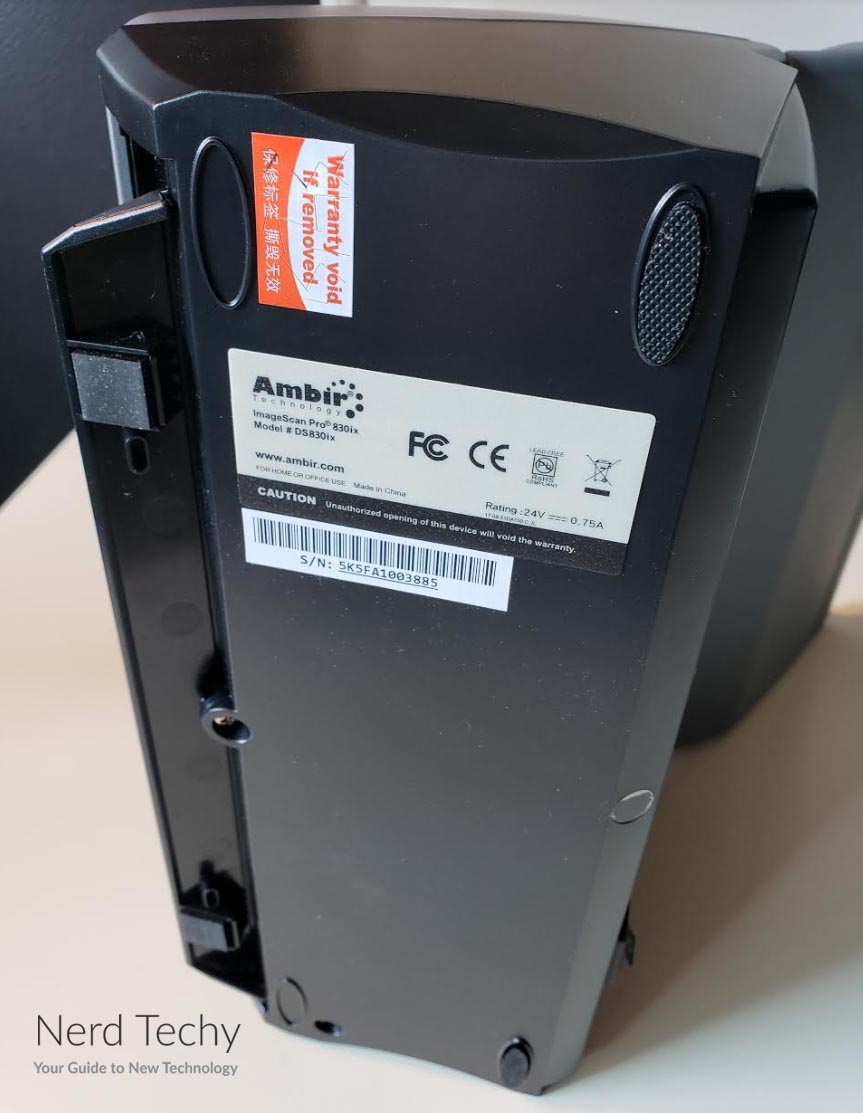 Yes, the ImageScan Pro 835ix ix a bit pricey. But if you want a better scanner, you'll be spending thousands of dollars on a monster of a machine. This machine is smaller than an ordinary office printer. You can easily transport it in the passenger seat of your car if that's what you want to do. In other words, you're paying a lot, but you're getting a lot of value for what you pay.
The other potential pain point is that the ImageScan Pro 835ix isn't Windows-compatible. On the other hand, for Mac users, it provides a ton of value. Much of this value comes from the included companion software. It generates searchable PDFs, which are far more useful for documents than ordinary image files. Not only that, but it allows you to generate presets that correspond to physical buttons on the scanner. This is a great way to simplify switching between settings. Once you've got things configured, you just push a button as you would with most office machines.
Alternatively, you could just use Apple Image Capture. You won't get to take advantage of the 835ix' best features that way, though.
Meet Derek, "TechGuru," a 34-year-old technology enthusiast with a deep passion for tech innovations. With extensive experience, he specializes in gaming hardware and software, and has expertise in gadgets, custom PCs, and audio.
Besides writing about tech and reviewing new products, Derek enjoys traveling, hiking, and photography. Committed to keeping up with the latest industry trends, he aims to guide readers in making informed tech decisions.