Quick Analysis
Pros
Excellent call quality on both sides of the call.
Easy connectivity with almost any device.
Can be daisy-chained with a second Luna speakerphone.
Attractive, intuitive design.
Cons
Short battery life.
Bluetooth speaker function is very mid-heavy.
These days, virtually every smartphone has a speakerphone mode. This is more than good enough if you're in your own home on the phone by yourself. However, a smartphone's "speakerphone" mode loses effectiveness if you've got six people sitting around a table. In most cases, for more than one or two people, you're going to want an actual speakerphone.
For a fixed office, an ordinary office phone will get the job done. You plug it into the wall and forget about it. But this isn't an ideal solution for everybody. It works for a fixed office, but what if you're traveling, or visiting a client? You don't always know for sure that there's going to be a speakerphone. Moreover, you don't always know if one is going to be available when you need to use it. A portable Bluetooth speakerphone solves this problem beautifully. You can take your speakerphone with you, and hold a conference just about anywhere.
Today, we'll be reviewing the eMeet Luna Bluetooth Speakerphone. eMeet is a well-known manufacturer of conferencing equipment. Not long ago, we reviewed their earlier eMeet 2 Bluetooth Speakerphone. We liked what we saw, and we were eager to get a look at the eMeet Luna Bluetooth Speakerphone. It has a round design, and is slim enough to travel without any trouble. It also offers several ways to connect to your phone or other device. But does it perform well to other, similar Bluetooth speakerphones? There's only one way to find out. Let's take a closer look!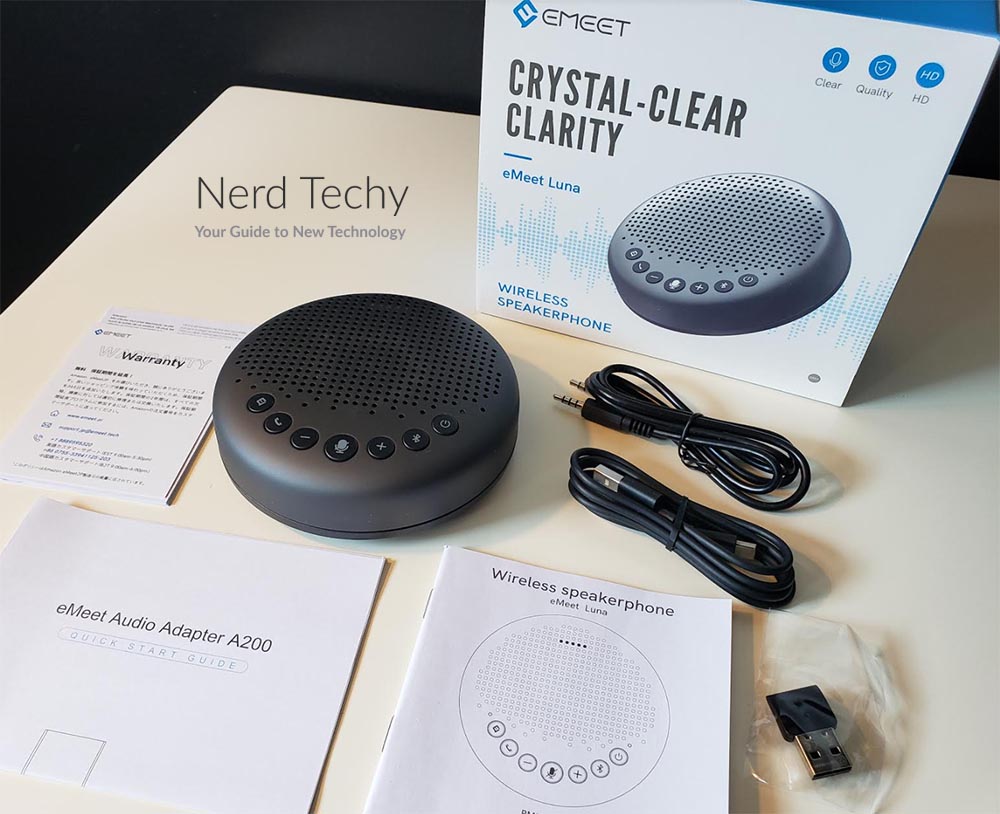 Design & Construction
If you don't know what you're looking at, the eMeet Luna looks nothing like a phone. It looks more like a simple Bluetooth speaker, if anything. It has a hockey puck shape, and measures 4.72 inches in diameter. At about ¾ of an inch thick, it's fairly slim for the size, and easy to carry around. It also weighs in at only 10.2 ounces. If you throw it in a backpack, laptop bag, or carry-on bag, you'll hardly even know it's there.
The housing is constructed from ABS plastic, and is available in two colors: jet black and charcoal grey. The top of the housing is perforated with a grid of round holes, much like any standard speaker housing. Inside this area, you'll also find the microphones invisibly located towards the outer edge. Near the back of the speaker, there's a row of five teal LED lights that indicate the battery level. As the battery is drained, they'll wink out one by one. Near the "front" of the speaker, the soft, rubbery buttons form a quarter-circle around the circumference. These buttons allow you to turn the speaker on and off, mute or unmute the mics, and adjust the volume. There's also a phone button for answering or ending calls, and another button for making a Bluetooth connection.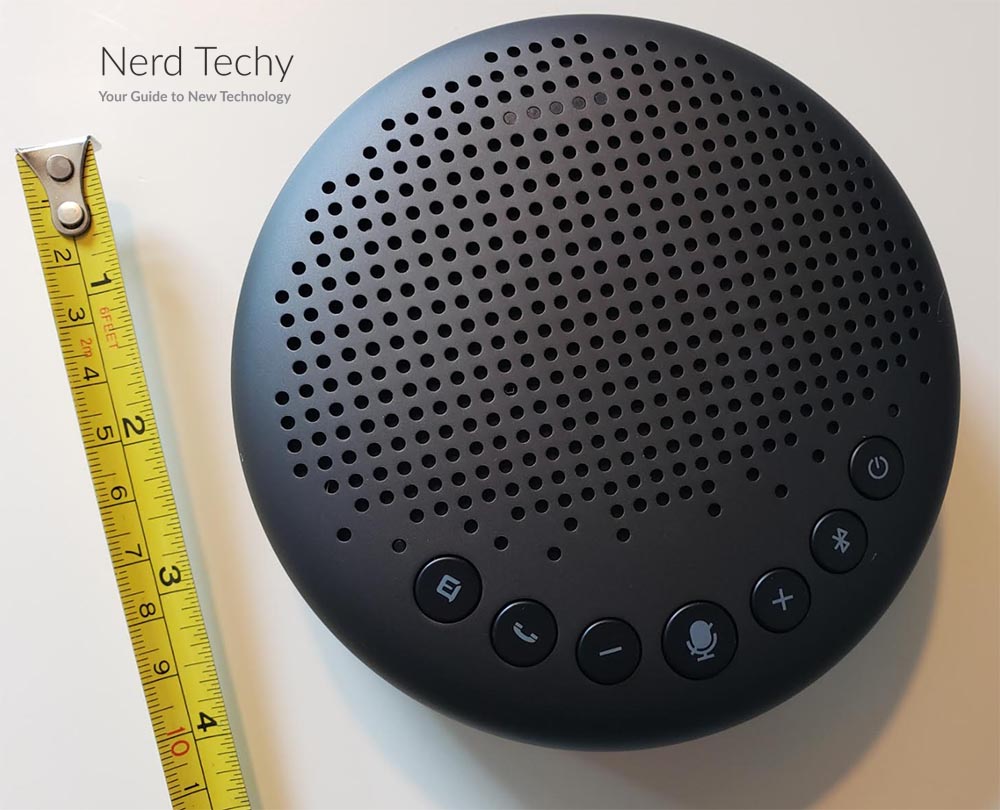 The edges of the house of the housing are gently curved, which eliminates sharp corners and creates a modern look. The sides are mostly bare. However, near the "back" of the unit, there's a row of ports for making connections. From left to right, you'll see a USB Type-C port, an out/link port, and a 3.5mm aux port. There's also a slot for attaching a Kensington lock, so you can secure the Luna when it's not in use.
The bottom of the unit has a set of rubber foot pads around the circumference. These keep it from slipping and sliding, and also from scratching your desk. In the middle of the bottom, there's a small storage slot. This slot is used for carrying the USB dongle, which is included in the kit. Also included in the kit are an aux cable for connecting to your phone, and a USB Type-C charging cable. The entire kit is covered by a 12-month manufacturer's warranty from eMeet. If anything goes wrong during this time period, simply return the Luna for a refund or exchange.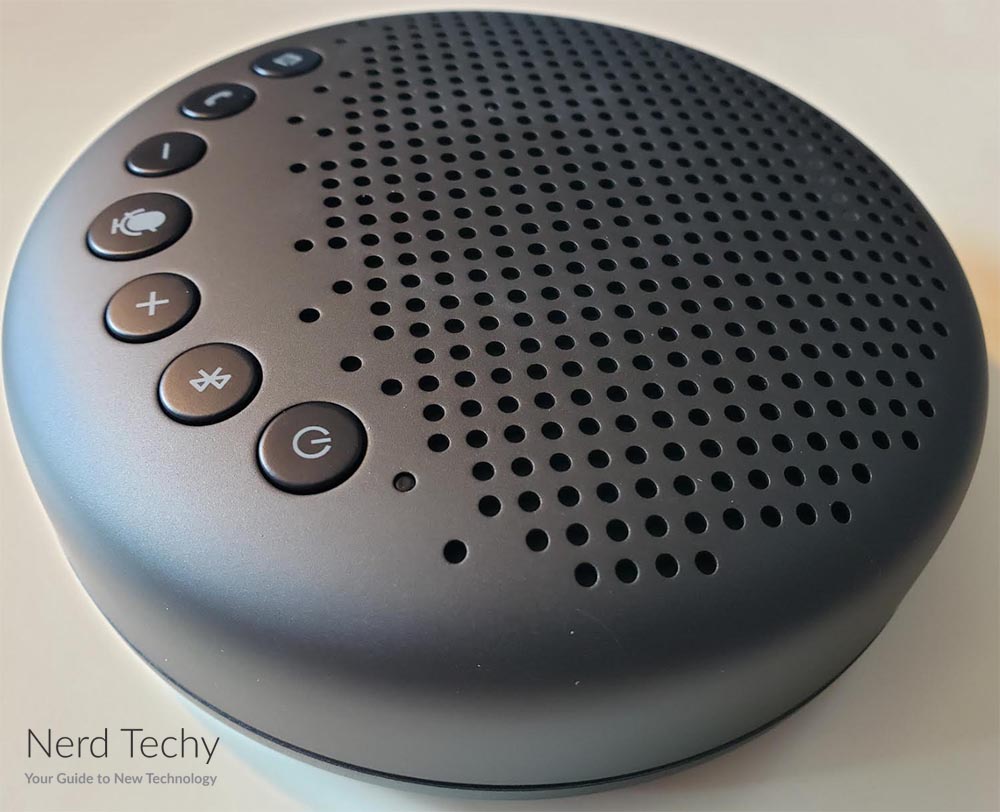 Connectivity & Compatibility
As its name implies, the eMeet Luna Bluetooth Speakerphone is designed to connect to your devices via Bluetooth. On most modern devices, this should be all you need. Just open up the Bluetooth menu on your phone, tablet, or laptop, and look for the Luna speakerphone. Of course, this assumes that your device has Bluetooth.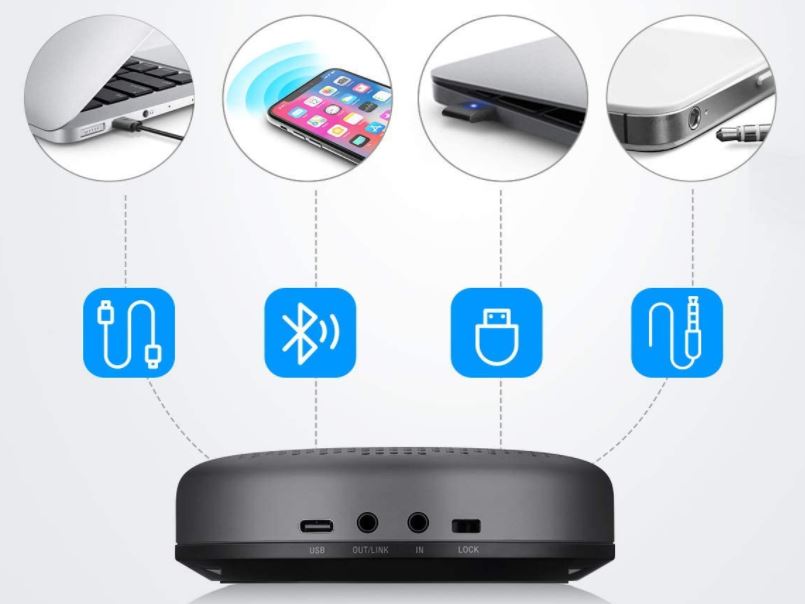 On some modern laptops, for some reason, there's still no Bluetooth support. Maybe developers figure that laptop users aren't using a ton of peripherals. At any rate, if you're using one of these laptops, you're going to need a way to connect to it. Remember that Bluetooth dongle we mentioned being stored in the base of the Luna? If you pop that dongle out of its storage well and plug it into your laptop, it functions as a Bluetooth card. This way, you can connect the eMeet Luna to laptops without native Bluetooth support.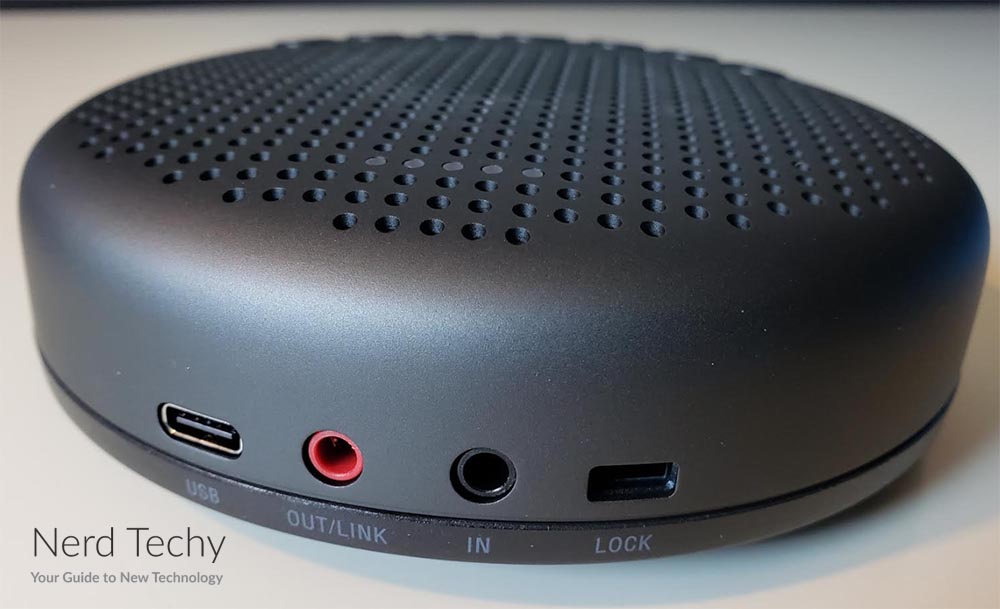 Another option is to simply use the aux cable. This isn't quite as sexy as using a wireless connection. That said, it has a distinct advantage: it won't drain the Luna's battery. On the other hand, it will put more strain on the battery of your phone or laptop. Which factor is more important is up to you. That said, the battery life in Bluetooth mode is somewhat lacking. It's rated for 7-8 hours, but we've found that 3-4 hours is more realistic in practice. To be fair, this depends on a wide variety of factors, including volume. Your mileage may vary, and you should rarely need a phone for more than 4 hours a day anyway. But if the battery does get perilously low, the aux cable can be a lifesaver.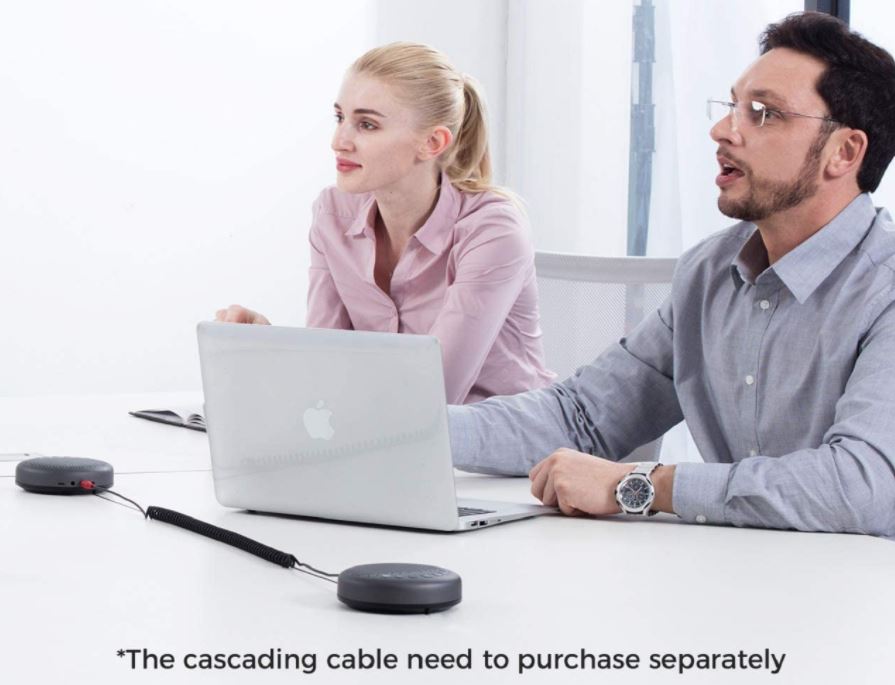 If you need to cover a wider area than the base Luna speakerphone, you can daisy-chain two of them together. eMeet sells a special cascading cable that connects the Out/Link ports of two speakerphones. In this mode, both speakerphones will function as a single unit. This allows more people to participate in a meeting without everyone having to crowd around the phone.
Call Quality
The eMeet Luna has three mics, evenly spaced around the circumference of the unit. This allows it to pick up sound from 360 degrees, so placement is a non-issue. There are no "blind spots" in the pickup pattern where someone can get lost and fade into the background. Whether you're using a round table, a square table, or some other shape, everyone will be able to participate. This is a significant improvement over many other speakerphones, which pick up sound in one direction only. You can get better coverage with a single Luna phone than you will from a phone with a unidirectional microphone.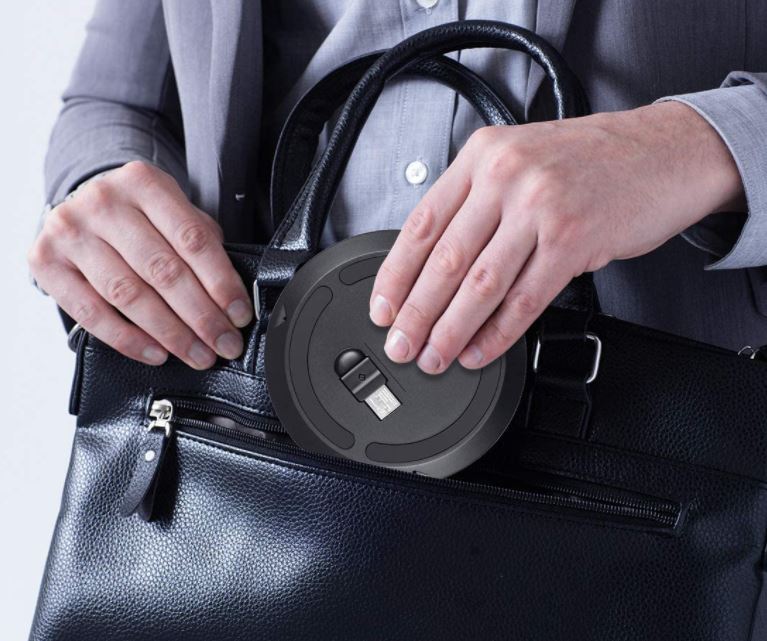 Call quality is good, with plenty of clarity on both sides. We'll talk a little bit more about outgoing audio in the next section. But you can hear the person on the other side very well, provided they have good mic quality. The speakers are nice and clear, and are balanced specifically for the human voice. This means you'll be able to hear people more clearly, particularly if listening conditions are marginal.
The Luna Bluetooth Speakerphone has built-in VoiceIA technology. This technology is a kind of noise cancelling that's meant to focus the audio on the human voice. Keyboards, air conditioning, copiers, and other office noises will be easily filtered out. If you're still having trouble, there's an optional auto-vocal-increase function. In this mode, the phone will automatically boost the volume when someone is too far from the phone. This can help the other party hear you better if there's a lot of ambient noise. Keep in mind that using this mode will cause your battery to drain more quickly. If you don't need it, it's smarter to turn it off. Thankfully, it can be activated or deactivated at the push of a button.
About the only function the Luna Bluetooth Speakerphone doesn't support is video. Unfortunately, for many people, that's essential for Zoom calls in today's era of working from home. If you need video for your conference calls, check out the eMeet C960. It's not ideal for traditional conferences. But if you're working remotely from home, it's a great way to get the most from your Zoom calls.
In addition to its speakerphone function, the Luna can also be used as a Bluetooth speaker. Here's the thing. The same mid-heavy mix that makes it ideal for conference calling makes it a poor choice from music. The mids will overpower everything else in the mix, with bass and highs pushed to the background. That said, the Luna is a speakerphone, not a speaker. The fact that it lets you listen to music at all is just a nice added bonus.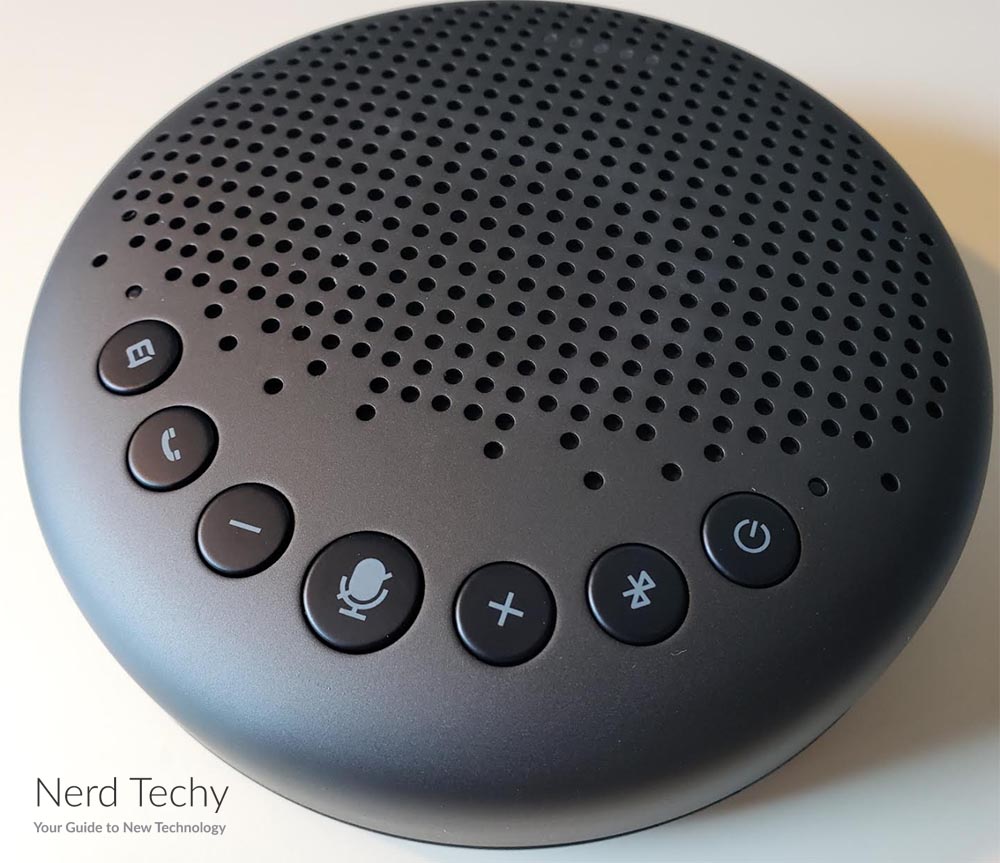 Final Verdict
The eMeet Luna Bluetooth Speakerphone is one of the better Bluetooth speakerphone options on the market. To begin with, you get plenty of connection options. You can connect to most devices via Bluetooth, but there's also a Bluetooth dongle for older devices. Finally, you can connect with a simple aux cable. This makes it easy to connect just about anything. Moreover, you can use the daisy-chain cable to connect a second Luna phone. This allows you to cover a large area. eMeet says that two speakerphones will allow for up to 12 people to use the phone. In practice, this is a good enough estimate. Point being, you get as much coverage as you'll know what to do with.
Call quality is also very good. The mid-heavy EQ might not be ideal for music, but it's perfect for voice calls. Our biggest concern is the battery life, which can be shorter than you might expect. Nonetheless, if you really need to push your speakerphone to the max, you can always use an aux cable. To top it all off, the overall design is attractive to look at and intuitive to use. For most people, this is the complete package.