When you're hauling your gear from point A to point B, a good backpack can make all the difference. That said, a backpack is a deceptively complex piece of equipment in its own right. The reason is that there are so many features for manufacturers to take into consideration. To begin with, what's the backpack made out of? Is it tough enough to take a beating? And is it comfortable to wear while you're carrying it?
Even good materials don't always guarantee a good experience. A backpack also needs to be well padded, and to be conveniently sized for travel. These days, that generally means being small enough to fit under an airliner seat, but big enough for storage. Finally, the quality of the storage compartments themselves are important. Are they big? Small? Is there a good mix of the two? Are they well-padded?
If you can find all of these elements in the same place, you've found a backpack worth owning. Today, we'll be reviewing the Waterfield Designs Field Backpack. Waterfield is a premium brand, producing high-quality luggage from their San Francisco headquarters. But just because a bag comes from a premium brand doesn't necessarily mean it's worth your investment. This is a pricey bag, so if you're going to buy it, it had better live up to Waterfield Designs' reputation. Let's take a closer look, and see how it stacks up!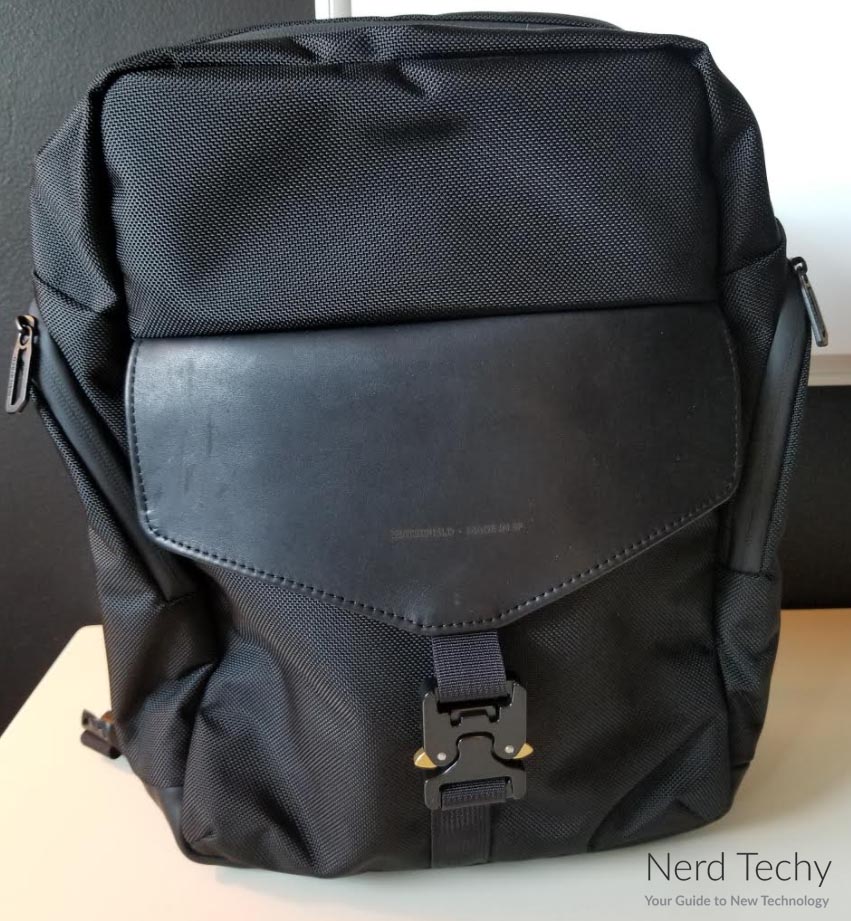 Shell and Materials
The first thing you'll notice about the Waterfield Designs Field Backpack is the quality of the material. As a matter of fact, you have two different material options depending on your preferences. The first is a black ballistic nylon, which has a fine weave that's tight and smooth to the touch. Moreover, it's good quality ballistic nylon. A lot of cheap nylon backpacks are stiff, almost as if they're made from hardened plastic. The Field Backpack is nice and flexible, so it will conform to your back and your gear. It also has a bright sheen that lends it an air of formality.
The other color option is waxed canvas. This is high-quality, 15-ounce waxed canvas that's tough enough to take a beating. And if it does get a little beat up, that will only add to the charm of the distressed finish. The wax finish makes the material water-resistant and easy to clean. If it gets stained, you can just wipe it off with water. If you want to keep a canvas backpack as sharp as possible, it's a good idea to refresh the wax every few months. Waterfield Designs recommends Martexin Original Wax for waxing their canvas bags. The canvas bag is light brown in color, a bit darker than tan but lighter than chocolate.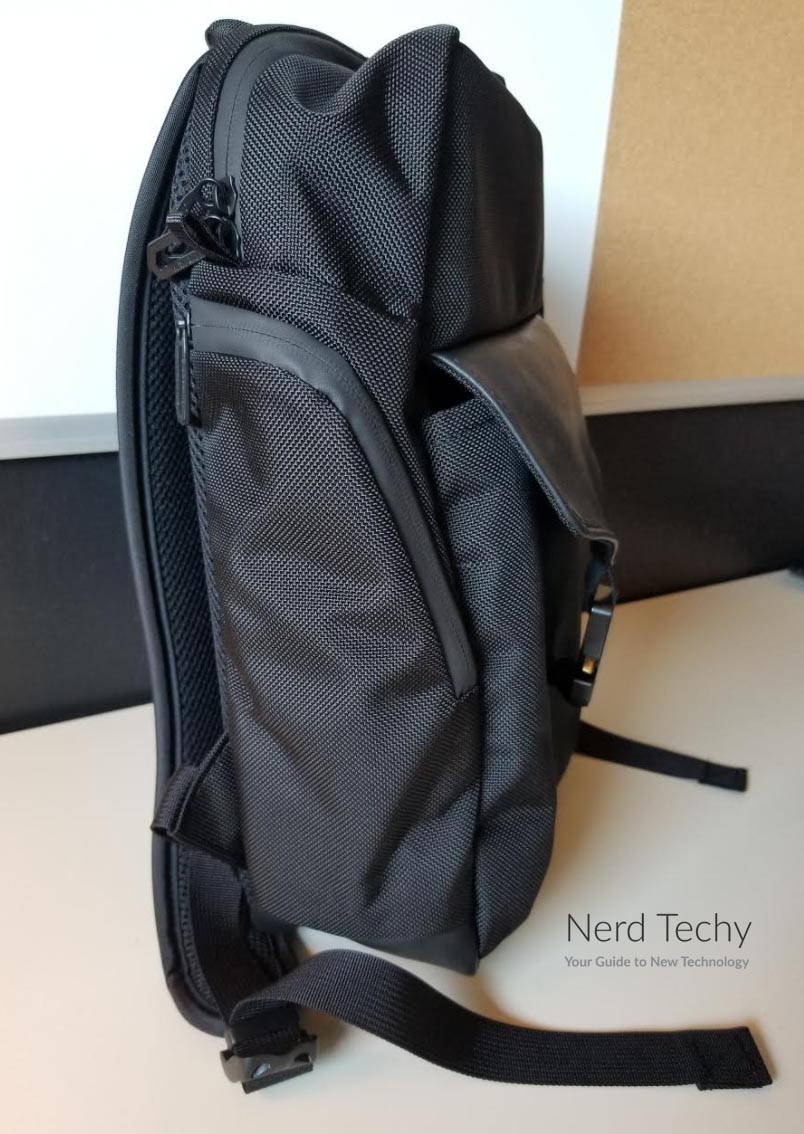 Both versions of the Field Backpack have leather reinforcements along the front flap, bottom, and top carrying loop. On the ballistic nylon bag, the leather is jet black, while on the canvas bag, it's a rich chocolate. Regardless of the color, the leather has a distressed finish that's designed to age over time. As it wears, it will gradually develop a sheen, or "patina". This patina is unique to the particular piece of leather it appears in.
Regardless of color, the reinforcements are made of full grain leather. This is the strongest type of leather, since it uses the full thickness of the cow hide. Moreover, it's still as attractive as top grain leather, since the top grain has never been removed. The end result is a leather with a tight, attractive grain and a smooth, easy-to-clean finish.
The inside of the backpack has a cushy, yellow-gold nylon liner. This isn't just for show. It's water-resistant, providing an added layer of protection for your gear. It also has a smooth, soft finish, so you don't have to worry about your gear getting scratched. Besides which, the brightly-colored liner makes it easy to spot small objects in the bottom of the bag.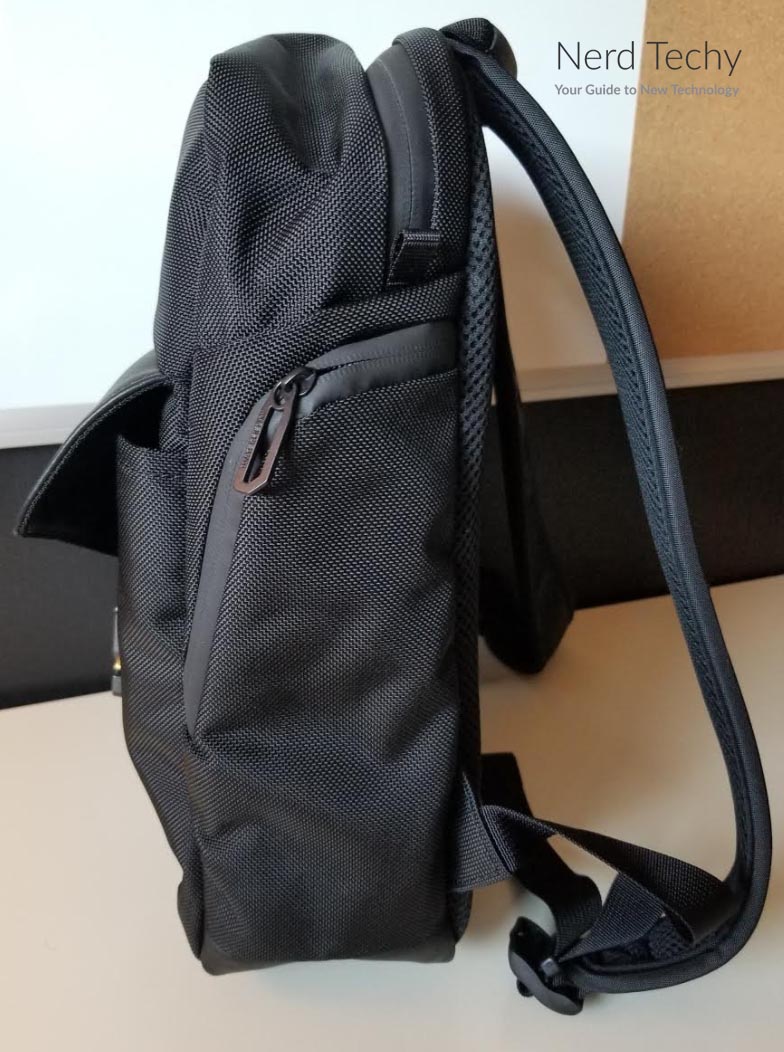 Dimensions and Design
The Waterfield Designs Field Backpack is built with TSA requirements in mind. At 14.25 inches high, 10.375 inches wide, and 4.5 inches thick, it's approved as a carry-on bag. Moreover, it's nice and light. The canvas version weighs in at 1.5 pounds, and the ballistic nylon is a bit heavier at 2 pounds. Still, compared to whatever you're putting in it, either version of the backpack is practically weightless.
The back of the pack features a generous mesh padding that's nice and breathable. Not only does this keep any pressure points from digging into your back, it also wicks away sweat. This makes it as suitable for a day hike as it is for a day at the office. The top handle is comfortable to carry, with enough full grain leather for cushion. The leather-reinforced bottom is also a nice touch. No matter where you set your backpack down, you don't have to worry about the bottom getting easily damaged. And if you set your backpack down somewhere dirty, the bottom is easy to clean.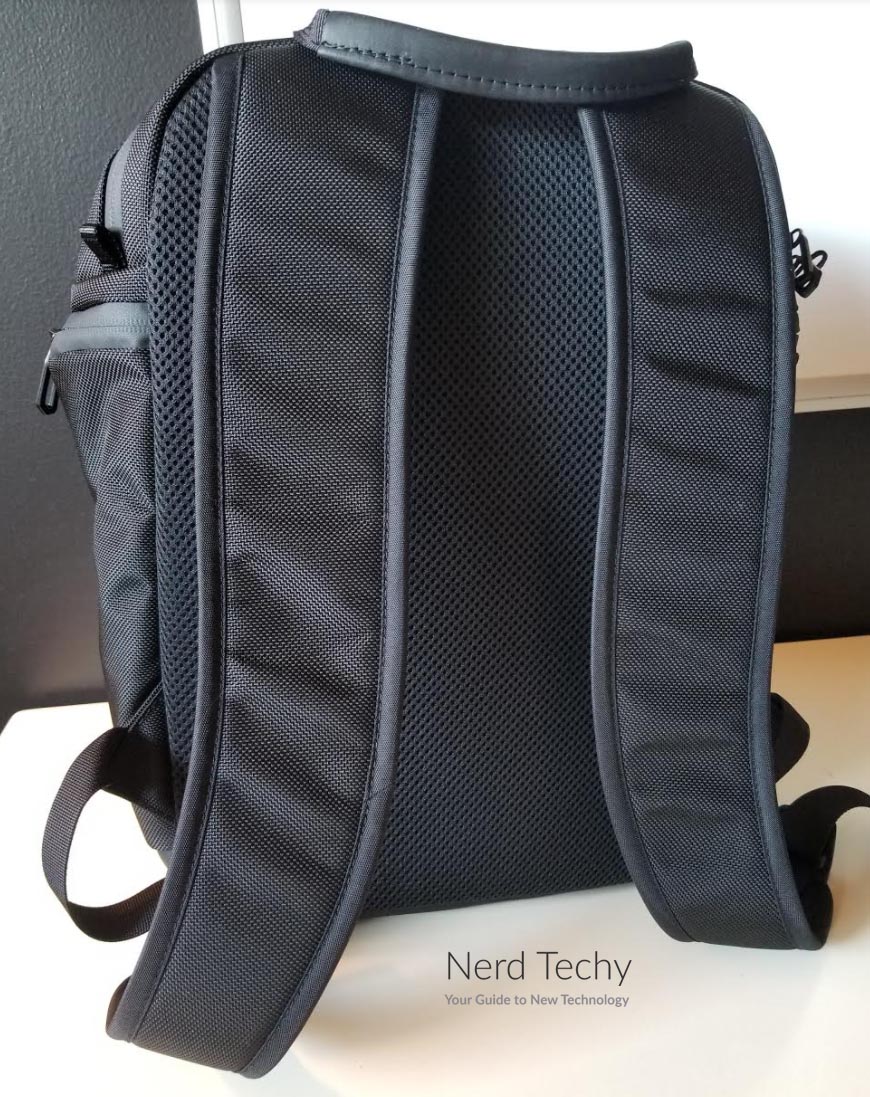 In addition to being available in two materials, the Field Backpack is available in two styles. It can either be ordered as a standard backpack, or as a single-shoulder sling. Here's a quick look at the differences between the two variants.
As you probably expected, the backpack version has two straps, one for each arm. The straps have a neoprene foam mesh like the back of the back, which offer the same benefits. Sweat and pressure points are simply not a concern. This configuration is better if your backpack is actually going to be on your back most of the day.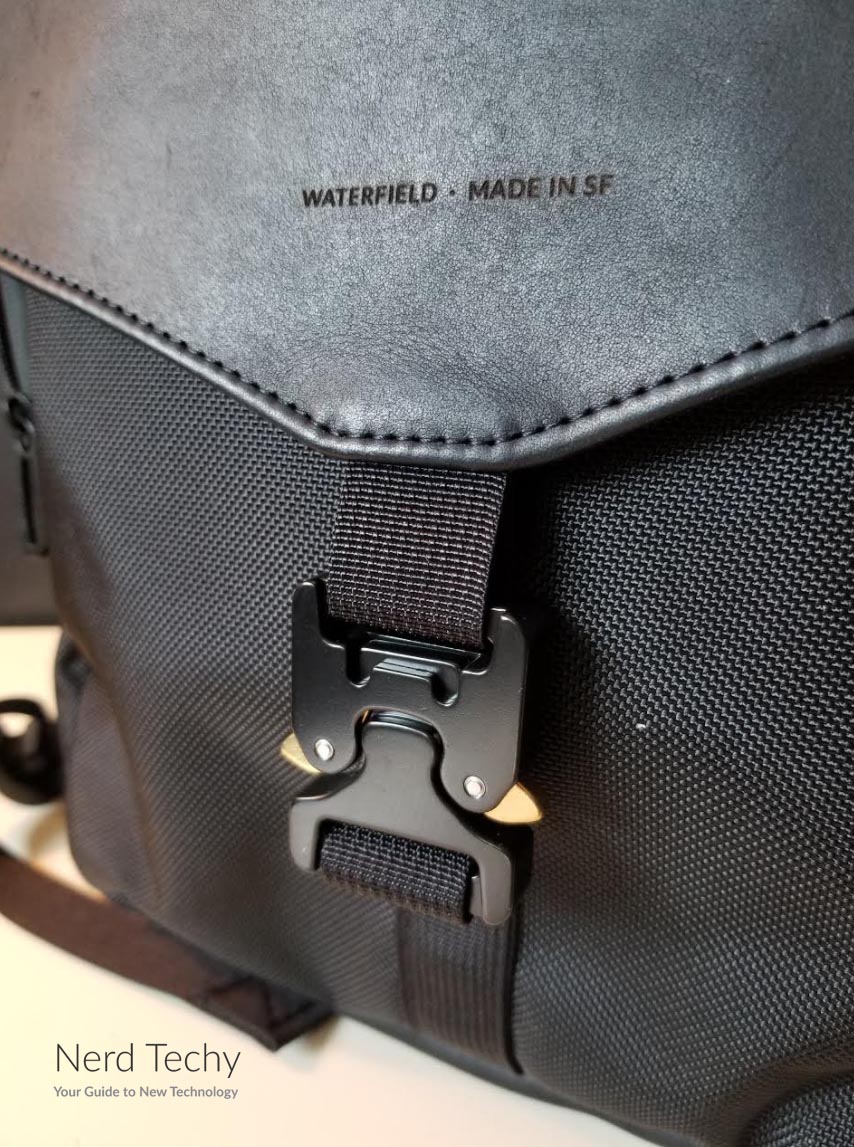 The sling version comes with a simple nylon strap that goes over one shoulder and across your chest. Obviously, this isn't as comfortable for long-term wear as a standard backpack. But for a quick jaunt, it's more than comfortable enough. Not only that, but Waterfield Designs includes a removable shoulder pad that adds a bit more comfort. The fit is easily adjustable, with a cam-lock buckle that can change the length without removing the sling. It will accommodate most people, except for those who are exceptionally short or exceptionally tall. The sling can be removed or attached easily with the built-in heavy-duty snap locks. There are even lower D-rings on both sides of the bag, so it can be worn left- or right-handed.
If you want something a little more traditional, you might want to consider the Waterfield Designs Air Duffel. As its name implies, it's a duffel bag that's designed to be small enough for air travel. It's constructed from a combination of waxed canvas, ballistic nylon, and full grain leather.
Alternatively, you might be looking for a smaller electronics carrying case. In that case, take a look at the Waterfield Designs Developers' Gear Case. It's a more compact case, with built-in pass-through grommets for charging your electronics on the go.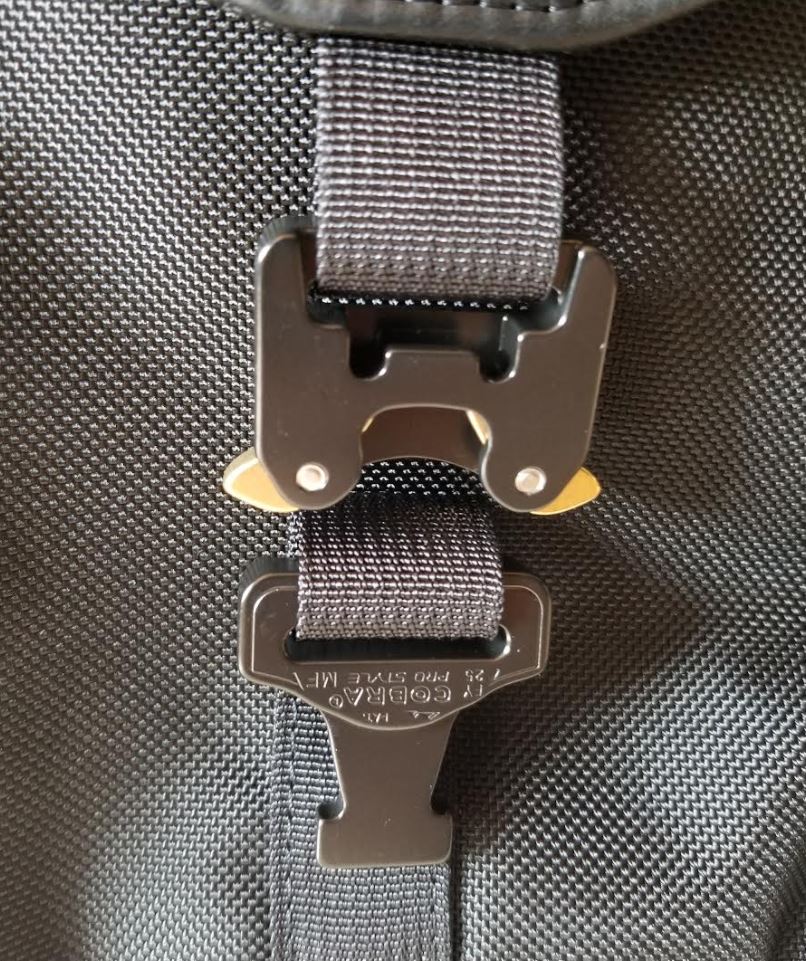 Storage
Inside the Field Backpack, there's plenty of space to stow all your gear. In addition to the spacious main compartment, there are a few other specialty compartments we should mention. To begin with, there's a small zipper pocket inside the main compartment. This won't hold anything larger than a small tablet, but it's a good place to keep valuables safe.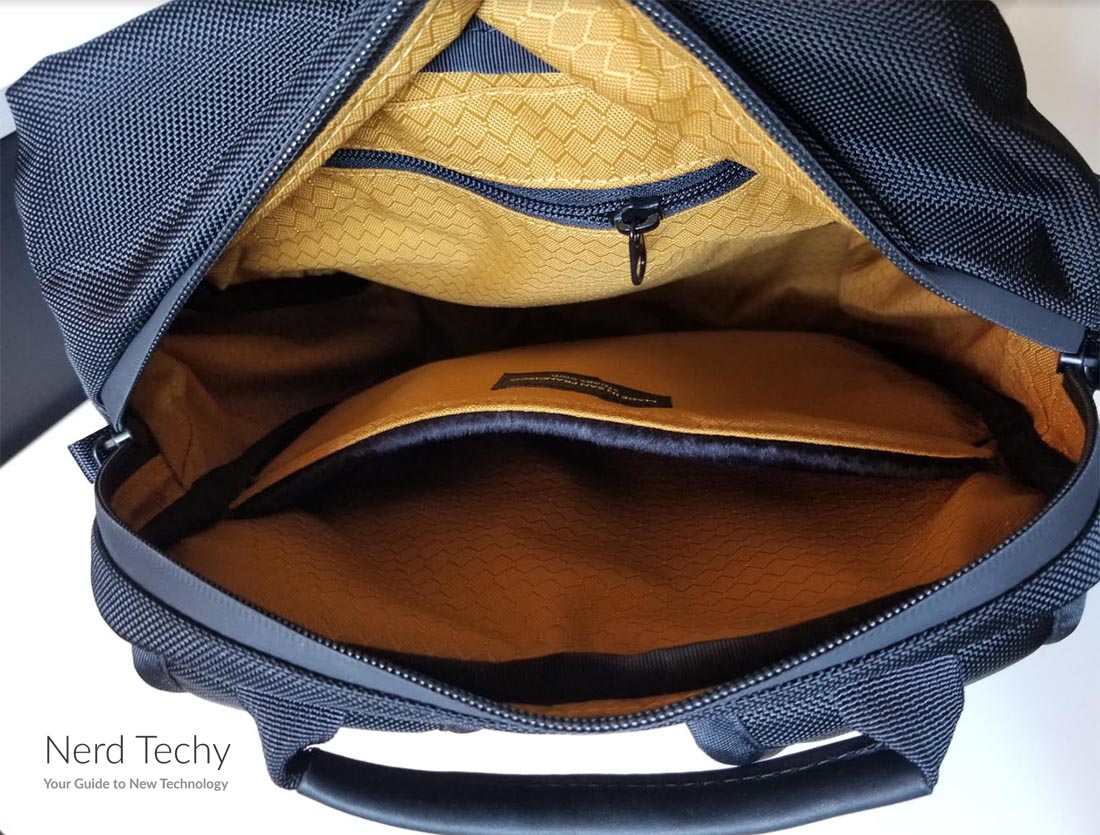 In the back of the main pocket, there's a padded compartment for your laptop. This compartment is foam-backed and lined with plush material to keep your laptop safe. It's also great for tablets, or for anything else that you're worrying about getting damaged. Unfortunately, the size of this sleeve is limited by the overall size of the backpack. At most, it will accommodate machines with dimensions of up to 12.75 x 9.25 inches. This is large enough for a 13-inch MacBook Pro or a 13.5-inch Microsoft Surface. But if you have a beefier laptop like a MacBook Pro 16, it's not going to fit.
The front pocket is designed for students, or for anyone who needs storage for office supplies. A paragliding buckle makes it quick and easy to flip up the leather flap and access the compartment. Inside, you'll see a pen slot, several organization pockets, and even a key hook. If you need to carry a pen, a notepad, a calculator, and a few highlighters, they'll all be neat and organized.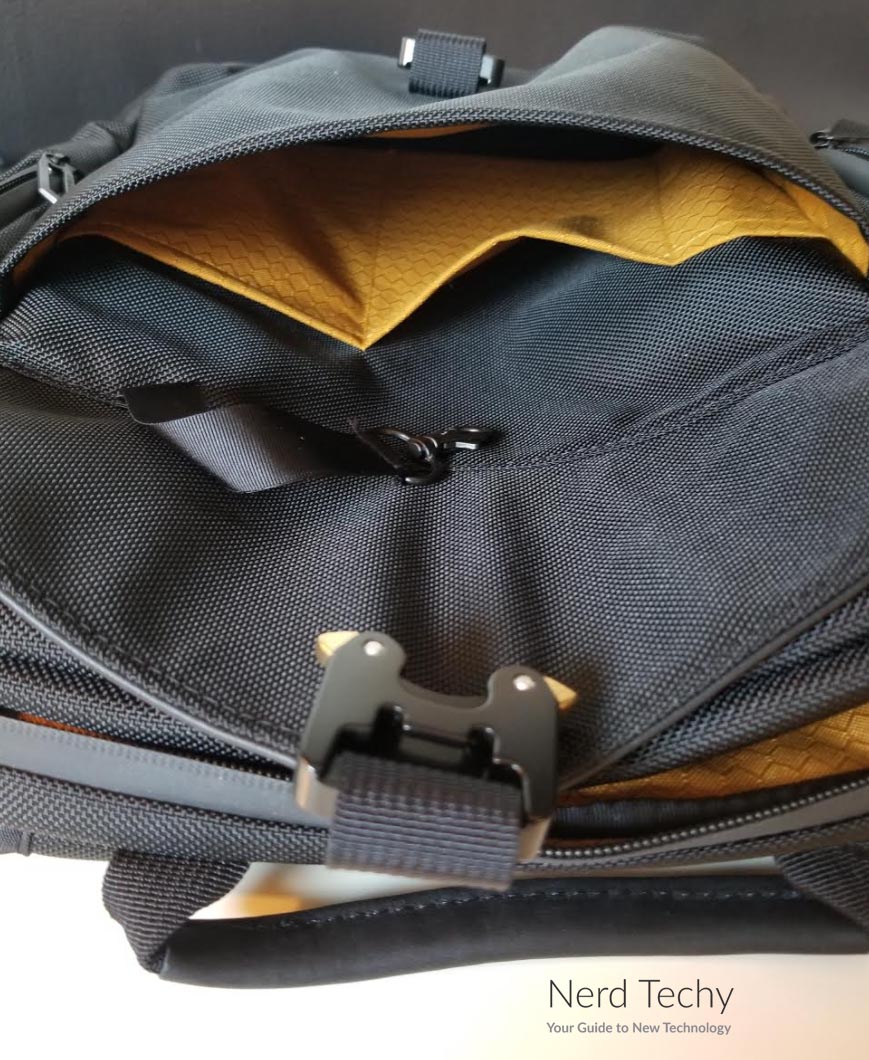 Finally, there are two vertical storage pockets, one on either side. These pockets have a zipper closure, with high-quality YKK zippers that sweep from the top down to the front. This closure orientation makes the pockets easy to access even without taking the bag off all the way. Just swing the pack around to the side and you'll be able to open the pockets easily. This makes the side pockets a great place for water bottles, or for other frequently-accessed items.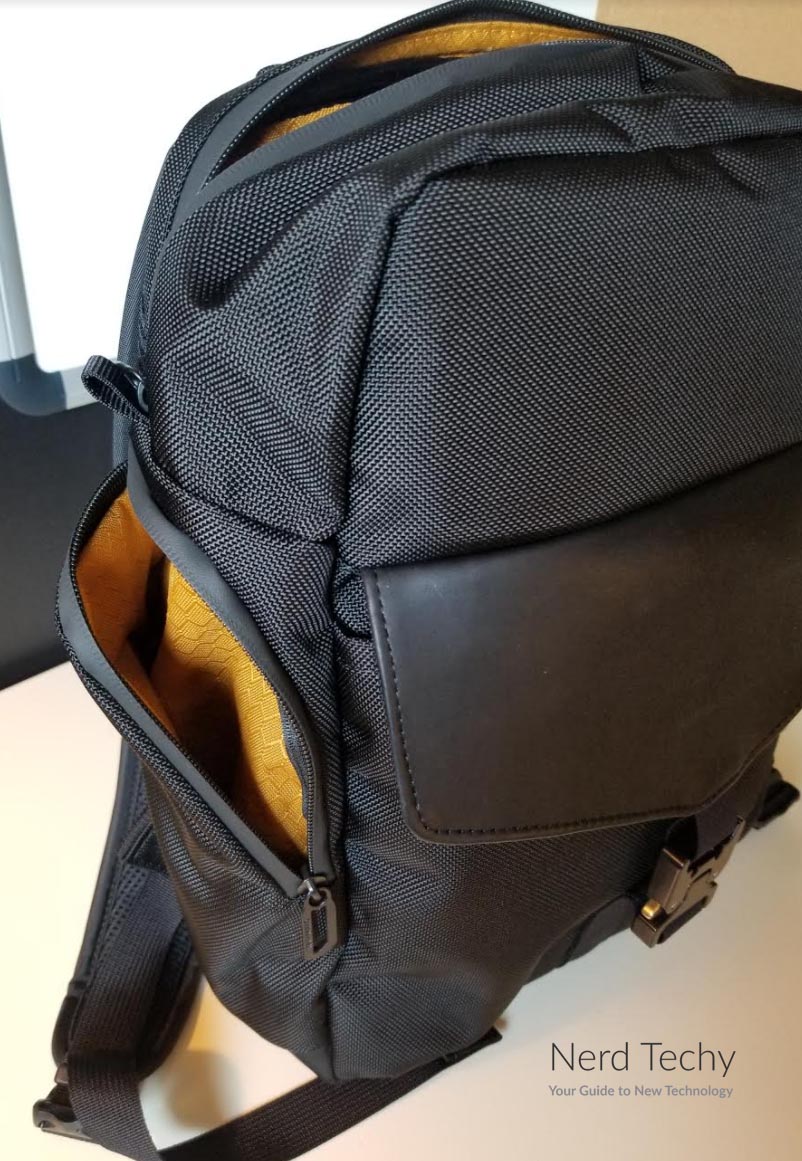 Final Verdict
So, is the Waterfield Designs Field Backpack worth buying? Or should you be looking for more features at this price point? To begin with, let's talk about the quality of the materials themselves. Whether you order the ballistic nylon or the waxed canvas version, you can't really go wrong. The outer shell is tough and rugged enough that it will last for years of heavy use. Moreover, the Field Backpack is very easy on the eyes. It's one of the few backpacks that looks truly "professional" for an office environment.
Another thing we liked was the variety of options. Not only can you choose the bag's material, you can also choose a backpack or sling variety. This makes the Waterfield Designs Field Backpack more diverse. In many ways, it's whatever you want it to be. Internal storage was mostly a positive. We were disappointed by the relatively small size of the laptop sleeve. On the other hand, the rest of the storage is very well designed. Everything is easy to access, and the variety of pockets makes it easy to stay organized. And if you have a smaller laptop, you'll have a very well-padded sleeve to carry it in.