Digital picture frames have been around for several years. With these tools, you can easily display dozens of pictures in the same frame. Why pick and choose which photo to hang on your wall or set on your nightstand? With a digital frame, you can display them all. With earlier generations of frames, photos were stored on an SD card. This local storage was effective, but updating your photos was inconvenient. You had to remove the card, put it in your phone or PC, and rearrange the pictures. Moreover, if you were gifting the frame to a relative, you couldn't update it with new pictures later.
With a WiFi connected picture frame, you can update the photos much more easily. In your own home, you can change the photos however often you like. And if you gifted the frame to a relative, you can surprise them with new pictures from time to time. Depending on the frame, you can also get other smart features, such as motion detection. Today, we'll be looking at three of the best WiFi connected, smart digital photo frames.
First, we'll look at the Nixplay "Smart" Digital Picture Frame, a beautifully designed, slimmed-down option. Next, we'll look at the Aura Frames "Carver", a heavy-duty frame with plenty of app features. Finally, we'll review the Meural Canvas II, which brings a more artistic touch to the equation. At the end, we'll wrap up, and tell you which frames are best for what purposes. Let's get started!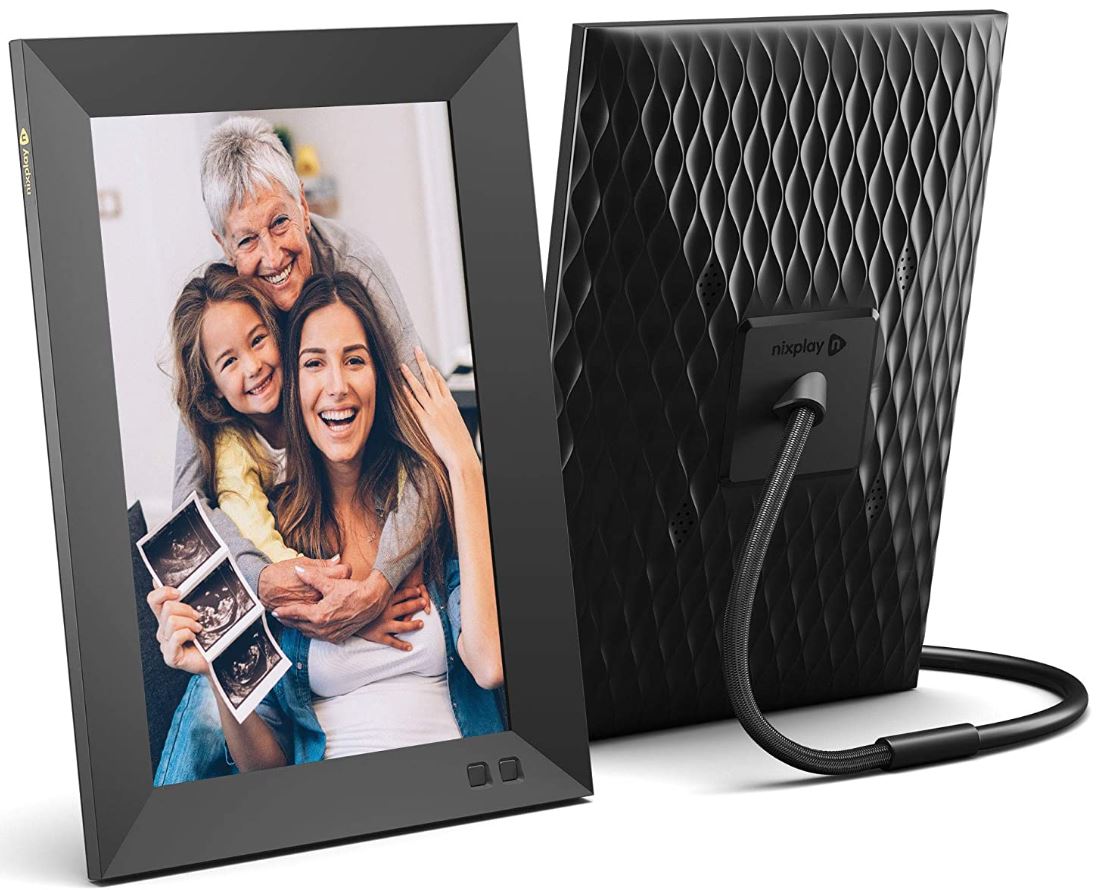 Nixplay Smart Digital Picture Frame
The Nixplay Smart Digital Picture Frame is a more lightweight option than the Aura Frames Carver. It's constructed from black ABS plastic, and it's designed to sit on a table, not hang on a wall. It's available in four different screen sizes: 9.7 inches, 10.1 inches, 13.3 inches, and 15 inches. This gives you plenty of options, whether you want a compact photo or a larger one. The front of the frame has an understated, angular appearance that should match most décor schemes. The back has a scalloped design, which makes it easy to carry without dropping it. It has a gooseneck-style support arm, which can be adjusted to just about any angle.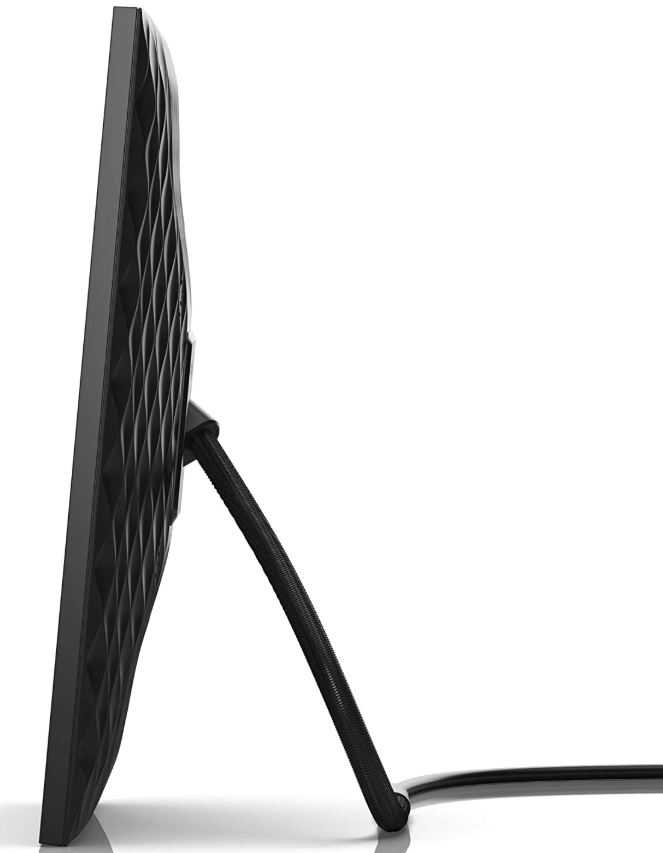 The screen itself has a resolution of 1280 x 800 pixels, which isn't bad, but also isn't terribly impressive. For the 10.1-inch and smaller screens, the appearance is just fine. For the larger sizes, we would have liked to see a better resolution. Still, considering the price tag, this isn't a serious complaint. The frame will also automatically orient to portrait or landscape based on its positioning.
There's a motion sensor on the front of the Nixplay, much like the one on the Carver. It will automatically turn on the screen when there is activity, and shut off when the room is empty. If you prefer manual controls, there's a small control panel on the back of the frame. From there, you can manually switch between photos, or even temporarily pause on a single picture.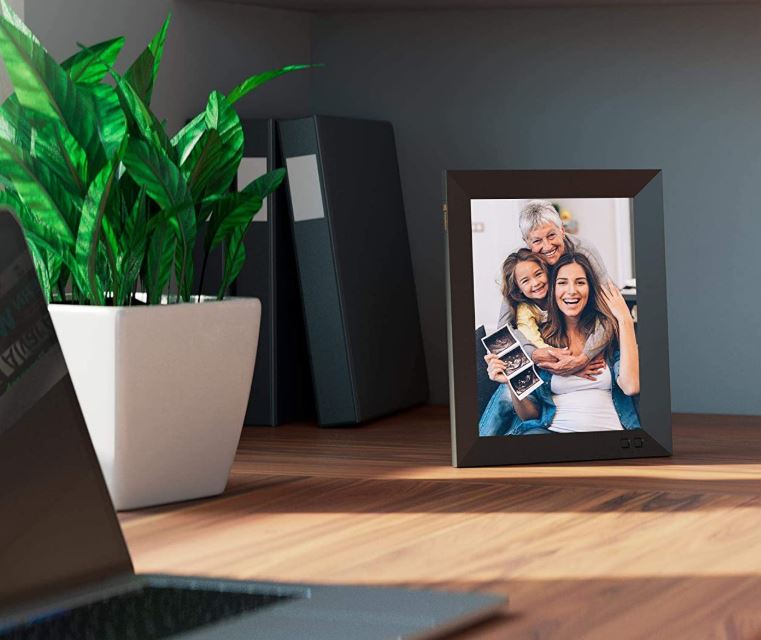 Connectivity & Extras
Like any smart digital picture frame, the Nixplay Smart Digital Picture Frame has a companion app. The Nixplay App is available for free on both iOS and Android, and provides plenty of control options. There's no cloud storage available directly from Nixplay. That said, you shouldn't have any trouble finding other options. This is because the Nixplay is compatible with many existing cloud services. You can connect it to Google Photos, Dropbox, Instagram, and even Facebook.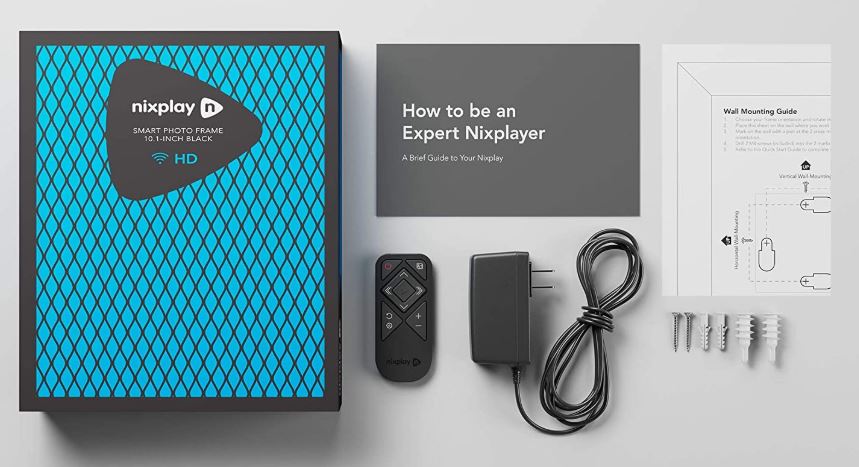 If multiple family members have Nixplay frames, you can invite each-other to share to each-others' frames. This is a great feature if you have relatives throughout the country. As a part of this feature, you can create different playlists for different purposes. Vacation photos and family photos, for example, can go in separate playlists. Create another one for your sister's wedding, and so on. The options are truly endless. Perhaps the best part of this feature is that you can create different playlists for different relatives. This makes sorting as easy as dragging and dropping a photo. The playlist features also work at home. Using the app, Amazon Alexa, or Google Assistant, just ask to see the playlist you want. You can even use voice controls to freeze a particular photo for a period of time.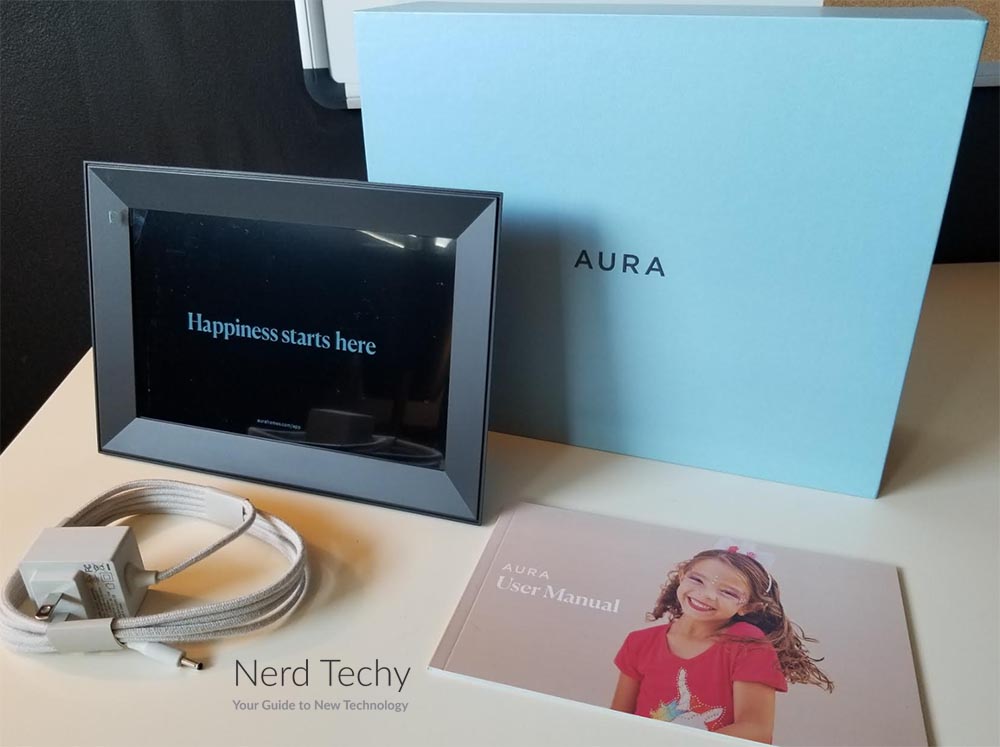 Aura Frames "Carver"
The Aura Frames Carver is designed to be tough and beefy. This isn't your typical cheap plastic frame. It's constructed from durable aluminum, and measures 10.6 inches wide, 7.4 inches high, and about 3 inches deep. The diagonal measurement is 10.1 inches, which makes a good display size for most family photos. The frame comes in 2 different colors: charcoal or white. At 3.5 pounds, it's a bit heavy for the size. But considering how durable and "hight quality" it feels, the weight is understandable.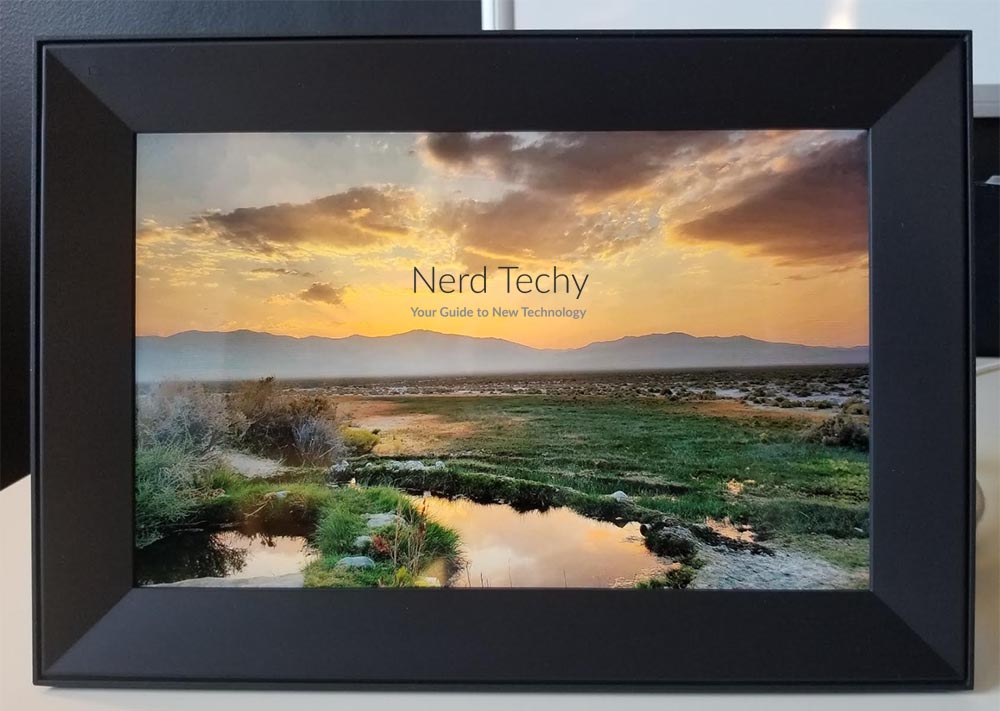 The screen resolution is 1920 x 1200 pixels. This rests about half of 4k quality, and honestly, it's as good as you need for most standard applications. On this sized screen, and from a distance, you're probably not going to be able to tell the difference between 1920 x 1200 and 4K. The pixels are simply too small to tell the difference. Your photos will display at pre-determined intervals, which you can set anywhere from 15 seconds to 5 minutes. As the pictures display, you can swipe on them to bring up a "like" button and other features. Liking a photo means it will show up more often on the screen. Pretty cool!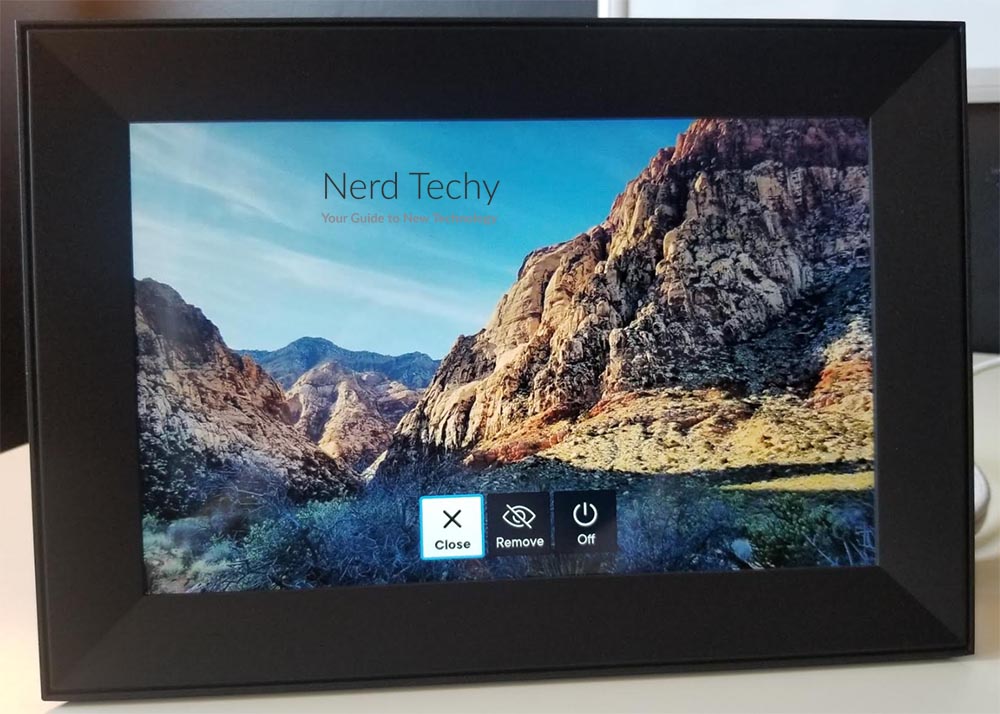 The Carver has a built-in motion detector, which will automatically turn on the display when you enter the room. When the motion detector doesn't see any activity for an extended period, it will automatically shut off. The brightness also adjusts automatically based on ambient lighting. In a brightly lit room, the screen will turn up the brightness. When you turn off the lights, the screen will reduce in brightness to compensate. As you can imagine, these features come with a substantial price tag. But considering what you're getting, it's a great value.
Connectivity & Extras
The Aura Frames "Carver" comes with a free companion app. Simply go to the Apple Store or Google Play, and search for the Aura app. While many picture frames charge a fee for storage, Aura does not. You get unlimited free cloud storage, with free, around-the-clock updates. Even better, you can link multiple smartphones and multiple frames on the same account. If you have family members across the country, it's easy to stay in touch. You can send photos to grandma right from your phone, or get regular updates from your kids. Vacation photos, pictures of family events, or hiking photos are all easy to update.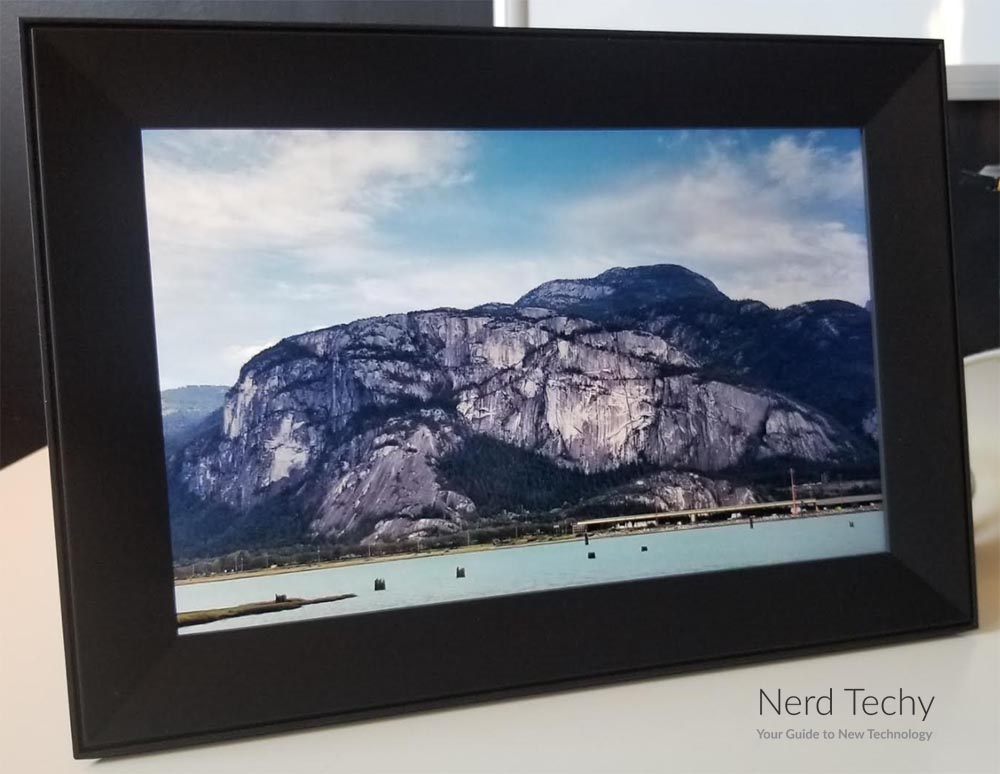 One thing you should be aware of is that the app has a "Smart Suggestions" feature that's enabled by default. With this option active, all photos on your phone will automatically update to the cloud. It's not hard to imagine how this could cause embarrassment. Simply turn off smart suggestions, and you won't have to worry about Aunt Tilly seeing your spicy photos.
In addition to easy cloud updates, you can print photos directly from the app without downloading them. Just saw a vacation photo from your aunt? You can send it directly to your photo printer. This makes it easy to get physical copies, and you'll still see the photo in your digital frame as well. We've actually reviewed the Aura Carver in the past. If you want to learn more, read our full review to read about all the features.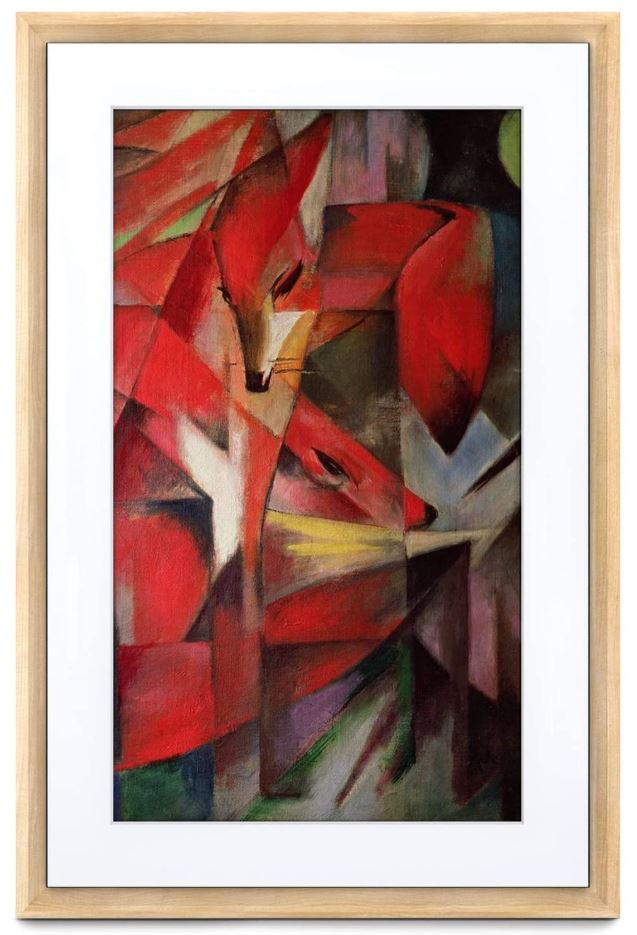 Meural Canvas II
If you're looking for a premium picture frame, look no further than the Meural Canvas II. This frame comes in two different sizes: a 16 x 24 and a 19 x 29-inch option. This works out to a 21.5-inch and 27-inch diagonal measurement respectively. There are a few different color options. The smaller frame has a faux wood finish, which is available in both light and dark wood patterns. The larger frame, on the other hand, has a glossy black finish. All versions have an angular form-factor, which protrudes outward from the picture. The total weight ranges from 14 to 23 pounds, so make sure to hang it on a sturdy hook. As of the time of this writing, there's no hardware available for setting the Canvas II on a table.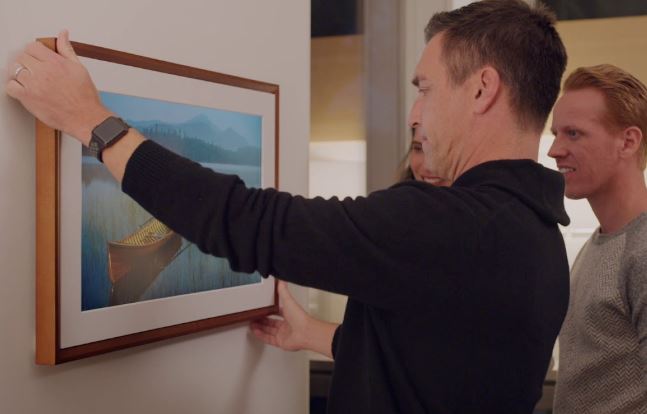 The Canvas II has a resolution of 1080p. This isn't stunning 2K, but it's more than good enough for most purposes. The 16:9 aspect ratio is ideal for most modern cell phone photos. If you have photos in other aspect ratios, you can choose whether to crop them or use a letterbox format. The Canvas II will automatically switch to portrait or landscape mode depending on its orientation. If you want to be able to switch between the two, Meural offers a separate swivel mount. This mount includes all the hardware you need to attach it to the wall. Once it's installed, you can pivot the frame at will. The frame comes at a price that matches all of these features. But considering the overall quality and classic appearance, we're not complaining.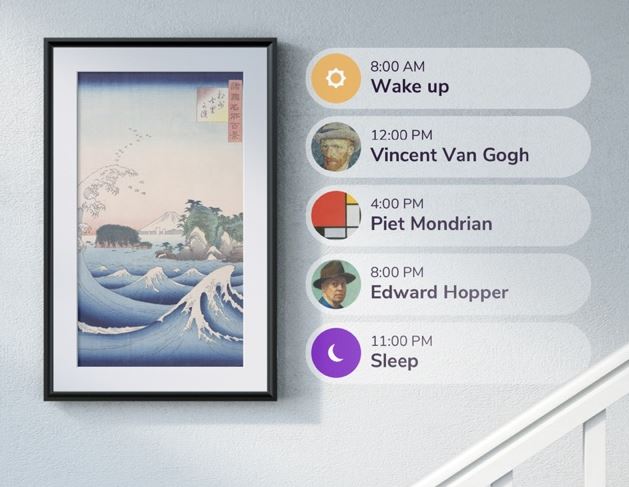 Connectivity & Extras
Like the previous options on our list, the Meural Canvas II comes with a companion app. You can find the Meural App for free in both the Apple Store and Google Play. From there, you can create your own personal photo gallery. The Canvas II does not have any cloud storage. All of your photos are stored directly in the picture frame itself. On the one hand, this offers you better security than a cloud option. On the other hand, it means you'll have a harder time sharing photos with your family. Through the app or the Canvas II's touchscreen, you can adjust settings such as display time and brightness. You can also schedule specific photos to display at specific times. Alternatively, you can use your voice assistant to perform these same functions.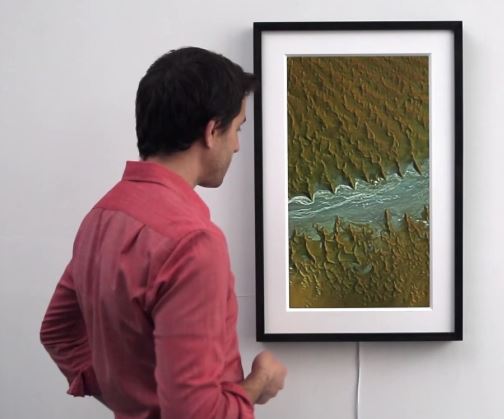 One unique feature of the Meural Canvas II is that it supports an online digital library. For an annual subscription fee, you get access to over 30,000 paintings. Many of these are familiar classics, while others are new paintings from up-and-coming artists. So not only can you enjoy your personal photos, you can have your own personal art gallery. The subscription fee is a bit steep, but it comes with an upside. 60 percent of the fee goes directly to support the artists.
Even with a digital picture frame, there's still something to be said for physical photo prints. For our most treasured photos, there's no replacement for holding an actual print in your hand. If you're looking for an affordable option, consider the Instax Mini Link Smartphone Printer. As its name implies, it allows you to print off your photos via an app, directly from your smartphone.
Final Verdict
Now that we've looked at all three options, it's time to render a verdict. Which one is the best? For a high-quality picture frame for family photos, the Aura Frames Carver is a great choice. The app and integration with multiple users helps families to keep in touch over long distances. The construction and image quality are excellent, the price tag is a bit steep.
If you want a more affordable option, the Nixplay Smart Digital Picture Frame has most of the same functions. It's lighter weight, with a lower resolution than the Carver, but you can still share pictures with your family.
The Meural Canvas II, meanwhile, is in a class of its own. It's a premium digital photo frame that looks like a work of art, with a price point to match. It's not well-suited for family sharing, but if you want a home art gallery, you've found it.
Was this helpful? Please consider sharing: