If you're anything like us, walking into your home and seeing the walls decorated with photos of your family, your travels, and your adventures is incredibly comforting. A photo might just be a snapshot of an experience that you had, but having the ability to surround yourself with your experiences can certainly make a house feel like a home.
For our parents, a photo was a big deal. Film was expensive, and consumers took the time to make sure that every shot counts. In those days, filling your walls up with pictures could take a lifetime. Today, it could take a weekend.
We've all got powerful cameras built into our phones. If we do own a digital camera, a $20 memory card can fit thousands of photos. Now that the equipment we use to take photos has gone digital, maybe it's time to digitize the way we display them.
Digital Photo Frames are a popular choice for people who want to display their images, but don't necessarily want to have them printed. You can use one of these frames to play back a slideshow. Instead of picking your favorite picture from your latest trip, why not show them all? Once you've got it set up, you can change the images as often or as little as you want. It's a one-time purchase that can pay off for years to come.
There are tons of digital photo frames on the market. If you're considering one for yourself, you've likely had trouble determining which one was right for you.
In this guide, we're going to be looking at the three best options on the market. We'll explain the differences between them, and help you figure out which one best suits your needs.
Nixplay Seed
Focusing exclusively on digital photo frames, Nixplay is a company that knows their industry. Their excellent material design, high quality displays, and easy to use interface help them establish themselves in a crowded marketplace. Although this isn't their flagship model, we found that the Edge had all the functionality we were looking for, and still came in at an affordable price. There are two display sizes available – 8 or 13 inches measured diagonally, and you can purchase them with or without at 16 GB memory card.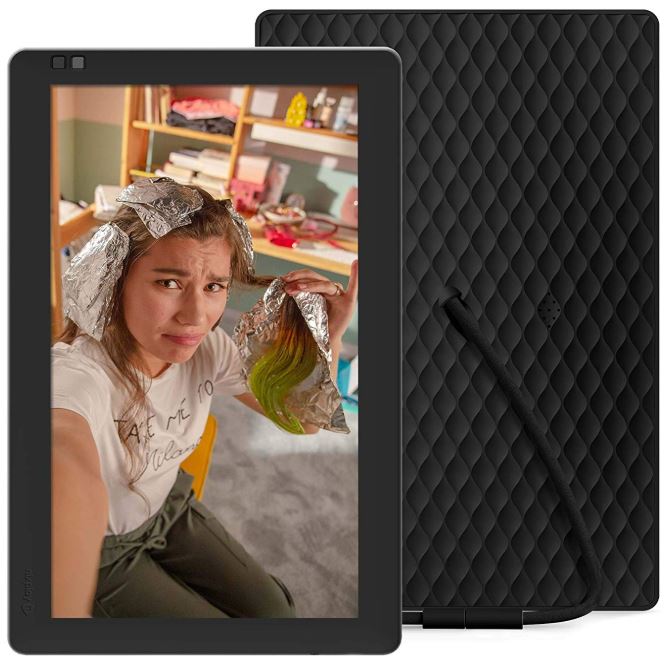 Functionality
The simplest way to get the Nixplay Seed up and running is to insert a memory card. You can use the SD card straight out of your phone with a Micro-SD adapter, or the one from your camera. As soon as you turn it on, it will start displaying a slideshow of all the files found on the card.
If you connect the Edge to your WiFi network, you open the door to a ton of great functionality. You can have it load photos directly off your social media profiles. You can play back your Instagram, Picasa, or Flickr feed with the touch of a button. You're also able to access Facebook photos, both from your own or your friends feeds.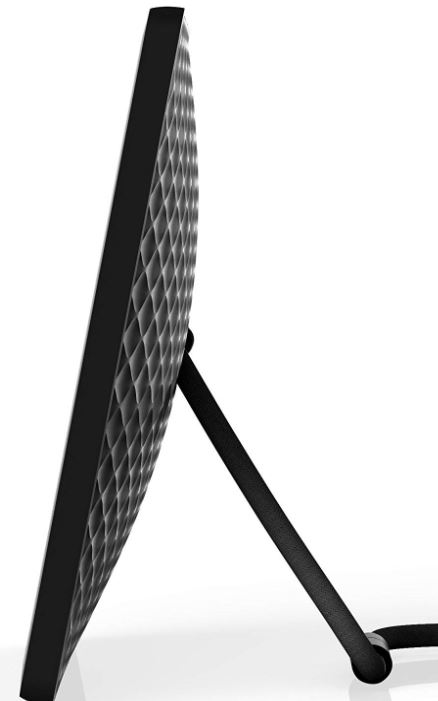 Nixplay gives you access to the cloud. You can access it from your computer, and pick and choose the photos you want to share. You can arrange them in playlists, and change them on demand. The online interface makes your photos easy to manage, making the cloud interface our preferred method of controlling the Edge.
As a bonus feature, you're also able to play 1080p video directly off an SD card, allowing the Edge to double as a portable media center.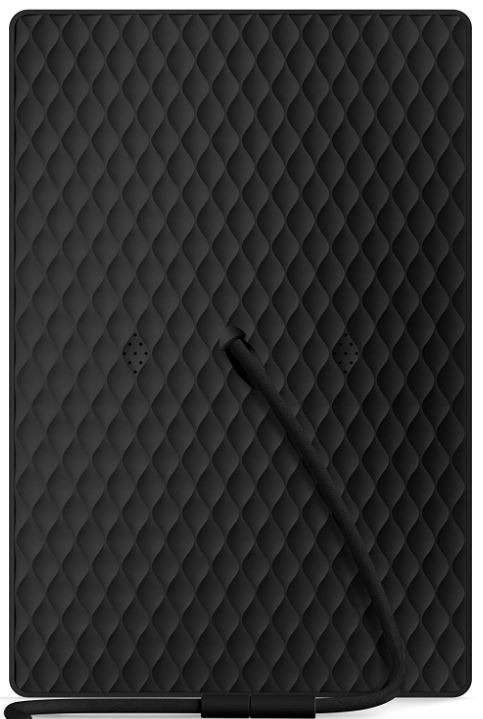 Image Quality
The 13-inch LED display has a resolution of 1080p. In today's increasingly 4K world, this might not seem like a very high resolution. If you were sitting in front of this frame like it were a computer display, you'd be right.
When you consider that you'll be viewing it from a distance, you'll soon realize that the display is more than adequate for this purpose. On this display, the pixel density is 169.5 pixels per inch. This is almost 50% higher density than a 42" 4K television. The end result is images that look sharp, clear, and very well defined. Placed on a wall or a desk, these images will look even better than prints – especially in low lighting.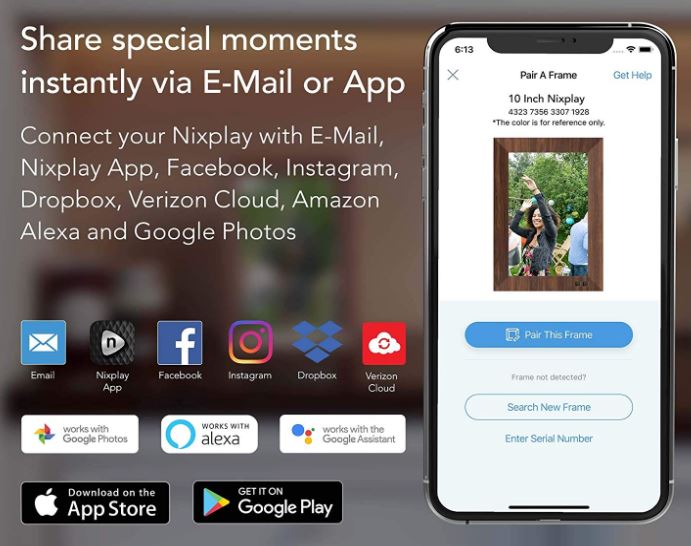 Appearance
Visually, the Nixplay Seed does look more like a display than a photo frame. It's made from black plastic, and can be rotated into portrait or landscape mode. In our eyes, this design is ideal if you want to place it on an end table, a desk, or any other flat surface. It would look a little out of place on a wall, but it looks great on a surface.
Aura Digital Photo Frame
As an importer, Aura has a massive range of products available for many different types of applications. One of their main focuses is on beauty and design, so it's clear that they've got an eye for the visually appealing. This is definitely one of the better looking digital photo frames on the market, making it the first choice for design conscious individuals.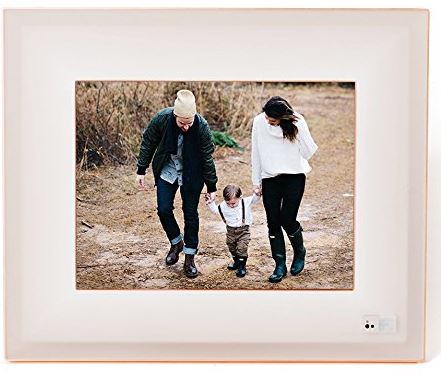 Functionality
In order to use Aura's Digital Photo Frame, you'll find need to download their free app for your Android or iOS device. This app syncs up with your camera roll, and all of your social media profiles to gain access to your photos.
You start by making photo playlists. Choose the ones you want, all them to a group, and then play them back on demand. Over time, Aura will use facial recognition to determine who you share pictures of most, and start to automatically generate playlists for you that follow along with your theme.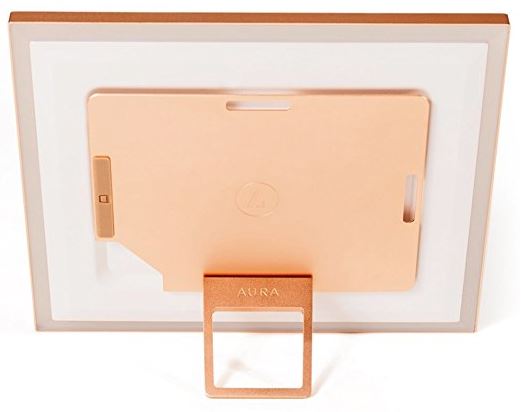 Not everyone is going to want to use the automatically generated playlists, but we found them to be surprisingly accurate. Either way, this is definitely an easy way to manage your photos, and you don't have to be a techie to use it.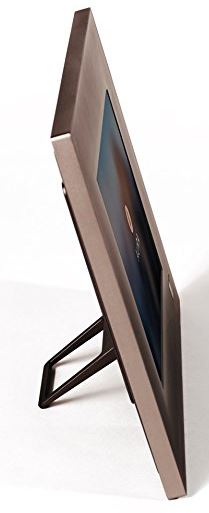 Image Quality
Both on and off screen, this is a photo frame that's meant to be admired. The 9.7-inch display has a resolution of 2048 x 1536. At 264 pixels per inch, this display is competitive with even apples latest Retina screens.
The end result is an image that looks incredible, even up close. The details are almost too small to make out, and the vibrant colors will certainly catch your eye. From a distance, you won't necessarily notice a huge improvement over a simpler model. But up close, the difference is night and day.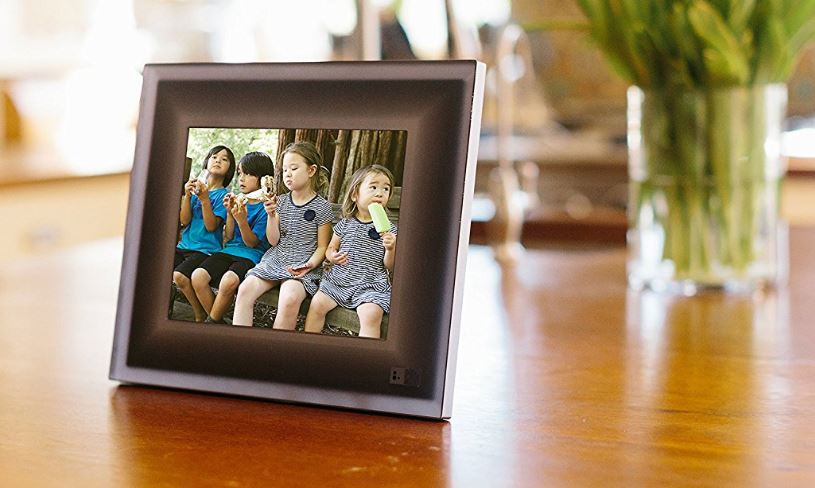 Appearance
If it weren't for the backlight, you might not ever notice a difference between this photo frame and a standard one. The design is simple, sleek, but still very pleasing to the eye.
There are three different colors available, so you can choose one that fits with your interior design. You can choose from Rose gold, crystal blue, or charcoal. But no matter which option you choose, you can be sure that you're photos are going to be the center of attention for every guest who walks through your doors.
Pix-Star Digital Photo Frame
Pix-Ster has had their digital photo frames on the market for years, and always had favorable reviews. They might not be the most powerful, nor have the best specifications. But if cost is a consideration, this is one of the best values on the market. It's available in a standard 10.4 inch size, or a massive 15 inch model, so you can choose whether you'd like your photos to be the center of attention, or a pleasant backdrop.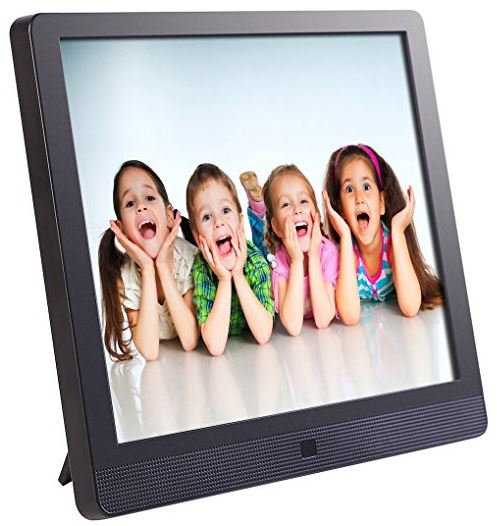 Functionality
There are no fancy apps or complicated web interfaces to deal with here. With the Pix-Star Digital Photo Frame, the process is simple. Download photos to the frame, and they'll play back as a slideshow.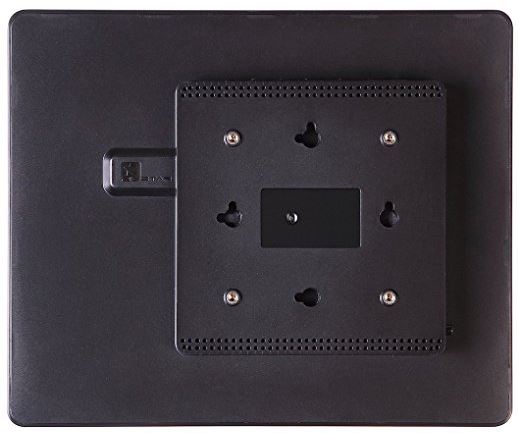 There are two ways you can get your photos downloaded. With the included SD card slot, you can simply stick a memory card in and have them played from there. But the photo frame also has 4GB of internal memory. You can connect it via USB and copy your files over that way, or connect it to your network and share them wirelessly. After a simple setup procedure, changing your images is a simple click-and-drag affair.
You do have the ability to connect to online services and play back a feed remotely. It currently supports Picasa, Facebook, Flickr, and SmugMug, but more are planned for the future.
Another cool feature about this screen is the motion sensor. It can be set to turn on only when somebody walks by, so you're not wasting power at night when everyone's in bed.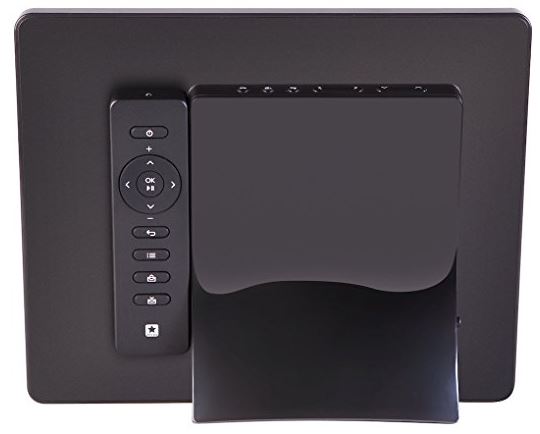 Image Quality
The 1024 x 768 resolution certainly isn't the highest resolution on the market, but the images still look pretty good. Colors are accurate, and contrast is fairly represented. The main difference we noticed was that this is a 4:3 display. Most modern displays are 16:9 widescreen. This could be good or bad depending on what you take photos with.
Most cameras don't take images that are exactly widescreen. With our mirrorless camera, our photos actually look better on here as the sensor is also 4:3. But some phones still take widescreen photos, so until you change the setting you'll have to either crop the images, or have black bars along the top and bottom.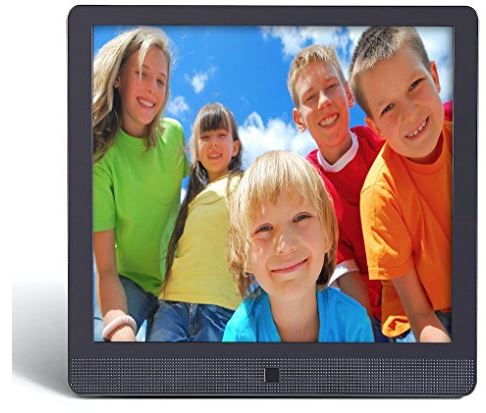 Appearance
Visually speaking, this display is pretty simple. Pix-Star kept the appearance sleek and unassuming, so it looks good no matter where you place it. But it's not going to add or detract from your existing interior design, making it fairly universal.
With the 15-inch model, we noticed that the design of the bezel doesn't really matter all that much. The screen is so huge that you don't notice the enclosure, so it's not incredibly important to have a high end design.
Which WiFi Digital Photo Frame is Right for Me?
These products have been on the market for many years, and we're convinced that you could find one to meet any set of specifications you wanted. But we feel that these three are the best representation of what the market currently holds, and each are designed for slightly different purposes.
If you're looking for something that you can hang on your wall and treat like an analog photo frame, look no further than the Aura Digital Photo Frame. It's one of the most visually appealing options on the market, and has the ability to sync wirelessly to an online photo source of your choosing.
Looking for a slick app that can let you curate your own photo playlists and cue them on command? The Nixplay Seed is the winner in this department. Their cloud interface acts as a photo hub, letting you take photos from anywhere and remix them into your own custom designed playlists.
If you're looking at these prices and scowling a little, all hope is not lost. The Pix-Star Digital Photo Frame has much of the same features as the higher end models, but comes at a much lower price. You do give up a little in the resolution department, but the image still looks great from a moderate distance.