Portable power is a necessity these days. Simply put, our demand for powering and charging our electronics is at an all time high.
If you're like most, you'll want a high-quality, well-built, portable power station. Luckily, there are so many different brands, models and varieties to choose from.
One top-rated and popular manufacturer is BLUETTI. They've been in the portable power industry for over a decade. In that time, they've made a name for themselves as an industry leading option.
The good news is that now is the best time to get your hands on some of their top products. BLUETTI's biggest sale of the year is already here, which started on November 11th.
They're offering excellent deals on power stations, but also have a wide range of exclusive giveaways and drawings for a few lucky winners. Let's get right into it and introduce exactly which products will be marked down.
AC300 and B300
The popular BLUETTI AC300 features an incredibly massive 300W inverter with 16 AC outlets. It's an expandable power station that lets you connect up to four additional B300 expansion batteries.
Each B300 adds an additional 3072Wh. That said, adding four of these units will increase the total capacity to 12,288Wh – that's an incredible amount of power!
Whether you're building out a camper van or constructing an off-grid tiny home, the AC300 and B300 combo offers more power than most will need. And that's a good thing!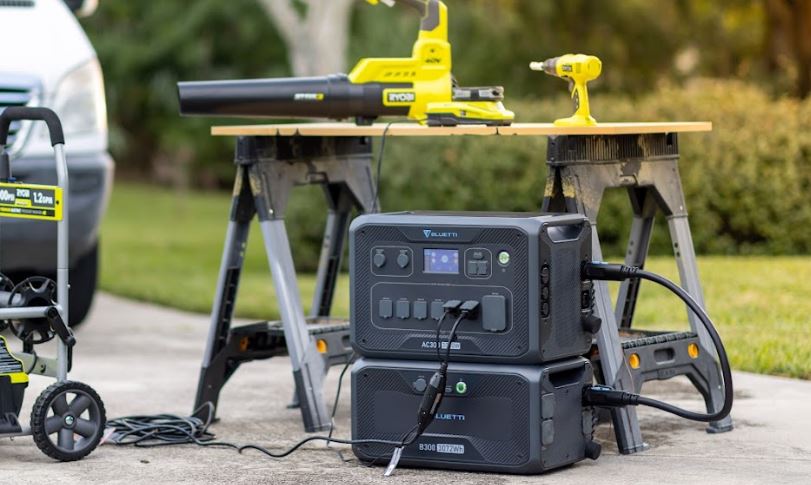 Power outages and rolling blackouts are a threat to every home, but more-so if you're off-grid or away from civilization. With the AC300 + B300, you can run all of your appliances without any worry; a full size fridge, washing machine, heater and more.
AC200MAX and B230
The AC200MAX is one of BLUETTI's most popular expandable power stations. With a 2,048Wh capacity and a built-in 2000W inverter, it's appropriate for a wide range of applications.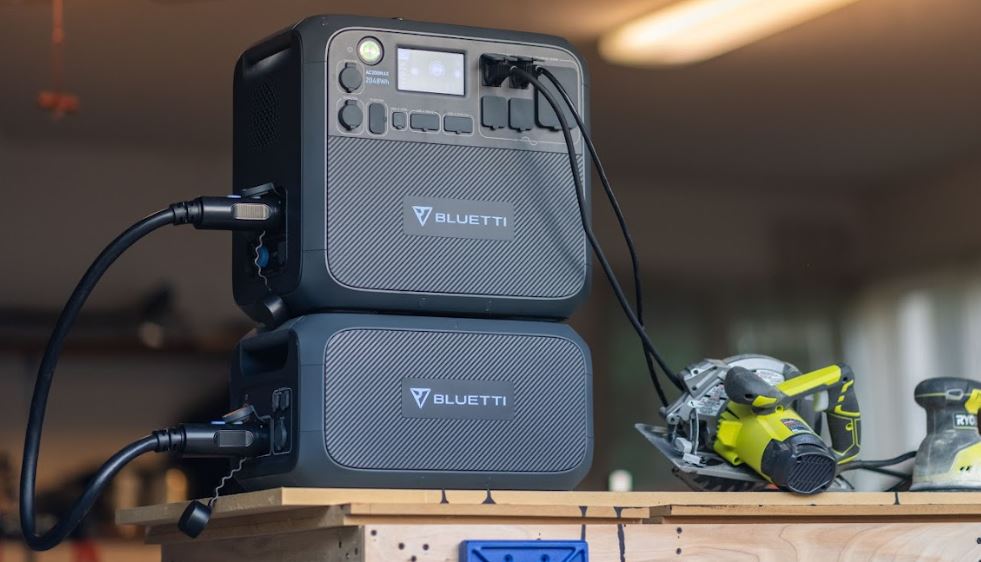 Best of all, you can add a B300 or B230 battery module to increase the power capacity to a maximum of 6144Wh. That said, it's pretty much a complete power station for at-home use or while you travel.
Like the AC300, the AC200MAX has a total of 16 AC outlets so you're able to power virtually anything with ease. The touchscreen interface is a definite bonus that offers a intuitive interface without any qualms. Best of all, the BLUETTI smart app pairs with the AC200MAX to open up an entire realm of configuration options and statistics. With it, users can track power consumption, battery status and tweak any settings they see fit.
AC200P and B300
The AC200P is a slightly different version of the AC200MAX, but don't let that fool you. The internal LiFePO4 battery boasts a 2,000Wh capacity that's paired with 17 AC outlets connected to a 2000W AC inverter with a 4800W peak capacity. It's also fully expandable if you add-on either the B230 or B300 battery.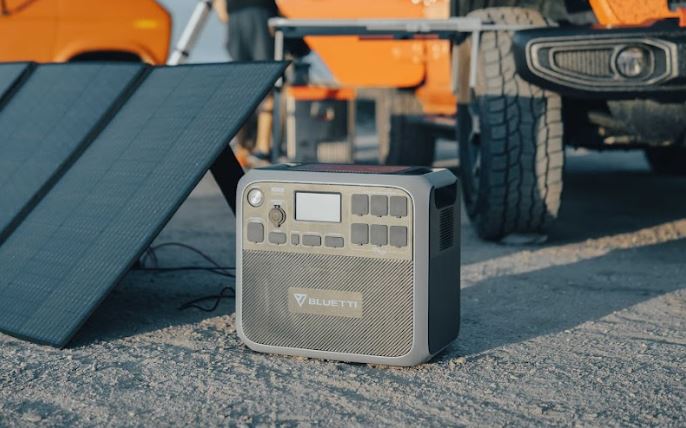 What sets the AC200P apart from other options is its ability to be charged seven different ways. Utilizing dual solar and AC re-charging, you can top it off in just a couple of hours. This makes it an ideal solution for those who need reliable portable power an fast replenishing of the internal capacity.
EB Series Portable Power Stations
BLUETTI's EB series is their lineup of compact, portable power stations that fit the bill of most budgets. Whether you're just camping for the weekend or in need of a reliable solution to re-charge your devices, any one of the EB series would be a good fit. Notably, the EB3A, EB55 and EB70S boast many of the same qualities:
LFP battery that can provide up to 2,500 charge/re-charge cycles and remain at 80% capacity for its remaining life.
Built-in pure sine wave inverter for electronics of all types, even sensitive devices that require PSW.
Integrated MPPT solar charge controllers that support a 200W solar input.
A wide variety of re-charge methods including AC, solar, car charge and generator.
15W wireless charging pad located on the top-surface for charging devices that support induction charging.
Built-in ultra-bright LED flashlight with SOS mode (in case of emergency).
EB3A
BLUETTI's EB3A is the most recent addition to their lineup. It's small but awfully mighty in its abilities. A 600W AC inverter with a surge rating of 1200W means it can power most small to mid-range appliances. And with a 268Wh capacity, it clearly isn't as large and heavy as some of their top-contenders, but for many applications; this is a good thing.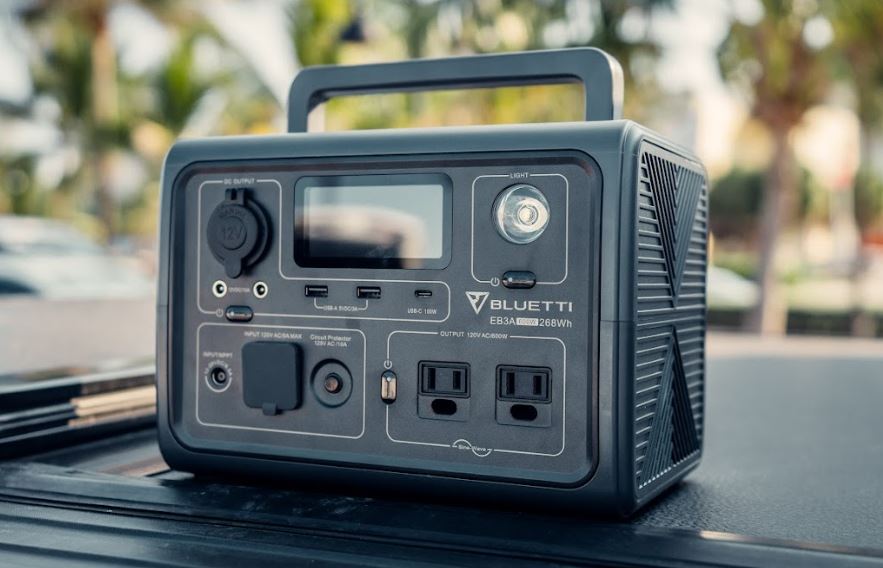 Weighing in at a meesely 10 lbs, the EB3A is incredibly compact but also quite versatile. That said, it's easy to carry and/or transport anywhere, whether you're camping overnight or simply in need of some light backup power.
With the ability to accept up to 430W AC and solar charging, it utilizes dual charging to replenish the inner capacity in just under 2 hours. And like all of BLUETTI's other power stations, it can be paired with the smart app for a wide range of analysis and settings.
EB55
Steeping it up a bit, the EB55 is BLUETTI's next option. With an internal capacity of 537Wh, it offers a better option for those who need to take advantage of its increased AC inverter capacity.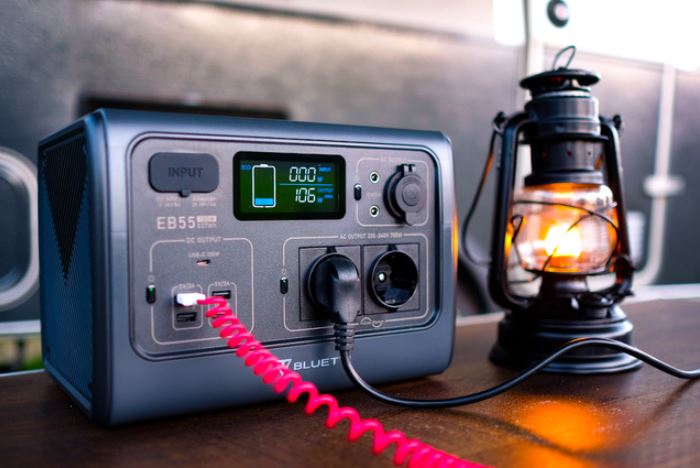 With an AC output rating of 700W with a surge rating of 1400W, it's a great option for those who have a bit more budget to spend.
Re-charging is very fast thanks to the dual AC and solar input. That said, it's capable of re-charging from 0% to full capacity within about 2.3 hours.
EB70S
The EB70S was recently updated to offer more output and a higher capacity than originally offered. With 716Wh and a multitude of AC and DC outputs, it has the ability to power up to 12 devices simultaneously.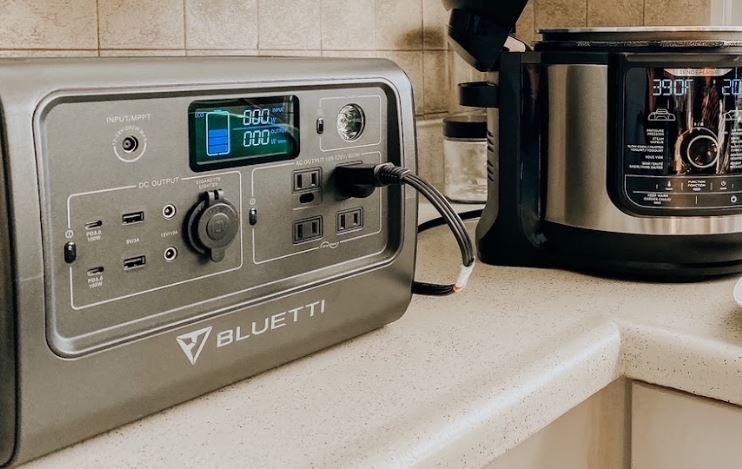 That said, a single full capacity charge will operate a 75W TV and a 90W mini fridge for 6.5 to 8 hours without any issue. Best of all, the size and weight of the EB70S is incredibly compact, weighing just over 21 lbs.
Foldable Solar Panels
If you plan on selecting one of BLUETTI's portable power stations as an investment, it's a smart idea to plan an efficient way to re-charge the unit.
Therefore, purchasing one of their solar panels is a smart idea. Utilizing the power of the sun, you can pair either the PV120, PV200 or PV350 to your power station to offer virtually unlimited power; as long as you set it up in direct sunlight.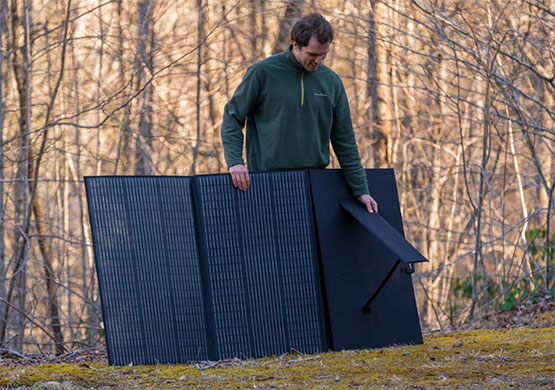 Each one of BLUETTI's solar panels is comprised of monocrystalline cells that offer an efficiency rating of 23.4%. In addition, they're coated with a special ETFE treatment and IP65 waterproof junction box. Ultimately, this means no worries when exposed to harsh elements. Consistent rain, sun, wind, ice and snow aren't a major threat to the longevity of the panels.
BLUETTI's solar panels are incredibly portable. With a foldable design and built-in handle, including them on your travels is easy to do.
Although the PV120, PV200 and PV350 vary in precise size and weight, the wide range of choices means its easy to acquire the appropriate one for your power needs.
More Perks from BLUETTI
BLUETTI is attempting to make shopping for their deals a rewarding experience. In fact, for those who spend over C$1000 at BluettiPower.ca between November 11th and 30th (11:59PM EST) are eligible to win a lucky draw.
There are several prizes available that they will be giving away for free to customers who buy between these dates. Some prizes include an EB3A power station, PV120 or PV200 solar panel or C$100 to C$150 in coupons.
As an added bonus to this, BLUETTI will also be giving away a free mini fridge for those who spend over C$5000.
Be sure to checkout their specific Black Friday deals and take action before time is up on November 30th at 11:59PM EST.
More Info on BLUETTI
As they've been in business for over 10 years, BLUETTI has made a name for themselves as one of the top contenders for portable power stations. Since then, they've made their best effort to be sustainable through green energy storage solutions.
With products for both indoor and outdoor use, they've made a presence in over 70+ countries throughout the world. Simply put, millions of customers trust BLUETTI for their portable power solutions. For more specific information and to see their full product-line, be sure to checkout BluettiPower.ca.