There are lots of people that want to find unique ways to creatively display the images they capture on their smartphones and cameras.
It can be disheartening to let them gather dust on a hard drive or in a digital photo album where other people are unable to enjoy them with you.
The emergence of digital frames several years ago allowed people to load up bunches of their photos into a single frame that could cycle through them throughout the day.
Now, with enhanced smartphone and WiFi functionality, photo lovers have even more options with displaying their images.
What is a WiFi Smart Digital Photo Frame?
WiFi digital picture frames let users load, manage and program their devices wirelessly.
Early digital frames required users to plug in a USB drive to load pictures or perform updates. The whole thing was a hassle. Thanks to WiFi and an app on your smartphone, WiFi-connected smart digital frames allow you to do these things without getting off the couch.
To help you navigate through the sea of digital photo frame options, we've compiled a list of the top 5 best smart digital photo frames currently on the market in 2022 and into 2023. We've made our decision based on several criteria including:
Features: Frames need to have a powerful set of features to put your photos in the best light. From transition effects to brightness settings, these frames offer plenty of options.
Ease of Use: Things need to be simple when it comes to the frame and any supplemental apps included. We feel confident that the frames we've tested are some of the most straightforward and intuitive frames available.
Aesthetics: Frames are going to be a major part of the décor in your home or office. The frames on our list look fantastic and many have a wide range of color and finish options to match your aesthetic.
Durability: Especially in homes with small children, we want our frames to withstand the occasional drop or fall without damaging its longevity.
Value: We cut through the hype and make sure that the frames featured here offer enough value to justify their price point.
Best Overall: CANVIA Smart Digital Art Frame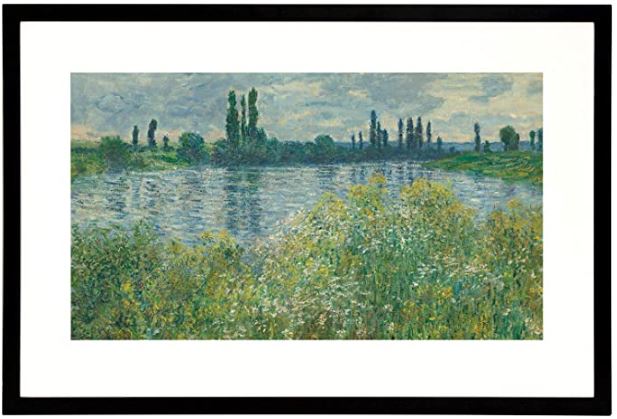 Key Features:
Premium wood frame.
27" x 18" x 1.6".
25W power consumption.
10ft power cord.
1.8GHz quad core processor.
1080 FHD resolution.
Anti-glare.
The CANVIA smart digital art frame is a thing of beauty. It tops our list as the best overall because of its expansive feature set, powerful WiFi connectivity and art gallery aesthetics. This frame has been optimized to present your photos, art prints and NFTs in full high definition.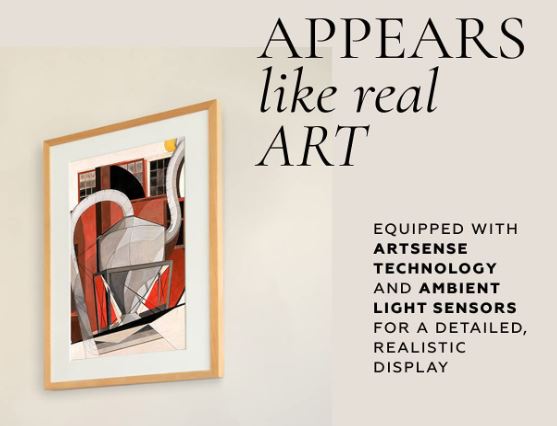 Quality is in the details and this frame uses technology to help make sure nothing falls through the cracks. The CANVIA is equipped with sensors that detect the ambient light, the exposure of the image and makes adjustments in real time.
A lot of other frames on the market have a hard time replicating the deep colors of paintings. The tech inside the CANVIA helps showcase paintings with the same vibrancy as if it were just painted.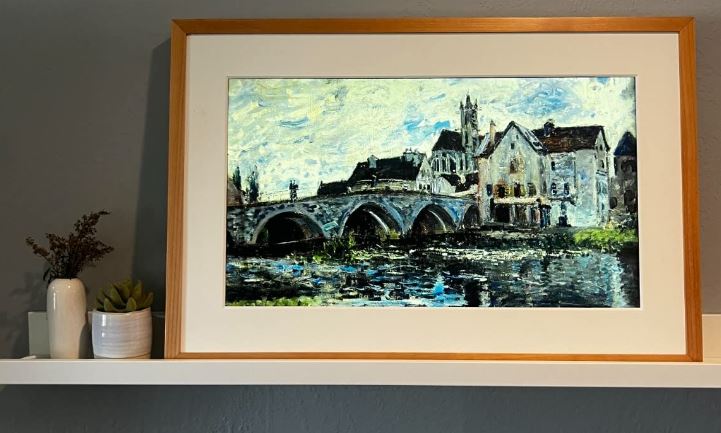 With a quad core processor and 2GB of DDR3 RAM, this frame is a top performer. At 16GB of storage, it can also store up to ten thousand images or pieces of art. Wanting to show off your NFTs? Collectors can link their crypto wallet address to their CANVIA account and upload them to the frame.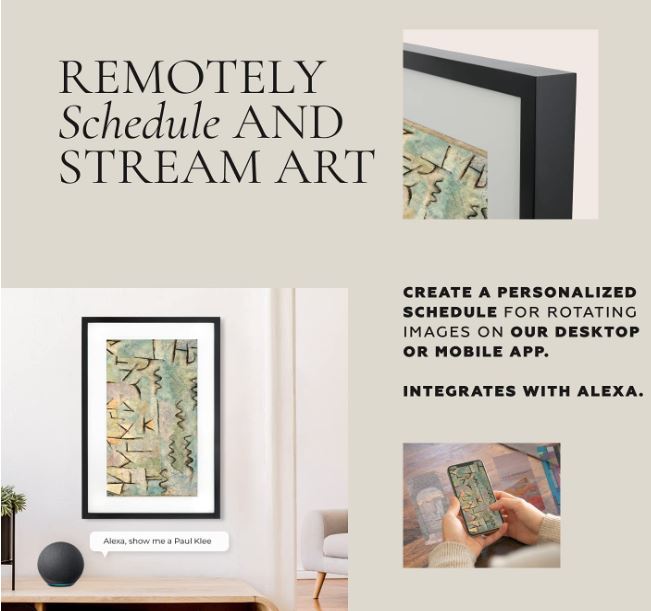 Our team was really impressed with the easy-to-use (although slightly outdated) smartphone apps for both Apple and Android. It made adjusting settings and swapping out photos a pleasure. Overall, this frame checks all the boxes to be the best overall WiFi frame on the market.
What We Liked:
Great dimensions.
Quad processor and DDR3 RAM.
Can hold up to ten thousand images.
No need to plug in a USB drive.
Anti-glare screen.
What We Didn't Like:
Only four frame options.
Initial setup can be a learning curve.
App is a bit outdated.
Best High-End: Meural Canvas II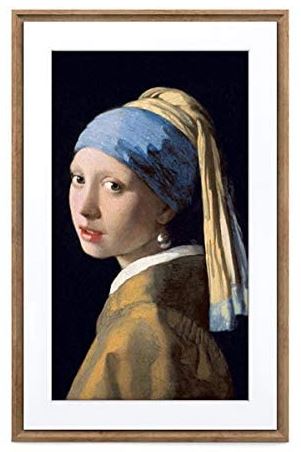 Key Features:
19" x 29" x 2" dimensions.
1080p resolution.
Voice activated control.
Motion or app activated.
Horizontal or vertical mounting options.
It does not get any more luxurious than the Meural Canvas II. Aesthetically, the larger dimensions and minimalist bevel provide a striking setting for your pictures, art or NFT collection. Worried you won't have enough to display? With an annual membership, you can have access to over thirty thousand works of art in the Meural Canvas library.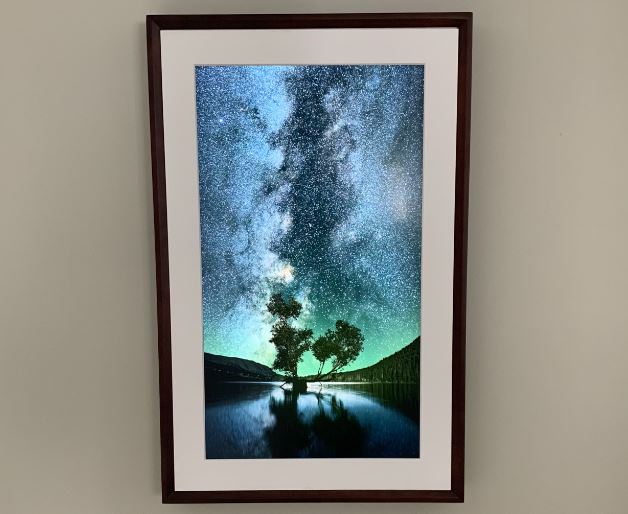 The Meural Canvas II works great in both sunny and dimly lit settings. Onboard sensors make adjustments based on what's going on to ensure your art is presented in the best way possible. Their patented TruArt technology makes for an expanded viewing angle, ideal for large spaces and gatherings.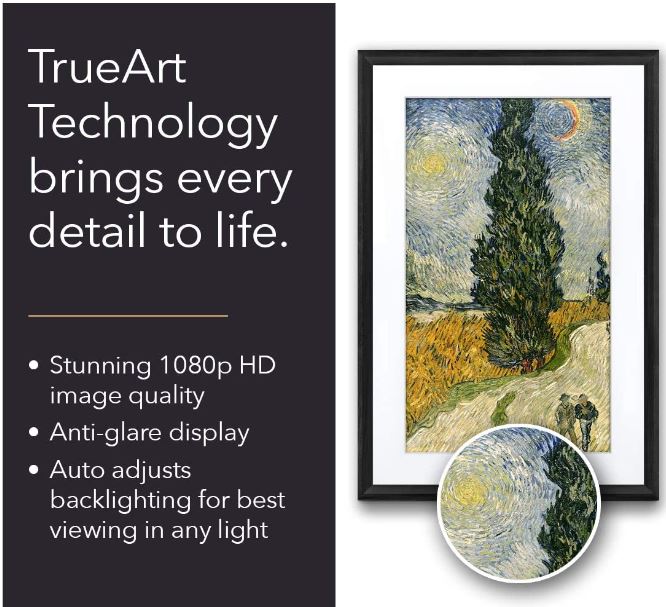 Quality finishes carry over to the mobile control apps. Available for both Android and Apple, the app allows you to make adjustments, manage your image library and even set it up with Alexa for voice activated controls.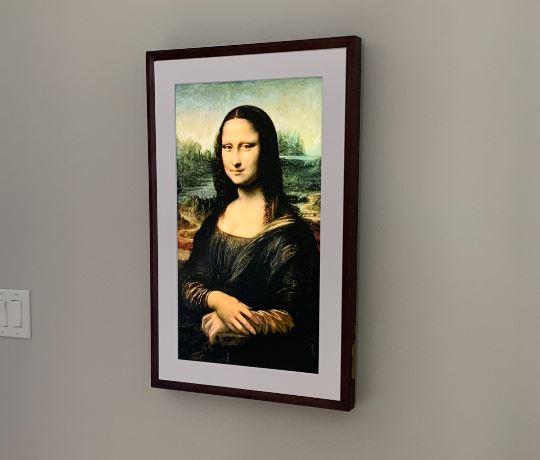 Keep in mind that this frame is slightly thicker than other versions on this list so you'll need to plan your space accordingly. The Meural Canvas II is our choice for the best high-end WiFi digital frame.
What We Liked:
Minimal frame design.
Gorgeous 1080p anti-glare display.
Wide viewing angle.
Compatible with a swivel mount.
Crop and edit photos in-app.
What We Didn't Like:
Expensive.
Thicker than other options.
Best Runner-Up: Lenovo Smart Digital Picture Frame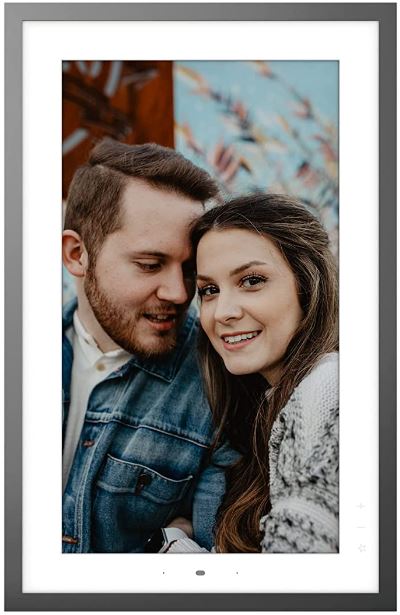 Key Features:
23.01" x 14.8" x 1.43" dimensions.
12 pounds.
Offers voice control.
Ambient light sensor.
Anti-glare.
The Lenovo smart digital picture frame is a great option for people wanting an inconspicuous offering that looks as close to a normal picture frame as possible. At just an inch thick and a 15" x 24" canvas-like design, it's a great option for anyone looking to add photos and artwork into a space.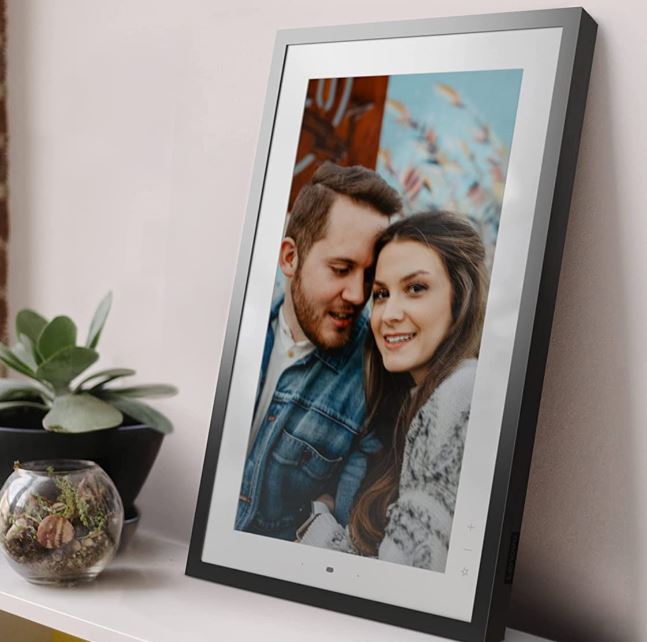 Ambient light and color tone sensors adjust brightness and contrast in real time to optimize what is being displayed. The Lenovo has a quality control function that filters out any photos that may be grainy or too blurry to display nicely. It's a significant feature for those that don't feel like spending hours sifting through their photo collection for blurry pictures.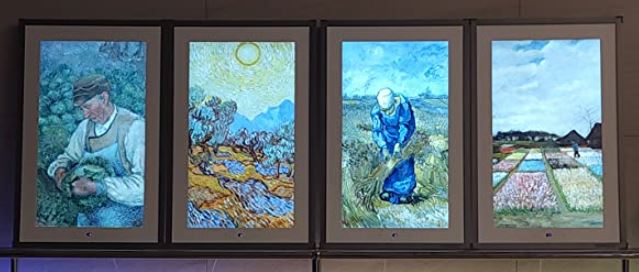 You can control this digital frame on-screen or by using a smartphone. When it comes to durability, there are several reviewers that are still enjoying their Lenovo after years of use.
What We Liked:
More traditional picture frame size.
Ambient and color tone sensors for on the fly adjustments.
Can swipe through images and albums on-screen.
Minimalist design.
Words with Alexa.
What We Didn't Like:
Expensive.
Customer support is slow to respond.
Best Alternative: Aura Smith 2K Smart Digital Picture Frame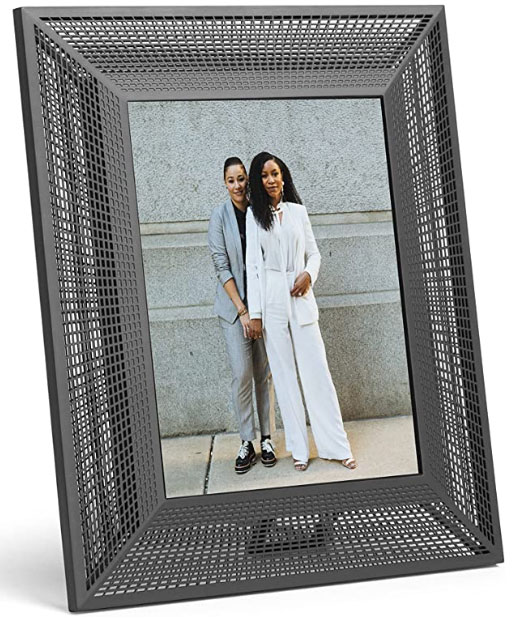 Key Features:
Free-standing option.
Modern design.
Ultra HD 2048 x 1536 resolution.
Unlimited cloud storage.
Family sharing.
14.13" x 13.11" x 3.62" dimensions.
Displays both photos and videos.
The Aura Smith 2K smart digital picture frame is a great alternative for people that are looking for a desktop option as opposed to a wall mount. With an ultra HD screen and modern frame design, this frame has an impact wherever you put it.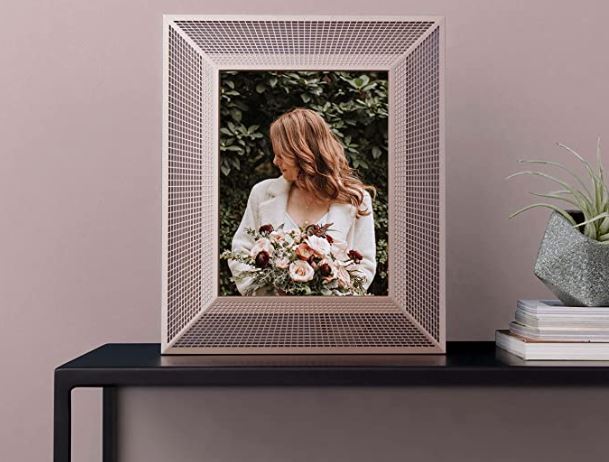 While other frames will charge you for additional cloud storage for your photos, the Aura Smith provides unlimited cloud storage with no hidden fees. This is a rare perk for digital frames. Family sharing is another outstanding feature on this device. Friends and family can share photos to your picture frame from anywhere by simply having permission and the Aura app.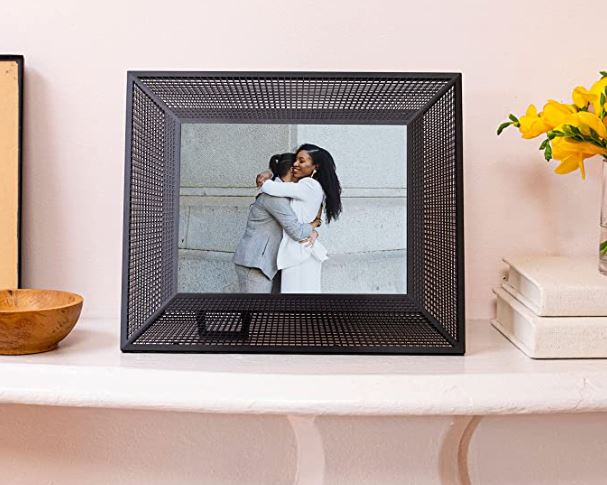 The picture quality of the display is very vibrant and does a tremendous job adjusting to match changing light conditions. There is a touch bar on the frame for you to make changes and more in-depth adjustments can be made using their app which is extremely intuitive.
What We Liked:
Auto-rotation feature.
Family sharing functionality.
Unlimited cloud storage with no hidden fees.
Free standing frame.
What We Didn't Like:
Limited in-stock options due to demand.
Best Budget: Aura Carver HD Smart Digital Picture Frame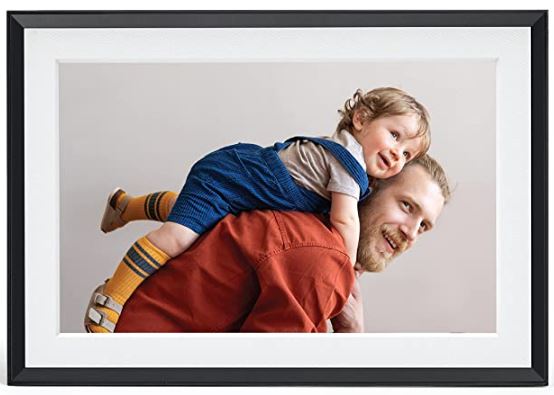 Key Features:
1200 x 800 resolution.
Unlimited free photo storage.
Easy instant photo and video sharing.
Intelligent photo pairing.
7.32" x 10.51" x .99" dimensions.
Aura makes the list again because of how it's impressed us with their Carver HD model that is the budget friendly answer to smart digital picture frames. Coming at just under four pounds, this desktop frame comes with unlimited cloud storage for your photos while also having the capacity to hold up to ten thousand pictures in the frame itself.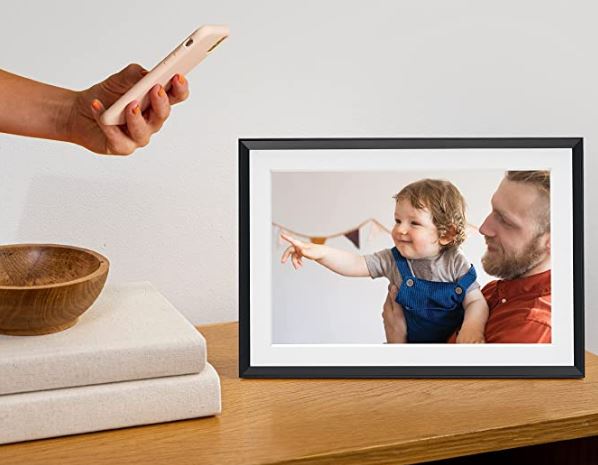 Intelligent photo pairing is an Aura exclusive that uses AI software to group related photos side by side for some delightful combinations. The Aura Carver is proof that lower priced products can still be great.
In fact, we were shocked by how many features it included that are normally reserved for higher priced models. It is heavier than a traditional frame and because it's not mounted to the wall like some of the other frames in this roundup, you'll want to make sure it's placed out of reach of small children. As far as the quality of the screen itself, the colors are extremely vibrant and do very well with iPhone and Android pictures.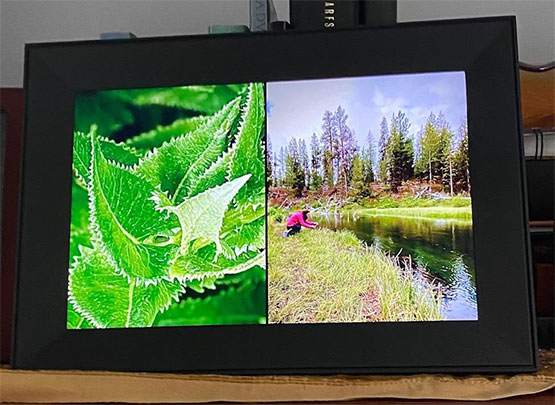 The Aura carver is a great option for buyers that want the function of a desktop digital frame at a reasonable price point. This product delivers on both value and price.
What We Liked:
Wide selection of colors and finishes
Intelligent photo pairing
No SD cards or USB cables needed
Can invite family and friends to load photos
What We Didn't Like:
Screen can struggle to adjust in sunny environments.
How to Choose the Best WiFi Digital Frame
There are plenty of digital frames on the market. The choices can get overwhelming. It's important to remember that one size doesn't fit all and that you'll need to consider a few different things to make the best decision. Let's look at some things to consider when searching for the perfect WiFi connected digital frame.
Wall mount or desktop: Once you decide on where you're going to put it, you'll want to base your decision making on how it would fit in the context of that space. For example, if you're wanting a desktop frame, you may go with a smaller, ten-inch version that comes with a kickstand.
Dimensions: Just like with a regular frame, it's important to take measurements and determine what size frame you will need for the space.
Resolution: This is a major factor in how expensive your digital picture frame will be. As frames get larger, resolution will matter a lot in producing a quality looking image. You may need to give your desired frame a trial run to make sure that the resolution is in line with what you were hoping.
Pricing: As you can see from this roundup, there are solid options regardless of your budget. While all of these frames are capable of displaying a beautiful image, there are some features that may be worth the extra expense for you.
Technology: Easy-to-use mobile applications and on-screen controls make a big difference. It might be a good idea to download the smart phone apps of the frames you are considering even before making a purchase. Sign up, have a look at the interface. Does it make sense? Is it easy to use?