Digital photography has changed the way most people think about pictures. In the days of film cameras, every snapshot represented an investment. To be fair, it's not like film cost a fortune. But unless you were a professional photographer, there was a limit to how much you were willing to use. Nowadays, people take pictures of anything and everything. It's not unusual to log into social media and see a picture of somebody's breakfast. That's something most people would never waste a frame of film on. We also take more selfies, landscape shots, and all kinds of photos.
At the same time, social media has made photo-sharing a part of the modern world. When we go on vacation, we take pictures, and share them with friends and family. Along with a traditional wedding album, it's not uncommon for people to post their wedding photos on Facebook. So, how do we take this same technology, and apply it to the physical world? We can use a digital picture frame. With a digital frame, you can display a photo in your room like you could do with an old-school print. But you can also change photos at will, or even set up a constantly-running slideshow.
Note: At no extra cost to you, we may earn a commission for purchases using our links. Learn more.
We're about to review three of the best WiFi connected, smart digital photo frames. We'll begin with the Aura Mason Luxe. This is a beautiful faux stone frame with cloud storage and an included gift box. Next, we'll take a look at the Meural Canvas II. This is an oversized frame made of real wood, with an optional digital art subscription service. Finally, we'll check out the Skylight Frame. This is a simpler frame that allows you to add photos via email. After we've given all three frames a thorough evaluation, we'll sum up what we've learned, and deliver our verdict. Let's begin!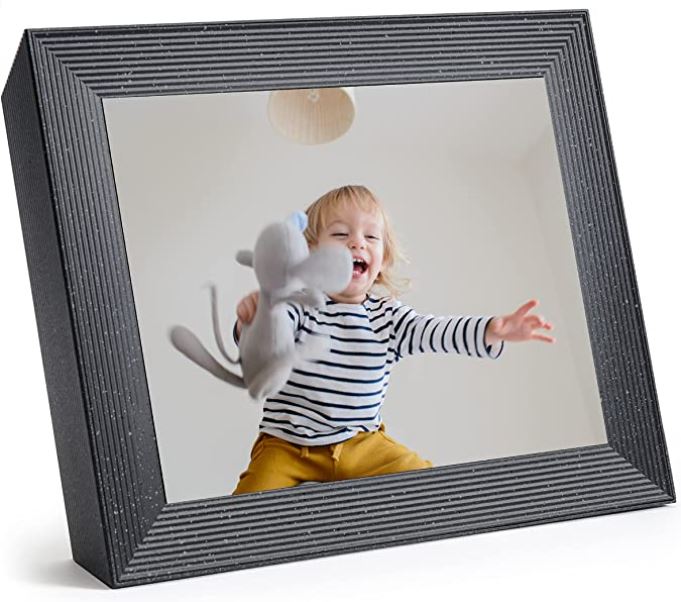 Aura Mason Luxe
Aura is well-known for producing a variety of high-quality picture frames. Not long ago, we reviewed the Aura Frames Smith, with its market-leading 2K display. We were generally impressed, as we usually are when we look at Aura's frames.
The Aura Mason Luxe is a faux stone frame that's available in four colors. The pebble is dark charcoal grey, with lighter grey speckles on the surface. The sandstone is inverted, with a light grey main color, and darker grey speckles. The graphite is more of a slate grey, while the white quartz is bright white with light grey speckles. All are fairly beefy, with multiple parallel ridges running around the perimeter. In fact, the frame is wide enough that there's no need for a kickstand. It stays upright all by itself!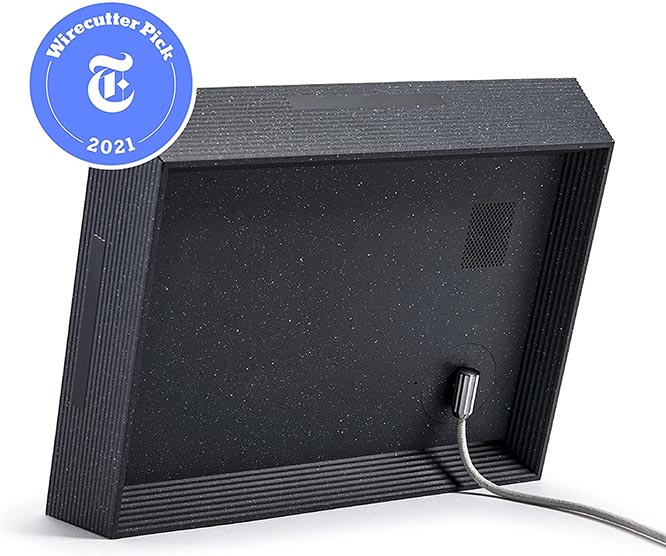 All four colors have a 9.7-inch display, with bright, accurate colors. However, the resolution depends on what color you order. The white quartz and graphite variants both come with a 1,600 x 1,200-pixel screen. This is slightly better than 1080p, and on a smaller screen, it looks very crisp indeed. That said, the pebble and sandstone variants have a resolution of 2,048 x 1,536 pixels. This is slightly better than 2K, and it looks absolutely brilliant. You'll be able to make out even the finest details in your important photos.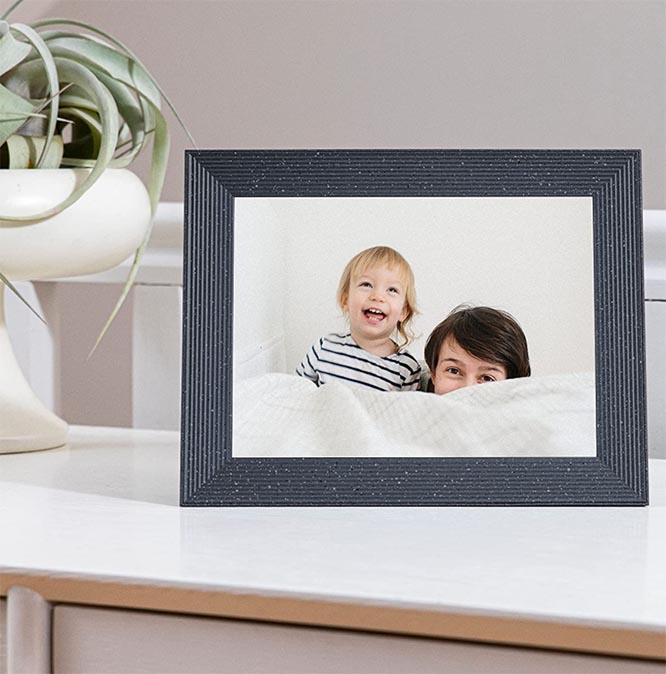 This is a tabletop-only frame, which means there's no good way to hang it on your wall. That said, it can easily be positioned in portrait or landscape orientation. An internal sensor will detect the orientation, and automatically rotate your photos appropriately. Power is provided by a discreet cord, which plugs into the back of the frame.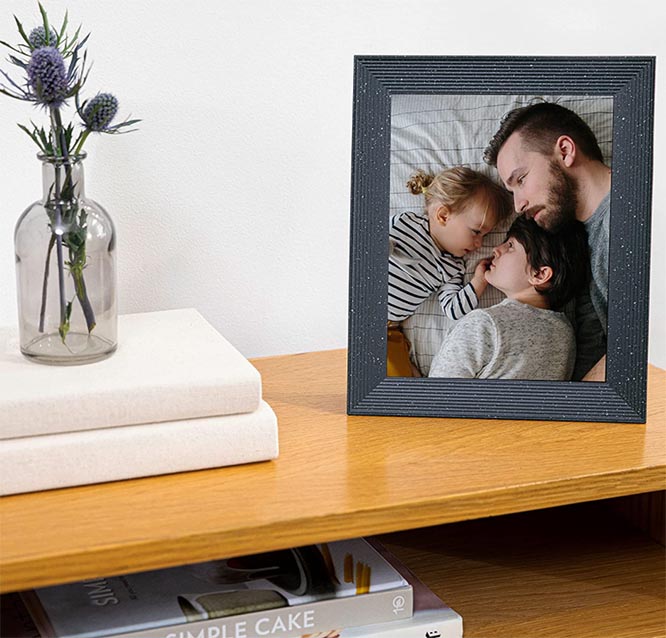 Connectivity & Extras
To use the Aura Mason Luxe, you'll first need to install the Aura smartphone app. Once it's downloaded, you'll be prompted to begin the setup process. Just follow the wizard, and you'll be paired with the frame in a few minutes. After that, you'll be able to upload photos from anywhere in the world. As long as the frame is online, you'll be able to connect. You can also send invitations to friends and family. If they accept the invitation, they'll be able to install the app on their own phones, and upload photos. This is a great feature if you have a large extended family. Grandma won't have to learn to use Facebook for you to send her your vacation photos.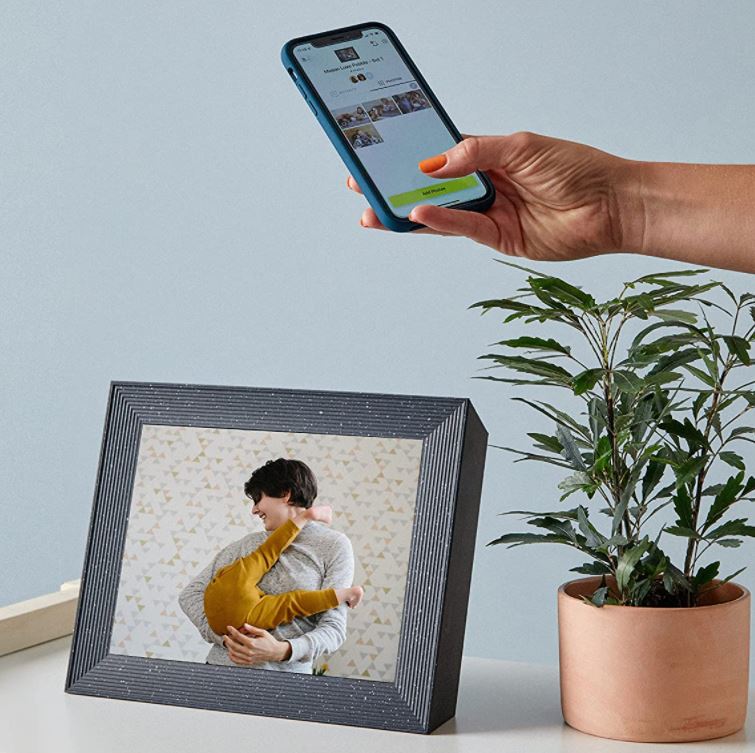 This frame comes with unlimited cloud storage, free of charge. You can upload as many photos as you want, and you won't have to pay for a subscription. This is a big improvement from many cloud storage packages, which normally cost a monthly fee. Just be aware that the frame won't work when it's not online, since it won't have access to storage.
We don't normally talk a lot about packaging, but the Mason Luxe is special. It comes in an attractive box that doesn't even need wrapping paper. Just slap a bow on it and you're ready to go. You can also preconfigure the frame, as long as you know the recipient's WiFi info. You can even upload photos in advance. Then, as soon as they turn on the frame, it will already be working.
One thing the Mason Luxe doesn't have is any "extra" functions. If you want a frame that shows more than just photos, take a look at the Pastigio WiFi Frame. In addition to bright, vibrant colors, it also features a built-in alarm clock, weather, and other apps. On the downside, the resolution is noticeably less than full HD.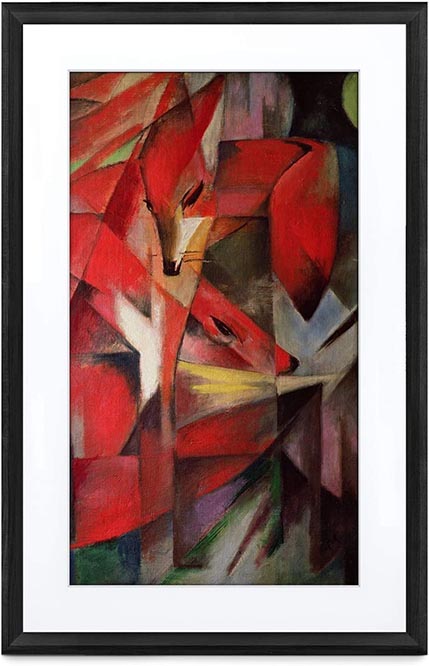 Meural Canvas II
The Meural Canvas II is a top-of-the-line digital frame that comes in two different sizes. The smaller measures 16 x 24 inches, while the larger measures 19 x 29 inches. Both sizes come in four different color options. There's a smooth white and a smooth, high-gloss black. There are also a lighter and darker faux wood variant. Regardless of color, they all have a similar form factor, with an angled design that slopes in towards the screen. The screen size varies depending on the version of the Canvas II you order. The smaller has a diagonal measurement of 21.5 inches, and the larger measures 27 inches.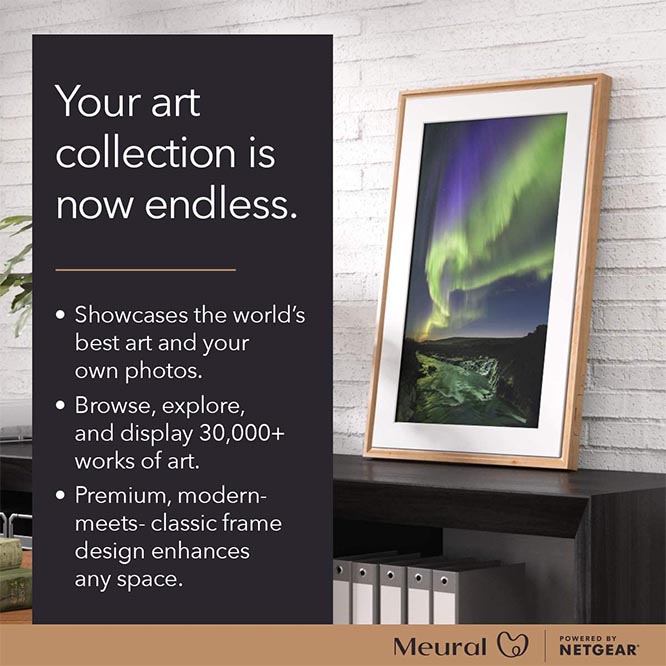 This frame has a resolution of 1080p, and an aspect ratio of 16:9. This isn't quite 2K, but it still looks bright and colorful. And the aspect ratio is perfect for modern smartphone pictures. That said, some digital cameras have different aspect ratios. In that case, you can either use a letterbox format, or let the frame automatically crop the photos to fit. Internal sensors will automatically adjust the display to portrait or landscape mode.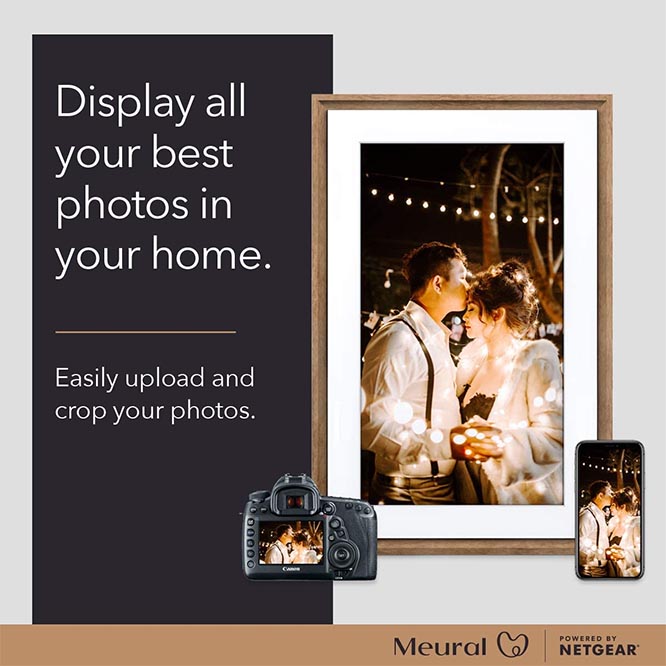 The Canvas II is designed to be hung on your wall. There's no kickstand, so it can't be used for tabletop use. Then again, it's easy to hang in just a few minutes. Make sure to use sturdy mounting hardware, though. The small version weighs 14 pounds, and the large one weighs 23. There's also an optional swivel mount. This mount allows you to rotate the frame between portrait and landscape mode on the fly.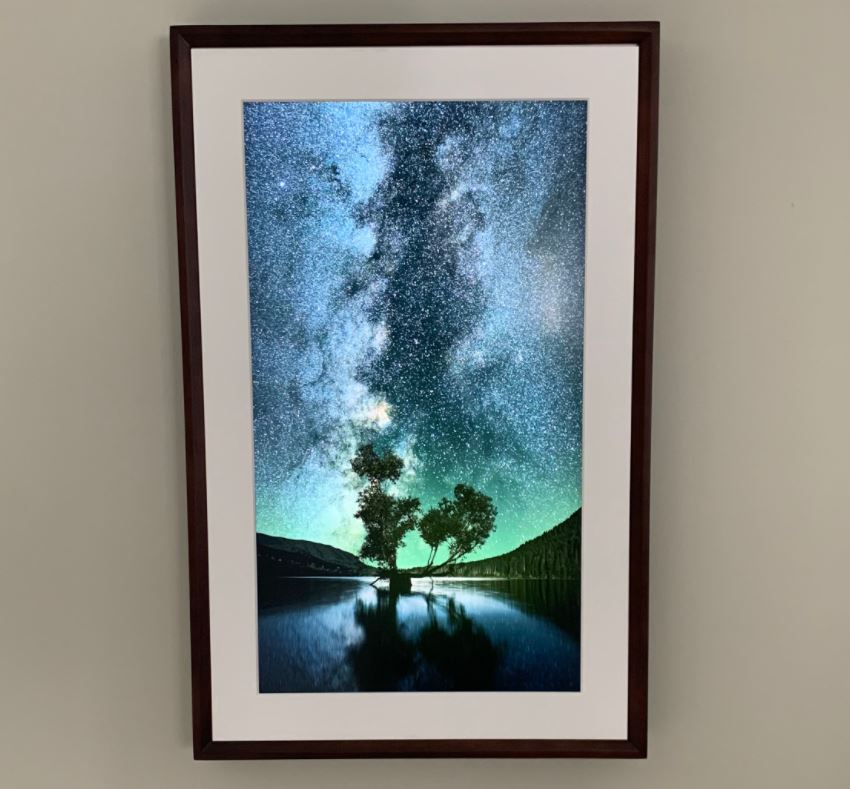 Connectivity & Extras
To set up the Meural Canvas II, you'll need to download and install the smartphone app. It's free on iOS and Android, and it's easy to set up. Follow the instructions, and you'll be ready to start adding photos in no time. Local storage is 4GB, which is surprisingly small. That said, you can expand your storage space by inserting an SD card. Alternatively, you can pay for an annual cloud storage subscription. This gives you 20GB of easy-to-use cloud storage.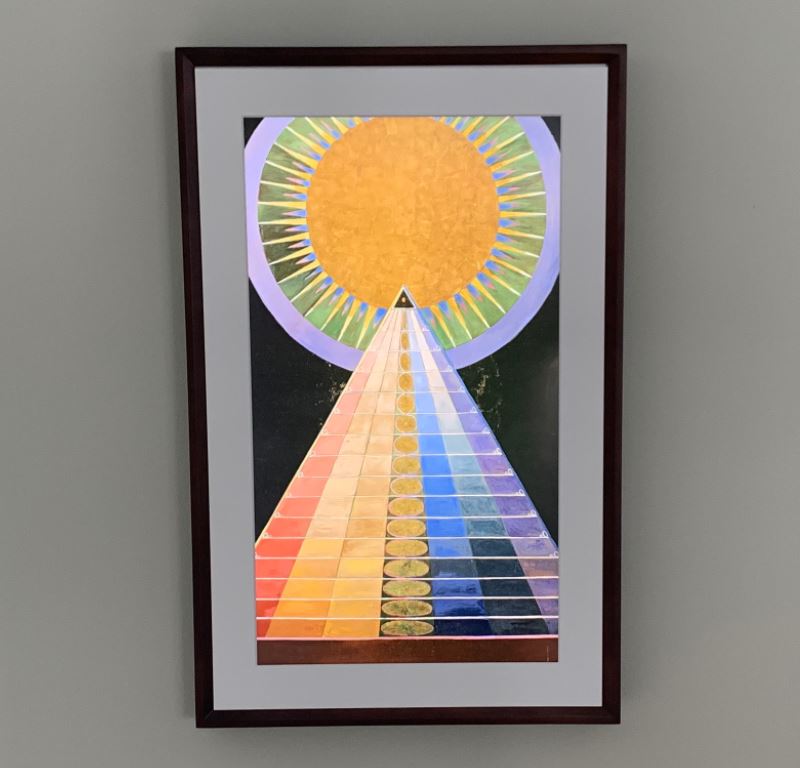 If the subscription fee seems a bit high, keep in mind that you're getting a lot more than just storage. You're getting access to an online digital art gallery with more than 30,000 paintings. This includes a number of famous artworks, as well as works from newer, current artists. If you're an art aficionado, this is an excellent feature to have. Not only that, but 60 percent of the subscription fee goes directly to the artists. So you're also supporting some of today's up-and-coming visual artists.
The app also allows you to make some other adjustments. For example, you can adjust the duration each image remains on the screen. You can change the brightness, or even create a schedule for different pictures to appear at specific times. And if you prefer voice commands, you can integrate the app with Alexa or Google Voice.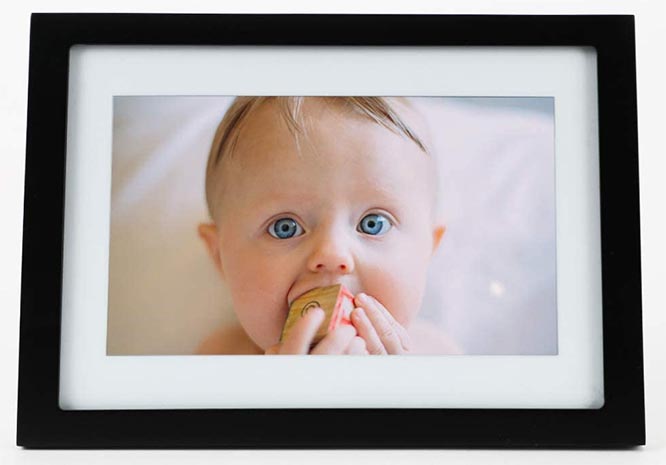 Skylight Frame
The Skylight Frame has a simple, straightforward design. It's made from satin black plastic, with an uncomplicated, flat rectangular profile. Inside of the frame itself is a white plastic that looks like traditional photo matting. The overall size of the frame is 10.7 inches by 7.4 inches, with a thickness of just under an inch. The display itself measures 10 inches on the diagonal, which is the same size as a traditional photo print. The resolution of 1,280 x 800 pixels is less than full HD, which was a bit disappointing. But the colors are true, and the display looks good in almost any light.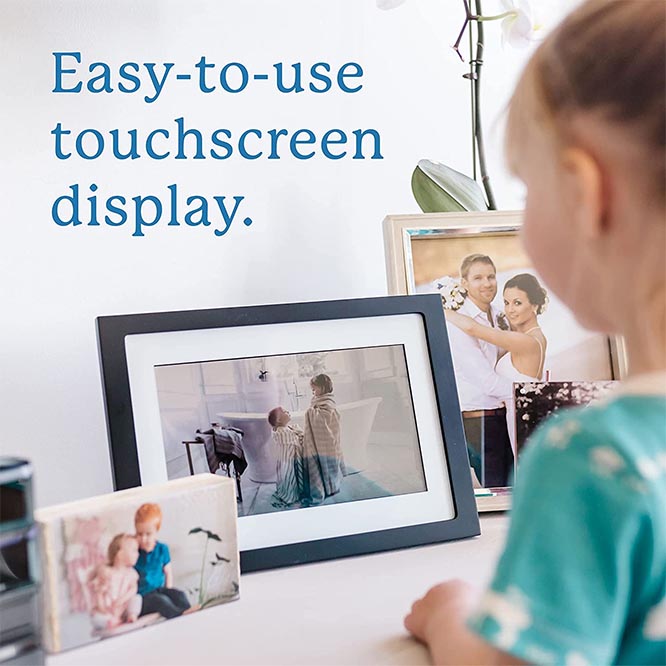 This frame has a little white kickstand on the back for tabletop use. It can be placed in portrait or landscape orientation, and will automatically adjust accordingly. That said, there's no option within the app to crop your photos. In landscape mode, a portrait will show in letterbox, and vice-versa. Also, keep in mind that there's no way to hang this frame. It's designed for tabletop use only.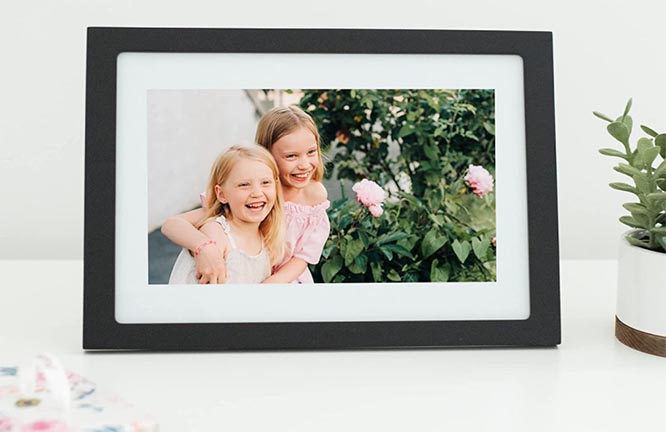 Connectivity & Extras
As with the other two frames, you'll first need to download and install the companion app. The process is quick and painless, and the app is easy to install. Once you've completed the setup process, you'll be able to add photos from anywhere in the world. That said, you won't add photos via the app. Instead, your frame will have its own dedicated email address. When a photo is sent to the address, it will automatically be added to the frame. You can share the address with anybody, and allow unlimited people to share the same frame. You can also block certain email addresses within the app, to prevent people from spamming your picture frame. And within the app, you can adjust the display duration between 5 and 240 seconds per photo.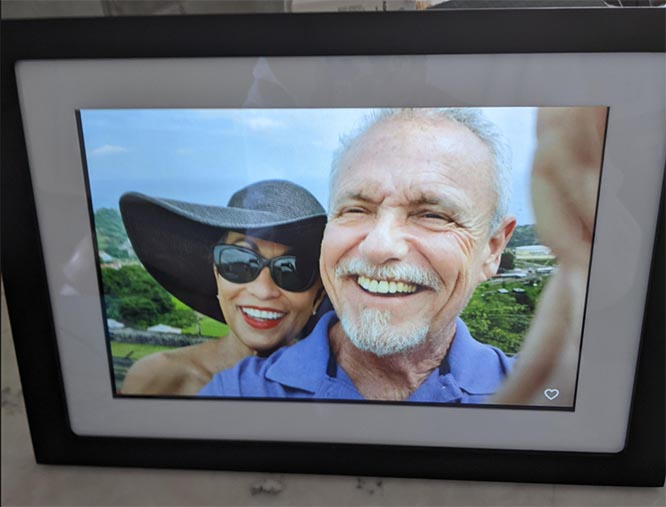 Photos are stored for free in the cloud, and you get unlimited storage. That said, there's still a subscription option. For a small monthly fee, you can upgrade your plan, allowing the frame to display videos. When a new photo is uploaded, a visual notification will appear on the screen. You can then tap the notification to bring up any new photos. You can even press a little heart button, and the person who uploaded the photo will get an email notification.
If you prefer on-board storage, check out the Aeezo 9-inch Digital Frame. It doesn't have a cloud option, but it comes with 16GB of internal storage. It's also compact, ideal for nightstands, and very affordable.
Final Verdict
So, which of these WiFi-connected, smart digital photo frames is the best of the bunch? The Aura Mason Luxe comes with unlimited free storage and better-than-2K resolution. The simple, free-standing design is also a major plus. It's also great for the extended families, since there's no limit on the number of users.
The Meural Canvas II is a lot more than just a digital picture frame. With the subscription service, it's like having an art museum on your living room wall. It's also the largest of our three choices, so it's suitable for larger wall spaces. Given the size, we would have liked a 2K screen, but even in 1080p, this frame looks stunning.
The Skylight Frame is the most affordable of the bunch, but it's still a good value. The faux matting is an attractive touch, and the interactive heart button is a fun addition. We also liked that anyone can share photos to the frame via email. If you can tolerate a lower resolution display, this frame is a fine choice.
Note: At no extra cost to you, we may earn a commission for purchases using our links. Learn more.