Quick Analysis
Pros
Gorgeous, 2K display with automatic brightness adjustment.
Beautiful platinum rose frame.
Easily upload and share images via the app.
Free cloud storage.
Cons
Default privacy options are a bit quirky.
Cannot be wall-mounted.
A picture, they say, is worth a thousand words. If that's the case, then the average person's Facebook profile says more about them than a Charles Dickens novel. Digital photos have allowed us to connect with our loved ones like never before. Instead of a postcard and a two-second note, you can send dozens of pictures instantaneously. And thanks to the ubiquity of smartphone cameras, you can take as many pictures as you want. There's no need to worry about film costs.
That said, the proliferation of social media has eaten away at another time-honored tradition: the family photo album. It used to be that we kept our favorite pictures as mementos. For those that were extra special, you could have them blown up and hang them on the wall. But there are only so many pictures you can hang on one wall. There's simply not enough space to hang them all! At the same time, normal, photo-sized prints and physical photo albums are falling out of fashion. If you want to show off a bunch of photos, you have to send them to people and hope they see them. Alternatively, you could always run off some old-school prints and hang your favorites.
A digital picture frame gives you the best of both worlds. You get the physical presence and decorative nature of a traditional picture frame. You also get to show off all kinds of photos in real time. Now, we're about to review the Aura Frames "Smith" 2K Smart Digital Frame. This is a mid-sized digital frame that's designed to work with your smartphone. You can add pictures remotely, and even share frames and app controls with the whole family. But does that mean it's worth your time and money? To find out, we'll need to dig a little deeper. Let's see how the Smith compares to the competition!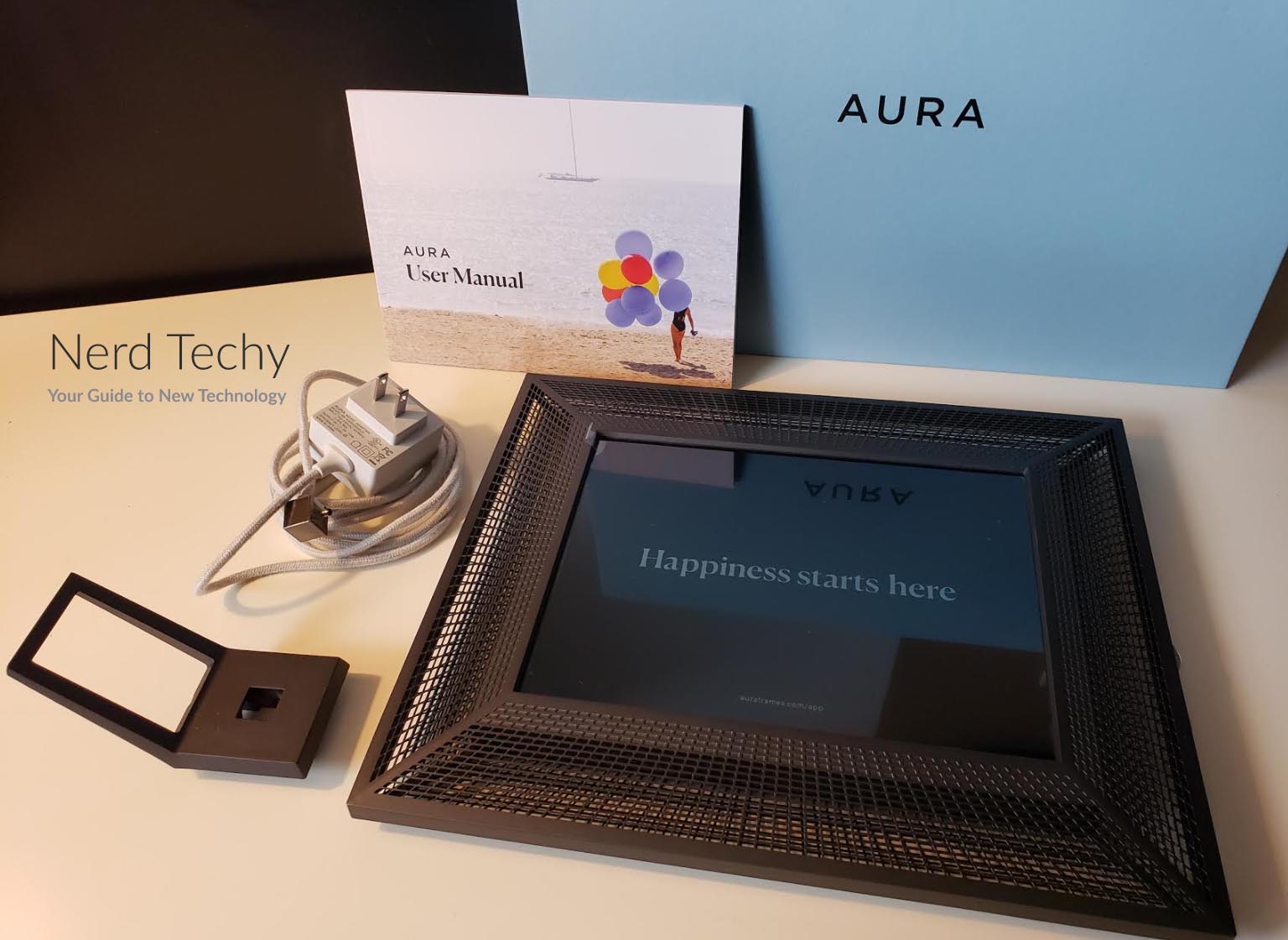 Design & Construction
The Aura Frames "Smith" is a mid-sized picture frame designed for tabletop use. It measures 11.75 inches wide, 9.79 inches tall, and 1.02 inches thick. For portrait orientation, you can reverse those measurements. The screen itself has a 10-inch measurement on the diagonal, standard for wall photo prints. The frame has an elegant design, and is constructed from glossy plastic with a platinum rose metallic finish. The frame has a geometric design, with a pattern that forms a warped grid. It's tough enough to take a little abuse, but take care with it as you would with a similar metal frame. It's built for elegance, not durability.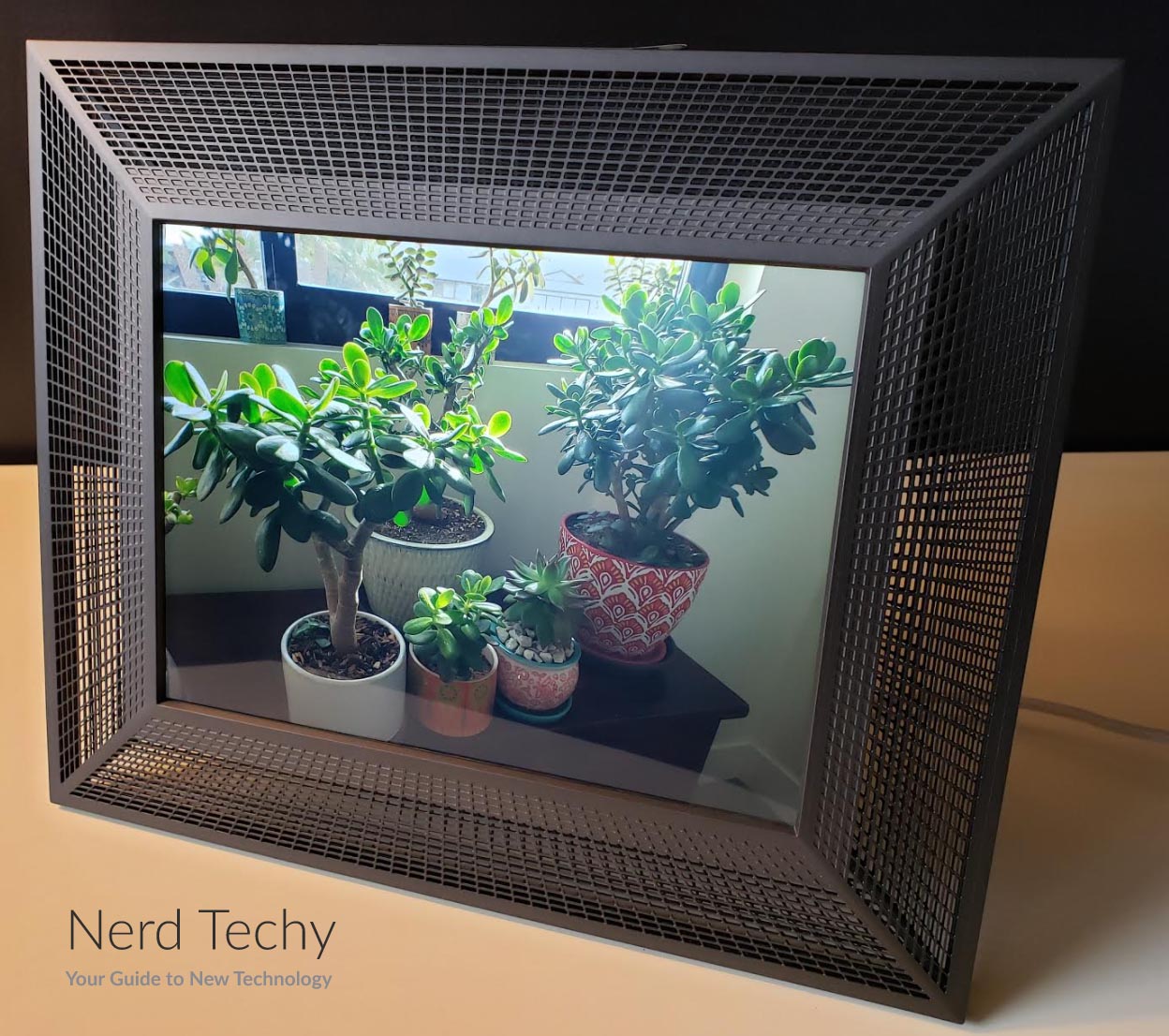 When we say the Smith is designed for tabletop use, we mean "exclusively for tabletop use". There's no wall-mount option. This is all the better, since the frame weighs five pounds, a bit much for a wall-mounted frame. That said, it works in both portrait and landscape mode. The support stand on the back can be easily removed and repositioned in either configuration. When this is done, the frame will stand easily on any table, desk, or nightstand. It has a braided power cord, which can be plugged into any standard US power outlet. The braided design makes the cord quite durable. If it accidentally gets stepped on or pinched, the inner wires are unlikely to get damaged.
That said, not everyone wants a tabletop frame. If you want to hang your digital picture frame on the wall, you're going to need a different option. In that case, consider the AEEZO Smart Digital Picture Frame. It can be wall-mounted as well as set on a tabletop, so you can position it anywhere. That said, there's no cloud storage, so all your pictures will need to be saved locally.
We don't normally wax poetic over packaging, but in the case of the Smith, we're willing to make an exception. Each frame comes in a gift box, complete with an attractive ribbon. You can basically take it out of the shipping packaging and hand it to someone as a present. There are other gift options, as well, which we'll get into in a second. But even if your frame isn't a gift, it's nice to have some sharp-looking packaging.
Connectivity & Storage
To use the Aura Frames "Smith," you first need to connect it to the internet. This only takes a few minutes, and is easy to do. However, you'll need a home WiFi network to make it happen. Once the frame is online, the next step is to install the smartphone app. The Aura Frames app is free, and is available on both Android and iOS. It's compatible with all versions of iOS from iOS 11 forward, and all Android versions starting with Android 5.0. This means it will run on most post-2014 Androids, and most post-2017 iPhones. It installs in about a minute, and doesn't take up a ton of space. Follow the setup steps inside the app, and it will be ready to pair with your frame.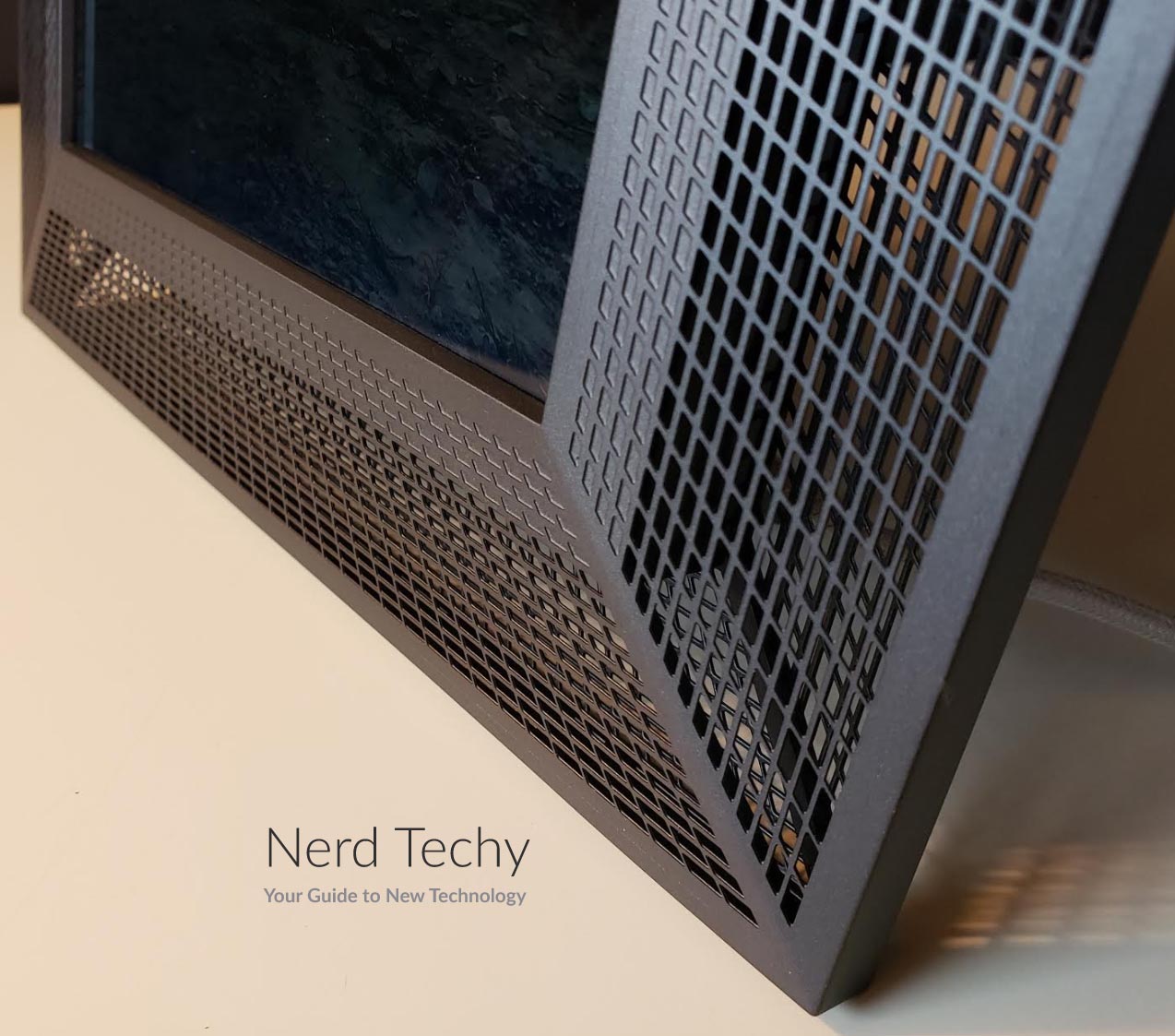 One neat thing about the Smith is that it can be paired with multiple phones. Each frame can be shared by the entire family, and multiple phones can sync to multiple frames. So if you have four siblings all across the country, you can all share each-other's frames. There's no limit to how many friends and family members you can invite to your frame. Be careful with these features, though! By default, all your smartphone photos will be shared to the frame. All of them. If you don't want to share literally everything with grandma, turn this option off and share your photos manually.
You can also scan the QR code on the card that's included with the frame, and pre-sync photos. This is great if you're giving the Smith as a gift. You can preload photos for your loved ones, so the frame is running as soon as they open the box. And as soon as they scan the same QR code, their phone is also paired.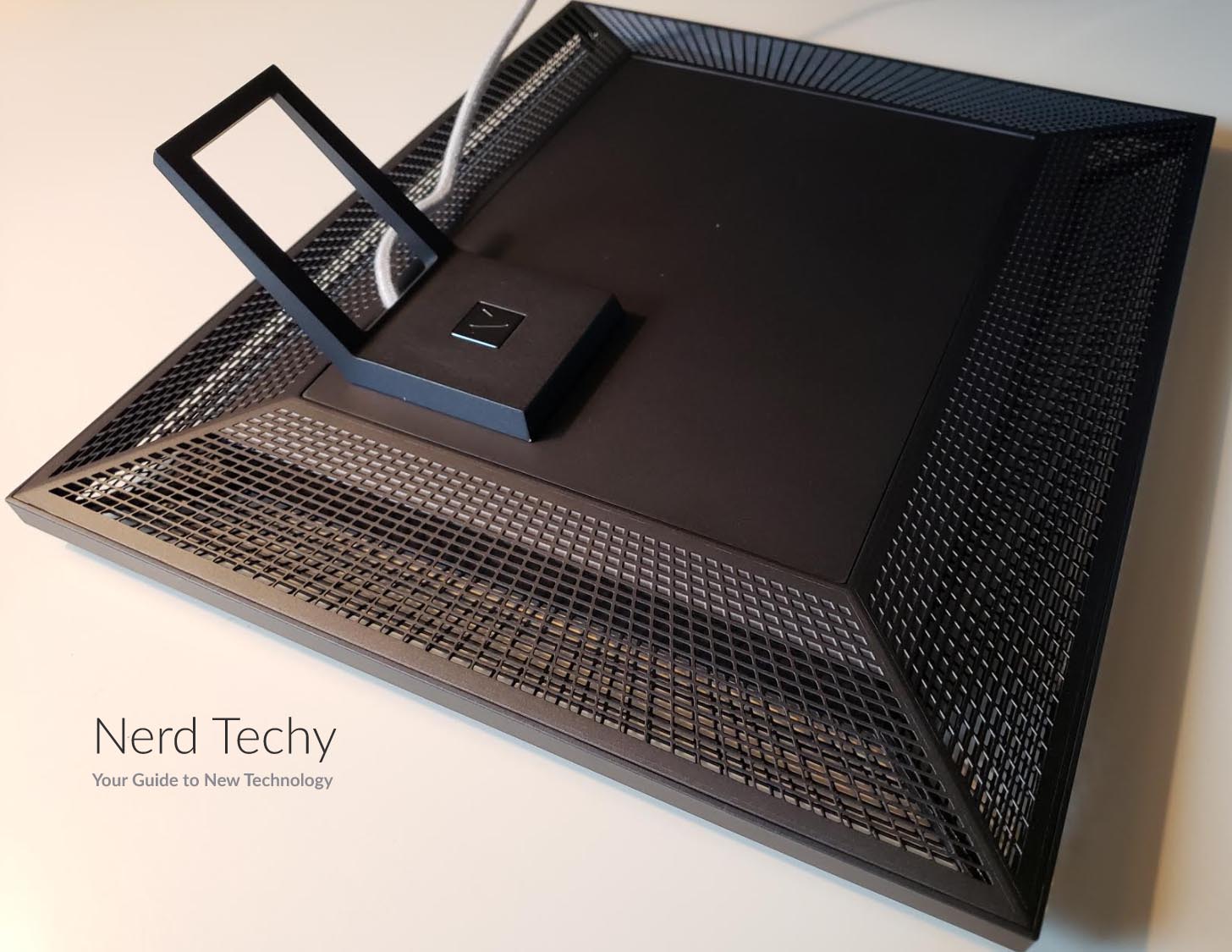 Cloud storage is free, and you get enough space for over 10,000 photos. This is totally free, and it's free for life. It's also effectively limitless. If you want easier control options, you can also operate the Smith with Alexa. Voice controls are effortless and intuitive, so the learning curve is nice and shallow.
These are all great features to have. However, the Smith has a very specific look. Either you like what you see, or it's not what you need for your home. If you want a more laid-back digital picture frame, the Aura Frames Sawyer is a good choice. It has the same storage features as the Smith, but a plain black design.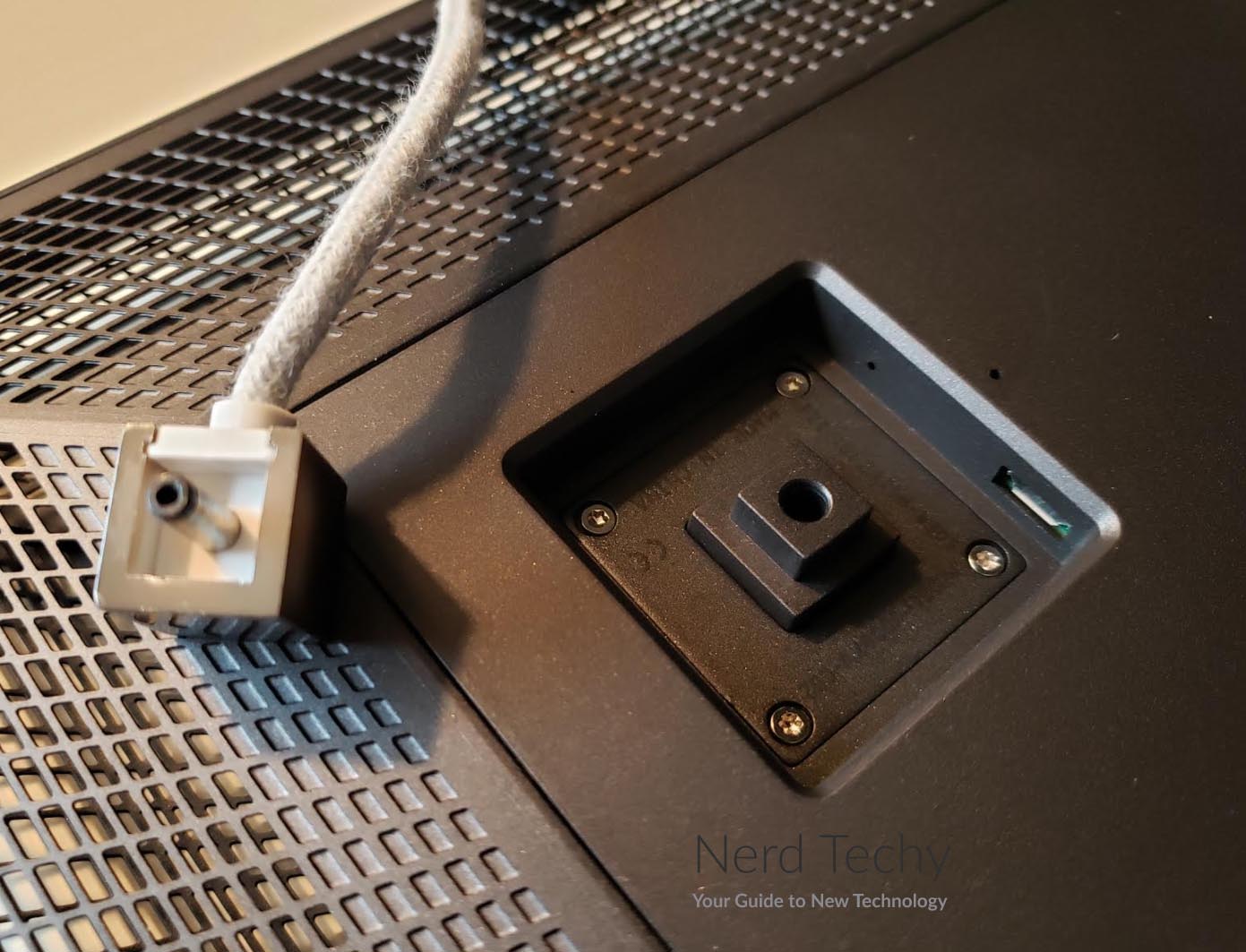 Image Quality
The Aura Frames "Smith" boasts a 2K display, which means it has a resolution of 2,048 x 1,536 pixels. This is higher than is needed for the size. The pixel density is so high that even a 720p display would look just as good. That said, it's nice to know that Aura Frames has taken the time to build an ultra high-quality display. They didn't stop with the resolution, either. The image is genuinely pleasant to look at, with a pleasant color balance and vibrancy.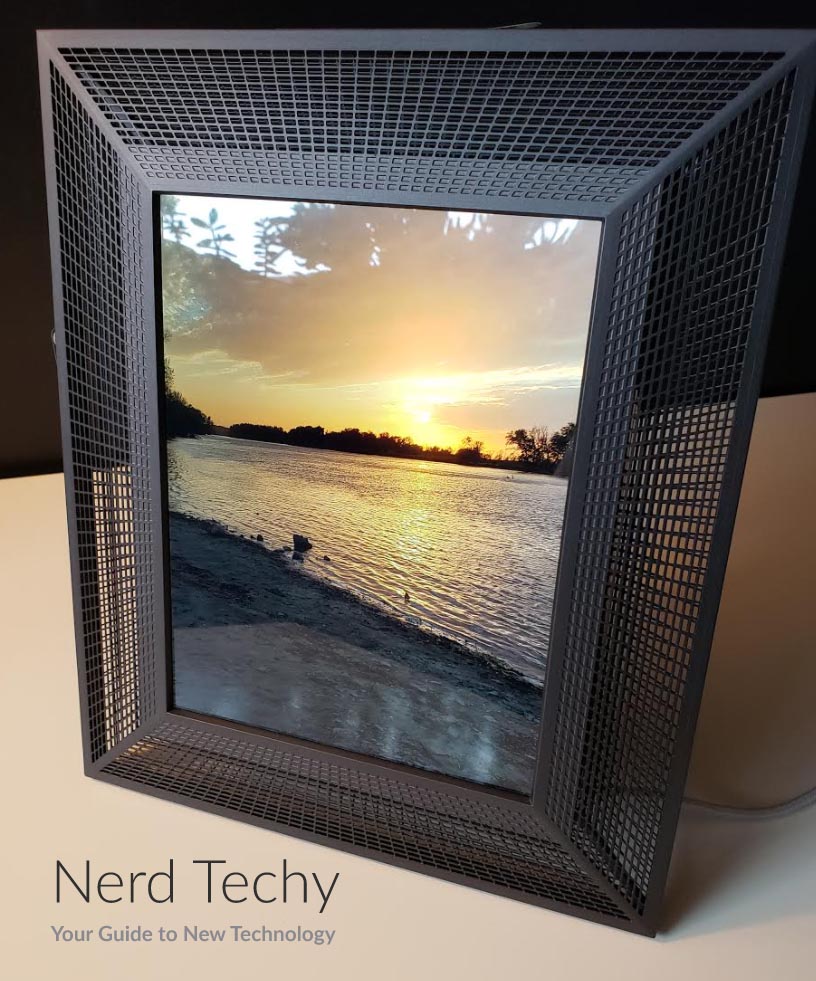 The brightness will automatically adjust to the lighting conditions in your room. If the room is brightly lit, the screen will be at maximum brightness. If the room is dimmer, the screen will be correspondingly dimmer. It will even shut off entirely in darkness, so it won't keep you up when you're trying to sleep. Similarly, a power-saving feature ensures that the frame won't be wasting juice when you're not in the room. Instead, a built-in motion detector will trigger the screen only when someone is nearby. You can time the motion detection feature to determine how long it takes for the frame to shut off.
The Smith frame will automatically fit your photos to the frame. If your pictures have a standard 4:3 aspect ratio, no changes will be needed. However, non-standard pictures will automatically be cropped to fit. Photos will also be cropped or zoomed when changed between portrait and landscape mode. This ensures that every picture fits the frame just as you expect. You can also take advantage of intelligent photo pairing. In this mode, related pictures will automatically appear side by side. This option can be turned on or off in the app.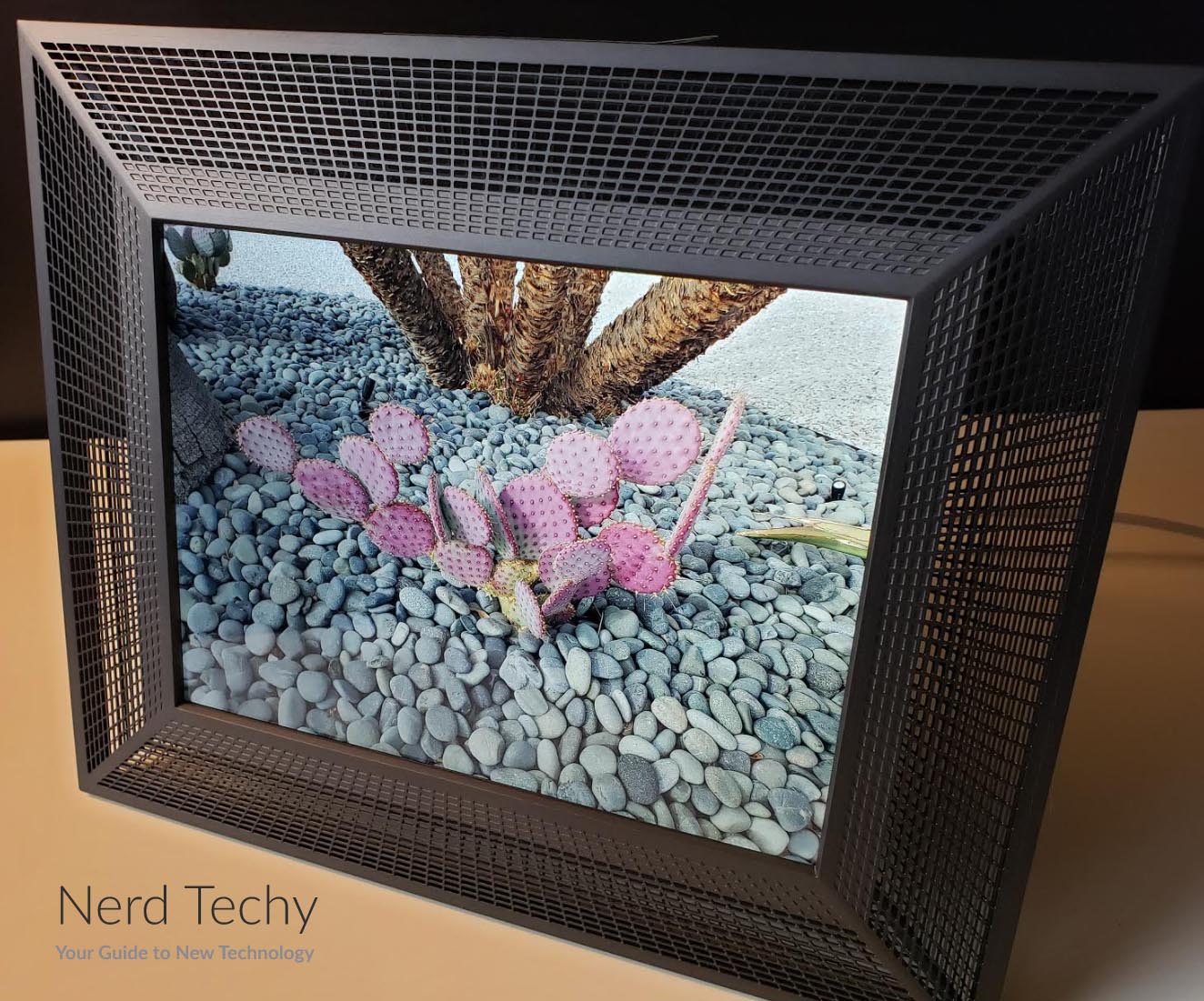 That said, not everything needs to be an app control. Sometimes, particularly for elderly relatives, a physical interface is better. For that purpose, the frame has a set of interactive touch bars built in. With these bars, you can change photos or get details on a particular photo. You can also "love" favorite photos, which will then be set to appear more often.
One feature the Smith doesn't offer is a timer mode. It only turns on or off automatically, or via the motion sensor. If you want a frame with a timer, take a look at the Aura Frames Carver. It works in timer mode, but it only displays photos in landscape orientation.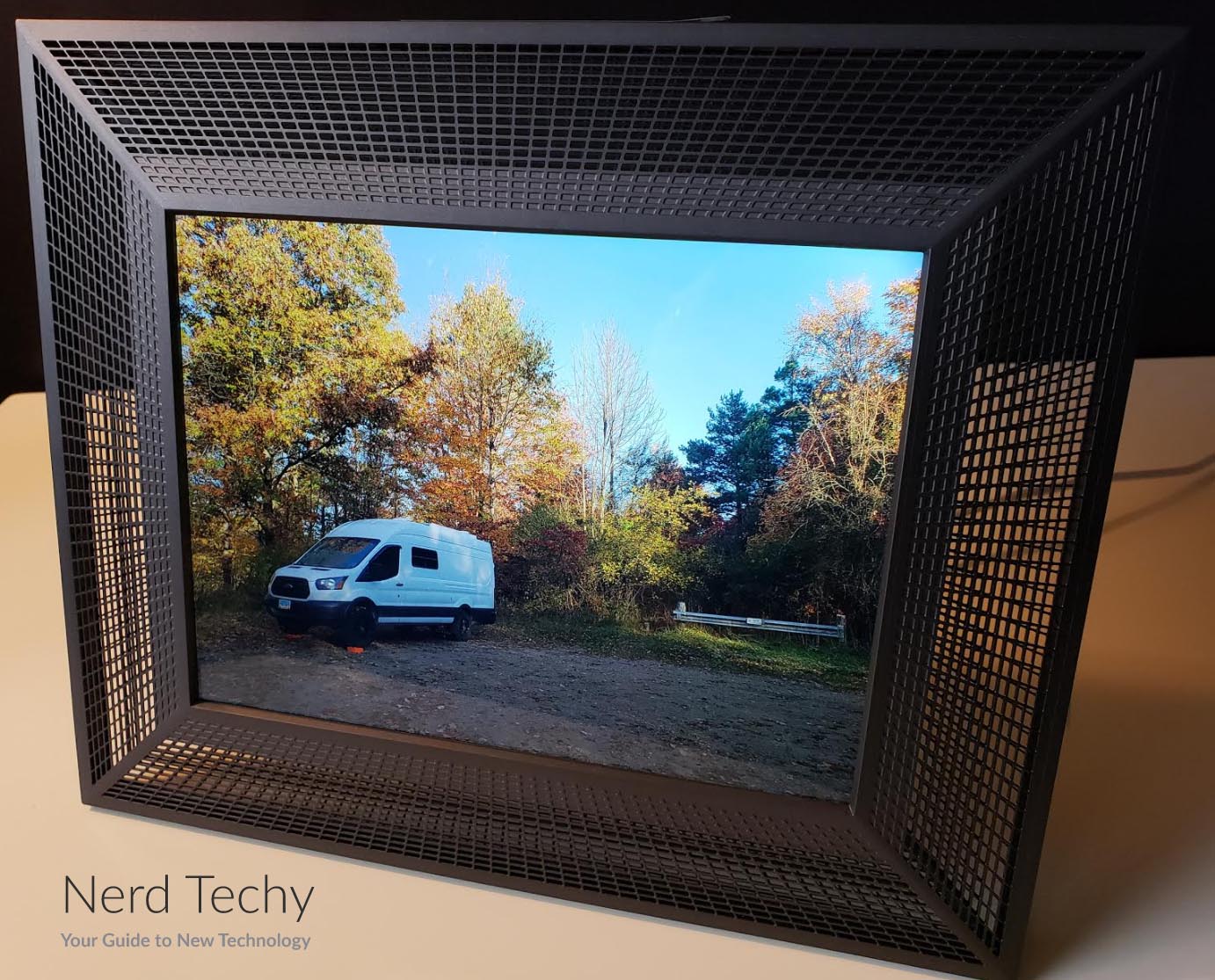 Final Verdict
So, how does the Aura Frames "Smith" 2K Smart Digital Frame compare to other, similarly-priced frames? In most regards, it performs very well. To begin with, the display is absolutely gorgeous. The color clarity is beautiful, and the automatic brightness adjustment will match any type of lighting. Moreover, the automatic cropping and rotating is very effective. Your pictures will look as good as they possibly can in any given orientation.
To be fair, you'll have to play with the privacy settings, and it can't be wall-mounted. But in most other respects, it performs far better than most of the competition. It even has free cloud storage. Not only that, but the ability to share your pictures remotely is a huge plus. The Smith does a great job of applying social media concepts to an elegant, but modern digital frame.