We've all blown a fuse at one time or another. Maybe you throw some leftovers in the microwave on a relaxing Sunday, only to have the lights shut off as soon as you hit the 'start' button. Resetting the breaker is easy. Just look at the panel, find out which one is flipped the other direction, and turn it back on.
Circuit breakers perform an important function. They make sure that electricity is disabled anytime we have too much load on one circuit. A single breaker can service many outlets. Unfortunately, the arrangement of these outlets isn't always ideal for our use.
You can have tons of low power electronics on a single breaker. In your office, you might have your computer, monitor, sound system, router, and lighting on a single breaker. But if you put the microwave and fridge on the same breaker, you'll find yourself quickly making trips to the laundry room to reset a breaker.
Whether you're planning the layout of your kitchen or doing some electrical work in your home, a circuit breaker tracer is a handy tool to have. These two-part devices show you which breaker is connected to which switch. If you're trying to diagnose a sensitive breaker or plan a renovation, this is something you can't do without.
Want to know how they work? Unsure of which one to buy? In this guide, we'll be taking a look at the three best circuit breaker finders and testers on the market. We'll go in-depth, and show you exactly what each model has to offer. Some models are designed for the home user, while others are specifically for professional use only. Once we explore the specifics, we'll help you decide which option best fits your application.
Extech CB10 Circuit Breaker Finder
Extech is a company that produces tradesman-grade testing tools at consumer prices. Their tools are popular among handymen who like to do their own work around their house, as well as apprentices who are learning their trade. This isn't the kind of thing you'll want to use day in and day out, but for the weekend warrior or a four month renovation, it's the perfect choice.

Overview
There are two components to the Extech CB10. One unit plugs into the socket you're trying to trace, while the other part of the tool is used at the panel, and will identify which circuit the tester is on.
The part that you plug into the socket doubles as GFCI tester. It will show you if the outlet is wired correctly, and help you test to see if the breaker is working correctly.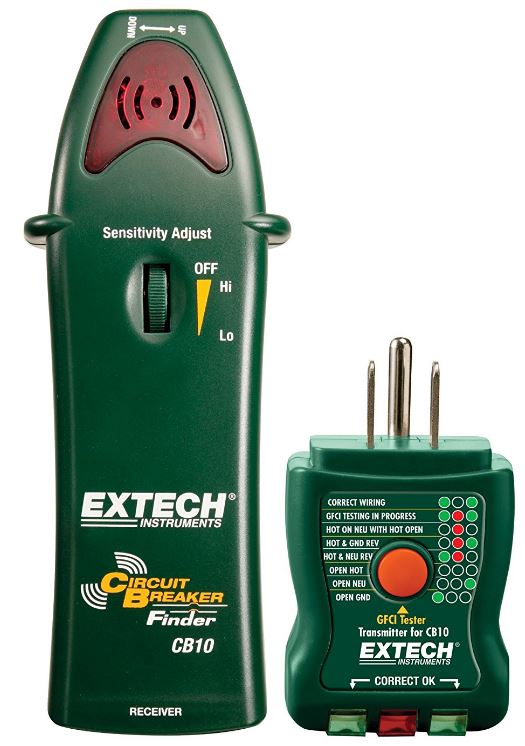 This combination of tools allows you to find breakers, test breakers, and identify wiring issues. Extech also sells these tools as part of larger kits. The package that includes a continuity tester allows you to further diagnose any wiring issues you identify. The test kit includes everything we've mentioned so far, as well as a voltage tester – something that is essential if you plan to repair any issues yourself.
Usage & Functionality
Tracing a circuit breaker with this tester couldn't be easier. First, you plug the GFCI tester into the outlet you want to trace. You then walk over to your fuse panel with the finder in your hand, and turn the sensitivity up to high. You then place the end of the finder over the switch of the first breaker. Work your want down the panel one by one until you hear it beep and vibrate.
It's important to test every breaker. If only one breaker alarmed, then that's the breaker connected. If more than one breaker alarmed, you'll want to turn the sensitivity down and continue testing each of them until there is only one left.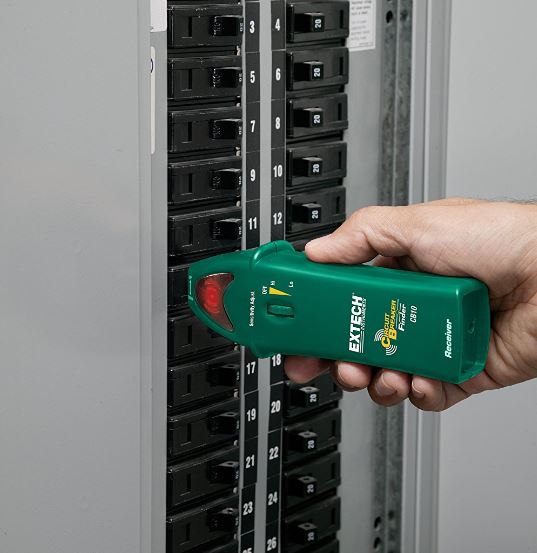 This works by broadcasting a signal over the power lines. If you've got the wiring for multiple circuits running right next to each other, it's possible to detect this signal at high sensitivity. This is why you need to play with the dial a little bit to isolate the appropriate circuit.
Additional Features
When the GFCI tester is plugged into an outlet, it will immediately tell you if there is any wiring issues. You can read these by looking at the three lights on the bottom. There are two green LEDs on either side, and a red LED in the center. If you plug it in and only the green LEDs are illuminated, then your outlet is wired correctly. If you see any other color combination of lights, you can look at the printed diagram to find out what they mean.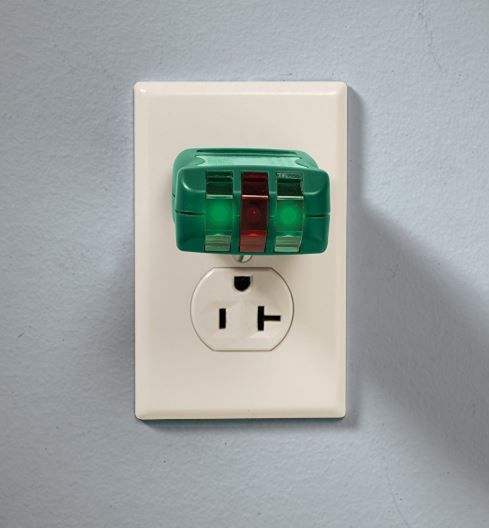 This tester will tell you if any of the three internal wires are disconnected, or if two of the wires are swapped around. You can also push the button to test if the breaker is working. If it is, the breaker will blow and you'll have to reset it. If not, the tester itself will safely reset the circuit.
Klein Tools ET300 Digital Circuit Breaker Finder
Just ask anyone in the electrical trade about Klein, they're a brand that is respected in all professional applications. Their circuit breaker finder is simple in design, but extremely functional. Where performance is concerned, very few testers can beat this model in residential applications.
Overview
The Klein Tools ET300 is a two part system is composed of a transmitter and a receiver. The transmitter has a two prong outlet, allowing it to be used in almost any outlet. The receiver is button activated, ensuring that it's only checking for a signal when placed in the appropriate location. This design is simple and easy to use, and has very little learning curve.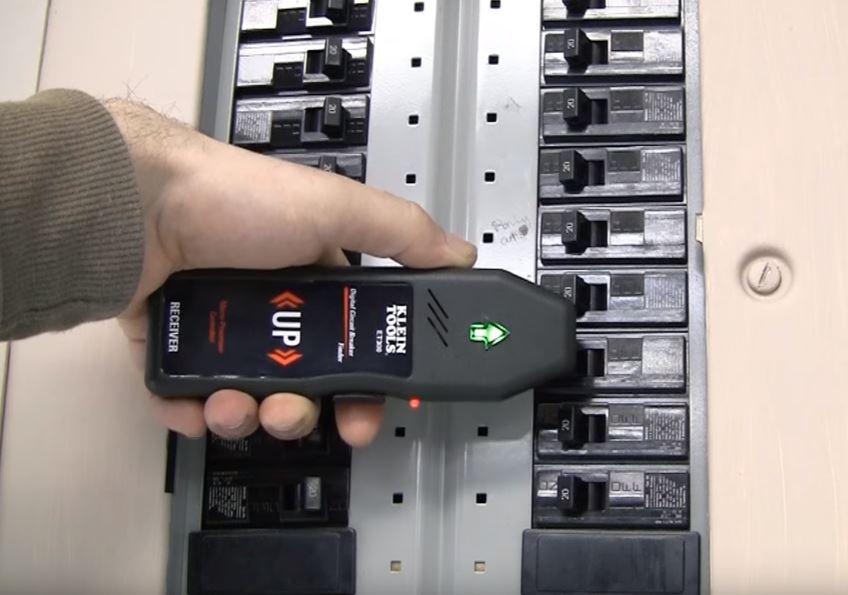 Usage & Functionality
Using this circuit breaker finder requires a similar process to the Extech model. You plug the transmitter into an outlet, place the receiver over the switch end of a breaker, and push the button. The receiver will vibrate and beep if you've found the correct breaker, so tracing is simple and easy.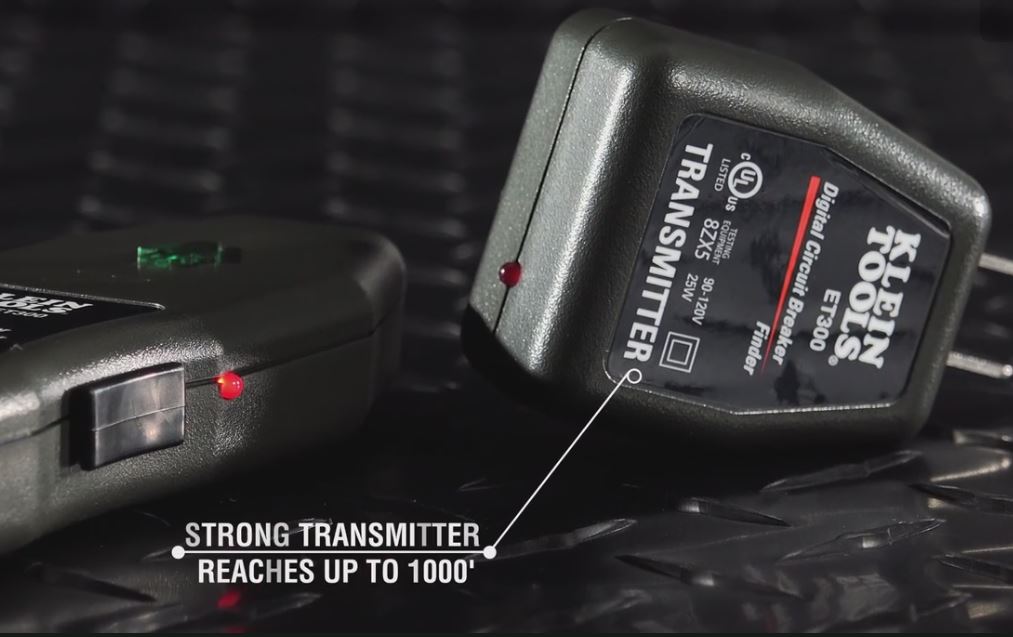 Even though the process is the same, there are some key advantages to this design. The receiver is microprocessor controlled, and the transmitter is sending a digital signal. This means that there are no sensitivity issues to deal with, so the second you find a match you'll know it's the right one.
Another advantage to a digital signal is the range. This transmitter can send a clear signal up to 1000 feet in distance. So even if you're using in on large houses, you're not going to have to worry about weak signals.
Additional Features
Most of the consumers who purchase Klein products already have a full kit of tools. With that in mind, this circuit breaker finder wasn't designed with a ton of other features in mind. It was designed to do it's job extremely well. That being said, there are two main features that improve it's existing functionality, rather than add new features.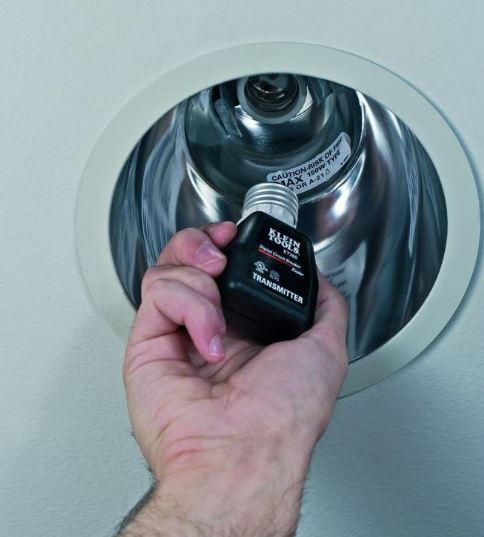 The case is designed from a thick, reinforced plastic. It can withstand much more use than other models, and won't get wrecked easily. It is also CSA approved. This allows it to work in challenging commercial or industrial environments, and is safe to use even in buildings where there is electrical work being done elsewhere.
Zircon 68316 Breaker ID Pro Kit
When professionals need the best, they turn to Zircon. Known for their high end testing and diagnostic hardware, Zircon develops the tools you need to get the job done more quickly. This kit isn't the cheapest on the market, but for some people it will be the best option.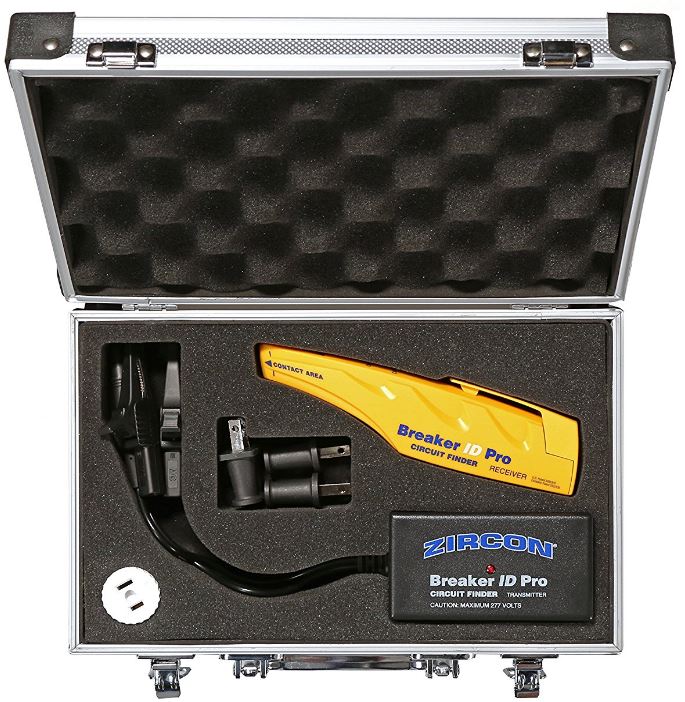 Overview
Although the Zircon 68316 Breaker ID Pro Kit follows the same transmitter and receiver combination as the other two, the design is completely different. You'll find a handful of transmitters inside, which Zircon refers to as blades. The receiver is much longer than most, and includes an integrated computer that adds some advanced functionality.
Usage & Functionality
If you ever need to shut off the power to a room, it's handy to have a breaker list located inside the panel. Typically, this list explains what each breaker is connected to. What the Breaker ID Pro kit does is allow you to easily and quickly make this list.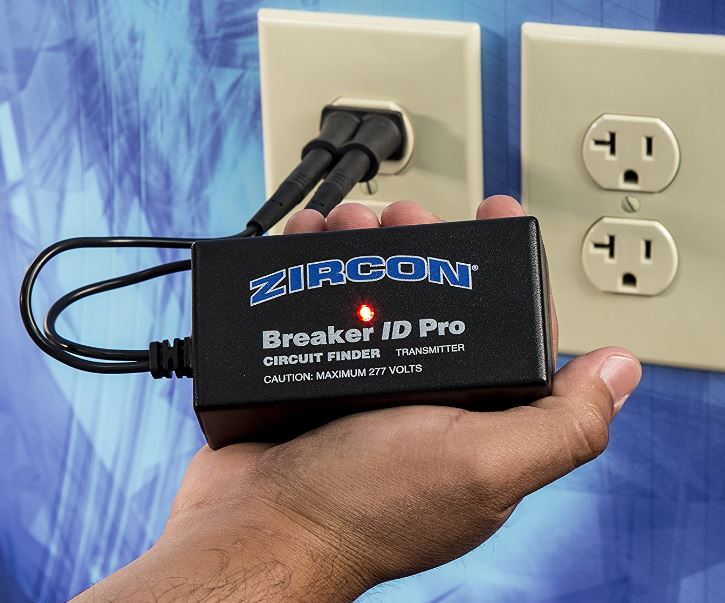 The first thing you do is take the blades and install them into outlets. They're all labelled from one to three. You then take the receiver to the panel and scan each breaker twice. The first scan calibrates the receiver, and the second tells you which blade is connected to that breaker.
With this design, you get three trips in one. It's ideal for quickly tracing a number of breakers, cutting your time down by a large margin. If your boss is on your case to get the job done quickly, this will make you look like a rock star at work.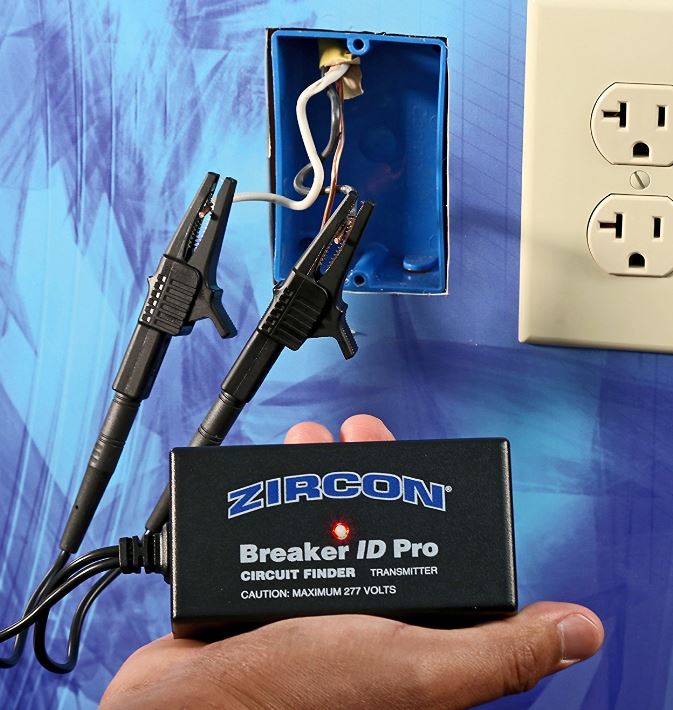 Additional Features
Since you have to scan each breaker twice, it might appear that this model is more frustrating to use than others. But there is a good reason for this design. This first swipe is a calibration, and it allows it to transmit over an almost unlimited range. As long as the wires are connected, the receiver will get a signal. This makes it suitable for use even in large commercial buildings – an area where all other models will fail.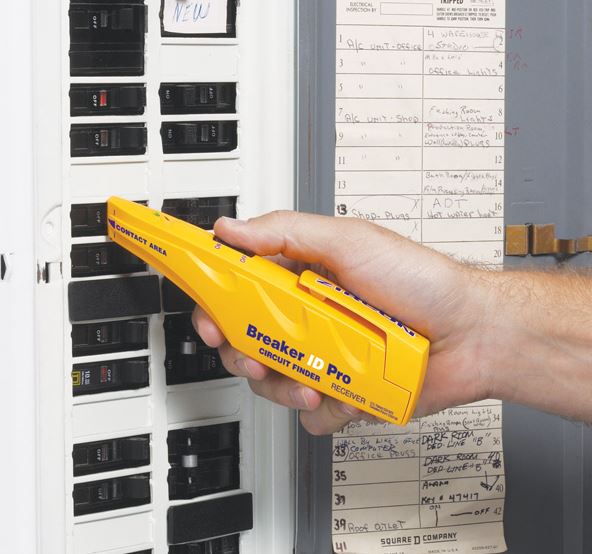 This model can also be used on three-phase circuits – something common in an industrial environment. It supports voltages from 110V up to 277 V, so this is an electricians all in one tool for line tracing.
Which Circuit Breaker Finder is Right for Me?
Luckily, each of these models are designed for a very different application. Which one you choose depends on your skill level with electrical, and were you plan to use it.
For most home users, our recommendation is the Extech CB10 Circuit Breaker/Finder. The CB10 offers a complete all-in-one package. Whether you're just trying to decide how you should plug in all of your appliances, or trying to diagnose a breaker that keeps blowing, this gives you what you need. The GFCI-testing transmitter will make sure that the breaker is functional, and the wiring test will show you what the issues are. Its' simple enough to use that you can learn it in only a few minutes, and it comes with all the safety features you need.
If you're a residential electrician who wants a quick and easy to way to trace lines, you should pick up the Klein Tools ET300 Digital Circuit Breaker/Finder. This model is simple to use, but has a longer range than the Extech model. It's extremely durable, so even if this is something you'll use everday, it's an investment that will last.
Working in a commercial environment? Trying to quickly trace a large number of breakers? Look no further than the Zircon 68316 Breaker ID Pro Kit. This model is a tool designed for professionals only, but is the only model that can get the job done in half the time. It can also be used in commercial applications, thanks to it's support for three-phase wiring and up to 277V lighting circuits.