Using a dual-monitor setup has many advantages. You can double your screen size, work on two totally separate desktops, or run two different programs. It's the configuration of choice for most programmers, as well as many content creators and even office workers. But dual-monitor workstations require special considerations for travel. Sure, you can throw your laptop in a bag, but what about your second monitor? Even a modestly-sized desktop display is simply too big to take on the road. A foldable, portable monitor, on the other hand, can fit in your carry-on bag alongside your laptop.
Small portable monitors aren't just for laptops. They can also be used as a larger display for smartphones and tablets. Once again, they're useful because of their portability. Yes, you can cast your phone or your tablet to a TV or desktop monitor. But the entire point of smartphones and tablets is that they're portable. If they weren't, we'd all still be relying on landlines and desktop computers. If you want to pair one with a monitor, the monitor needs to be at least reasonably small in size.
Today, we're going to review the Lepow Z1-Gamut. This is the updated version of the original Lepow Portable Monitor, which was already pretty well designed. But just because it had a noteworthy predecessor doesn't mean the Z1-Gamut is any good. To find out, we'll need to take a closer look, and check out all its features. We'll start with the overall design – how it's built, how it collapses, and what accessories it ships with. Next, we'll discuss how you connect to it, and what types of devices it can connect to. Finally, we'll look at the quality of the display itself, and how it compares to other, similar products. Let's begin!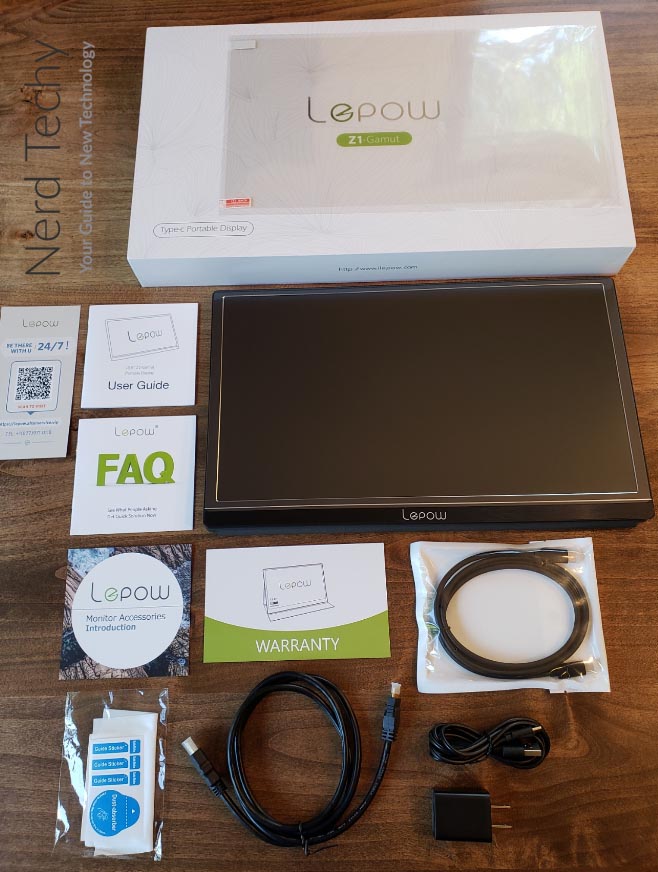 Design & Construction
The Lepow Z1-Gamut is a folding monitor that collapses to 14.2 inches wide, 8.8 inches tall, and 0.34 inches thick. We should be clear hear what we mean by "folding" and "collapses". The screen itself is rigid. However, the case folds open backwards to act as a stand. This means two things. First, because of the way it folds, the angle of the screen is easily adjustable. Just slide the bottom forwards or backwards to tilt it. Similarly, to be used in landscape mode, you just have to turn it on its side. Second, you don't have to carry a separate case for your screen. The entire thing weighs just 1.7 pounds, considerably less than most laptops. As a result, if you slip it in your laptop bag beside your computer, you'll hardly notice it's there.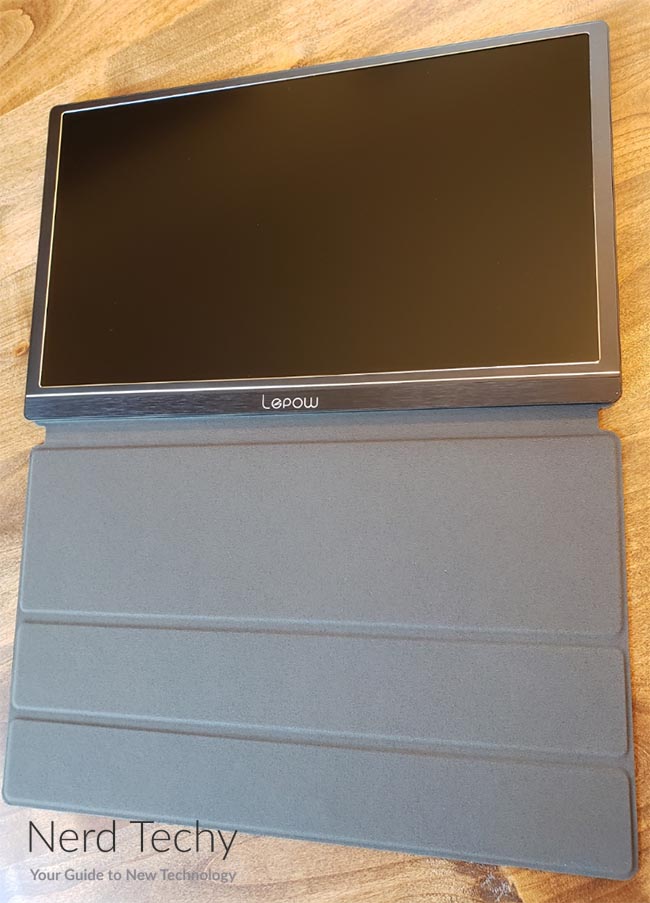 The screen itself measures 15.6 inches on the diagonal, in line with most modern 16-inch laptops. This makes it a good choice for content creators who need a lot of real estate. It's also nice to have a larger screen for dual-displays in general, since you're liable to be sitting farther away. The bezel around the screen is glossy black plastic, the better to avoid any glare. It's also very narrow, so there's not a lot of extra space.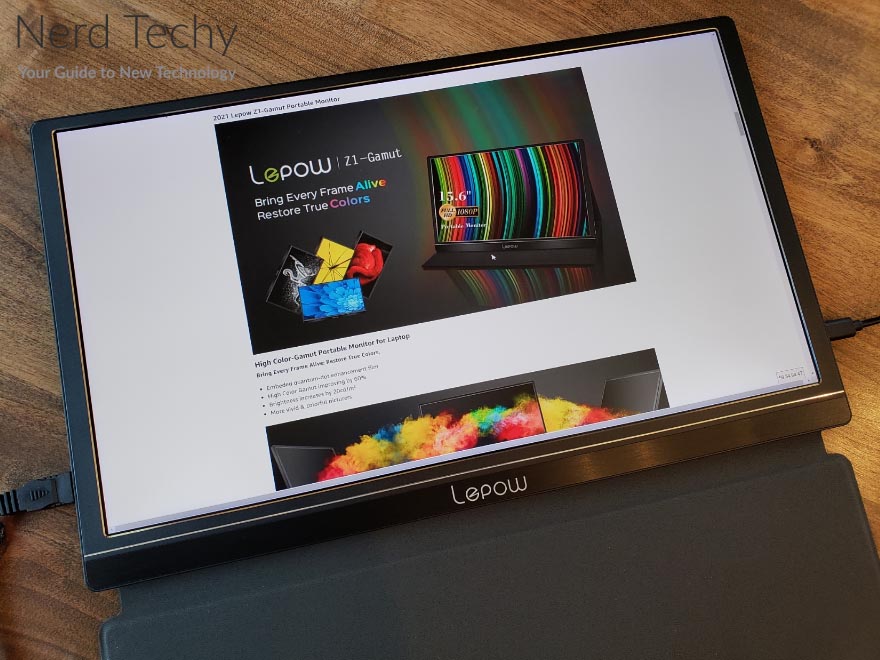 The panel used is an IPS panel, which means it has a viewing angle of 178 degrees. IPS panels tend to cost a bit more than older varieties, but they're becoming more popular. The wide viewing angle makes screen placement easier, since you don't have to stare at it head on. Even from the side, colors are still true. Traditionally, this has come at the cost of vibrancy and color gamut. But over the past few years, IPS panels have started to hold their own amongst the competition. We'll discuss those aspects more in a few minutes.
Along with the monitor itself, you get a handful of extras. First, there's a transparent plastic screen protector that adheres via static. This provides minor scratch protection, and is mostly useful for keeping the dust off. On a more practical note, you get a set of three cables. These are USB Type-C to Type-C, Type-C to Type-A, and Mini-HDMI to HDMI. With a few exceptions, that's all you're going to need to connect your devices to this display. You also get a simple AC adapter for plugging your display into a power outlet.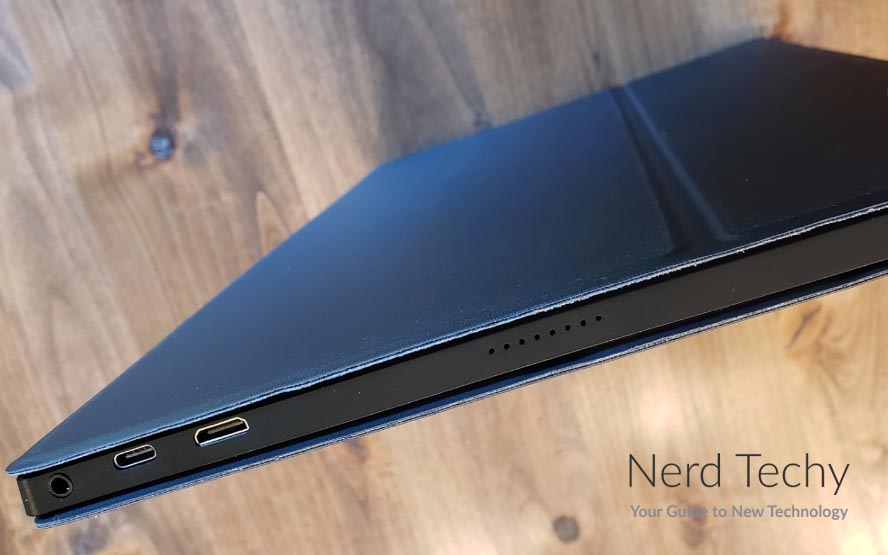 Connectivity & Compatibility
There are two ways to connect to the Lepow Z1-Gamut: USB Type-C and Mini HDMI. For most laptops, you'll want to use the Mini-HDMI to HDMI cable to connect. This will require the least fiddling around with your settings if you already use an HDMI monitor. Not only that, but it won't tie up your laptop's USB ports with a video cable. You'll just be using the HDMi port, which would otherwise be sitting idle.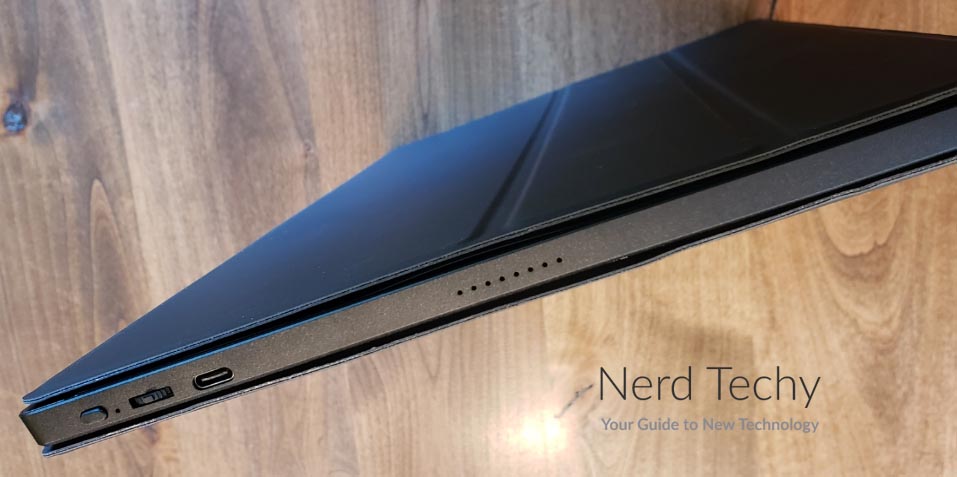 The other option is to use the USB Type-C port. This is going to be your go-to option for devices that don't have an HDMI port. You can connect smartphones, tablets, and other devices with a Type-C output. The one exception to this is any MacBook with no HDMI connection. For that, you'll need a Lightning to Mini HDMI adapter, which isn't included in the kit. This was something of an oversight, considering how many content creators use MacBooks. Then again, if you're one of those people, you probably already own a Lightning adapter.
So, what types of devices can you connect to? Just about anything. You can use the Z1-Gamut with a desktop, tablet, or smartphone. You can use it with most modern game consoles, or even as an emergency backup on your cable box. Keep in mind, though, that this is just a "dumb" display. In and of itself, it's not going to provide you with access to any kind of gaming or streaming services.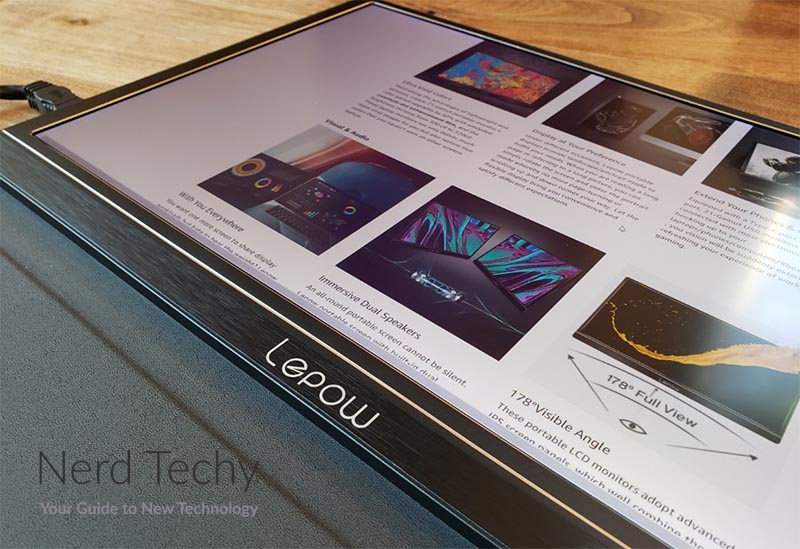 Resolution, Refresh Rate, and Color Quality
So, how good is the picture on the Lepow Z1-Gamut? For most purposes, it's more than adequate. For one thing, the resolution is 1080p, still in line with modern standards. Some may prefer a 2K, 4K, or even an 8K monitor, but that's excessive at this size. Keep in mind that, at a certain point, pixel density comes into play. On any screen smaller than about 27 inches, 1080p is more than adequate at normal viewing distances. The human eye simply cannot see individual pixels beyond a certain point. The larger the screen, and the closer you are to it, the more resolution you need. The smaller the screen, and the further you are away, the higher resolution you need.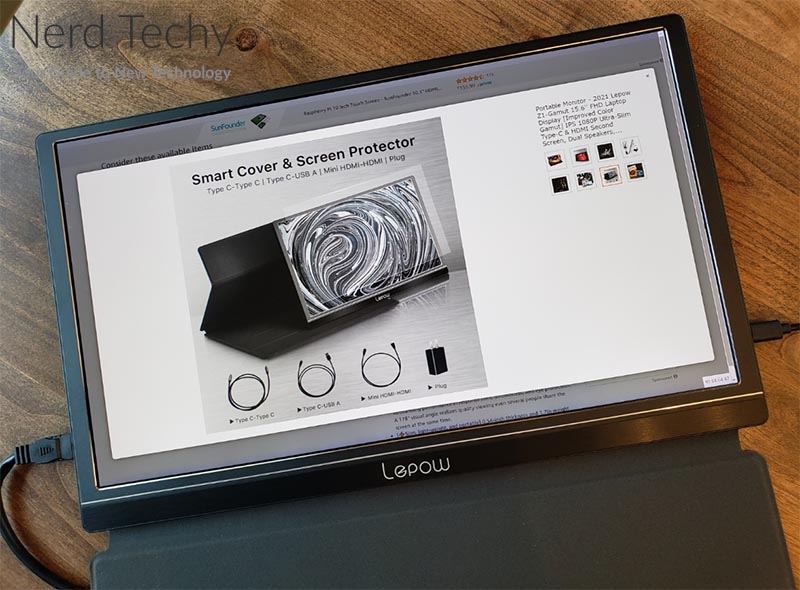 With that being said, there are times when you might want a very high resolution display of this size. If you often work in bed, with your face right in front of the screen, you may actually see the difference. In that case, the Desklab Ultralight Portable 4K Touchscreen Monitor is a good choice. It's excessive for most people, but it does have its uses.
The Z1-Gamut has a refresh rate of 60Hz. This means it's capable of playing videos or games at up to 60 frames per second. That's plenty for most content creators and casual users. In fact, you'll need a very powerful PC to get more than 60Hz at 1080p on a dual display.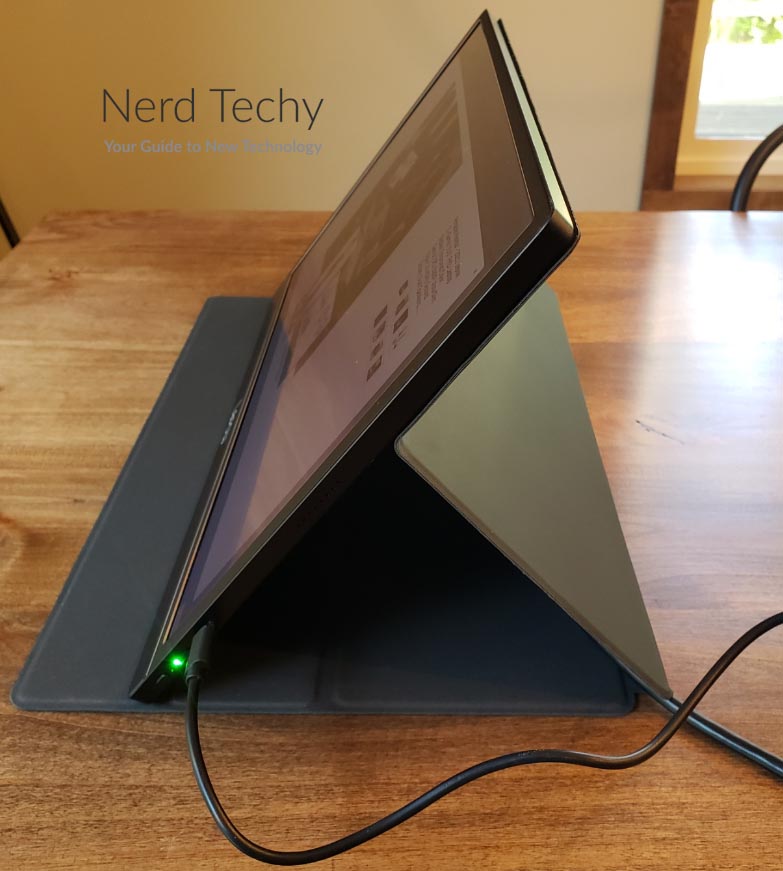 Once again, though, there are exceptions. Gamers in particular often prize higher framerates, since they can reduce motion blur in live-rendered gameplay. If you're looking for a portable gaming monitor in particular, the ASUS ROG Strix XG17AHPE Portable Gaming Monitor is ideal. It provides gorgeous video at 240Hz, but it's a bit heavier than the Lepow.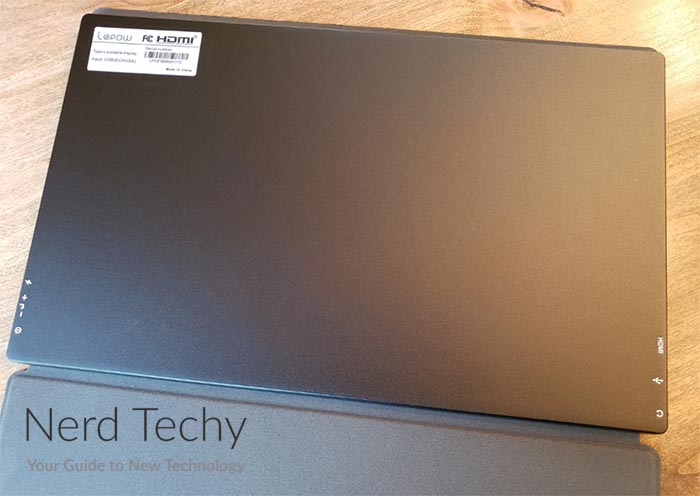 The Z1-Gamut has a contrast ratio of 1,000:1. That's on the low end for a quality monitor, but it's by no means bad. The contrast ratio means the difference between the darkest and lightest tones on the screen. The higher the ratio, the larger the difference can be. With a low contrast ratio, it can be tough to make out details in dark images and scenes. At 1,000:1, you can easily distinguish most details in most cases. Up to 3,000:1, you continue to see improved performance. Anything beyond that is just for marketing purposes, since the human eye can't see more of a difference. The upshot is that at 1,000:1, this monitor is a reasonably good performer.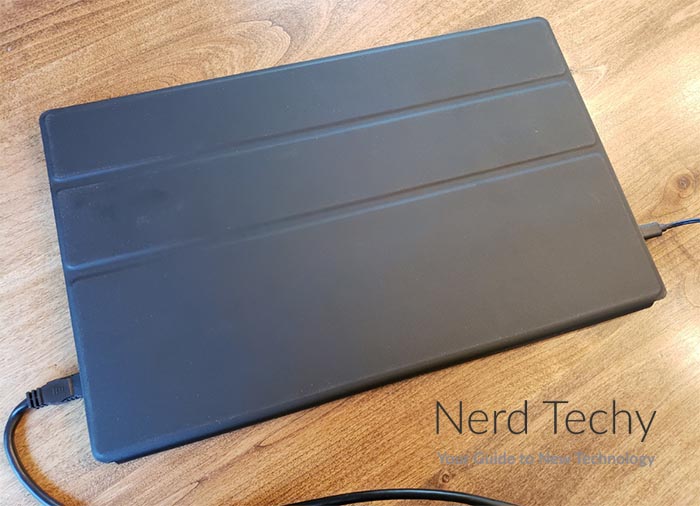 The color gamut is what gives the Z1-Gamut its name. In total, it can faithfully represent 72 percent of the NTSC color space, or 99 percent of the sRGB space. For a full-sized monitor, this would be reasonably good. For a small, portable monitor, it's nothing short of excellent. Content creators will appreciate the ability to create images and edit videos with good accuracy. You won't have to worry that your reds or blacks will look wildly different on someone else's screen.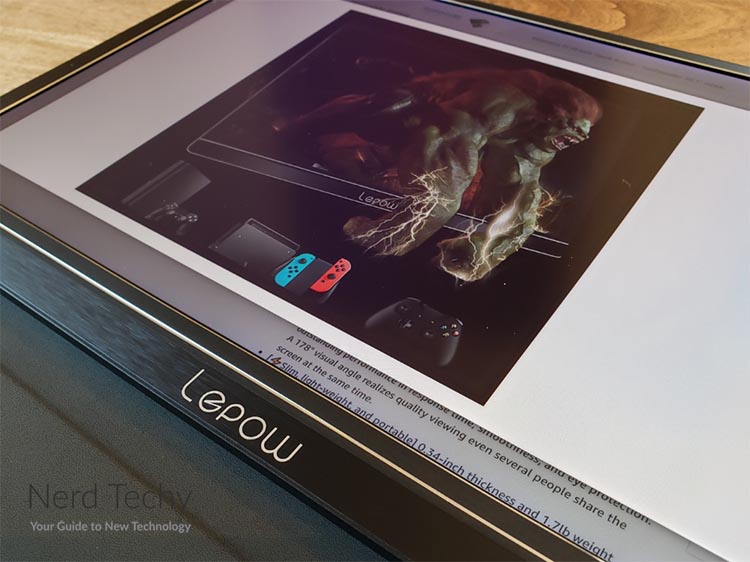 In addition to all that, the monitor also sports a pair of built-in speakers. These are relatively low-wattage, but it's not like you'll be using them often. If you have a laptop or smartphone, presumably you're using their built-in speakers. With a game console, though, you're going to need a solution. In that case, you'd be better off plugging into the 3.5mm aux port. That way, you'll get the best sound that your headphones or gaming headset can muster.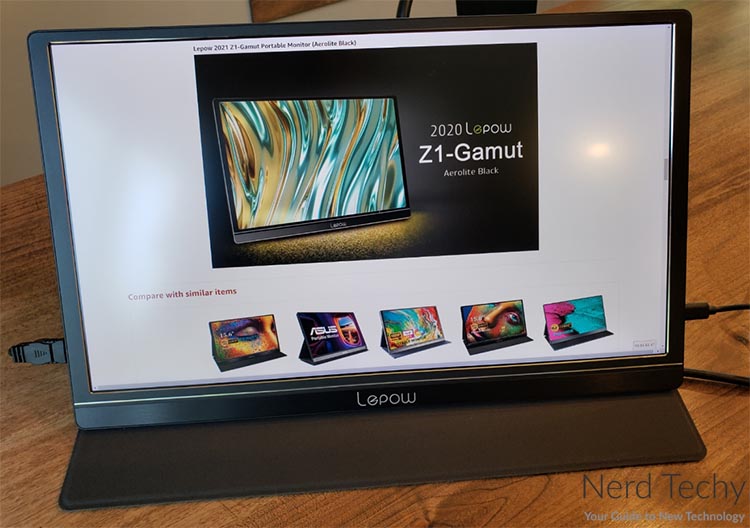 Final Verdict
As you can see, the Lepow Z1-Gamut is one of the better portable monitors on today's market. The folding design, while common enough, is functional and attractive. Moreover, the collection of cables is better than you'll get with most monitors. Unless you need a Lightning adapter, you'll have everything you need to get started right there in the box.
As for the video quality, it's more than good enough for most purposes. While not enough for top-tier gaming, the 60Hz refresh rate is plenty for content creation and office use. And while the contrast ratio is by now means the best, 1,000:1 is acceptable. The color gamut was what most impressed us, outperforming most IPS monitors. This is a solid portable display that comes at a very reasonable price.