In recent years, monitors have been getting smaller and smaller. And while some smartphone screens are truly impressive, we don't mean the screen size itself. We're talking about portability. And if you want to carry your monitor with you, it's well worth considering the Desklab Ultralight 4K Touchscreen Monitor. This is a new product, and when we say new, we mean it hasn't even been released to the public. It's a Kickstarter project, which is slated to ship in the first quarter of 2020.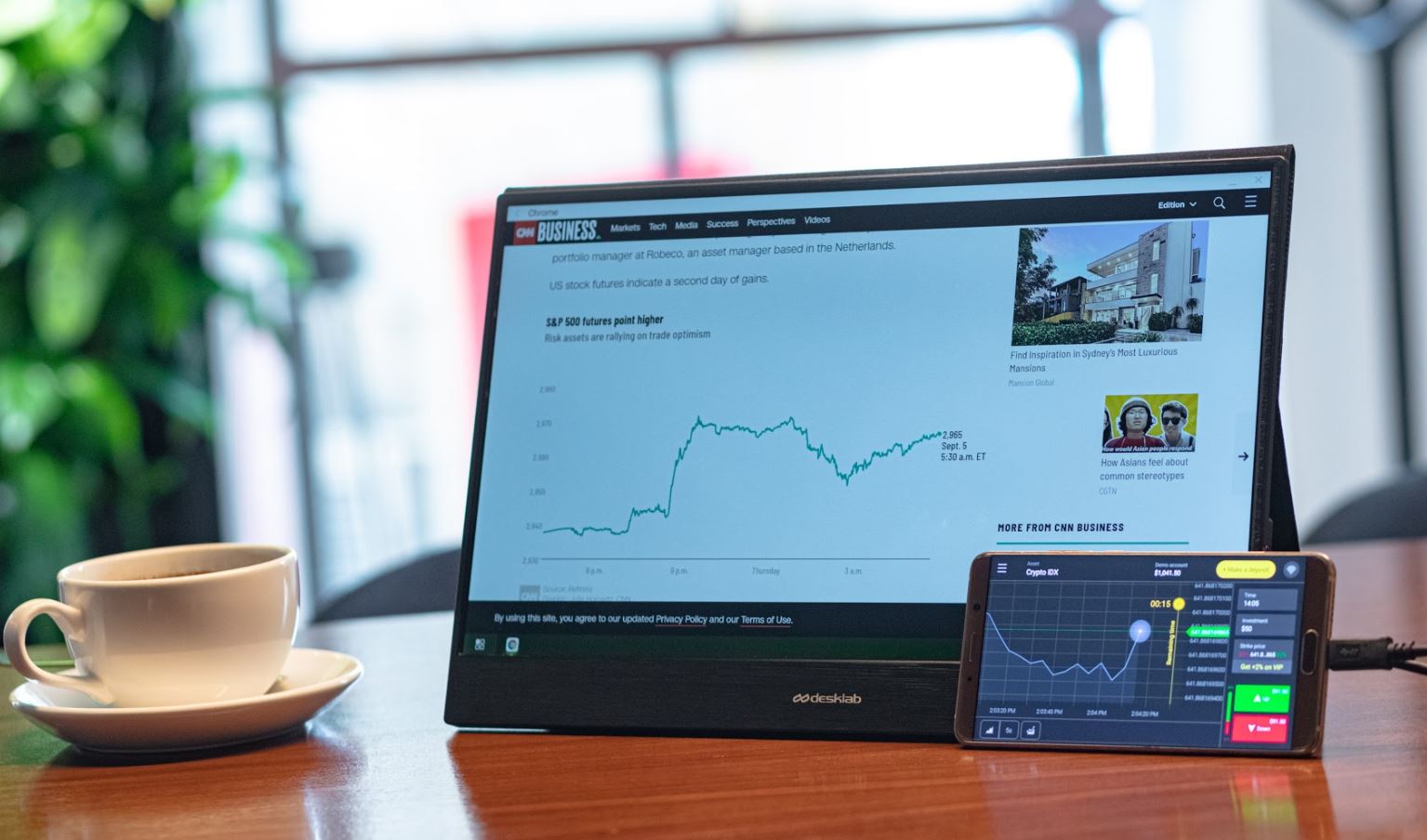 So, why would you want a portable monitor? For starters, they're a great choice for making presentations. Plug one into your laptop, configure a dual display, and you can present to a small room with no projector. But they're also a great choice for creative professionals. If you prefer a dual-monitor setup, you can take your laptop and your monitor along for the trip. They're also a great choice for gamers. It's already a headache to bring your favorite console on the road. Why not make it easier on yourself and bring a slim, small monitor?
With all this in mind, we've looked at the Desklab Ultralight, and we're about to share what we've learned. And just in case you were hoping for a beefier choice, consider the ViewSonic Elite XG270. It's a full-sized 1080p monitor with a lot to offer, but it's as far from portable as you can get.
Technical Specifications
Before we get ahead of ourselves, let's cover the specifics. If you just want to know the basics, here they are:
IPS touchscreen
15.6-inch screen size
4K resolution
2x USB Type-C, 1x Micro USB, and 1x mini HDMI inputs
3.5mm aux port
183-degree viewing angle
10 millisecond response time
16.7 million colors
1200:1 contrast ratio
400 cd/m2 luminance
Built-in dual hi-fi speakers
Measures 13.77 x 7.87 x 0.23 inches
Weighs 21 ounces
Design & Features
The Desklab Ultralight impressed us right out of the box with just how lightweight it is. At only 1.3 pounds, it's the lightest monitor we've seen. To put this weight in perspective, 1.3 pounds is about a quarter of the weight of your average laptop. And it's even half as light as the MacBook Air, a machine that made its name because of its lightness. At this weight, the DeskLab still offers a 15-inch screen, which is enough space to get work done. Its overall size is 13.77 inches wide, 7.87 inches high, and just under a quarter of an inch thick. This is even slimmer than the average tablet. As a result, you'll be able to slip it into the pocket of your laptop bag with plenty of room to spare.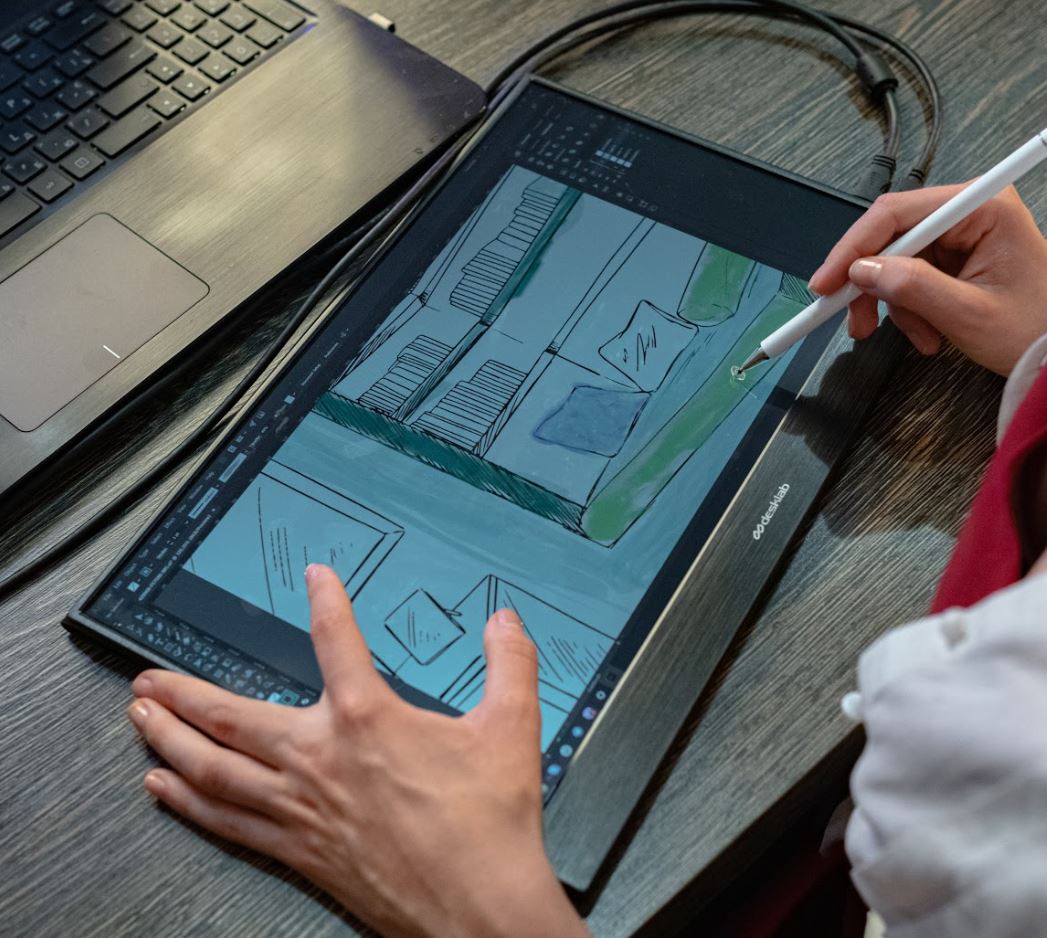 On the lower left hand side of the screen, you'll find the power and menu buttons and a Micro USB port. On the lower right, you'll find the Mini HDMI input, as well as a pair of USB Type-C inputs. There's also a 3.55mm aux jack, which allows you to connect an external speaker set if you want better audio. The DeskLab Ultralight has a built-in screen protector, which is magnetized to remain closed easily. The screen protector doubles as a stand. Just fold it backwards, and it will support the DeskLab like a kickstand. This makes it easy to adjust the screen angle. Just move the stand forward or backwards, and the screen will tilt accordingly.

So far, you're looking at an exceptionally slim and lightweight monitor. But otherwise, it's fairly vanilla. What makes the Ultralight so impressive is that it's also a touchscreen. This puts it head and shoulders above most portable monitors, because of the added functionality. This is yet another excellent feature for creative professionals. If you prefer to work with a stylus instead of a mouse, the Ultralight has got you covered. It's also useful if you're using a smartphone. With the larger display, you'll be able to use the same controls you use on your smartphone. No need to work out a whole new control scheme.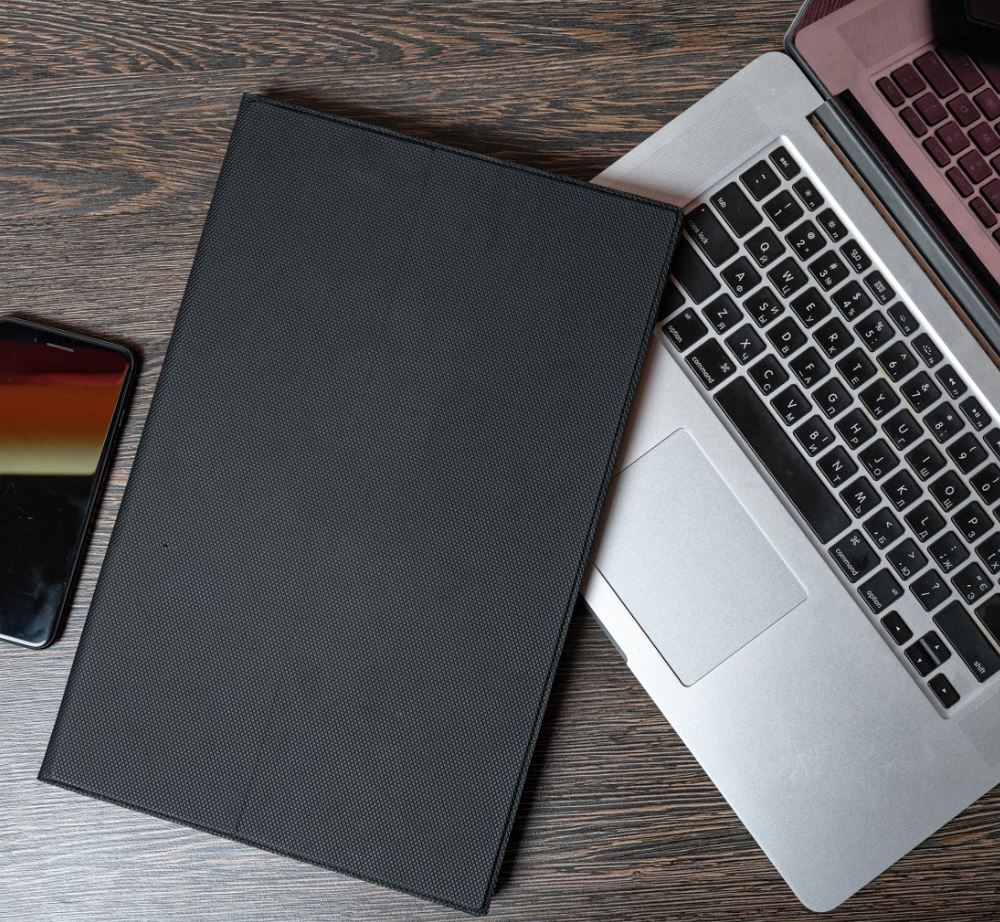 Video Quality
The Desklab Ultralight's biggest selling point is the 4K resolution. Let's start out by saying that it looks gorgeous. But in a 15.6-inch screen, there's not much visible difference. The pixels are just too small. At any appreciable distance, there's no perceivable difference between 4K and 1080p. That said, there is some benefit if you're working close to the screen. For example, if you're bent right over it working on a Photoshop project. In that case, you'll notice a slight improvement.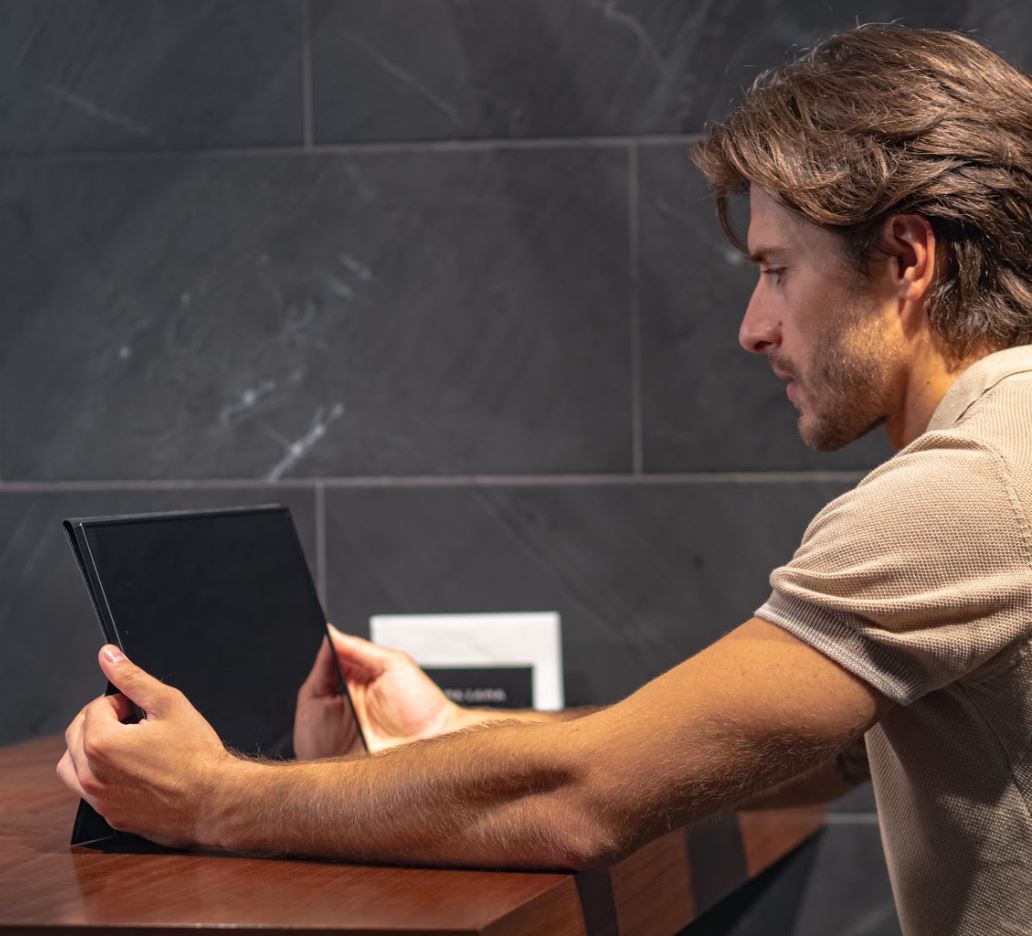 The Desklab Ultralight sports a 1200:1 contrast ratio. This measures the difference between the darkest and lightest colors on the screen. In general, you want to look for a contrast ratio between 1000:1 and 3000:1. Less than 1000:1, you'll get muddy blacks. More than 3000:1 is fine, but it's just a gimmick because you won't notice the difference. At 1200:1, the DeskLab looks great, even when a very dark image is being displayed.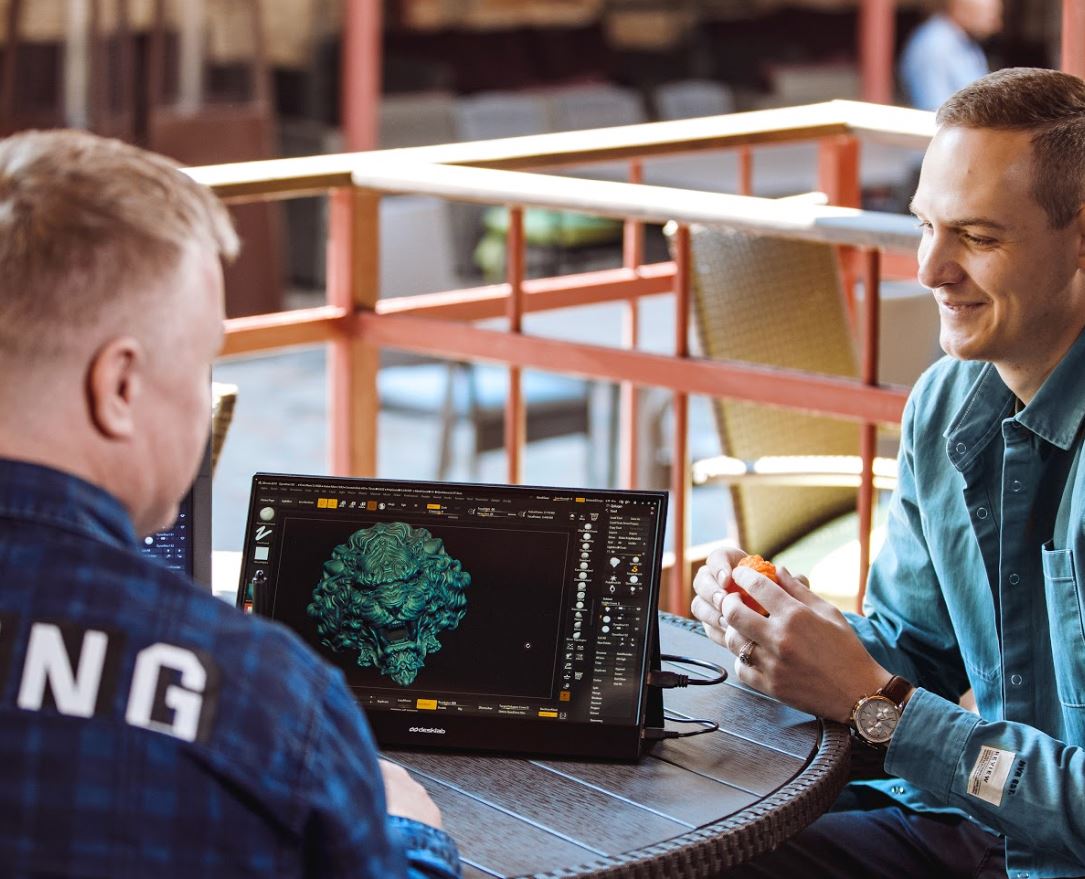 The latency on this monitor is 10 milliseconds. This makes the DeskLab suitable for gaming. In general, you want 40 milliseconds of latency at most for gaming purposes. For elite gamers, even 20 milliseconds will be noticeable. At 10 milliseconds, you can use it for even the most intense gaming sessions. Blast away at your opponents in CS:GO, Fortnite, or PUBG without any lag. You'll perform just as well as you would with a high end gaming monitor.
All of that being said, we understand that you might want a monitor you can buy today. If that's the case, the Auzai Portable Monitor is a good choice. It has the same size screen as the DeskLab Ultralight, with a 1080p display and 30 millisecond response time.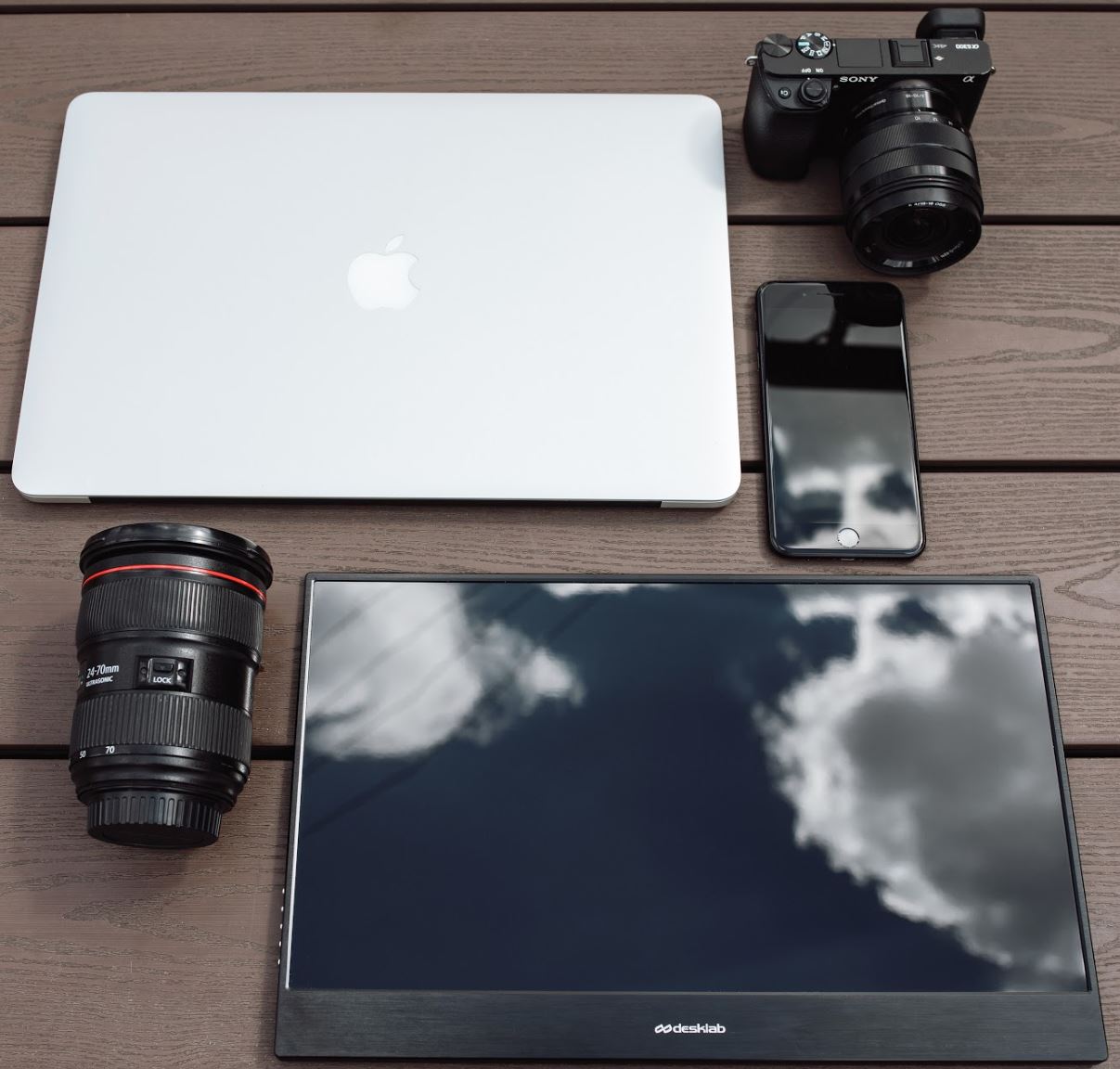 Accessories & Compatibility
The Desklab Ultralight is compatible with any device or operating system. Of course, this depends on your device having the correct type of output. If your device uses mini HDMI, Micro USB, or USB Type-C, you're all set. Otherwise, you might need to purchase an adapter. But once it's plugged in, it will work just like any other external display. It can be configured in landscape or portrait mode, so you can use your preferred format without any headache.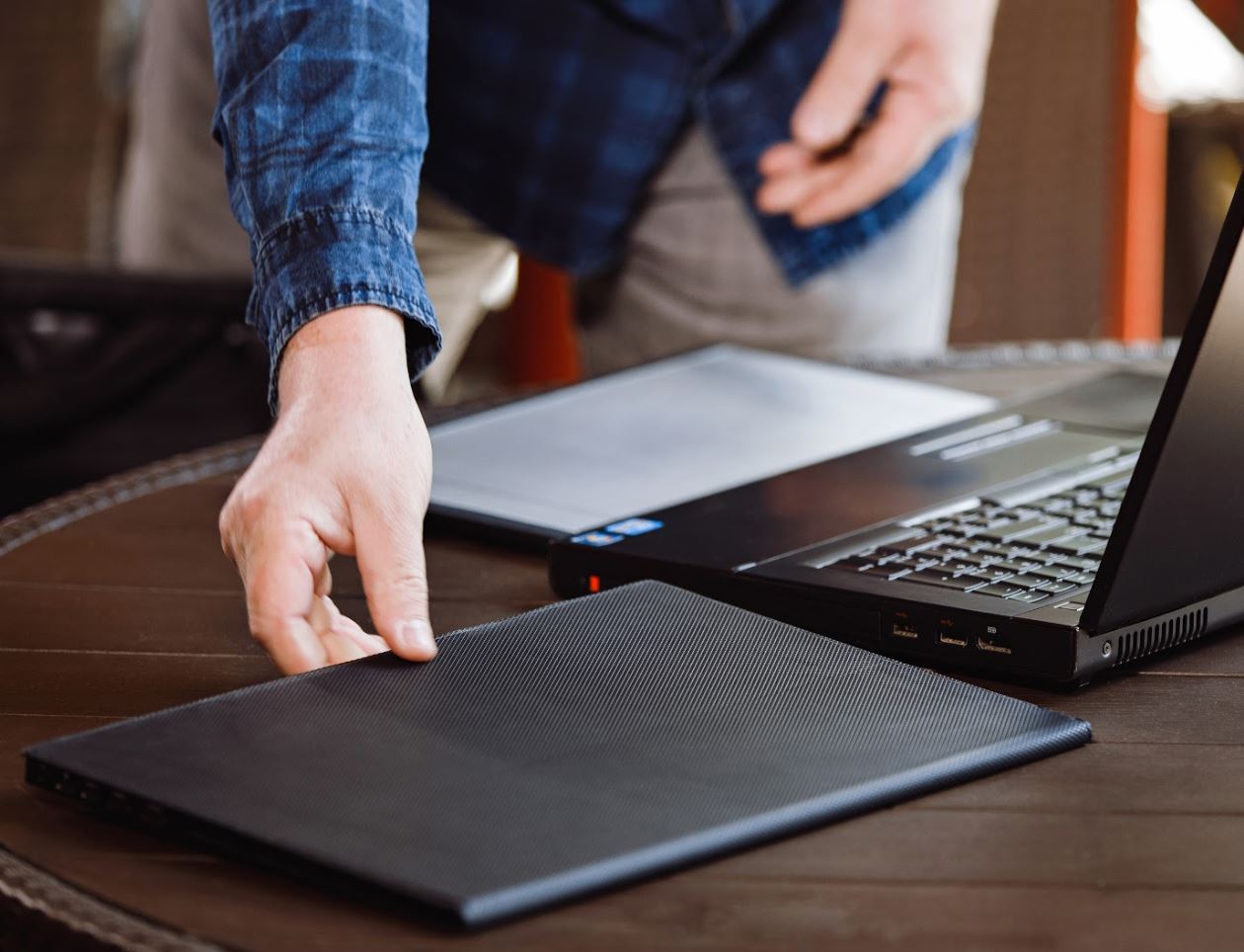 With your smartphone connected, the DeskLab is even more impressive. With Android phones, it automatically expands to a desktop-style interface. This makes it very easy to control, and unleashes your smartphone's true potential. Of course, you're not locked into using the touchscreen. Connect a keyboard and mouse, and you can use your smartphone just like a laptop. Type emails, or even edit documents in an online suite like Google Docs. This is an excellent feature if you like to travel light, since you can leave your laptop behind.
It also has a pair of dual hi-fi speakers built in. This gives you true stereo sound, without the need to carry along a set of external speakers. That said, the audio quality is limited. It's better than we'd expected, but the speakers are just too small to move a lot of air. This means limited bass, and occasional rattle when there's a particularly boomy sound. That said, you can always connect a pair of earbuds or external speakers if sound quality is important to you. As it stands, the built-in speakers are more than good enough for playing a game or watching a movie.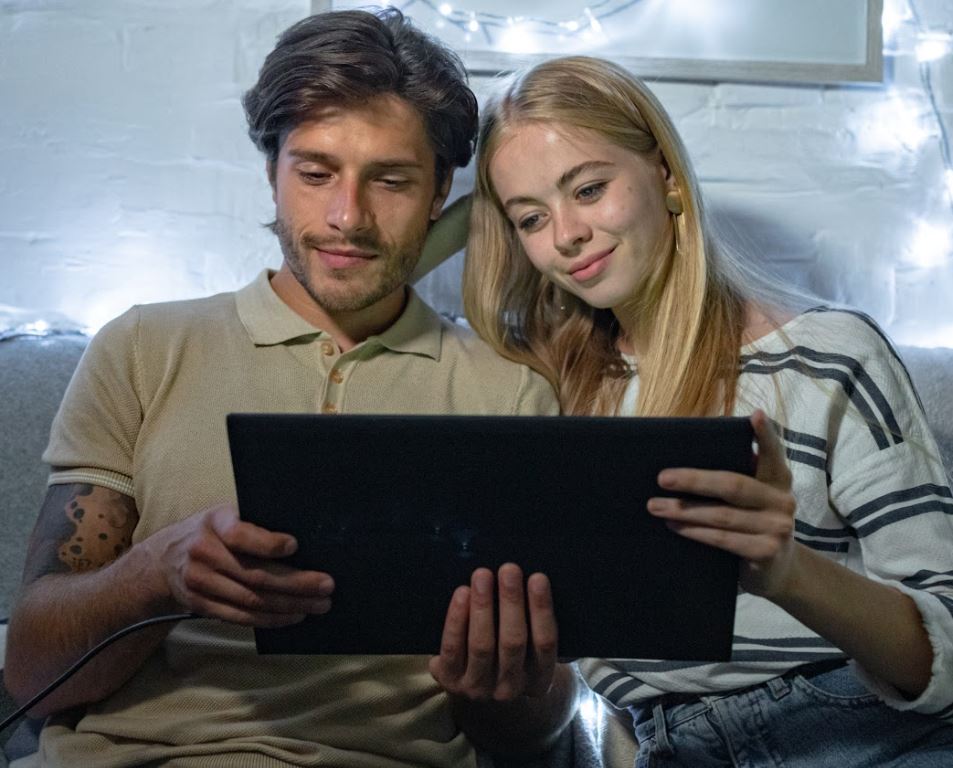 One thing the Desklab Ultralight doesn't have is a battery. This is a benefit, on the one hand, since a battery would have made it bigger and heavier. On the other hand, you'll need a powered connection. If it's connected to a PC or smartphone via USB Type-C, the Ultralight will draw power automatically. This can be a significant drain on smartphone batteries, if not on a laptop. If at all possible, your best bet is simply to use a USB AC adapter.
There are plenty of good portable monitors on the market. If you're looking for a solid gaming monitor, the Lepow Portable Monitor is one of the best. It doesn't have the same color richness as the Ultralight, but it offers a blazing fast 60 FPS framerate.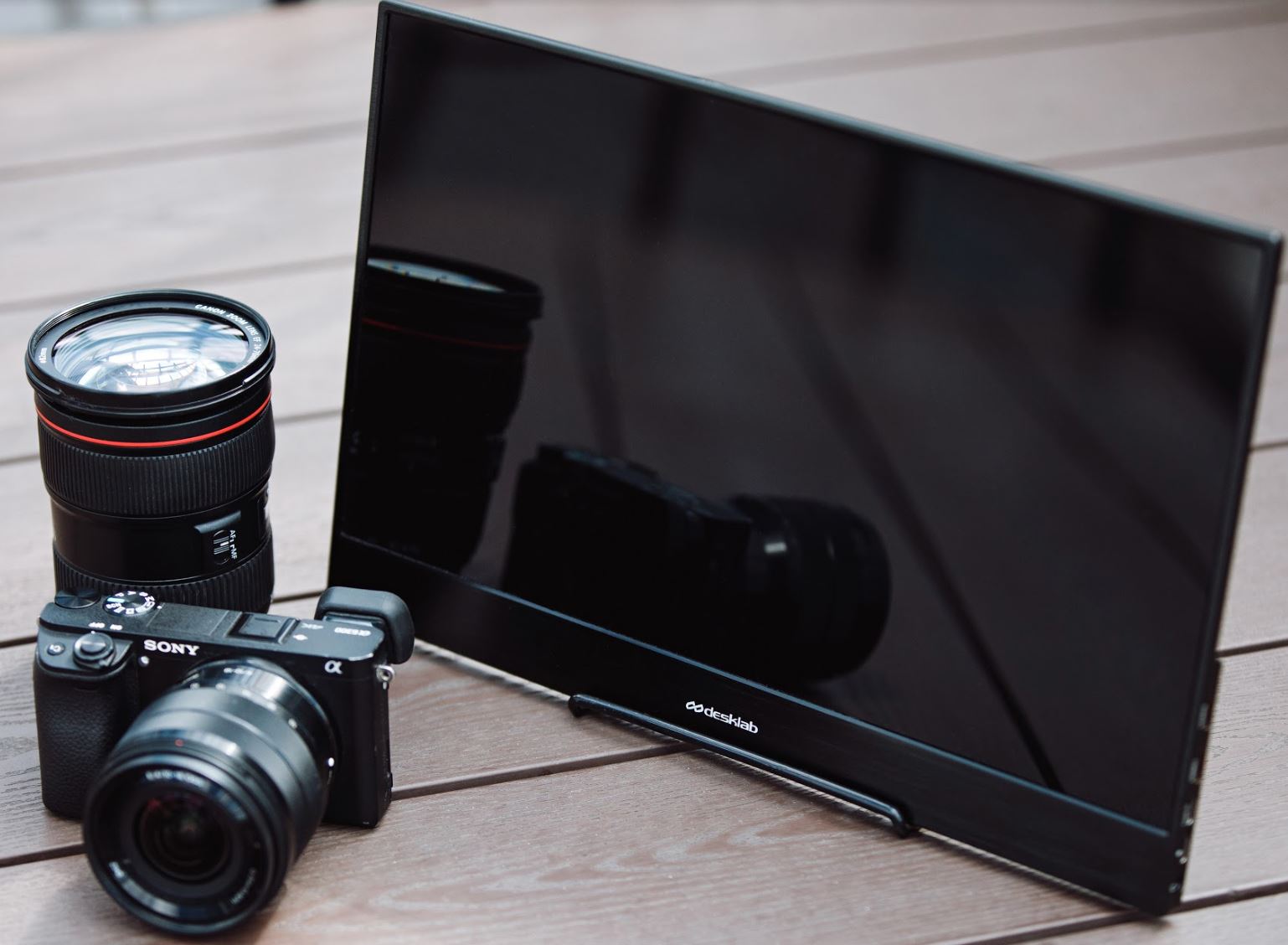 Final Verdict
So, how does the Desklab Ultralight stack up to the competition? In terms of overall design, it's clearly one of the best. Whether you're looking for high resolution or good color balance, the picture is crisp and clear. We also appreciated the fact that it's compatible with so many devices. These days, it's tough to find a device that doesn't offer mini HDMI, Micro USB, or USB Type-C.
It especially excels when pairing with a smartphone. The expanded display maximizes your phone's capacity, while maintaining the touchscreen functionality. This is very useful, considering the fact that the DeskLab Ultralight was specifically designed to be portable. It's so lightweight, you would expect it to be minimalist, but it's not. With the built-in speakers and stand, it offers the same features as many other, heavier portable monitors. And next month, anyone will be able to buy it.