If you want to get more out of your laptop screen, a dual monitor is one of the most effective methods. You double the available surface area, which allows you to view more than one window simultaneously. If you're an artist, for instance, you can have an image on one screen, with your options on the other. Similarly, programmers can view their code on one screen, and run test instances on the other. Even gamers can benefit. If you frequently use a chat service like Discord, a second monitor for your chats can be a game changer.
But if you want a dual monitor for your laptop, you need that monitor to be portable. Otherwise, you won't be able to take it with you. This is where a compact, folding laptop monitor comes in handy. Of course, there are other reasons you might want to use a folding monitor. Let's say you want to play mobile games on a larger screen. You can simply plug your smartphone into a portable monitor and start playing. With the rise of streaming gaming services, we can expect more, better AAA games on mobile going forward. For this reason, it can make a lot of sense to use a larger display.
We're about to review the KYY 15.6 inch USB-C Laptop Monitor. This is a compact, 16:9 monitor that can travel anywhere you take your laptop. It has a 1080p full HD display, as well as internal speakers for basic audio. In addition, it sports an attractive magnetic leather case to keep the display protected. But not all monitors are created equal. Depending on what you're trying to do, you need screens with different features. To find out what the KYY monitor is good for, we'll have to dig a bit deeper. Let's take a closer look at this display, and see how well it performs in the real world.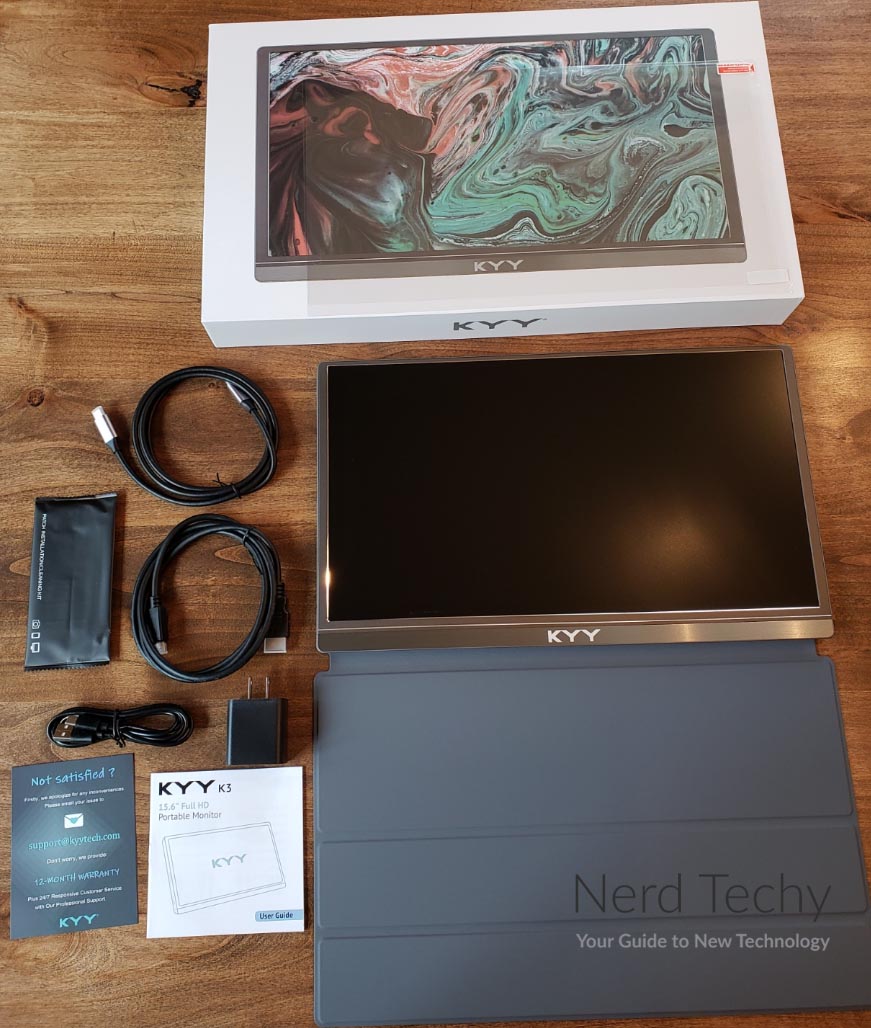 Design & Construction
The first thing we noticed about the KYY 15.6 inch USB-C Laptop Monitor was how light and slim it is. At less than a third of an inch thick, it's comparable to most tablets, and easy to slip into a laptop bag. And at 1.7 pounds in weight, it's only slightly heavier than your average smartphone. Considering the size, it weighs practically nothing. The housing is constructed of black anodized aluminum, with a narrow bezel. This keeps the form factor as small as possible while maximizing the screen space. We also appreciate the rounded corners, which reduce the risk of jabbing yourself. Not coincidentally, rounded corners are also sturdier than squared-off ones.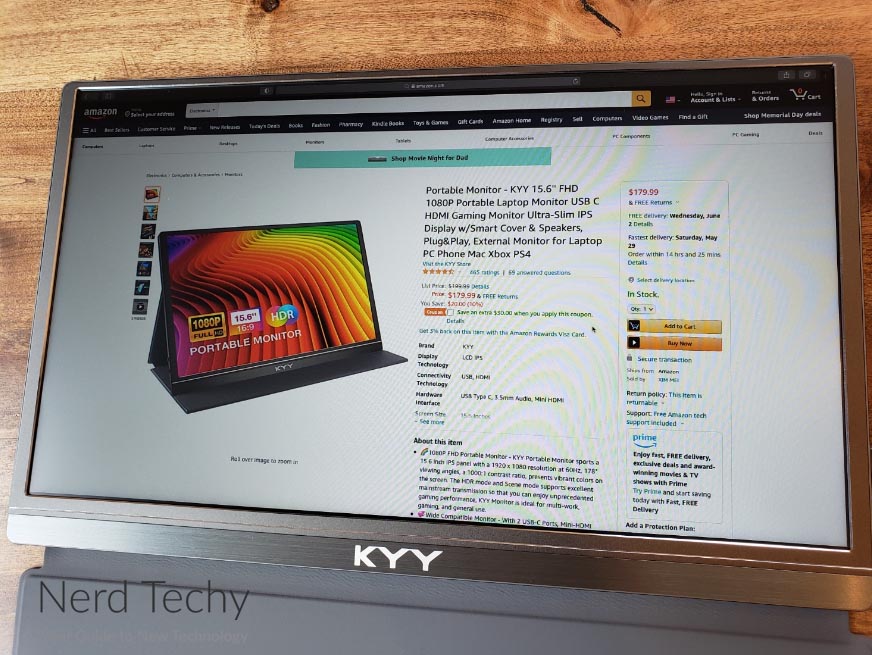 The controls are located on the left side of the display, near the bottom. They consist of a simple power button, along with a menu control wheel. The wheel can be tapped and used as a button for navigating and selecting options. All in all, the control scheme is very simple and intuitive, so you can learn how to operate it in minutes. The input and output ports are located on the left side, also towards the bottom. There, you'll find a pair of USB Type-C ports, a Mini-HDMI port, and a 3.5mm aux port. All the cables you need are included in the package. These include a pair of USB Type-C cables, as well as a Mini-HDMI to HDMI cable.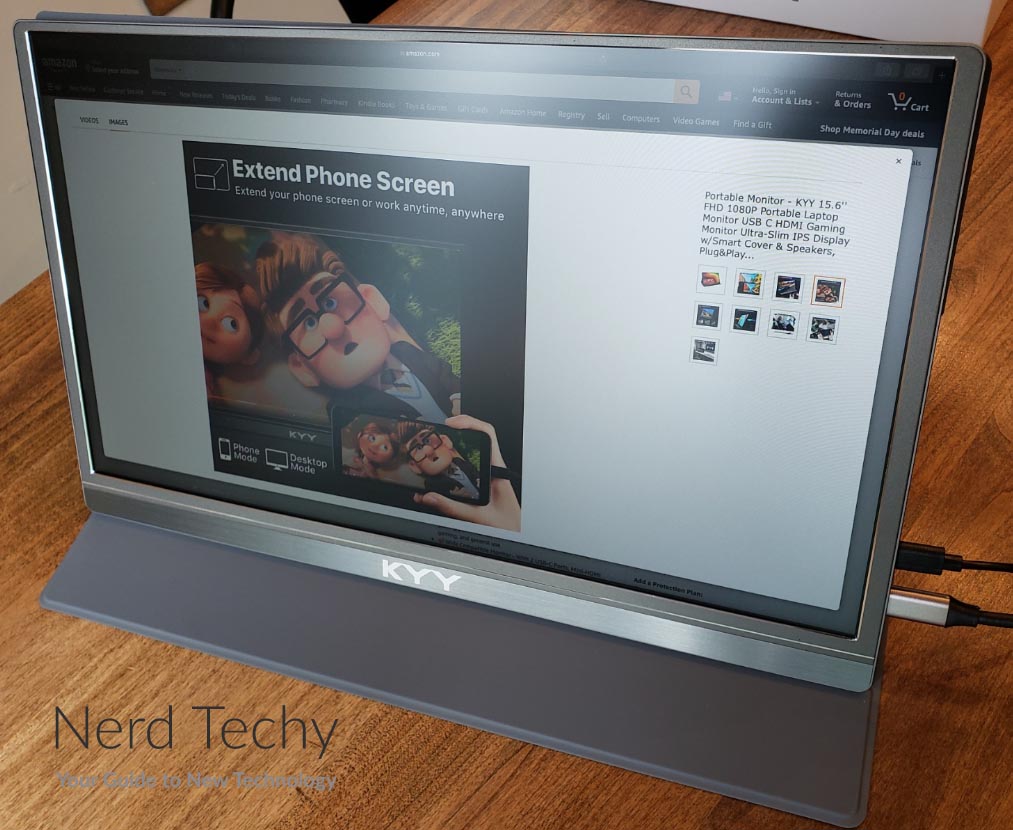 The screen itself measures 15.6 inches on the diagonal, so it's comparable to a large laptop display. It's an IPS panel, which is a display technology that's designed for wide viewing angles. This particular display has a viewing angle of 178 degrees. Even at such an extreme angle, you'll still be able to see accurate colors. This is useful in a second monitor, when you might not be looking at it head-on. There's a screen protector film in the package, to keep your screen from getting scratched or dusty.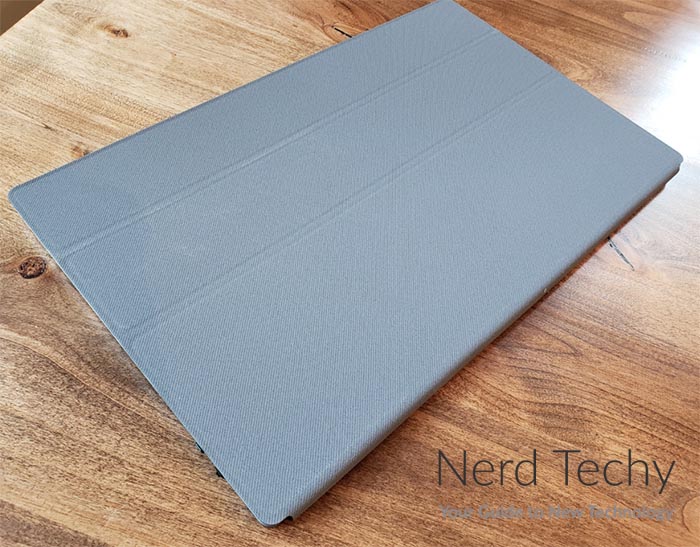 The back of the screen is attached to one end of a folding case. This case has an attractive PU leather exterior, with a soft, scratch-proof inner liner. It keeps the screen safe during travel, and a magnetic closure keeps it from accidentally popping open. When it's unfolded, the case doubles as a monitor stand. The base has two grooves in it, so the monitor can be positioned at two different angles. As a result, you've got a little bit of flexibility in terms of placement. Moreover, the stand can also be flipped 90 degrees, and the screen positioned in portrait orientation. This is particularly useful for programmers, but can be helpful for many people depending on what you're doing.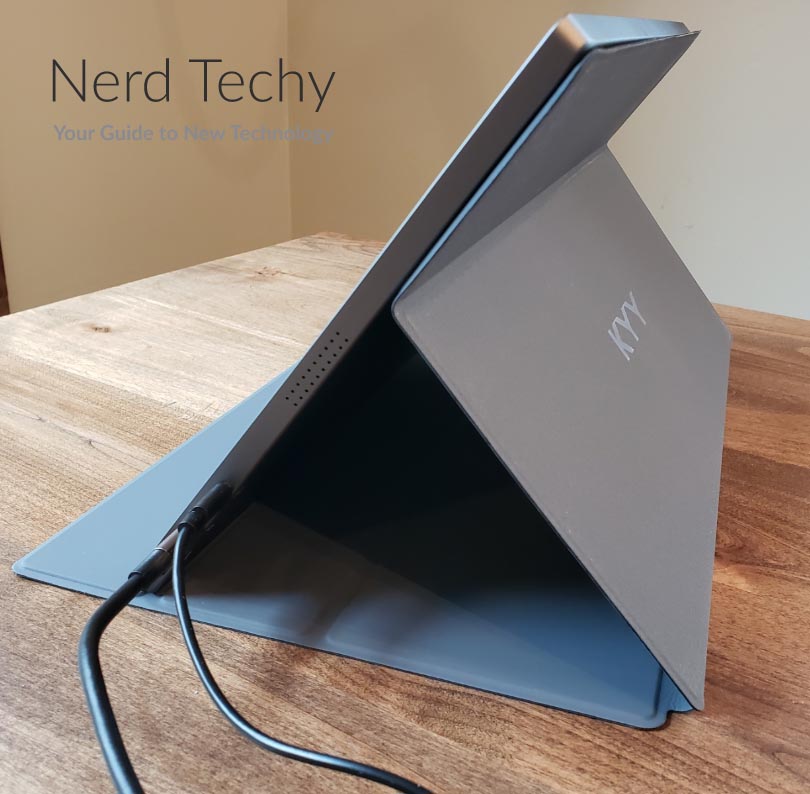 If you like the KYY display but want a different case, there are other options. For example, the Dragon touch S1 is similar in just about every respect, including the size and screen. However, it has a nylon weave cover instead of PU leather, so it's a bit more durable.
Connectivity & Compatibility
As we already mentioned, the KYY monitor has a pair of USB Type-C ports, as well as a Mini-HDMI port. The top USB port is for power, not for video, and can be supplied by any USB 3.1 port. This includes the ports on your laptop, or a separate AC charger. The second USB port is used as an input, and is compatible with any device that uses USB Type-C video. If you've got a newer Android phone, you'll be able to plug right in with the included cable. For older phones, you might need a Micro-USB to USB Type-C cable, but that's easy to find. The same is true for connecting an iPhone. Since Apple insists on sticking with the Lightning standard, you'll also need an adapter for their phones.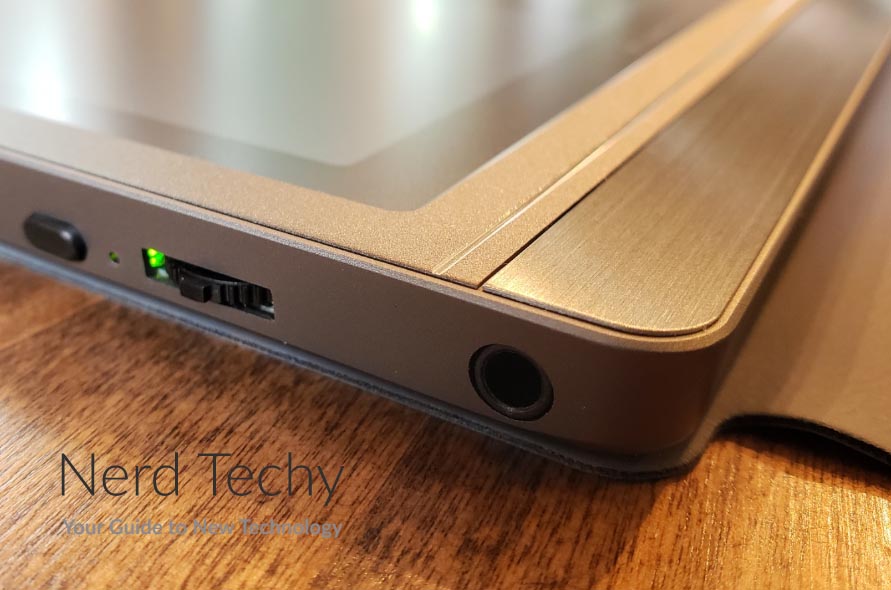 For most other applications, you'll want to connect via the Mini-HDMI port. Using the HDMI to Mini-HDMI cable, you can plug into laptops, desktops, and even game consoles. This makes the KYY monitor a viable choice for console gamers who spend a lot of time on the road. With this display, you can play your Xbox or PlayStation anywhere you go.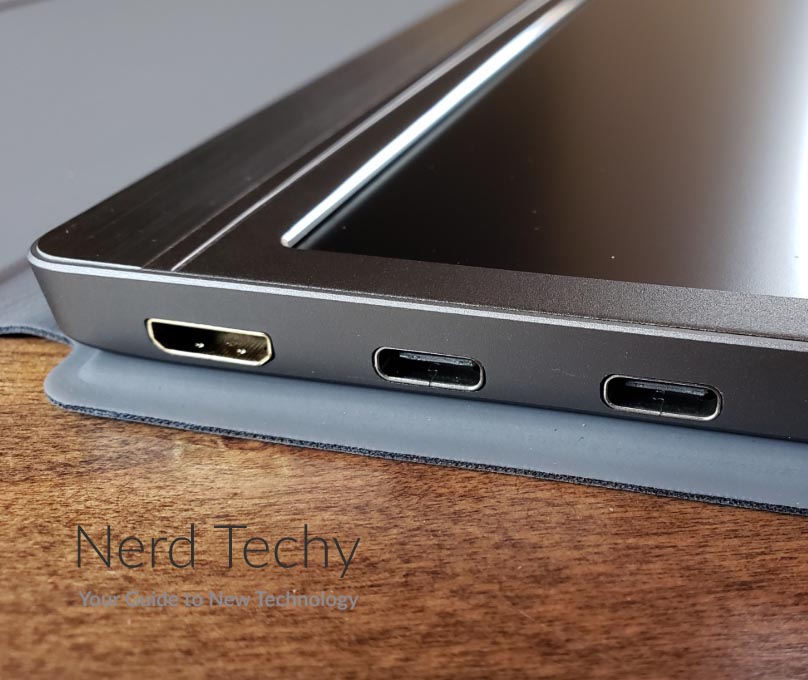 In addition to that, you can also use the 3.5mm audio port to connect the monitor's speakers. Keep in mind that this is an input port, not an output port. It's just a way to get better audio if you're on a smartphone or tablet. If you want to use headphones, just connect the headphones directly to your phone, laptop, or other device.
Resolution, Refresh Rate, and Color Quality
In terms of display quality, the KYY monitor is a bit of a mixed bag. Let's start by talking about what it does well. To begin with, the 1080p resolution is crisp and clear. Yes, we're well aware that 4K is quickly becoming the new standard. But on smaller displays, the benefits of 4K are overblown. Simply put, there's a limit to the pixel size that the human eye can see. On small displays, 4K pixels are so crammed together that there's no visible improvement over 1080p. If you're paying extra for a 4K 16-inch monitor, you're only buying bragging rights.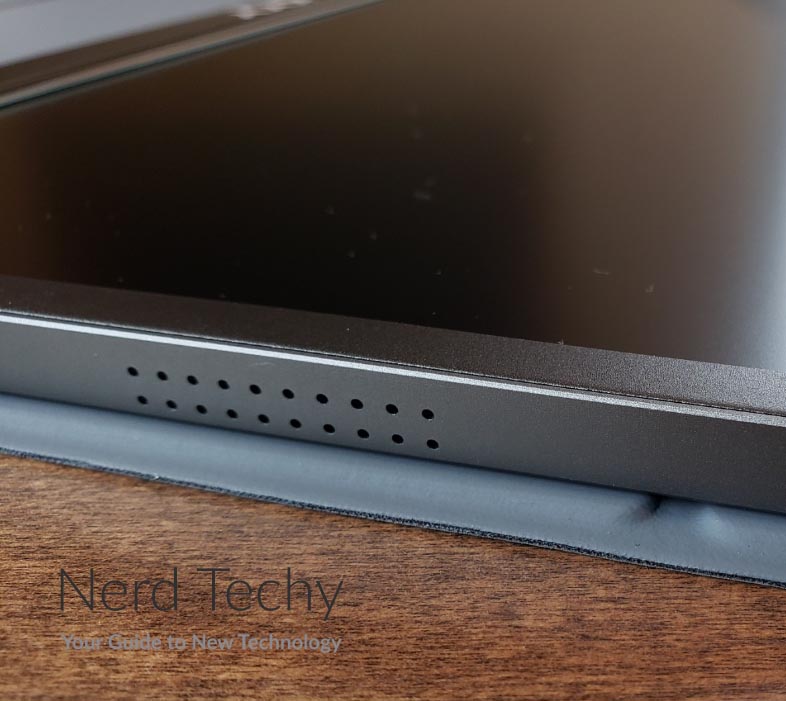 The refresh rate of 60Hz is in line with modern standards. Depending on what you're doing, you may prefer something faster, like a 120Hz display. But the KYY display is meant mostly for mobile and tablet games. On those platforms, you'll be lucky to get a consistent 60 frames per second, much less 120. And even on a PS5 or Xbox Series X, 60Hz is hardly unplayable. So far, so good. We should also point out that the maximum brightness is very bright. You won't have any issues even if you're working in direct sunlight.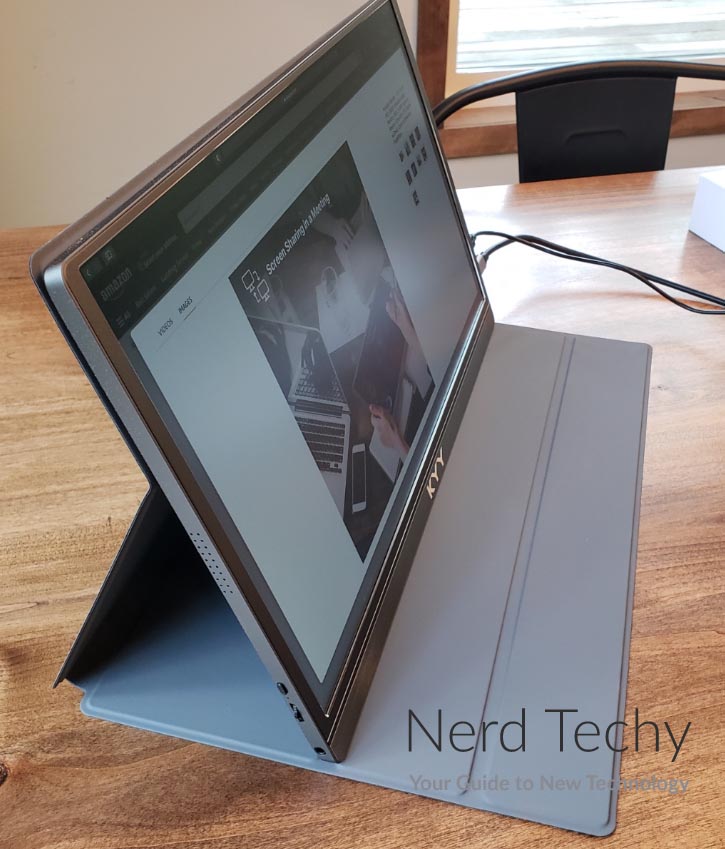 As for the speakers, we'll repeat what we said earlier. They're made for getting better audio than your phone or tablet. In this regard, they perform admirably. That said, keep in mind what they are. These are small, built-in speakers that have to fit inside the monitor housing. They're not Bose speakers, or even less expensive external speakers. If you want rich bass and surround sound, you'll need separate speakers or a good pair of headphones. But as an added touch, the built-in speakers are a great value.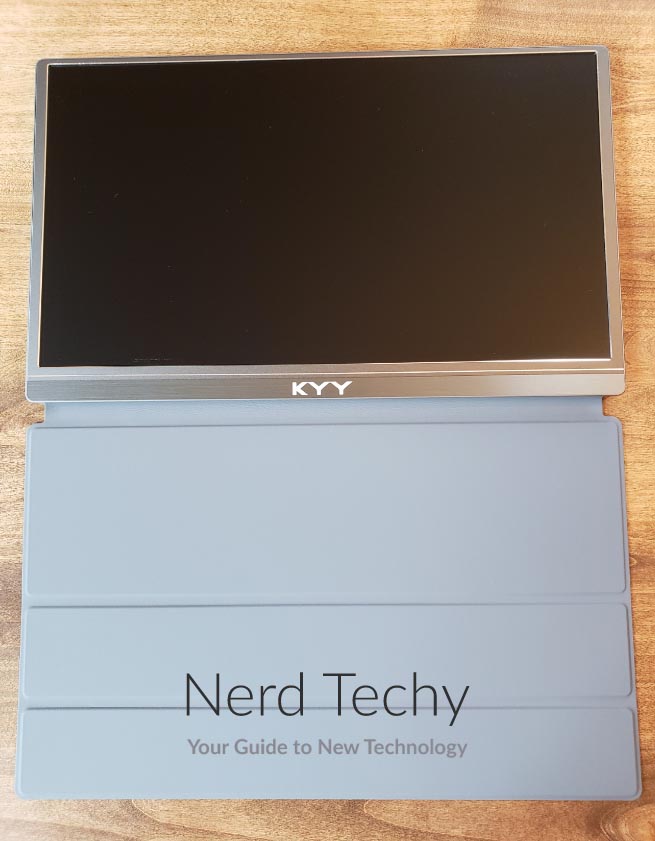 We had some quibbles with the color quality. With 16.7 million colors, you're looking at perfectly suitable quality for most purposes. However, photo editors and other visual content creators will be disappointed. You just don't get the vibrancy and richness of a monitor with a wider color gamut. Along the same lines, the contrast ratio is not listed in the product description. But we're going to say that it's marginal at best, probably in the sub-1000:1 range. Most images and videos look just fine. But particularly dark scenes can be difficult to distinguish.
If you're a content creator, there are some better monitors you may want to consider. One solid choice is the Lepow Z1 Gamut. It has a 99% SRGB color gamut, which would be acceptable on a full-sized display. On a compact, portable monitor, that kind of color clarity is nothing short of astounding.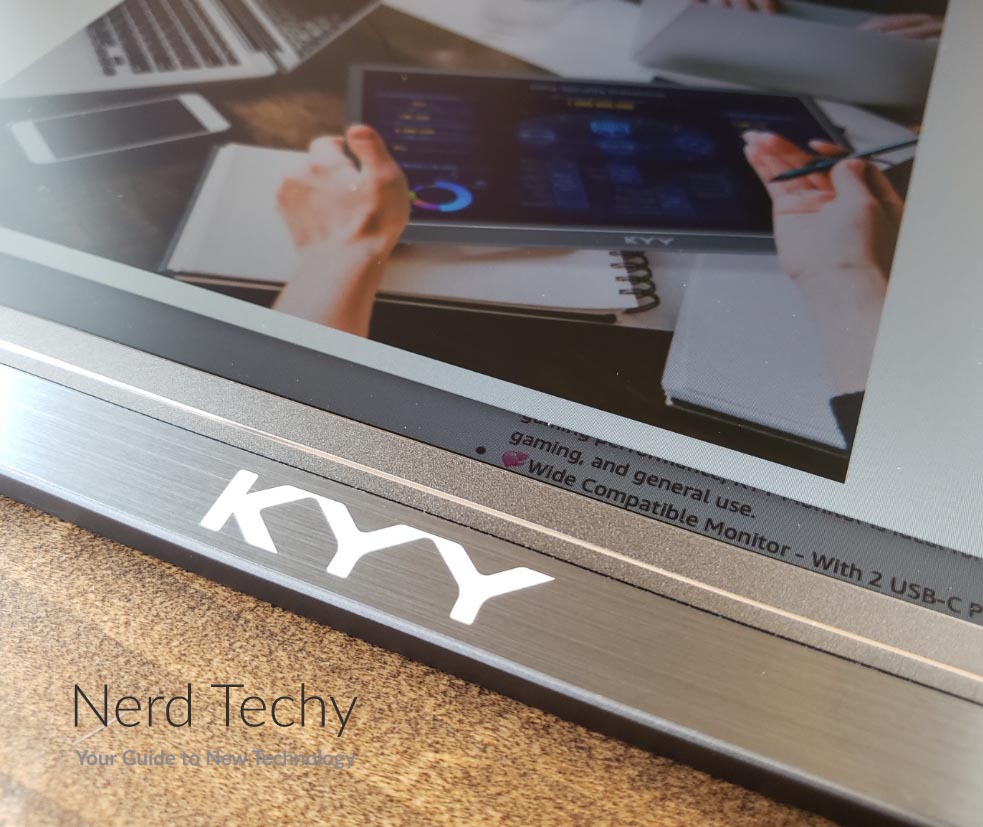 Final Verdict
So, is the KYY 15.6 inch USB-C Laptop Monitor worth your investment? It depends on what you're trying to do. As we discussed, the display is bright and crisp, and runs at a smooth 60Hz. However, it has some issues with color vibrancy. This isn't problematic for gaming or office-related tasks. But there's just not enough color space for this monitor to be viable for content creators.
That said, the rest of the design is very well engineered. We appreciated the fact that you can connect via USB Type-C and Mini-HDMI. This allows you to use the KYY monitor with just about any output device. Finally, the physical construction was sturdy and well thought-out. The case is both attractive and durable, with a reliable magnetic closure. And the adjustable stand function allows for easy, comfortable viewing in most situations. All in all, there's a lot to like about this display.