In today's fast-paced world, multitasking has become a crucial aspect of our daily lives. Whether you're a professional, gamer, or simply someone who values productivity, having a portable triple monitor setup can significantly improve your work efficiency and overall experience.
With an ever-growing market for portable monitors, it can be challenging to find the perfect device to suit your needs. That's why we've researched and tested a wide range of options to bring you this comprehensive guide on the best portable triple monitors available today. From the largest screen sizes to budget-friendly options, we've got you covered. Below, we will be looking at:
So let's dive in and discover the top portable triple monitors that will elevate your productivity and entertainment to new heights.
Best Overall: FQQ 15.4″ Triple Portable Monitor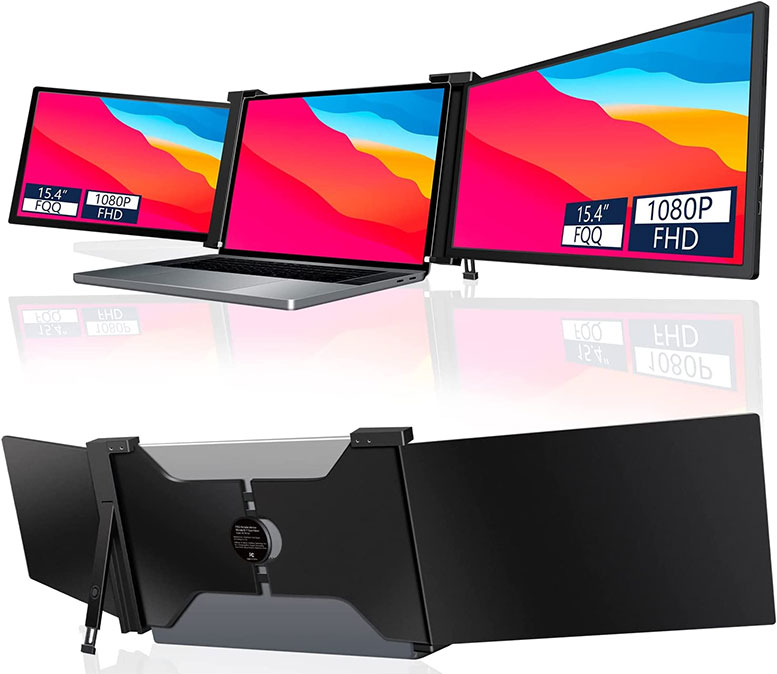 Key features:
Impressive 15.4″ dual FHD IPS screens
Enhanced multitasking for increased productivity
Wide compatibility with plug-and-play functionality
Flexible, steady rotatable design
The FQQ 15.4″ Triple Portable Monitor is made for enthusiasts, gamers, and professionals alike. By incorporating 72% NTSC, a 60Hz refresh rate, and HDR technology, this triple monitor produces an appealing visual experience that lets you witness more content with clarity and precision.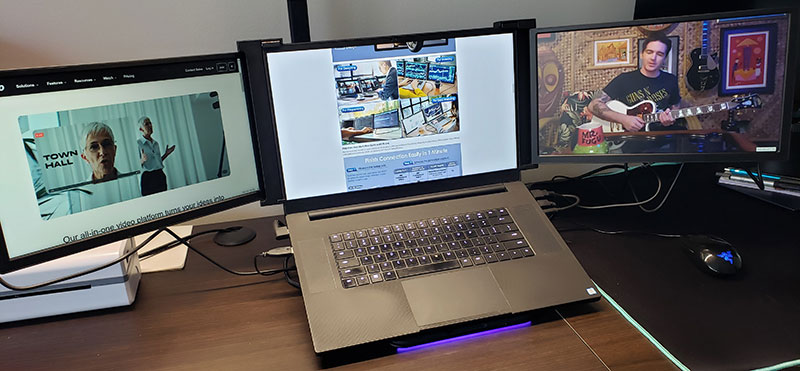 We put it to the test and found it incredibly efficient for expanding one's productivity through fast-paced multitasking. Rather than attempting to juggle multiple tasks on a single screen, this extender allows you to display different content across three monitors in an instant. Whether programming, editing, designing, or data analyzing, it's guaranteed to be of great value when wanting to take your work efficiency up a notch.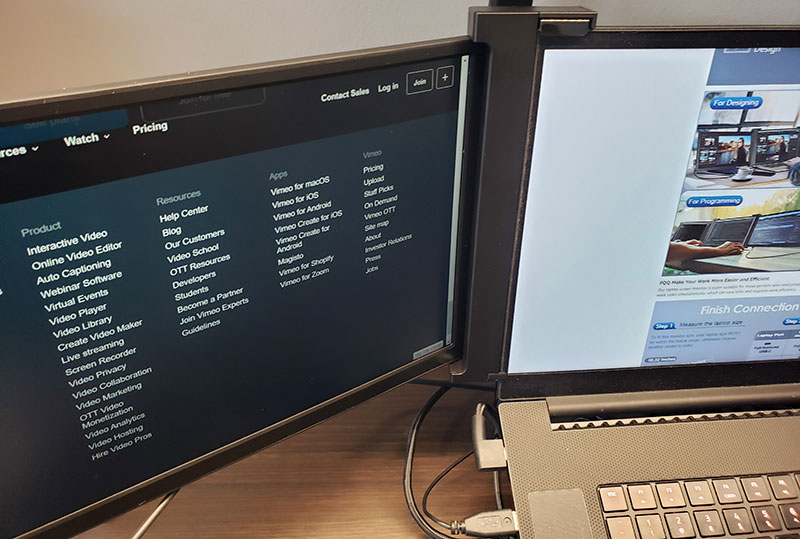 It is an ideal device for almost every platform. It connects to 15.6″-17.3″ laptops and gaming consoles. So you can hook it up to your Switch or Xbox with full-function Type-C ports and Mini HDMI ports – no drivers needed.
Although not compatible with MacBook M1&M2, Microsoft Surface Series (ARM chip), or Chromebook (ARM chip), this monitor supports the standard fare like Windows and Mac. But it's also compatible with Linux and Android systems. So it's a great choice for all kinds of computing needs.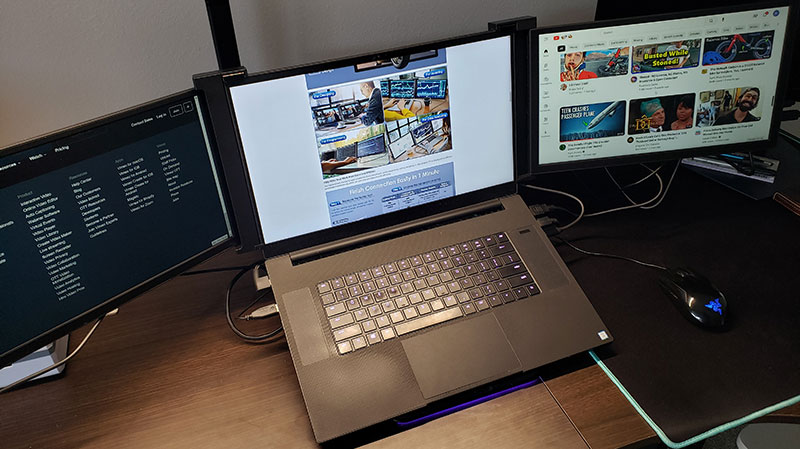 This dual portable monitor isn't lacking in features, as it provides a rotatable design that can be adjusted from 0-235 degrees on the left and 0-180 degrees on the right. As a result, it's simple to collaborate with your peers during meetings or presentations. Plus, an adjustable stand at the back offers stability for added peace of mind.
We like that you get everything you need to get started. It comes with a carry bag, user manual, power adapter, cleaning cloth, hook-and-loop fastener, 2 screen protectors, 2 USB-C to USB-C cables, 2 Mini HDMI to HDMI cables, 2 USB-C to USB-A cables, and 6 protective caps.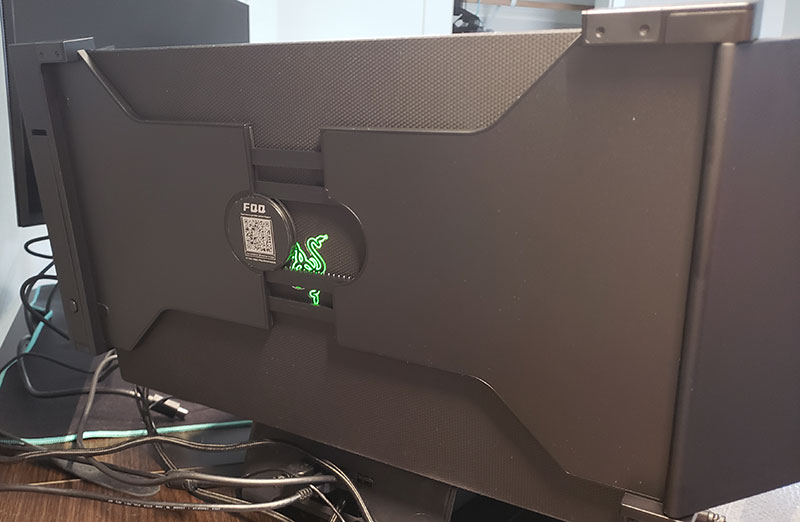 Upon connecting and powering the display, it automatically lights up, ready for use. For compatibility inquiries, you can contact the manufacturer directly, although it'll work well with virtually all common laptops and consoles – anything with HDMI and/or USB-C.
The FQQ S20 gets our pick as the best overall portable triple monitor on the market, right now. It offers exceptional display quality, enhanced work efficiency, wide compatibility, and a flexible design. The icing on the cake is that you get everything you need for a seamless triple monitor setup.
What we liked:
Largest screen size on the market
Boosts work efficiency with multitasking
Supports various devices and systems
Adjustable, stable design for screen sharing
What we didn't like:
Not compatible with ARM-based devices
Requires table for optimal support
Best Runner-Up: OFIYAA P2 Pro 13.3″ Triple Laptop Monitor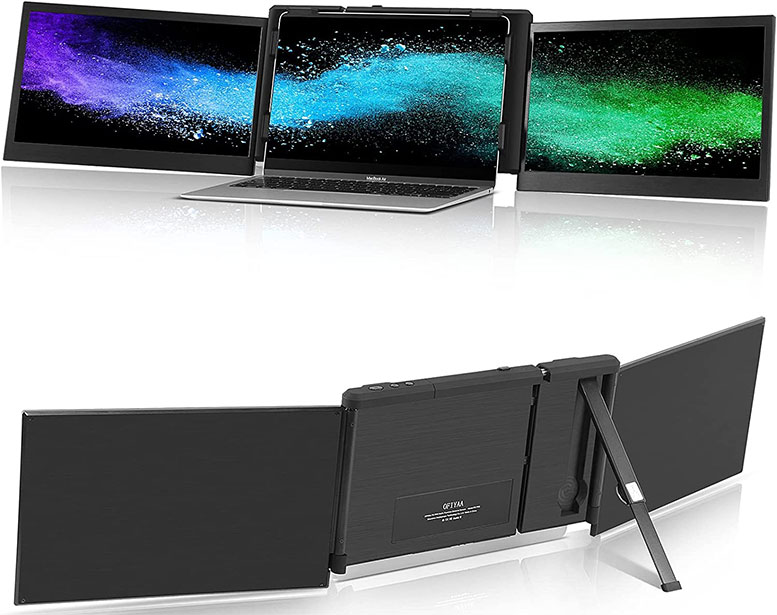 Key features:
Supports MacBook M1 chip
Portable, foldable design
Impressive 1080P HD display
PD fast charging
The OFIYAA P2 Pro 13.3″ Triple Laptop Monitor is our pick for the best runner-up. This versatile and compact monitor has a lot to offer, enabling users to enhance their screen space from one to three monitors with just a single cable. Compatible with Mac, Windows 10, and Google Chrome laptops, the P2 Pro provides an effortless solution for expanding your laptop screen real estate.

It stands out due to its dedicated driver with software on the mainboard, allowing it to support MacBook's M1 chip. With a Type-C cable connection, it enables your M1-equipped MacBook to expand into two additional screens while also supporting PD fast charging.
Portability is one of its key selling points. The built-in bracket allows users to adjust the viewing angle to suit their needs, making it perfect for collaborative work or presentations. The foldable design and easy-to-carry nature of the monitor make setting up a personal workstation a breeze, no matter where you are.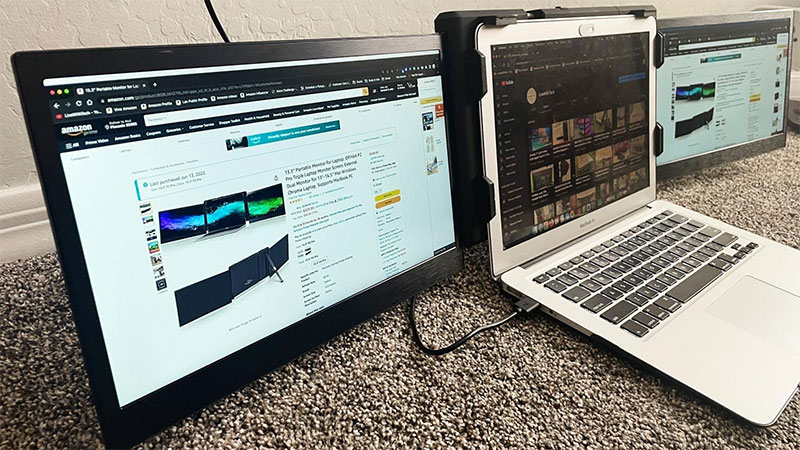 Addressing the issues faced by its predecessor, this upgraded model comes with the aforementioned dedicated monitor driver. This improvement solves problems such as the inability to extend to two screens, compatibility issues with older computers lacking Type-C or HDMI ports, and the messy lines issue found in the first-generation P2 monitor.
The Pro's dual screens deliver an impressive resolution ranging from 640×480 to 1920×1080 pixels. And with a color format of RGB and a refresh rate between 24Hz and 60Hz, the screens ensure a smooth and visually appealing experience. The 5-millisecond response time is also a welcome addition, as it contributes to seamless performance, making it ideal for a variety of tasks, including business, gaming, design, and drawing.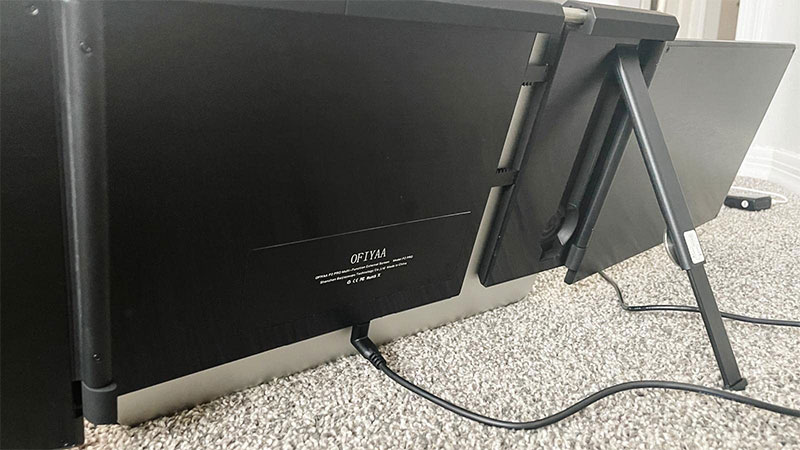 It's a fantastic choice for those seeking a portable, adaptable, and high-quality solution to expand their screen space. Given the upgrades it's enjoyed over its predecessors, this model offers so much more to do. So whether you need a triple monitor setup for business or leisure, this one should meet your needs rather well. Yes, its refresh rates hamper it a bit on some gaming machines. But it's still a very serviceable unit. And for the price, it's likely to exceed your expectations.
What we liked:
Seamless multi-screen expansion
M1 chip compatibility
Highly portable and adjustable
Crisp, high-resolution display
What we didn't like:
Requires dedicated driver installation
USB output must exceed 10W
Best Alternative: SideTrak Solo 15.6″ Triple Portable Monitor

Key features:
15.6″ Full HD LED IPS display
Mini HDMI, USB-A & USB-C ports
Plug-and-play setup
Adjustable brightness/orientation
In the world of portable monitors, the SideTrak Solo 15.6″ Triple Portable Monitor stands out as our top pick for the best alternative. After rigorous testing and comparisons, we have found it to offer a balanced combination of features and performance that can significantly enhance your productivity and overall computing experience.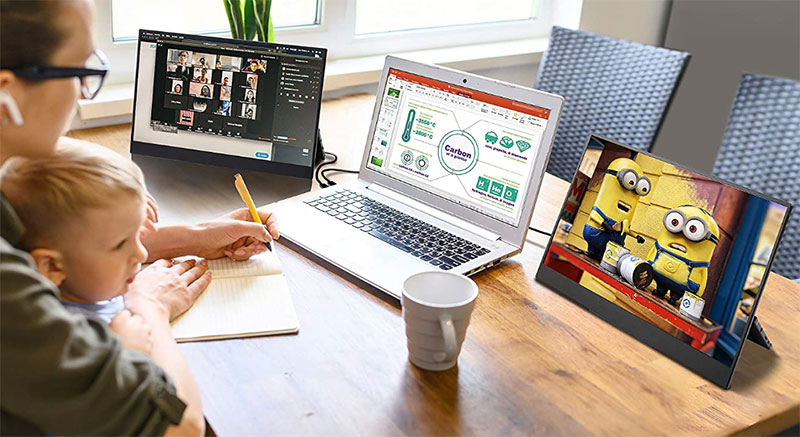 While not a traditional triple monitor setup, you still get plenty of screen real estate to work with. This simple system grants you the ability to expand your laptop's display with two extra, external 15.6″ monitors, effortlessly allowing for simultaneous work on three tasks at once. Setup is a breeze, too, as the SideTrak Solo is designed with mini HDMI or USB plug-and-play technology. And unlike others, they're not physically attached to your laptop, rather placed on a table beside your laptop.
The monitors provide a clear 15.6″ Full HD LED IPS display with anti-glare technology, producing crisp visuals and impressive picture quality. And when you kick in its HDR mode, you get an even more realistic viewing experience while gaming or watching movies. And with low latency, it brings your favorite content to life.

Equipped with Mini HDMI, USB-A, and USB-C ports, it offers seamless connectivity with a wide range of devices and operating systems, including Mac, PC, and various Chrome systems. However, it is essential to check your laptop's ports prior to purchasing this bundle, as some laptop models may require external power for the monitors due to insufficient power output. This could prove to be a minor inconvenience, but ultimately, it will ensure that you are using it to its full potential.
And on that note, you may need to make accommodations for additional power sources if you plan on using all three monitors simultaneously with added external power. It's a small caveat that is worth considering, but the payoff is well worth it.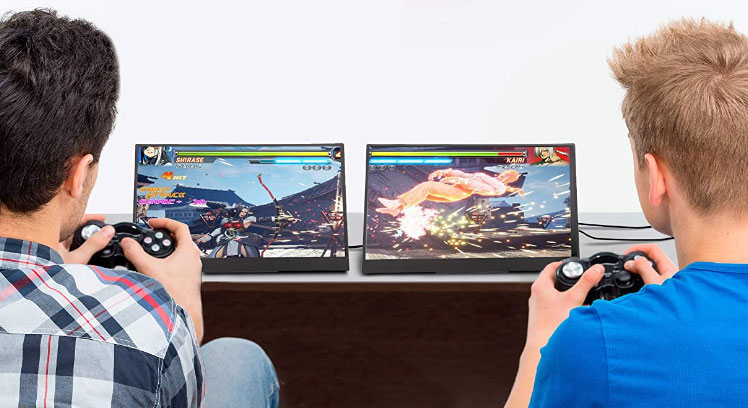 If you wish to achieve maximum productivity with your laptop's display, this could be the best option for your needs. We were able to set up, plug-in and make use of its expansive viewing area with minimal effort.
Another big plus is that the monitors allow you to easily adjust various settings such as brightness, volume, display settings, and screen orientation to suit your preferences. This level of customization enables you to have a tailored and enjoyable experience. If you're a fan of using two independent monitors with your laptop, then the SideTrak Solo is certainly worth looking into.
What we liked:
Plug-and-play triple screen setup
Exceptional Full HD LED IPS display
Ultra compatibility with various devices
Customizable brightness, volume, and orientation
What we didn't like:
External power may be required
9ms response time
Best Budget: TeamGee 12″ Portable Triple Monitor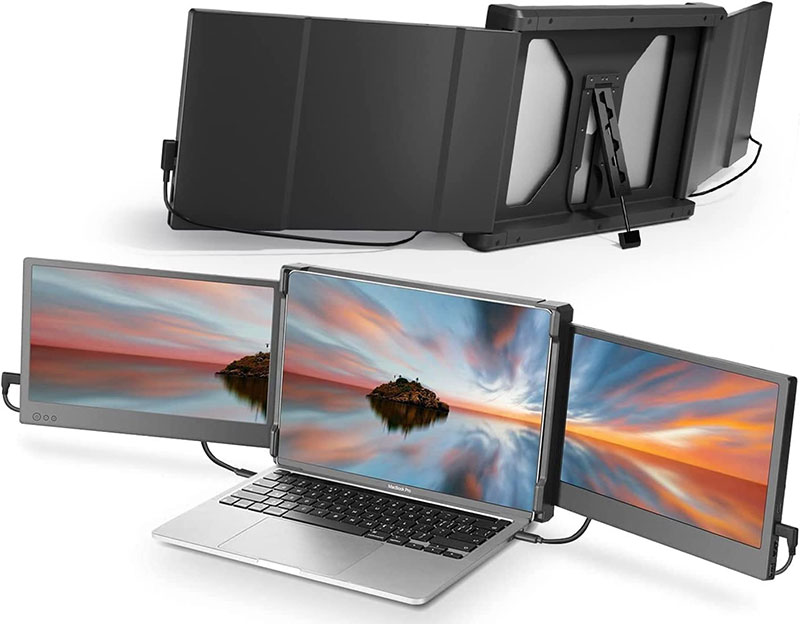 Key features:
Budget-friendly portable triple monitor
Vivid 12″ Full HD IPS display
Customizable settings and rotation
Wide compatibility with plug-and-play ease
Throughout our testing, TeamGee's portable triple monitor provided a quality viewing experience thanks to its 12″ Full HD IPS display. We like it has plenty of adjustable settings, so you can quickly and easily find the perfect configuration for your work or entertainment preferences. But perhaps best of all, it offers a vibrant, vivid image quality that doesn't disappoint.
This monitor is highly versatile, extending or mirroring your laptop display with a brightness and volume level that can be easily adjusted. Plus, its eye care mode combined with a 0 to 210-degree rotation range makes it an ideal companion for meetings, presentations – just about any situation you need.
The meticulous design includes a kickstand to prevent any mishaps, which is another welcome addition. Compatibility-wise, it works just fine with MacBooks due to its M1 Pro and M1 Max chips. Unfortunately, though, it doesn't work with those that contain an M1 chip. So if you're using this monitor with a MacBook, make sure it has the right processors before you buy.

It's perfectly suited for Windows, Chrome, Mac, and a plethora of gaming consoles, including the Switch. We found it to be a breeze to install, so you shouldn't have any issues getting up and running. All you need to do is plug and play – no need for any drivers.
However, before utilizing the screen, be sure that your laptop has the necessary ports. You will need to have one of the following: two USB-C ports, two HDMI and two USB-A ports, or one USB-C port and one HDMI port.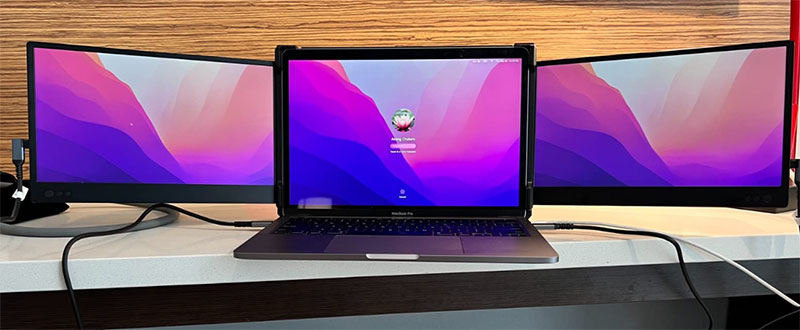 Admittedly, not all laptops are made equal. But if you do have the right ports, then this monitor should work with no problems. If your laptop is relatively new, you shouldn't have any issues connecting it.
After testing the TeamGee monitor, we can confidently say that it offers really good value for its price. The excellent image quality, customizable settings, and broad compatibility make it a wise investment for those seeking a budget-friendly portable triple monitor solution.
What we liked:
Affordable price point
Impressive image quality
Versatile display options
Broad system compatibility
What we didn't like:
Limited to 12″ screen size
Specific port requirements
Final Verdict
Our top picks for portable triple monitors cater to a variety of needs and preferences. The FQQ 15.4″ Triple Portable Monitor stands out as the best overall choice, offering impressive screen size and multitasking capabilities. For those seeking a balance between performance and portability, the OFIYAA P2 Pro 13.3″ Triple Laptop Monitor serves as an excellent runner-up with its seamless multi-screen expansion and M1 chip compatibility.
If you're looking for an alternative with an easy-to-use setup and exceptional display, the SideTrak Solo 15.6″ Triple Portable Monitor is a great option. Lastly, the TeamGee 12″ Portable Triple Monitor is our top pick for budget-conscious users who still want impressive image quality and broad system compatibility.
No matter your priorities, our carefully selected portable triple monitors are designed to elevate your productivity and entertainment experiences. We hope our recommendations help you find the perfect device to suit your unique needs.