When you're using a computer, there are many times you want to extend your display. Maybe you're an artist, and you want one screen specifically for your editing window. Maybe you're a programmer, and you write code on one screen while testing it on another. There are any number of cases that require two, or even three displays. At a stationary desk, there are any number of ways of managing the task. You can use freestanding monitors, or a multi-monitor mount. But what about when you're going on the road? In that case, you need a more portable option to go along with your laptop.
That's where a triple portable monitor comes in. These monitors are designed to sit over your laptop screen, with extra monitors supported to the sides. They can also be closed up flat, which makes them suitable for transport. That said, there are many different designs and features to choose from. Before you select any given monitor, you need to think about your needs. You need to look at the connectivity, and see if they can plug into your laptop. You also need to look at the monitor features, such as the resolution and panel technology. And that's just the beginning of what you've got to think about.
Note: At no extra cost to you, we may earn a commission for purchases using our links. Learn more.
We're about to review three of the best triple portable monitors for laptops. We'll begin by looking at the FOPO 12-inch Triple Portable Monitor. This is a widely-compatible display that can work with one or two devices simultaneously. Next, we'll examine the OFIYAA P2 PRO. This is a dual 13.3" display with a robust 12-month warranty. Last but not least, we'll check out the FICIHP Triple Screen Laptop Monitor. This is a dual 12-inch display with a blue light filter and an optional portrait mode. But which one is the ideal choice for you? Let's take a closer look at all three of them, and see how they stack up!

FOPO 12-inch Triple Portable Monitor
First up on our list is the FOPO 12-inch Triple Portable Monitor. This monitor consists of two separate screens, positioned on either side of a vertical clamp-on frame. The frame and housing are constructed from high-quality aluminum, and are all very durable. It has a slick black finish that's smooth and easy to keep clean, and won't clash with most offices. Despite its metal construction, the frame is designed in such a way that it won't scratch your laptop's monitor. The inside is lined with foam padding, which keeps your monitor safe from scratches and damaged. It's spring-loaded, and squeezes enough to mount securely, without being hard enough to damage your laptop.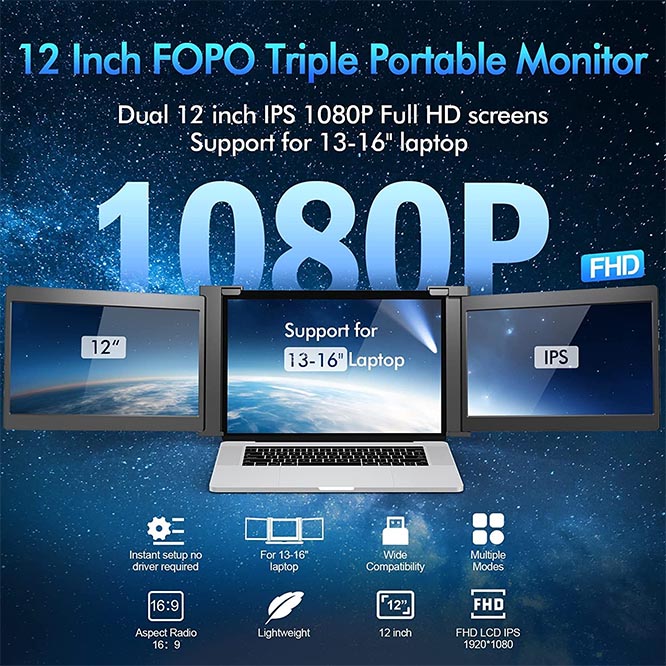 The total opening size in the back of the bracket frame is 0.28 inches thick and 8.07 inches high. The width is adjustable between 8.07 inches and 14.6 inches. That's enough to fit a laptop between 13 and 16 inches in size. With a total weight of 5.4 pounds, this device is heavy enough to drag down your laptop screen. To prevent that, there's a rubber-tipped kickstand located on the back. The kickstand is adjustable, so you can set your monitor at any angle.
On the outside of each individual screen, there's a set of controls. Towards the top, there's a tall, bar-shaped control that acts as a +/- button. Beneath that, there's a single menu button. These can be used to adjust the brightness, color balance, and the rest of your monitor settings. Lower down on the edge, there's a row of three ports. The top is a USB Type-C power port, followed by a Mini HDMI port in the middle. The bottom USB Type-C port is used for both power and video.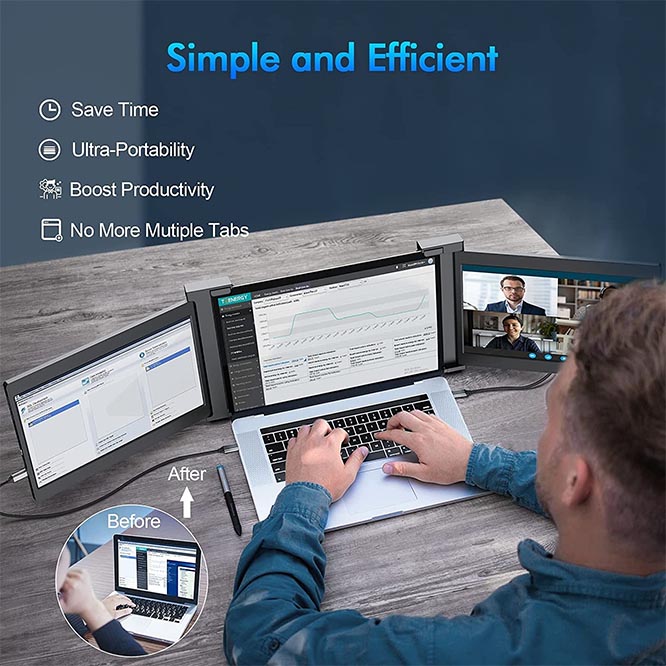 For connectivity, you have a few different options. The easiest is to use the USB Type-C power and video port. However, not all devices support USB Type-C video output. And even if your laptop does, you might not have two video-capable ports. In that case, you can use an HDMI to Mini HDMI cable, instead. But HDMI doesn't have any power. You'll need to use USB Type-C power via the power port, or use a USB Type-A to Type-C connection cable. All the necessary cables are included in the kit, so you won't have to provide your own. Not only that, but since the two sides connect independently, they can connect to two different sources. For example, one screen could be an extension of your laptop monitor, while the other mirrors your smartphone screen.
Having different connection options also makes this monitor highly versatile. In addition to Windows and Mac laptops, it's also compatible with Linux and Chromebook systems. It can also be used with game consoles like the PlayStation 5 and Xbox Series X/S. And if your smartphone has a USB Type-C video output, you can use it with your phone as well.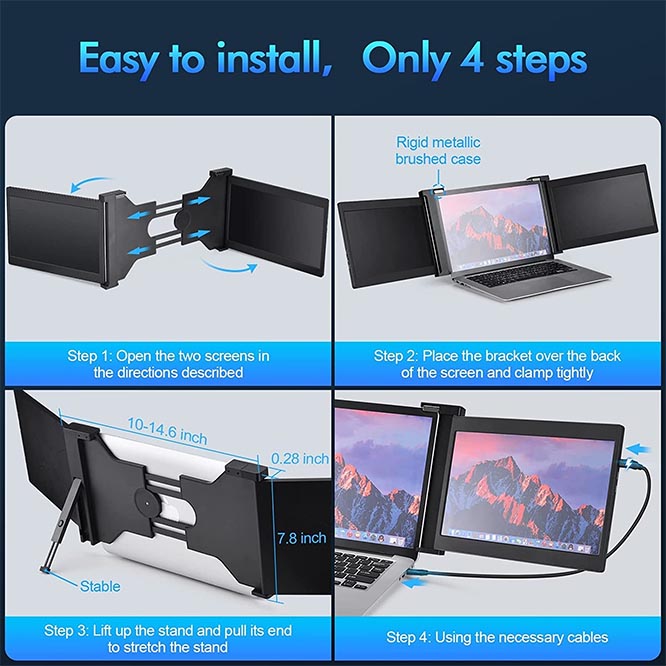 Video Quality and Extras
The two displays on the FOPO have a measurement of 12 inches. This makes them smaller than most modern laptop screens, but still suitably large for travel purposes. They each have a resolution of 1080p, which is the current standard for screens of this size. Yes, you could always find a 2K or 4K display, but at this size, it wouldn't make any difference. Your eyes simply aren't powerful enough to distinguish a single pixel at that scale.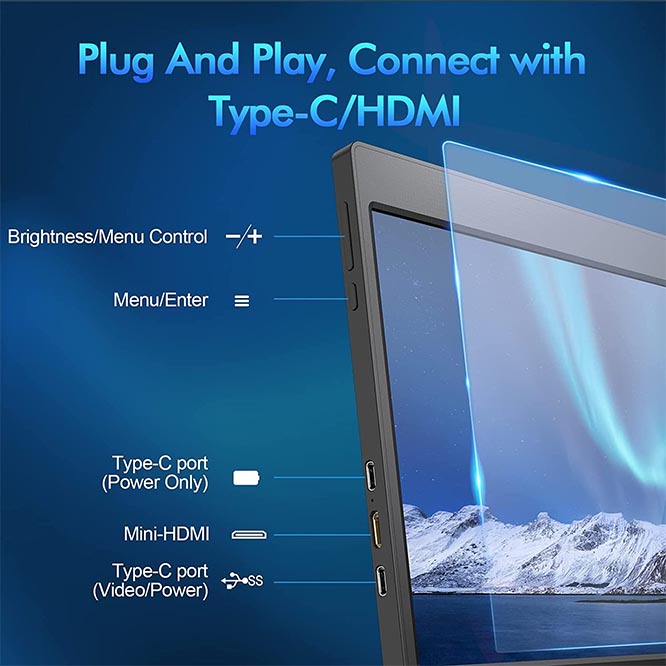 The bigger question you should be concerned about is the image quality. And in this case, the screens both perform admirably well. To begin with, they have a color gamut of 74% of the NTSC color space. That might not sound like much, but it's more than 100% of the standard computer sRGB color space. Unless you're working on some very niche applications, you'll be very happy with the color quality.
Not only that, but the panels are made using IPS technology. IPS technology costs a bit more than traditional monitor technology, but it has a major advantage. With traditional panels, the colors quickly become distorted when the screen is viewed at an angle. IPS panels maintain color accuracy even when viewed at an extreme angle. Even when you're almost completely to the monitor's side, the colors remain true.
In addition to using the monitors as side extensions or mirrored displays, they can also be rotated around. You can turn either one almost all the way around to the back, and use it for a presentation. If you're in a group, you can swivel both sides around to share the same screen with an entire room.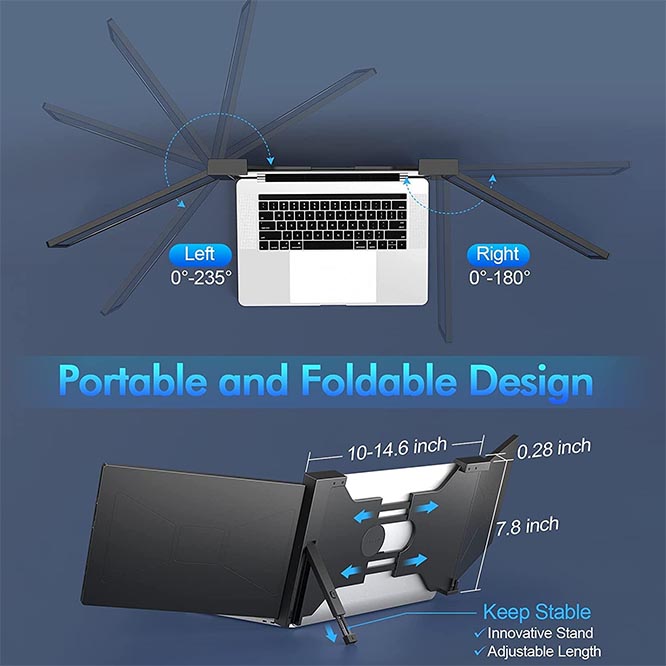 In addition to the dual display itself, the kit also includes a couple of extras. The first is a pair of screen protectors. These are easy to adhere, and they seem to be reasonably tough. Once they're applied, you shouldn't have any issues with scratching during normal use. You also get a soft cloth for keeping your monitors clean.
One thing that none of today's monitors have to offer is a touchscreen function. If that's what you need, consider the XP-Pen Artist Pro 16TP. It's a tablet-style touch display for artists, complete with customizable built-in controls. Then again, it's only a single screen, and it doesn't mount on your laptop.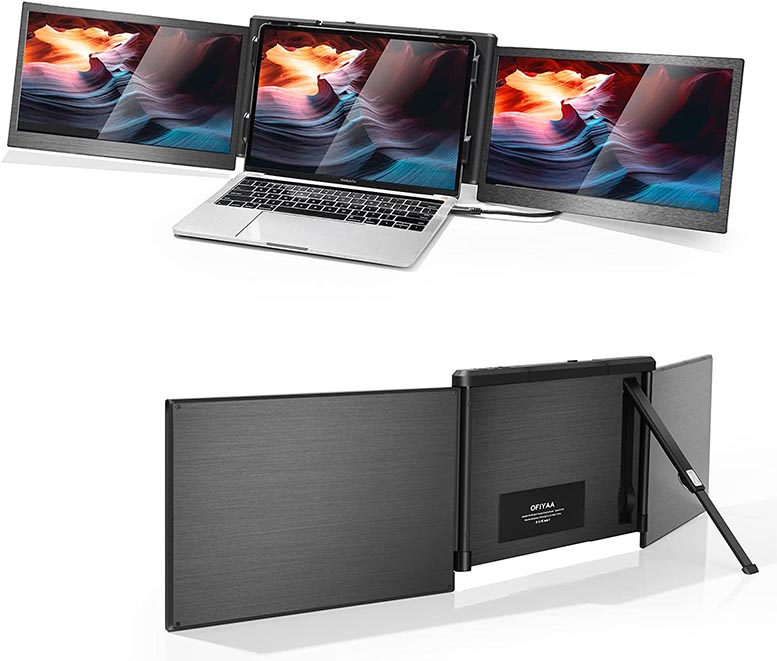 OFIYAA P2 PRO
The OFIYAA P2 Pro is similar to the FOPO monitor in many basic design aspects. It has two screens with a central clamping frame between them. It's also adjustable, and can fit laptops between 13.3 and 16.5 inches. However, the adjustment function isn't spring loaded. Instead, the two sides slide together, and lock in place with a button. The overall weight is very light, at only 3.6 pounds. Even so, you get an adjustable kickstand, so the angle is easy to adjust.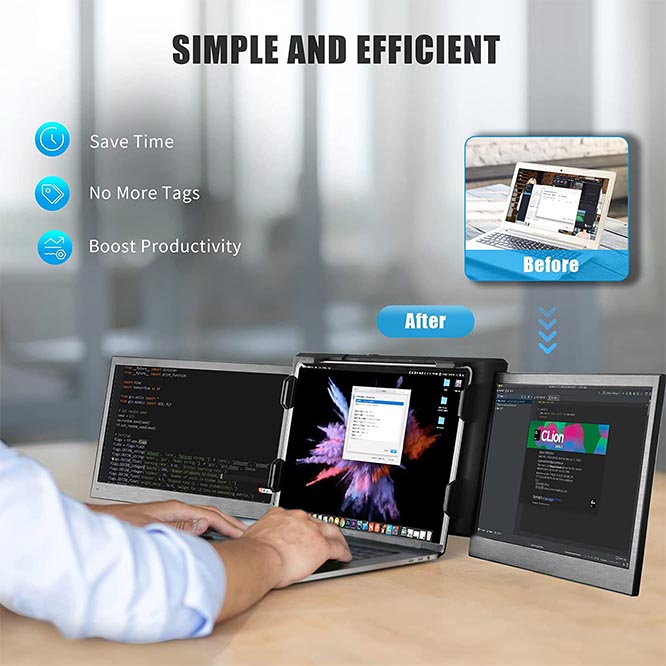 The controls and connectivity on the P2, on the other hand, are very different from the FOPO monitor. Instead of separate controls on either side, both displays are controlled in tandem. There's a single power button on the top of the center bracket, along with menu navigation buttons. On the bottom side, you'll find a USB Type-C power and video port, along with a second Type-C power port. Both monitors connect through the same video connection. However, both ports still need to be connected to get sufficient power. A USB Type-C power/video cable is included in the kit. There's also a standalone USB Type-C power cable, as well as a Type-A to Type-C power cable.
One last thing to note is the Micro SD slot in the back side of the frame. You don't ever have to use this if you don't want to. But it can be used to update the firmware, which might become handy in the future.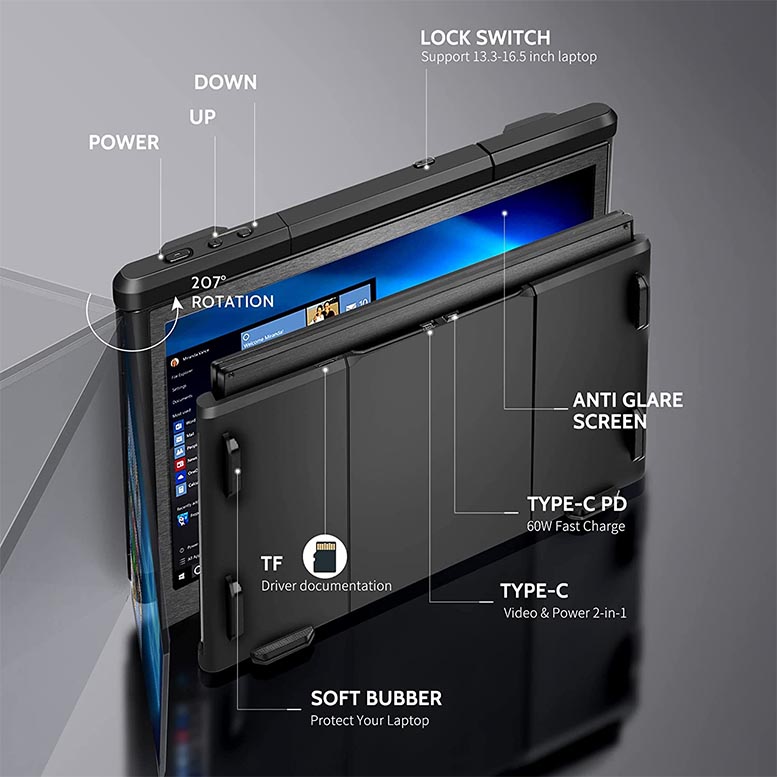 Video Quality and Extras
Like the FOPO monitor, this one has a pair of 1080p IPS displays. The color clarity is good, but not quite as excellent. On the other hand, you get a larger screen size, at 13.3 inches. You can also rotate either side of the display around for presentations.
As an added bonus, the kit includes a soft velvet storage bag. You also get a 12-month manufacturer's warranty, which protects you from any defects.

FICIHP Triple Screen Laptop Monitor
The FICIHP Triple Screen Laptop Monitor has a plastic frame instead of a metal one. However, it still has a similar clamp-on design to the last two. It can be adjusted to fit 13 to 16-inch laptops, and the plastic housing is surprisingly beefy and sturdy. The total weight of 5.6 pounds is actually surprisingly heavy, given the design. However, it's supported by a removable kickstand, with a little foot that can be screwed to adjust the height.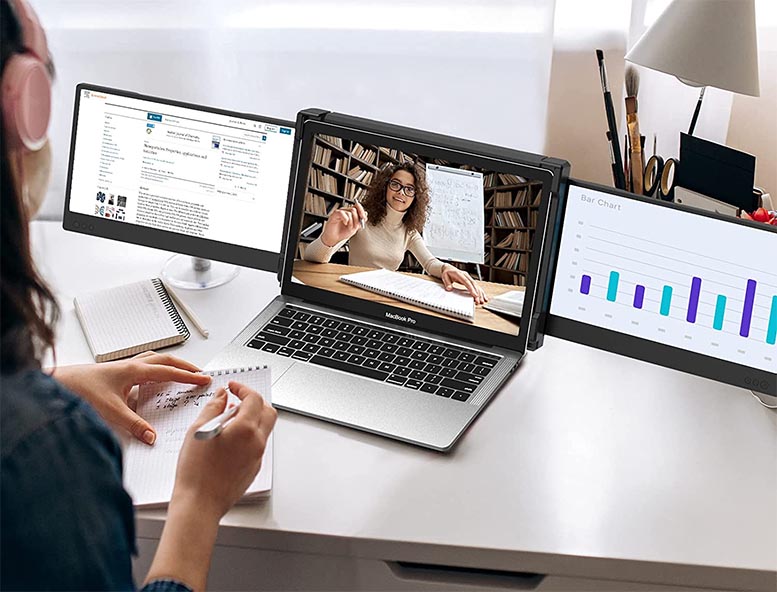 Each of the two displays can be connected to different devices if you so desire. They also have individual controls, with power and menu navigation buttons on the front panels. On the side of each display, there's a USB Type-C port, a Mini HDMI port, and a USB Type-A port. This gives you different options for connectivity. If your device supports USB Type-C video, just connect a power/video cable to the Type-C port. If your device only supports HDMI, then use an HDMI to Mini HDMI cable. You can then use either the Type-C or Type-A port for supplying power. There's two of each cable included in the kit, so you can easily mix and match as needed.
Video Quality and Extras
The FICIHP displays are simple 12-inch, 1080p IPS screens. This puts them on par with the screens from the OFIYAA, except for their slightly smaller size. That said, they have built-in blue light filters. These are designed to prevent eye strain, and to keep your screen from keeping you awake at night.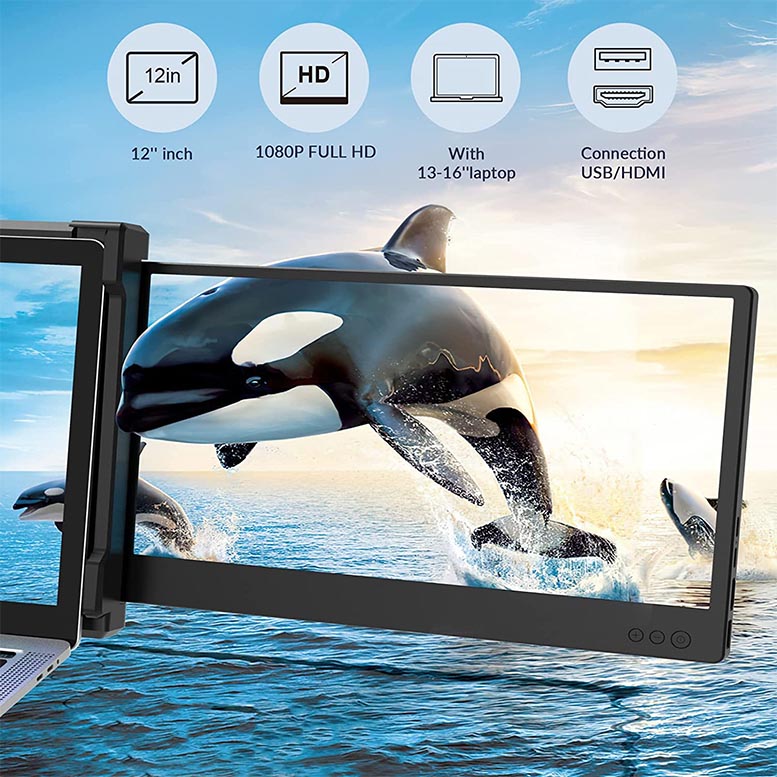 Both sides of the display can be rotated 202 degrees. This allows for easy screen sharing, or for forming a triangle of screens for larger groups. As an alternative, you can remove the frame and lay it down on its side. In this configuration, it acts as a single portrait-mode monitor with a built-in stand. You can easily change the display to portrait mode in the system menu.
Final Verdict
So, which of these monitors is the best choice for you? A lot depends on what features are most important to you. We started out by reviewing the FOPO 12-inch Triple Portable Monitor. This is the most sturdy of the bunch, and also comes with the best color quality. On the other hand, the screens aren't as versatile as the other two.
The OFIYAA P2 PRO has the largest screens of the three, despite being the lightest in weight. While it can only connect to one device at a time, the connectivity is also simpler than the others. Not only that, but you can update the firmware over time to improve your performance.
The FICIHP Triple Screen Laptop Monitor is the most versatile of the bunch. With rotating and portrait mode options, it can also connect to two devices at once. We also liked the blue light filter, which is great for people who tend to work late into the night.
Please consider sharing:
Note: At no extra cost to you, we may earn a commission for purchases using our links. Learn more.