Overall Design -

9/10

Protection -

8.5/10

Grip and Texture -

8.5/10

Features -

8.5/10
Summary
After spending quality time with the MagEZ Case for the iPhone 15, it's clear that this isn't just another phone case. The lightweight, ultra-thin design combined with robust protection makes it something of a paradox – a good one. But while the case brings a lot to the table, it also seems to be a tad too inviting to fingerprints. For those who can overlook this minor flaw, what you get is a high-performing, durable, and incredibly stylish option that adapts effortlessly to both professional settings and casual outings.
Pros
Ultra-thin yet durable design
Excellent grip and texture
Robust aramid fiber material
MagSafe and NFC compatibility
Cons
Fingerprints show easily
Premium pricing
The eternal quest for the perfect phone case. It's got to be durable and sleek, and it doesn't hurt if it's easy on the eyes. Enter the MagEZ Case, specifically designed for the iPhone 15 series. This could very well be the phone case you've been waiting for. So let's jump right into our hands-on experience with it to help you better determine if it's indeed the ultimate iPhone 15 case.
First Impressions and Build Quality
As soon as we unboxed the PITAKA MagEZ Case for i15, it was immediately evident that this was no ordinary phone case. With a sleek design and a promise of durability, let's check out the characteristics that stood out to us.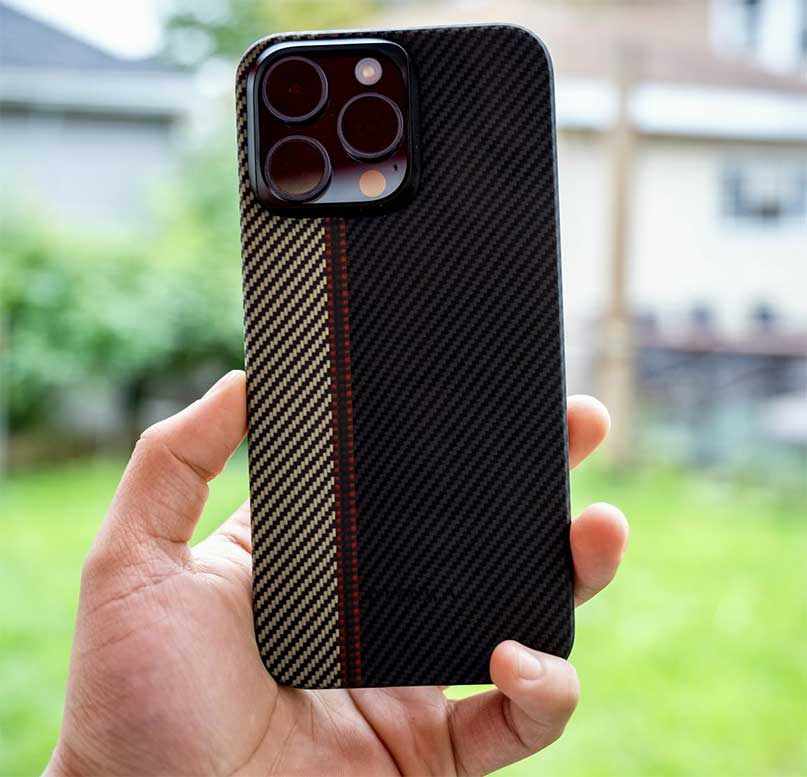 The Remarkable Thinness
The word "thin" is often synonymous with fragility, but not in the case of the MagEZ. Right out of the box, what jumps out is its unapologetically thin profile, with dimensions measuring 0.95mm to 1.15mm. It seems like the design team took a cue from the iPhone 15's playbook. In an era where phones are fashion statements as much as they are communication devices, the last thing you want is to bury your chic iPhone in a cumbersome case. So, to see a case that maintains the phone's original sleekness while promising substantial protection is like hitting the jackpot.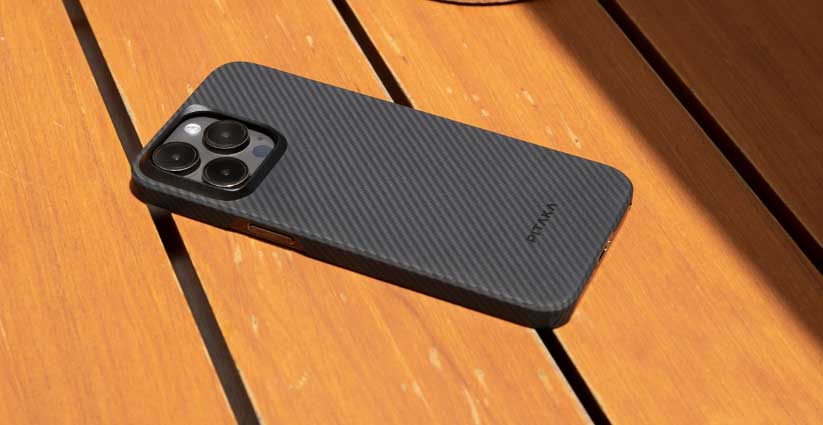 Weight
The next attribute that caught our eye – or rather, didn't make our arms tired – was the case's weight. Ranging between 17 to 21 grams, it's a marvel of engineering that manages to be so light yet so protective. Imagine carrying around a feather that can also act as a shield; that's what using this case feels like. It's almost like the designers decided to throw a party for form and function. Almost everything hits the mark here.
Materials and Tech
Finally, the pièce de résistance lies in the sophisticated blend of materials and technology used. While many cases are still stuck in the polycarbonate age, MagEZ strides forward with premium aramid fiber. Known for its enviable strength-to-weight ratio, aramid fiber is a bit of an industry darling.
But wait, there's more. Fusion Weaving technology isn't just a fancy term here; it's a process that adds a luxurious texture to the case, forming intricate patterns on the black and grey aramid fabric. Combine this with an aluminum alloy camera lip – thoughtfully asymmetrical to add that bit of flair – and what you have is a case that refuses to scratch or dent easily. That's protection with a touch of panache for you.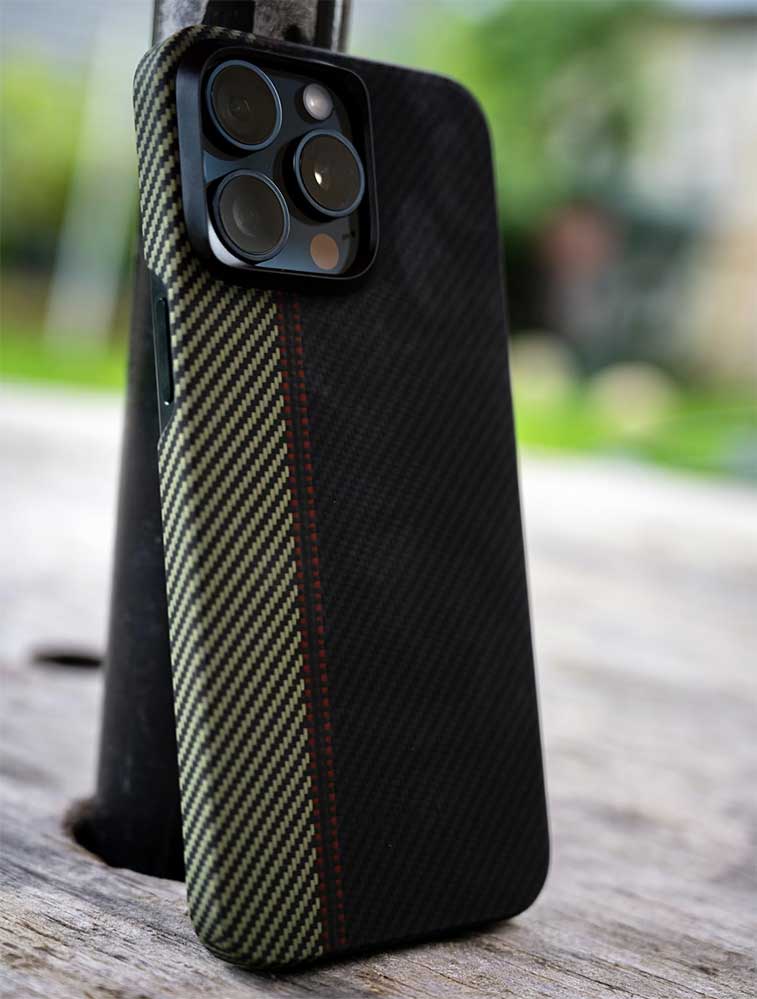 In wrapping up our first impressions and build quality assessment, it's safe to say that the MagEZ Case is more than a pretty face. It couples aesthetic prowess with sheer functional efficiency, making it clear that a lot of thought went into its design. If your checklist for a phone case includes robustness, lightness, and style, then this case has just filled those boxes and ticked them twice.
Striking the Balance Between Slimness and Protection
While we've waxed lyrical about the case's lightweight build and ultra-thin design, one might question if this svelte profile comes at the cost of durability. Spoiler alert: It doesn't.
Heavy-Duty Protection
You may have reservations about a case that focuses so much on slimness and lightness. Will it actually protect your device? Enter aramid fiber, the unsung hero of this case. This material boasts a strength-to-weight ratio that rivals some metals, offering the kind of protection that belies its lightweight constitution. In simpler terms, it's robust without being cumbersome.
So while the term "bullet-proof" may not be officially stamped on the box, the case's aramid fiber composition offers a robustness that's more than reassuring. It's why "premium" and "aramid fiber" often find themselves in the same sentence in tech circles.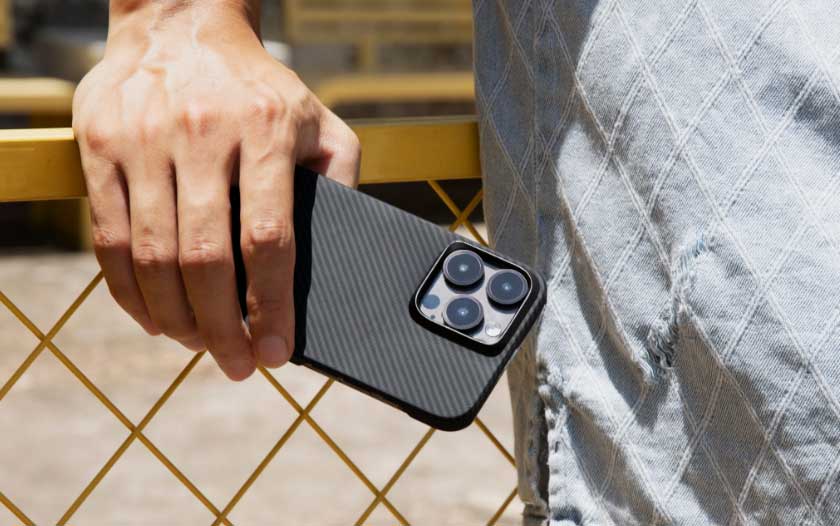 Textural Nuances
If you're in search of a case that brings the tactile experience to a new level, look no further. The MagEZ Case seems to have mastered a textural trick that's a bit of a head-scratcher, in a good way. You see, its aramid fiber isn't just strong; it has a unique, woven texture that manages to be both smooth and grippy. It's a quality that's surprisingly delightful, akin to that moment when you find the perfect pen that just flows across paper.
Aramid fiber has always been the darling of industries requiring strength and durability. It's the kind of material you'd expect to find in aerospace engineering or high-performance racing, but here it is, gracing the palm of your hand. What sets this case apart is that the fiber isn't just for show or tell; it's for feel.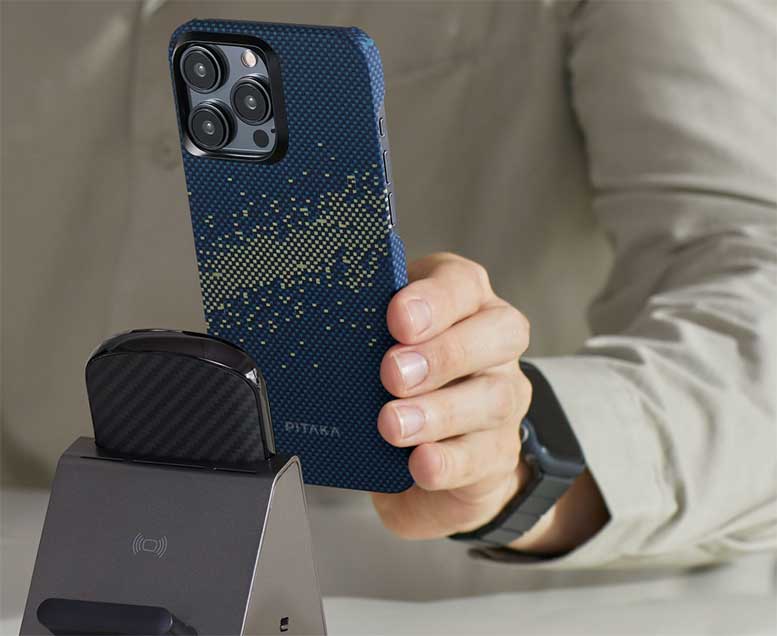 MagSafe Compatibility
In the initial hands-on, our inner skeptic raised an eyebrow at the built-in magnetic strips. Would it interfere with MagSafe charging? A sigh of relief came when the MagSafe charger snapped right on, charging through the slim but sturdy material seamlessly. The case not only plays nice with MagSafe chargers but also has an arsenal of compatible accessories like magnetic wallets and car mounts.
That's because the case is embedded with N52SH magnets, which ensure secure and efficient wireless charging via compatible MagSafe accessories. So yes, you can add utility to your device without breaking the aesthetic spell. This unit manages to do what many cases dream of but fail to achieve: offer robust protection while maintaining a sleek profile. If you're on the hunt for a case that walks this tightrope skillfully, your search might just be over.
Universally Adaptive Style
Not all phone cases can seamlessly transition from serious to fun in the flick of a switch. But the MagEZ Case isn't just any phone case; it's your stylish sidekick that's suitable for both PowerPoints and pool parties. Whether you're clinching a deal in a glass-walled office or capturing the perfect selfie during happy hour, this case fits the bill and then some.
Grip and Texture
There's more to a phone case than just its ability to take a tumble. Much like how the firmness of a handshake sets the tone for an upcoming negotiation, the texture of your phone case plays a pivotal role in everyday use. And here, the MagEZ Case is no slouch. After rigorous rounds of polishing and painting, what emerges is a pattern that offers the best of both worlds: a smooth surface that's delightful to hold, yet one that won't slip out of your hand as you navigate through a busy day.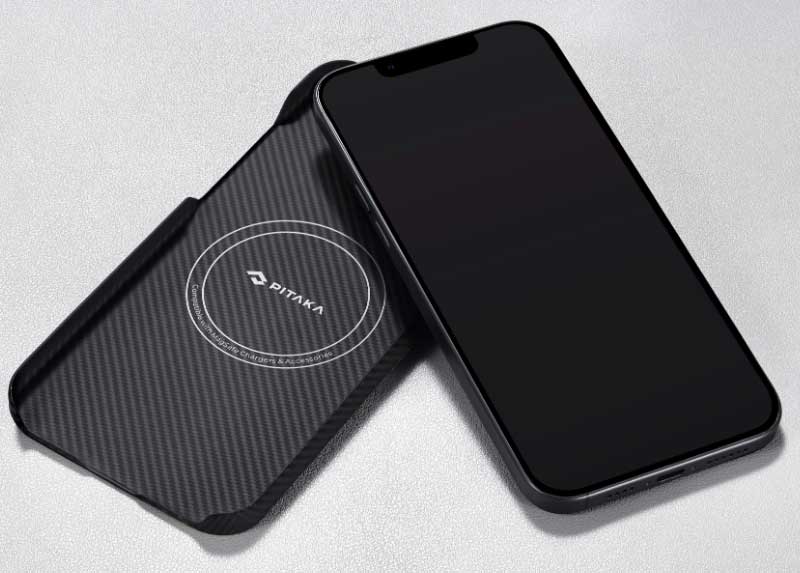 Customization at Your Fingertips
We live in a world where customization is king. So why should your phone case be any different? The MagEZ Case embraces this philosophy, offering a spectrum of unique colors, each intricately crafted through Fusion Weaving technology. This isn't your run-of-the-mill fabric play; it's a calculated arrangement of warp and weft yarns that adds a touch of flair to the already elegant aramid fiber. It's crafted with precision and designed to impress.
Upgraded Camera Lip
When it comes to smartphone photography, you want your lens to be as clean and unscratched as possible. A blemish on the lens is akin to a bad note in a symphony – it ruins the entire performance. The case thoughtfully includes an asymmetrically designed metal lip that provides extra cushion and security for your iPhone's camera lens. The design is an added layer of protection, ensuring your iPhone's camera stays pristine, letting you capture Instagram-worthy shots without worry.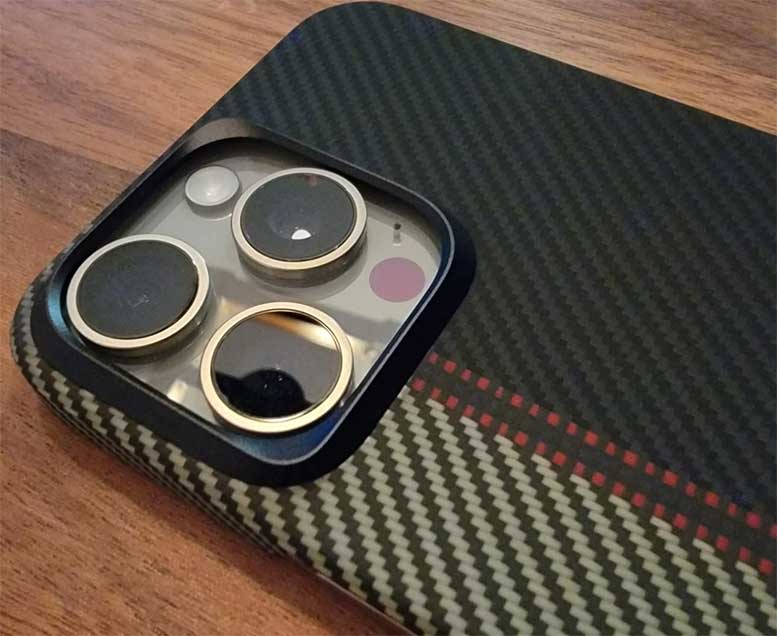 Built-In NFC Capabilities
Let's face it: In a world where our phones can do almost everything, it's easy to overlook what a case could contribute beyond mere protection. Well, the MagEZ Case begs to differ. Thanks to its embedded NFC chips, this case has multiple layers of functionality. With just a tap, you can access a cache of exclusive content from PITAKA, ranging from eye-catching wallpapers to mood-enhancing playlists. In essence, it's more than just a case; it's a portal to an enriched mobile experience.
Ergonomic Edge Design
You're getting a case that offers premium build quality, customizable style, and multifunctional tech features. And let's not forget the ergonomic design that makes it a breeze to hold, even during those endless group chats or video calls. If phone cases had résumés, this one would land the job before the interview was over. There you have it – a case that's not just a pretty face but also a formidable all-rounder. If you're not already sold, it might just be time to redefine your case criteria.
Polished to Perfection
Some cases go the extra mile, and then some just sprint right past it. Every edge and corner of this unit has been meticulously polished, delivering a refined finish that's smooth to the touch. In a world where rough edges are usually hidden, this case proudly displays its craftsmanship, offering you a product that feels as good as it looks.
The only issue here? The aramid fiber's silky finish seems to be a magnet for fingerprints. No, it's not a smudgy disaster, but you'll find yourself wiping down the case more often than you'd anticipate. While hardly a deal-breaker, it's something to note for those who lean toward the meticulous side of the cleanliness spectrum.
From protecting your camera lens to enhancing user interaction through NFC, this case doesn't just do its job; it goes above and beyond. It's these little touches that show a commitment to quality and customer experience and why this case stands out in a crowded market. Aside from the minor annoyance of fingerprints, this case is a winner.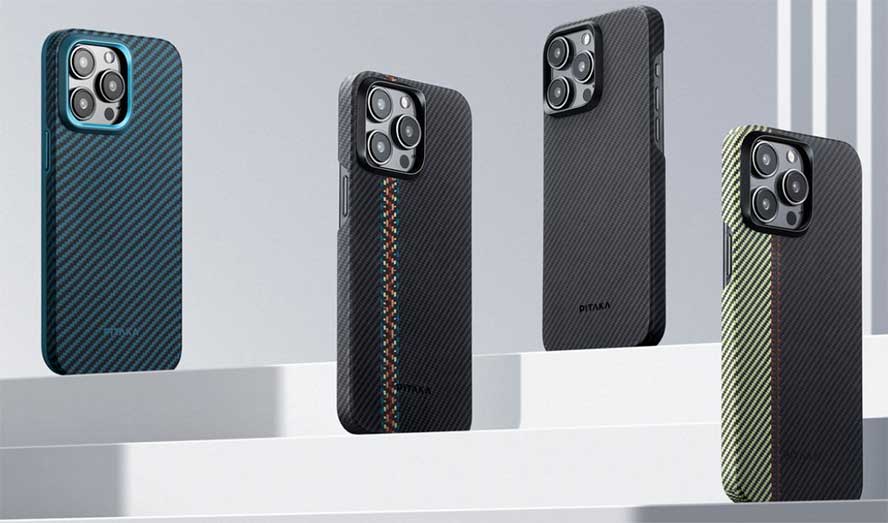 Final Verdict
After spending quality time with the MagEZ Case for the iPhone 15, it's clear that this isn't just another phone case. The lightweight, ultra-thin design combined with robust protection makes it something of a paradox – a good one. But while the case brings a lot to the table, it also seems to be a tad too inviting to fingerprints. For those who can overlook this minor flaw, what you get is a high-performing, durable, and incredibly stylish option that adapts effortlessly to both professional settings and casual outings.
Meet Derek, "TechGuru," a 34-year-old technology enthusiast with a deep passion for tech innovations. With extensive experience, he specializes in gaming hardware and software, and has expertise in gadgets, custom PCs, and audio.
Besides writing about tech and reviewing new products, Derek enjoys traveling, hiking, and photography. Committed to keeping up with the latest industry trends, he aims to guide readers in making informed tech decisions.