It's that time of year again. The leaves are starting to turn, and it's starting to feel a little bit crisp on some mornings. And if you're like a lot of Americans, the best part of fall is Halloween.
There's something about October in general that brings out the spooky side in a lot of us. It's time to curl up with a steamy beverage and enjoy your favorite horror flicks. And what would any holiday be without some festive decorations? Everybody loves carving pumpkins. It gives you a chance to let out your creative side. And if you've got kids, it's a fun activity for the entire family.
Note: At no extra cost to you, we may earn a commission for purchases using our links. Learn more.
Traditionally, people have used candles to light up their jack-o-lanterns. But like many traditional methods of doing things, this isn't necessarily optimal. For one thing, candles have a tendency to blow out on breezy evenings.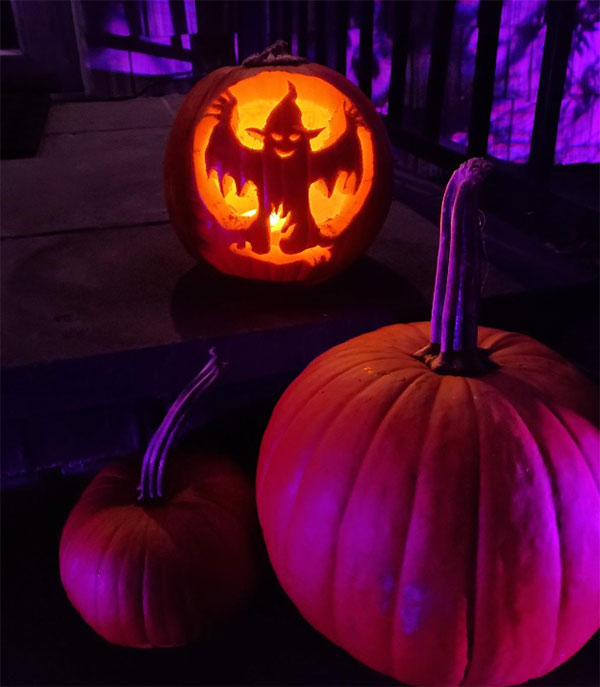 For another thing, they're high-maintenance. You have to light them every night and replace them. And speaking of replacements, using dozens of candles is just plain wasteful. That's all without mentioning the safety risks. We're talking about an open flame on your front porch. Besides which, kids are prone to playing with the hot wax and burning themselves.
For a while, people have been using incandescent bulbs instead of candles for their jack-o-lanterns. But incandescent bulbs are wasteful in their own right, since they draw a lot of power. They also put out a lot of heat – more than enough to burn yourself if you touch one.
Instead, why not use an LED light in your pumpkin? LEDs draw way less power than old-fashioned bulbs, and can even run on batteries. They also run cool, so there's no risk of anyone getting burned.
Choosing the Best Halloween LED Pumpkin Lights with Remote
Today, we're going to review the best Halloween LED pumpkin lights with remote controls. All of these lights are purpose-built for use in jack-o-lanterns, so you don't have to do any fussing around. They're also easy to control, with handheld remotes that make them handy to use and program.
Of course, there will also be some differences between these lights. We need to talk about how they're built, and the type of light they put out. We'll have to discuss the controls, and your various operating options. Along the way, we'll also touch on weather-resistance and other issues. After that, we'll have a more complete picture of what we're dealing with. Let's begin!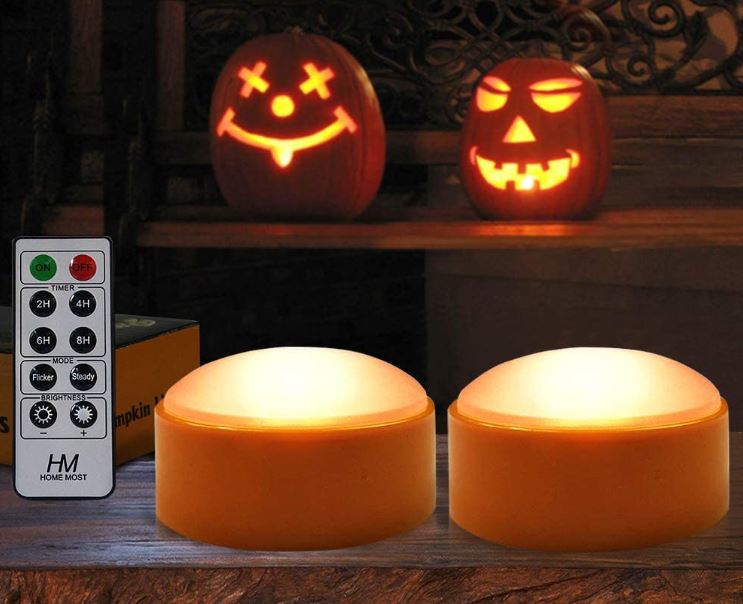 Best Overall: HOME MOST Halloween Pumpkin LED Lights
The HOME MOST Halloween Pumpkin LED Lights come in a two-pack. These lights have a festive orange main housing, with a red-tinged light cover, and come in a 2-pack. They're roughly hockey puck shaped, with a diameter of 2.6 inches. The light cover protrudes from the top, rising in a shallow, 1.6-inch dome.
Like most similar small lights, there's no stated lumen rating; we had to eyeball things. Obviously this is going to be a subjective judgement, but we thought it was pretty bright. You can see the light clearly, and it will even shine through the skin of the pumpkin itself. It will also cast a glow in the surrounding area, as befits a good jack-o-lantern light.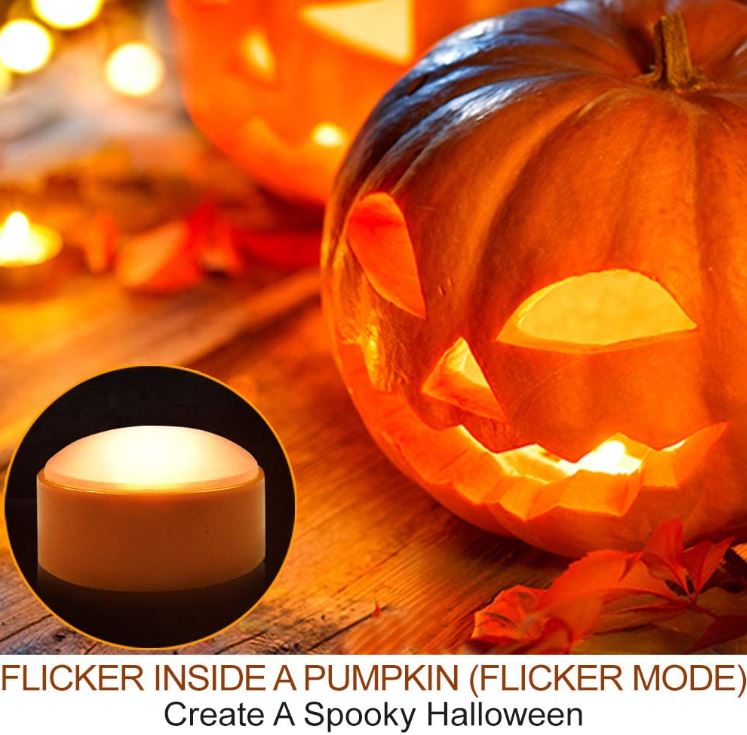 This light isn't water-resistant, although that shouldn't really be a concern. Presumably, your pumpkin covers the top of the light. But if it's going to be exposed, you'll need to take precautions. A plastic sandwich bag will do a great job of keeping it dry.
But what if you have an existing jack-o-lantern socket you use with an incandescent bulb? In that case, check out our list of the best vintage-style Edison LED light bulbs. They use very little energy, and will screw right into your current bulb socket.
Battery and Operation
On the bottom of each light, you'll find a removable battery cover. Pop it off, and you'll have space for three AAA batteries. These aren't included in the kit, but you can pick them up just about anywhere. A set of batteries will last for around a month if you're using them for four hours a day. Run the light more or less, and your performance will vary accordingly.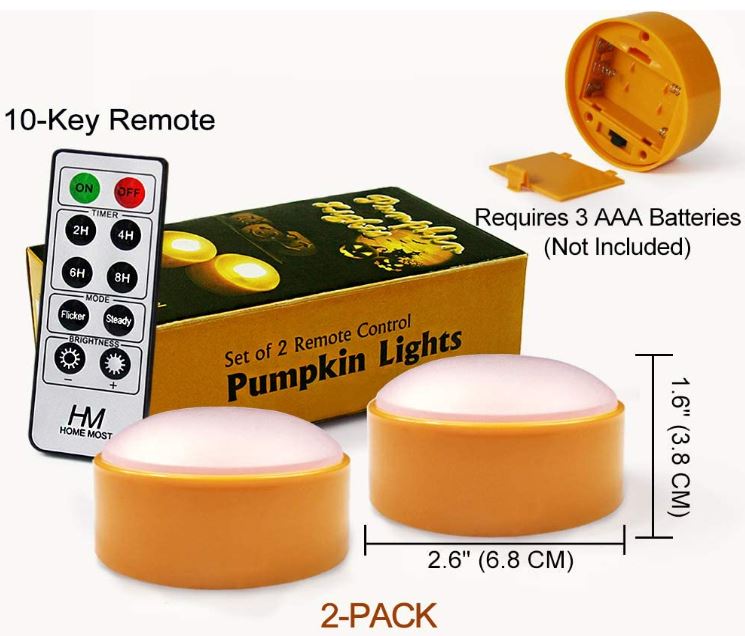 Next to the battery cover is a simple on/off switch. All of your other controls are found on a 10-key handheld remote with a 20-foot line-of-sight range. Using the remote, you'll have full control over your lights. To begin with, there are on and off buttons at the front. At the back is a pair of buttons that adjust the brightness. Just in front of those are the "mode" lights. You can set the diode to shine at a consistent brightness, or to flicker and imitate a candle.
In the middle of the controller are four buttons that set the timer. You can run the light for 2, 4, 6, or 8 hours, after which it will automatically shut off. The light will then run on a 24-hour cycle. So if you set it to run for 2 hours, it will turn off for 22 hours, then back on for 2. If you set it to run for 4 hours, it will turn off for 20 hours, and so on. The only catch is that you have to start the timer at the time you want it to start. If you want your lights to turn on at 7 o'clock, for example, you'll have to hit the button at 7.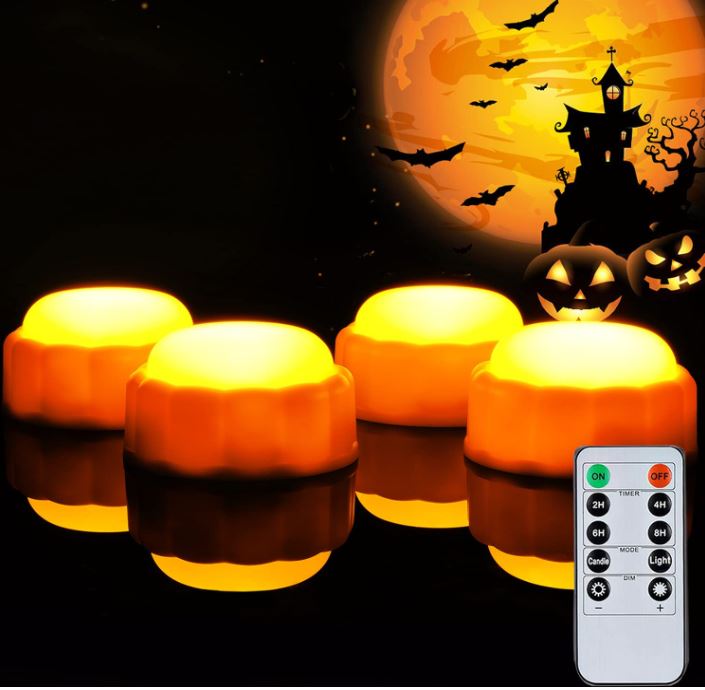 Best Runner-Up: Homemory Battery-Powered LED Tea Light Candles
Homemory is an established manufacturer of LED lighting. Not long ago, we reviewed their Flameless Tealight Candles. It's a 24-piece tea light set with faux flames that give off a soft amber light. We liked what we saw, so we decided to see how their pumpkin lights stack up to the competition.
The Homemory Battery-Powered LED Tea Light Candles come in a 4-pack. These lights have a scalloped, roughly pumpkin-shaped profile, as befits their purpose. The orange plastic housing has a 2.8-inch diameter. A white light cover rises above the housing, bringing the total height to 1.57 inches.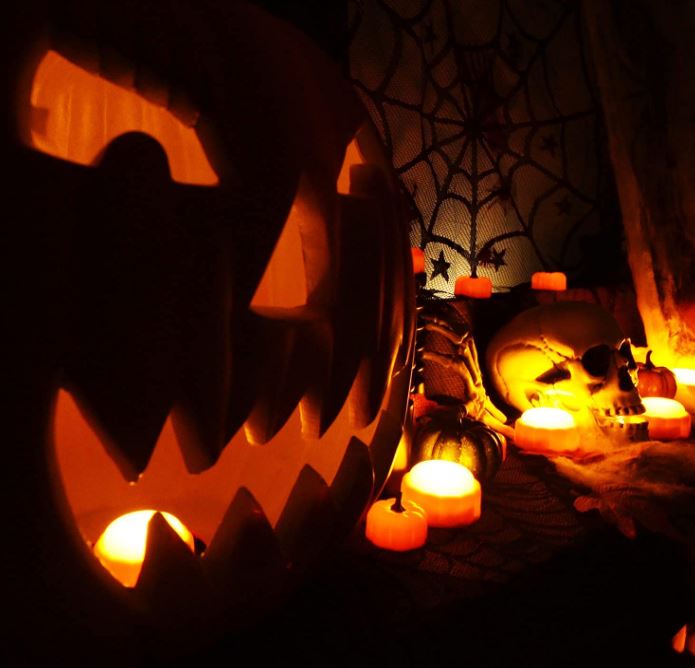 When these lights are illuminated, they give off a warm white light. This light falls towards the red end of the spectrum, and has a soothing effect. It also pairs perfectly with a pumpkin's orange skin. And at maximum brightness, you'll have more than enough illumination to light up a big jack-o-lantern.
Battery and Operation
Much like the last light we looked at, the Homemory lights run on three AAA batteries each. These insert into the bottom of the housing, and will power your light for around a month. Similarly, there's a power switch on the bottom. All other controls are located on the handheld remote.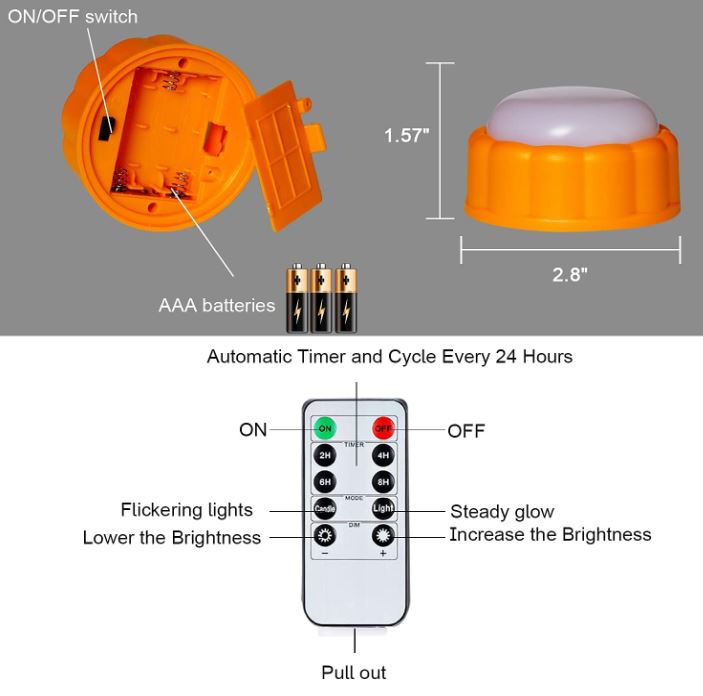 The remote gives you all the options you need to control your lights. You can turn them on or off, adjust the brightness, or switch between steady and flickering mode. There's even a 2, 4, 6, or 8-hour timer, which runs on a 24-hour cycle. Set it up once, and it will run all Halloween season.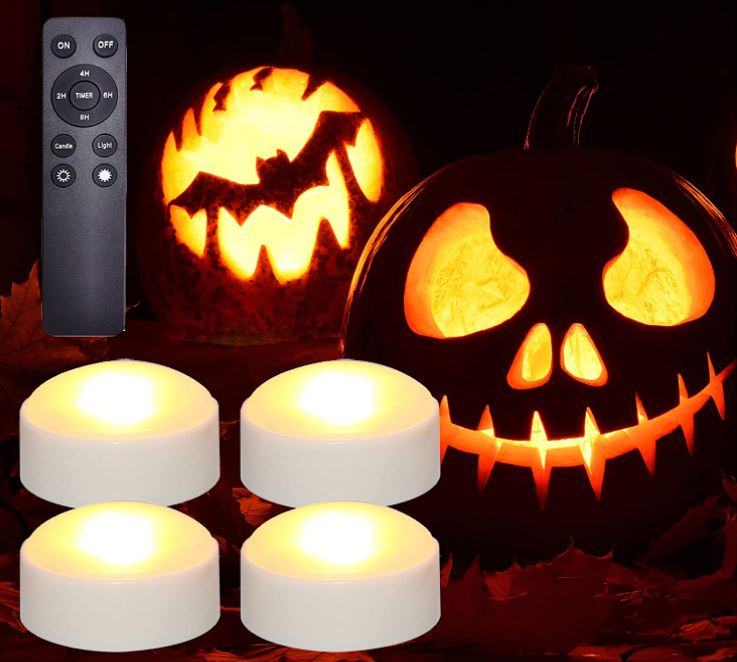 Best Alternative: iZAN Battery Operated LED Pumpkin Lights
The iZAN Battery Operated LED Pumpkin Lights look a bit more like traditional hockey puck lights. They have a white plastic housing, with a frosted white, dome-like top. The diameter is 2.6 inches, with a height of 1.5 inches. You can order them in a 2-pack, 3-pack, or 4-pack, so you can get the exact number you need.
Despite their traditional appearance, these lights give off the perfect light for a pumpkin. It's bright amber, and looks genuinely creepy in a scary jack-o-lantern. The design is also somewhat splash-proof. We still wouldn't recommend leaving the lights out in the rain, but a little moisture is no big deal.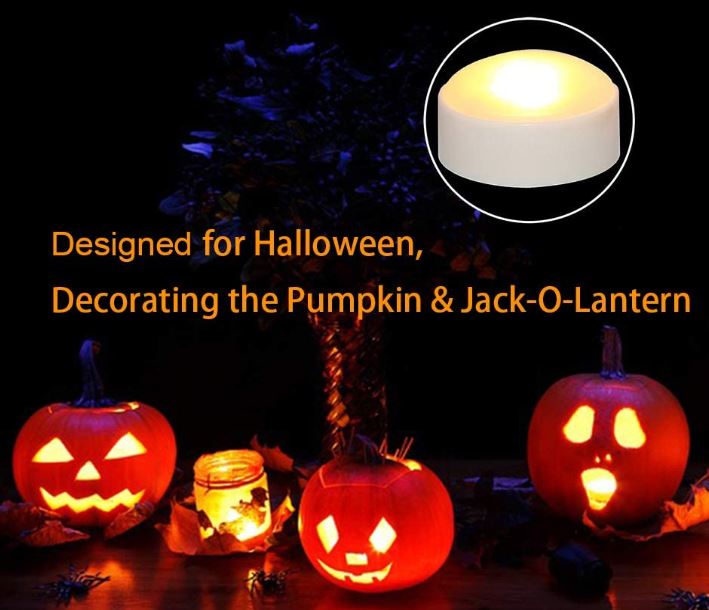 At the end of the day, a jack-o-lantern is typically part of a larger holiday display. As you transition from Halloween to Thanksgiving, you may find yourself with some festive harvest decorations. LED mason jar lights are a great way to accent any decorations, as well as augment your pumpkins.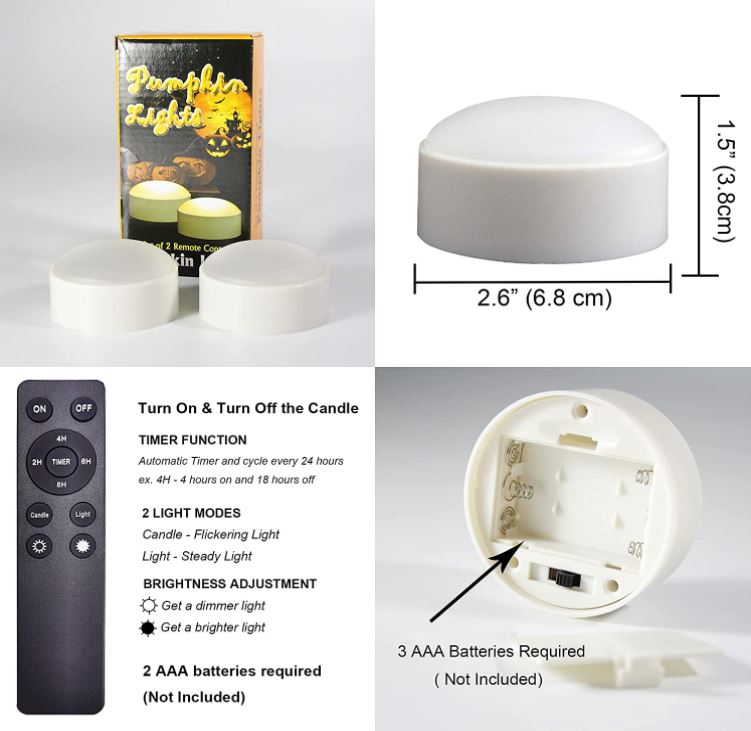 Battery and Operation
Like the other lights we looked at, these utilize three AAA batteries, which fit in the bottom of the housing. When used for four hours a day, they'll last you around a month. There's also a power switch in the same general area. The handheld remote works well, and can set your lights to solid or flickering mode and adjust the brightness. You can also set a 2, 4, 6, or 8-hour timer that runs on a 24-hour cycle.
What Makes a Good LED Pumpkin Light?
Before we wrap up, let's take a minute to talk about LED pumpkin lights in general. Why would you choose to use one light rather than another? There are any number of factors, but there are a few that can make or break your experience. Here are some things to consider before you hit the "buy" button.
Durability
Durability isn't as big a concern with jack-o-lantern lights as with lights that will be exposed. That said, you want a set of lights that will give you a few years of use. Besides which, Halloween is only a short part of the year. Presumably, you want to be able to use your lights for other purposes. The more rugged they are, the more versatile they're going to be.
Along the same lines, you want long-lasting batteries. If you can only get a few hours of use out of your light, it's not going to be very useful. You want to be able to set it up with your jack-o-lantern, and take it out when you're done. If you have to do a lot of fussing around during the interim, it's not ideal.
Ease of Operation
Making a jack-o-lantern is a fun family activity. If you spend a few hours doing it, it's time well-spent! But lighting your jack-o-lantern is another matter. You want it to be as quick and painless as possible. A few years back, we would have accepted a light that you turn on and off manually. But these days, there's really no excuse for a jack-o-lantern light not to have a 24-hour timer. That's the big feature that separates them from other LED puck lights.
It should also be easy to replace the batteries. You're going to have to do it eventually, but it shouldn't be complicated. Steer clear of lights with battery covers that need to be unscrewed. That's a hassle you don't need, and a simple locking tab is more than secure enough.
Brightness and Light Quality
A jack-o-lantern light doesn't have to be blinding. But it should provide enough light to clearly show whatever face you've carved. A soft white or amber light is best to best show off the pumpkin's color. It also helps if the light has a flicker mode to simulate an old-school candle.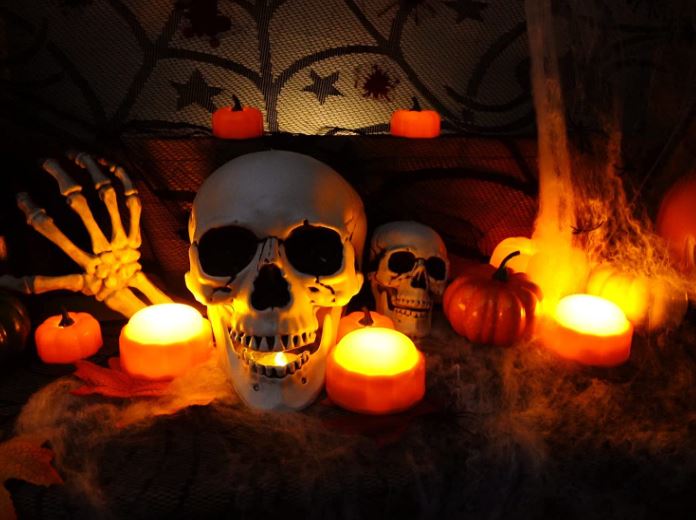 What are the Best LED Pumpkin Lights for Halloween?
So, which of these Halloween LED pumpkin lights is the right choice for you? Let's go over what we've learned.
We began by evaluating the HOME MOST Halloween Pumpkin LED Lights. These lights have a smooth profile, and are easy to set up. They offer good battery life, and are exceptionally bright at maximum brightness. And some minor weather-resistance concerns not withstanding, they're well-engineered.
Next, we checked out the Homemory Battery-Powered LED Tea Light Candles. These candles offer a lot of similar features and functions. The main difference here is the design, which has a charming, pumpkin-shaped profile. They also come in a 4-pack, so you can outfit the whole family's jack-o-lanterns.
Last but not least, we reviewed the iZAN Battery Operated LED Pumpkin Lights. These lights have similar timer functions, as well as adjustable brightness and an optional flicker mode. You can choose between a 2, 3, or 4-pack, and the housing has a traditional design. They're great for use as atmospheric lighting when you're not using them in your pumpkins.
Please consider sharing:
Note: At no extra cost to you, we may earn a commission for purchases using our links. Learn more.