Ever felt like you need an extra set of eyes for those meticulous tasks that define your job – or hobby, for that matter? We're talking about situations that demand your full, up-close attention. In such instances, a headband magnifier is the perfect companion. So today, we're shining a spotlight on the best contenders. These are our top picks:
In the reviews ahead, we're going to share all the fine details to help you make the right investment for your needs. So hang tight because we're going to zoom in on some headband magnifiers that are more than just a simple lens on a band. They're your ticket to a clearer, brighter, more precise life.
#1 – Dilzekui Headband Magnifying Glass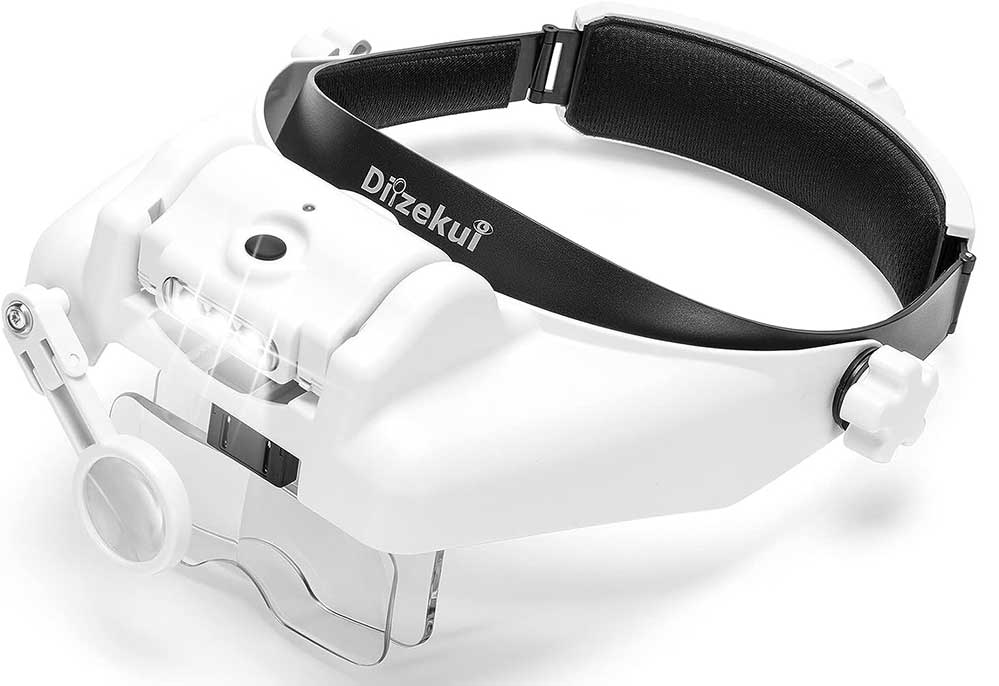 Key features:
Adjustable LED direction
Multiple lens options
USB Rechargeable
Wide application range
Magnifying glasses aren't exactly the tech world's latest and greatest gear. But when it comes to hobbies or professions requiring a microscopic view, a magnifying glass isn't just an accessory – it's a necessity. Enter the Dilzekui Headband Magnifying Glass, a head-mounted unit that offers both function and flair, albeit with a few quirks. What distinguishes this device from its less-illuminated counterparts is the built-in, rechargeable LED light.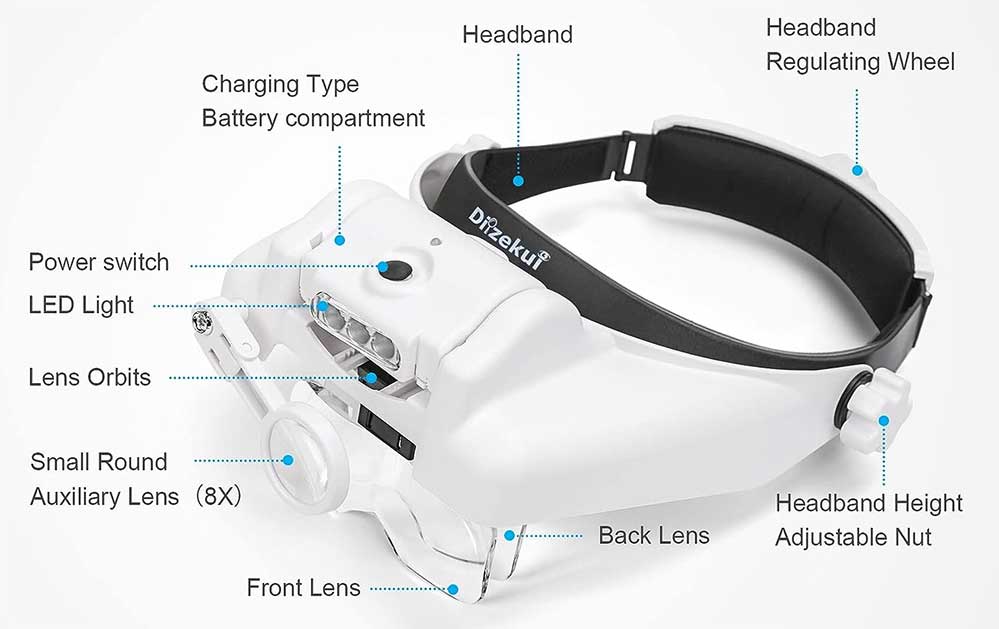 Not your garden-variety LED, mind you. This one comes with adjustable direction, allowing you to focus the light exactly where you need it. We tested this feature while soldering miniature circuit boards and were able to adjust the light for the perfect illuminating angle. Charge it for 1.5 hours via USB, and you'll get 4 to 8 hours of steady light, a feature that can be a literal bright spot during prolonged usage.
With a variety of lens options at your disposal, the magnification capabilities are extensive, ranging from 1x to 14x. This is especially handy for tasks requiring different levels of detail, like reading fine print or inspecting gems in jewelry. The lenses are made of high-definition acrylic and are lightweight yet durable. Plus, it comes equipped with an adjustable headband layered with a soft sponge for added comfort.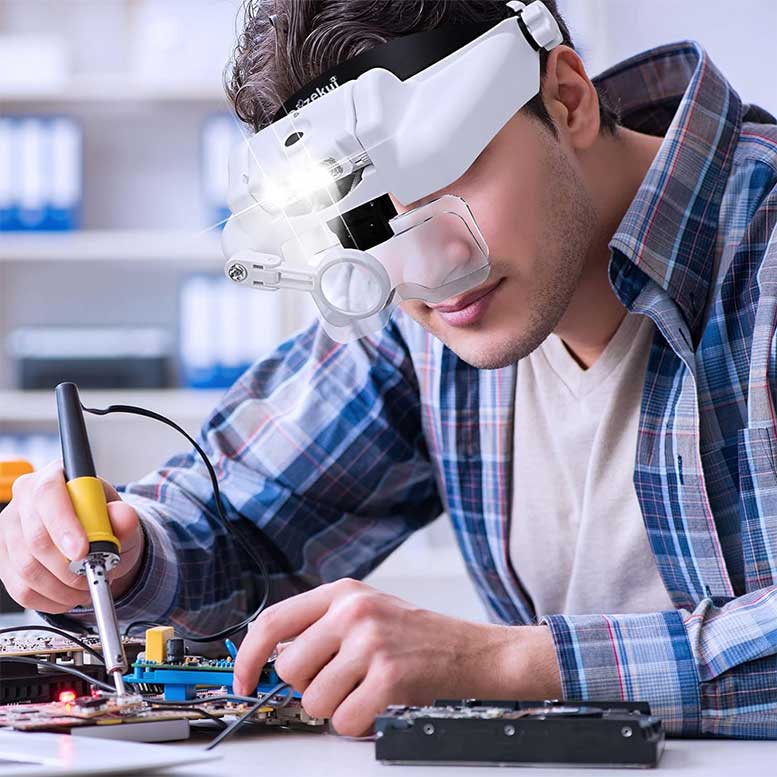 While the headband is adjustable, it could stand to be a bit more user-friendly. We found it somewhat cumbersome to adjust. The good news is that once it's set, it stays put. The unit weighs a reasonable 0.46 pounds and measures 13.15 x 2.79 inches, making it not overly bulky but noticeable on your head. With wide application possibilities ranging from sewing to painting, this is not a one-trick pony. We tested it across a range of activities and found it to be remarkably versatile. While it won't win any awards for aesthetics, it gets the job done.
What we liked:
Strong adjustable light
Extensive magnification range
Lightweight lenses
Versatile use
What we didn't like:
Awkward headband adjustment
Somewhat bulky design
#2 – MagniPros Head Magnifying Glasses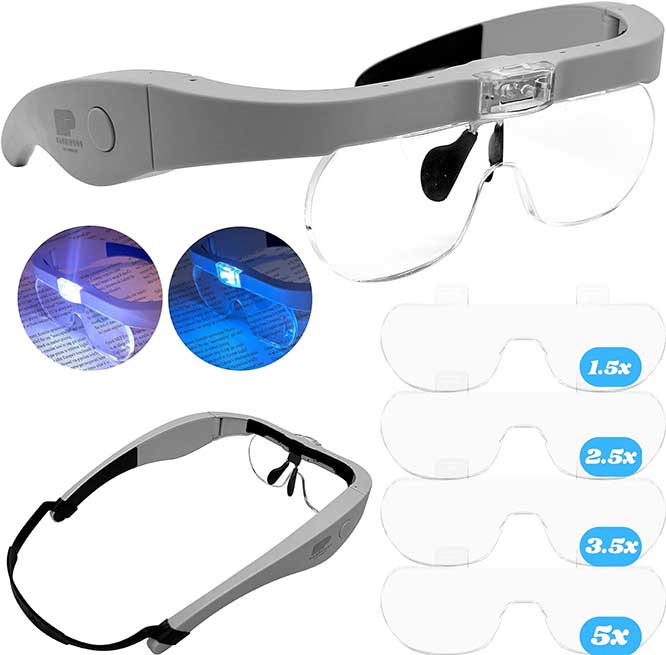 Key features:
Lightweight & comfortable design
Fast charging technology included
Adjustable LED lights for visibility
Multi-purpose with 5x magnification
The MagniPros Head Magnifying Glasses are a versatile tool designed to provide significant clarity and magnification for a variety of tasks. Whether indulging in reading, arts and crafts, jewelry design, or electronic repair, we found this unit to be exceptionally practical and efficient. We put this headband magnifier through its paces, using it for all kinds of detailed work. There's a lot to like about this one, so let's start with form and function.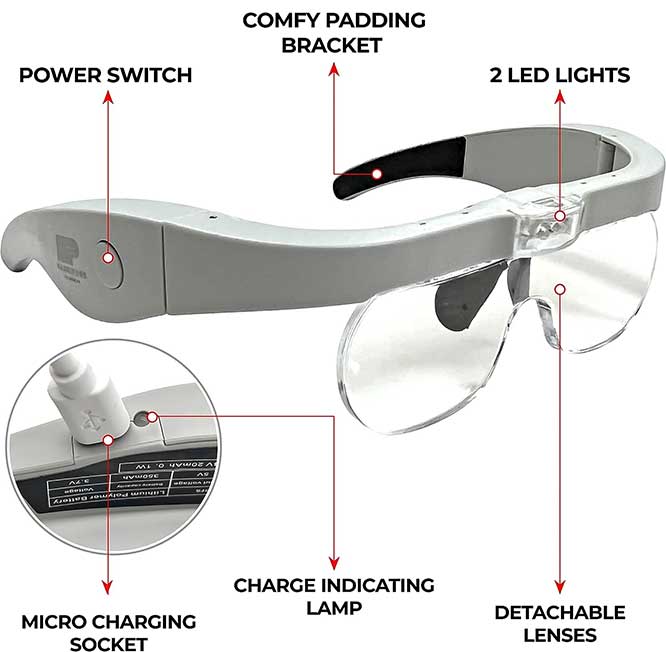 What's not to love about a device that weighs only 4 ounces? Long-wear comfort is pretty much guaranteed. The ergonomic design ensures that you can be entrenched in your detailed tasks without giving a second thought to any neck cramps or forehead pressure. And kudos to the designer who thought about our differently-sized noggins! The expandable and removable head strap ensures that everyone's covered. Both stability and security are in place here.
The adjustable nose bridge is also a welcome addition. Armed with non-toxic silicone and extra forehead padding, it hugs your face well. But not too tight – just enough to ensure it stays put without becoming a problem. Are you eco-conscious? So is this headband magnifier. Its rechargeable battery and fast-charging tech get you up and running in two hours flat, thanks to the included USB-C cable. As such, you can say goodbye to those pesky disposable batteries and the guilt that comes with them.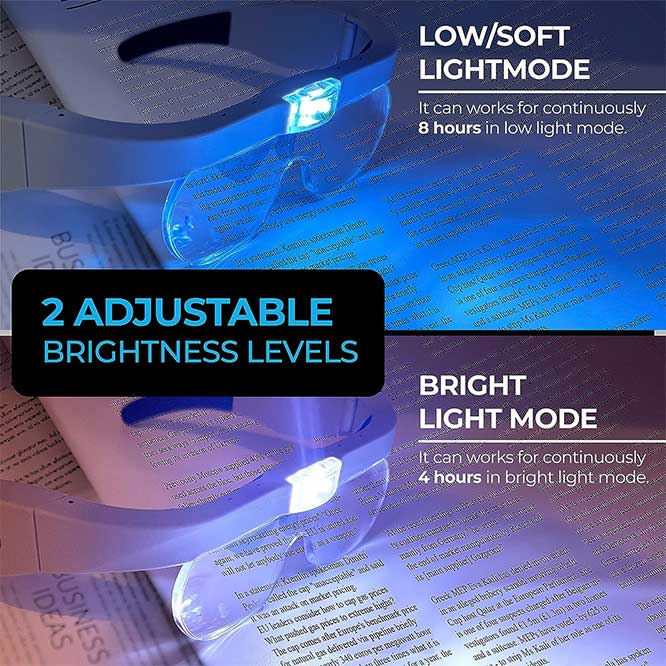 In action, the built-in adjustable LED lights are pretty much your personal spotlight. You get two levels of brightness, perfect for those times when natural light just won't cut it. We appreciate the level of illumination provided here. And thanks to the adjustable LED focus, you can zero in on your handiwork like a pro. Size-wise, this little wonder measures 8.66 x 7.24 x 2.4 inches and weighs in at 13.1 ounces. It also comes with bells and whistles like interchangeable lenses and a cleaning cloth.
After all, who doesn't love a good freebie? Of course, no product is perfect. During our testing, we found out that the LED lights don't hold up well to extended use. Our runtime ranged from 3 to 5 hours on a single charge, so keep that in mind going forward. Also, the earpieces aren't very comfortable – something worth considering if you're planning to become a long-term user.
What we liked:
Secure, ergonomic fit
Energy-efficient LED lights
Rechargeable, eco-friendly battery
Comes with interchangeable lenses
What we didn't like:
Light durability issues
Non-adjustable tight earpieces
#3 – YOCTOSUN Rechargeable Magnifier Glasses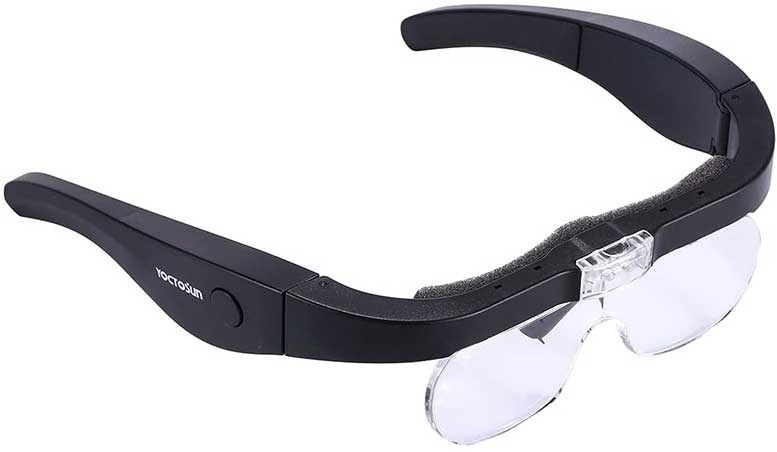 Key features:
Four interchangeable lenses
Adjustable LED brightness
Efficient rechargeable batteries
Ergonomic eyeglasses bracket
If you're an artisan with a keen eye for minutiae or someone constantly navigating the labyrinth of electronic repairs, the YOCTOSUN Rechargeable Magnifier Glasses are your new best friend. Forget those antique, dusty magnifiers your grandpa might've used; these are the cutting-edge solution for today's detail-oriented craftspeople. One of the standout features of this unit is its set of four interchangeable lenses, each offering magnifications of 1.5x, 2.5x, 3.5x, and a whopping 5x.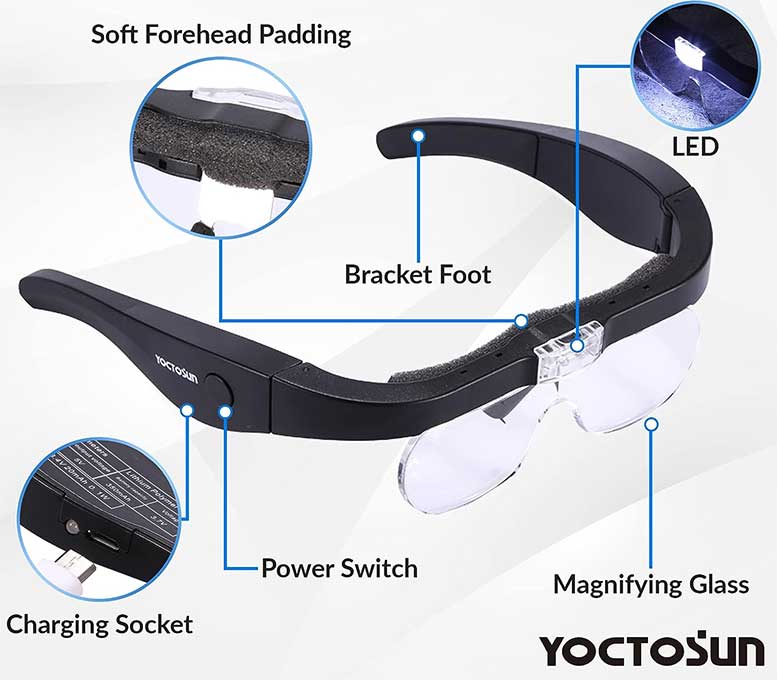 It's like having four specialized tools in one, eliminating the need to juggle between different sets of eyewear for various tasks. These lenses aren't just window-dressing; they're made of sturdy acrylic resin. With a surface hardness that scales up to 5H grade, these lenses are the epitome of durability. That translates to exceptional resilience against the daily scrapes and knocks that would doom lesser lenses. Ever tried to navigate your way through tiny screws and circuits in poor lighting?
Not fun. Thankfully, you no longer have to worry about such headaches. With these magnifying glasses, adjustable brightness comes standard. A simple tap on the eyeglasses bracket allows you to toggle between two levels of illumination. Now you can keep your focus sharp, no matter how dim the surroundings. When it comes to battery performance, these glasses could teach a seminar on efficiency. You'll be back to full power within just an hour of charging, and that charge will light your way for a commendable 4 to 6 hours.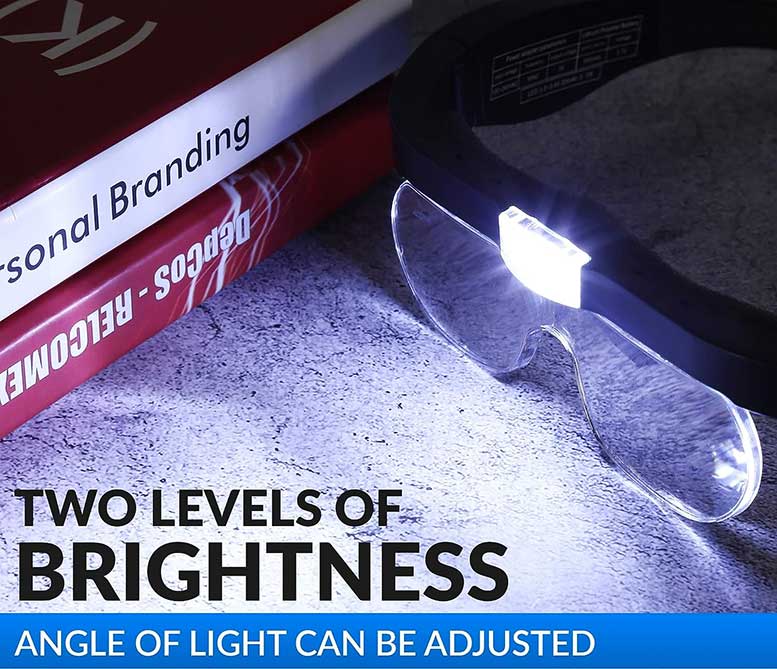 Even better, you can forget about buying extra batteries – ever. Let's talk comfort because who wants to strap a medieval torture device to their face? The unit includes an ergonomic eyeglass bracket and a rubber head strap. It clings to your head like a well-fitted cap. There's no discomfort here to speak of, so you can use it for extended periods without issue. In short, the YOCTOSUN Rechargeable Magnifier Glasses offer a medley of features that marry durability, functionality, and comfort. They're not just an accessory; they're a necessity for anyone serious about their craft.
What we liked:
Quick one-hour charge
Two brightness settings
High-grade lens durability
Comfortable for long use
What we didn't like:
Not suitable for computer work
May need strap for secure fit
#4 – SUNJOYCO Head Mount Magnifier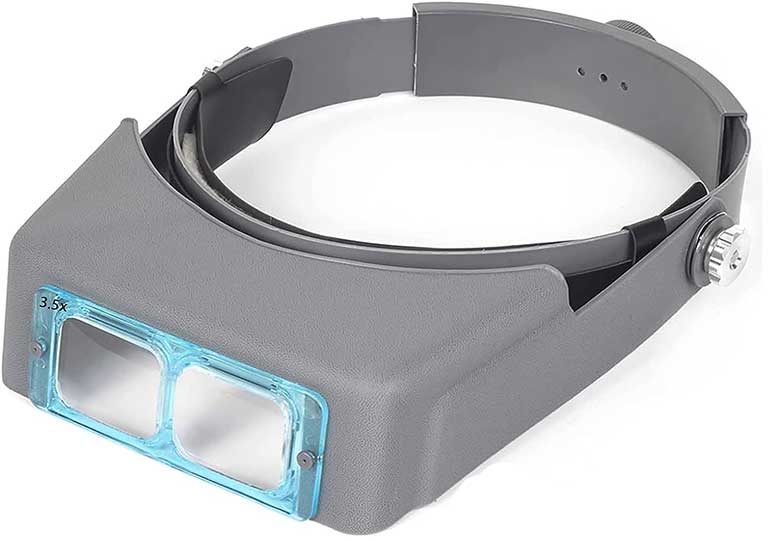 Key features:
Adjustable and comfortable headband
4 interchangeable lenses
Multi-functional for various tasks
Portable and durable construction
Next is SUNJOYCO's Head Mount Magnifier, a game-changer for anyone who's in the business of scrutinizing life's finer details. Cloaked in a stylish shade of gray, this isn't just another magnifying tool; it's an ergonomic partner in your quest for precision. With a weight of just 12.3 ounces, you won't feel like you're carrying a brick on your head. Worried that your prescription glasses will get in the way? Worry not. The device's headband is built to accommodate your eyewear.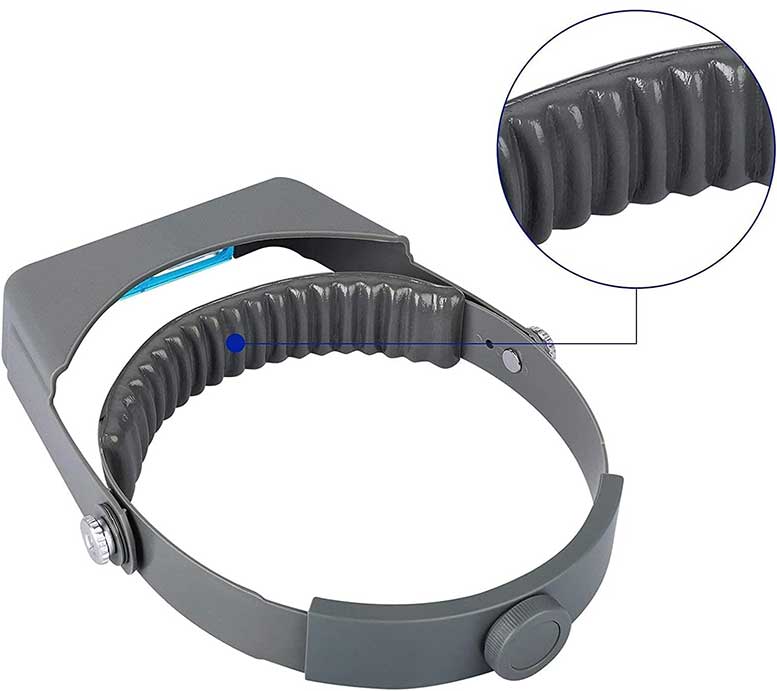 Adjustable to your liking, it hugs your head with the gentle grip of a considerate friend. You won't be left adjusting and readjusting; this headband stays put. For those who might be wary of the comfort factor – rest easy. The visor is highly adaptable. A simple turn of the side knobs grants you full control over the viewing angle, allowing you to optimize for the task at hand. Designed with your comfort in mind, the head mount features soft rubber padding and a lightweight build.
And let's not overlook the internal sponge; it ramps up breathability, ensuring that discomfort doesn't even make it on your list of concerns. As if that wasn't enough, SUNJOYCO throws four interchangeable lenses into the package, each boasting different magnifications (1.5x, 2.0x, 2.5x, 3.5x). These lenses give you the flexibility to transition from close-up activities like soldering to casual reading with ease.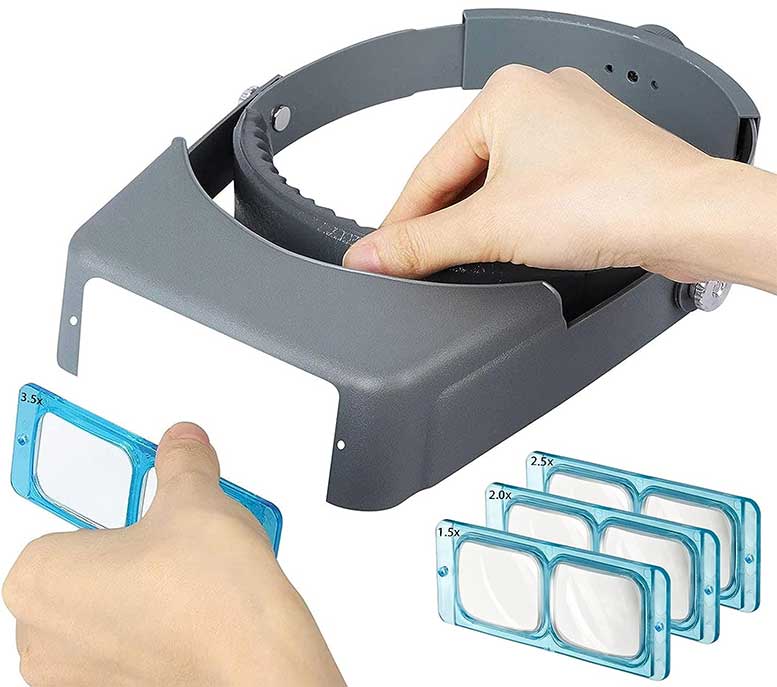 The focal lengths are thoughtfully provided, ranging from 6 to 15 inches, giving you a versatile tool that adapts to your needs. Now, let's address the elephant in the room – the sharp edges on the headband. While this isn't a deal-breaker, it does make room for refinement. A little bit of sanding will smooth out those rough patches, and you're good to go. SUNJOYCO's Head Mount Magnifier is not just a tool; it's a comprehensive solution for anyone requiring a closer look at their work. Its blend of ease, comfort, and utility makes it an indispensable addition to your toolkit.
What we liked:
Ultra-clear optical quality lenses
Comfortable for prolonged usage
Suitable for detailed tasks
Versatile for professional and hobbyist use
What we didn't like:
Sharp edges on headband
Lenses may be slightly loose
Headband Magnifier Glasses with Built-In LED Light FAQs
How long do the batteries usually last on these magnifier glasses?
Most models offer long-lasting batteries that can range from 4 to 8 hours on a single charge. Some even feature fast-charging technology that can have your magnifier up and running in as little as an hour or two.
Are these headband magnifiers suitable for professional use?
Absolutely. They're versatile enough for a wide array of professional applications – think jewelers, craftsmen, and even dentists. With multiple lens options and adjustable light features, you can expect top-notch performance for specialized tasks.
Can I wear my regular glasses while using these headband magnifiers?
Many models come with adjustable headbands designed to accommodate regular eyeglasses. It's a comfort feature that makes the magnifier more user-friendly, so you don't have to choose between your prescription specs and enhanced vision.
Final Verdict
After a detailed review, the Dilzekui shines bright with its adjustable LED and a myriad of lens options, making it an all-in-one solution for varied tasks. MagniPros, on the other hand, wins us over with its lightweight comfort and eco-conscious rechargeable batteries. When it comes to charging time and durability, YOCTOSUN is the star player, delivering full power in just an hour.
And let's not forget SUNJOYCO, which balances comfort and versatility like a pro. At the end of the day, the right choice ultimately comes down to what ticks your specific boxes – be it adjustable light, lens options, or comfort. These four magnifiers each offer a unique set of benefits tailored to those who need to see the finer things in life.
Meet Derek, "TechGuru," a 34-year-old technology enthusiast with a deep passion for tech innovations. With extensive experience, he specializes in gaming hardware and software, and has expertise in gadgets, custom PCs, and audio.
Besides writing about tech and reviewing new products, Derek enjoys traveling, hiking, and photography. Committed to keeping up with the latest industry trends, he aims to guide readers in making informed tech decisions.