If you need to pack a lot of computing power into a few square feet, a server rack is the way to go. You can also add other accessories, such as fiber-optic switches. The good news is that you're getting a space-efficient design. The bad news is that you need to power all that equipment. Of course, you could just plug everything into a wall outlet. You could also go without health insurance, and stop wearing a seatbelt.
While you're at it, you could even play Russian roulette with a real pistol. At least, you could do all of those things if you were an irresponsible fool. But most of us want to keep our expensive equipment safe, and that means using a surge protector.
Today, we'll be looking at three different rackmount surge protector power strips. First, we'll examine the StarTech 8 Outlet Horizontal 1U Rack Mount PDU Power Strip. This is an 8-outlet power strip, complete with surge protection and a six-foot cord. Next, we'll look at the CyberPower CPS1215RMS Surge Protector. CyberPower is already well-known for their other accessories, such as USB hubs. So we were excited to see what their power strip had to offer! The last one we looked at was the Tripp Lite RS1215-RA Rackmount Network-Grade PDU Power Strip. By default, this is a simple power strip without any surge protection. But different variants offer different options for the safety-conscious consumer. Which one is the best? Let's take a closer look, and find out!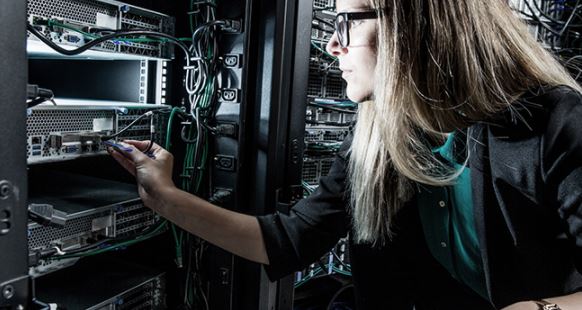 Different Server Rack Standards
There are many types of server rack standards. For instance, manufacturers have come to an agreement on standard widths. For instance, if you order a 19 or 23-inch piece of equipment, it's going to fit the respective rack. There are no tricks, unpleasant surprises, or other catches. Similarly, the height is standard. A 1U ("1 unit") piece of equipment will always be 1.75 inches tall. A 2U piece of equipment will always be 3.5 inches tall, and so on. As a result, it's easy to find equipment that fits your rack.
At least, it would be if manufacturers would stick to a standard type of hole. Unfortunately, there's a bit more variety in this area than we'd typically like to see. Early server racks were built with pre-threaded holes. In theory, this was a sensible approach. The holes are for mounting, so why not just thread them and be done with it?
Unfortunately, manufacturers couldn't agree on what type of screw to use. As a result, server racks came in 10-32, 12-24, and M6 threading instead of one standard. This meant you had to keep your own screws on hand for mounting anything. Oftentimes, it also meant that you had to install third-party rails to mount your server. Round threaded rack holes are still found on some audio racks, but they're no longer used for server racks.
The next logical step was to use rounded, unthreaded holes. This allowed you to use cage nuts to install any kind of screw. You could also use clip nuts if you wanted a faster, drop-in option. IBM pioneered the use of round unthreaded holes, but other manufacturers like Dell and HP soon jumped on board. Dell even manufactured a special rail, called the "Versa Rail", just for this style of rack.
But like so many things in tech, rounded, unthreaded holes soon fell by the wayside. Modern server racks are almost all manufactured with square, 3/8 x 3/8-inch holes. This is as close as the industry has ever come to a single standard, and allows for easy installation with cage nuts. Dell, HP, and IBM all use this design, with thicknesses varying from 0.085 to 0.11 inches. They also manufacture dedicated quick rails that allow for snap-in installation.
The surge protectors we're looking at today are all newer, and are designed for square rack holes. That said, there's no reason you won't be able to mount them on an older server rack. Depending on your rack, you may need to buy some screws or nuts, but that's about it. At most, you'll end up spending an extra dollar or two.

StarTech 8 Outlet Horizontal 1U Rack Mount PDU Power Strip
StarTech is an established electronics manufacturer that mostly creates consumer parts. We've reviewed several of their offerings in the past, including some Ethernet extenders. Their horizontal 1U rack Mount PDU Power Strip is pretty much exactly what it sounds like. It's designed to mount in any 19-inch server rack that's at least 4 inches deep. This makes it exceptionally versatile. Be aware, though, that there's no mounting hardware included in the kit. You'll need to provide your own mounting screws and cage nuts.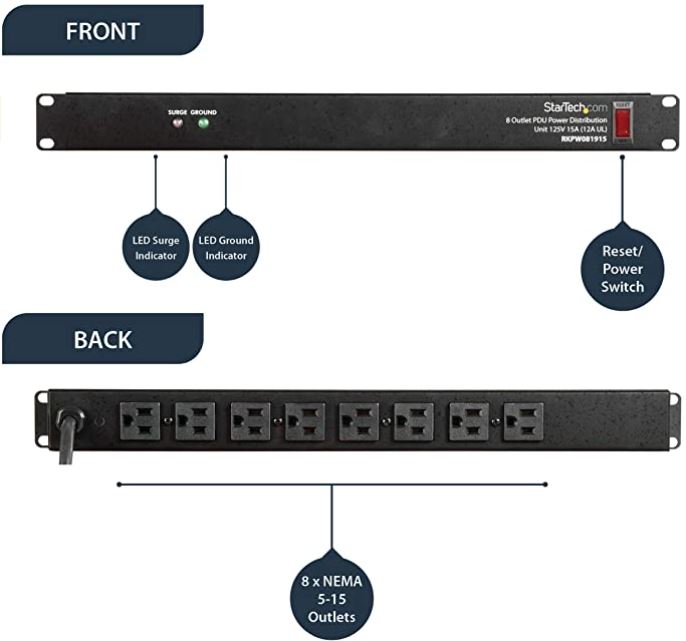 The design is fairly rugged, with black steel construction that can take a beating if need be. If you're looking for a power strip that matches the rest of your black equipment, this is a great match. The front panel is relatively plain. On the left, there are a pair of indicator lights for surge and ground protection. On the right, there's a simple power switch that also works as a circuit breaker switch. The eight outlets themselves are on the back. This location makes cable management easy, since you won't have to route any cables around the front of your rack. Similarly, a six-foot power cable makes placement simple. You don't have to be right on top of a power outlet to power your rack.
If you want more power outlets, StarTech does make a 16-outlet version of their rack mount power strip. This variant sports ten outlets on the back and six on the front, so you have more options. Of course, it also comes at a commensurately higher price. Regardless of which version of the power strip you buy, you're protected by StarTech's 2-year manufacturer's warranty. If you experience any type of failure, simply contact customer support for a refund or replacement.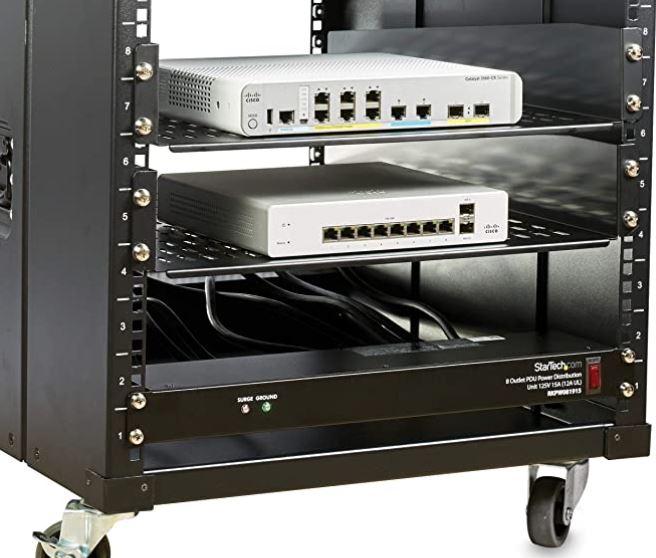 Surge Protection and Other Extras
All eight outlets on the StarTech surge protector are protected by a built-in circuit breaker. In the event of a power surge or other abnormality, the breaker will automatically trip. This will ensure that your equipment remains protected from excess voltage. The downside is that your equipment will temporarily shut down. But considering the alternative, a few minutes of inactivity is the least of your worries. When power has returned to normal, just flip the reset switch to turn your equipment back on. This type of circuit breaker is a simple design that's been around for decades. It's not complex, but it works, and it's going to be around for decades to come.

CyberPower CPS1215RMS Surge Protector
To technology enthusiasts, CyberPower needs no introduction. They're well known throughout the industry for their surge protectors, power supplies, and other accessories. So, does the CyberPower CPS1215RMS Surge Protector live up to their reputation?
This is a straightforward, no-nonsense 12-outlet surge protector. Six outlets are located on the front panel and six are located on the rear. This makes cable management fairly simple, since you can plug in wherever you like. We should mention that there are a few variants of this surge protector. We reviewed the 15-amp version with surge protection. Different variants come with different features, including different plug configurations.

Like the StarTech power strip, the CyberPower strip will mount in any 19-inch rack. As long as your rack is at least 4.75 inches deep, you're good to go. Also like the StarTech power strip, there's no mounting hardware included in the package. You'll need to provide your own screws, cage nuts, and other mounting supplies. But you're only looking at a few dollars in cost. Essentially, you've got everything you need.
The power cord on the CPS1215RMS is an impressive 15 feet in length. This allows for easy placement, so you don't have to worry about putting your rack next to an outlet. It also has a flip-up cover over the power switch. This might seem like a minor feature, but it ensures you won't actually power off your server. The surge protector comes protected by CyberPower's 3-year warranty and lifetime customer support. This is one of the more robust warranties in the industry, and provides a lot of added value.
Surge Protection and Other Extras
All versions of the CyberPower CPS1215RMS Surge Protector come with a built-in circuit breaker. However, despite its name, surge protection is actually optional. There are two different variants: one with surge protection, and one without. To make things even more confusing, there are also 15 and 20-amp versions available. This makes for a total of four possible configurations. Just make sure you know which one you're buying before you click the "buy" button.
The main benefit of the CyberPower surge protector is the quality of construction. The outlets, housing, and even the cord retention tray are all built to an industrial standard. This is a heavy-duty surge protector that's built to last for years.

Tripp Lite RS1215-RA Rackmount Network-Grade PDU Power Strip
The Tripp Lite RS1215-RA Rackmount Network-Grade PDU Power Strip sports 12 three-prong outlets. Six of these are on the front, and six are on the back to simplify cable management. Moreover, all 12 outlets are angled vertically rather than horizontally. This makes it easy to plug in devices with bulky square AC adapters. Like the other power strips we looked at, the RS1215-RA is compatible with any 19-inch server rack. Also like the other power strips, you'll need to provide your own mounting hardware.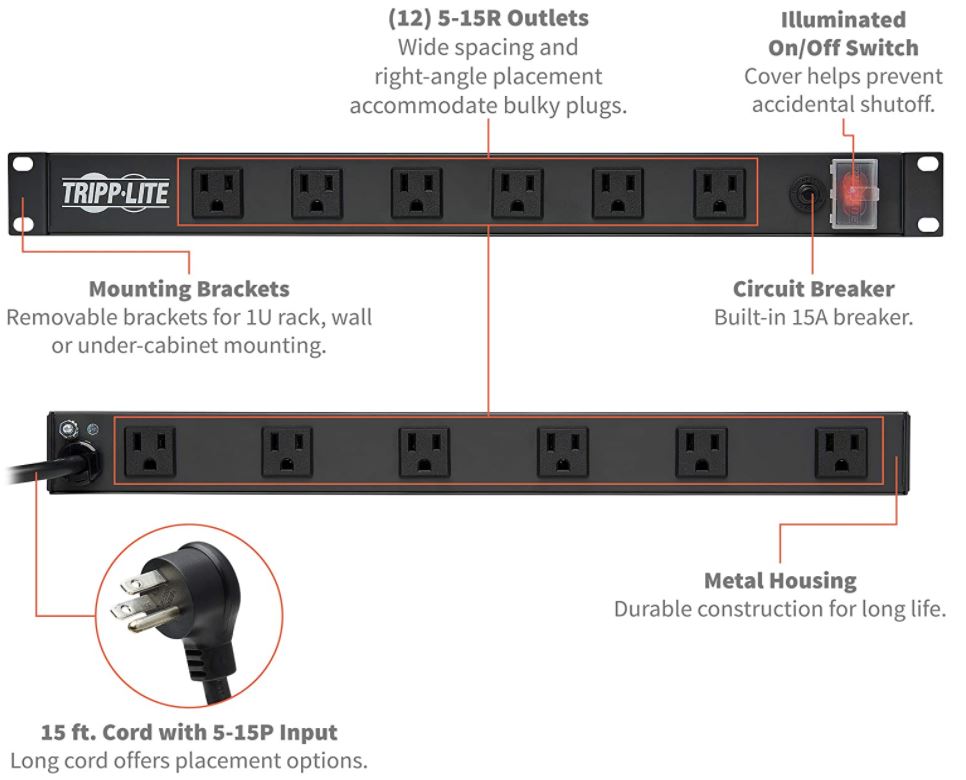 The RS1215-RA has a long, 15-foot power cord. As a result, you don't have to worry about where in the room your server rack is located. This makes installation simple, and "simple" is one of our favorite words. Tripp Lite puts a neat bow on this package with a lifetime warranty. This is truly outstanding, since you never have to worry about failure. If anything goes wrong with the power strip, ever, you'll be covered.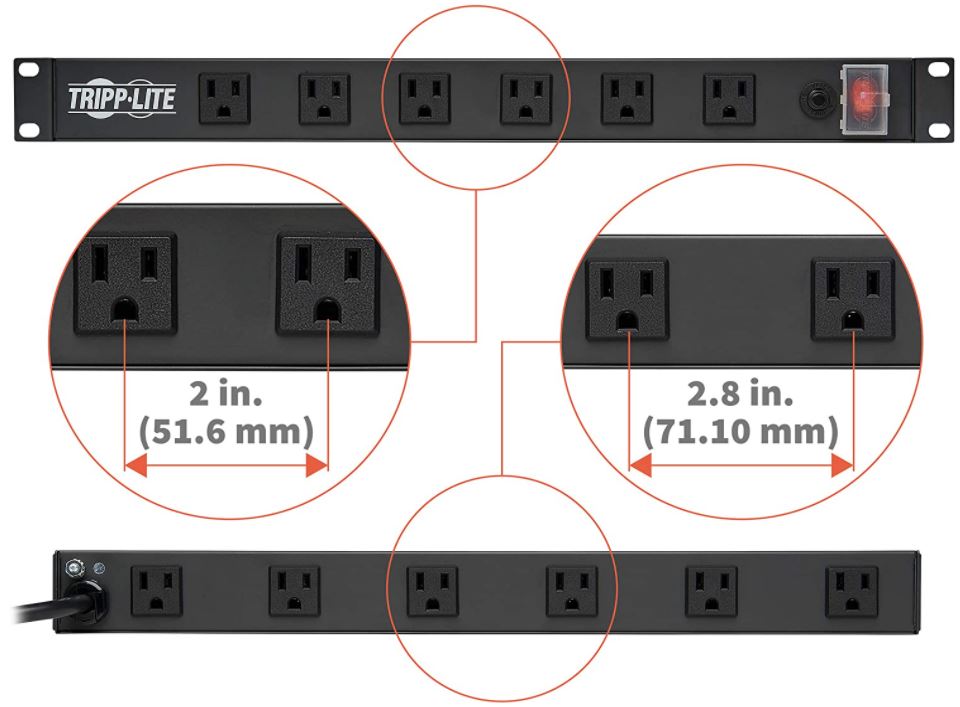 Surge Protection and Other Extras
The Tripp Lite RS1215-RA Rackmount Network-Grade PDU Power Strip does not have any surge protection. It's designed to be used on closed power systems that are supplied by a generator. It's also an excellent choice for distributing alternate waveform UPS. However, if you're just looking for vanilla surge protection for a vanilla server, you're out of luck.
In terms of power delivery, the RS1215-RA is available in 15 and 20-amp variants. There are also options with surge protection, and even builds that include a server rack shelf. We reviewed the basic 15-amp power strip. But with this many options, the RS1215-RA could be used in just about any server rack builds.
Final Verdict
So, which one of these rackmount surge protectors is the best of the bunch? As is often the case with technology, it depends on what you need. But all three of them are perfectly viable options. To start with, we looked at the StarTech 8 Outlet Horizontal 1U Rack Mount PDU Power Strip. This is a relatively simple power strip, with only 8 outlets. That said, it does everything you need, and it's easy to install. Considering that this is a straightforward piece of equipment, simple design is not a bad thing.
The CyberPower CPS1215RMS Surge Protector offers a few additional options. It's available in both 15 and 20-amp versions, with or without surge protection. It also has outlets both on the front and on the back. Whether or not this is a good thing will depend on your build. The most important feature, though, is the 15-foot power cord. This makes placement quick and painless.
We ended up by looking at the Tripp Lite RS1215-RA Rackmount Network-Grade PDU Power Strip. The variant we reviewed boasts 90-degree outlets, so you can plug in even large power supplies. It also has a 15-foot cord, so placement is a non-issue. Tripp Lite even ups the ante with a lifetime warranty, so you're looking at an excellent value.