EcoFlow RIVER Mini
Pros
Compact, lightweight design.
Can charge up to eight devices at once.
Wireless and PD charging optional.
Optional solar panel provides even more portability.
Cons
Relatively low capacity.
Solar panel costs more than the power bank.
Glossy finish attracts fingerprints.
These days, we rely a lot on our electronic devices. Let's say you want to go camping for the weekend. In the past, it would have been normal to leave your phone in your glove box. At most, you might leave it turned off, and bring it with you in case of emergency. But nowadays, you might need to use your phone for many functions. You might have a GPS app that helps you find fishing spots and hiking trails. You might want to use your phone as a flashlight. And of course, you're probably using your phone to snap a bunch of pictures of your trip. And that's just one device. If you brought a tablet or a laptop, your problems will be further multiplied.
Thankfully, there are easy ways to resolve the issue. With a portable power station, you'll have a supply of power you can take with you on the road. These devices can also be helpful around the house. When your power goes out, you can still have an easy way to recharge your batteries. That said, not all portable power stations are comparable. Some are big and bulky, meant for use as an uninterruptable power supply. Others are more compact, designed to be as portable as possible. They may have more or less capacity, and they have different types of power ports. And of course, there are different ways of charging the power station itself. All of these things are important to consider when you're making your choice.
The EcoFlow RIVER Mini is an ultra-compact power station that's still capable of supplying AC power. It's easy to use, it has an easy-to-read display, and there's an optional solar panel. But we'll need to look much deeper than that before we can render a fair verdict. We'll have to look at the build quality and the design of the control panel. We'll need to discuss the various power ports, and how much current they can deliver. Additionally, we'll need to talk about the battery capacity, and what devices you can charge. We'll also have to examine the solar panel add-on. Let's get started, and see how this little power station stacks up to the competition!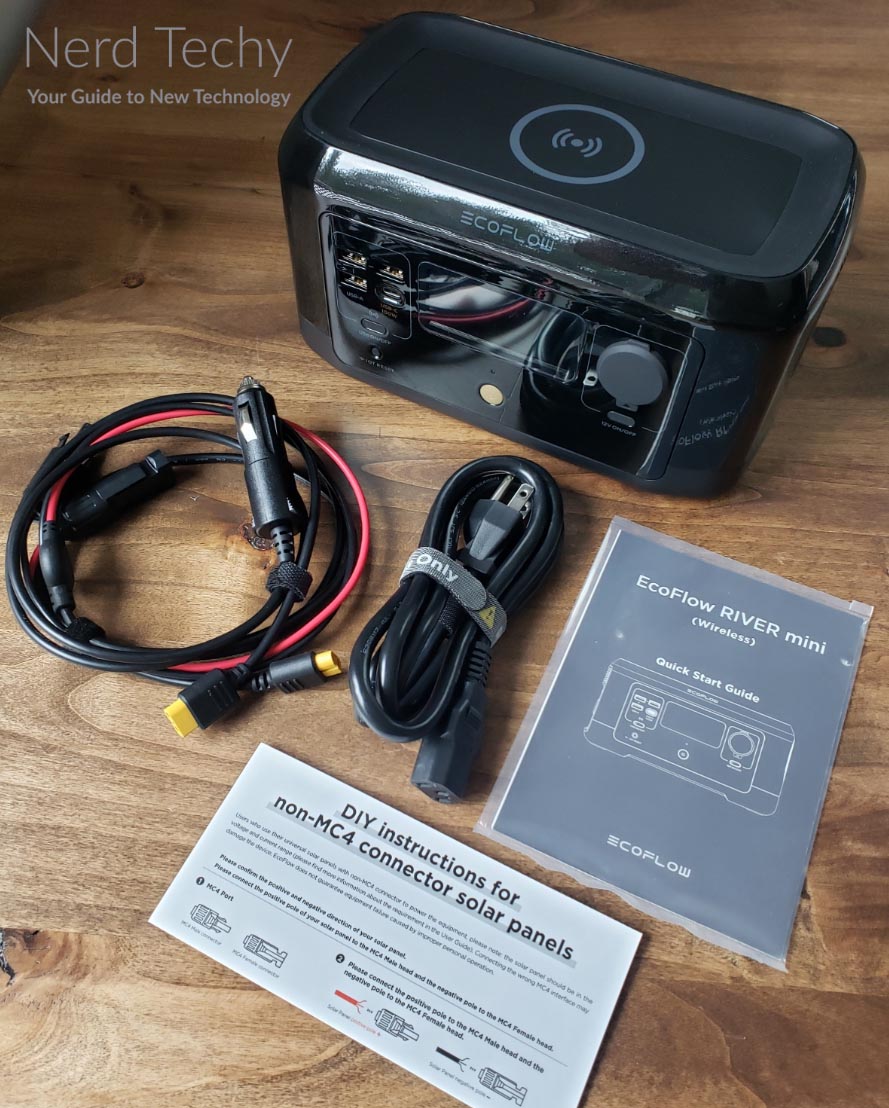 Overall Design
The EcoFlow RIVER Mini is an ultra-compact power bank that's designed to be as portable as possible. It has a black plastic housing, with a roughly rectangular shape and curved corners and edges. The total size is only 9.8 inches wide, 5.5 inches deep, and 5.2 inches tall. You can literally carry it in one hand, without the need for a carrying handle. It's correspondingly lightweight, with a total weight of only 6.3 pounds. There's a large, circular vent on the right, with a small, quiet fan that draws in air for cooling. On the left, a smaller rectangular vent allows for the air to flow back out.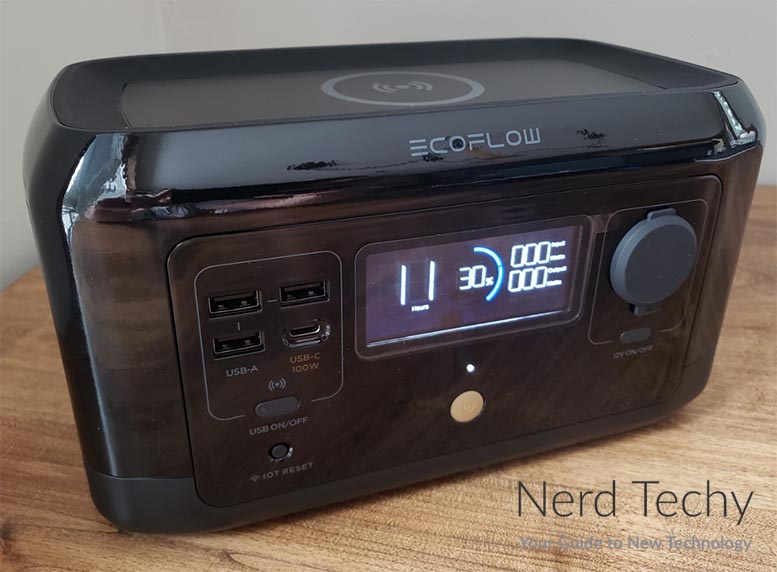 There are actually two variants of the RIVER Mini: the standard and the wireless version. The wireless version is glossy black and has a Qi wireless charging pad in the top. This is somewhat indented, so your phone won't accidentally get knocked off. The standard version has a smooth, bare top, with no wireless charger. Unfortunately, the wireless version's glossiness seems to attract fingerprints, scuffs and dust like nothing we've seen before. A matte finish would have been nice, but this is just something we thought we should point out.
Both versions have an LCD display in the front center, with a battery meter in the middle. There's a digital display of the percent of battery remaining, surrounded by a visual ring readout. On the left side, there's a display of the current wattage being drawn from the charger. To the right, there's a measure of incoming wattage from any charging source. There's also a readout of the estimated battery life remaining.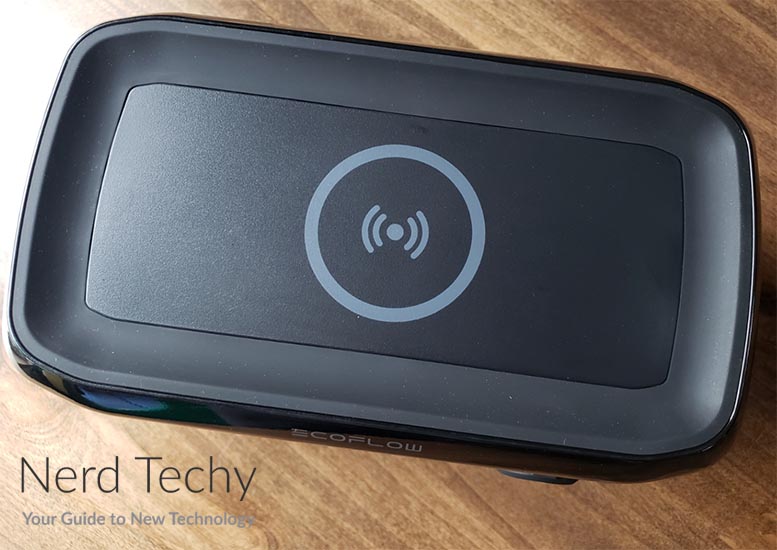 To the left of the LCD display, there's an array of USB ports. Both versions of the power station have a trio of USB Type-A ports. But the wireless edition also has a USB Type-C port, which the standard version lacks. Both have a DC automotive charging port to the right of the display. The DC port and the USB ports each have their own control button directly underneath. This allows you to turn off unused ports, and avoid losing juice to so-called "vampire power." Underneath the display, at the bottom center, there's a bright orange power button. This turns the entire power station on and off.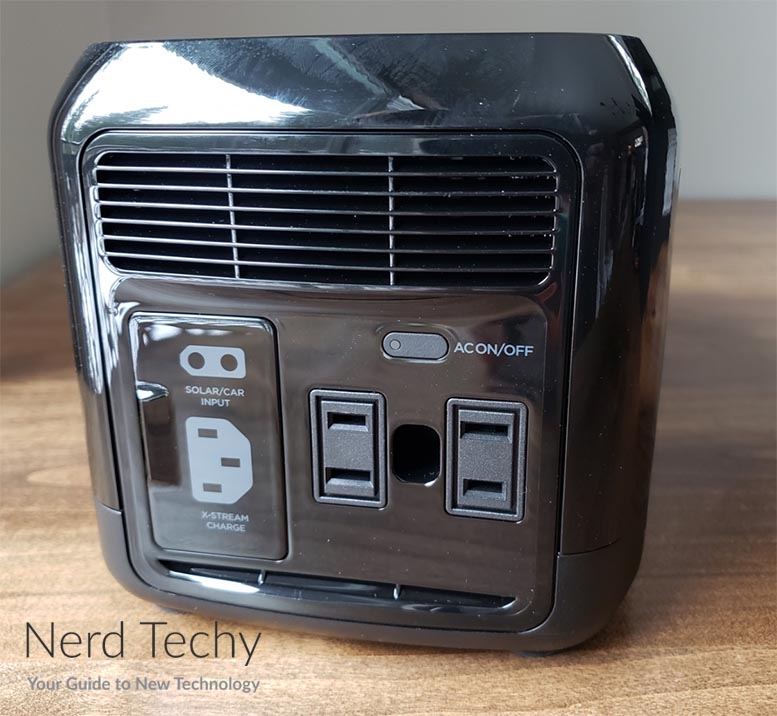 On the left side of the power bank, beneath the vent, there's a pair of AC power outlets. These also have their own separate control button, just like the USB and DC power ports. Behind the AC outlets, you'll find a removable black panel. This is where the charging ports are located, for powering the internal battery. The package includes all the cables you'll need to charge the power station. There's an AC cable, which plugs into the AC charging port. There's also a car charging cable and a solar charging cable, which connect to the DC power port. Make sure to send in the warranty card, so you'll be covered by the 2-year manufacturer's warranty.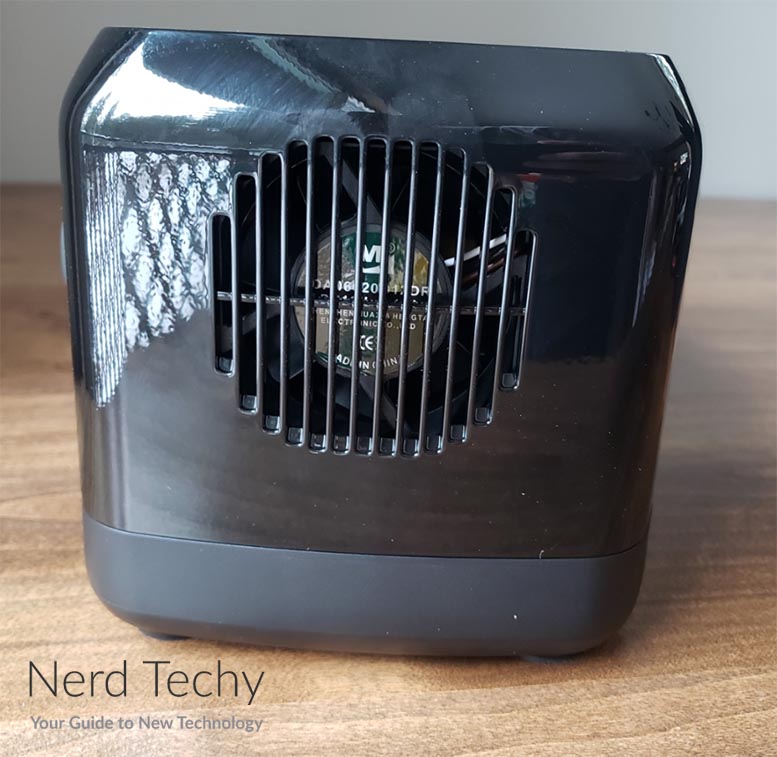 Battery Performance and Capacity
The EcoFlow RIVER Mini has a capacity of 210 Watt-hours (Wh), or approximately 58,400mAh. To put that in perspective, the iPhone 13 has a capacity of 3,227mAh. So you could get around 17 charges out of it. The MacBook Pro 16" has a capacity of 8,693mAh. So, the power bank would give you a little more than 6 ½ charges. That's more than enough to get most people through the weekend. Even if the whole family needs to share, you should all be able to keep your phones charged. Keep in mind, though, that this is a very small power bank. You're not getting the power you'd get from a bigger, beefier unit. For example, if you're using a low-powered 50-watt projector, you'll only get about four hours' use.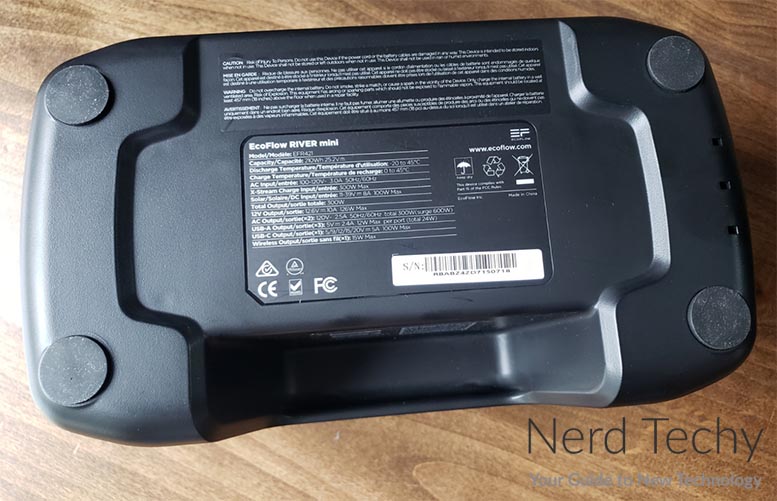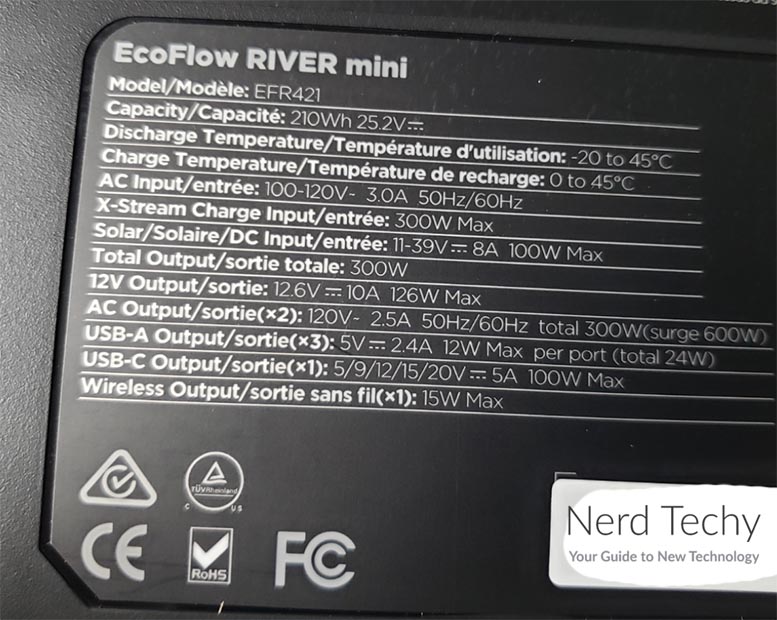 The total maximum wattage output is 300 watts. This means that at any one time, you can only be drawing 300 watts. This is not a concern for most devices you'd be using the RIVER Mini to charge. Smartphones rarely charge at more than 18 watts. A laptop might charge at 90 watts if it's very large and powerful. Drone chargers tend to draw around 100 watts. In addition, you can take advantage of up to 600 watts of surge voltage. Let's say you have a 250-watt cooler. When the cooler compressor kicks in, it might spike to 500 watts before quickly dropping back to 250. Because of the 600-watt surge capacity, you'd still be able to run that cooler.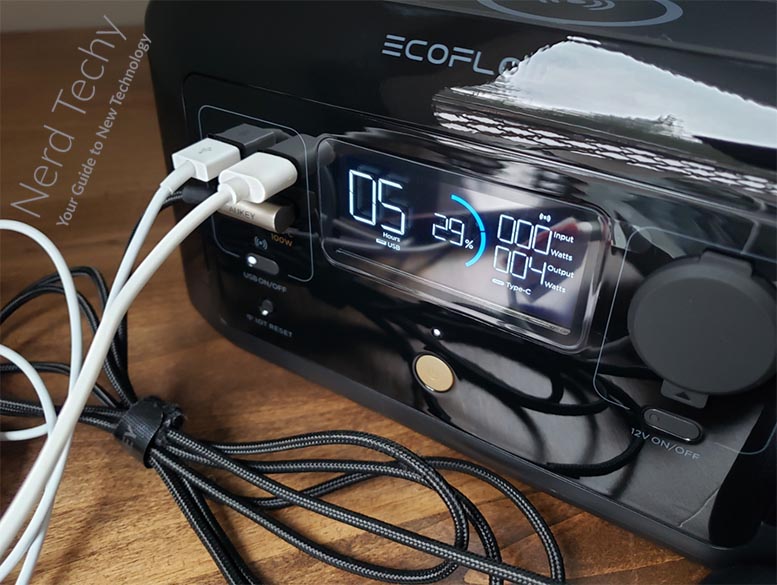 Exactly how long it takes to charge the power station's internal battery depends on your charging method. From a dead battery, you can charge up to 80% in just one hour by using AC power. After 90 minutes, the battery will be fully charged. As an alternative, you can use DC automotive power. This will take a little bit longer, depending on the rating of your car outlet's fuse. Using a solar panel, you can expect to charge in three to six hours, depending on conditions. To get the best possible results, EcoFlow recommends using their companion solar panel. We'll look at that panel more closely in a little bit.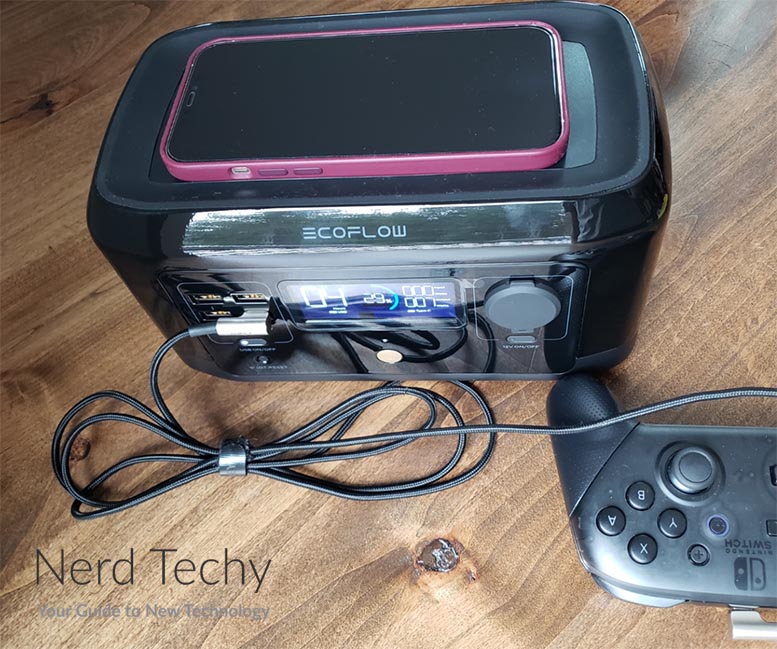 Charging and Safety
So, what is the EcoFlow RIVER Mini capable of? Let's go over each of the power outlets, and see what they provide. To begin with, we have the three USB Type-A ports. They output a standard 5 volts, 2.4 amps, for a total of 12 watts. This is sufficient for any smartphone, and almost any USB device. On the wireless version, the top wireless pad provides 15 watts of charging power. This is variable, depending on your phone's charging performance and case. Still, it's about what you expect from a modern wireless charge pad. The USB Type-C port provides PD power at 100 watts, the maximum for PD power. Even if you're trying to charge a large laptop while it's in use, the port will be up to the task.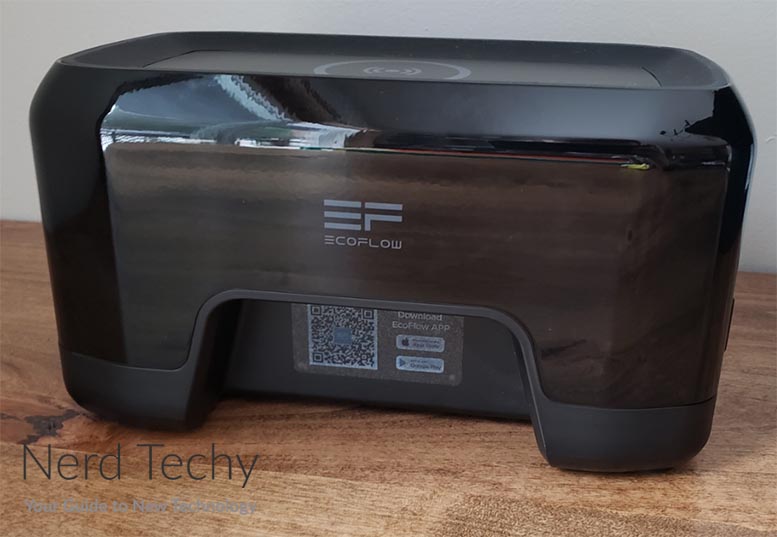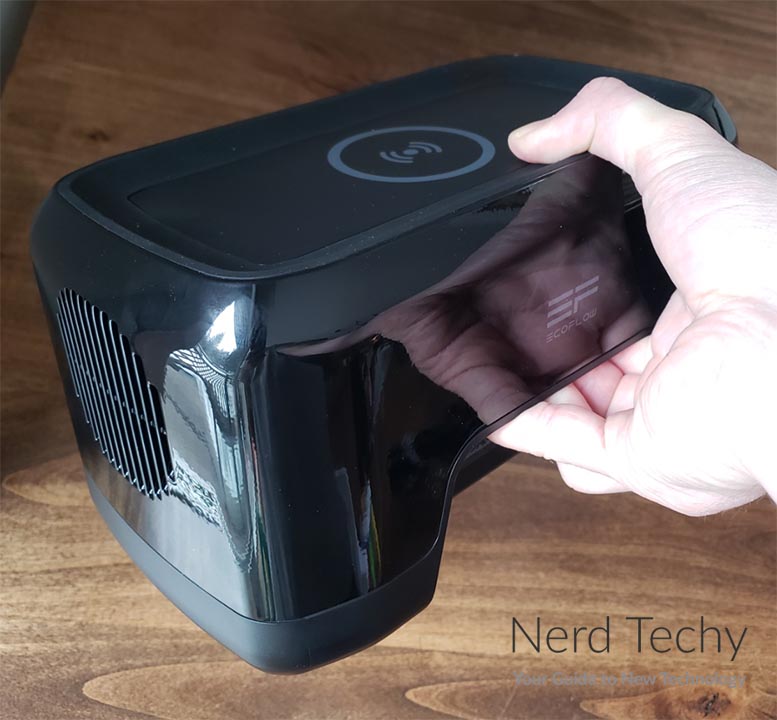 The two AC ports are capable of delivering up to 300 watts. To put this in perspective, a standard 15-amp home outlet delivers a little over 1,500 watts. You won't be able to run big, powerful equipment. Microwaves, space heaters, air conditioners, and other high-wattage equipment won't get enough power. But you'll have enough juice to run a small projector or a low-powered cooler. Keep in mind, though, that 300 watts is the maximum power delivery for the entire power station. If you're drawing 300 watts from an AC port, you won't be able to power anything else in the mean time. And at 300 watts, you'd drain the battery in well under an hour.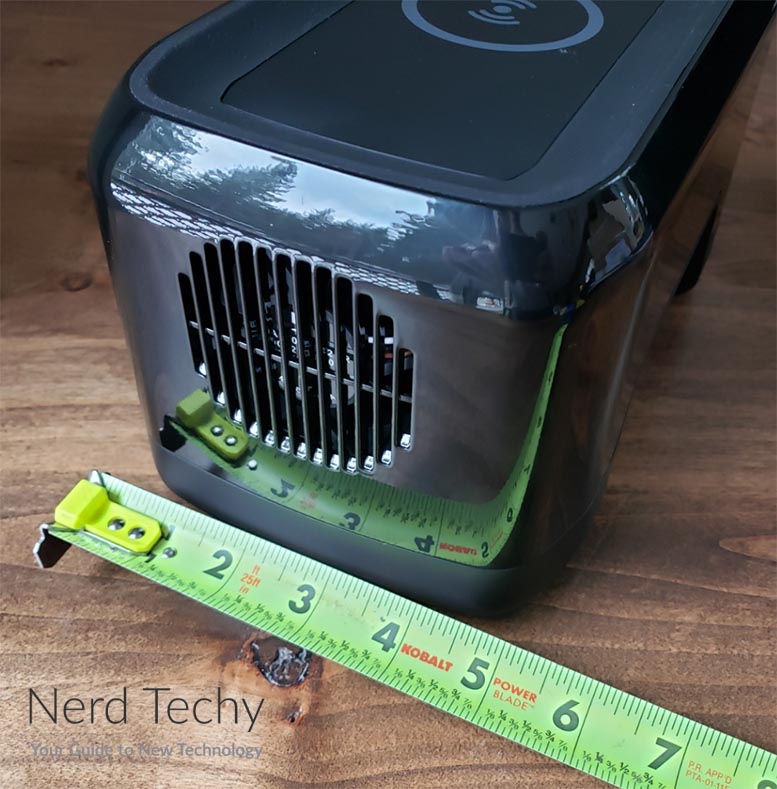 One thing we appreciated about the RIVER Mini is the fact that it provides pure sine wave power. When power comes out of a DC power supply like a battery and through a converter, the wave form is odd. Instead of being smooth, it's jagged, which can cause sensitive devices to behave oddly. With pure sine wave power, the wave form is smoothed out, so it's the same as you get from a wall outlet. As a result, this power station is suitable for sensitive devices. It's not suitable for CPAP units, though. While the power itself is perfectly safe, there's not enough juice for most units to last through the night.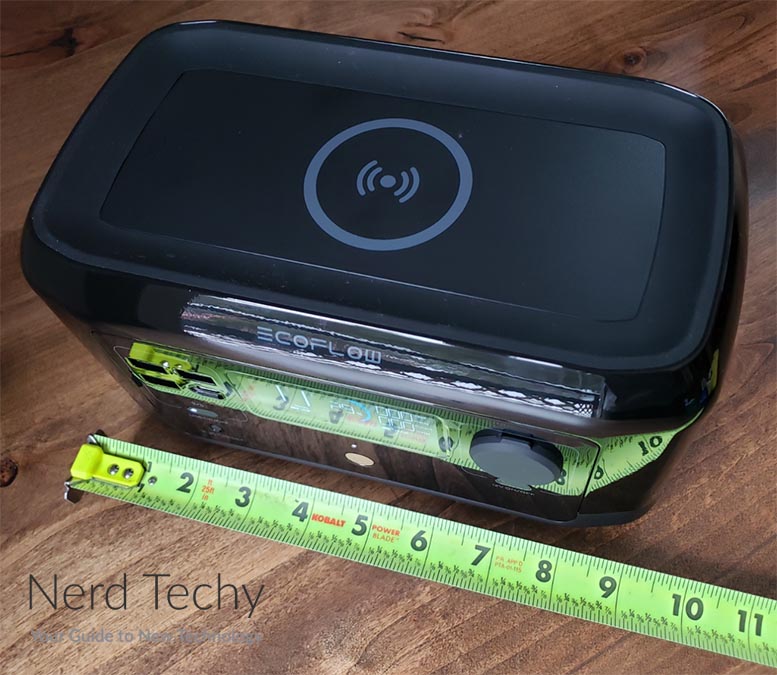 In addition to providing pure sine wave power, the RIVER Mini has an integrated battery management system (BMS). The BMS provides protection from overvoltage and overcurrent, to protect the battery. It also ensures that excessive voltage does not get delivered to your devices. And with the built-in temperature protection, the power will shut off altogether if it gets too hot.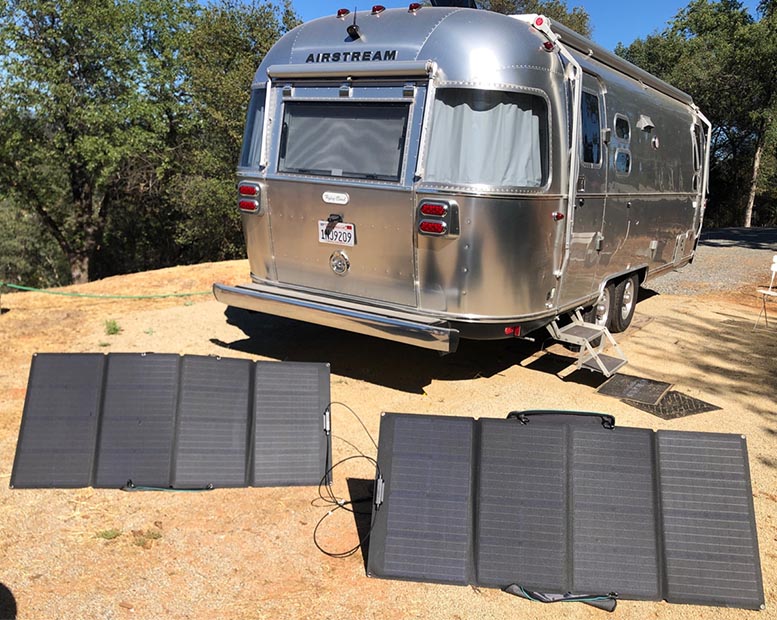 EcoFlow 160W Solar Panel
As we already mentioned, EcoFlow manufactures their own solar panel to go with the RIVER Mini. The EcoFlow 160W Solar Panel is a compact, lightweight panel that's designed to be easily portable. When fully collapsed, it measures 26.8 inches wide, 16.5 inches high, and one inch thick. It's constructed from a rugged synthetic backing material, with a soft nylon carrying handle. When unfolded, the panel is four times as long, and the outer case is removed. Instead, the case serves as a kickstand, so you can prop the solar panel up at many angles.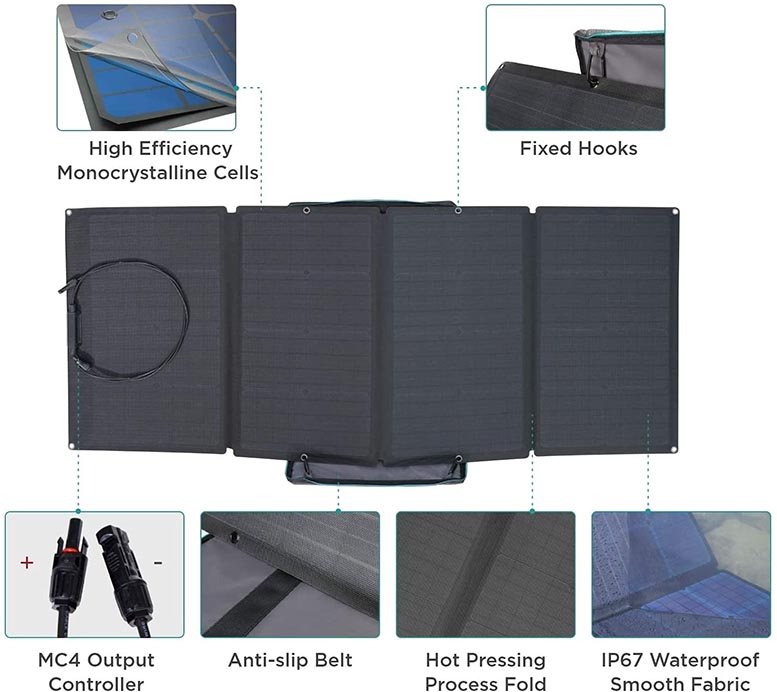 The EcoFlow solar panel has a weather-resistance rating of IP67. This is one of the highest weather-resistance ratings available. Not only is this panel impervious to dust, but it can be fully submerged in water without getting damaged. The solar cells themselves are very well-protected with an ETFE coating that blocks infrared light. This extends the panel's lifespan, without degrading the performance.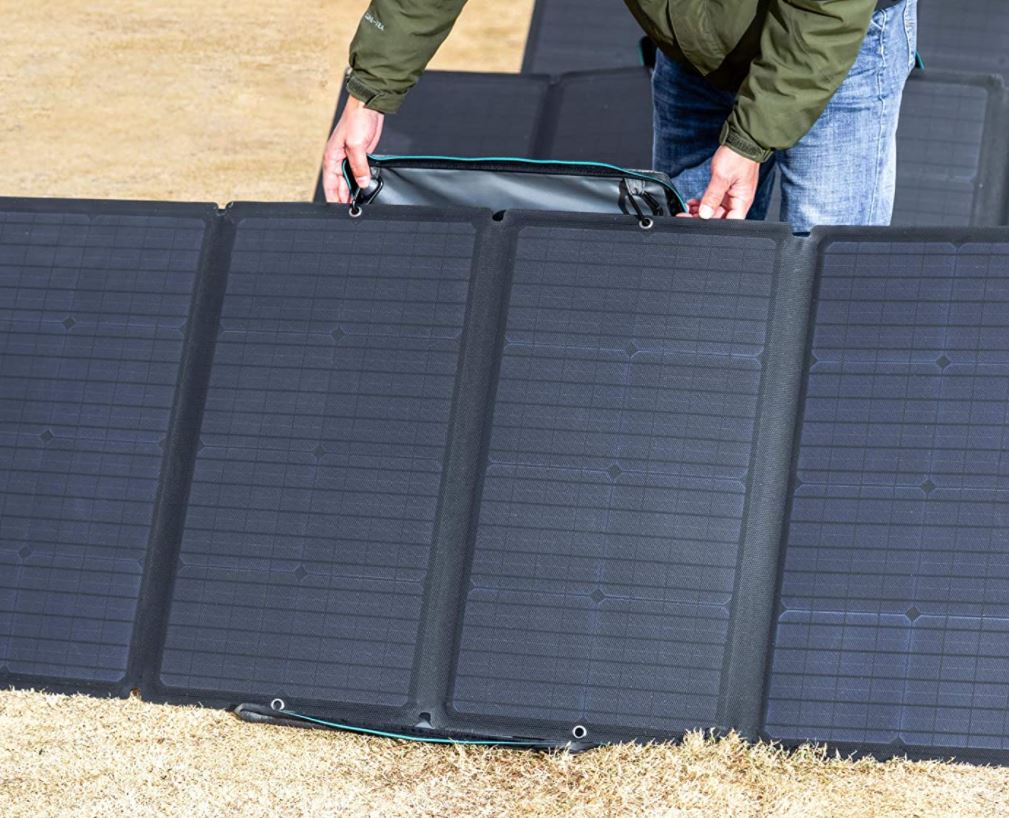 This panel is designed for on-the-go use under any weather conditions. It has a conversion efficiency of 21 to 22 percent, which puts it among the most efficient on the market. It's theoretically capable of providing up to 160 watts, and it's designed specifically for EcoFlow's power banks. Moreover, it utilizes a smart algorithm to alter the performance characteristics under different weather. When it's cold and cloudy, you'll get better performance than you would with many solar panels. The only downside is that it's expensive. The solar panel actually costs more than the RIVER Mini.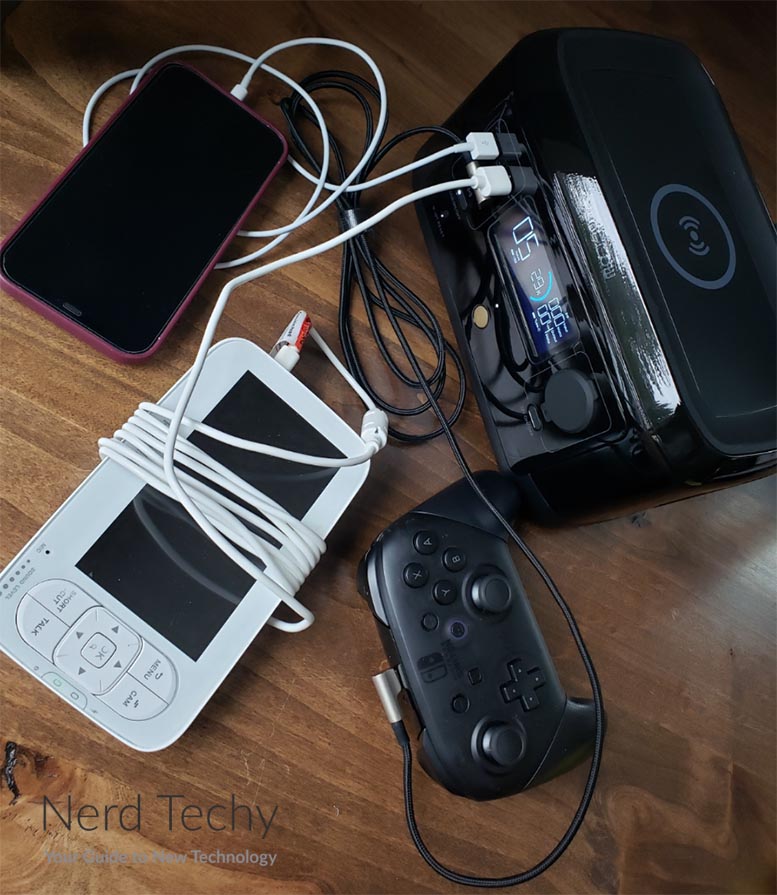 Final Verdict
The EcoFlow RIVER Mini is an exceptionally portable power station that can be carried in one hand. You can charge up to six devices simultaneously – eight if you bought the wireless variant. With 100 watts of PD power, you can charge any USB Type-C-powered device. The visual display is easy to understand, and the design itself is reasonably rugged. Charging is also easy, with multiple power input options. And with the optional solar panel, you'll have a virtually endless supply of energy.