TOUGHBOOK G2
Pros
Extremely tough and difficult to damage.
Excellent battery life.
Customizable design with multiple optional attachments.
Bloatware-free operating system.
High-quality front and rear cameras.
Cons
Small display.
Touchpad doesn't always track swipes properly.
Expensive.
For most people, durability is a secondary concern when you're buying a laptop. You don't want one that's gong to break just because you looked at it the wrong way. But as long as it's reasonably bump-proof, you're looking for other features. You're thinking about the graphics, or the speed of the processor. Or maybe you're looking for a laptop with the most brilliant display, for content creation. That said, there are times when you need a more durable machine. And because durability isn't important to the broader market, you're going to have fewer choices. As a result, it can be tough to find a good "military-grade" laptop.
Technology has made life much easier for first responders and other emergency services. With improved front line communication and better information, you can work more safely and effectively. But if you're a firefighter, police officer, or other first responder, you're not always working under ideal conditions. An ordinary tablet or laptop simply won't be tough enough to stand up to the demands of your profession. You need one that can withstand heat and rain, as well as a drop or two. Rugged tablets and laptops are also essential if you're on a construction jobsite, and in many industrial settings.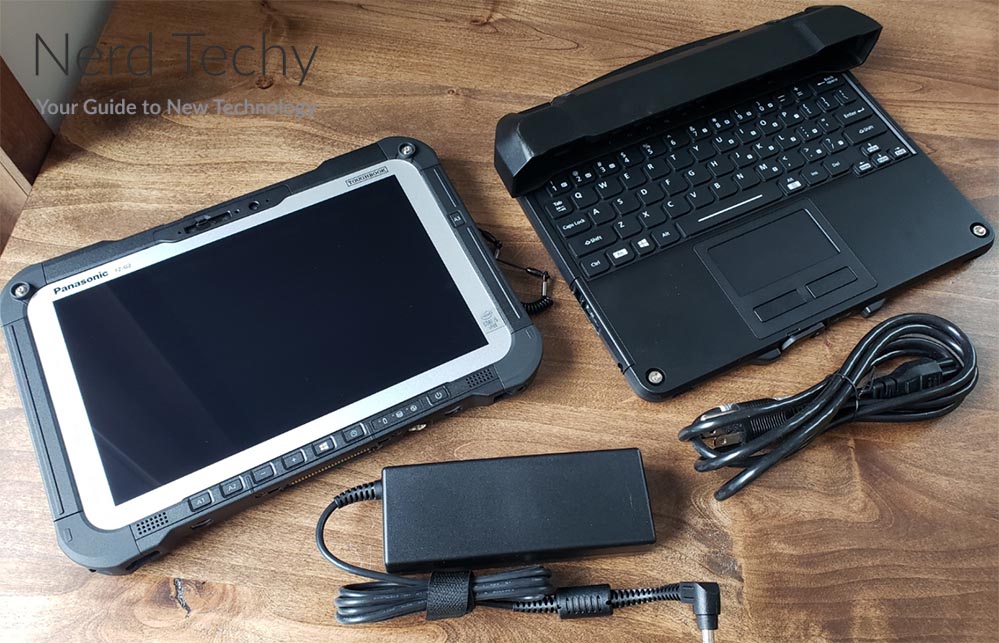 We're about to review the Panasonic TOUGHBOOK G2. This is an absolute beast of a tablet with an optional keyboard attachment. With the attachment, it functions like a laptop, so you have plenty of flexibility. It also includes several optional attachments, from additional USB ports to an infrared camera. But there are many other important features we need to look at. For one thing, as with any laptop or tablet, we'll need to look at the system performance. We'll have to talk about the display, and your connectivity options. The battery life is also a concern, as is the charging performance. After we've considered all of these factors and more, we'll be able to render a fair verdict. Let's begin!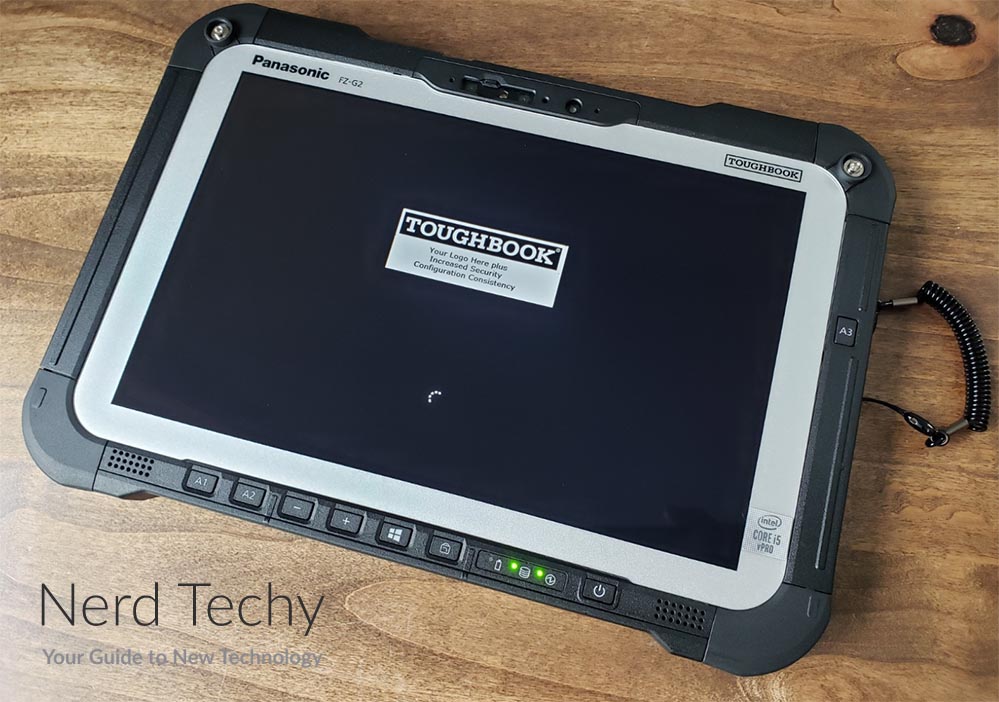 Design & Construction
The Panasonic TOUGHBOOK G2 is an exceptionally rugged tablet. The housing is constructed from a magnesium alloy, which is tougher than aluminum or steel. It's trimmed out with ABS plastic, with beefy elastomer bumpers on the corners. As a result, it can withstand drops from shoulder height without experiencing any damage. The keyboard attachment is equally durable, which makes for a tough overall package. You can drop it on concrete, bang it into a wall, or take it out in the rain without any concerns. If your job requires an almost-bulletproof device, you're looking at it.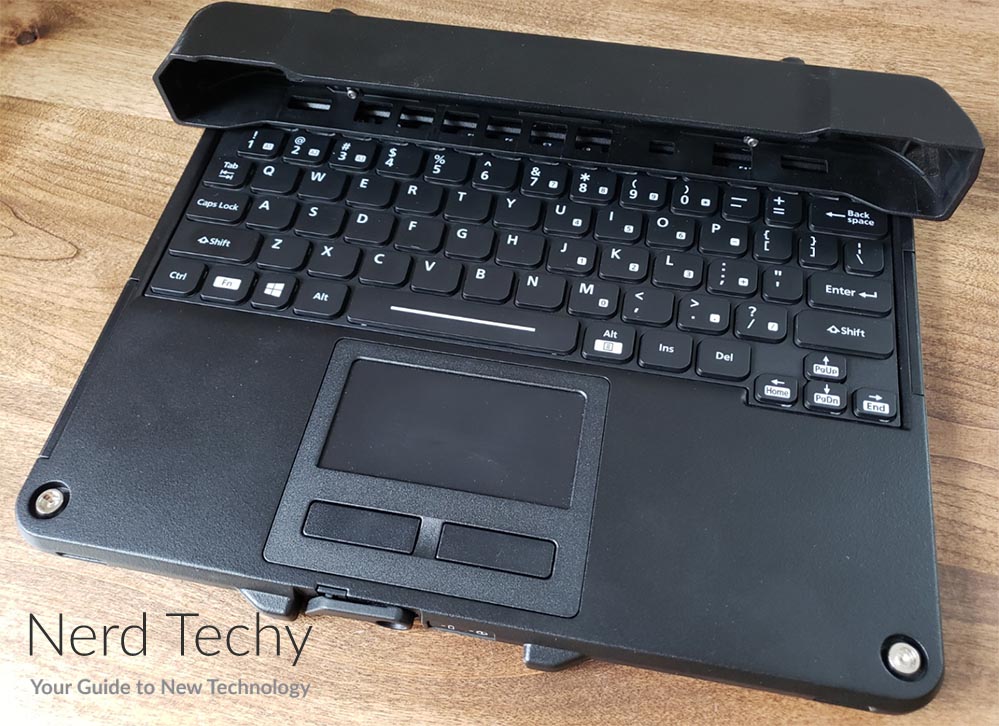 The bare tablet measures 11 inches wide, 7.4 inches tall, and 1.1 inches thick. This is fairly fat for the size, and the tablet alone measures 2.9 pounds. That's heavier than other tablets in this size range, but what did you expect? An unusually rugged machine is bound to be unusually beefy. With the keyboard attached, the collapsed size is 11.3 inches wide, 9.3 inches high, and 2.1 inches thick. The weight is also increased to 4.9 pounds, which is significantly heavier than most modern laptops. By comparison, the MacBook Pro 16" weighs only 4.3 pounds, and it's a fairly large laptop. To put that in perspective, the TOUGHBOOK G2 has a very small display, at 10.1 inches.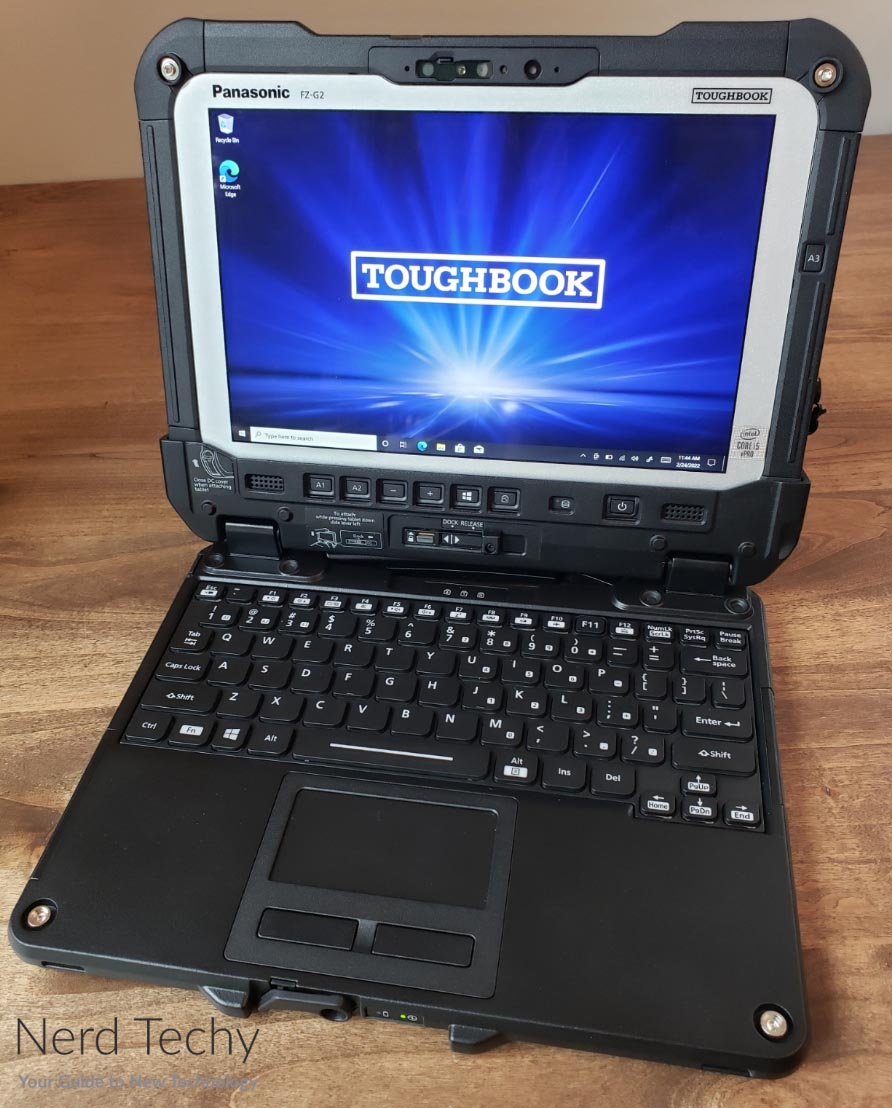 The display itself is a touchscreen, as you'd expect from a tablet. To help you out, there's even a little stylus with a snap-in holster on the back right. In addition to that, there's a set of buttons to perform the most common functions. There's a power button, a Windows button, and a pair of volume buttons. There's a button to rotate the screen between portrait and tablet mode. In addition, there are two more buttons labeled "A1" and "A2." These are programmable buttons that can be used to perform a variety of functions. For example, you could set one to take a picture, and set another to open your most commonly-used app.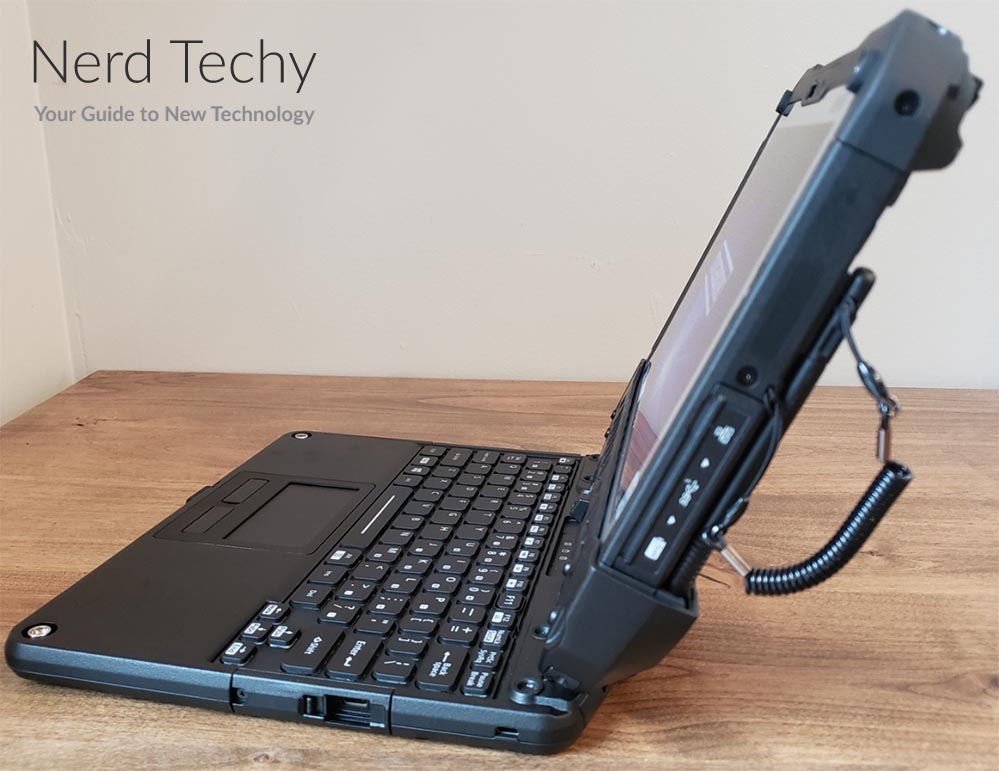 On the right side of the tablet housing, there's a latched door, which opens to reveal your USB ports. There's a single USB Type-A port, as well as a USB Type-C port and an Ethernet port. On the lower left of the housing, there's another door that allows you to access the power adapter input. You can get even more ports by connecting the keyboard, which has additional Type-A and Type-C ports. It also has its own power input. One thing we appreciated about the keyboard design is the pull-out handle. This makes it easy to carry, so you don't have to tuck it under your arm. It's also designed to act as a kickstand. That way, you don't have to worry about the top-heavy tablet tipping over.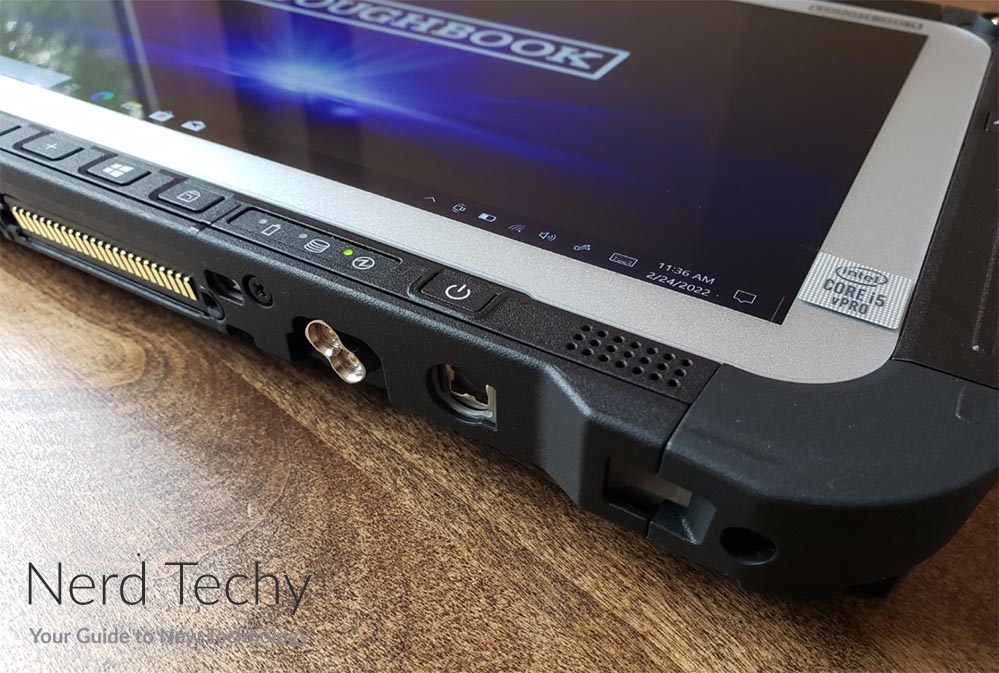 One thing the tablet doesn't have, with or without the keyboard, is an HDMI port. This was a minor disappointment, but in reality, this system isn't designed for use with an external monitor. If you're trying to do office presentations, you'd be better off with just about any other computer. What the keyboard does offer you is a highly secure undocking latch. This makes it virtually impossible for the tablet to accidentally come undocked.
In addition to all that, the TOUGHBOOK G2 has a weather-resistance rating of IP65. This means it can withstand even the finest dust particles without them getting inside of the housing. It can also withstand a jet of water – you could literally hose it off. It's not submersion-proof, though.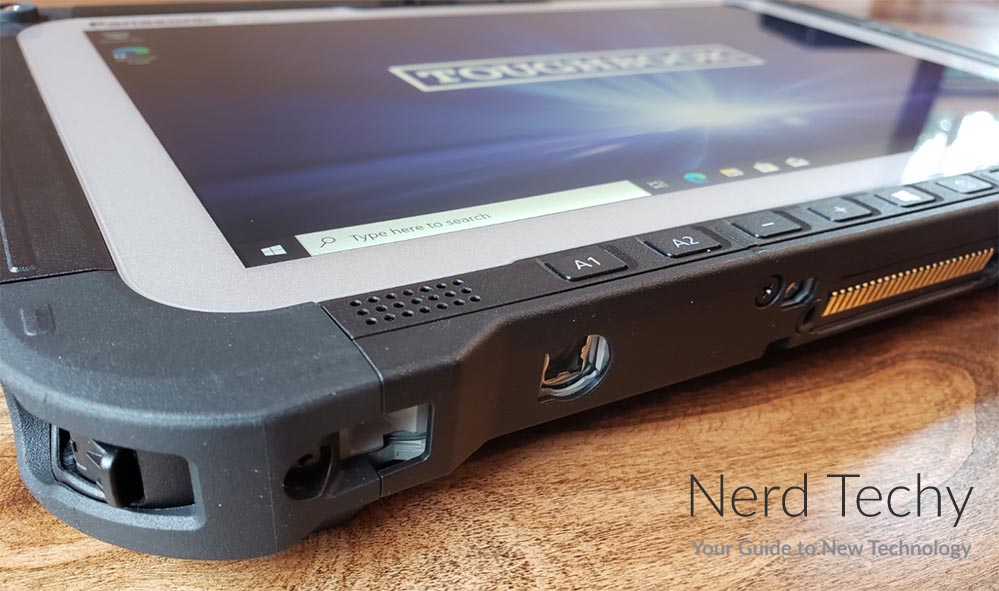 Graphics & Performance
As you might have guessed from its name, the TOUGHBOOK G2 is not Panasonic's first rugged tablet. That honor goes to the 2013 Toughpad G1. The 3rd generation Intel Core i5 processor has been upgraded to a 10th generation, a significant improvement. In addition, the original Toughpad only had 2GB of RAM, while the TOUGHBOOK G2 comes standard with 16GB. And those are just the specs for the base model.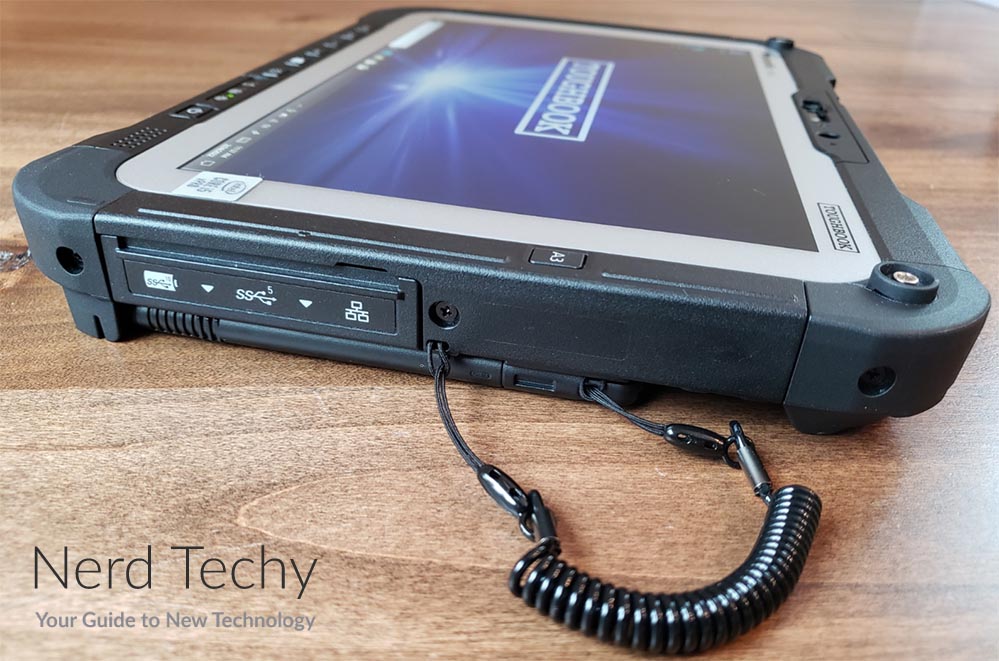 The G2 has a number of customization options, beginning with the specs themselves. The base processor is an Intel Core i5-10310U. This is a quad-core, 8-thread processor with a 1.7GHz base frequency and a 4.4GHz maximum frequency. But you can upgrade to an Intel Core i7-10810U. This is a six-core CPU, with 12 threads, a 1.1GHz base frequency, and a blazing fast 4.9GHz maximum frequency. You can also upgrade the RAM from 16 to 32GB. This can be helpful if you're running a lot of apps at once. And if you need more storage space, you can upgrade the base model's 512GB SSD to a 1TB drive.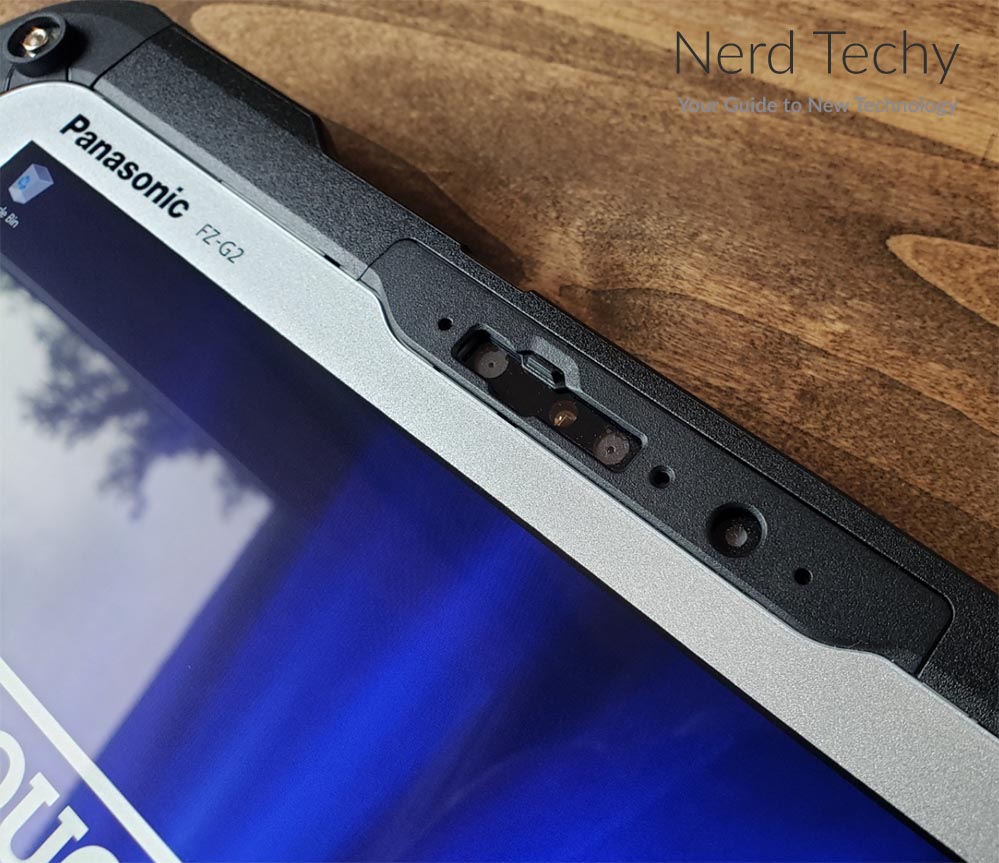 One downside of the G2 is that there's no graphics card. In fact, it uses some of Intel's older integrated graphics, so your graphical performance is limited. You won't be able to run any modern games, unless Minesweeper counts. Then again, this machine was never meant for gaming or content creation. It's meant for imaging and communications in demanding environments. So graphics aren't as much of a concern as they are for other types of laptop.

On the plus side, the touchscreen display looks very nice. At the highest setting, it's bright enough to be clearly visible in full sunlight, so it's great for outdoor use. In addition, the display is high-contrast, with rich, vibrant colors. Whatever apps you're using, you'll have a clear view of what's going on. And if you're snapping photos in the field, you'll get a bright, reliable preview. In addition, the resolution of 1,920 x 1,200 pixels provides you with plenty of detail.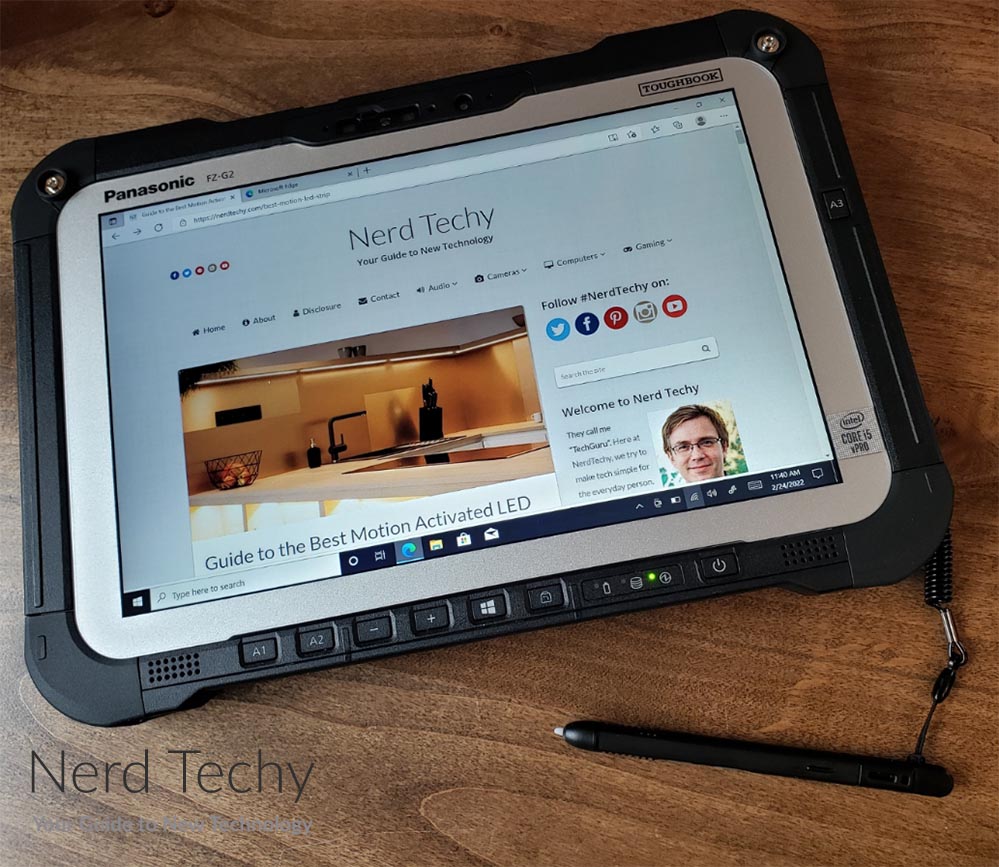 Then again, the screen size of 10.1 inches is very small. In and of itself, this isn't a terrible thing. But if you're using Windows' default display settings, text and icons can be tough to make out. You may find that you need to change the zoom settings in order to see clearly. On the other hand, this is easy to do, and it only takes a few seconds to make the switch.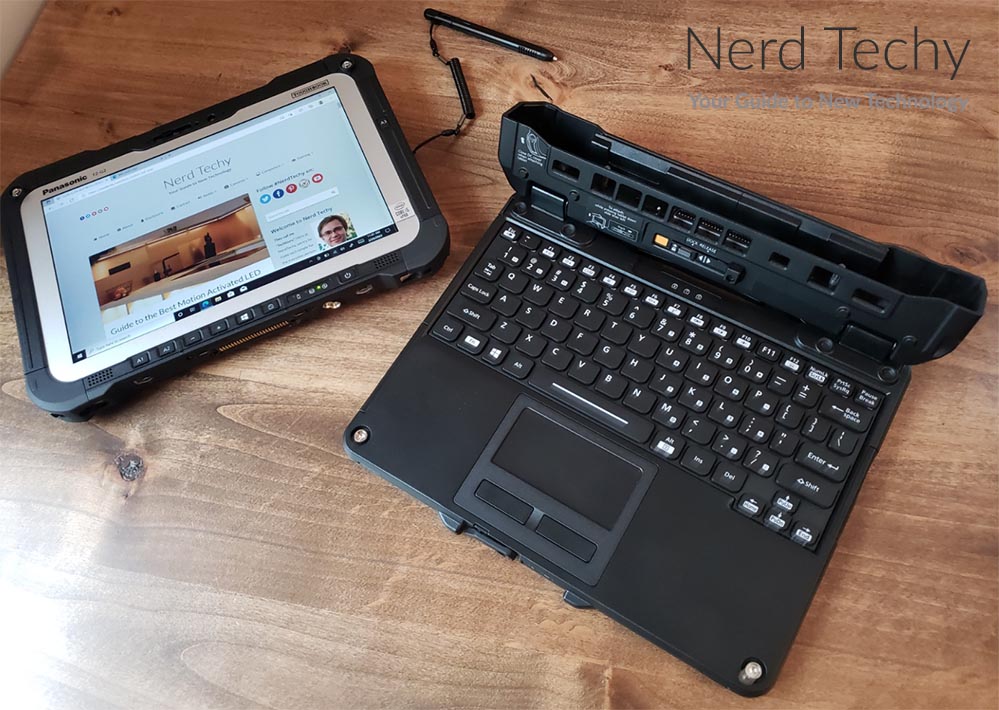 The touchscreen works very well, whether you're using your bare hand or you're wearing gloves. The little mouse pad on the keyboard, on the other hand, is a different matter. It works well enough if you're wearing gloves, although it's a tad on the small side. But if you're using your bare fingers, it doesn't always track swipes correctly. This can make it hard to drag objects across the screen using the keypad.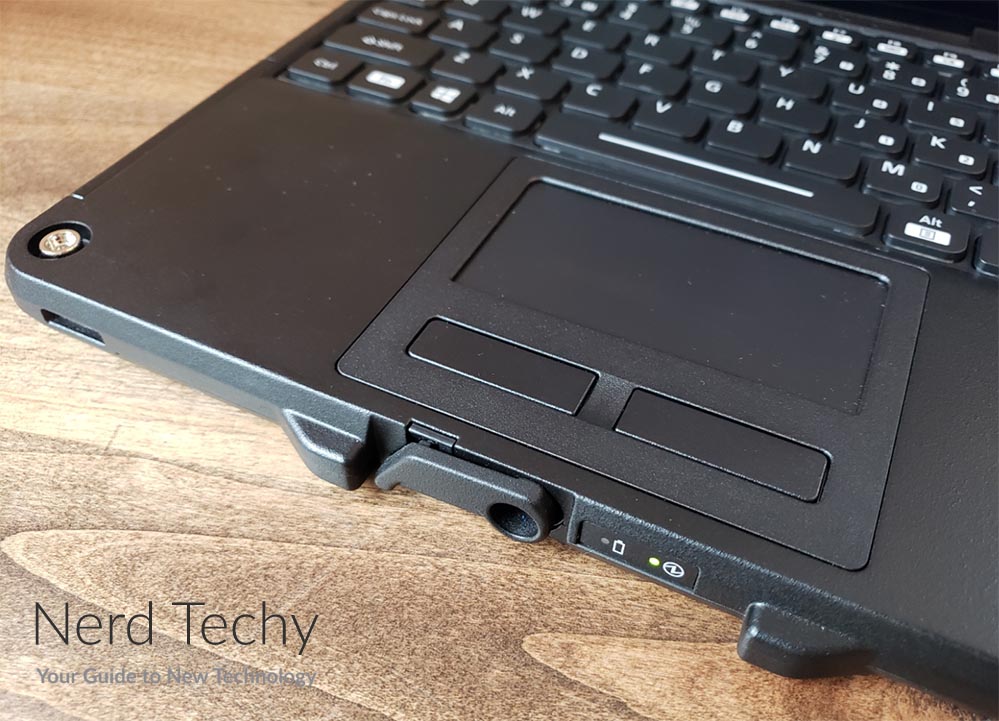 The rest of the keyboard is well-engineered and comfortable to use. As with a lot of laptop keyboards, some of the keys have secondary functions activated with an "Fn" key. The "Home," "End," "Page Up," and "Page Down" keys are handled in this way. That said, there's a proper row of F1-F12 keys, which you don't get with a lot of laptop keyboards. The keys themselves are a little bit stiff, but you get good tactile response. Furthermore, Panasonic makes good use of a limited space, with keys that are properly sized. You can even choose from two keyboard variants: a plain and a backlit version. The backlit version has four different lighting options, which can be used to modify the appearance.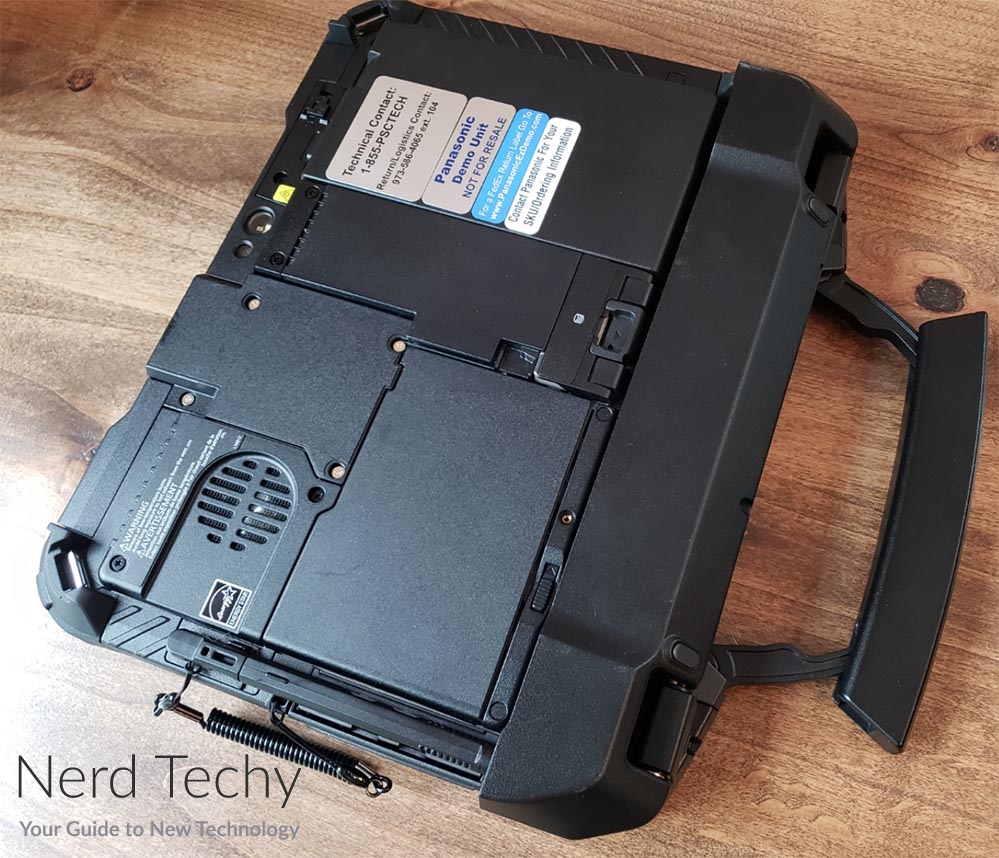 Battery life can be difficult to judge, because a lot depends on what you're doing. Under a light load, such as watching a video, you can get over 21 hours of performance. Under a moderate load, 18 to 20 hours is more realistic. If you're pushing the processor to the maximum, you can expect more like 16 to 18 hours. Keep in mind that LED backlighting will also decrease your battery life. Charging is easy via the AC adapter, and takes about 2 hours. If you're lucky enough to be using your machine in a stationary position, you can leave it plugged in.
Connectivity & Extras
The Panasonic TOUGHBOOK G2 comes standard with both WiFi 6 and Bluetooth connectivity. You can also add 4G capability, although you'll have to pay for your own data plan. The 4G is compatible with the FirstNet network, the gold standard for first responders. In addition, Panasonic just announced that the G2 now has an option for 5G with Sub-6 & mmWave (EM9190). You'll also have your choice of operating system. The default Windows 10 Pro install has zero bloatware and is easy to configure. But you can also choose a Windows 11 Pro install if you require the latest and greatest.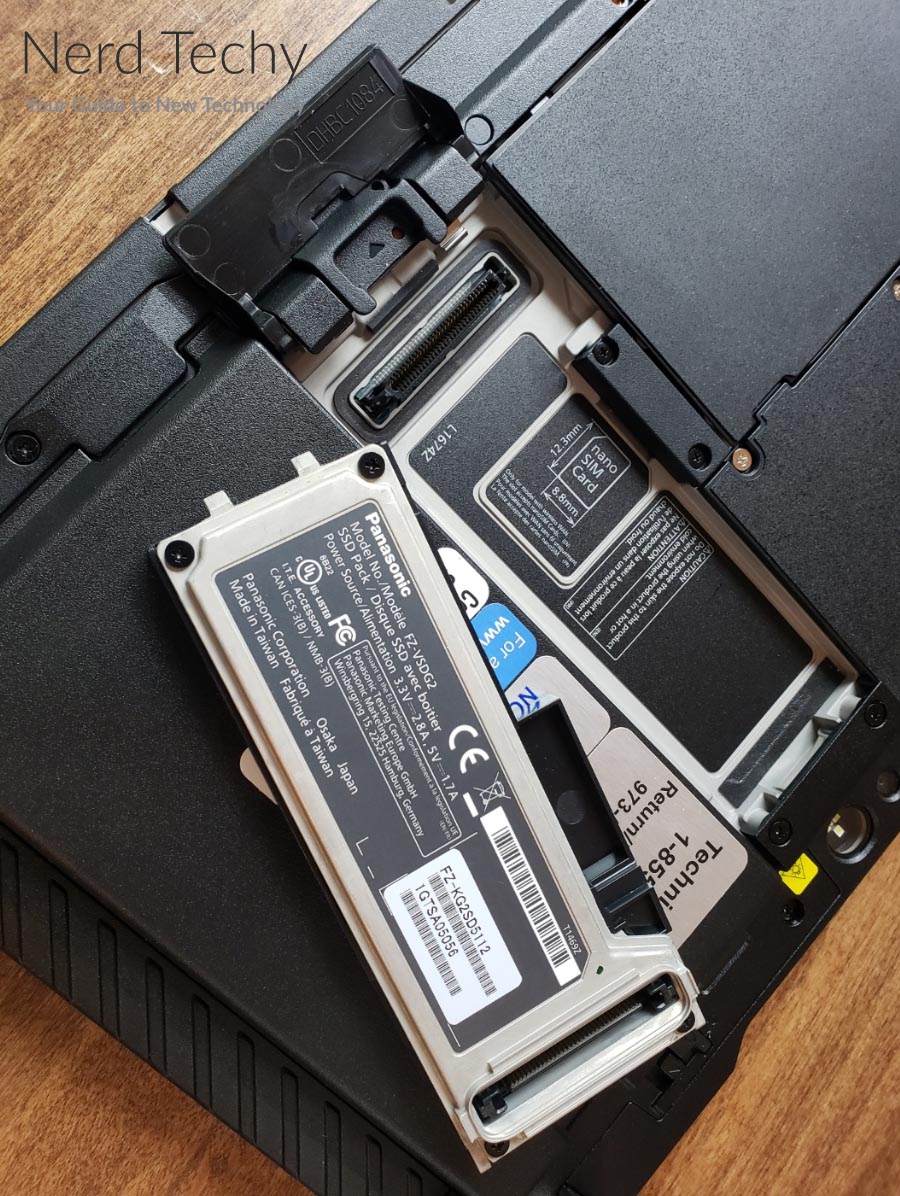 The top of the tablet sports a pair of cameras. The rear camera has a resolution of 8 megapixels, which is great for taking photos on the jobsite. The front camera has a resolution of 1080p, and is covered by a sliding privacy shutter. Photos and video from both cameras are clear and vivid, with bright colors that are true to life. Obviously, the 8-megapixel camera is sharper, but the front camera is only intended as a webcam. Audio quality is about what you'd expect from a practical tablet. The speaker provides plenty of volume, but the audio is tinny and lacks richness.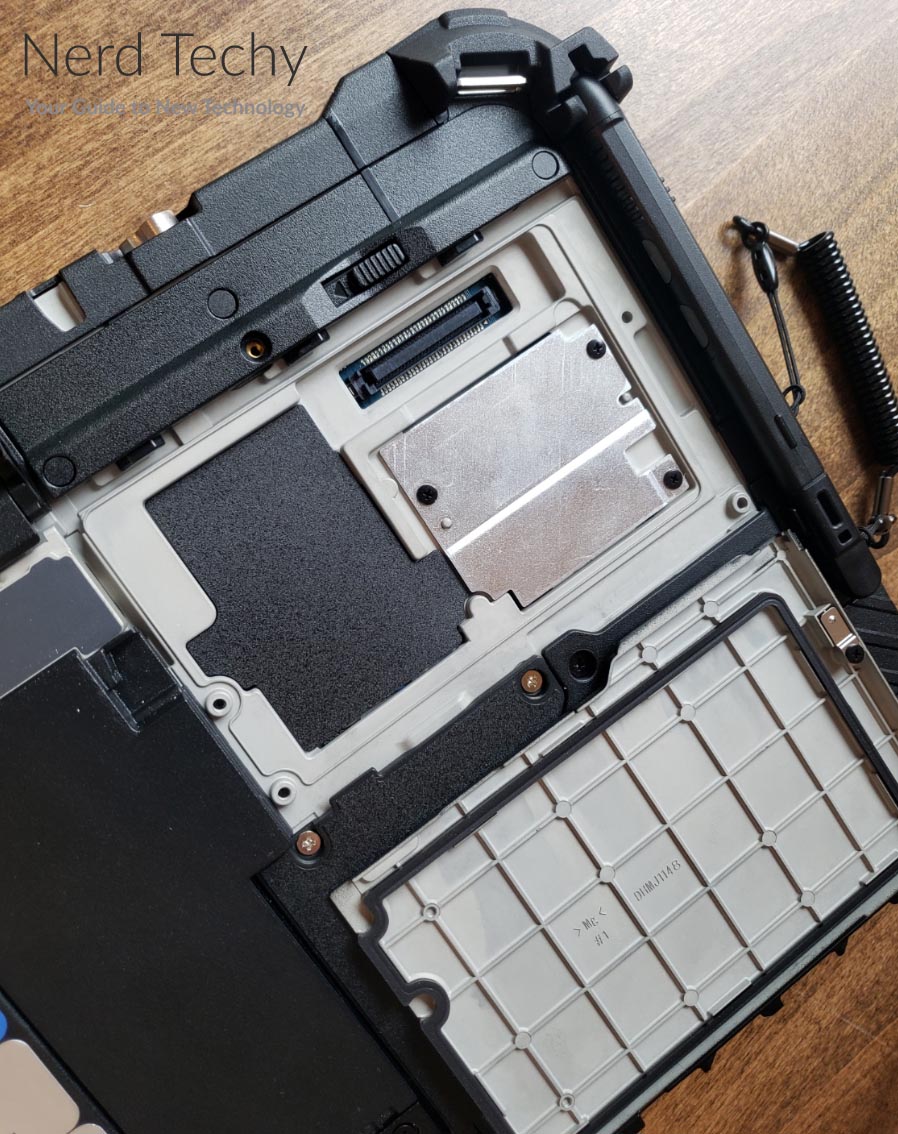 We mentioned earlier that you can install a number of expansion modules. These are attached to the top or bottom of the housing, and require only a Philips screwdriver to install. You can choose from ports like a USB or Serial port. Alternatively, you can add more bespoke extras, like a high-sensitivity thermal camera. There are even contact and contactless smart card readers. All of these things can be purchased with the TOUGHBOOK, or ordered separately later on.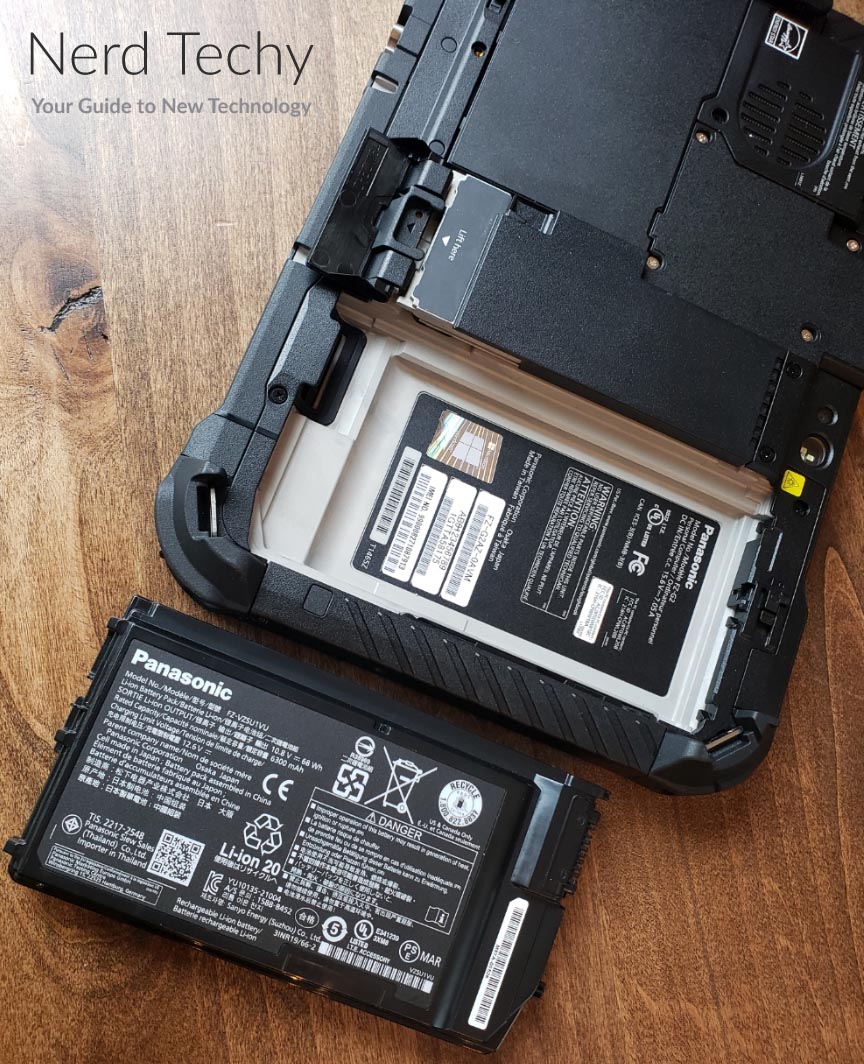 Final Verdict
So, is the Panasonic TOUGHBOOK G2 worth the significant investment? If you need a laptop that's tough enough to take a serious beating, you're going to be pleased. It's highly customizable, so you can configure it exactly as needed for a variety of tasks. And with up to 20 hours of battery, your tablet or laptop will keep going as long as you do.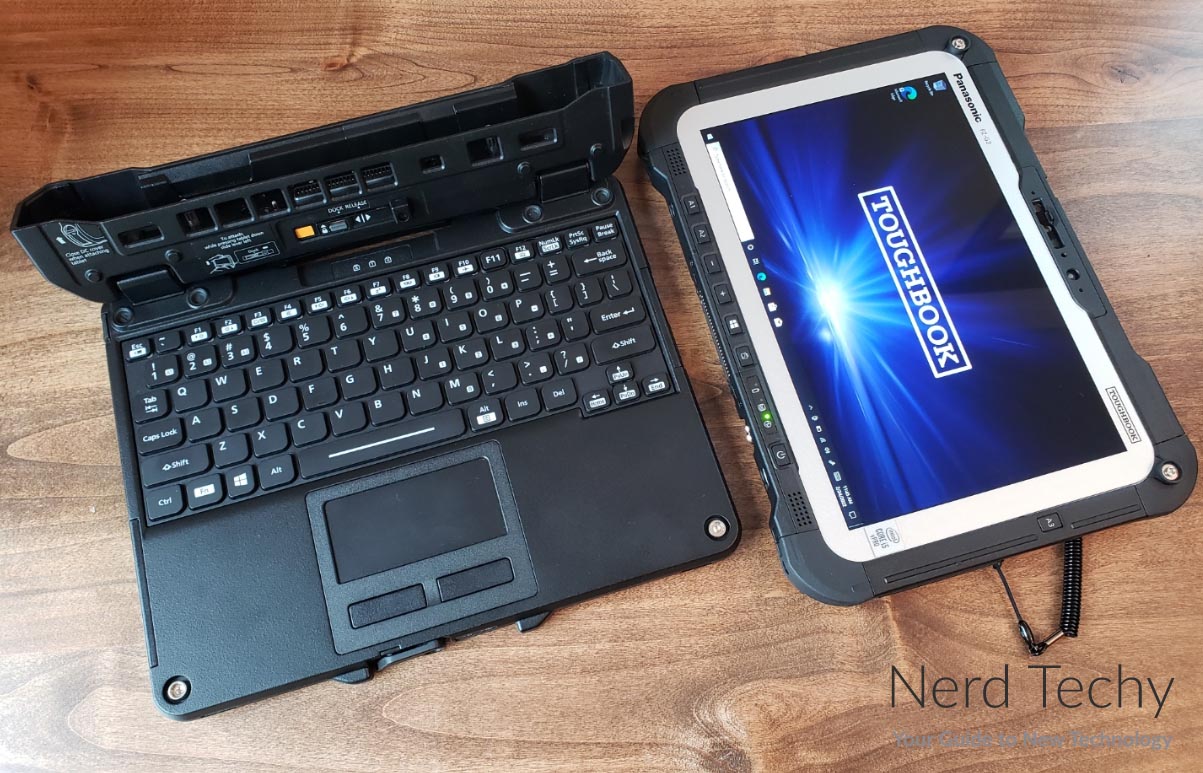 The thing is built tough like a tank and can withstand just about anything you throw at it. Sure, it might be fairly expensive, but in this case; you truly get what you pay for.