Although the PS3 and PS4 are definitely not the newest console, they're still well-loved by millions around the world. Whether you've had your console since its original release or if you've recently began playing, taking it along with you can be problematic. Neither the PS3 or PS4 were designed with mobility in mind. Simply put, they're not portable. However, with the right carrying case, you can travel almost anywhere and bring along your PS3 or PS4.
Since the original release of the PS3 in 2006, or the release of PS4 in 2013, manufacturers have been busy to create solutions for traveling with your console. Whether you need a hard case, soft bag or fully-featured backpack, figuring out which one to purchase can be time consuming. Recently, here at NerdTechy, we've outlined the best PS5 carrying cases. Since then, many of our readers have urged us to create the same kind of guide for the PS3 and PS4.
Today we're going to outline our top five favorite picks when it comes to the best travel cases for the PS3 and PS4. We'll go over each feature and discuss our opinion on each one. Moreover, we'll go in-depth and analyze which carrying cases are ideal. With each one, we'll explore the build quality, size and overall usefulness that they offer. In the end, we'll quickly re-cap and summarize what we learned. Without further ado, let's get right into it!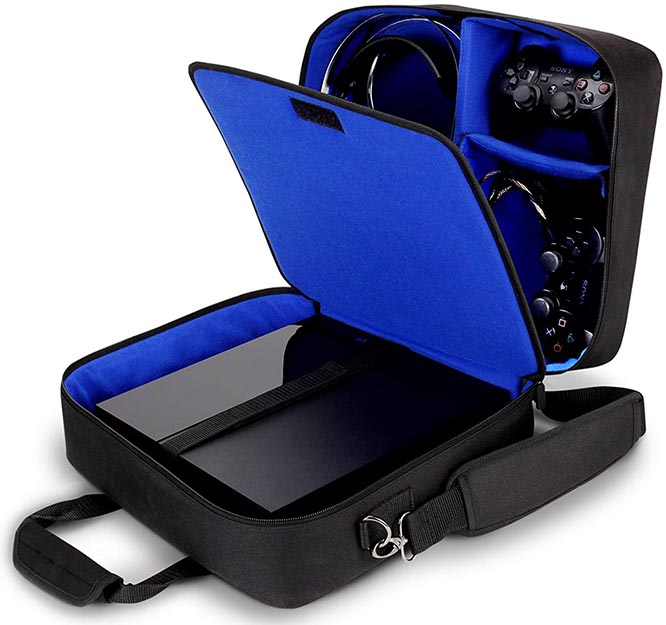 USA GEAR Console Carrying Case
The USA GEAR Console Carrying Case has a basic suitcase-style design with a lot going for it. For starters, it's quite generic, which is a good thing. Ultimately, it isn't custom-fitted for any one specific console. Rather, it's built with compatibility in-mind. Notably, it'll work with any version of the PS4 (slim, pro, etc.) and the PS3. The case has a zippered enclosure that goes around 3 sides and folds into itself with a clamshell-like design. The top has a padded handle in addition to an optional shoulder strap that's included.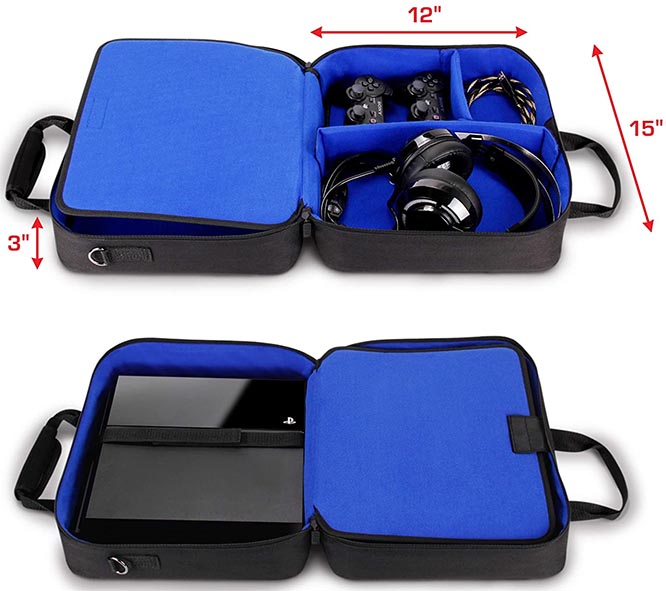 Measuring 15″ wide, 6.5″ thick and 12″ tall, the USA GEAR case is a good size. Inside, there's ample padding and an overuse of soft fabric throughout for excellent abrasion resistance. There's two main compartments, separated by a secure compartment wall that goes in-between the console and all of the stored accessories. The side opposite from the console is highly modular, thanks to the included adjustable compartment dividers.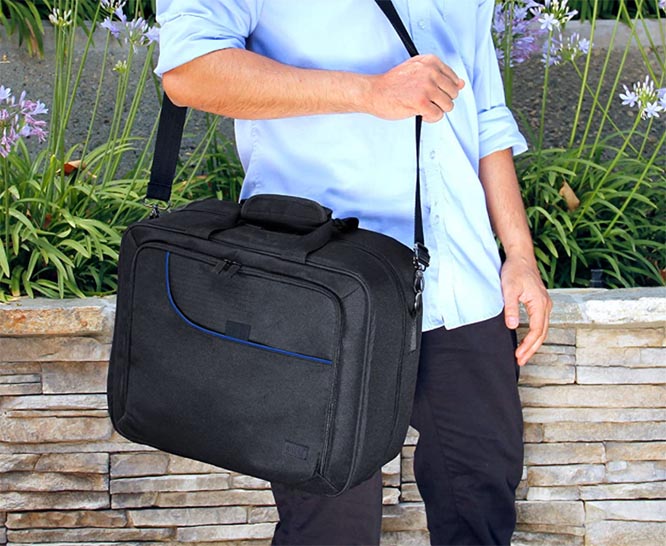 With each one, you can section-off different sized spaces to carry along all of the accessories you need. There's room for two controllers, a headset and multiple games. On the outside, there's a zippered accessory pocket, perfect for storing cables and other smaller objects. In addition, there's another pouch with a hook and loop fastener, perfect for keeping your laptop or something slim.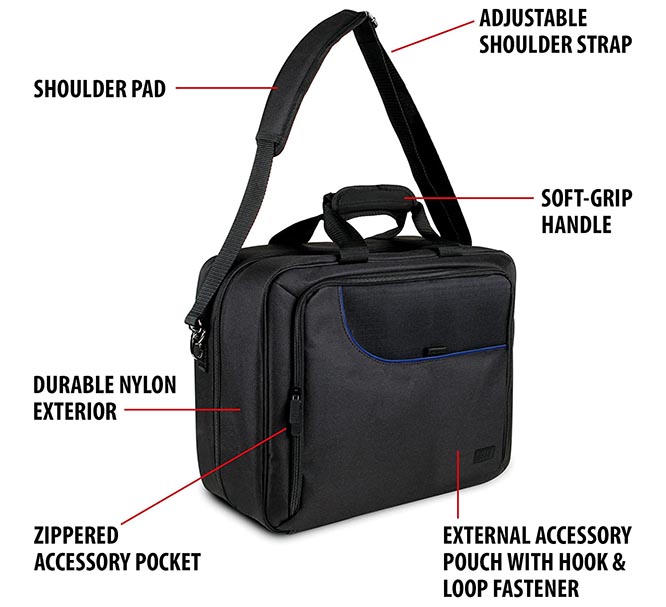 Holding the bag in your hands, you'll immediately notice the quality material its comprised of. Built with RipStop Nylon, it's incredibly heavy duty to the touch and feels thicker than necessary; which is a good thing! The outside base contains four individual rubberized feet that don't slip. In addition, the base is even tougher, with an added layer of moisture resistance. Best of all, the USA GEAR case is backed by an impressive 3 year manufacturer warranty.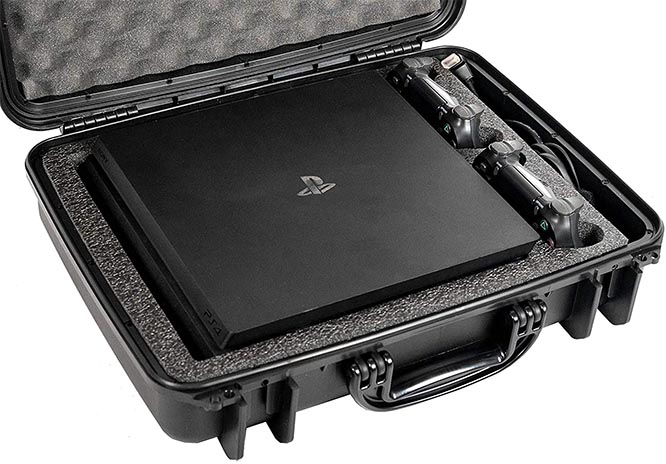 Case Club PlayStation 4 Pre-Cut Case
The Case Club PlayStation 4 Pre-Cut Case is available in two-version; for either the PS4 and PS4 Slim or the PS4 Pro. Both versions are nearly identical, offering the same amount of protection, but custom-cut for the specific console you have. Although it isn't compatible with the PS3, we believe this is the absolute best carrying case you can own for your PS4.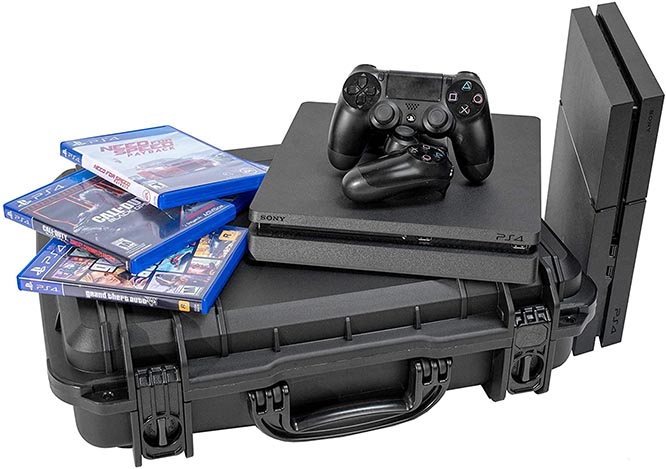 One look at the Case Club and you'll notice something particular. It's made out of a heavy-duty ABS plastic that's surprisingly thick and burly. In fact, it's completely air-tight with a rubber gasket around the edge of the lid. This assures that the case is fully waterproof and even shippable. Needless to say, it's dustproof, water-tight and military-grade. With the inclusion of a handle, you can carry it around like a suitcase and bring it along wherever you may go. Additionally, the case is equipped with a heavy-duty latching system, two padlock holes and even a pressure-released purge valve. This mechanism lets you easily open-up the case by releasing the internal pressure; perfect for flights or drastically changing elevations.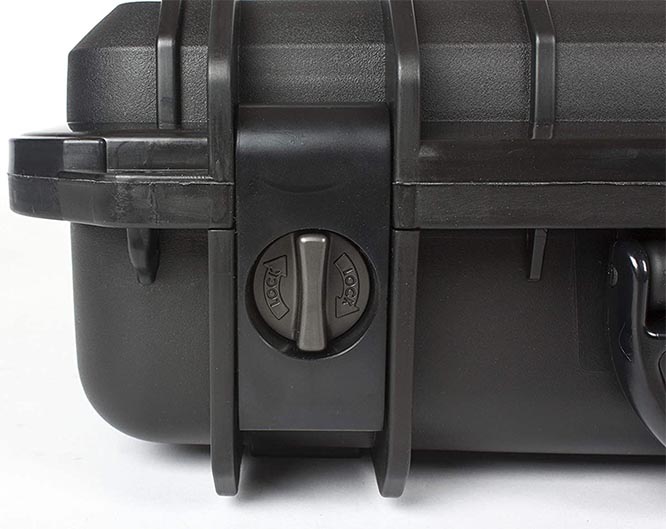 The interior of the Case Club is remarkable. Not only has it been custom-cut for your specific PS4 console, it's comprised of a close-cell polyethylene. This is a non-abrasive material that's specifically design to handle shock, vibrations and forceful impacts.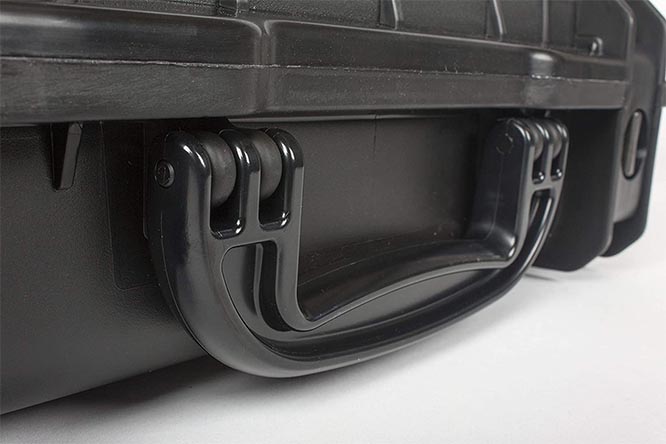 Measuring 5.4″ thick, 15.5″ tall and 19.8″ wide, it weighs about 9 lbs. empty. Although this may seem a bit bulky, the amount of protection it provides makes it totally worth it. There isn't a huge array of pockets or compartments, but it's very well-built and has enough capacity for a console, two controller and other small accessories. Best of all, Case Club gives it a lifetime guarantee; meaning that you'll never need to worry about its integrity.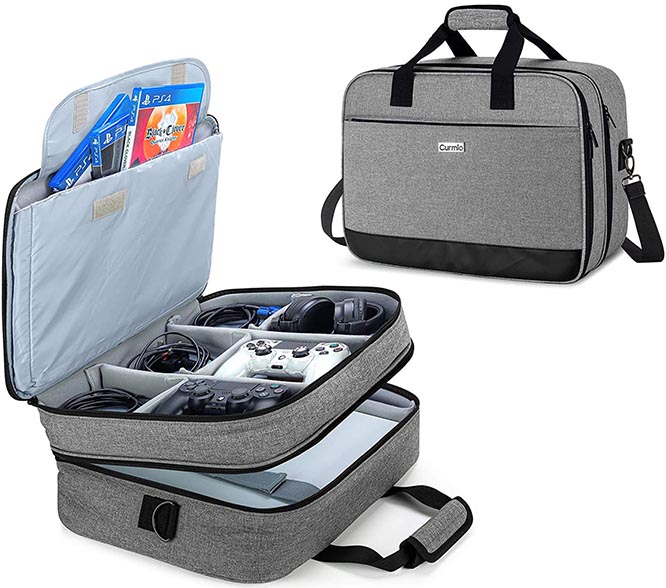 CURMIO Travel Carrying Case
As another generic-style option, the CURMIO Travel Carrying Case is a well-built solution that's compatible with all PS4 versions and PS3. Available in either gray or black, it has a similar design to the USA GEAR case, but has a bit more storage and modularity. We'd consider this a medium-duty case; lightweight to carry and able to provide enough padding for safe storage and transport of your console and accessories.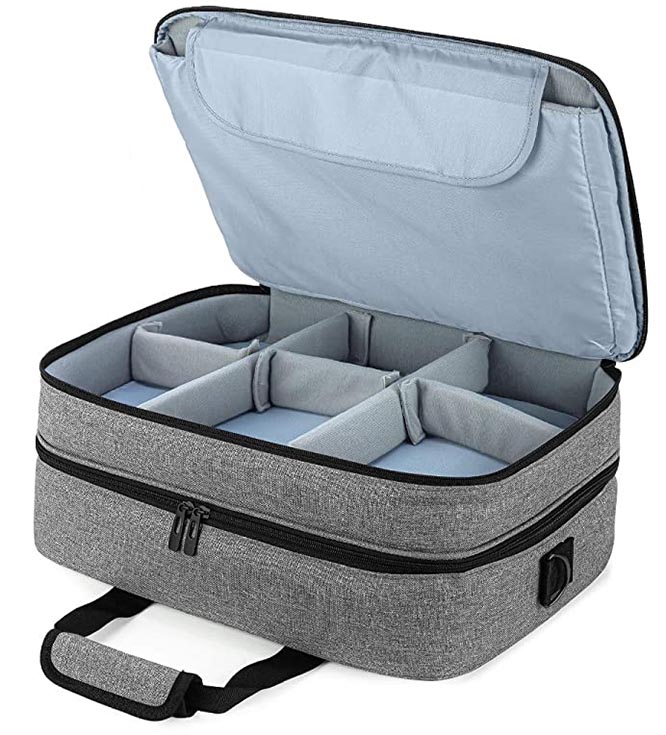 Inside, there's three main compartments. The lower compartment is sectioned-off for the console. It's a large rectangular area with a velcro strap that's been added to keep your PS4 or PS3 steady while in transport. The next compartment is above that. It's a bit thinner of an area, but contains plenty of modularity with a wide range of dividers. You're able to move these dividers around for a custom-like adjustment that will fit your controllers, headsets and other accessories. The lid that closes shut on top of this section has its own use as well. The interior of the lid is equipped with a velcro-sleeve that's perfect for carrying flat objects. A laptop, book, magazine or game boxes are ideally placed within it.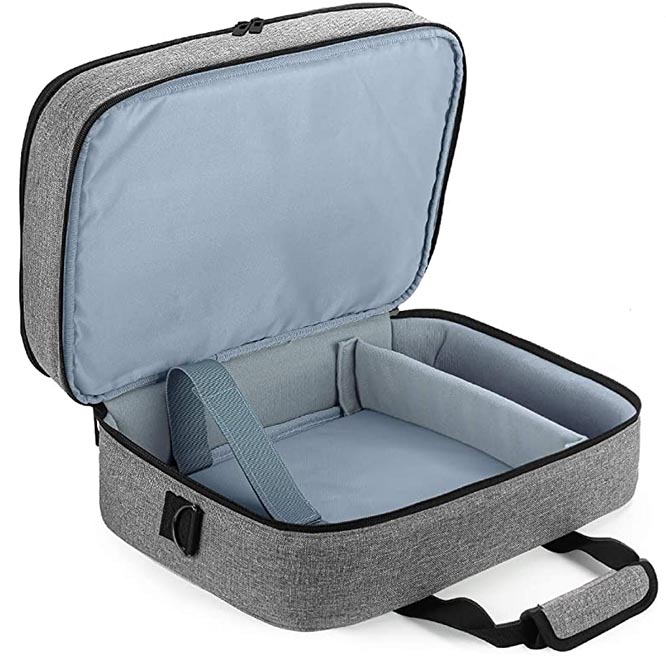 There's two zippers that go 3/4 of the way around the entire case. They feel solid, well-made and smooth when zipping open or shut. On the outside, there's one additional zippered-pouch that's perfect for small objects or cables.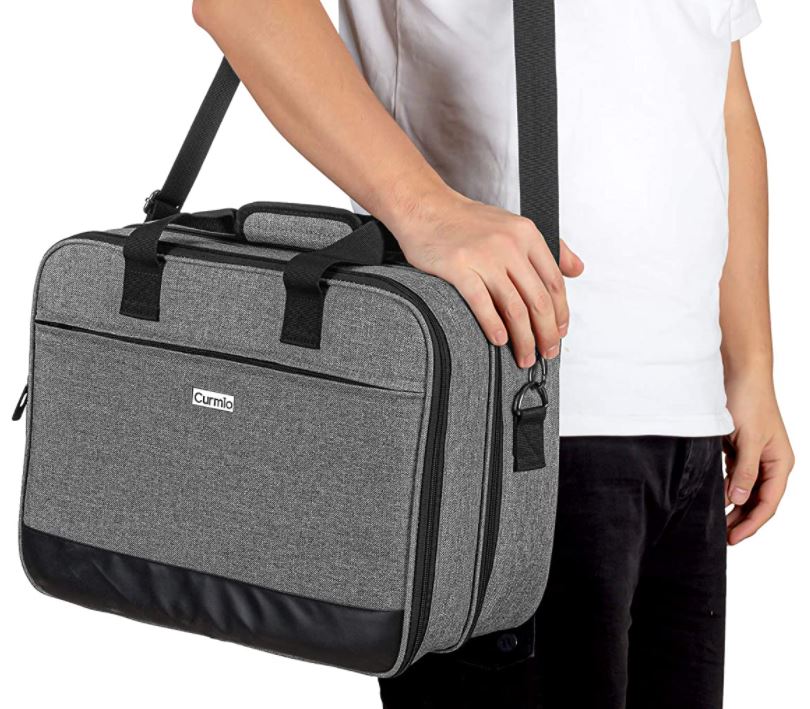 Inside, the case is fully padded with thick EPE foam. It's paired with a soft interior that's ideal for keeping scratches at bay. Overall, we feel this is a well-made bag. The nylon material seems durable, although not quite as "bomb-proof" as the USA GEAR. Still, we think it provides a great solution that isn't too bulky. Measuring 16.5" wide, 6.5" thick and 13" tall; it's a good size.
Prodico PS4 Travel Case
For those looking for one of the most compact solutions, take a look at the Prodico PS4 Travel Case. Specifically designed for the PS4 and measuring 17″ tall, 14″ wide and nearly 4″ thick, it can be used in a variety of ways. Some may prefer to hold it like a suitcase from the two leather-wrapped handles. Alternatively, you can utilize the included shoulder strap. The material this bag is comprised of is 600D oxford nylon. It seems to be thick, heavy-duty and built to withstand a decent amount of abuse. Best of all, it's fully water-resistant against water splashes, weather or other objective hazards that may arise.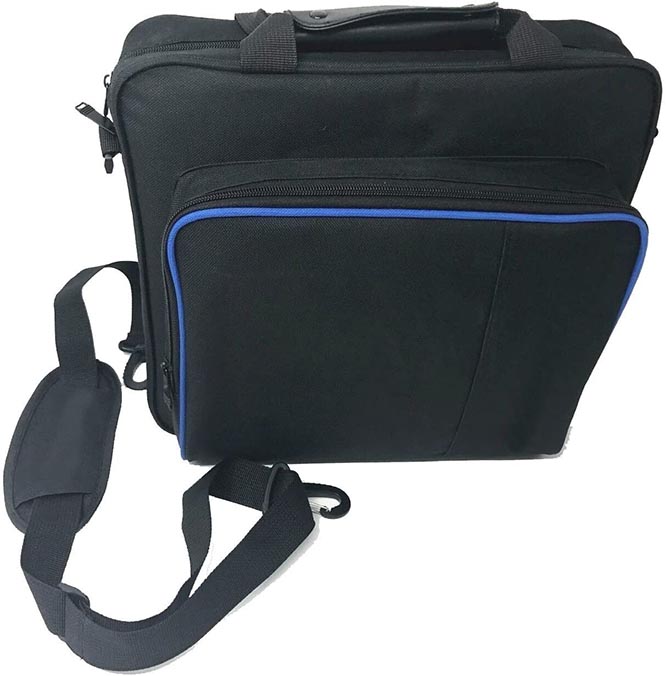 There's one larger, main compartment that fits any version of the PS4 in a snug and secure manner. Inside this main section are two mesh pockets for holding games or other small accessories. The smaller, second compartment opens up a bit more to expose an ideal area for storing two controllers and all of the necessary cables. Inside are dual elastic straps that secure each controller from movement; nothing should ever come loose.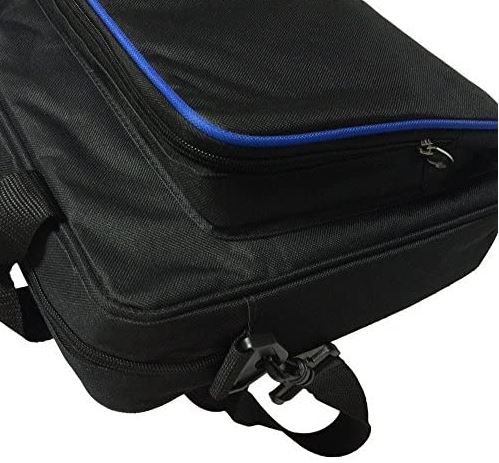 We feel that there's just enough space, but no more. Being that this is a smaller-sized bag, you can fit all of the necessities, but you won't likely have room for much else. The console, 3-4 games, two controllers and the required cables is what there's room for. If you want to bring along a headset, you'll need to get a bit creative. The size may be a game-changer for many, however. This is one of the most compact options available. Just keep in mind; this is specifically for the PS4 – it will work with the Pro, Slim or standard console. However, the Prodico Travel Case is not for the PS3 – it's simply too small.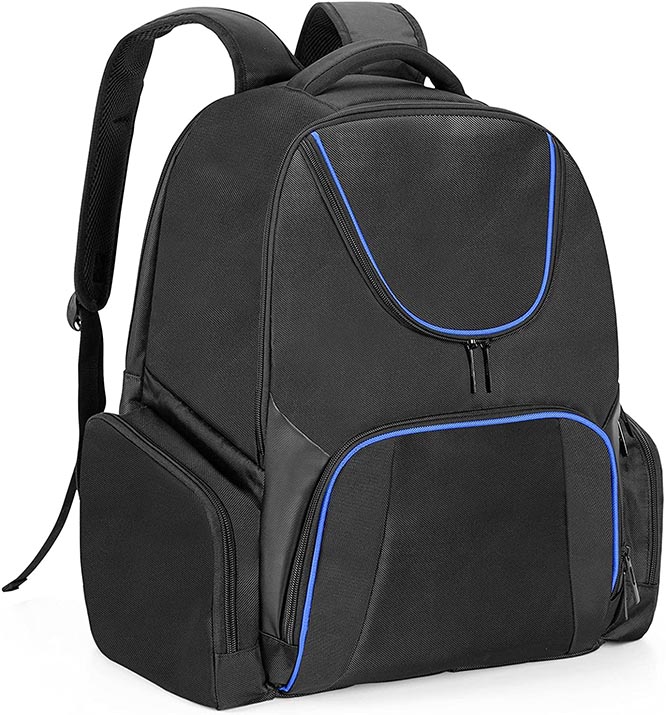 CURMIO Gaming Console Backpack
For those needing a backpack-specific option, we recommend checking out the CURMIO Gaming Console Backpack. Measuring 18″ tall, 14″ wide and 7″ thick, this is a generic-style backpack that's fully compatible with almost any game console; including the PS3. It's equipped with more storage space than we'd probably ever use. There's a zippered-pocket on each side, ideal for holding games or small accessories. On the top-back there's an additional flap that can be unzipped. Inside, is a elastic mesh compartment, ideal for cables. Moving down, towards the base of the bag is a medium-sized storage area that fits two controllers and small items within a zippered-section.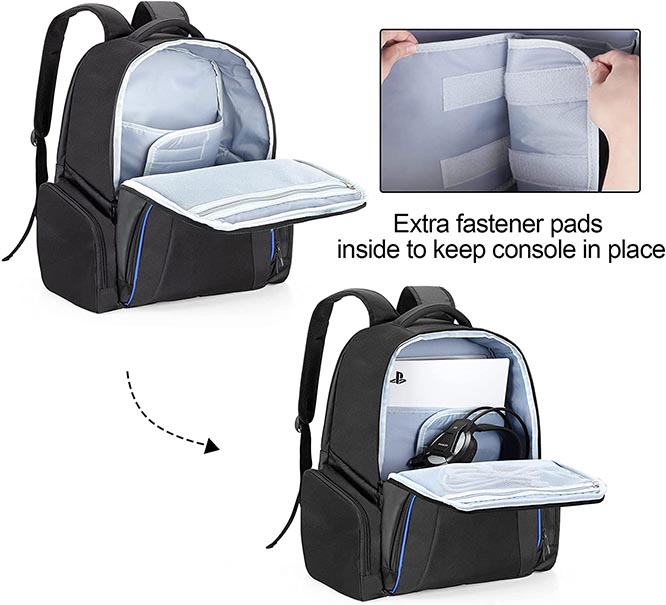 Available in blue, black or green accents, the main body is all black without any obvious or ugly branding. With its clean look, we think it's one of the more-attractive backpack-style carrying options for the PS4 or PS3. Internally, there's one very large compartment. Unzipping it will expose the dedicated area for carrying-along the console of your choice. In addition, it's equipped with multiple velcro straps for securing everything so nothing is loose.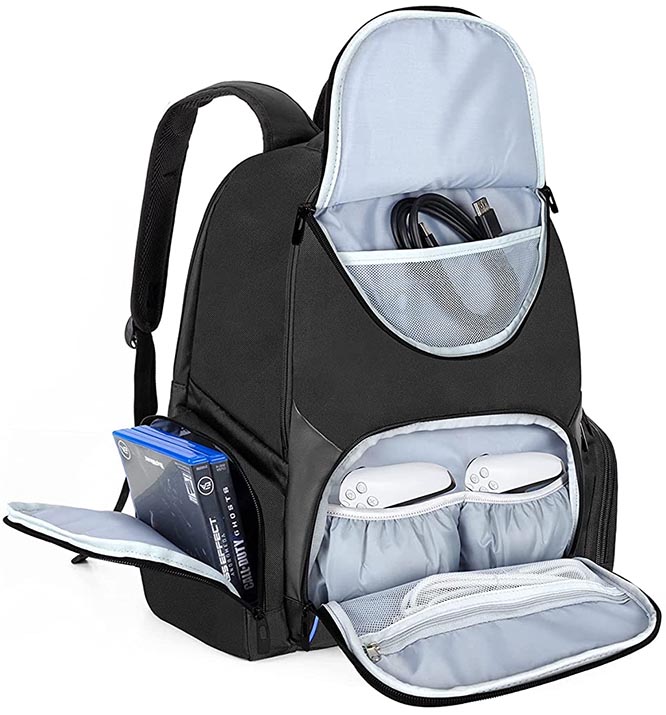 On the side that meets your back, there's even a zippered-area that lets you slip-in a laptop or tablet without adding any discomfort. In fact, the backpack is comprised of a medium-weight nylon fabric with plenty of padding throughout. We love the use of mesh that's throughout the design. It keeps things cool by promoting better ventilation on the underside of the straps and where the bag rests against your back.
Final Thoughts
As you can see, there are many options when it comes to the best PS3 and PS4 carrying cases for travel. Although there are more PS4-specific cases available than offered for the PS3, it makes sense. The PS3 is simply more outdated so you won't find quite as many custom-like options for it.
We started off by showcasing the USA GEAR Console Carrying Case. This is a generic case that's well-features and equally well-priced. It can be used with the PS3 and every PS4 version. Offering a suitcase-style design, it has plenty of storage; enough space for your console along with games, cables, controllers and even space for a headset.
Next, we featured the Case Club PlayStation 4 Pre-Cut Case. It's available in two-version; for either the PS4 and PS4 Slim or the PS4 Pro. Unfortunately, they don't make them for the PS3, so it may be worth passing-up. However, for PS4 owners, it's difficult to find anything quite as secure, burly and well-made than what Case Club has to offer. Fully sealed and completely waterproof, shockproof and impact resistant. Made with military-grade standards in-mind, it's the clear winner for PS4 users.
The CURMIO Travel Carrying Case was another generic-style case we featured next. It provides plenty of space, no matter which console you need a carrying case for. Since it's not specifically custom-made for either the PS3 or PS4, you'll find plenty of modularity and storage space for including everything you need and possibly more.
After that, we examined the Prodico PS4 Travel Case. This is a compact solution for PS4 users who want a lightweight, form-fitting bag that's built well. It may be a bit on the small-side for some, but the only thing it really doesn't have room for is your headset. Although PS3 users can't use it, it's the most compact we've found for the PS4.
Last but not least, the CURMIO Gaming Console Backpack offers a lot to like. It's a bit on the bulky side, but this means full compatibility with literally any game console you can think of. They didn't skimp on space, either. There's an abundance of pockets throughout, even a dedicated space to carry a laptop along with your PS3 or PS4 – pretty awesome!