In case you haven't heard, Samsung's new Galaxy S22 Ultra is set to release next month. With a massive 6.8″ Quad HD+ Dynamic AMOLED screen, it goes without saying; you'll need to invest in a screen protector. However, you may also want an added layer of privacy. If so, you'll need to use a privacy-specific screen protector.
These "privacy" screen protectors offer scratch and impact protection while providing one-way to see what's on your screen. When installed correctly, a privacy screen protector allows only the person holding the phone to see what's being displayed. They're ideal for users who often find themselves in a public setting with the need to discreetly hide what's on their screen. They create a private viewing experience so you can rest easy knowing that bystanders can't see any personal details of what you're doing on your phone.
Although the Samsung Galaxy S22 Ultra is built with scratch resistant Corning Gorilla Glass, it's still very important to protect. Investing in a screen protector is highly recommended if you'd like to protect your investment. After all, with the S22 Ultra starting at $1200, this is one of the most expensive smartphones to hit the market. However, today we'll be focusing on a few different options that offer the best of both worlds. By combining effective protection with an added layer of privacy; what more could you ask for?
Essential Things to Know
If privacy is an important factor for you, you're not alone. Now more than ever, people seem to be concerned about their privacy and how it affects them on a daily basis. Whether you ride the bus to work or eat lunch in a public setting, installing a screen protector that provides private-viewing is a great idea. What's more, tempered glass seems to be the "go-to" when it comes to the best impact and abrasion resistance. There's only one problem; a tempered glass screen protector with an integrated privacy filter renders Fingerprint ID completely useless. In fact, the added thickness and extra internal layers of a tempered glass privacy screen protector make Fingerprint ID unfunctional. Keep this in mind as you search for the best one for your Galaxy S22 Ultra.
In fact, the only kind of privacy filter screen protector that's fully compatible with Fingerprint ID is one that's thinner and made from TPU. TPU, or thermoplastic polyurethane is a synthetic plastic that's both flexible yet engineered to provide a layer of protection. It's not quite as impact and abrasion resistant as tempered glass, but they provide a solution for those who need both privacy, screen protection and full compatibility with Fingerprint ID. For most users, tempered glass will still be the best way to go. You might be able to live without Fingerprint ID, but nobody can stand a cracked screen. Especially on their brand new Galaxy S22 Ultra! With all of that being said, let's get right into it.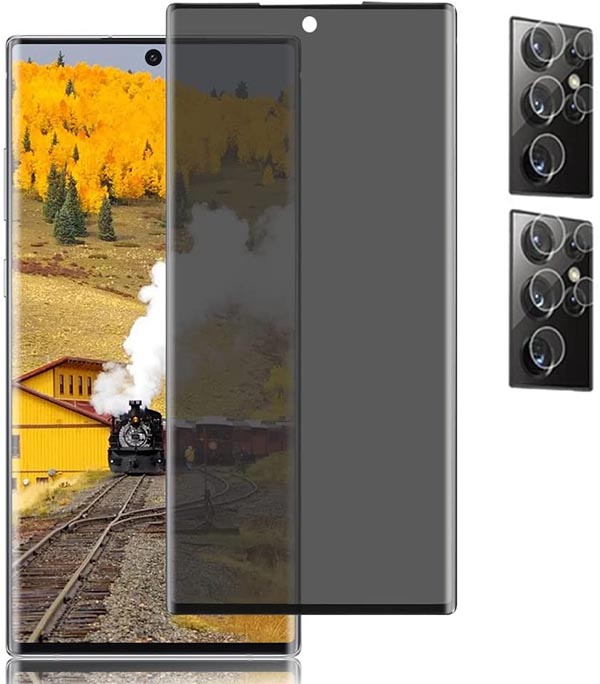 GBBO Galaxy S22 Ultra Privacy Screen Protector
High-Quality Tempered Glass, Self-Healing + Easy Install
If you're looking for some of the strongest all-around protection, you'll want to go with a tempered glass screen protector. The GBBO [Tempered Glass] Privacy Screen Protector comes included with a single screen protector, specifically made for the S22 Ultra. In addition, they include two individual camera lens protectors that encase the exterior lens in the same protective layer that your screen will have. While each camera lens protector doesn't offer a privacy filter (why would it?), the layer that goes over your phone, does.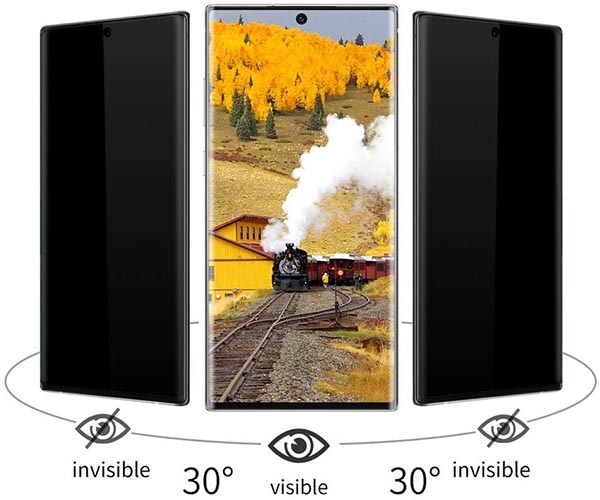 When installed, the GBBO screen protector makes your device only visible to the person directly in front of the screen. Once you begin viewing it from angles greater than 30 degrees, visibility is diminished. In fact, the side angles are rated to 30 degrees while the viewing angle from above is 90 degrees. In effect, onlookers and strangers looking over your shoulder will have a much tougher time trying to find out what you're doing on your phone.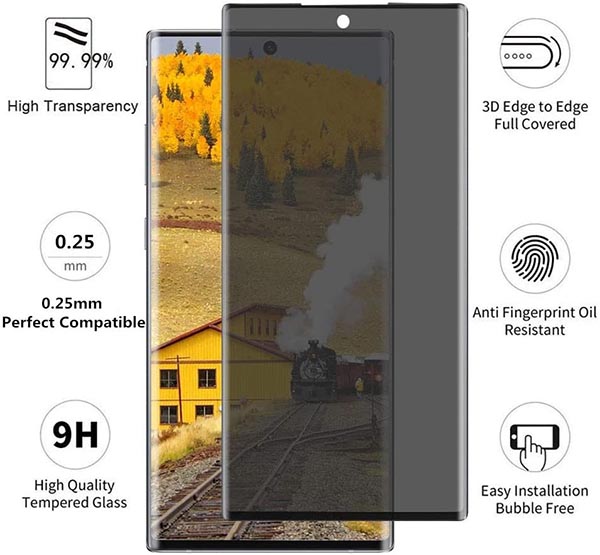 One of our favorite features of the GBBO screen protector is its self-healing feature. In fact, it's equipped with a unique silicone adhesive layer that automatically heals minor surface scratches and scuffs. It'll slowly "heal itself" and repair itself automatically within 24 hours of any minor scuffs. What's more; this added layer also ensures a bubble-free installation that looks great and performs just as well. Keep in mind, however, that this layer of silicone will only self-heal minor imperfections. Any damage that goes through the entire screen protector simply won't be able to revert back to its original form.
Unfortunately, there's only one minor drawback. The GBBO tempered glass film doesn't support fingerprint unlocking. Due to the thickness of the privacy layer, it's simply not possible. However, the facial recognition and password unlocking feature isn't affected.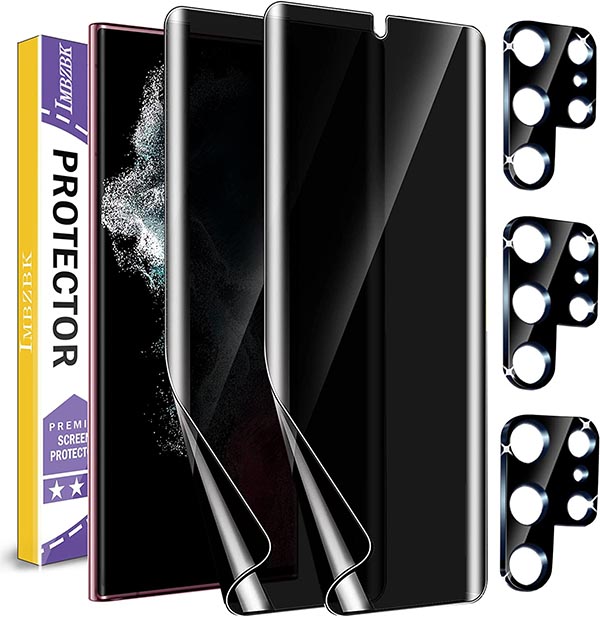 IMBZBK [Not Glass] Privacy Screen Protector
TPU Film, Compatible with Fingerprint ID
Although it isn't made from tempered glass, IMBZBK Privacy Screen Protector is comprised of a TPU (thermoplastic polyurethane) film material that's surprisingly well made. While it may not have the same impact and scratch resistant properties of tempered glass, it still offers a nice layer of protection. Although it only provides a .16mm layer of protection, it fully supports fingerprint unlocking. Typically, screen protectors under .25mm in thickness and/or those made from tempered glass won't have this ability.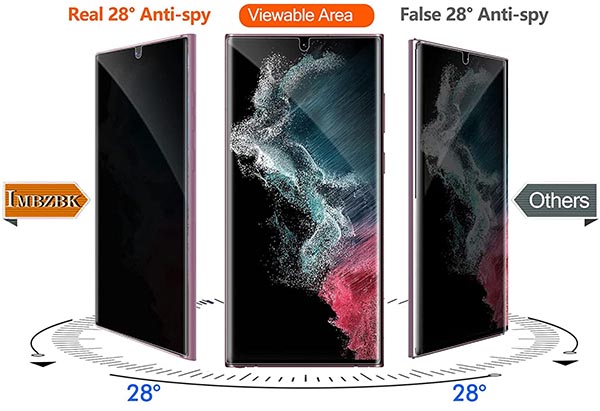 Utilizing a specific Microlourver Optical Technology, the IMBZBK S22 Ultra screen protector provides a nice amount of privacy. With it, only the people directly in front of the screen will be able to see what you're doing. Every viewer outside of the 28 degree viewing angle will only see a dark, blackened screen. Best of all, it seems to have no effect on the amount of light displayed by your screen. What we mean by this is that it will not dim your screen unless you're outside of the viewing angle. The 99% light transmission rating assures that you won't have to increase your screen's brightness in order to have it viewable once the IMBZBK screen protector is in use.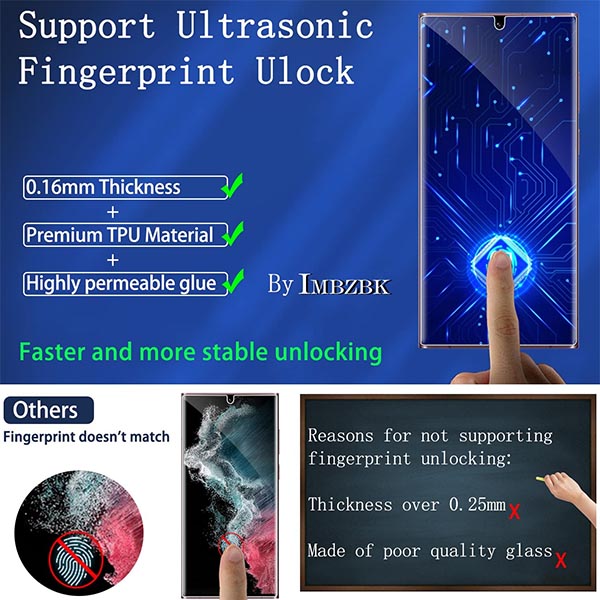 In addition, this screen protector is equipped with a highly-permeable glue. Not only does this make it stickier and easier to apply, it assures there won't be any bubbles when you go to install it. Just like the GBBO, the IMBZBK has the same self-healing feature, because of this. Small abrasions will automatically go away within 24 hours after damage is inflicted.
Sold in a two pack, it's both economically priced and affordable. As an added bonus, three camera lens protectors are also included. However, these are made from tempered glass and provide ample impact and scratch resistance to the most fragile area of your phone.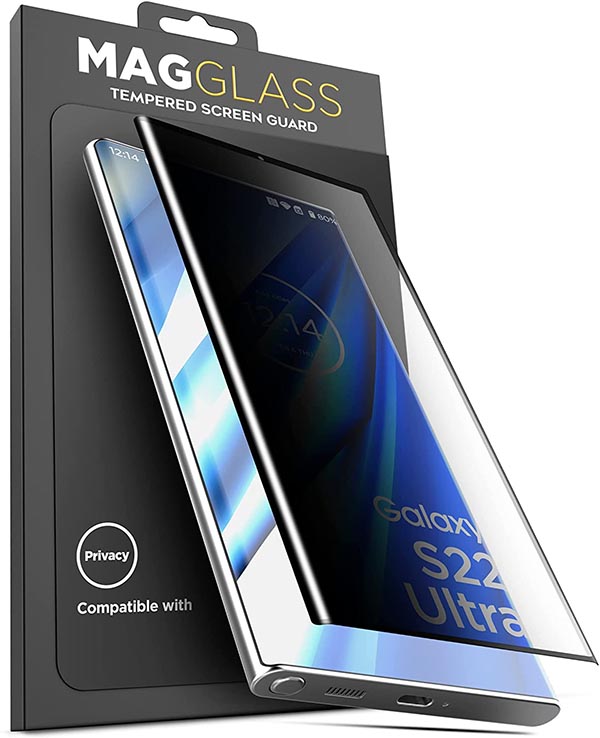 MagGlass Privacy Guard for Samsung Galaxy S22 Ultra
Tempered Glass, Easy-Applicator and Lifetime Warranty
If you're looking for a brand name with a reputation, look no further than what MagGlass has to offer. Their Privacy Guard for the Galaxy S22 Ultra is comprised of a tempered glass material for the best impact and scratch resistance you can have. It's the only screen protector that's been measured to retain full structural integrity after a fall. In fact, direct impacts of up to 6 feet are the most it's rated for; and that's impressive. Any sort of glass chipping or hairline cracks will reduce this impact rating, significantly. Ultimately, MagGlass screen protectors are in a league of their own when it comes to overall quality.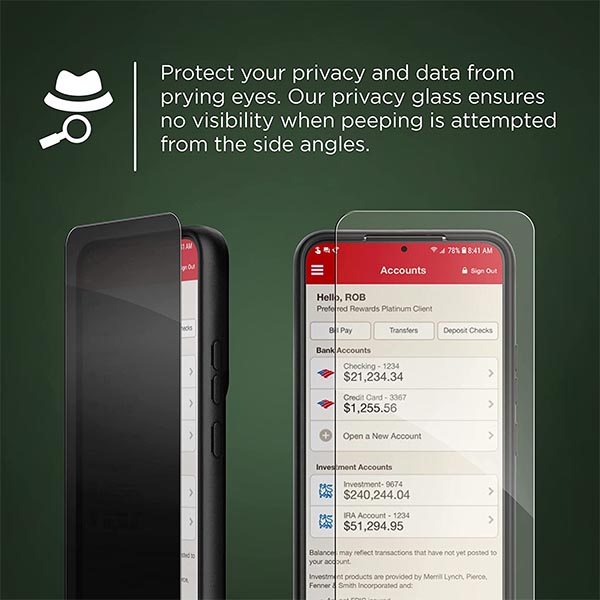 While there's no actual angle-rating for the privacy filter feature, we would say most viewers outside of a 25 degree viewing angle will only see a blackened screen. Even from above or below, this seems to be the case. This keeps onlookers at-bay so you can do whatever you want on your phone without any judgement from onlookers.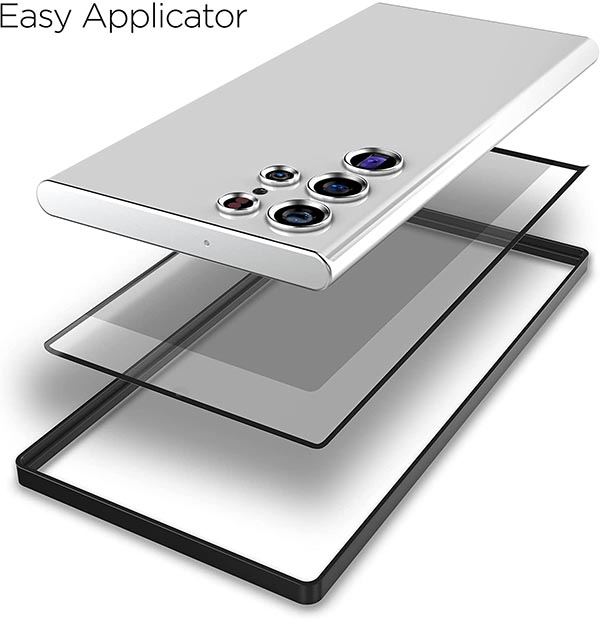 One of our favorite features of the MagGlass is the oleophobic coating they've given it. It's a layer of slick-resistance that naturally repels moisture, oil and sweat to assure that there are no visible fingerprints or greasy marks on the screen. What's more is that there's even an easy applicator included in the packaging. With this, simply place your S22 Ultra within it and the screen protector will be perfectly aligned and bubble-free when you apply it. It keeps your phone steady so there's little to no guesswork involved with installation.
Unfortunately, as with any tempered-glass screen protector, fingerprint ID will not operate with the MagGlass. It's simply too thick and contains too many layers for the function to work properly. However, the MagGlass privacy guard is backed by an impressive lifetime warranty. It's one of the best in the industry, promising a free replacement glass in the event of damage. At any time and for any reason, if it breaks, the company will send you one free replacement. However, you must be located in the USA to qualify for free shipping.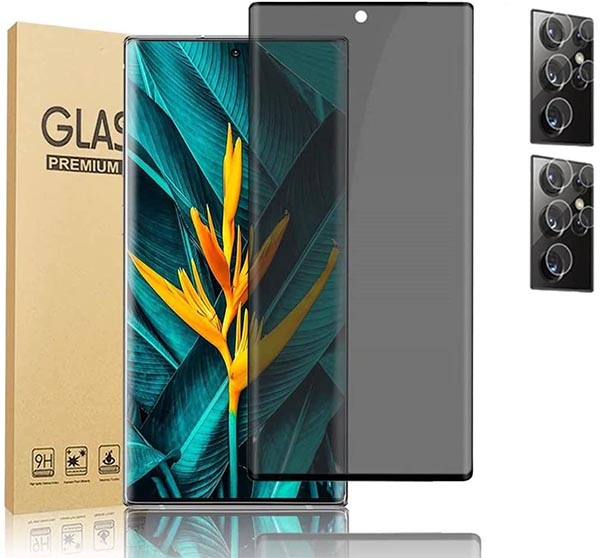 GOLDBLACK Galaxy S22 Ultra Privacy Screen Protector
Tempered Glass, Extra Flexible and Shatter-Resistant
As another tempered glass option, the GOLDBLACK Galaxy S22 Ultra Privacy Screen Protector is specifically made from premium quality AGC glass material. This is a much more flexible and shatterproof than several other options. Providing a 28 degree viewing angle, it's an effective solution for those needing an easy way to discreetly hide their screen from bystanders. Inside of it is what's known as louver optical technology, combining microscopic particles to direct visibility within a precise angle.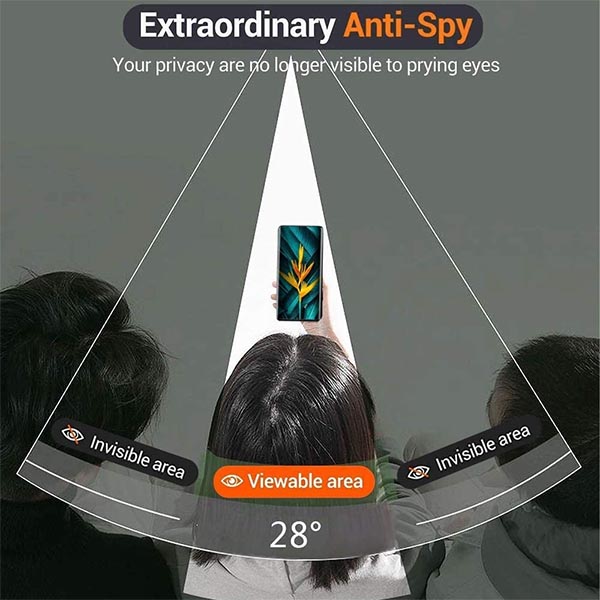 Although there's no installation frame included, GOLDBLACK does include some documentation. With it, it clearly outlines all of the steps needed for a successful install. It may not self-align like the MagGlass, but all of the required tools are included in the box. Comprised of .25mm thick tempered glass, unfortunately it is not compatible with Fingerprint ID. The thickness of the glass and addition of privacy means the S22 Ultra won't be able to read your fingerprint from the screen. However, Face ID and all other touch capabilities are not affected.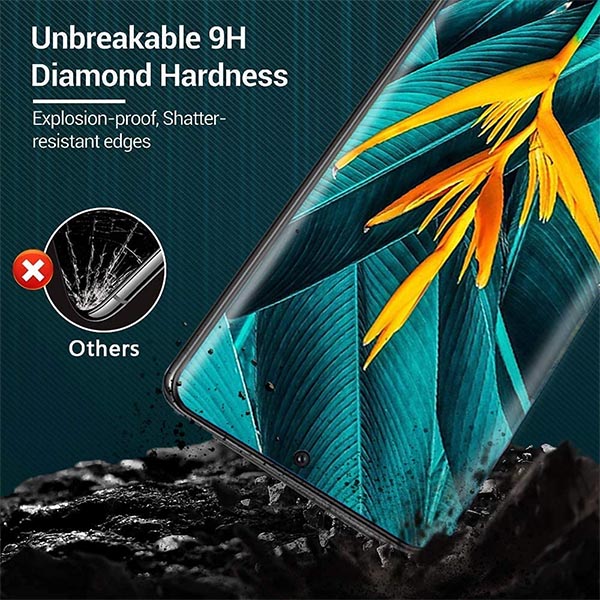 This screen protector seems to be about 10-20% more flexible than both the MagGlass and GBBO, which we looked into previously. Initially, this may not seem like a good thing, but in fact, it is. Since the glass seems a bit more pliable, it's less likely to prematurely crack or shatter. Sure, major drops and bangs probably will still likely cause it to shatter, but at least it'll thoroughly protect the S22 Ultra screen.
The GOLDBLACK screen protector has a special anti-glare coating that's worth checking out. In fact, it seems to provide better anti-glare effects than others we've tried. Although it's arguably noticeable to some, this additional layer is great for viewing in bright environments. Whether you're outside on a sunny day or indoors with too much lighting, your screen will always be easily viewable if you're at an angle less than 28-degrees.
Final Thoughts
As you can see, there are several excellent options for privacy screen protectors for the Galaxy S22 Ultra. It may be a brand new phone to hit the market, but manufacturers are already busy to create well-made solutions that add both privacy and protection.
If you want the absolute best when it comes to both impact and scratch resistance, you'll need one made from tempered glass. Our favorite option is the MagGlass Privacy Guard for Samsung Galaxy S22 Ultra. While it won't work with Fingerprint ID, it has some of the best oleophobic properties and seems to be the most well-made out of the bunch. The inclusion of an installation frame sets it apart from the others as far as ease of installation goes. However, their impressive lifetime warranty is what truly sets them above the rest. Sure, it may cost slightly more than you're used to. But if the screen protector breaks for any reason, they'll replace it; for free!
For those who want to retain the use of Fingerprint ID, you'll need one that's made from TPU. That said, the IMBZBK Privacy Screen Protector is sure to fit the bill. It's quite a bit thinner than the other options we've listed, but it's also much less expensive. We feel that it provides a good amount of protection and one of the nicest privacy filters among all of the competition.
In the end, you'll need to determine what's most important for your specific scenario. Need the most protection? Go for tempered glass. Need to use Fingerprint ID? Go with a thinner, TPU material. Both have a time and place; you'll need to be the one that decides which is best for you.