Released in 2003, the Gameboy Advance SP is now nearly 20 years old. Needless to say, portable gaming has come a long way since then. However, some of us still cherish the fun gameplay that the Gameboy Advance SP provides. With over 1500 games in it's library, it's a console that'll likely remain popular, even in the coming decade.
But since this portable console is so outdated, some components might be a bit difficult to find. For example, if you find that it doesn't hold a charge, you may need a Gameboy Advance SP replacement battery. Earlier, we covered quite a few great options. However, with any replacement battery, you're going to need a way to charge it. Even if your SP battery is still perfectly fine, you'll need an AC adapter. Often referred to as a wall-charger, they plug directly into an outlet and power your handheld while simultaneously charging the internal battery.
Over the years, you may have lost or damaged it. Whether you've played your console lately, or it's been several years, this is a crucial component for all Gameboy Advance SP users. Luckily, manufacturers have been busy creating replacement options that power and charge the SP just as the OEM did. Needless to say, Nintendo no longer manufacturers OEM replacement SP chargers. However, the aftermarket has several readily available. Today, we're going to dive-in and explore a few great options. Let's get right into it and showcase the best Gameboy Advance SP replacement chargers (AC adapters).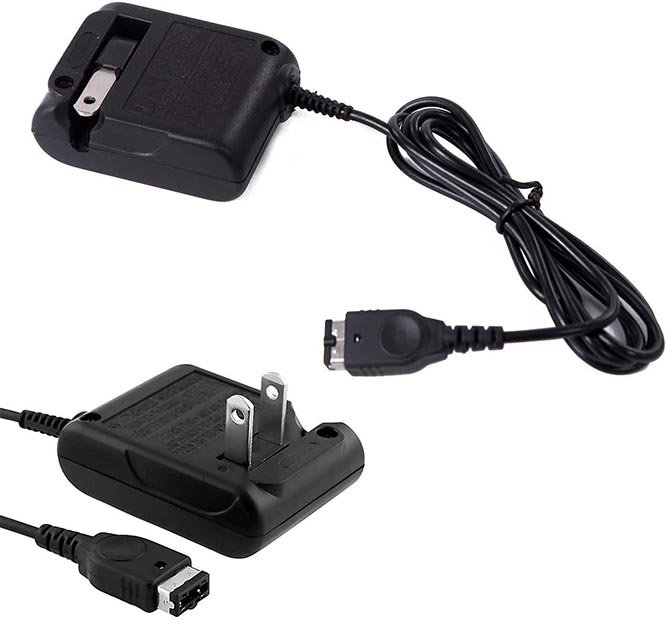 Ellen Tool Wall Charger
As a well-made and affordable option, the Ellen Tool Wall Charger is a generic replacement that's fully compatible with the Gameboy Advance SP. This is a non-OEM charger, that's stripped down from anything unnecessary and ONLY compatible with the Advance SP and original Nintendo DS. From one glance, you'll notice it carries a basic, simple one-piece design, with the cable, plug and AC adapter all built into a single unit. The length of the cable is just under 6 feet, which we think is about adequate.
Internally, the Ellen Tool Wall Charger is equipped with a specific Intelligent IC chip. This has been added in order to recognize a fully charged battery. Therefore, it'll automatically shut-off when the battery is 100% full and charging is no longer necessary. Over-charging is a common issue with older batteries. That said, it's a nice inclusion that assures you won't prematurely ruin the internal battery on your SP. On the exterior, there's a tiny LED that'll emit red while charging. Once it's completed, it'll turn green.
For portability, the prongs can be folded in while not in use. This saves a little bit of space in your bag, while simultaneously protecting anything from the metal prongs that may scuff and scratch your console. Overall, this seems to be a well-made replacement charger. However, with an input rating of 100V-120V, it's designed for use in North America.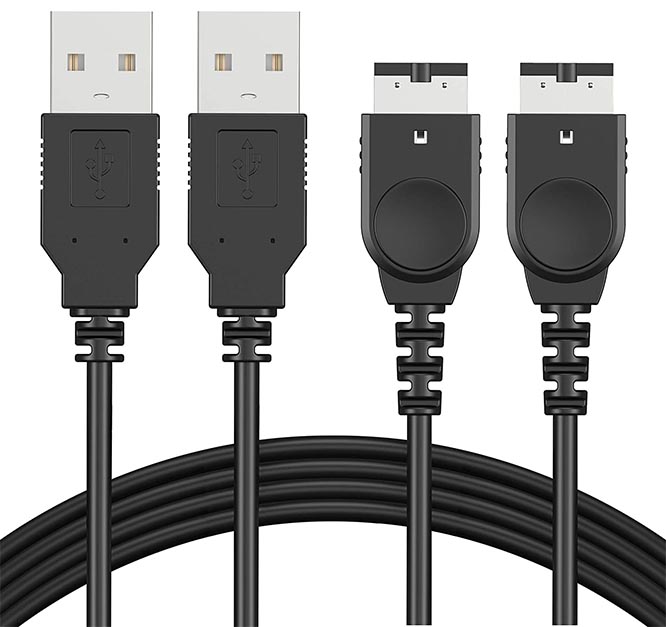 FunTurbo GBA SP Charger Cables
For those who aren't a fan of the one-piece charger/cable design, you'll likely find happiness with the FunTurbo GBA SP Charger Cables. Sold as a two-pack, these cables are stripped down from everything unnecessary. There's a USB-A port on one side, and the proprietary SP charging input on the other. Most notably, you won't find a small "brick" on one end; these are for the cables, only.
The best thing about buying ONLY a cable, is the lack of bulkiness. There's no need to carry a separate charger. You can simply plug into any USB-A port for power, rather than using a wall-outlet. In fact, you can use a laptop, portable power bank or even a USB port in your vehicle. Virtually anything with a standard USB-A port can be used to charge-up your Gameboy Advance SP.
These cables are specifically designed for use with the GBA SP. Sold in a two-pack, each cable seems to be well-made with high quality plastic and a bit of reinforcement between each end of the cable. Unfortunately, they're a bit on the shorter side. Measuring 3.9 feet each, you may not have quite as much movement as you would if you were to choose a longer cable. However, this is ideal for those seeking maximum portability.
The snug-fit is the first thing we noticed about the FunTurbo GBA SP Charger Cables. They provide a tight connection to your SP, without any room for wiggle. In our opinion, this is highly desirable. But be careful, never try to force or pry the input into your console; that's a recipe for disaster! Instead, take an extra second to make sure you're pushing it in correctly. If not, damage can occur.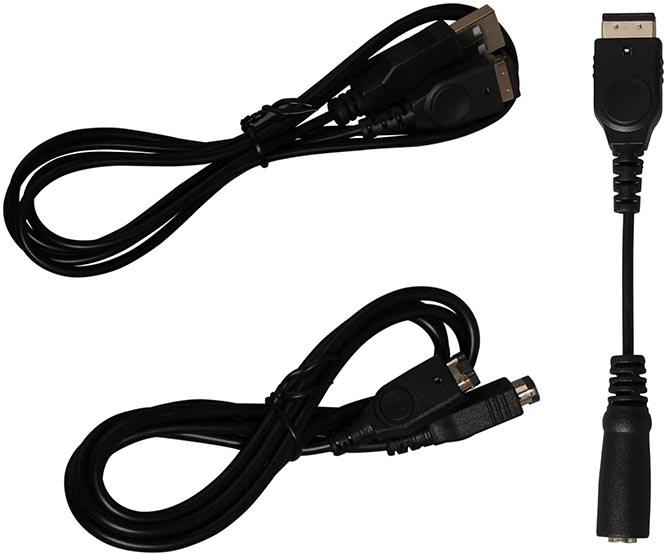 Timorn Gameboy Advance SP Charger Cord (with Headphone Adapter and Link Cable)
As another excellent generic option, the Timorn Gameboy Advance SP Charger Cord comes paired with a headphone adapter and link cable. The charging cable itself is sold without an AC adapter attached; it's a cord-only, just like the FunTurbo. However, there's only one charging cable included, and as an added bonus, a headphone adapter cable and link cable. Although the charging cord and link cable are both roughly 4 feet in length, the headphone adapter cable is only 4 inches. That said, the headphone cable doesn't need to be long. If it was, it would actually be more of a nuisance than anything.
The use of USB-A on one end and the GBA SP input on the other is a nice, minimalist design. Without the added bulk of a charger, plenty of space can be saved. Just like the FunTurbo cables, the Timorn cable seems to be well-made and nearly identical. However, we found the Timorn to provide a bit better value. The inclusion of a link cable and headphone adapter means you'll be able to transfer data between two GBA SP consoles and use any wired headphones you'd like. Although the only thing providing charging and power capabilities is the charger cord itself, it's nice to have a couple extra bonuses included.
For those who don't need the extra cables, you may be able to save a couple bucks by going with a different option. However, this assortment contains virtually any cable you could ever need for your GBA SP. Bundling them as a single lot simply makes sense for some; for others, it may not.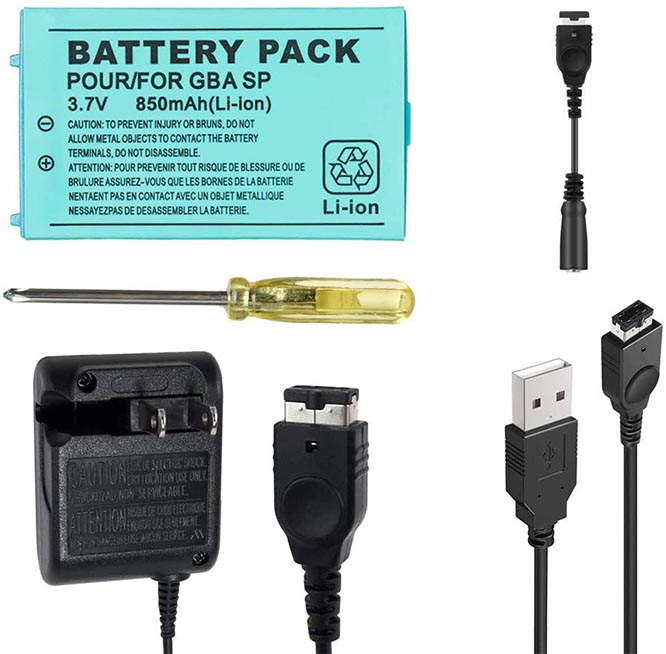 TFSeven GBA SP Replacement Kit (Charger + Battery)
For those looking for an even more complete solution, look no further than the TFSeven GBA SP Replacement Kit. Priced only slightly higher than others, there's good reason for that. With this kit, everything you need to fully power your GBA SP is included. With this bundle, you're getting a replacement internal battery, AC charger, USB-A to GBA SP cable and a headphone adapter. They've even included a small screwdriver for opening up your console to replace the battery. Even if you don't necessarily need a battery right now, the time may eventually come. Including an extra battery is good preventative measure. After all, this is a 20 year old console and all batteries have a finite lifespan.
The battery included is a direct replacement. Rated for 3.7V with a capacity of 850mAh, it's fully rechargeable with no memory effect. In fact, the original GBA SP battery only contains a 600mAh capacity. Being that the TFSeven battery has 850mAh, it offers an estimated 23% increase in the power it's able to hold. A simple battery-swap can yield your console an additional several hours of use between charges.
All of the cables in the bundle seem to be well made. Although they're not necessarily any better than the other options we've listed in this article, the complete kit is desirable for many. Best of all, TFSeven is a manufacturer that tends to stand behind the gear they sell. Packed with this kit is a full 2 year warranty with a 30 day money back guarantee. They offer refunds, exchanges and better customer service than many other "generic" labeled brands on Amazon.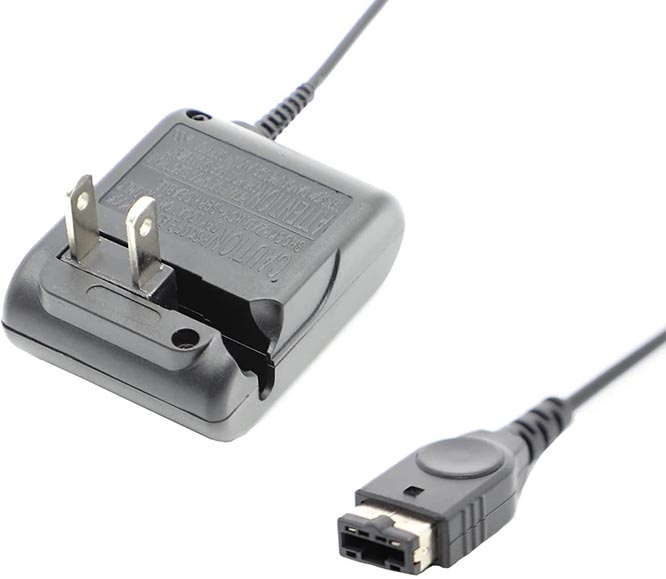 HAUZIK Gameboy Advance SP AC Adapter
Take one look at the HAUZIK Gameboy Advance SP AC Adapter and it might look familiar. Why? Because it's the same standard gray color of the OEM charger Nintendo used to produce for the GBA SP. This is an inexpensive, basic wall charger with a foldable two-prong AC adapter on one end and the proprietary GBA SP input on the other. With a length of 4 feet, it's basically an identical clone of the OEM GBA SP charger without any other accessories included.
Like the Ellen Tool we first discussed, the HAUZIK has the same short circuit protection feature. Notably, it's designed to stop charging when the battery is full and never over-charge. The cord seems to be sturdy, as do both plugs on both ends. It isn't overly designed; it's a basic, cheap and fully functional charger with no extra bells and whistles.
HAUZIK is a brand that we've come across in the past. Although they don't provide any sort of warranty or guarantee for their products, they always tend to be priced fairly. Keep in mind, this is specifically designed for use in North America with an input voltage of 120V. Regardless, this is probably the closest non-OEM charger you can buy for the GBA SP that looks exactly like the original.