Consoles like the Xbox Series X/S are beloved by gamers for many reasons. At the most basic level, there's cost. A quality gaming PC will perform better than any console. But you're going to have to invest a lot of money to keep your rig up to date. By way of comparison, a top-of-the-line graphics card costs more than twice as much as the Series X. With a console, on the other hand, you pay a few hundred dollars for a system that lasts for years. This lets you focus on purchasing games, as well as upgrading your display and other equipment. And with Xbox Game Pass, Microsoft is sweetening the pot with dozens of "free" games.
At the same time, consoles present a unique challenge for streamers. When you're streaming from a PC, everything is on the same device. When you're streaming from a console, you first need to transfer the video to your PC. Of course, you'll also need the rest of the equipment you'll use during an ordinary live stream. You need a good quality mic for picking up your voice. You need a webcam for filming your own face and reactions to the game. And you need a decent headset, so you can hear your game without your mic creating feedback. The right equipment can put you on track to streaming success. The wrong equipment, on the other hand, can hobble your entire channel.
To put you on the right track, we're about to review the best Xbox Series X/S streaming gear. We'll begin with the Elgato HD60 S+. This is a capable capture card with 4K 60FPS pass-through video and flashback recording. Next, we'll check out the Razer Seiren X. This is a high-quality cardioid condenser mic for streaming, recording, podcasting, and more. We'll follow up with the Razer Kiyo Pro. This is a compact webcam with adaptive light sensitivity, HDR, and an adjustable field of view. Last but not least, we'll investigate the HyperX Cloud Alpha Gaming Headset. This is a big, comfortable headset with rich audio and wide system compatibility. When we're done, we'll wrap up by summarizing what we've learned about all four devices. Let's begin!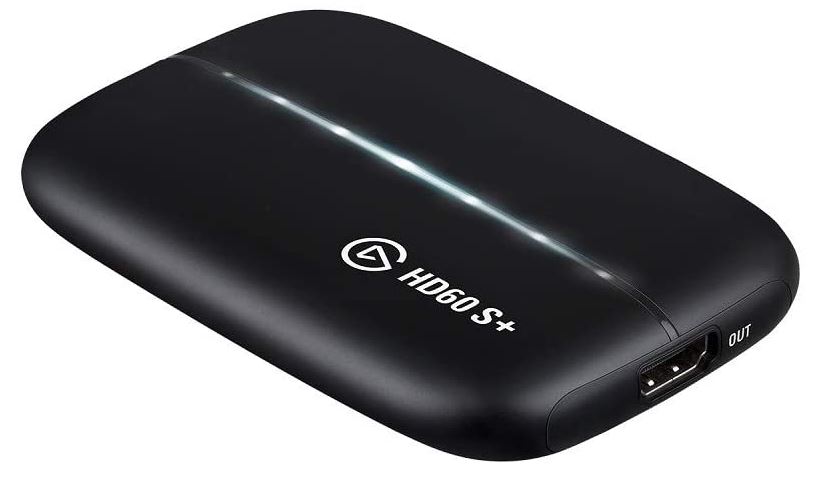 Elgato HD60 S+
Elgato is a company that's well-known for their audio and video equipment. In the past, we reviewed the Elgato Cam Link, their thumb drive-sized HD capture card. Given its excellent performance, we were excited to take a look at their full-sized capture card. A capture card is designed to convert your console's video signal to something your computer can use. The raw HD video output is meant to go to a TV or monitor. Your computer, on the other hand, isn't designed to accept a raw, full HD signal from another device. A capture card converts the raw video stream to a compressed file that your computer can use.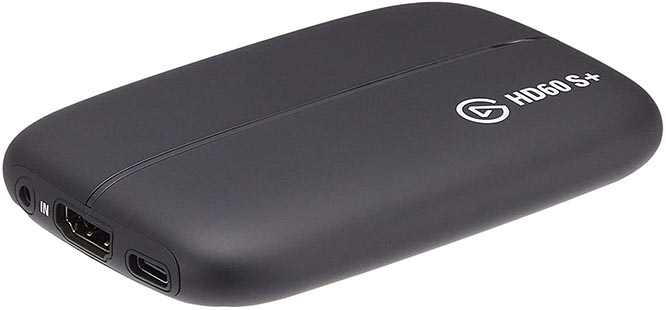 The Elgato HD60 S+ is a palm-sized device that measures 4.41 inches long, 2.95 wide, and 0.75 thick. It has a smooth black plastic housing, and is roughly rectangular, with rounded corners and edges. At one end, there's an HDMI input port, along with a USB Type-C power port and a 3.5mm aux port. At the other end, there's a single HDMI output port which sends the video to your PC. Down the middle of the housing, there's an LED stripe that lights up when the capture card is powered on.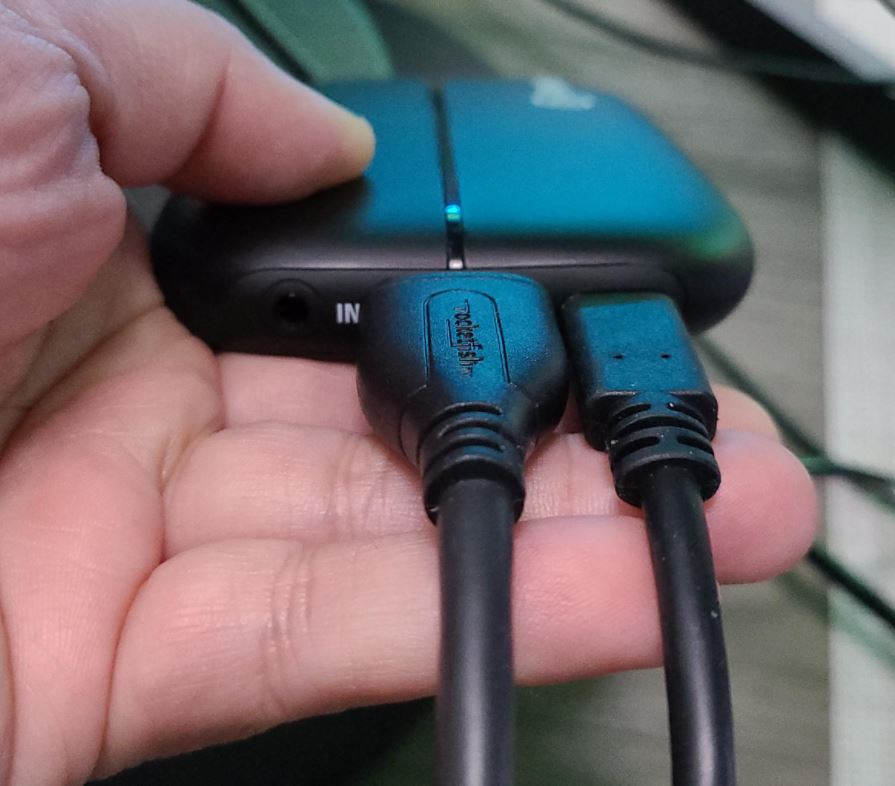 This capture card can record video at 1080p, 60 frames per second. This video can then be transferred to your computer at a later time. You can even use flashback recording to access something you just played. Say you weren't recording, but you just defeated a boss in Elden Ring. You can use flashback recording like the rewind function on a DVR. Then you can permanently record your winning boss fight! Alternatively, you can use pass-through mode. In this mode, the video is simply passed on to your PC, not recorded on the capture card itself. However, the video quality increases to 4K, 60 FPS, which is a significant improvement.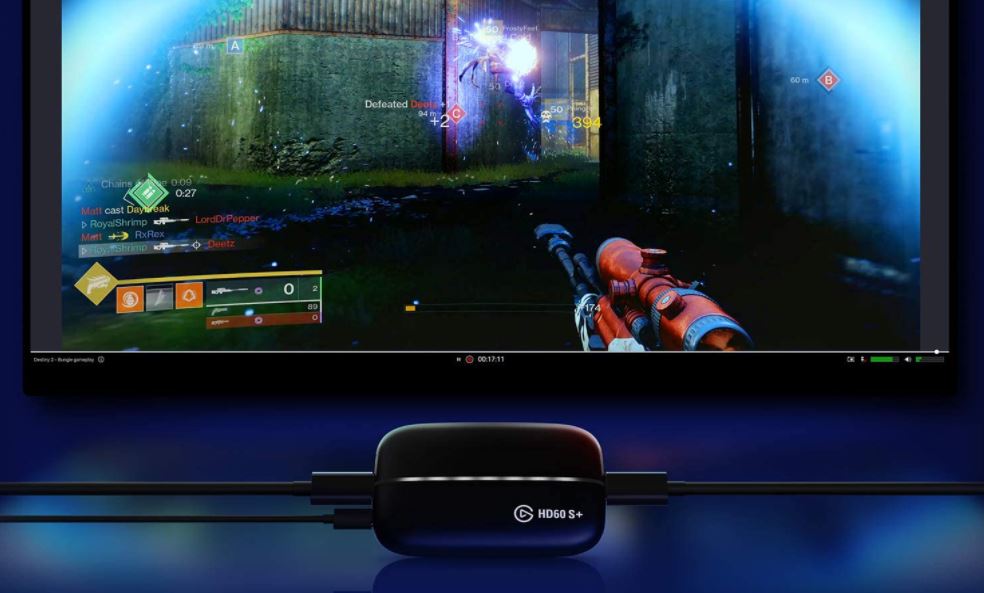 If that's not enough to whet your appetite, the HD60 S+ also lets you record pass-through audio. Plug your headset or mic into the 3.5mm aux jack, and your voice audio will be recorded as a separate track. This is very useful for editing, since your game and voice audio can be adjusted independently.
The Elgato card is plug and play with all modern consoles. In addition to the Xbox Series X/S, it can also capture audio from the Xbox One X/S, PS5, and PS4. It outputs to PC and Mac, and is compatible with most popular capture software, including OBS Studio.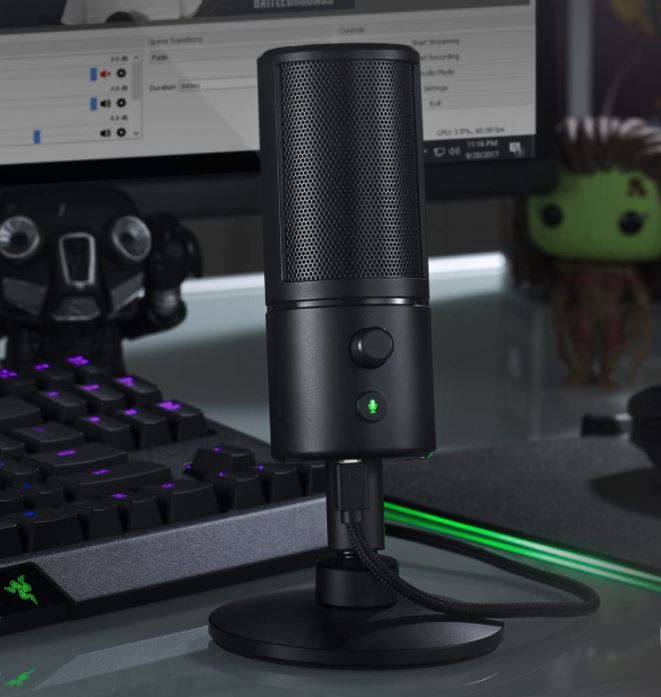 Razer Seiren X
If you're an avid gamer, you've already heard of Raze. Any time you're talking about gaming peripherals, Razer is bound to be in the conversation.
The Razer Seiren X is a sturdy aluminum microphone that's available in a black, white, or pink color. All three have a smooth matte finish, so you don't have to worry about them collecting dust and fingerprints. The base is flat and round, and wider than the rest of the mic to provide stability. The microphone itself sits on the top of a metal mounting rod. This rod connects to the base with a ball joint, which can be angled slightly in any direction.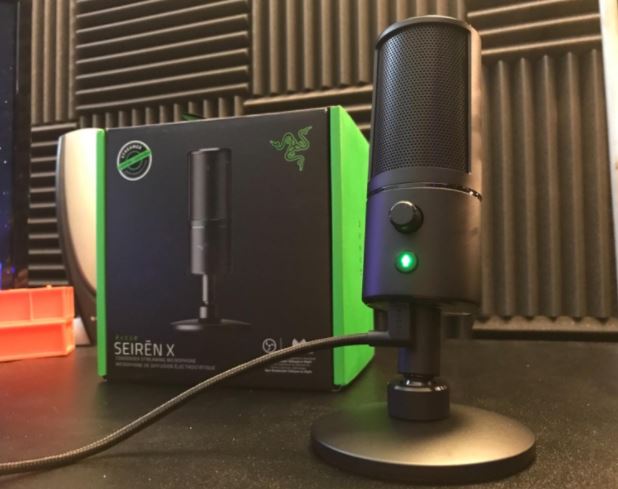 The main microphone housing has a cylindrical shape, and is much taller than it is wide. The bottom third or so is solid, with two controls right in front. These consist of a main power button, along with a gain dial to control the output volume. The upper two thirds has a fine mesh grille across the front, which covers the microphone element. Inside the mic, there's a built-in shock mount. This mount isolates the microphone element from the rest of the housing. When there's a light bump or you tap your desk, it's not going to end up in your audio stream.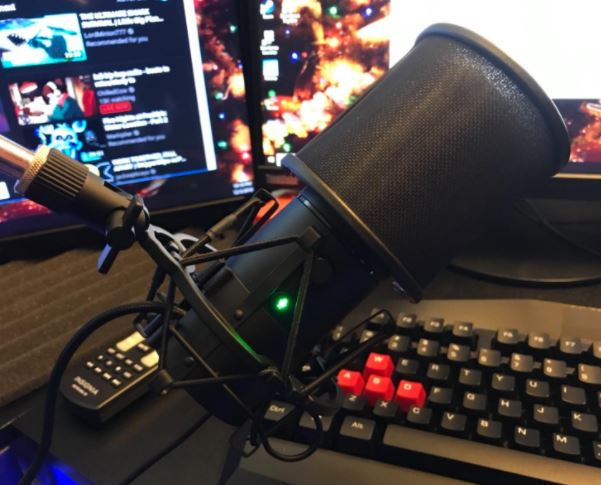 This is a condenser mic, which means it picks up details ordinary dynamic mics won't. Your voice will sound richer and fuller, and the audio will have more texture to it. That said, condenser mics are also more prone to picking up background noise. The Seiren X has a supercardioid pickup pattern, which helps to compensate for this. It picks up a lot of sound directly from the front. But as you move off towards the sides, the volume drops off sharply. So unless a distracting noise is coming from right in front of the mic, it won't get picked up.
Another thing we liked about this microphone is that it's universally compatible. It connects via USB, and it's backwards-compatible with USB 2.0. So if you don't have a USB 3.0 port available, the audio will still come through just fine.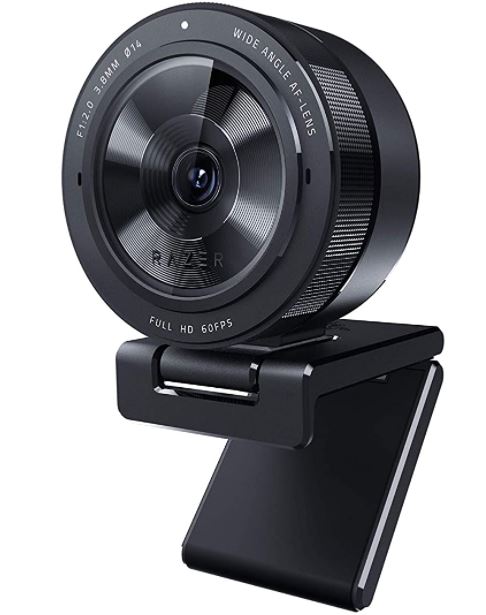 Razer Kiyo Pro
The Razer Kiyo Pro is a compact webcam with a short, cylindrical black housing. It sits on a small plastic base, which folds open to clip on top of your monitor. The mount is also hinged, so you can adjust the lens angle up and down. Alternatively, you can remove the clip-on mount to reveal a threaded socket. This allows you to mount the camera on a tripod, which is not included in the kit.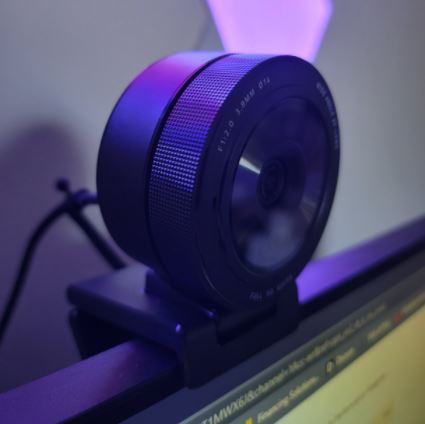 The Kiyo Pro outputs video in uncompressed 1080p, at 60 frames per second. It looks nice and crisp, and it's easy to record in OBS Studio and other similar software. One thing we loved about this camera is the adaptive light sensor. A lot of us like to game in a dimly-lit room, which can lead to grainy video on a low-quality camera. This camera will automatically adjust the light sensitivity to keep the image crisp and clear. It connects via USB, and like the Seiren X, it's also backwards-compatible with USB 2.0. Keep in mind, though, that video will be noticeably fuzzier on USB 2.0. If you want the best quality, you need to connect via USB 3.0 or 3.1.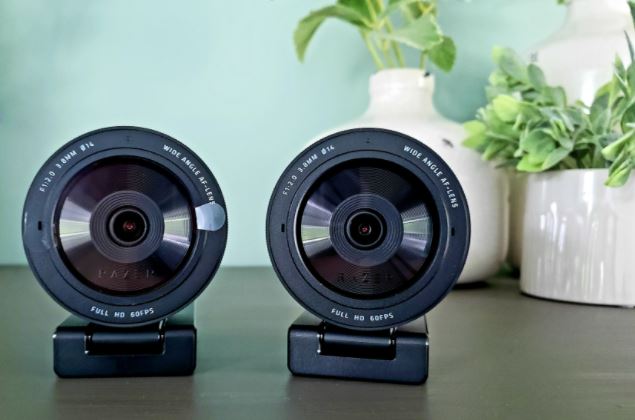 Using Razer's free Synapse software, you can mace some customization's to your camera output. Most significantly, you can change the field of view. The widest setting of 105 degrees is the default, but it's a bit wide for streaming. You'll probably want to tighten the angle closer on your face. You can also use the Synapse software to activate HDR mode. This will reduce your framerate to 30 FPS, but the colors will be much more vibrant. We should point out that video chat software like Zoom and Skype will bypass the Synapse software. On those programs, you'll be limited to the default settings. As a result, while this camera is stellar for streaming, it comes up short for simple remote work.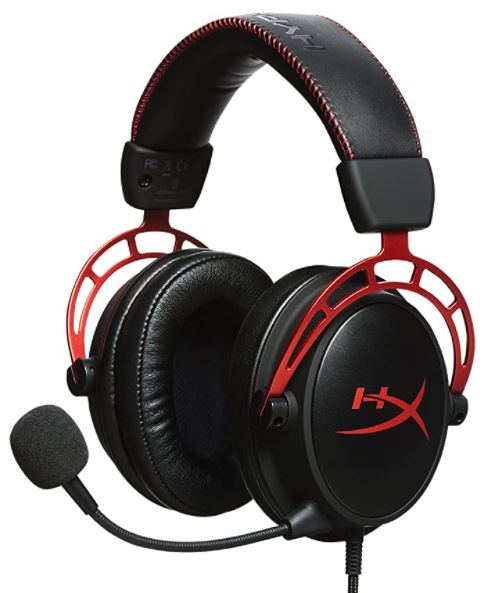 HyperX Cloud Alpha Gaming Headset
HyperX is renowned for their well-engineered gaming headsets. Today, we're looking at one of their newer models, the HyperX Cloud Alpha Gaming Headset. This is a beefy, sturdy headset, with an aluminum frame that can take a ton of abuse. All the padding and components are black. But the frame itself can be ordered in red, blue, or matte black. The head band is fat and very well-padded. It's stiff enough to maintain its shape, but flexible enough to fit on almost any head.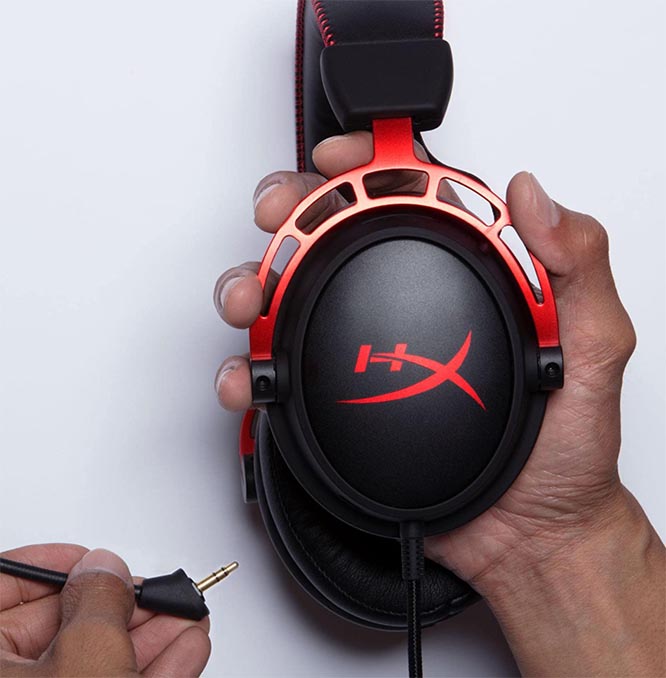 The ear cups are oversized, with very thick faux leather padding. This padding provides a reasonably good seal around your ears, which helps block out outside noise. It's also exceptionally comfortable, and conforms to the contours of your face. Both ear cups can pivot freely, which further improves the fit. Attached to the left ear cup is a gooseneck mic. This mic has a foam-covered tip to filter out breathing and percussive sounds. It's also removable, which allows for easy storage.
Audio is output via a 3.5mm aux port. The kit comes with a pair of cables, for connecting to different devices. It has a simple 3.5mm to 3.5mm cable, with in-line volume and playback controls. If your device has separate mic and headphone ports, you can use a split 3.5mm cable with two tips. This allows for a wide range of compatibility, since it will work with any device with a 3.5mm port. The kit also includes a velvet drawstring bag for easy transport.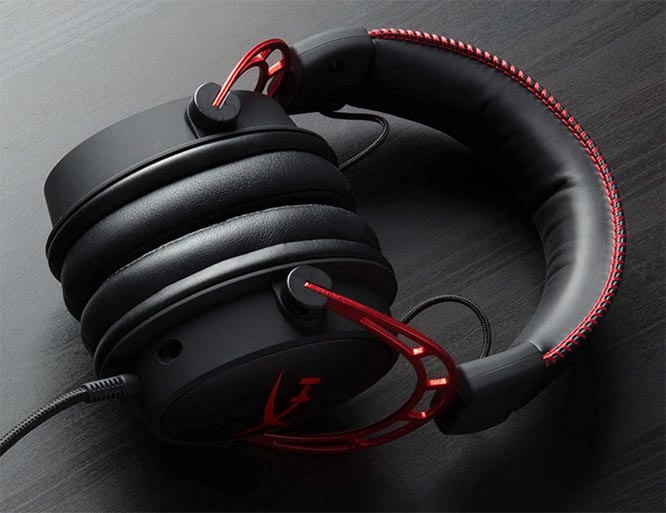 We had zero complaints about the audio quality. Right out of the box, it sounds fantastic, with plenty of response across all audio frequencies. But you can also turn on the optional 7.1-channel simulated surround sound. This gives you a good sense of where in-game sounds are coming from, so you can respond appropriately.
Final Verdict
All four of these devices would make an excellent addition to any streamer's kit. The Elgato HD60 S+ is one of the most powerful external capture cards on the market. It offers up to 4K video at 60 FPS in pass-through mode, along with a useful retroactive recording function. And with its portable design, you can even capture video when you're on the road.
The Razer Seiren X is one of the better USB microphones on the market. It's easy to use, since it connects via USB and doesn't require any separate mounting stand. Its internal shock mount keeps it safe from vibrations, and the audio quality is crisp and clear. The aluminum housing is also nice and rugged, so you don't have to worry about knocking it over.
The Razer Kiyo Pro is an ideal webcam for any streamer. With the free Synapse software, you can adjust the field of view, or activate HDR mode for more vibrant colors. Even without the software, you're looking at a versatile camera with excellent low-light performance.
The HyperX Cloud Alpha Gaming Headset is just what the doctor ordered, both for streamers and regular gamers. It provides clear in-game audio, with good noise isolation for your voice. The 7.1-channel simulated surround sound provides an excellent sense of directionality in your game. And thanks to the thick padding, you can play for hours without any discomfort.