There are any number of reasons you might want a hidden spy audio and voice recorder. Maybe you're a private detective. Maybe you're trying to catch a cheating spouse or a dishonest employee. On a more mundane note, you might just want a discreet way to record meetings and conferences. Whatever your reasons, there are more options on the market than ever before. Today's options are also more affordably-priced than ever. A decent hidden recorder used to cost hundreds of dollars, and you had to deal with cassette tapes. Now, you can get one cheaply, and it will save your recordings in flash memory. That's a major improvement!
In the past, we've reviewed other surveillance equipment, such as spy camera glasses. Today we're going to review three of the best hidden voice recorders on the market. We'll start with the Vandlion Voice Activated Recorder. This innovative device looks and acts like a key fob, and includes a remote control headset for easy playback. Next, we'll review the TileRec Slim Voice Activated Recorder. It's ultra-slim, as its name implies, so it's very easy to conceal, and it sports a rugged aluminum housing. Finally, we'll look at the SOTA Mini Voice Activated Audio Recorder. It has a utilitarian, vertical design, with enough battery life for 28 hours of continuous recording.
Note: At no extra cost to you, we may earn a commission for purchases using our links. Learn more.
To find out which one of these recorders is the best, we'll take a deep dive into their features and performance. We'll talk about battery life, connectivity, and how the recorders function. We'll also talk about how easy they are to conceal. Let's get started!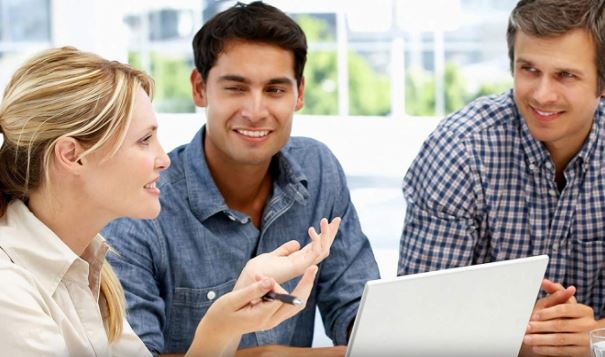 Hidden Spy Audio Recorder Buying Guide
Designing any piece of "hidden" equipment requires you to meet some unusual criteria. For example, if you're designing a wall outlet pinhole spy camera, the lens has to be invisible. Similarly, a hidden recorder with a big, obvious microphone isn't going to work well. You also can't have any bright, blinking lights, or any mechanical components that might make noise. So, what makes a spy audio worth buying? You need to look for three main attributes: a long-lasting battery, easy concealment, and convenient data access and storage. Here are a few pointers for looking at each of those features.
Battery Life
Different audio recorders will use different types of batteries. Some will be rechargeable, while others will be replaceable. Rechargeable batteries are usually best, since you don't have to open the recorder housing for a replacement. Ideally, any modern rechargeable recorder will use a USB charger. There's no need for an overpowered barrel-style charger on a device this small.
When it comes to the actual longevity of the batteries, there are two measurements: standby time and recording time. Standby time measures the amount of time the recorder can sit idle in voice recognition mode. Recording time, on the other hand, measures how much actual recording you can do on a single charge. So if a recorder has a standby time of 15 days, it can monitor and remain active for that amount of time.
But the same recorder might also have a recording time of 20 hours. If on the first day, the recorder does five hours of recording, it will eat through a quarter of the battery. As a result, the standby time would be reduced by 25 percent, or 3 ½ days, plus the full day of standby time. So after that first day, you wouldn't have 14 days of standby remaining; you'd have 10 ½ remaining.
Concealment
Concealment can take many forms, depending on how you're using the recorder. In its most basic form, a recorder can simply be a tiny box that's easy to hide. Alternatively, it could be disguised as another electronic device, or even a piece of clothing. Generally, the latter is a better choice if you're personally present for the recording. You'll maintain full control over the recorder at all times. On the other hand, going small and hiding the recorder is a better choice if you're leaving it in place. Avoid recorders with fancy logos, blinking lights, or bright colors. Stick with plain black or grey, without any markings.
Data Access and Storage
After you've captured your audio, you'll need some way of recovering it. Most modern recorders use simple on-board storage. Some will use a Micro SD card, but this requires a slot and additional hardware that makes the recorder larger. On-board flash storage, on the other hand, is as simple and compact a solution as you'll find.
How much storage is enough is an entirely different question. It depends on what you need to accomplish. If you're conducting surveillance, more is generally better. You never know how much junk audio you're going to pick up. When something relevant happens, you'll want to have some space left! If you're just recording a meeting or a class, having tons of space is less of a concern. That said, you might want to have some extra just in case. If you haven't had time to download your last notes, you don't want to have to overwrite them.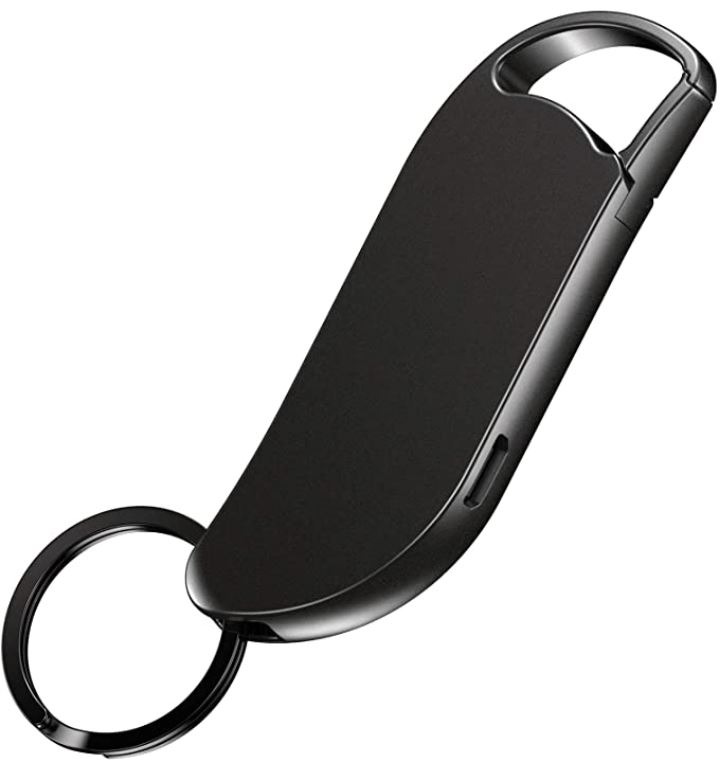 Vandlion Voice Activated Recorder
The Vandlion Voice Activated Recorder is designed to be carried on your person. It's a simple key fob, and it looks like a car or elevator fob. Unless you were to take a very close look, you wouldn't think it was anything special. It's charcoal grey in color, with a key ring hole on one end and a carabiner-style clip on the other. You even get a little key ring along with the package.
There's a Micro USB port in one of the sides, and an on/off toggle switch on the reverse. In the on position, the Vandlion will start recording any time it picks up speech. In the off position, it will be inactive, but you can retrieve and play back your recordings. Next to the switch, there's also a small LED light. This light is a charging indicator, and will only ever illuminate when the recorder is plugged in.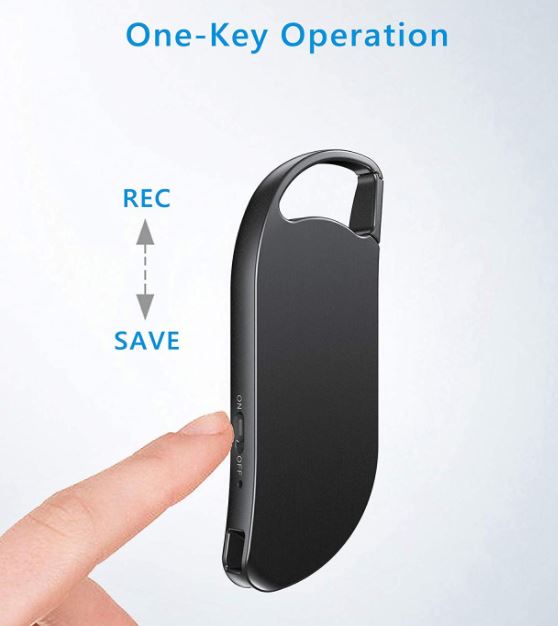 The 64GB of internal memory is impressive, enough to store 750 hours of audio. Audio is saved in WAV format at 192KBps, better than average. However, the Vandlion can also support the MP3 format. This isn't for your recordings; it's for your music library. In addition to working as a recorder, the Vandlion device also works as a thumb drive or MP3 player. As a thumb drive, you simply copy files over as you would with a normal drive. It works exactly the same, on both Windows and Mac. There's also a file with your audio recordings. Recordings are saved with a timestamp, so it's easy to find a particular meeting or conversation.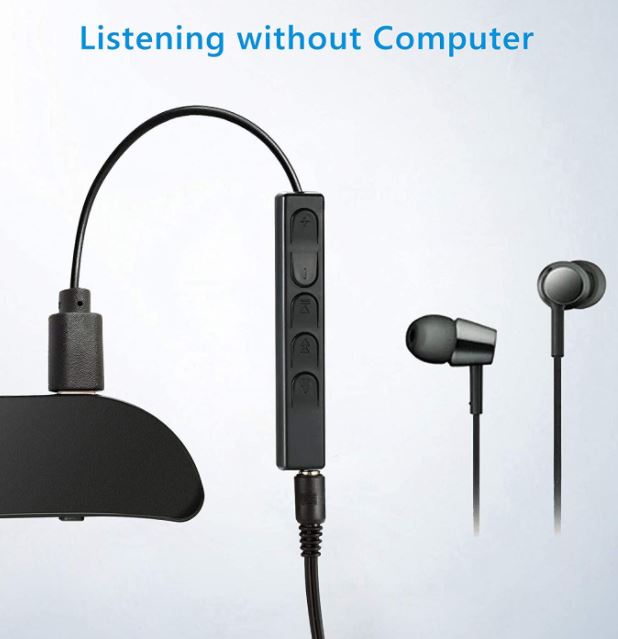 For MP3 playback, you can use the included headset. It has an in-line remote with a few basic functions. You can adjust the volume, play or pause the music, or skip tracks. You can't search for particular songs, though. The same is true for using the headset to review your recordings. It's a great way to review a meeting and take better notes. But if you need to find a specific conversation you're better off reviewing the files on your computer. Besides which, you'll need to plug into your computer to delete old files anyway. A USB cable is included in the kit for this purpose.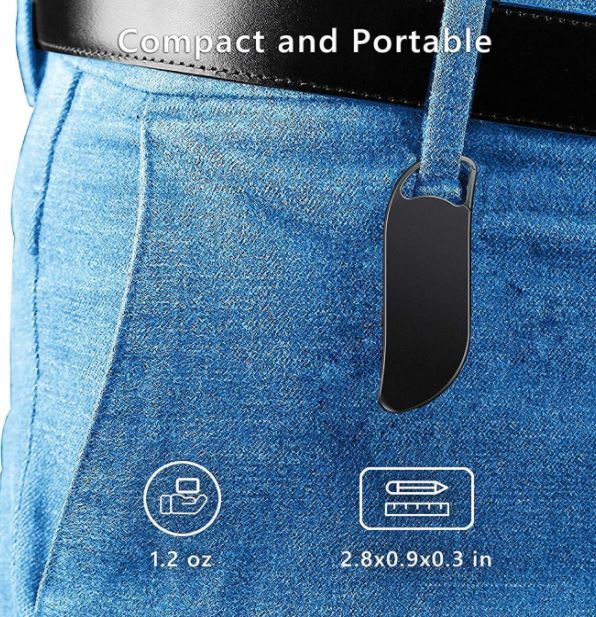 The same cable can be used for charging the battery, which takes about two hours. On a full charge, you'll have enough juice for 15 hours of recording, or for 30 hours of standby time. If you need to record for longer than that, you'll need to have the recorder plugged in. That way, you can record indefinitely, or at least until the on-board storage is filled up. Keep in mind, though, that there's no way to turn off the charging LED, so this is not a stealthy option. Playback drains the battery a bit faster, so you get 10 hours of playback time on a charge. As with recording, you can also play back audio while you're charging.
The audio quality is quite good, with 360-degree sound detection. The Vandlion recorder uses both PCM digital and standard noise reduction to filter background noise. This is normally quite effective, but it depends a lot on the environment. If you're recording on a subway platform, you'll definitely hear the trains rolling by.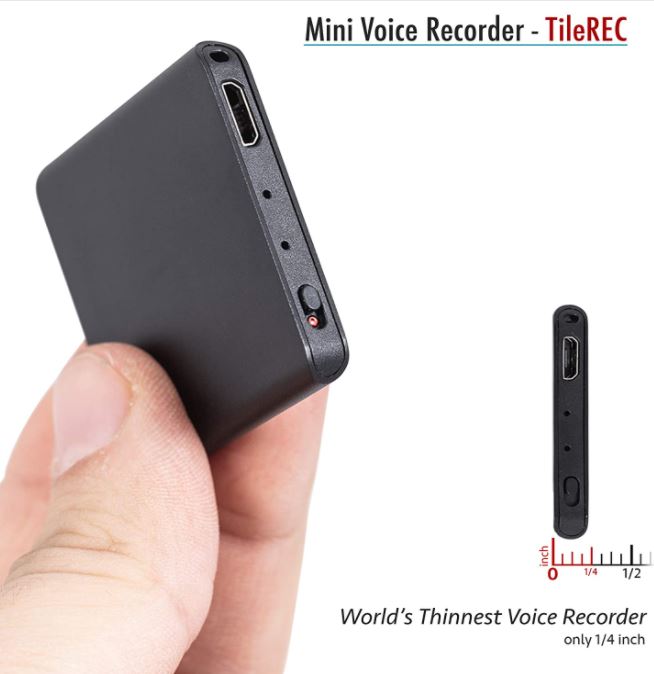 TileRec Slim Voice Activated Recorder
The TileRec Slim Voice Activated Recorder is a different animal altogether. Rather than being designed to be carried, it's designed for easy concealment. Like the Vandlion unit, it's charcoal grey in color, but the housing is constructed from aluminum alloy, not plastic. This makes it fairly rugged, in case it gets dropped or kicked. The overall size is 1.57 inches square, and less than a quarter inch in thickness. You can easily slip it behind a piece of furniture, into a bookshelf, or other concealed locations.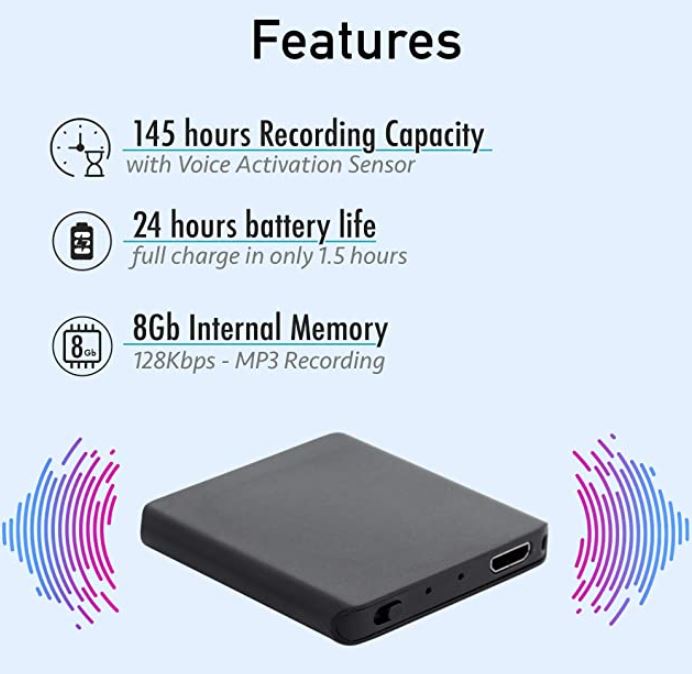 On one side, you'll find a Micro USB port for charging and connecting to your computer. Charging takes only two hours, and a full charge will get you 24 hours of recording time. TileRec does not provide a standby time, but we can confirm that it's at least four days. Furthermore, you can record while charging for There's a switch for alternating between constant record mode and voice activated mode. There's also an LED that lights up while recording, but this can be deactivated for better stealth.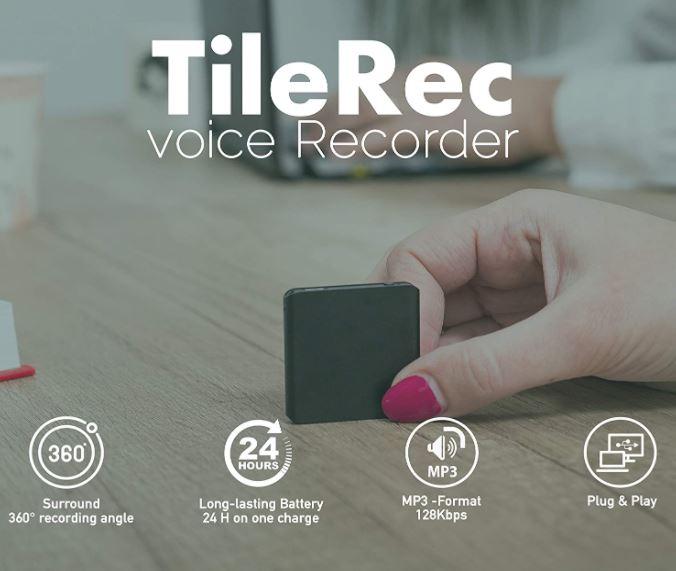 The on-board memory is sufficient for 145 hours of recording in 128KBps MP3 format. That's not quite as crisp as the Vandlion, but it's iTunes-standard. Like the Vandlion, you plug it into your PC or Mac and manage the files as you would on a thumb drive. This is also your only way to review files, since the TileRec recorder has no native playback capability.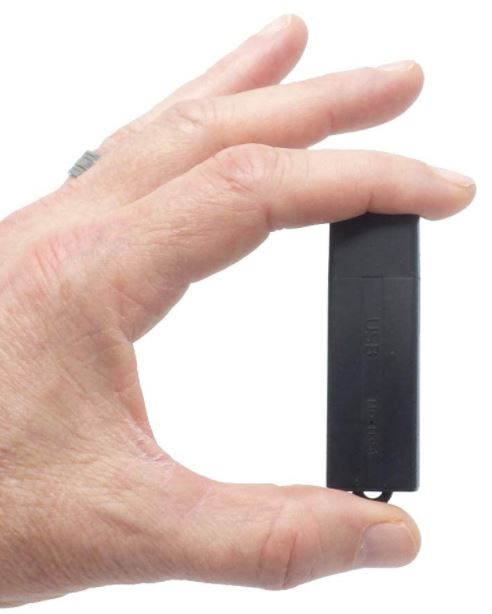 SOTA Mini Voice Activated Audio Recorder
The SOTA Mini Voice Activated Audio Recorder is yet another unit that's designed to be hidden. It's made of black plastic, and takes the form of a long rectangle that you can hold between two fingers. The most attractive feature is its easy-to-use control. There's a simple wheel switch on the top with three positions. Flip it left for continuous recording, or flip it right for voice activation. With the switch in the center, you're ready to download and manage your recordings. At the bottom of the recorder, you'll see a Micro USB port for connecting and charging. A cable is included in the package, along with a USB charger, so you have everything you need to start.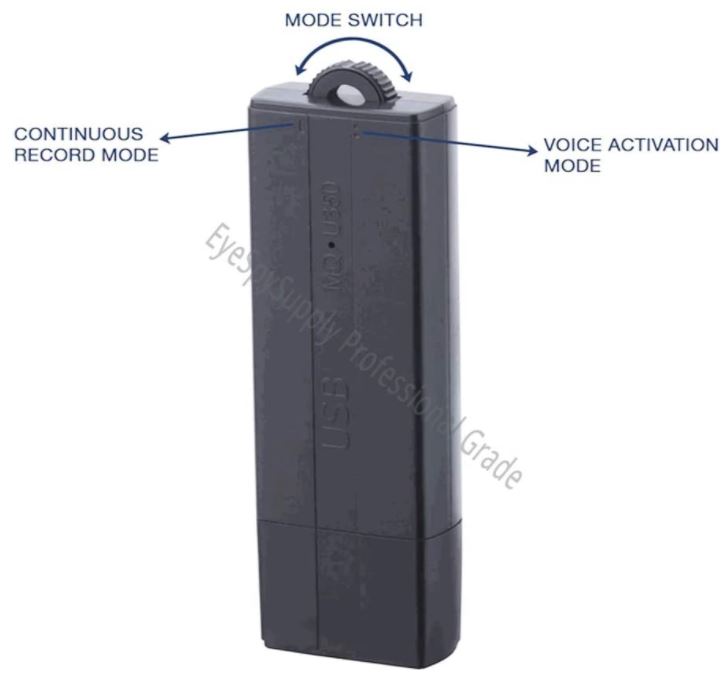 The SOTA recorder has a respectable amount of on-board memory, with 8GB of storage, which is enough for 288 hours. When you connect to your PC or Mac, you can manage them or delete old ones. You can also copy other files to the recorder and use it as a flash drive. The battery is good for 28 hours of continuous recording, or 25 days of standby time. This is a truly impressive amount of time, among the best in the business. Finally, you're covered by a 12-month manufacturer's warranty if anything goes wrong.
Final Verdict
Each of these hidden spy audio and voice recorders has its own merits and weaknesses. Take the Vandlion Voice Activated Recorder. It's not ideal for leaving in place, since the battery life is fairly short. On the other hand, the wearable design makes it ideal for personal use. And the remote control headset and MP3 function make it more versatile than the others.
The TileRec Slim Voice Activated Recorder and SOTA Mini Voice Activated Audio Recorder are better for using in place. That said, they're better for different situations. The TileRec recorder is what you want if you need something durable. Its aluminum construction allows it to handle plenty of abuse. The SOTA recorder, on the other hand, offers superior battery life. With 30 days of standby time, you could leave it alone for a full month.
Please consider sharing:
Note: At no extra cost to you, we may earn a commission for purchases using our links. Learn more.