Do you require a reliable and discreet recording device for personal or professional use? Our list of top hidden voice and audio recorders can help.
With impressive recording capabilities and convenient features, these devices are a great choice for anyone looking for discreet audio recording solutions. Discover our top picks and what sets each device apart.
If you need to record audio discreetly and efficiently, any of these recorders could be the solution you're looking for. We've tested and reviewed each option to help you find the one that best suits your needs.
Best Overall: TCTEC Keychain Voice Recorder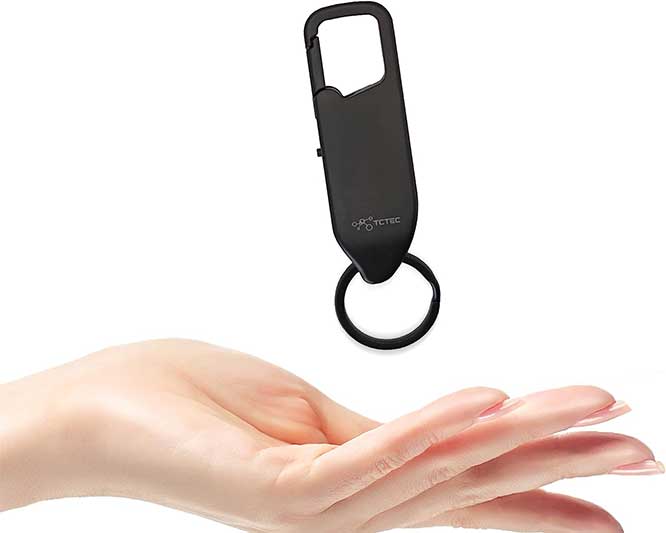 Key features:
64GB storage capacity
750-hour recording capacity
Very easy to use
Superb-quality sound recording
Voice-activation capable
The TCTEC Keychain Voice Recorder is a high-quality recording device in a slim and convenient form factor. Measuring just 2.6 inches in length, with its own dedicated keychain and clip, it can easily be carried on the go without any noticeable side effects. With 64GB of internal storage, users are able to record up to 750 hours before needing to backup any of the collected audio files.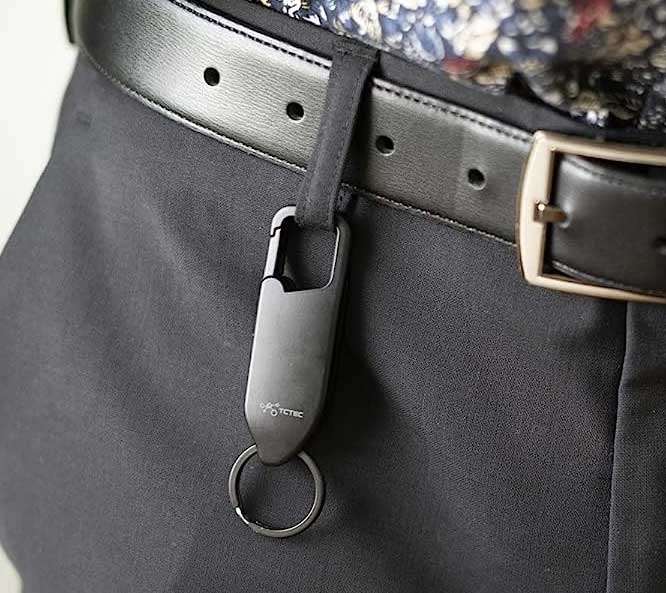 Utilizing a convenient USB-C connection, the internal battery has enough "juice" to last for up to 15 hours of continuous recording before needing to be charged-up. As a result, most users can go weeks without needing to consider re-charging it. Best of all, you can leave it plugged-in while charging, if need be. In addition, if the battery is running low, the device will automatically save the current audio recording file, so you don't mistakenly cut any of your recordings short.
Operation is achieved with a simple one-button touch. The result is quick and instantaneous recording at a moments notice, without any guesswork. And if you're someone who wants to make matters even easier, turn the switch to the "VA" option to activate its voice activation feature. With it, the TCTEC will automatically begin recording once it hears a nearby sound or voice; perfect for stealthy situations where secrecy is of utmost importance. There's even a built-in 3.5mm auxiliary input for plugging-in headphones for on-the-go listening to your recorded files.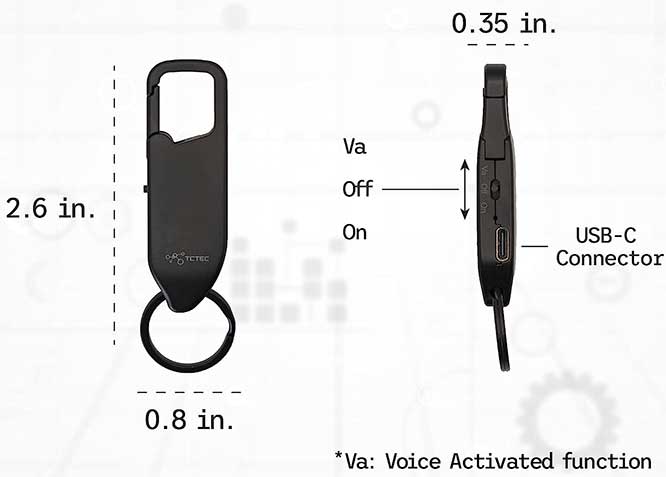 What truly sets the TCTEC apart from the competition is its unique 360-degree microphone. Capable of supporting panoramic recording, it makes for crisper, clearer and cleaner audio no matter what direction sound or voice is coming from. In terms of audio quality, we found it to be phenomenal. The amount of clarity this device delivers in a step above any other discreet recording device that we tested. Voice comes across as clear, vivid and with greater detail than one may expect. Even when the recorder is concealed in a pocket, the captured audio is steps above any of the competition. It's the sole reason we chose it as our best overall option.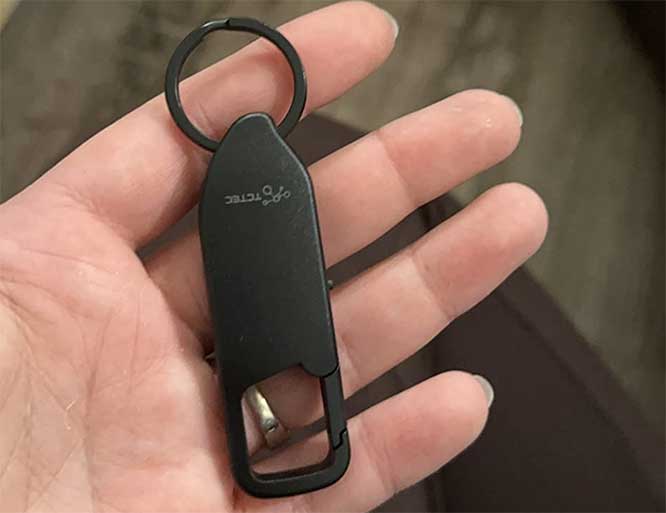 With a built-in clip, keychain and discreet appearance, it's visually similar to a USB flash drive, and likely nobody will ever notice it. Perfect for spying, discreet recordings or emergency situations when you need to record clear, crisp audio without any of the guesswork. All in all, the TCTEC voice recorder provides everything we love to see in a portable form-factor that's designed and built well.
What we liked:
Discreet and sleek appearance
Very good audio recording quality without distortion or unwanted effects
Slim and ultra-portable form-factor
Auto-save recording feature if battery is low
Quick charging via USB-C
High compatibility with all operating systems
What we didn't like:
No indication for remaining battery life
Only available in one color scheme
No mention of warranty
Best Runner-Up: KNIGHT 64GB Magnetic Voice Activated Recorder
Key features:
64GB storage capacity
800-hour recording time
Voice-activated functionality
Built-in magnet for easy attachment
The Knight 64GB Magnetic Voice Activated Recorder is a versatile and reliable device for recording audio. With a recording time of up to 800 hours and a battery life of up to 70 hours, this small and lightweight device is perfect for use in a variety of settings, such as classes, meetings, and more.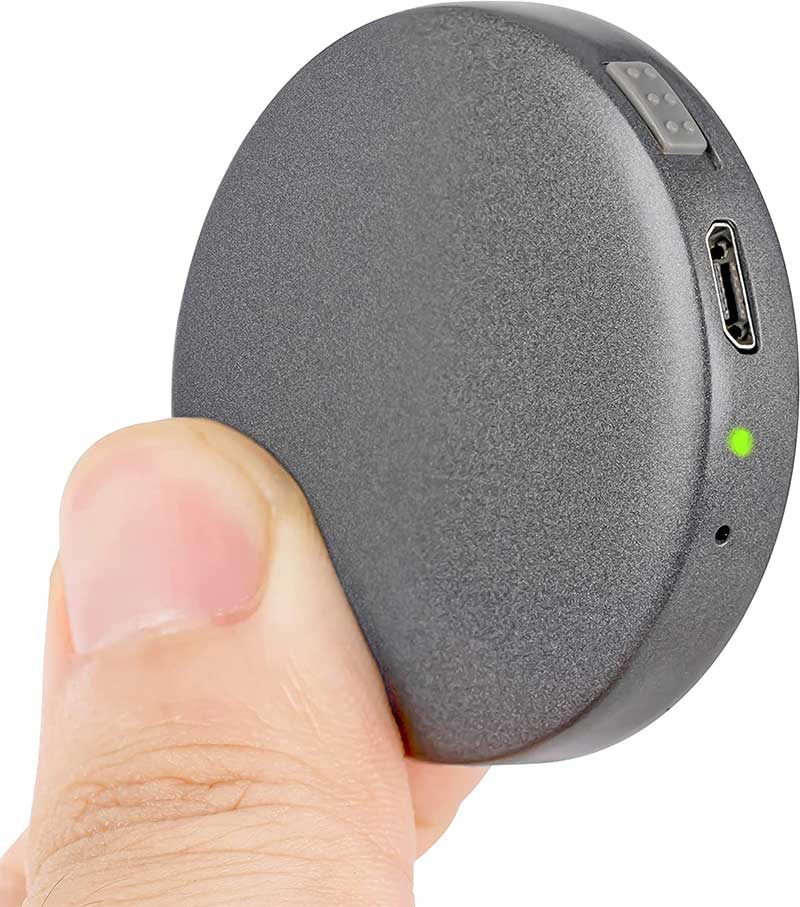 One of the standout features of the Knight recorder is its voice-activated functionality, which ensures that it only records when someone is speaking. This helps to save storage space and battery life. We tested this feature by recording a meeting, and we were impressed by how accurately it detected when someone started speaking.
It also comes with a built-in magnet, which makes it easy to attach to a metal surface or hide away in a bag or pocket. We tested this by attaching it to a metal desk and found that it stayed securely in place.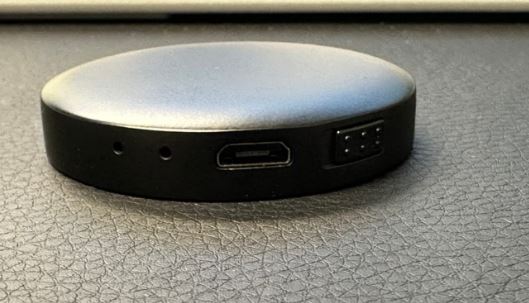 The Knight recorder records in crystal clear 192 kbps quality, which is superior to many other similar devices on the market. We listened back to a recording of a lecture, and we were impressed by how clear and easy to understand the audio was.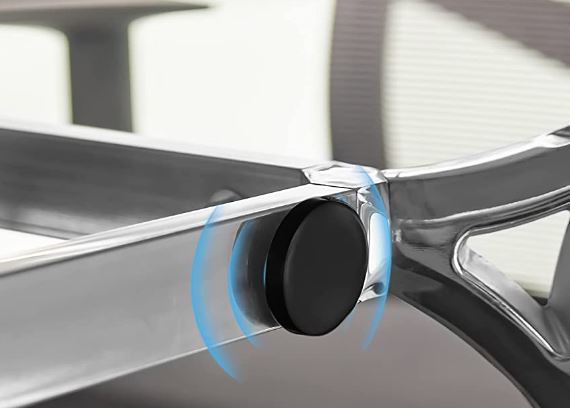 Bottom line; Knight's Magnetic Recorder is a reliable and user-friendly device that delivers excellent performance. Its long battery life, large storage capacity, and voice-activated functionality make it an excellent choice for anyone looking for a high-quality recorder. Additionally, the lifetime warranty offered by the manufacturer gives peace of mind to users who may be concerned about the longevity of it.
What we liked:
Crystal clear 192 kbps recordings
Lightweight and portable
Long-lasting 70-hour battery life
Lifetime warranty with US-based support
What we didn't like:
May not be compatible with all devices
No indication of remaining battery life
Most Discreet: AKALULI 64GB Digital Voice Recorder Pen
Key features:
Voice-activated recording
64GB storage
1536 kbps high-quality sound
Easy-to-use interface
For all of your (discreet) recording needs, AKALULI may have exactly what you've been looking for. Highlighting the most cutting-edge PCM ten-core triple digital intelligent noise reduction technology and dual omnidirectional stereo microphones, this professional pen provides up to 64GB of storage capacity. That's enough space for over 800 hours of secret audio recordings, or the equivalent of 30,000 songs.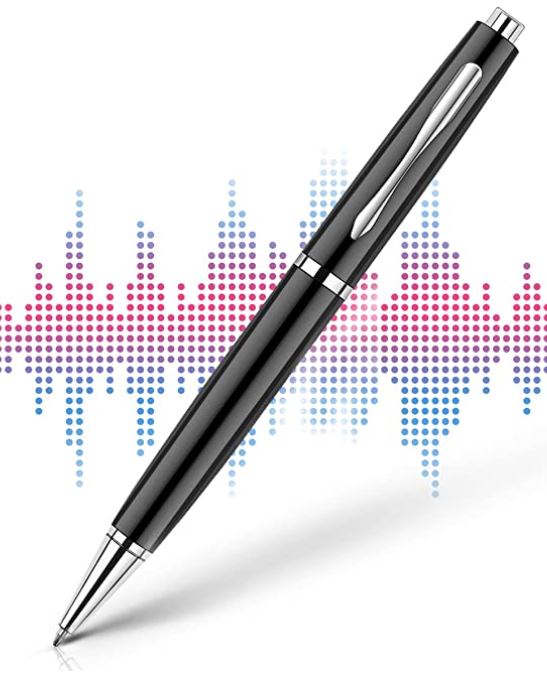 This voice recorder is truly remarkable due to its automated, voice-activated function. Not even the faintest of whispers will be overlooked as you record, thanks to this feature, saving both time and storage space! Furthermore, don't worry about losing your recording mid-session when the battery runs out because it automatically saves everything before shutting down.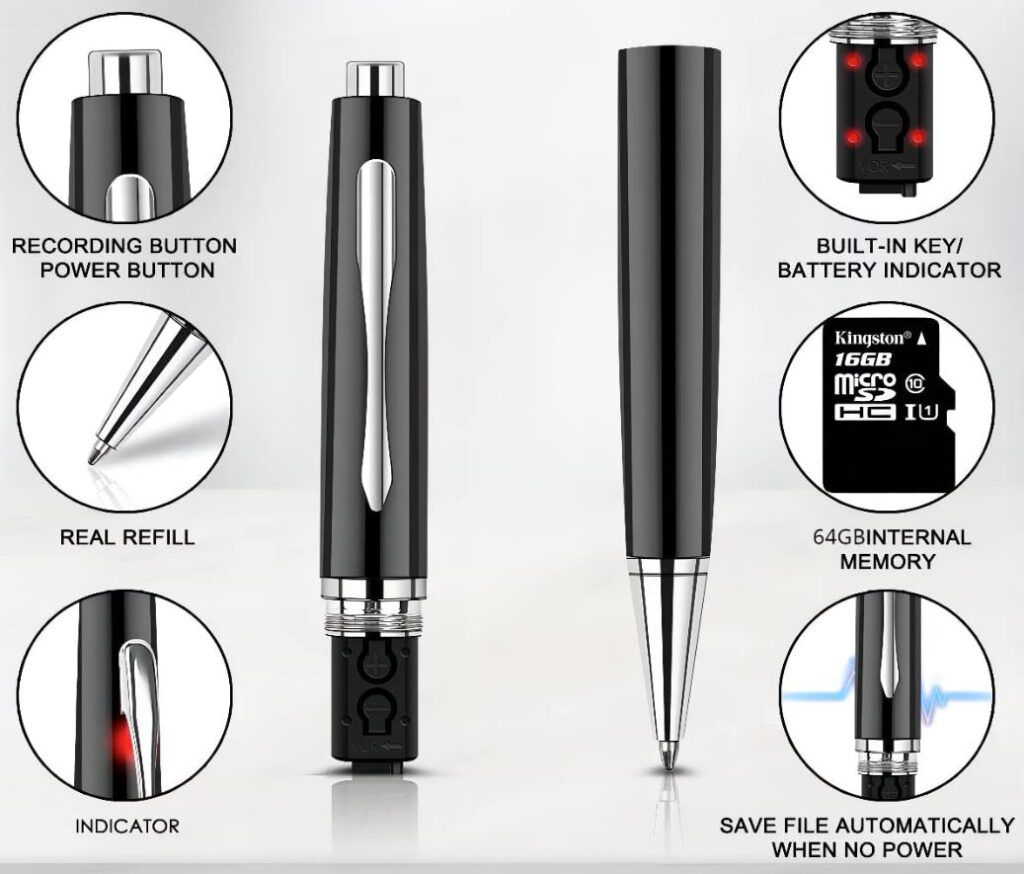 With its simple button to record, save, and playback with just one press, the device is perfect for students, professors, businessmen, writers as well as bloggers. Its compact size and clip design make it easy enough to attach to your coat or book; not only that, but you can even use it like a U-disk, too.
Our rigorous tests revealed that the pen boasted clear recordings and playback, featuring 1536 kbps of high-quality sound. What's more, files could be kept up to date with time stamps for simple file management. Both Windows and Mac users can utilize it as is. Please be aware, though, that Mac users must download VLC audio player beforehand in order for the recording files to transfer via the included USB cable.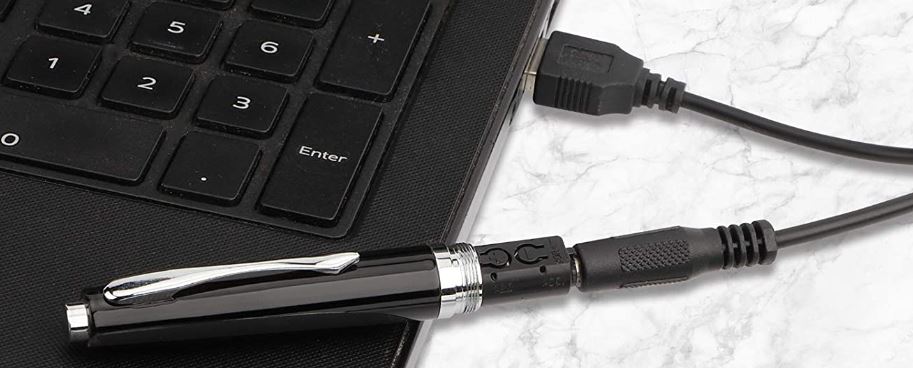 AKALULI's digital voice recorder is an effortless yet powerful "pen" for anyone wanting to capture high-quality audio recordings. Whether you need it for lectures, meetings, interviews, or taking down personal notes – this tool offers a multitude of features that are sure to come in handy.
What we liked:
Smart battery detection prevents loss of files
Compatible with both Windows and Mac
Can be used as a U-disk
Comes with a 24-month warranty
What we didn't like:
Battery life is only 6 hours
Need to download VLC player for Mac
Best Budget: Taheng 64GB Mini Voice Activated Recorder
Key features:
Compact size for easy portability
64GB memory for extensive recording storage
Automatic noise reduction for high-quality recordings
Voice-activated mode for efficient battery usage
The Taheng Mini Voice Activated Recorder is an ultra-small recording device that is perfect for recording important content on the go. Its compact size, measuring 3.01.00.35 inches, makes it easy to carry in your wallet, pocket, or keychain without any hassle.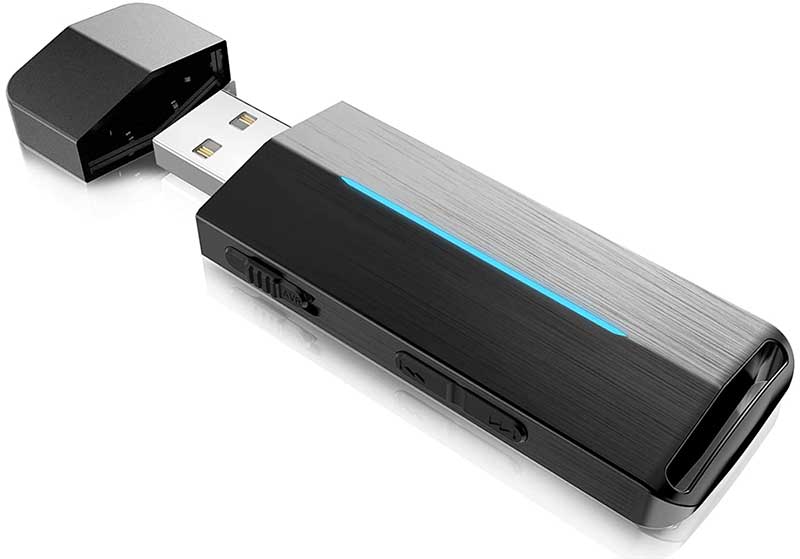 With 64GB of memory, it can store up to 750 hours of recording files, making it ideal for long interviews, lectures, or meetings. The recorder also functions as a professional MP3 player and USB drive, offering more versatility.
Equipped with omnidirectional stereo microphone, it can capture clear sound from afar. Its automatic noise reduction technology ensures that your recordings are of high quality, with up to 512 kbps. Additionally, its sturdy zinc alloy shell ensures durability while giving it a unique visual appeal.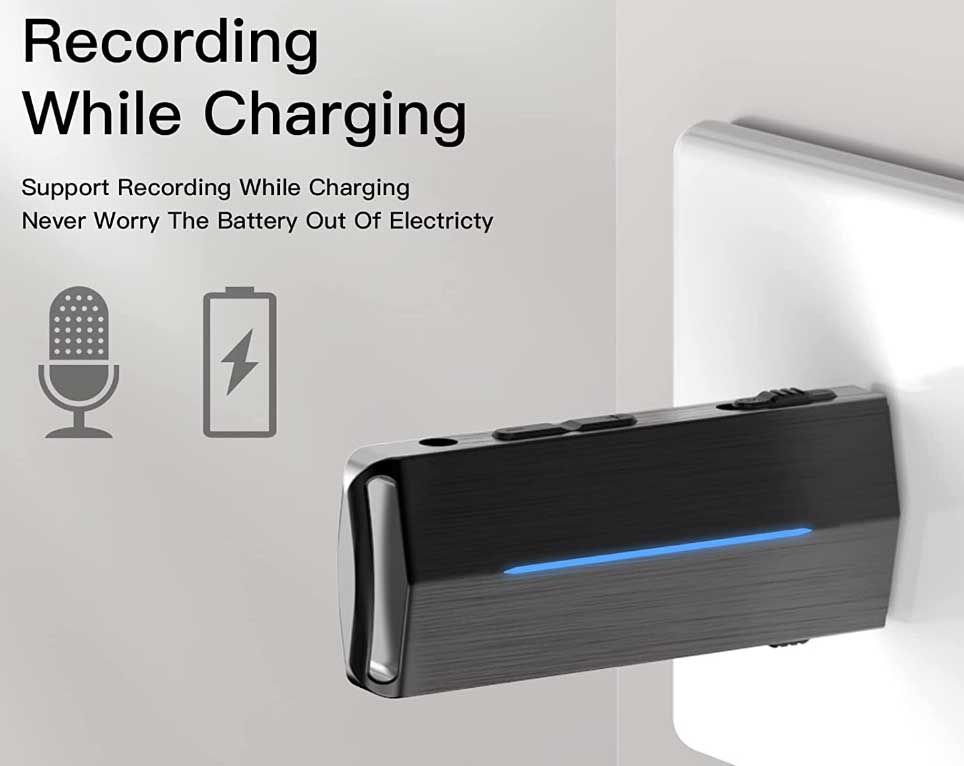 One of the most convenient features of the recorder is the one-key recording function, which allows you to start recording with a simple press of a button. It also has a voice-activated mode that recognizes surrounding sounds and starts recording automatically, which saves battery power and memory space.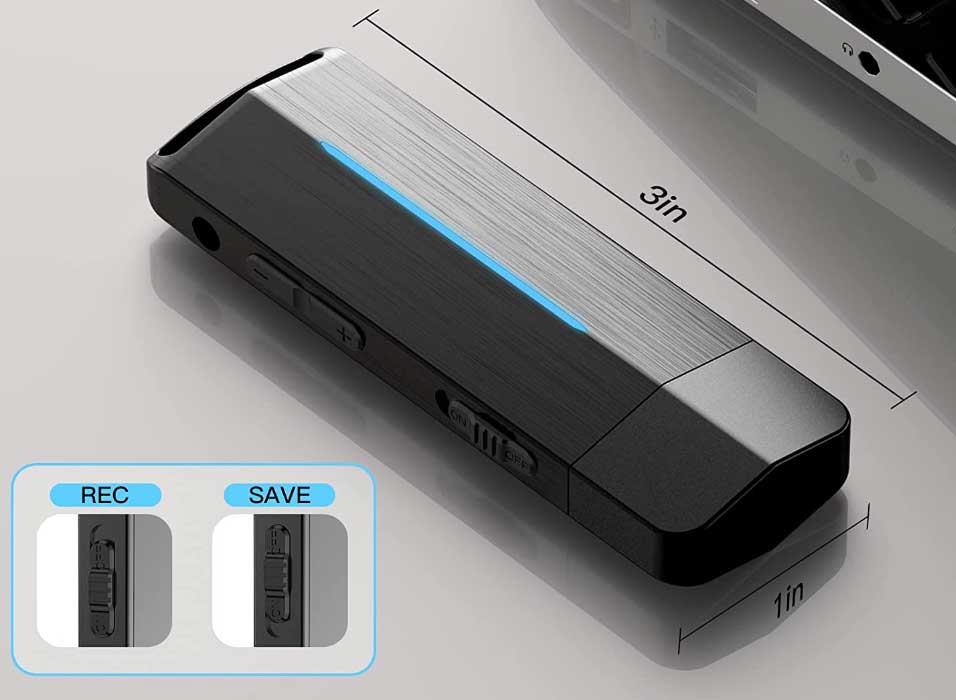 This device also comes with a time stamp function for easy file management and a data protection feature that automatically saves recordings when battery power is low. It is a good gift idea for your loved ones to improve their productivity during lectures, meetings, or classes. It's also sure to be a welcome present for that suspicious someone who's trying to get answers.
Either way, Taheng's Mini Voice Activated Recorder is a great investment for anyone in need of a portable recorder. Its versatility, quality sound, and user-friendly functions make it a great value for the price.
What we liked:
One-key recording function for easy use
Time stamp function for simple file management
Personalized and stylish design
Support for recording while charging
What we didn't like:
Limited battery life of 25 hours
May not be compatible with all devices
Best Premium: iZYREC Digital Voice Recorder
Key features:
30 hours continuous recording
Dual Knowles SiSonic Microphones
2000 hours of recording files
File protection feature
The IZYREC Voice Recorder is the perfect tool for a variety of situations, like lectures, meetings, and even in cars. It boasts an impressive 450mAh battery that allows it to continuously record up to 30 hours non-stop, as well as 40 hours with voice activation enabled.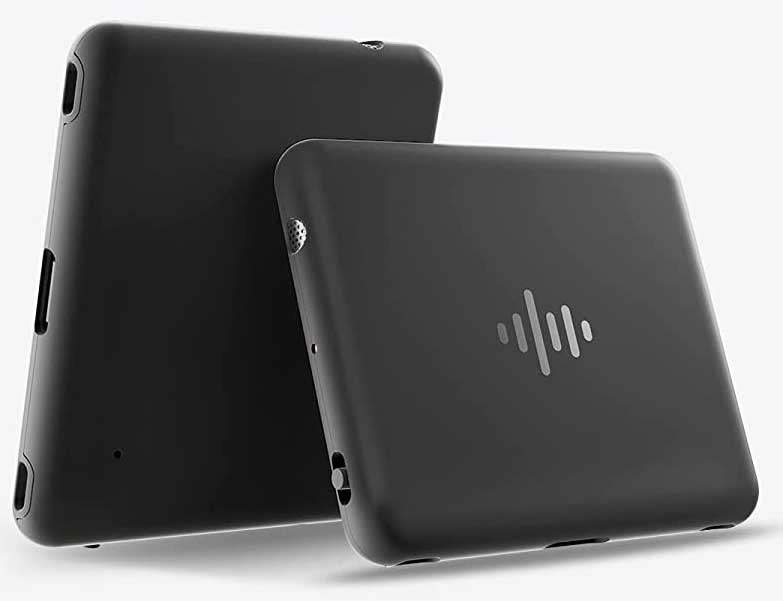 Its 32GB capacity can store an astonishing 2,000 hours of files in any format you desire. That in itself is a testament to its efficiency and convenience and a welcome aspect for anyone who's tired of fighting with converting file formats.
At merely ¼-inch thin and a lightweight 18 grams, this voice recorder is the epitome of discretion. With its free magnetic back clip and adhesive Velcro attachment, you can easily attach it to your phone for call recording or carry it around in any pocket size. Furthermore, with its USB Type C hardware interface compatibility, transferring files has been made simpler than ever before!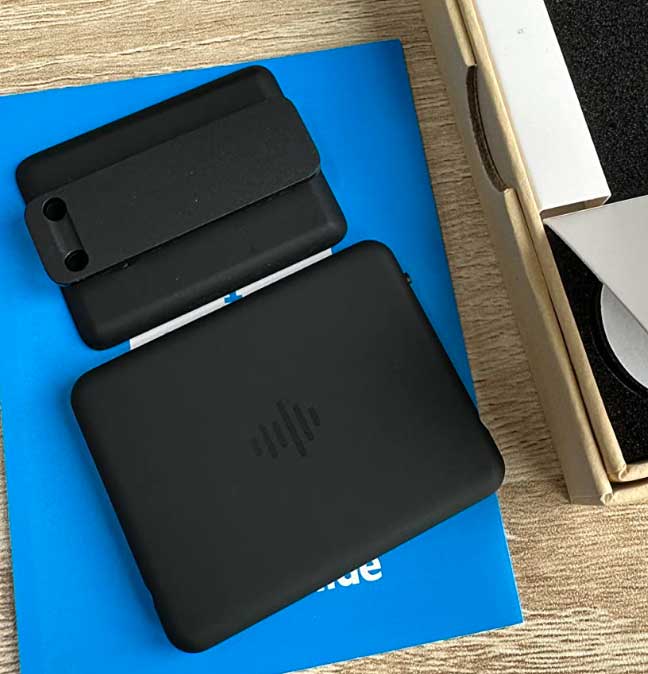 Boasting powerful microphones with AI sound cancellation, the iZYREC provides recordings of remarkable quality and clarity at 1536 Kbps resolution. Plus, its file protection feature keeps your recordings inaccessible to anyone without permission – even if they have access to the device itself. With this secure yet superlative technology in place, you can rest assured knowing that your sound files will remain safe and be recorded clearly for optimum results.
With just a single slide of the finger, you can start recording with this device. And what's more, it allows for instant playback and management of your audio files through an easy-to-use app interface with visualized controls so that finding specific voices in recordings is effortless.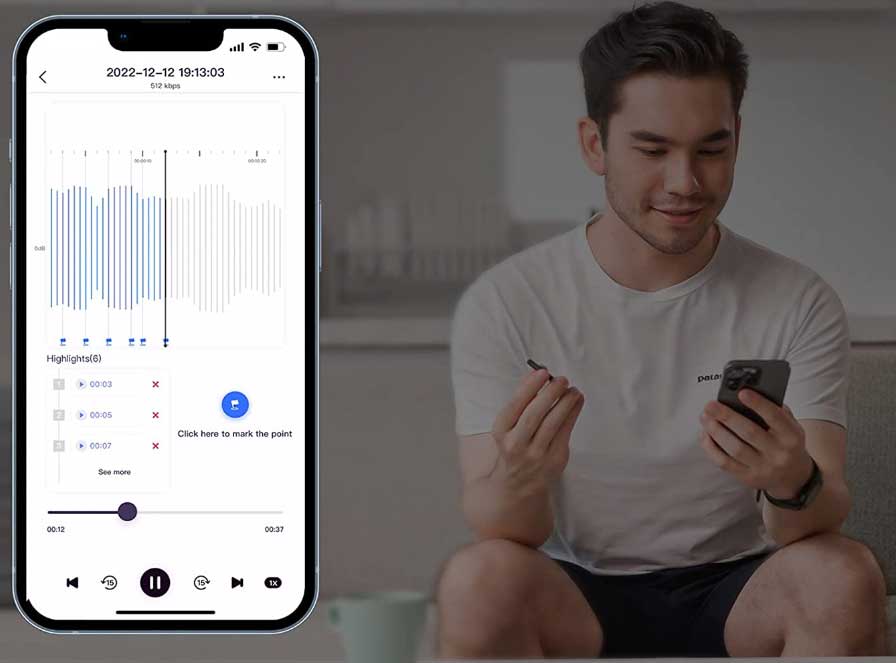 IZYREC's Voice Recorder is the perfect choice for anyone who needs to record and store audio files. Its impressive sound quality, file protection feature, compact size, and instant playback make it an incredibly useful device for all sorts of scenarios.
What we liked:
Discreet and easy to carry
Instant playback feature
Compatible with smartphones
AI noise canceling for crystal-clear audio
What we didn't like:
Payment plan interest rates may be high
Best Alternative: Atto Digital Voice Activated Recorder
Key features:
Voice-activated
15-day continuous recording
MP3 audio format
8GB memory
Boasting a 5000 mAh rechargeable battery – the highest capacity available on any voice recorder today – the PoweRec from aTTo Digital is designed to capture all vital information without detection. Yes, it's larger than others presented here, but that mega battery comes at a price, and that price is size.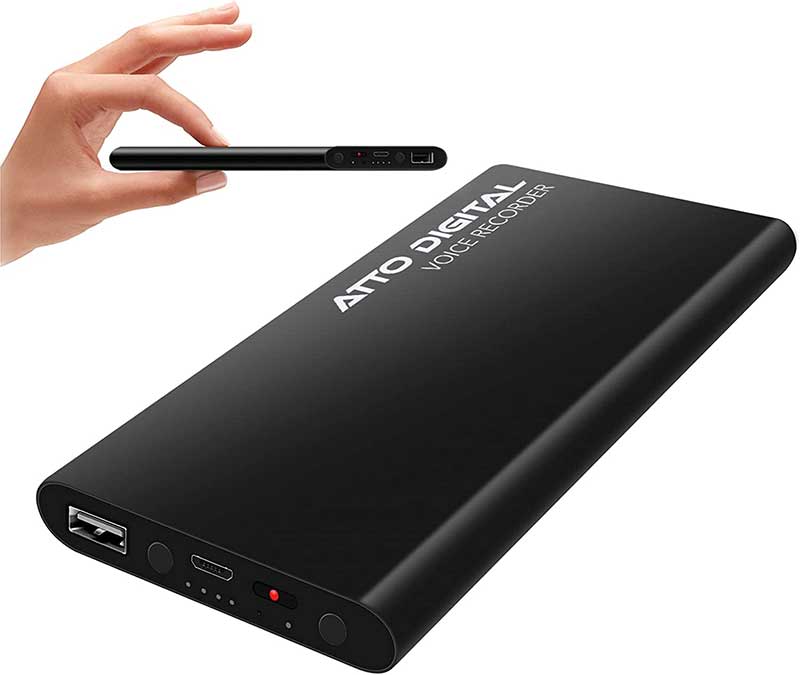 No matter, though; this device guarantees up to 15 days of continuous recording, whether in continuous or voice-activated mode. Even better, there are no beeps, noises, or indicator lights. Investing in PoweRec ensures that you can get recordings discreetly and reliably, whatever the situation may be. And because it's so thin, you should have no trouble hiding it when you're ready to start capturing audio.
It's a pretty revolutionary recorder based on its incredible battery capacity alone. But it also boasts an advanced voice sensor that triggers a voice-activated recording mode and can record audio from up to 15 feet away and as low as 45 decibels.
Plus, it has the ability to pause during silent moments, so you don't waste time or storage capacity. Not only that, but this gadget also boasts crystal-clear recordings with noise reduction technology for clear playback in any situation – whether it's for classes, meetings, home security, or other personal use needs.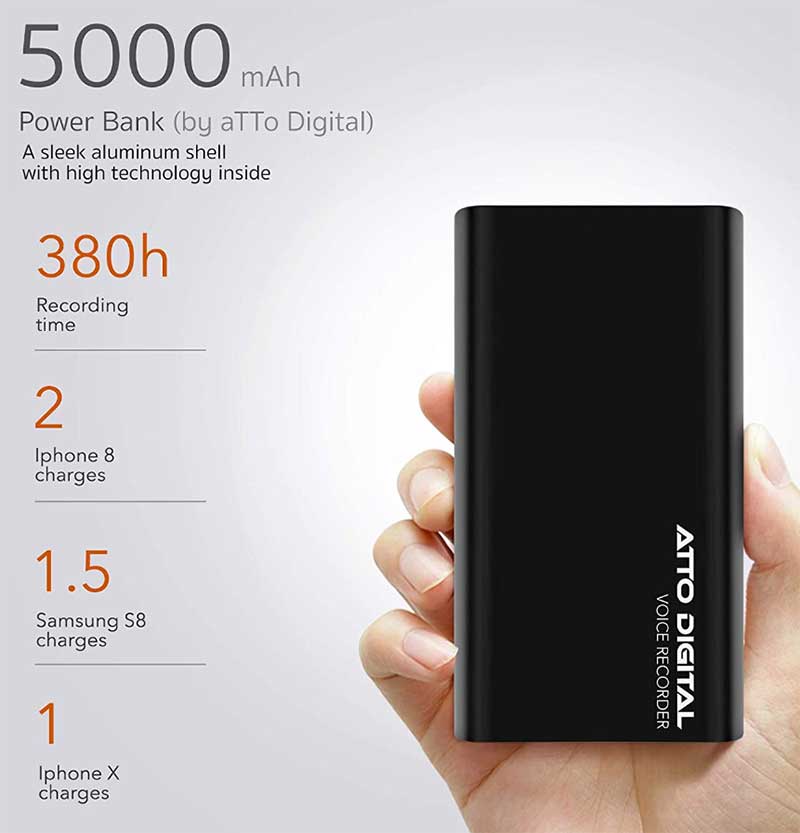 The PoweRec voice recorder is the ultimate plug & play device that makes audio files in MP3 format, compatible with any personal device, from PCs, Macs, and tablets to Android smartphones. Plus, you don't have to worry about extra software installations or buying cables separately – an OTG cable comes included.
aTTo Digital has ingeniously created this highly effective voice recorder, which is also an efficient portable power charger. With 8GB of memory, it can record up to 570 hours of audio data. That's over 15 days without needing to be recharged. As an added bonus, the 5,000 mAH Li-Po battery can keep your smart device powered while you're recording.
What we liked:
Large battery capacity
Smart voice sensor
Plug & play
Doubles as a portable power charger
What we didn't like:
Expensive
No option for expanding memory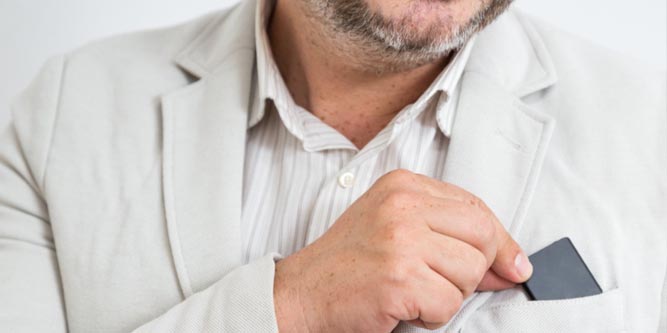 Hidden Audio and Voice Recorders for Spying FAQs
Are hidden voice and audio recorders legal to use?
It depends on the laws in your country or state. In general, it's legal to record conversations if at least one party consents to the recording. Some places require all parties to consent, so it's important to check the laws in your area before using a hidden voice and audio recorder.
Can hidden voice and audio recorders be used for professional purposes?
Yes, hidden voice and audio recorders can be used for professional purposes, such as recording meetings or interviews. However, it's important to obtain consent from all parties involved and to follow any applicable laws and regulations.
How do I choose the right hidden voice and audio recorder for my needs?
Consider factors such as recording time, battery life, sound quality, and ease of use. Think about the settings in which you'll be using the device, and look for features such as voice-activated recording and automatic noise reduction to make your recordings more efficient and effective.
Final Verdict
After thorough testing, the KNIGHT Voice Activated Recorder emerged as our top pick due to its impressive recording time, voice-activated functionality, and built-in magnet for easy attachment.
The AKALULI Voice Recorder Pen is a close runner-up thanks to its high-quality sound, automated voice-activated function, and compatibility with Windows and MAC. If you're on a budget, the Taheng Mini Voice Recorder is a great value with its compact size, one-key recording function, and automatic noise reduction technology.
For those willing to invest, the iZYREC Digital Voice Recorder offers crystal-clear audio, instant playback, and compatibility with smartphones. Finally, the Atto Digital Voice Activated Recorder is ideal for those who need an ultra-long recording time and crystal-clear recordings, as well as a device that doubles as a portable power charger.