Over the past several years, most mobile device manufacturers are forgoing the headphone jack. Apple, Samsung and other top-name brands are shipping their latest releases without auxiliary inputs. Ultimately, this means plugging-in your favorite pair of wired-headphones simply isn't possible. Or is it?
Luckily, several third-party brands have been busy creating USB-C to Aux headphone jack adapters. This way, you can change the charging input on your new smartphone or tablet to an input that accepts any wired audio device.
Let's be honest, wireless Bluetooth headphones aren't for everyone. If you feel this way, opting for a USB Type-C headphone adapter that lets your device accept plug-in headphones is a great solution. All you'll need to do is simply plug it into your charging port, then plug your headphones into the 3.5mm input it provides. Fairly simple. However, figuring out which one to invest in can be time consuming and a bit confusing.
Today we've uncovered the best USB-C to Aux headphone jack adapters currently available. In this article, you'll find more details on each option. Not all are created equal, but we're here to make the process of choosing one a bit easier. Let's get right into it.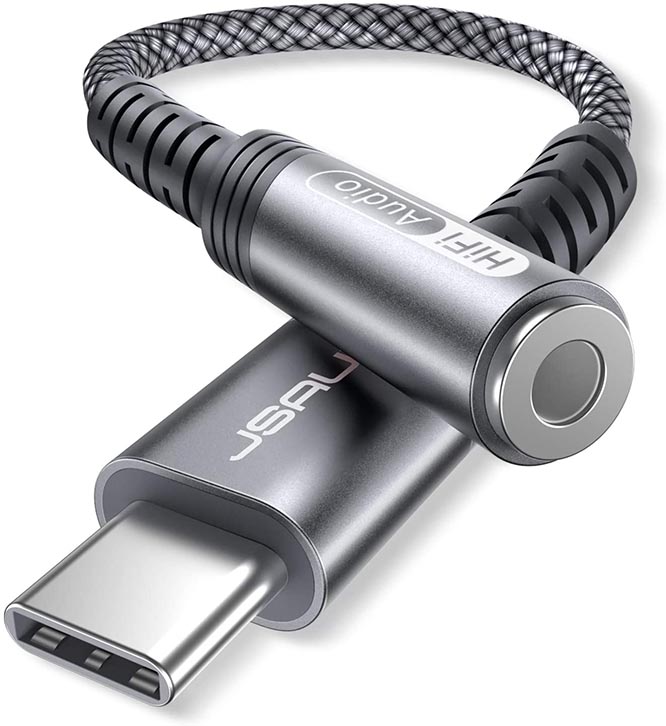 JSAUX USB-C to 3.5mm Female Headphone Jack Adapter
The JSAUX Headphone adapter is a well-made "dongle" offering wide compatibility. Virtually any type-C phone or tablet will work well with it; including but not limited to Samsung, Google Pixel Apple, HUAWEI, One Plus, Sony, Nokia and more. It measures roughly 6 inches in length, meaning that it's portable, small and easy to carry. Available in eight different colors, you could even purchase one that perfectly matches your device.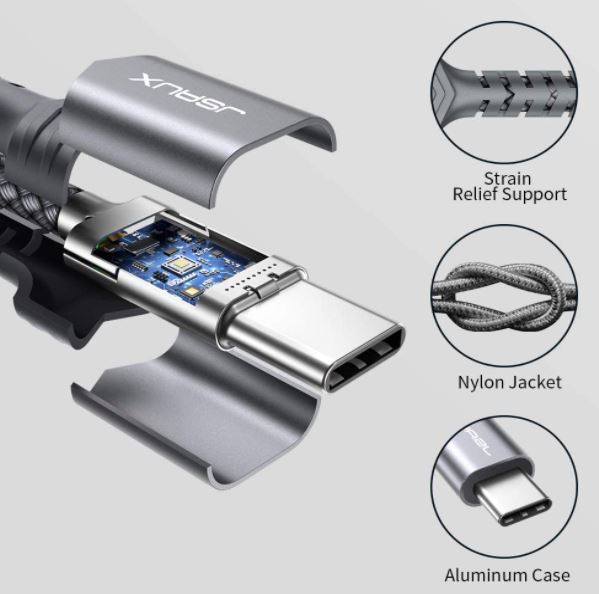 The JSAUX adapter is very well made. Rated for a 15,000 bend lifespan, you can rest assured knowing that it won't break or become damaged from continuous use. Comprised of a military-grade nylon fiber and aluminum housing, it's up to 200% more durable than other options. Internally, there's even a smart DAC chip. It works to convert any digital signals to analog while retaining the original audio quality. Simply put, it won't change the audio profile; it will adapt and suppress any audible degradation.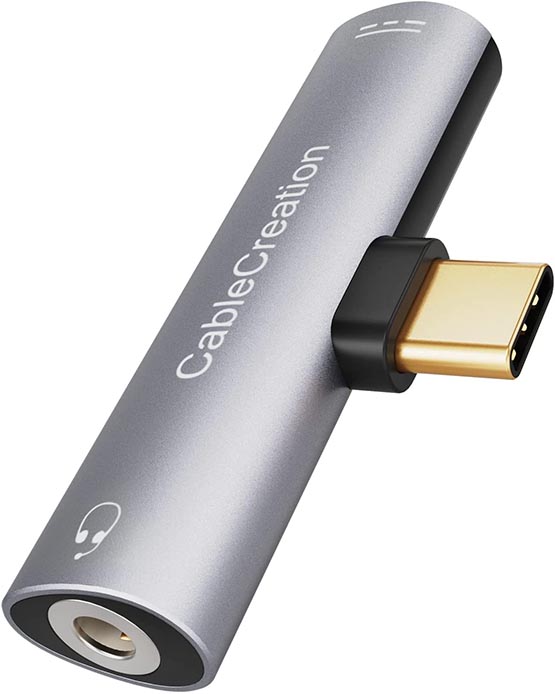 CableCreation USB C to 3.5mm Headphone and Charger Adapter
Some people want to have the ability to plug-in their wired headphones, but most adapters pose one major issue. When you're using a Type-C to Aux adapter, it takes up the same port you use to charge it. The CableCreation Adapter solves this issue. It lets you plug-in your wired audio device while offering a separate port for charging. That said, you can charge your smartphone or tablet while simultaneously using wired audio.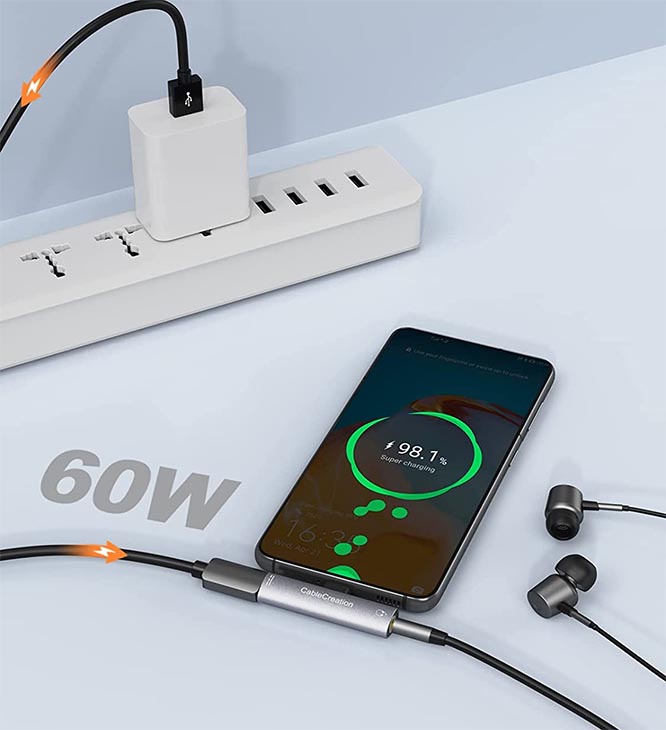 Best of all, the CableCreation USB-C to 3.5mm adapter supports PD charging. Typically, adapters can cause mayhem with charging speeds, but that's simply not the case here. It allows up to 60W (20V/3A) without any degradation to the charging or audio quality. In fact, this adapter also allows for Hi-Res audio, thanks to a built-in DAC. Best of all, CableCreation is a well-known brand that's been around for over a decade. They offer a 24 month warranty and lifetime tech support if you encounter any issues with it.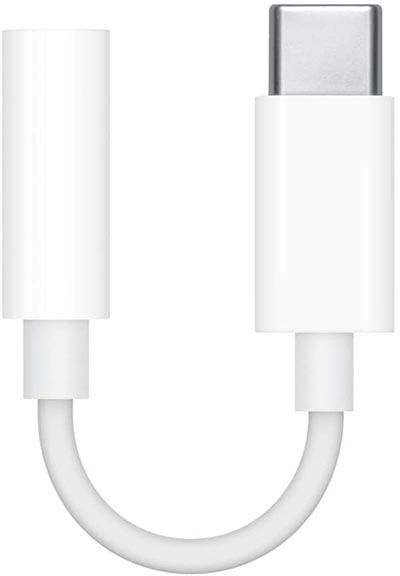 Apple USB-C to 3.5mm Headphone Jack Adapter
If you're looking for a tried and true option, look no further than the Apple USB-C to 3.5mm Adapter. It's well-known as the first of its kind, since Apple was one of the first major companies to start removing the headphone jack from new release smartphones and tablets. It's a basic, well-built USB-C to 3.5mm adapter that's not only compatible with Apple products, but virtually any device, regardless of brand.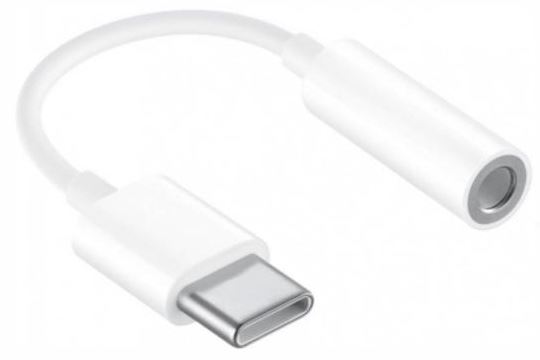 The Apple adapter has its own built-in DAC, although the precise specifications of it are not available. It's simple to use, easy on the eyes and built with the Apple name-brand quality most users have become accustomed to. It seems to be a bit thinner than the other options we've already discussed, but does not seem overly fragile in any regard. Overall, the Apple USB-C to 3.5mm adapter is tried and true; quality in every way.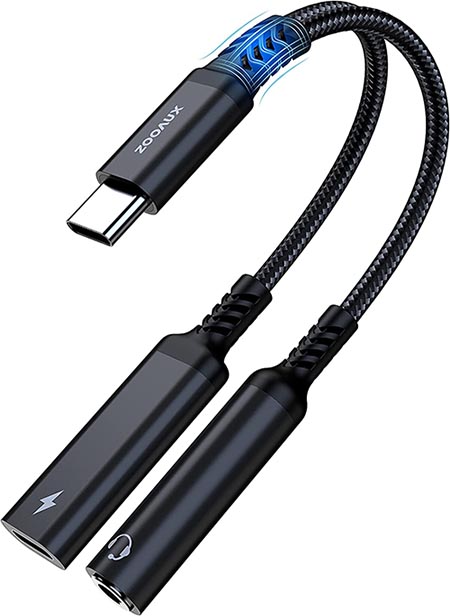 ZOOAUX USB-C to 3.5mm Headphone and Charger Adapter
Similar to the CableCreation, the ZOOAUX USB-C to 3.5mm adapter is ideal for those who want to retain charging capabilities and use wired headphones simultaneously. Rather than a rigid design, ZOOAUX created their adapter as a splitter that splits the USB-C port into both a single 3.5mm and USB-C input. Each one has it's own short dongle that freely moves in any direction. It offers wide compatibility for virtually any modern smartphone or tablet, other than all OnePlus devices.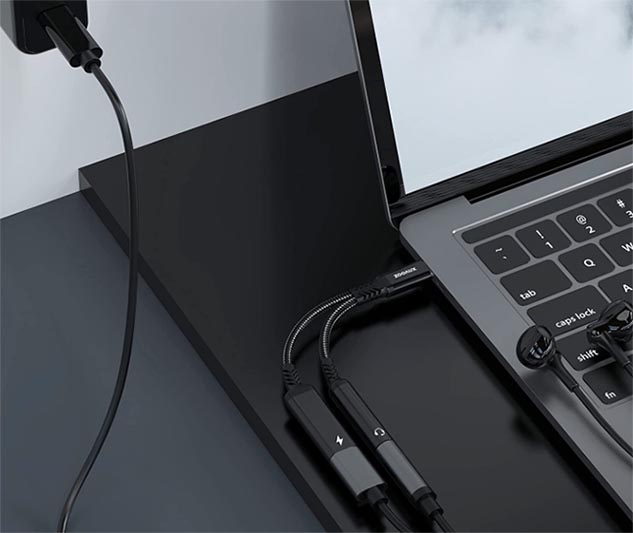 Like the others, it has a built-in DAC that processes digital audio signals to retain the original sound quality for analog listening. Available in either black, gray or red, the ZOOAUX adapter feels very rigid yet well-made. All of the components are encased within an aluminum shell. In addition, each split cable is made from a high-quality woven nylon and generously reinforced with hard rubber around the areas that will be exposed to constant twisting and bending. Also, it's covered by an 18-month warranty period for added peace of mind.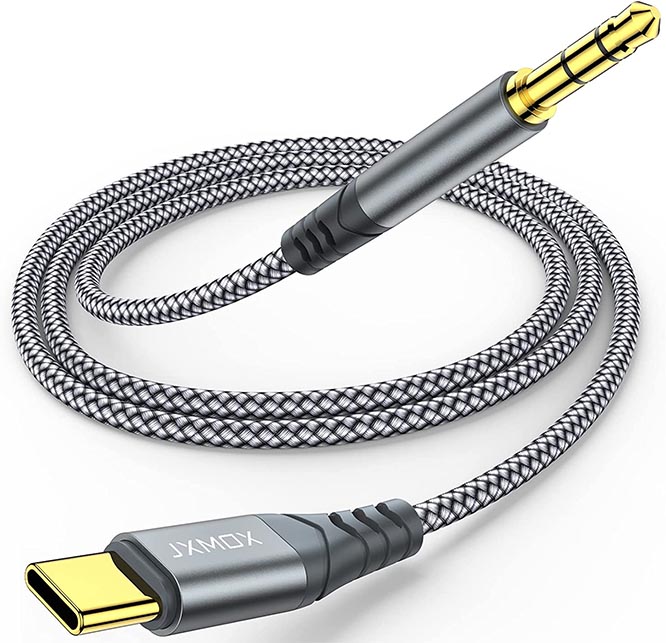 JMOX Type-C to 3.5mm Cable
Rather than being an adapter, the JMOX Type-C to 3.5mm Cable plugs into your USB-C port on one end and terminates with a male auxiliary input on the other. This way, you can plug the cable directly into your wired headphones or audio source without the use any true adapter. However, this assumes that your headphones can accept a male auxiliary input. There will need to be a female Aux input on your headset for this cable to be compatible.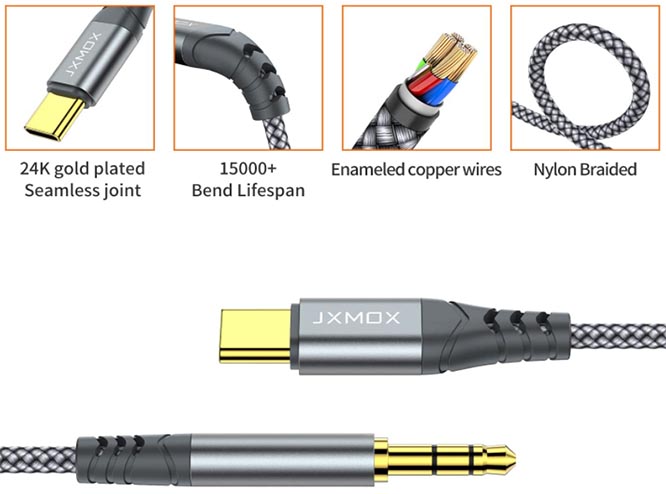 The JMOX cable is well-built with woven nylon and aluminum encasing on both ends. In fact, it's been rigorously tested and approved for over 15,000 bends. What's more; it offers wide compatibility with virtually any modern smartphone or tablet. This is a cable with 4 feet of length, meaning it'll easily reach your headphones while still letting you freely move with less chance of a tangle. Just like the others, there's a DAC built-in so you won't need to worry about audio quality degradation in any sense.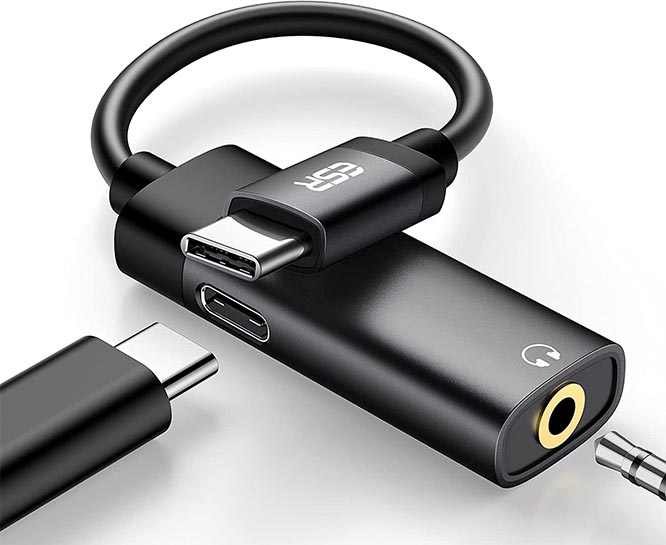 ESR USB-C PD Headphone Jack Adapter
The ESR USB-C PD Headphone Jack Adapter is a well-made option that offers simultaneous charging while you're listening through your wired headphones. Available in either black or silver, it's made with a high-quality alumnium shell and a thick rubberized cable. It lets you plug-in your headphones to the end while charging using the Type-C input on the side. Best of all, it retains PD charging capabilities at up to 60w without affecting audio quality.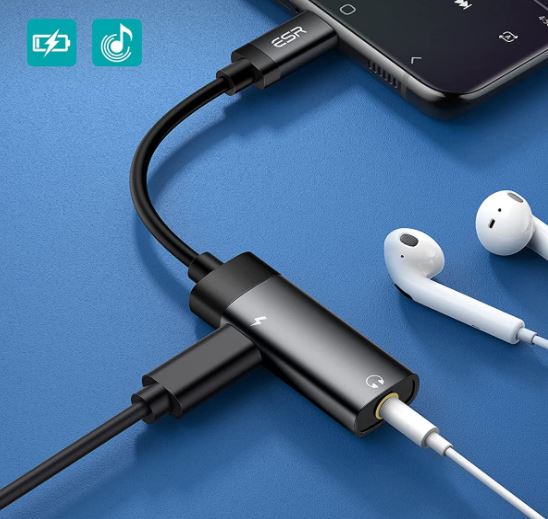 Internally, there's a built-in DAC that effectively processes digital audio and assures stable transmission without any side-effects. With broad compatibility, you're assured that it'll work well with any smartphone or tablet that you want to use it with. Overall, we're a big fan of the right-angle nature of the design. Most likely, your charging cable will be placed in the opposite direction of your headphones. Thoughtfully, ESR placed each port away from each other so there's less of a chance to get your charging cable tangled with your headphone cable.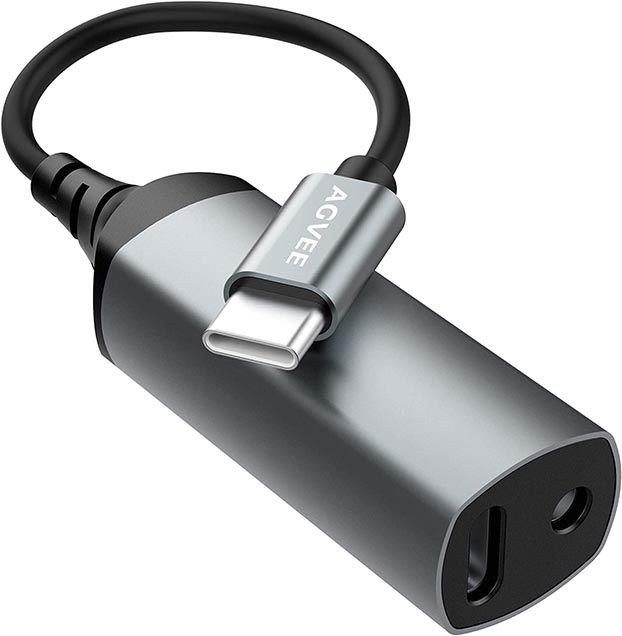 AGVEE USB-C to 3.5mm Headphone Adapter
In many respects, the AGVEE USB-C to 3.5mm Headphone Adapter is quite similar to the ESR, although the layout is quite different. Rather than having the USB-C port on the side, it's at the end with the auxiliary input. With an aluminum housing and a stiff, rubberized reinforced cable, it well-made and seemingly tough. Internally, there's a DAC that promises high fidelity sound. With it, you get high dynamic range, better bass and no distortion.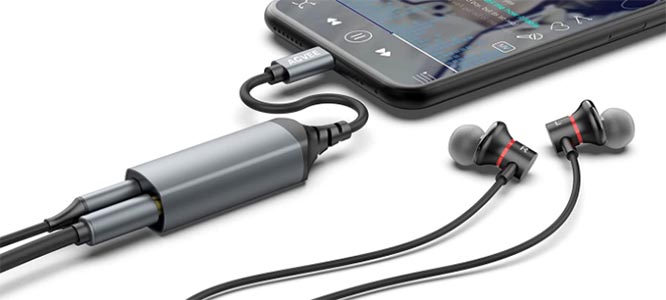 Best of all, the AGVEE adapter supports both PD and QC charging without any side effects. In fact, it's able to retain 18W of maximum power (9V/2A) for quick-charging with any PD or QC charger. Although it's said to be compatible with virtually any device from a variety of manufacturers, it does not work well with GoPros.
Choosing the Best USB-C to AUX Headphone Adapter
As you can see, there are several excellent options for those looking for the Best USB-C to AUX Headphone Jack Adapters. Although many are from third-party brands that you may have never heard of before, all of them virtually do the same thing. Let's discuss exactly what you should be looking for.
What exactly is a USB-C headphone adapter?
Simply put, a USB-C to headphone adapter will turn any USB-C charging port into an auxiliary input. Why would someone want to do this? Most of us have a favorite pair of wired headphones; these utilize an auxiliary cable rather than a USB cable. With the right adapter, you can convert a USB-C port into aux input so there's no wireless connection to deal with.
Why would someone NOT want to use wireless audio?
As time goes on, the more new-release wireless earbuds/headphones that hit the market, the more wired-only headphones become obsolete. At first, Bluetooth connectivity was very problematic. Examples include constantly needing to be re-paired, randomly dropping connection or delivering subpar audio quality. This is all in theory, however. Some issues like this still exist, even with the latest protocols and technologies. Simply put, some users swear by wired-audio. And if their latest smartphone, tablet or laptop doesn't have an auxiliary port, they're out of luck without the proper adapter.
What should you look for in a Type-C to Aux adapter?
Not all USB-C to headphone jack adapters are created equally. First, you'll need to determine what's most important to you. Some USB-C headphone adapters can only be used for listening to music and phone calls. Conversely, others may allow simultaneous charging and listening. Do you want an adapter that's only for audio, or do you need charging capabilities as well?
Regardless, you're going to want a DAC built-in. This is a tiny chip that processes the audio signal from digital to analog while retaining the same great sound quality that you're expecting. Although each of the best adapters we've featured in this article have a built-in DAC, we view it as a requirement if we're going to recommend any of them.
Other features you might consider important are overall build quality and brand recognition. Since a Type-C to Aux adapter is very susceptible to constant bending and twisting, the construction quality should be considered. That said, you may want to look for one that's heavily reinforced. Braided nylon cables and aluminum housing is the gold standard for well-built longevity. That being said, a reputable brand name with or without a warranty may be another factor to consider.
Why are manufacturers removing the headphone jack?
Apple was one of the first companies to fully remove the 3.5mm headphone jack on their new iPhones, iPads and Macbooks. Since then, more manufacturers have followed suit. But why? Some of the reasons are because it simply looks better. A device with minimal inputs may look sleeker, but in our opinion, it's not always entirely practical. But since when did practicality matter to Apple? Sure, they may offer some of the most user-friendly interfaces and designs, but they're also in it for the sleekness and style.
In addition, wireless connectivity has taken over. Bluetooth technology is now capable of lossless audio, better range and is more efficient than ever. Because of this, wired headphones are seemingly becoming a thing of the past. But rest assured, there are several options for Type-C to auxiliary adapters that are easy to use, widely compatible and offer excellent audio without any negative side effects.
Meet Derek, "TechGuru," a 34-year-old technology enthusiast with a deep passion for tech innovations. With extensive experience, he specializes in gaming hardware and software, and has expertise in gadgets, custom PCs, and audio.
Besides writing about tech and reviewing new products, Derek enjoys traveling, hiking, and photography. Committed to keeping up with the latest industry trends, he aims to guide readers in making informed tech decisions.