For those that want to bring the awe and splendor of the night sky into their homes, night light star/galaxy projectors are the way to go.
It wasn't too long ago that the only option for bringing the cosmos into the bedroom were those glow-in-the-dark star stickers that would only work in pitch dark for a few months.
Thankfully, star projectors have changed the game for many parents with young children and cosmos enthusiasts alike.
Also known as galaxy projectors, these products don't just paint your surfaces with random specks of light. Many provide accurate representations of constellations and space systems. Instead of waiting for nighttime, they can simply be turned on and immediately enjoyed.
In fact, galaxy/star projectors can be extremely satisfying for people of all ages. Some users even report experiencing lower levels of stress and anxiety. For others, they make falling asleep much more soothing.
Best Galaxy Star Projector
A quick online search will kick back lots of options. This can get overwhelming, and it's difficult to find a quality option for your specific needs.
To help, we've compiled a list of the 5 best night light galaxy star projectors currently on the market in 2022-2023. We made our selection of the best based on a wide criteria, including:
Energy Efficiency & Power: Whether running on outlet or battery power, it's important that your projector doesn't use excessive energy to operate. This is very important if you intend to run it for hours at a time every evening. An ideal power setup would be a projector that has both a battery powered option and a wired one to make sure you're never at a loss.
Price/Value: There are a lot of cheap, poorly made options out there. We've only included projectors on our list that have passed the benchmark for providing high value that justifies their price.
Brightness: We've tested projectors to make sure they provide enough brightness to accommodate a wide range of lighting settings. Especially if you're living in the city, having a pitch black bedroom is not likely. The products in this roundup have enough brightness to work even in brighter spaces. Having a bright projector that doesn't lose contrast and richness of color can be hard to achieve, but is important to create an immersive experience.
Features: Auto shutoff, scene cycling, we have included products that have a robust feature set that help make it easier to operate and provide plenty of enjoyment.
Durability and Warranty: Especially with small children, drops and spills are likely to happen. While no projector stands up against major abuse, we did our best to include models that have been able to navigate the occasional drop decently well.
The world of night light star projectors is bigger than most people realize. If you're still having trouble deciding which of these projectors is right for your family, we'll include some quick things to keep in mind to help make it easier. With that out of the way, let's get into the top 5 best night light star projectors currently on the market.
Best Overall: BlissLights Sky Lite Evolve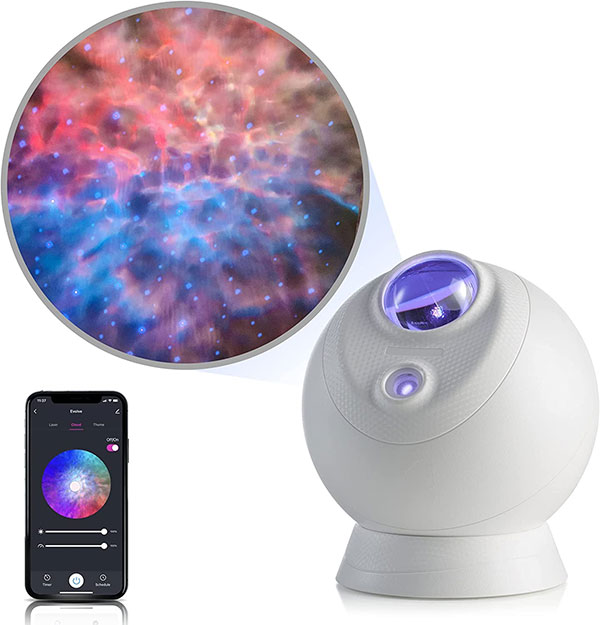 Key Features:
Wide selection of nebular cloud colors.
360 Degree Rotation.
Coverage Up To 900 Square Feet.
Customizable Settings via Smartphone App
The BlissLights Sky Lite Evolve perfectly combines rich colors, powerful light and seamless transitions. The color blending from delicate pastels to vibrant purples and teals is a thing to behold. Best of all, it comes packed with a library of nebular cloud colors and formations that you can choose from.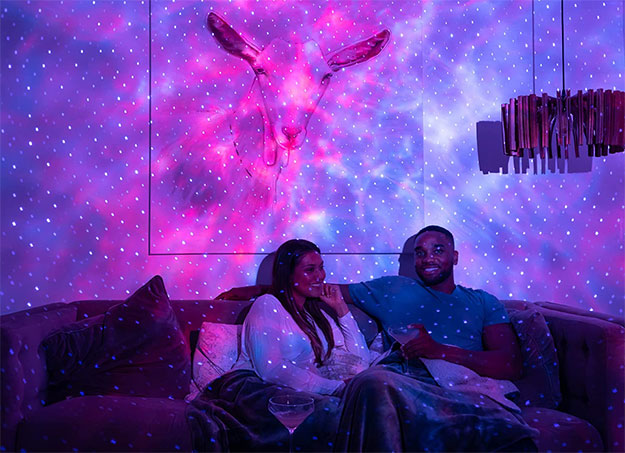 What sets this projector apart is its customizability. With the BlissLights Sky Lite Evolve, you don't have to settle with stock designs and programs. Using the smartphone app, you can do things like alter the color selection, set timers and schedules and build your own presets. Being able to pair it with Google Home or Amazon Alexa takes things to another level.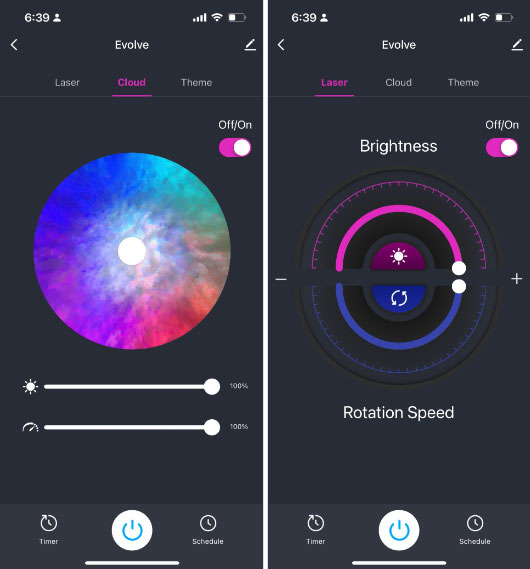 The 360 degree projector provides coverage of up to thirty by thirty feet for lasers and fifteen by fifteen feet for nebular visuals. Colors are vibrant and the transitions are smooth. The BlissLights Sky Lite Evolve marries powerful hardware with a great mobile app to create the best overall experience of any star projector on the market.
What We Liked:
Camera rotates 360 degrees.
Large coverage area.
Customizable through the mobile application.
Timers and presets can be changed.
Works with Google Home and Amazon Alexa.
4 LEDs provide more color combos.
Dimmable.
What We Didn't Like:
Plug-in required. Cannot be battery-operated.
Best Runner-Up: BlissLights Sky Lite 2.0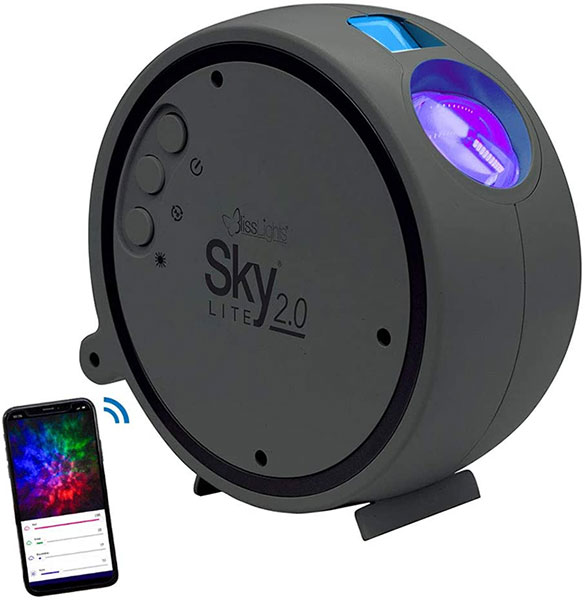 Key Features:
LED Light Source
Wide Range of Presets.
Uses Precision Glass Optics.
Implements Holographic Technology.
Controlled Through App or On-Board Buttons.
Our runner up is another BlissLights product. The Sky Lite 2.0 provides an immersive experience by packing this projector with powerful glass optics and holographic technology. It's designed to provide a stunning experience right out of the box with little fuss.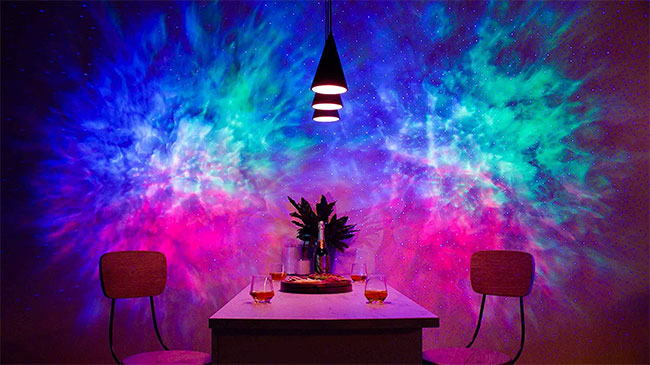 This is designed for users that appreciate that most of the setup is done for them by way of presets and automated programs. That said, it offers a decent amount of customization within the mobile app to cycle through light effects, start/stop the rotating motion and adjust the brightness. While the controls are limited in the app, most users praise the minimal approach to keep things from getting complicated.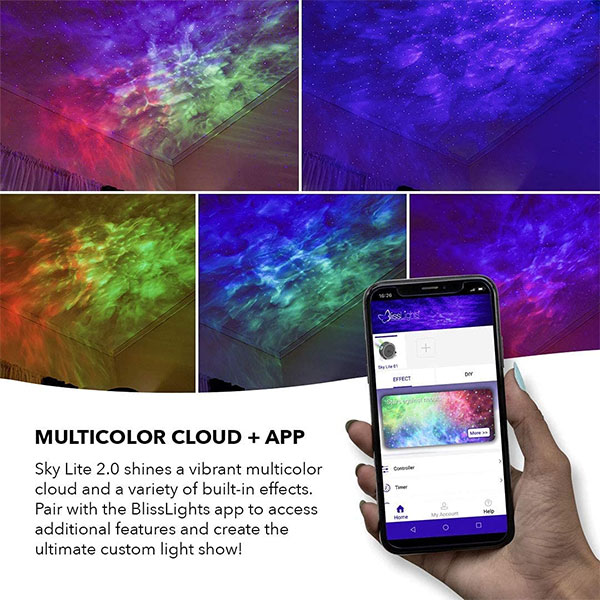 While the Sky Live Evolve allows limitless customization, this model takes more of a "set it and forget it" approach. This is a great option for small get-togethers or group TikToks.
What We Liked:
Wide range of presets and programs built in.
Precision glass optics enhance the brightness and contrast.
Mobile app to handle basic controls.
Can customize effects modes.
Dimmable.
What We Didn't Like:
Mobile app control is limited.
Best High-End: POCOCO Home Planetarium Star Projector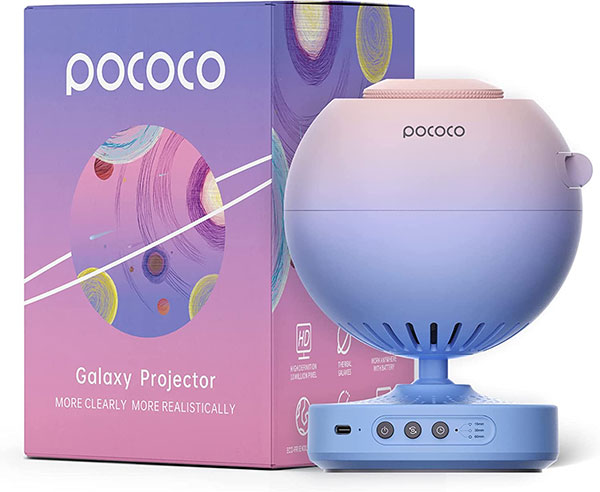 Key Features:
USB Charged.
5K resolution.
7 Sets of High-Transmission Optical Lenses.
130 Square Feet Coverage Area.
Manual Optical Focus.
For those with a higher budget to work with, the POCOCO Home Planetarium Star Projector is the best high-end version on the market. It boasts 5K resolution because of its multi-level glass lenses that provide ultra-clear projection. The attention to detail ensures maximum illumination with minimal distortion.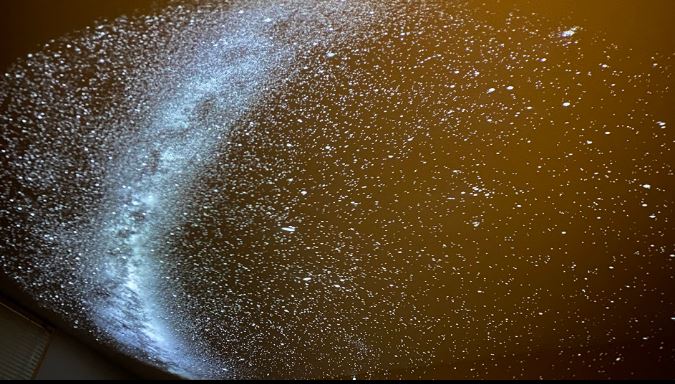 The weight of two apples, the POCOCO also carries a rechargeable battery that can last up to six hours. This alone sets this projector apart from the other options that are out there. The ideal projection distance of eight feet allows for a projection area of 130 square feet, which is massive compared to other projectors.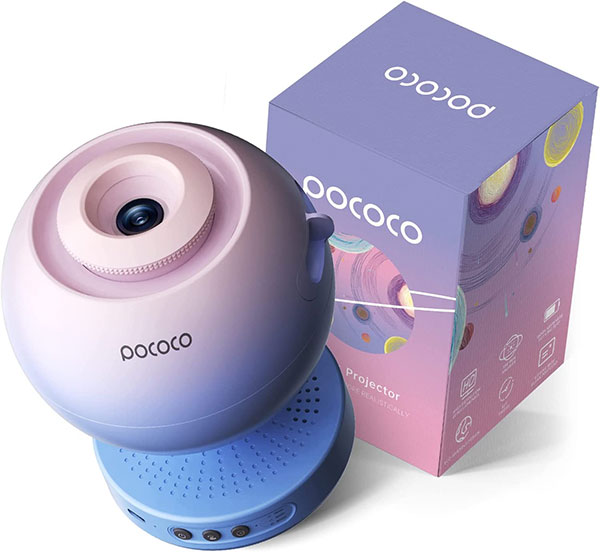 We liked the manual autofocus feature, which gave us the chance to adjust the sharpness to our own personal taste. Bottom line, the POCOCO Home Planetarium Star Projector is a powerful, portable option that has most customers raving about it.
What We Liked:
Large coverage area.
Rechargeable battery powered.
Portable.
High transmission optical glass.
What We Didn't Like:
Expensive.
No smartphone app control.
Best Budget: MOKOQI Star Projector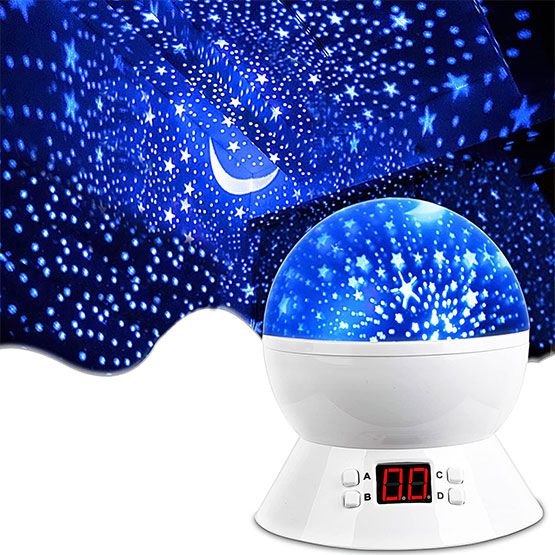 Key Features:
USB and AAA Battery Powered.
Timer Function.
Energy Efficient.
Four Button Controls.
Three Light Modes and Seventeen Color Modes.
The MOKOQI Star Projector is an incredible budget option for those looking to add a star projector to their evening relaxation routine.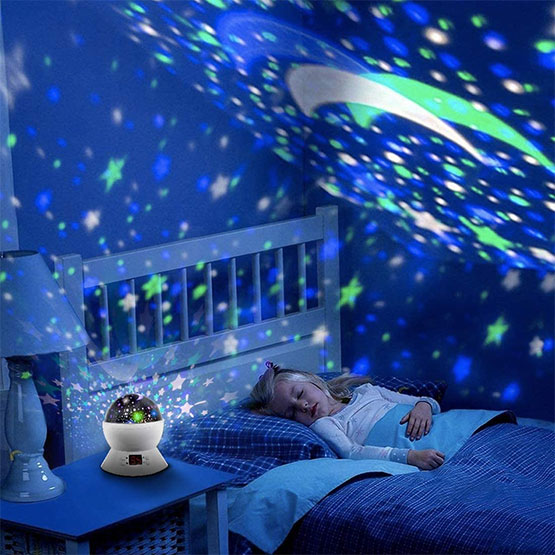 This unit is very easy to use with four main button controls on the front of the unit that toggles things like timer, spin, color and night light mode. While there is no way to customize the color options, the MOKOQI comes with a generous number of color and light modes to keep things interesting.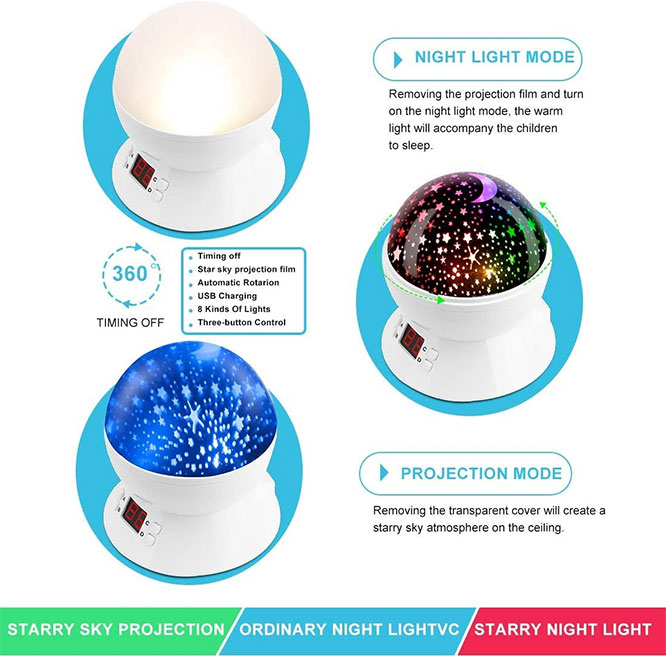 This model is dual powered, meaning you can either connect a USB cable or install batteries, making it extremely portable. The included sleep timer helps you conserve energy as much as possible. The projection brightness is fanatic without giving up much in the way of contrast. At nearly half the price of other projectors on this list, this option is worth considering.
What We Liked:
Easy to use.
Multiple light and color modes.
USB powered and battery powered.
Timer function.
What We Didn't Like:
Not dimmable.
No app control.
Best Alternative: Mooyran Astronaut Space Buddy Projector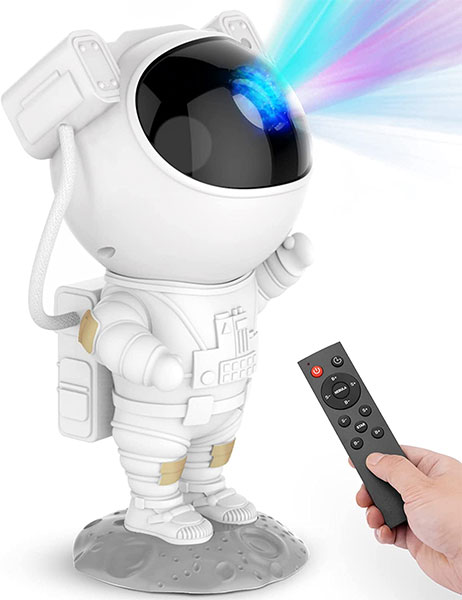 Key Features:
Remote Control.
45/90 Minute Timer.
Adjustable Projection Angle.
Eight Nebula Effects.
This is a versatile projector in a creative form factor that makes for a fun alternative. The Mooyran Astronaut Space Buddy Projector is shaped like an astronaut with nebula infused light shining out of its face visor. It makes for a great decoration for a kids' room or a conversation piece in your home theater.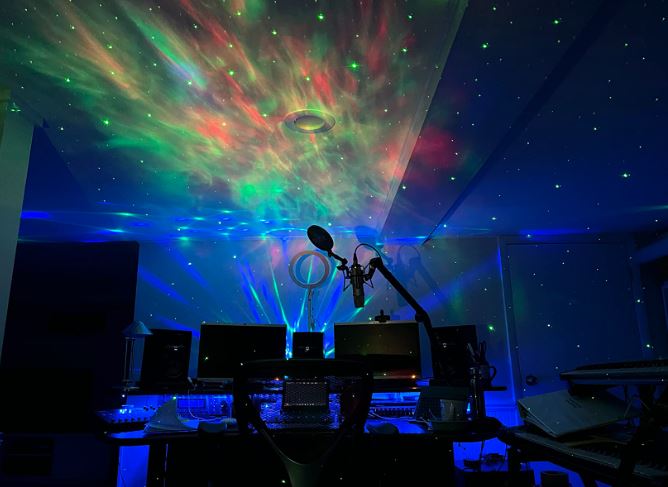 It is equipped with eight different nebula effects providing a substantial amount of variety to meet any situation. LED light provides plenty of brightness and the included remote lets you control it from across the room and set a timer if desired. The head of the astronaut (where the light is coming from) is attached by a magnet which allows for easy angle adjustments to match your room. It's an amazing projector for people of all ages.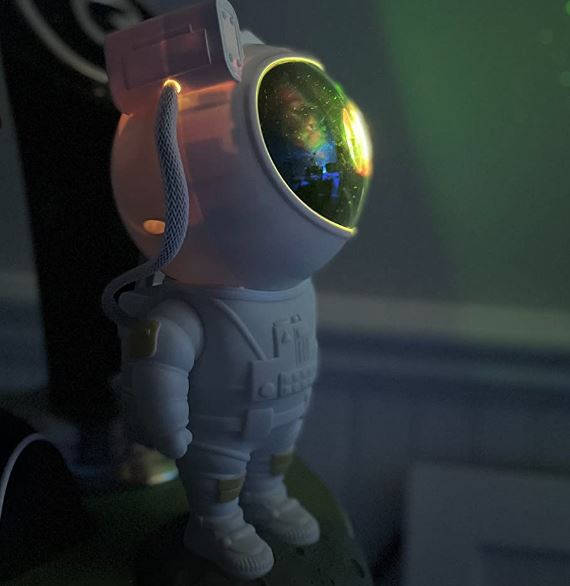 If you want a projector that works and is at an affordable price, the Mooyranis a great option to consider. Keep in mind that this is not a wire-free star projector and will need to be near an outlet to function.
What We Liked:
Eight high quality nebula effects.
LED powered.
Astronaut form factor is fun.
Angle change is simple.
Great price.
What We Didn't Like:
Corded electric power only.
Limited timer control.
Final Thoughts on Star Projectors
Whether it's for relaxation, getting to sleep or for TikTok, night light star projectors are a great addition to any space. As you can tell from our roundup, there are a lot of options to choose from. The good news is that making a choice doesn't have to be that complicated. Here are some of our suggestions.
You'll want to determine how much customization and control you want over your projector. Some people love to swap out colors, change nebula presets and create a laundry list of timers. Others simply want to press the power button and go to sleep. Your choice in this area will be a major factor.
Another thing to consider is the power source and how portable you would like your projector to be. If you are wanting to take it from room to room or out with you while traveling, making sure your projector is battery powered will be important. If you want to leave it in place, you could save some money by going with a power chord option.
Determine if remote control of your projector is important. Some users prefer to keep their projector on the other side of the room to provide maximum coverage. If you don't want to get up and walk to the projector every time you want to make a change, make sure there is a smartphone control app or physical remote to implement.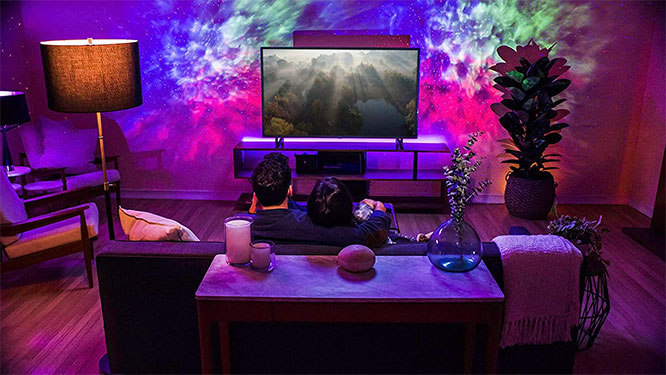 Which Galaxy Star Projector to Choose?
If you want maximum customization and features, the BlissLights Sky Lite Evolve is going to be the best overall option.
For medium customization and high-quality optics try the Sky Lite 2.0.
Looking for something higher end? The POCOCO Home Planetarium provides maximum coverage at 5K resolution.
A great alternative with rock solid functions and quirky form factor is the Mooyran Astronaut Space Buddy.
The best budget friendly projector on the market is the MOKOQI Star Projector.
Regardless of which you choose, these night light star projectors are sure to improve the relaxation of any room.
Meet Derek, "TechGuru," a 34-year-old technology enthusiast with a deep passion for tech innovations. With extensive experience, he specializes in gaming hardware and software, and has expertise in gadgets, custom PCs, and audio.
Besides writing about tech and reviewing new products, Derek enjoys traveling, hiking, and photography. Committed to keeping up with the latest industry trends, he aims to guide readers in making informed tech decisions.