It's no secret that many kids are scared of the dark. If you're a human being with a pulse, there's a good chance you used to be one of them. But at some point, your kids need to sleep, and a brightly-lit room is not the best environment for that. One solution is to use a simple nightlight. As a matter of fact, it's such a popular solution that manufacturers often build them into other household products. For example, there are many HEPA filters that come with built-in night lights.
A built-in nightlight is a utilitarian solution that gets the job done and keeps nightmares at bay. But what if you wanted to go the other direction? In that case, you'd want a night light that's purpose-built to make your room a pleasant atmosphere. A night light star projector isn't just a great choice for kids. It's a great way for kids of all ages to bring life to a dark room.
Note: At no extra cost to you, we may earn a commission for purchases using our links. Learn more.
We're about to look at four of the best night light star projectors available. We'll begin by reviewing the BlissLights Sky Lite. This is a compact, alarm clock-sized night light that nonetheless provides big-time illumination. Next, we'll be looking at the RayShine Smart Galaxy Light Projector. This is a larger projector that also doubles as a Bluetooth speaker. After that, we'll examine the Elecbytes Star Projector. This is a more playful, globe-style projector that's better for small children. Finally, we'll take a closer look at the Lemolifys Galaxy Projector. It's the most affordable option, and even includes a white-noise feature that's very useful. Which one of these is the best? To find out, we'll need to dig a little deeper. We're about to take a close look at each projector's benefits, features, and drawbacks. After that, we'll be well-informed enough to render our verdict. Let's get started!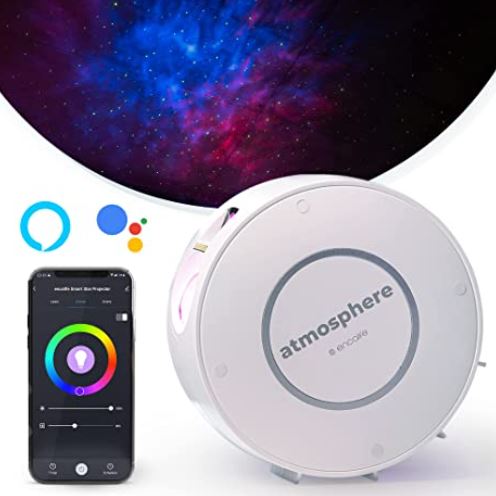 Encalife Star Light Galaxy Projector
The Encalife Star Light Galaxy Projector offers a simple, yet robust way to fill any room with stars. It looks a bit similar to other projectors, but has more features than most. With a circular, compact design, it rests easily on any nightstand or shelf without taking up too much space. The unique multi-angled base lets you choose from four dirrect positions to keep it stable and pointed in the proper direction. Operation is quiet, so it won't interrupt a sleeping child and best of all; it showcases incredibly vivid and bright colors without completely illuminating a room. Needless to say, it offers a realistic glow, similar to the effects of a full moon, while assisting any fussy child into a deep slumber.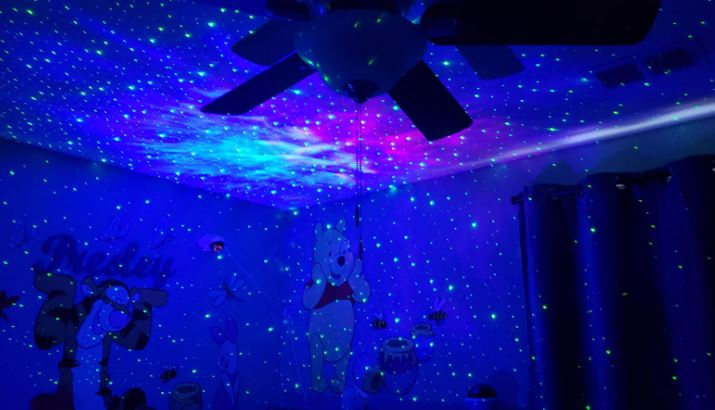 Lighting Modes and Options
Utilizing the free app, the Encalife Star Projector becomes completely customizable with a wide variety of settings and configurations. Even if you aren't physically home or simply in a different room, the 2.4 GHz WiFi connectivity opens up a whole realm of possibilities. In addition, Alexa and Google Assistant are fully supported, so you're able to give voice commands on the fly. Perfect for bedtime stories, there's even a built-in timer, multiple brightness settings, and speed settings so you can manually adjust the rate at which the galaxy moves and transforms around the room.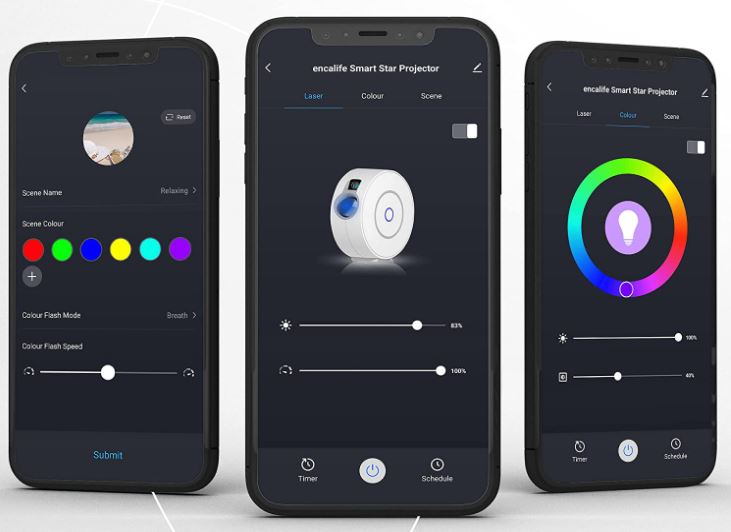 One of our favorite options is the color spectrum that it offers. You can manually adjust the color to virtually unlimited choices. Additionally, you can have it emit starry nebula clouds while larger, brighter stars move about. Best for medium to large sized rooms, the Encalife projector tends to cover a more-focused range than most other options. This is ideal for creating effects that may be centralized over a specific area in the room such as above the crib or on a dedicated wall. We felt like the app was well-thought-out and very easy to use. Best of all, it's stable and doesn't tend to crash or become problematic with the amount of adjustments, schedules or settings that you tweak.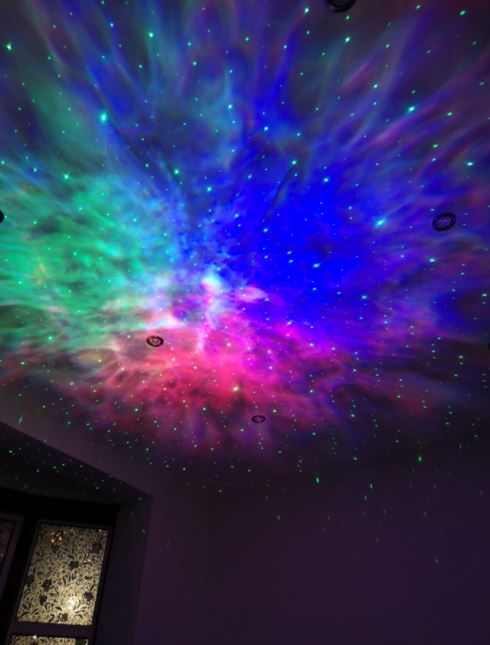 Overall, we feel that the Encalife star projector offers the best value in terms of features and quality. It requires a standard AC power source, so it isn't ideal for traveling. It's best for those that need a reliable, feature-rich unit that'll stay in the house for years to come. The WiFi connectivity is nice to have, and is somewhat a requirement if you truly want the most out of it. The unit feels solid, well-made and thoughtfully designed. It may have a simple appearance, but the amount of customization it offers is ideal for those who want a quality unit that isn't bogged down with extra features that aren't actually very useful. A perfect addition to any child's room!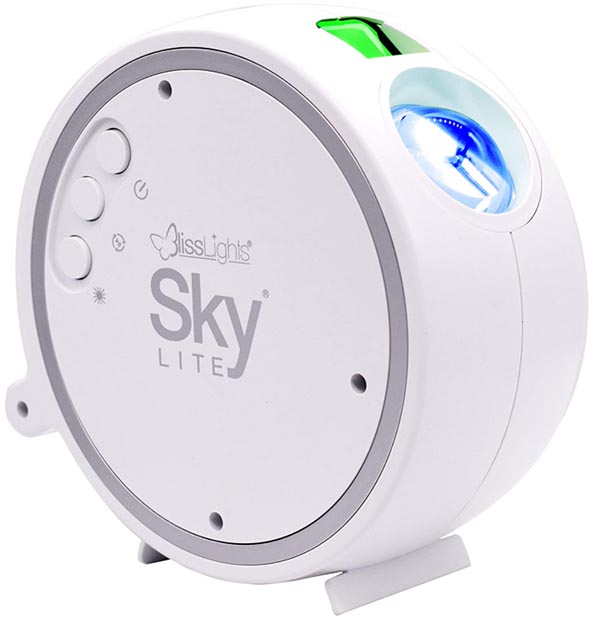 BlissLights Sky Lite
The BlissLights Sky Lite is designed to look like a traditional, old-school alarm clock. It has a white ABS plastic body that stands vertically, with the controls on the front. However, on the top, you won't find a pair of bells. Instead, you'll find a pair of projector lenses. They can be either be blue and green or a pair of blue lenses, depending on the variant. On the bottom of the case, there are not two, but three protrusions that serve as legs. Since only two legs touch the ground at once, the Sky Lite can be tilted in either direction. This allows you to angle the lenses differently to achieve different effects. At 1.6 pounds, it's also fairly lightweight. It can easily be moved from place to place, even by a child.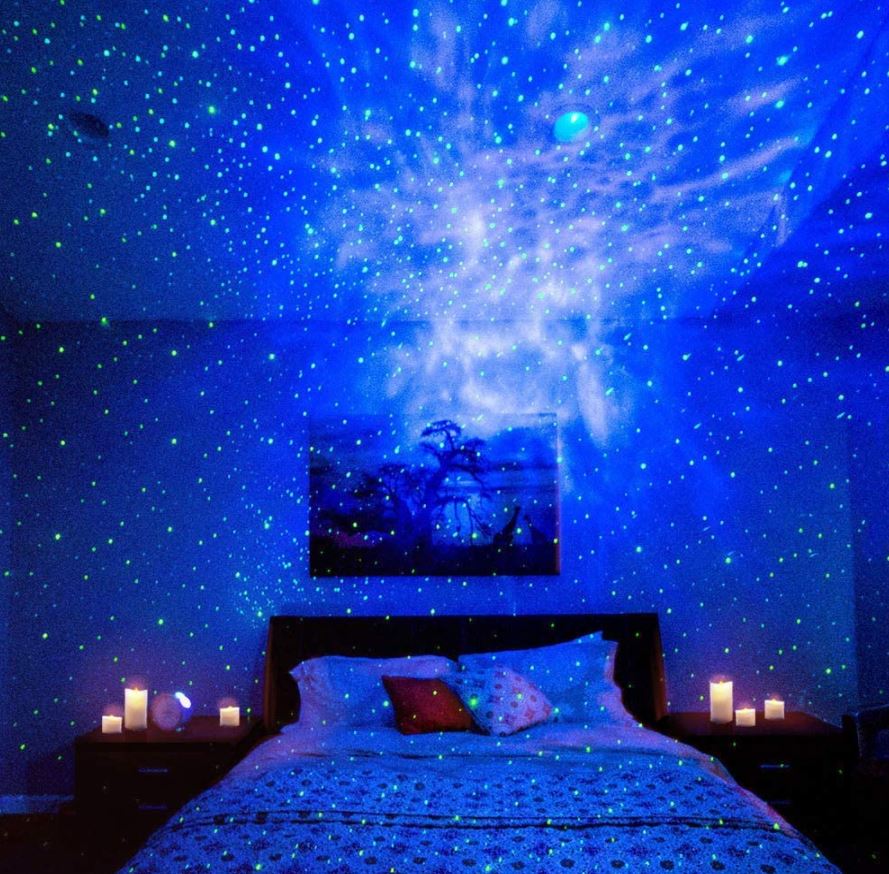 The front of the unit houses the controls, which consist of a simple three buttons. The top is a power button, which is self-explanatory. The second is a play/pause button, which starts or stops the Sky Lite's motion. The last is a timer button, which activates the sleep timer. This simple design makes the Sky Lite very easy to operate, even when you're groggy. It's powered by an AC adapter, so you don't have to worry about batteries. On the downside, the cord is only three feet long, so you'll have to think about outlet placement. This is unnecessarily short, and we would have been happier with at least a six-foot cord. Still, on most nightstands, you should be just fine.
Lighting Modes and Options
The Sky Lite uses two lenses to project two overlapping images. Diode lasers paint a blue nebula cloud across your wall or ceiling. Then, the second lens projects a drifting field of stars across them. Depending on the variant of Sky Lite you're using, these stars can be either green or blue. This is solely a matter of personal preference, and has no bearing on any of the Sky Lite's other features.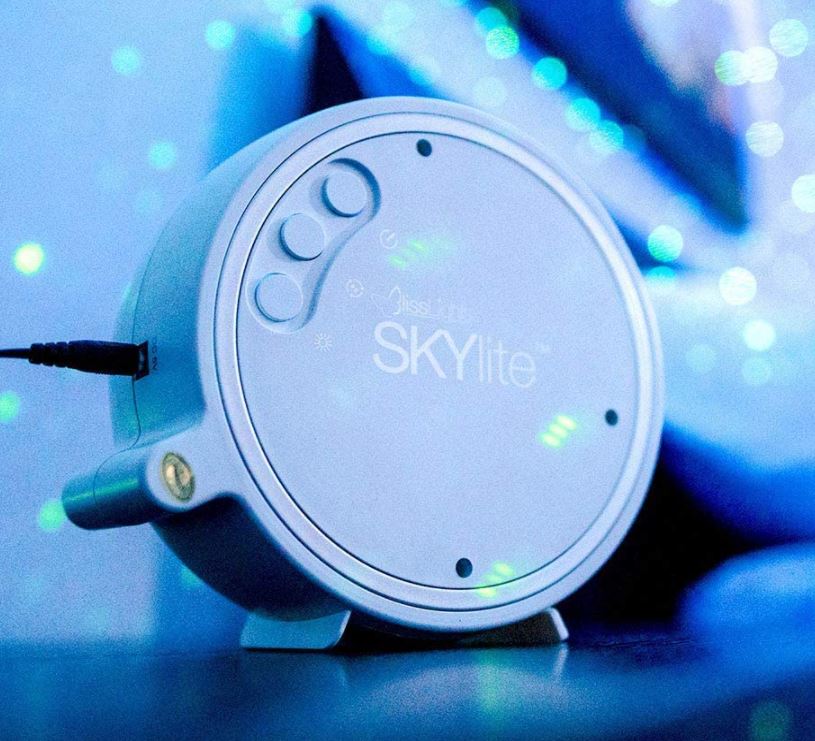 When used in a normal-sized bedroom, the Sky Lite produces a pleasing, low-intensity glow. It's enough light to get up for a glass of water, but not enough to interfere with sleep. In a larger room, it's not going to be quite as bright. However, it can still be used for ambience. This makes the Sky Light highly versatile. It's equally well-suited to helping kids sleep and helping grownups enjoy some atmosphere.
Regardless of how it's used, the Sky Lite runs on a six-hour timer. This is designed to save power, since it will shut off just a couple of hours before dawn. It will also last through most activities where it might be used for atmosphere. If you want to spend another few hours in your man cave, it's no big deal. Just turn the light back on and you've got another six hours to play with.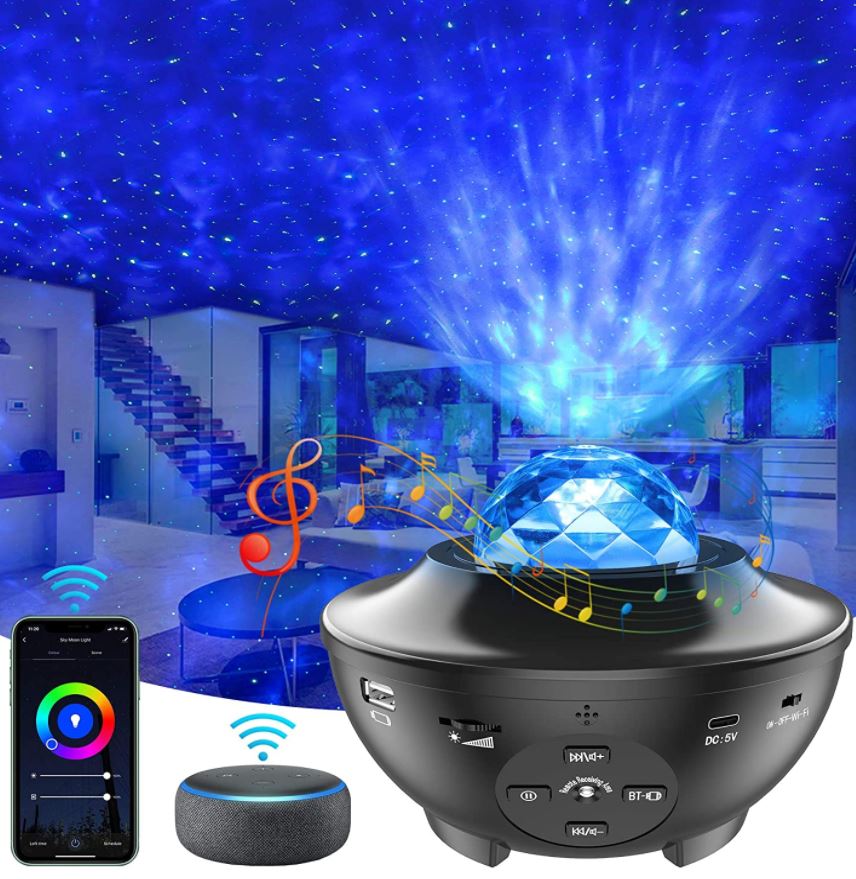 RayShine Smart Galaxy Light Projector
The Yamla Smart Galaxy Light Projector is designed more for ambiance than it is for sleeping. This isn't to say that it can't be used for sleep — it certainly can! But with the built-in Bluetooth speaker, you can use it for a whole lot more. Listen to an audiobook while you work or drift off to sleep, or pop in some music for a lively party atmosphere.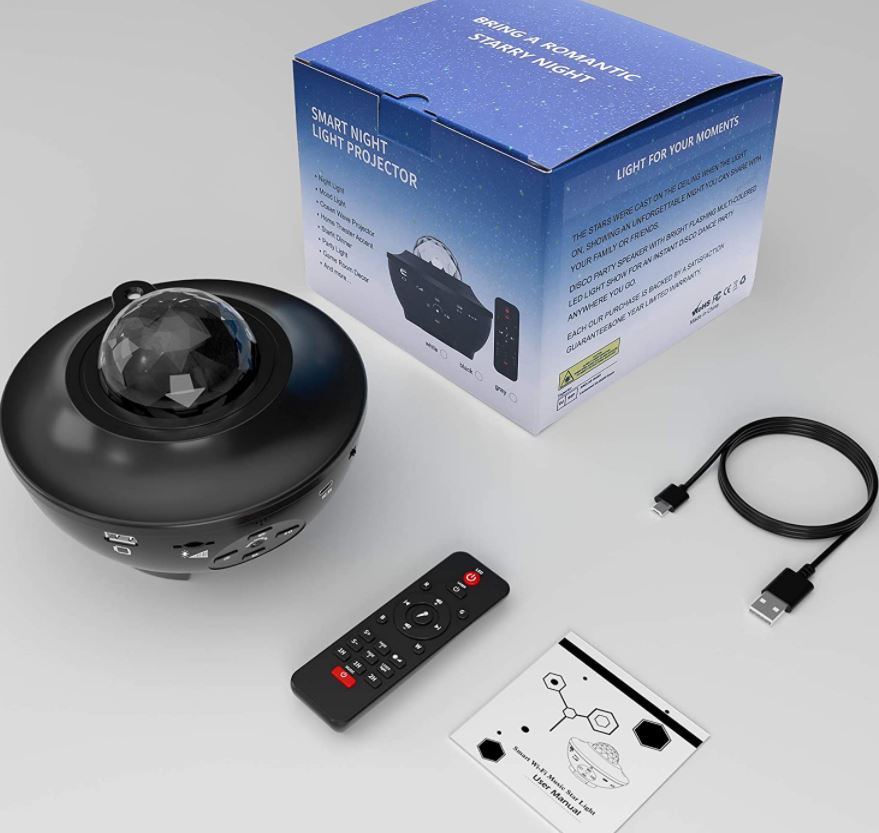 The body of the Smart Galaxy Light Projector is a round unit with a bowl-shaped base. It's just over 6 ½ inches in diameter, and weighs a sprightly 1.5 pounds. The light housing is located in the top of the base. It's shaped like a multi-faceted crystal, with a clear finish that's easy to wipe down when needed. It glows brightly when lit, although the color will depend on your color settings.
The controls are located on the front, as are the input and output ports. To the left, there's a USB Type-A port for a thumb drive or external hard drive. To the right, there's a USB Type-C port that functions as a power jack. An AC adapter is included, but the Smart Galaxy Light Projector can run on any 5-volt USB power supply. Needless to say, this low voltage does limit your speaker volume somewhat. But for anything but a very loud gathering, it should be loud enough.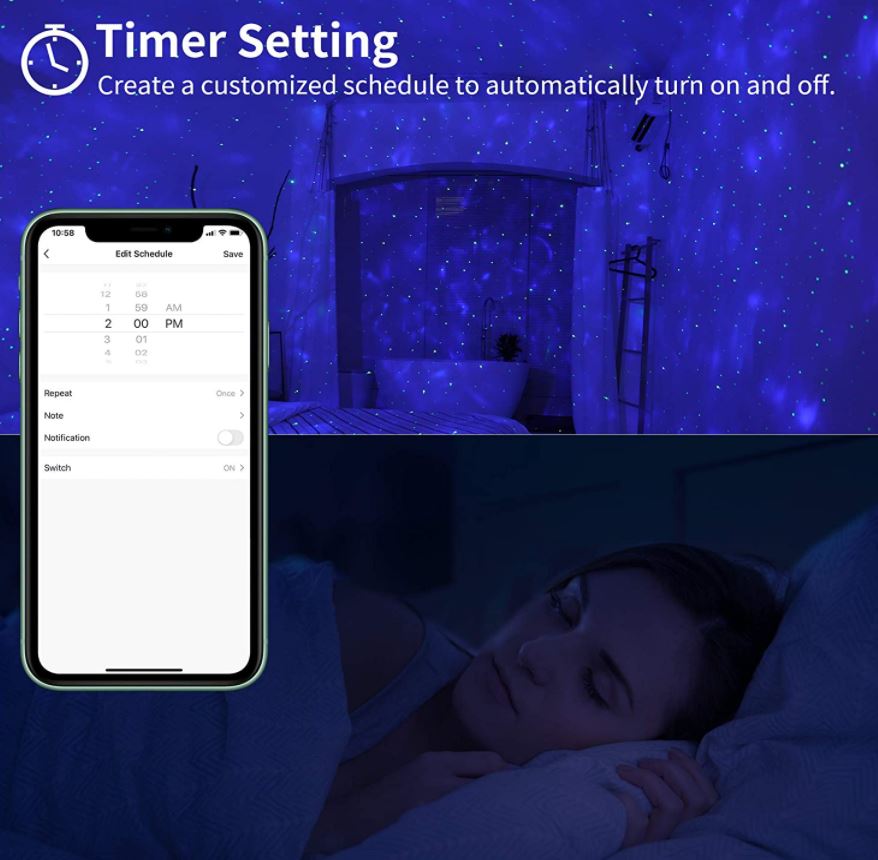 The controls themselves are located in the center. There, you'll find buttons for controlling both your music and your light. We particularly appreciated the fact that the volume is adjusted by a dial, not a set of buttons. In practice, this doesn't make it noticeably more precise. It's just easier to adjust by scrolling than by continually tapping buttons. You can also control the Smart Galaxy Light Projector remotely. The Smart Life WiFi app is free on Android and iOS, and is easy to use. You can even install the Smart Life Alexa skill and control your light via voice commands.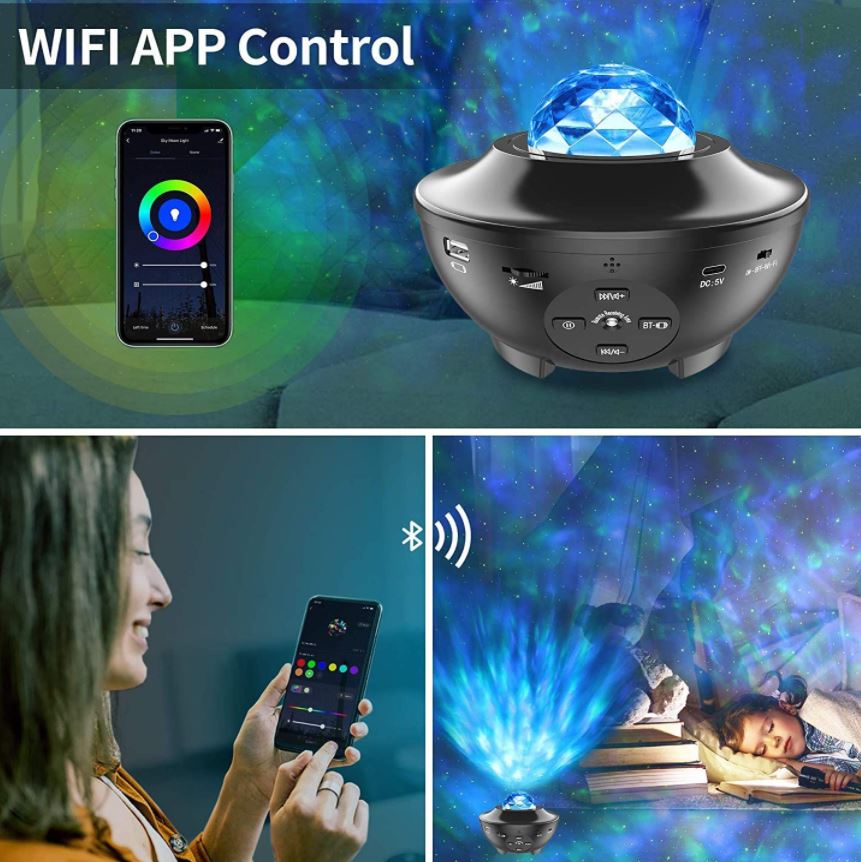 Lighting Modes and Options
Using Alexa or the smartphone app, you can switch the Smart Galaxy Light Projector between three different modes. The patterns are star, nebula, and ocean wave, which are fairly self-explanatory. You can also adjust the speed of movement and the brightness. This is a huge benefit, since different rooms and uses have different lighting requirements. Finally, you can choose between 10 different colors. This allows you to match the Smart Galaxy Light Projector to your home's decor. Like the Sky Lite, it also has a sleep timer. However, the timer is actually adjustable. It can be set to one, two, or four hours. It won't last all night, but it's great for falling asleep and staying asleep.
As we mentioned, the Smart Galaxy Light Projector can play audio. It supports USB inputs from any MP3 source. Similarly, you can connect via Bluetooth and play from your smartphone or MP3 player. About the only thing you can't do is connect via a 3.5mm aux cable. Even so, you've got plenty of options.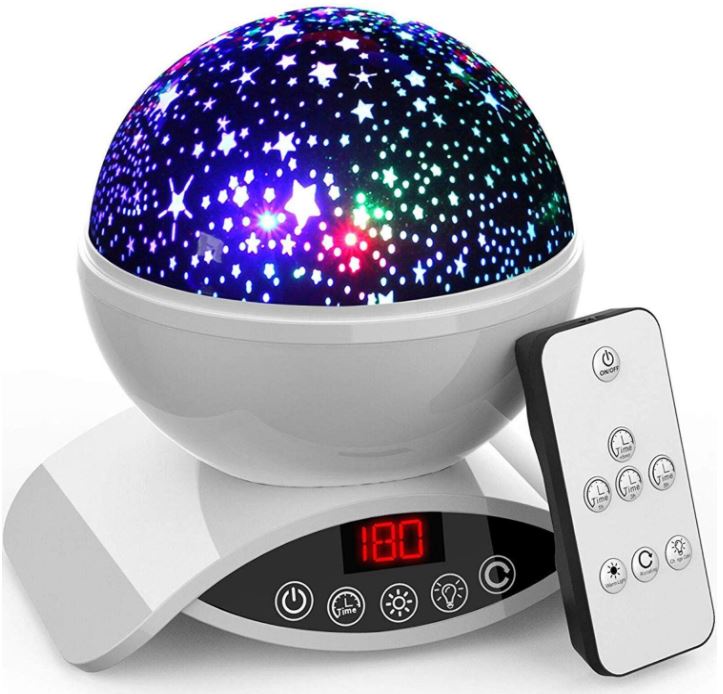 Elecbytes Star Projector
The Elecbytes Star Projector was purpose-built for kids. It's shaped like a globe, and rests on a low, arched base. The housing is plastic, and is available in four colors: black, white, blue, or pink. The top half of the globe houses the lights, and has a star pattern on the surface. The entire unit weighs only 1.05 pounds, so it's lightweight and easy to carry when needed.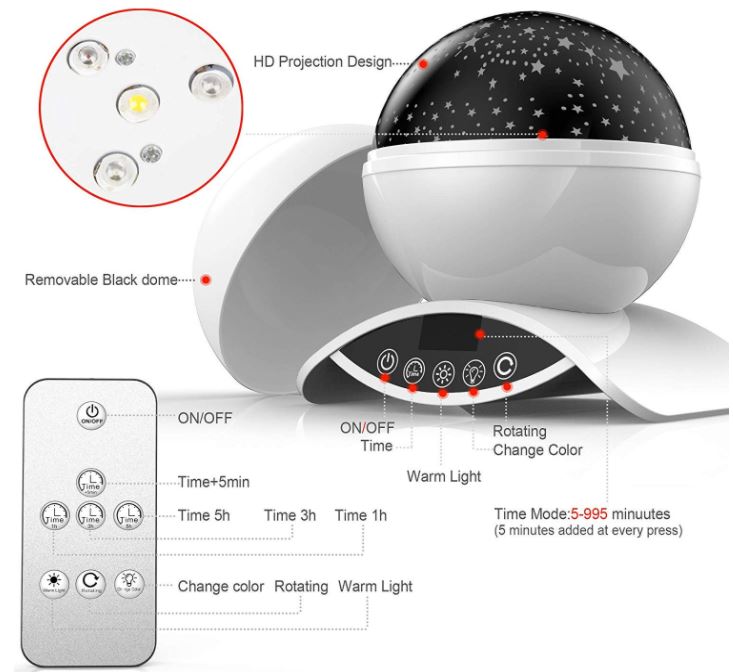 This portability is further enhanced by the Star Projector's battery-operated design. There's a USB port on the back of the base, which allows you to charge the 1,200mAh internal battery. When fully charged, the light will run for about 13 hours, more than enough to get through the night. Alternatively, you can just leave the USB cord plugged in all the time. It will be one less thing to worry about, and the battery will still be there for you if the power goes out.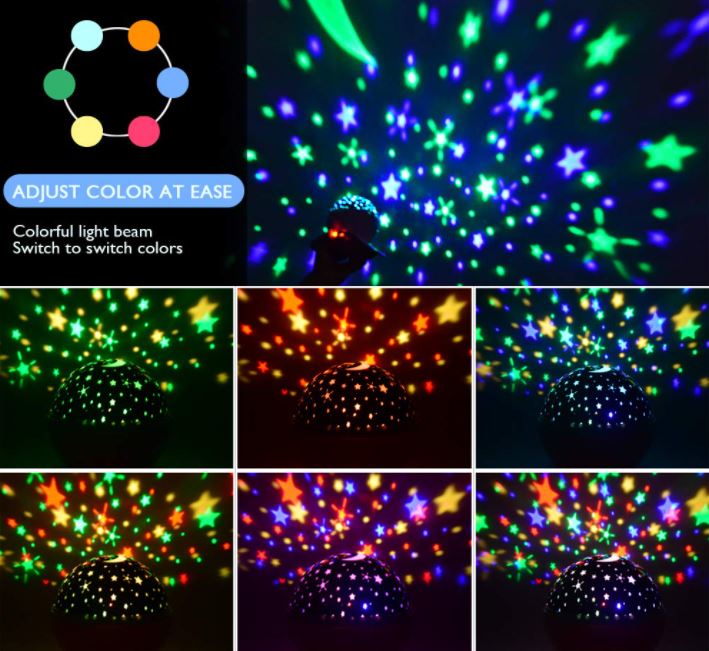 The front of the base houses a control panel. There are only five buttons, and they have a soft-touch operation. This makes operation simple, even for a child. There's also an LCD display in the top middle of the control panel. The display shows the time remaining on the sleep timer, and isn't overly bright. Alternatively, you can control the Star Projector with the small remote that's included in the kit. It has a range of 32 feet, so you can use it across even a very large room.
Lighting Modes and Options
The Elecbytes Star Projector has eight different color options for plenty of versatility. When the light is active, the top of the globe will slowly rotate. The star-shaped cutouts will move around the surface, causing stars to move around the room. This simple design is fun and playful, perfect for a child's bedroom. Moreover, the motor is silent. You have to put your ear up to the housing to hear it. This means it won't keep your little ones up at night.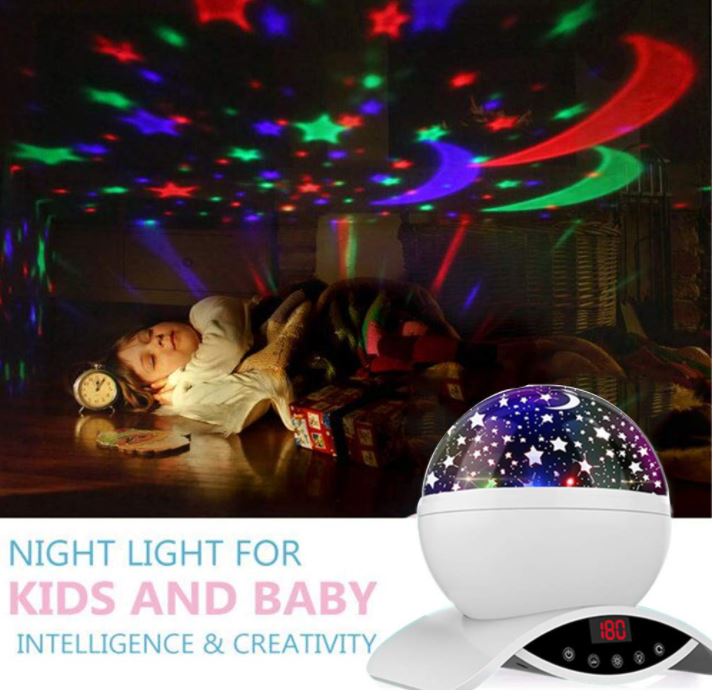 Like the previous options on our list, the Star Projector has a sleep timer. However, it's got a bit more range than the others. It can be adjusted anywhere from five to 999 minutes. 999 minutes is 16 hours, 39 minutes. You're never going to need a timer that long, but you'll probably never need a five-minute timer, either. The point is that you can certainly set the timer for any reasonable time.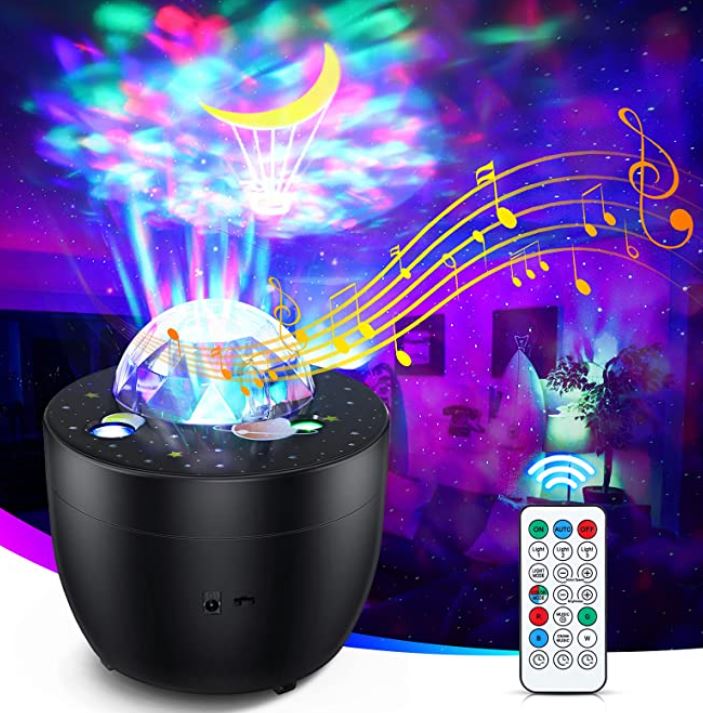 Lemolifys Galaxy Star Projector
The Lemolifys Galaxy Star Projector is an affordable option that combines several enticing features to make night-time ambience more creative and exciting. Ideal for children and adults of all ages, it creates a mesmerizing array of stars around the bedroom and adds white noise to assist with sleeping and relaxation.
There are several built-in audio recordings of children's lullabies and white noise, it goes above and beyond your typical star light projector. Whether you use it for bedtime or a family get-together, the Lemolifys is compact, versatile and seemingly built well, with a mini remote control included.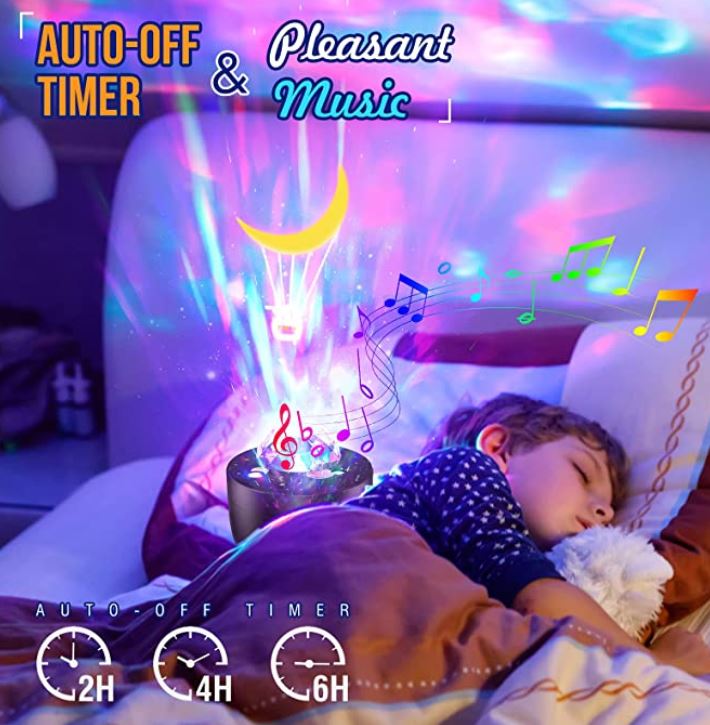 Its design is fairly standard, with a power-port and switch located on the back and a clear globe with several beveled lenses on the upper portion of the device. The globe portion is responsible for providing 10 different lighting modes whereas the lenses create the "galaxy effect" that bring a unique experience to any dark or dimly lit room.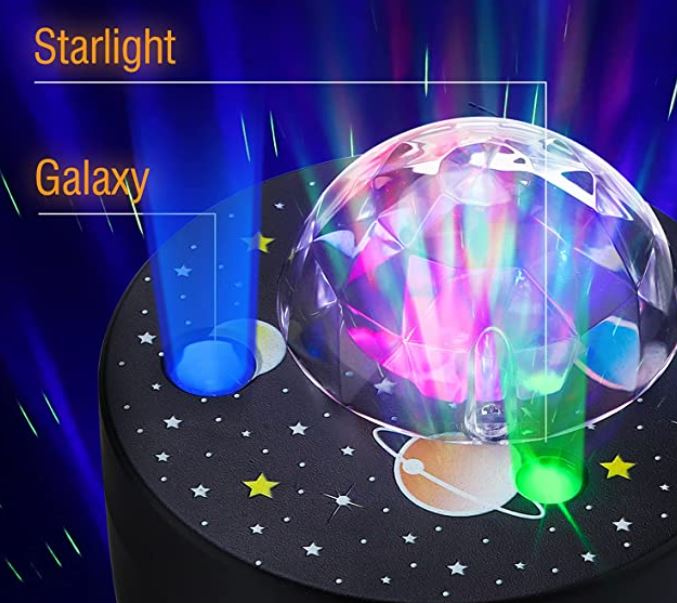 Lighting Modes and Options
There's a variety of light settings that can be displayed using the Lemolifys star projector. Three integrated effects with unique patterns of moon, stars or a nebula have the ability to be combined 13 times to create a wide variety of lighting effects. Best of all, the brightness is adjustable to three different levels, meaning you can add an obvious lighting effect to the room, or opt for a subtle glow that brings the nighttime sky into virtually any scenario.
In addition, you're able to adjust the flow speed. For example, if you're looking for a trippy effect, go with a fast speed. But if you're trying to soothe a little one into a deep sleep, opt for the slow speed. Either way, there seems to be a combination for virtually any environment inside your home.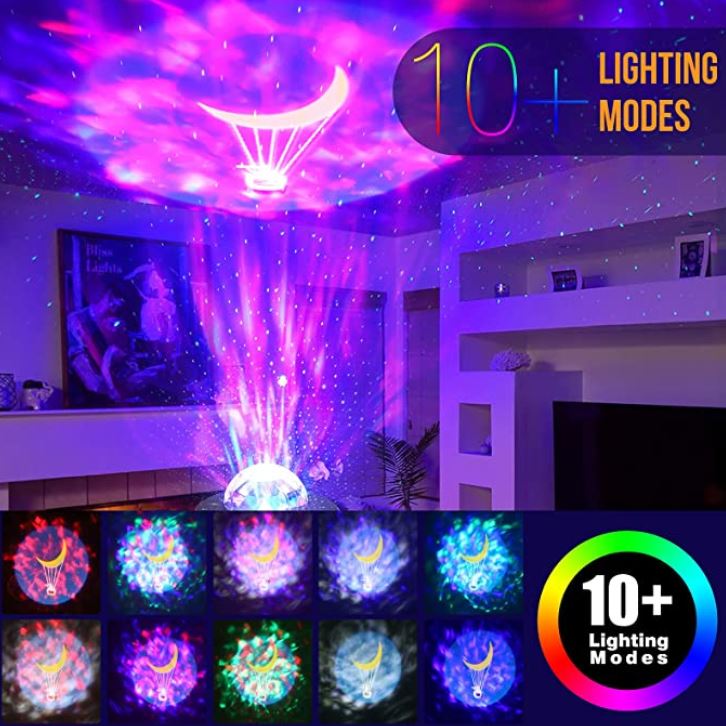 Last but not least, it's worth mentioning the timer setting. You can select an auto-off function to turn the projector off automatically after two, four or six hours from the time you turn it on – perfect for bedtime.
Best of all, the included mini remote is quite useful. With it, you can carry out any functionality without having to physically touch the projector. This means that if your child soothes off to sleep, you don't have to physically enter the bedroom to adjust the device. Simply stand from afar and use the remote.
Final Verdict
As you can see, each one of these night light star projectors has its own strengths and weaknesses. Let's quickly recap what we've learned. We started out by examining the Encalife Star Light Galaxy Projector. This unit is the most feature-rich of the bunch, and also our favorite. The app is easy to use and opens up a whole realm of possibilities when it comes to its features. Smart scheduling, vivid color options, adjustable brightness and voice command features are what stood out the most. It requires an AC power source and WiFi connectivity, so it isn't ideal for traveling or portability, but in terms of value, it doesn't get much better than this.
After that, we took a closer look at the BlissLights Sky Lite. This light is the most versatile of the bunch, since it's suitable for both sleep and atmosphere. It also runs on AC power. Despite the short cord, you won't have to worry about batteries running out prematurely. On the other hand, there are only two color options, and both of those are baked into the design. If you want anything but blue or green, you're going to need to choose a different option. That said, if you want a multi-purpose projector, the Sky Lite is a solid choice.
Next, we looked at the RayShine Smart Galaxy Light Projector. We should start out by saying that it, too, is fairly versatile. It has several features that can be used for both sleeping and ambience. For instance, you can play audio files. Whether that means soft, relaxing sleep music or loud, energetic party music depends on your purposes. Similarly, the option of 10 different colors is pretty impressive. This allows you to match most decor and situations. The only downside here is that the RayShine projector is a bit large, and is a bit complex for kids to use. On the upside, it has a ton of value to offer for grownups.
After the RayShine Projector, we reviewed the Elecbytes Star Projector. This projector is playful and cute, perfect for kids. With eight different color options, you can suit it to a variety of tastes and decoration schemes. Its AC-powered design means you don't have to worry about charging a battery. And the included remote adds a lot of extra value. It might not be part of a "mature" decoration scheme, but the Star Projector is an ideal choice for children's bedrooms.
Last but not least, the Lemolifys Galaxy Star Projector seemed to provide the overall best value. It offers a wide range of lighting effects and combines a white-noise machine to make for a unique experience. The included mini-remote lets you combine 10 different lighting effects, three levels of brightness and flow speeds. In addition, the integrated timer is quite useful, especially for little children who will love it as an addition to their bedroom. Best of all, it's the most inexpensive on our list, so you can rest assured knowing that you're getting plenty of value in the end.
Note: At no extra cost to you, we may earn a commission for purchases using our links. Learn more.